10 Must Have Social Media Tools for Small Businesses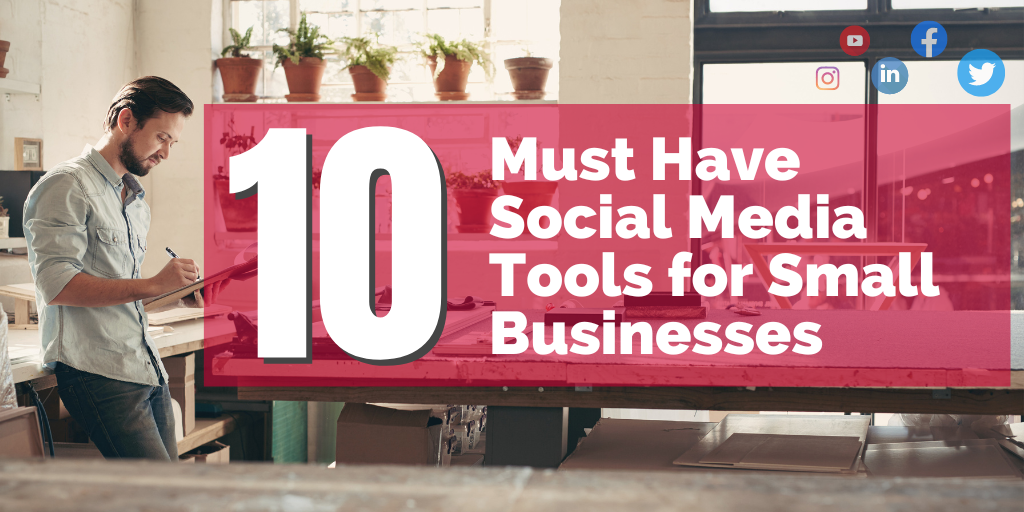 July 2022 Update
I'm updating this article with the latest tools I recommend (some of the tools I mentioned before were out of date). I've now updated tools 1-8. I'm in the process of adding tools 9 & 10.
Do You Have the Time to Manage Your Social Media Empire?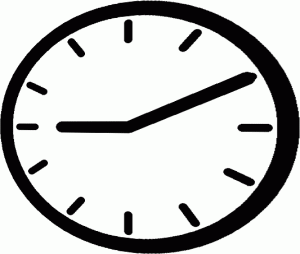 If you run a small business, one thing that you probably don't have, is a lot of is time.
You don't want to spend a huge amount of time trying to find and learn how to use the best tools to achieve your goals.
Call me weird, but I actually enjoy researching the best tools, and have developed a portfolio of great tools and a workflow that works well for me.
In this article, I list the main social media tools I would recommend to most small businesses. Of course, every situation is unique so I do recommend tailoring a system that works for you.
As well as dedicated social media tools, I am including more content-focused tools and tools to help with your business.
---
Social Media Plan
But first of all - I have a question.
What are you trying to achieve?
You need to ask that question before you start looking for the social media tools that are going to suit you. There is no point in having a presence on all the social networks if you don't know what you want to achieve or which audience you want to reach.
What I am not going to cover...
I am not going to cover how to build a social media plan in this article- I am going to assume that you already have a presence on your social networks of choice- perhaps Twitter, Facebook, LinkedIn and/or Instagram.
I am also going to assume that you have a website with a blog. One of the big advantages of posting to social networks is in driving traffic back to your website and showing that you are an expert in your field.
You don't need to do it all yourself
Coming up with a plan and a strategy takes time - and then you've got all the time it takes to manage your social media every week. Of course, you don't need to do it all yourself. One of the things I wish I had done earlier on in my business is to get some help. Thankfully there are loads of social media agencies out there which can offer help with strategy and management. My friends at Agorapulse have a new social media agency directory called Social Agency Sprout which can help with that.
Marketing Areas
For a complete social media and marketing plan, you'll need tools in to help in the following areas:
Web Analytics
Social Media Posting & scheduling
Content Discovery
Security & Password Management
Email Marketing
Lead Generation
Content Marketing
Social Media Management Tools
It would be great if the "Holy Grail" of a social media tool existed.
Well, a social media management tool is kind of like the "One Tool to Rule Them All" for social media. They try and manage everything for you. In particular, a good social media management tool should allow you to manage the following with your social media channels:
Schedule and post
Give you analytics and reporting
View your audience with insights and compare with your competitors
Allow you to listen to what people are saying on social media
Help you engage with your social messages, mentions, replies and more with a social inbox
Allow team members to manage your channels
Social media management tools can be really powerful.
But if you're just starting out, they can be overkill. If you're at the start of your journey, you can manage your social channels natively, using the networks themselves.
If budget is an issue, some social media management tools are either free or have free versions of their tool.
Choosing the right social media management tool is a more complex decision. You'll need to decide on one that supports your social networks and think of things such as how many people are going to be managing your social channels and what budget you can justify.
However don't worry, I've written quite a few guides to help you including a whole video presentation. Have a look at the following:
#1 Circleboom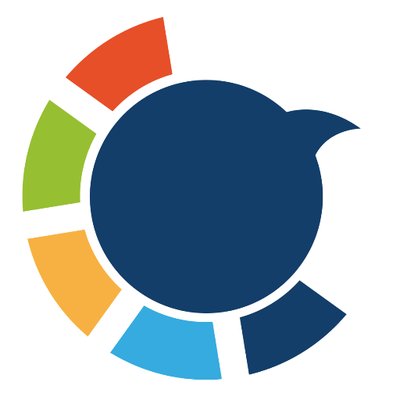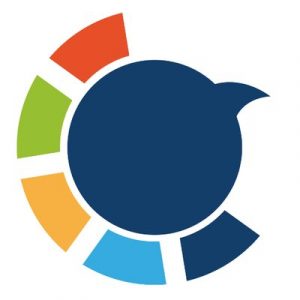 Circleboom may not be as well known as some social media management tools, but it's quickly getting recognition by users and on review sites such as G2.
It actually has two different tools:
Circleboom Publish A social media publishing and scheduling tool for Instagram, Facebook, Twitter, LinkedIn, Pinterest and Google Business Profile. TikTok is being added very soon.
Circleboom Twitter A management tool for Twitter with follower & friend management and insights, analytics, tools to find fakes, spammers and inactive accounts etc.
I've been using Circleboom Twitter for a while and it's one of the best audience management tools for Twitter I've used. You can view accounts that aren't following you back. And filter by language, fake/spam, inactive, overactives, eggheads (accounts that haven't set a profile picture) and even create a whitelist of accounts you don't want to unfollow.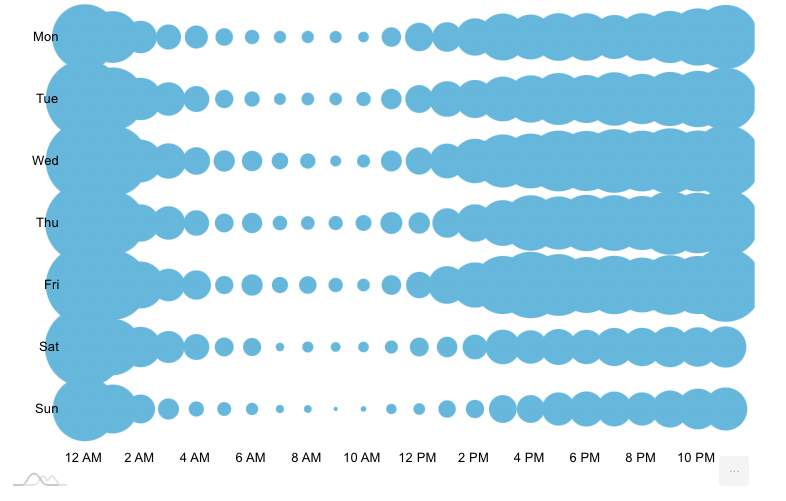 There's a powerful user analytics section with helpful graphs displaying your follower or friend growth. You can dig deeper into the kind of accounts you follow (human vs fake, active vs inactive etc). There's a "best time to Tweet" chart. I found this really interesting (mornings for me are not the time my followers tend to Tweet.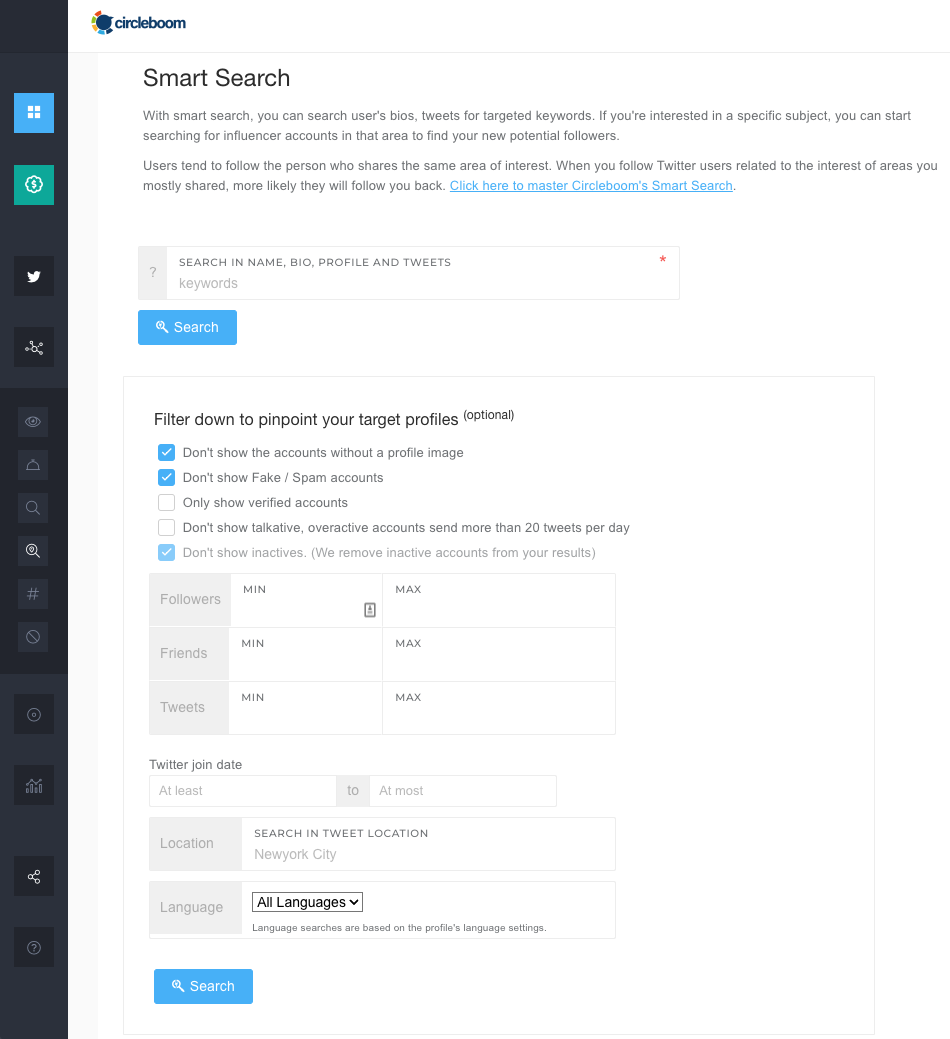 And, finally, there's a cool search facility, allowing you to search by interest and filter by location, language, the date they joined Twitter and more. The hashtag/keyword search makes it easy for businesses to search for the perfect customers.
I also used Circleboom Twitter to help me unfollow everyone on Twitter so I could effectively start again and declutter everything.
Circleboom Publish is a really powerful social media publishing tool. While it might not offer a social inbox or a reporting feature, it has some very powerful features. These include multiple account scheduling, queue publishing, Canva integration, publishing from RSS, article discoverability and a video downloader (to download videos from Twitter, Facebook, Instagram and TikTok).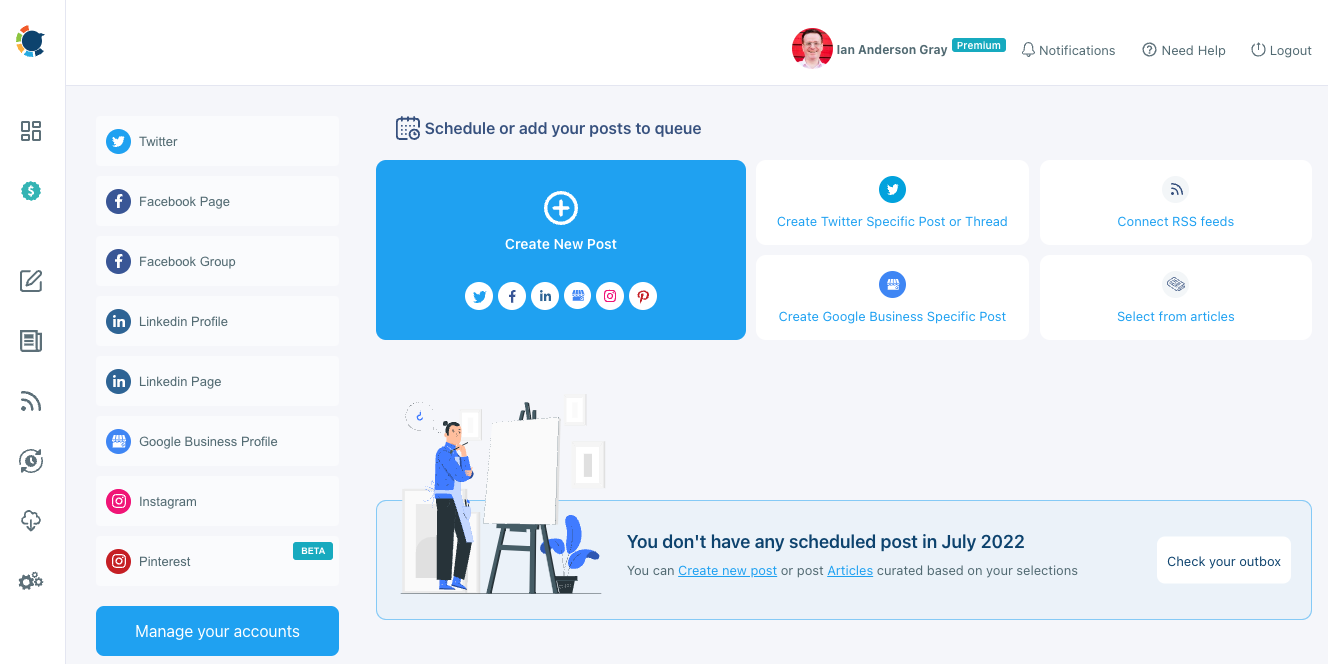 I only just found this out, but Circleboom Publish is one of the very few tools to support the scheduling of Twitter threads. I love threads on Twitter, so this is something I'm good to use. Very soon they will be adding a hashtag generator. Finding the perfect hashtag can be tricky, so this is going to be very useful indeed.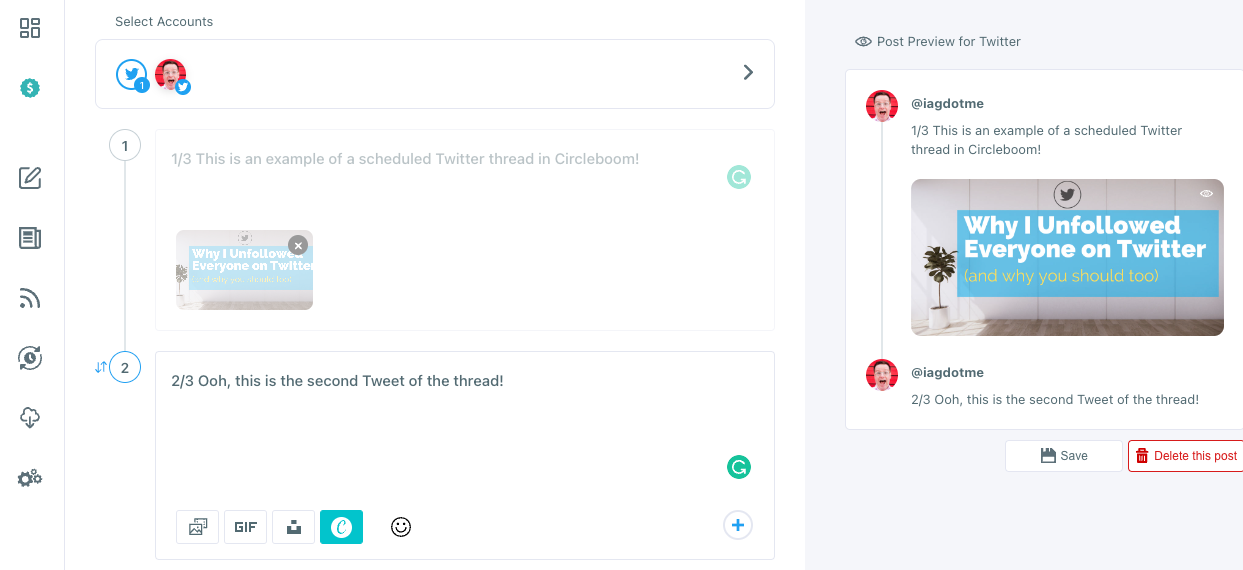 It's cool that it supports Google Business Profiles which is very important for small businesses. Circleboom supports 'Offer' and 'Event' posts so you can add your business' call to action.
I'm really impressed with the user interface and the way they've made a very powerful tool very easy to use.
Both Circleboom Twitter and Publish have free plans. Circleboom Twitter paid plans start from $24 per month (or the equivalent of $11.99 per month if paying annually). Circleboom Publish paid plans start from $18.99 per month (or the equivalent of $15.83 per month if paying annually).
#2 Agorapulse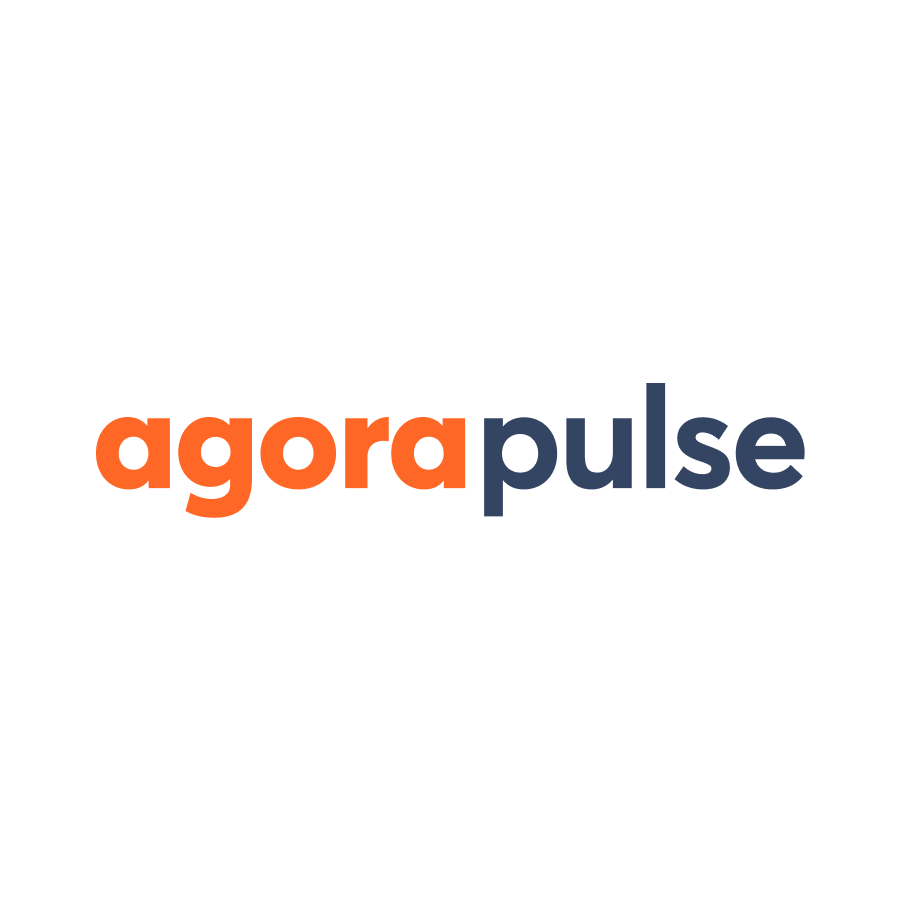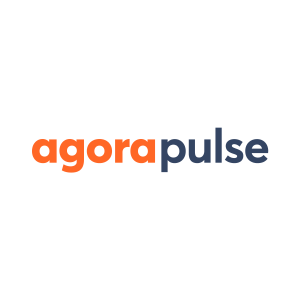 I've used Agorapulse on my social media since 2015. Although its paid plans are not the cheapest, it has a very generous free plan which is perfect for small businesses to get started.
In my view, it's the most robust and powerful social media management tool and it keeps on getting better. It integrates with all the main networks including Facebook, Twitter, LinkedIn, Instagram, YouTube and Google Business. TikTok is coming soon. It offers publishing/scheduling, analytics/reporting, social inbox, listening, competitor analysis, community management and more.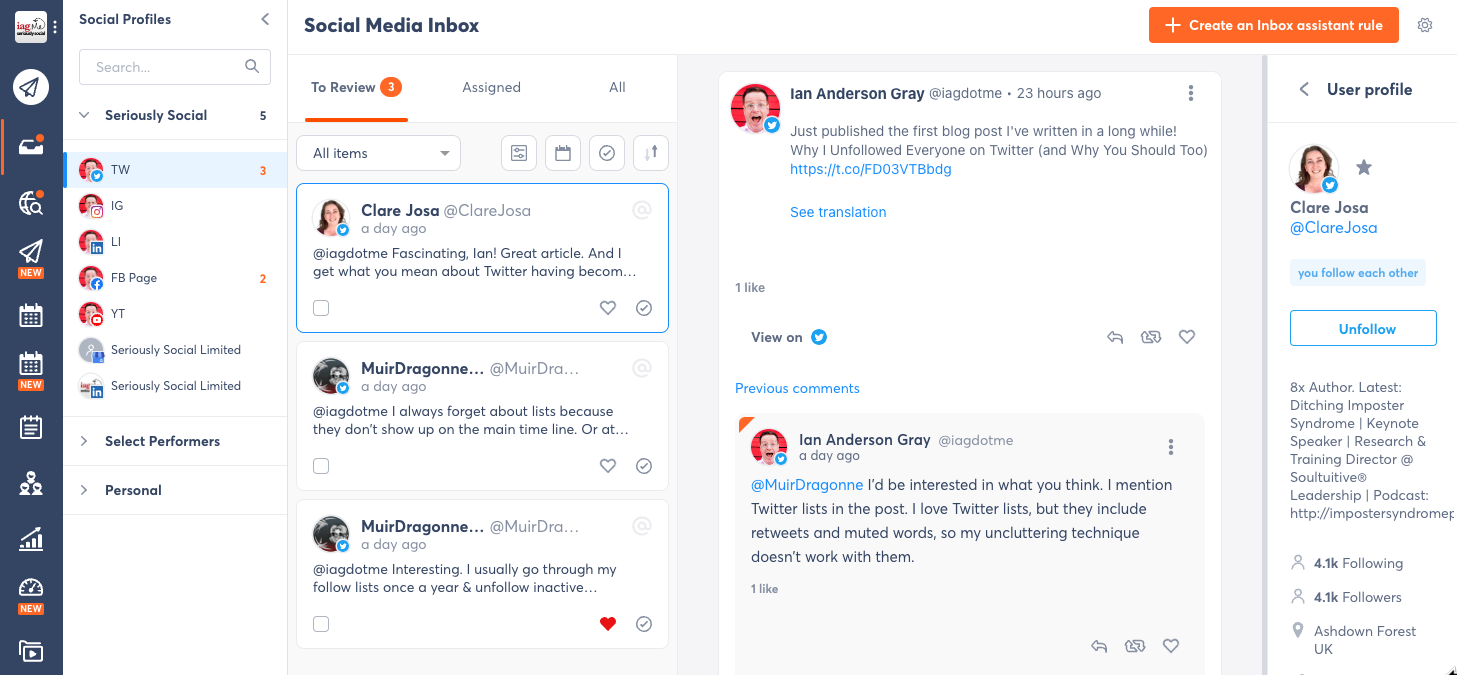 I love the inbox zero workflows which allow me to get through all my comments, mentions and messages really quickly. Assigning to my team members or engaging, commenting or archiving.
The reports are incredibly powerful and lovely to look at!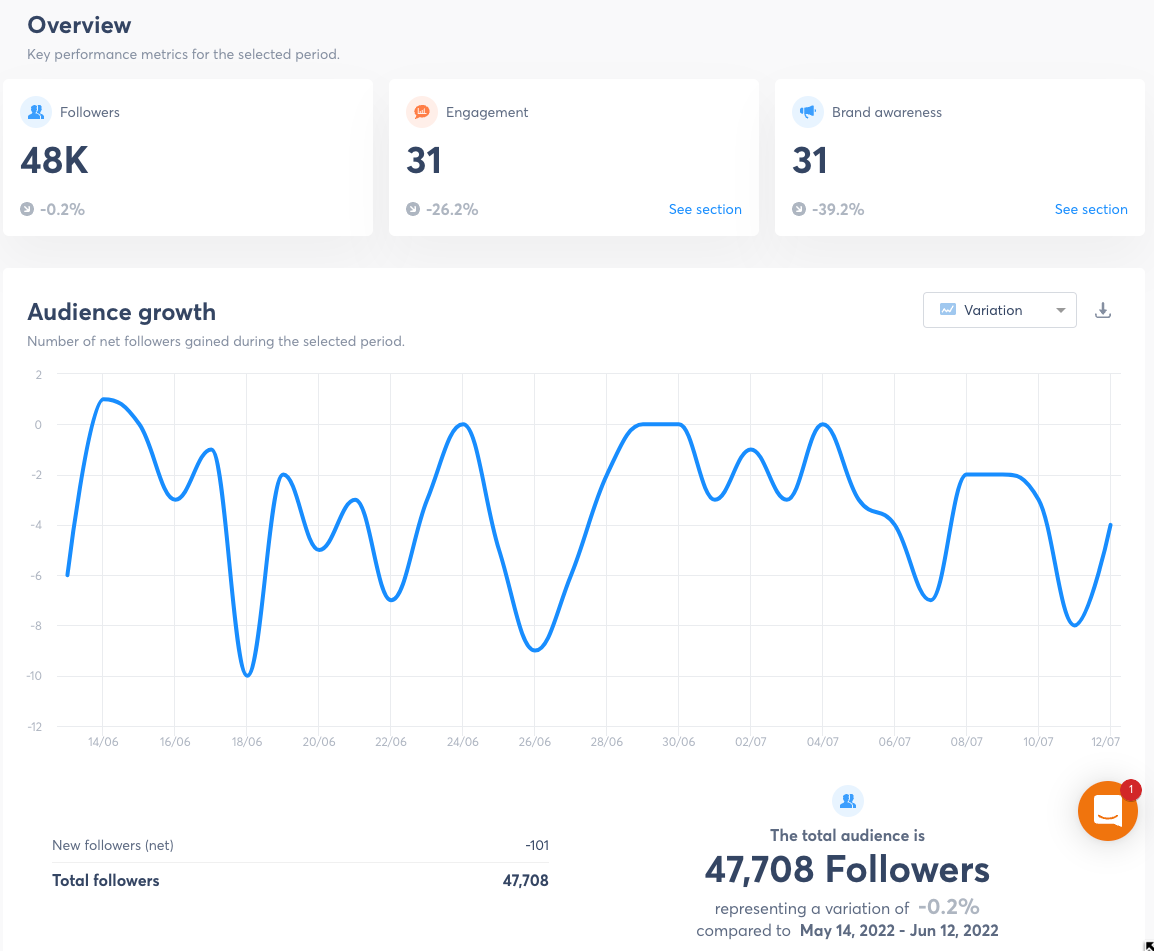 Agorapulse free allows you to manage 3 social channels. Paid plans start from $99 per month (or the equivalent of $79 per month if paying annually).
#3 Adobe Express
I used to include a tool called ContentCal in this article. Well, ContentCal was bought by Adobe and it has now included it in Adobe Express.
Adobe Express is the perfect tool for small businesses.
First of all, let's talk about the price. It's either free (and the free plan is very generous) or only $9.99 per month (or the equivalent of $8.33 per month if paying annually). That's incredibly good value.
You get the following with Adobe Express :
Templates, design assets and Adobe Fonts
Royalty-free Adobe Stock collection photos (limited access with free plan)
With the paid plan you get access to 20,000 licensed Adobe Fonts, curved types, grids, and font pairs.
Plan, schedule and publish social media content (not available on the free plan).
Add your branding, logo, colours, and fonts
Convert & export to and from PDFs and other file types.
You use Adobe Express on the web, but there are also apps for iOS and Android.
Adobe Express allows you to create social media images, banners, posters and more. It works very similarly to Canva.
But with Premium, you also have the features that have been taken from ContentCal.
It isn't a traditional social media management tool like Agorapulse, Hootsuite or Sprout Social. It's a social media planning tool. And it helps you post and schedule content.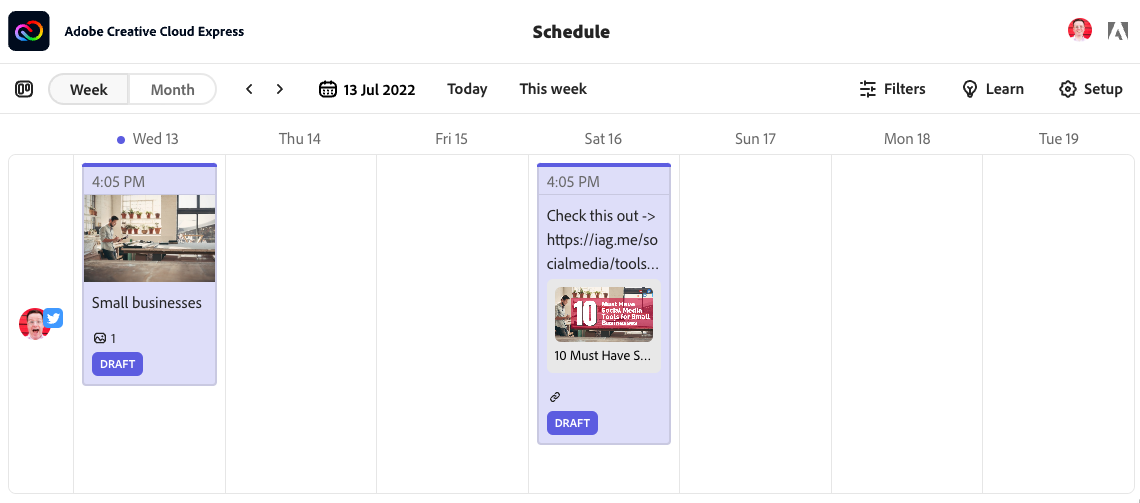 You can plan by pinning ideas to the pinboard and brainstorming your content. And then move the content over to the calendar, and schedule or publish.
It replaces all those tools and makes it easy to brainstorm, plan, approve and publish content all from one tool. It's just so easy!
#4 Wave Video
Wave.Video is an online video creating and editing tool as well as a live video broadcast tool.
I love using it a lot! It's just so easy to use and integrates with a huge library of stock videos and audio files. There are loads of high-quality free videos to choose from as well as premium ones too.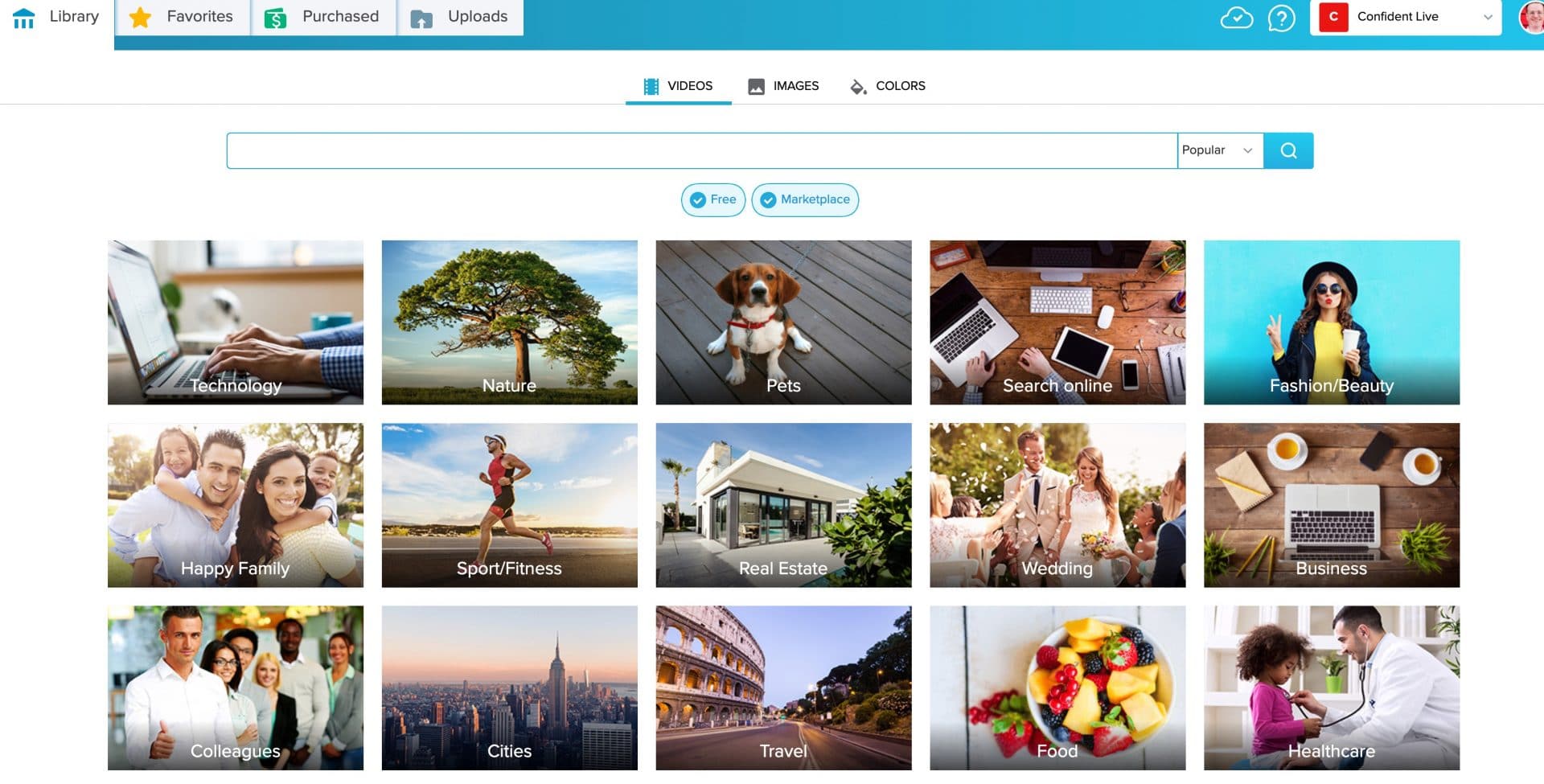 As well as adding videos from the library, you can upload your own video clips too. Then you can trim the clips, and add more to your masterpiece. Then it's a case of adding text with your brand's colours and fonts, calls to action, graphics, stickers, watermarks and more. And you can add music and sound effects too.
Wave Video is nowhere near as powerful as a professional video editor like Adobe Premiere Pro. But for many situations, Adobe Premiere Pro is just overkill. Wave Video makes creating videos quick and easy and has saved me so much time. I love the way you can add videos from the library as well as music, audio, graphics and more.
And once you're done, you can export to a plethora of different formats including YouTube, LinkedIn, Twitter, Facebook, Instagram (square), Instagram Story (portrait format) and more. Wave Video crops the video and resizes the text perfectly for each format.
You can also broadcast live to Facebook, LinkedIn, YouTube and more via its dedicated live video tool.
#5 MailChimp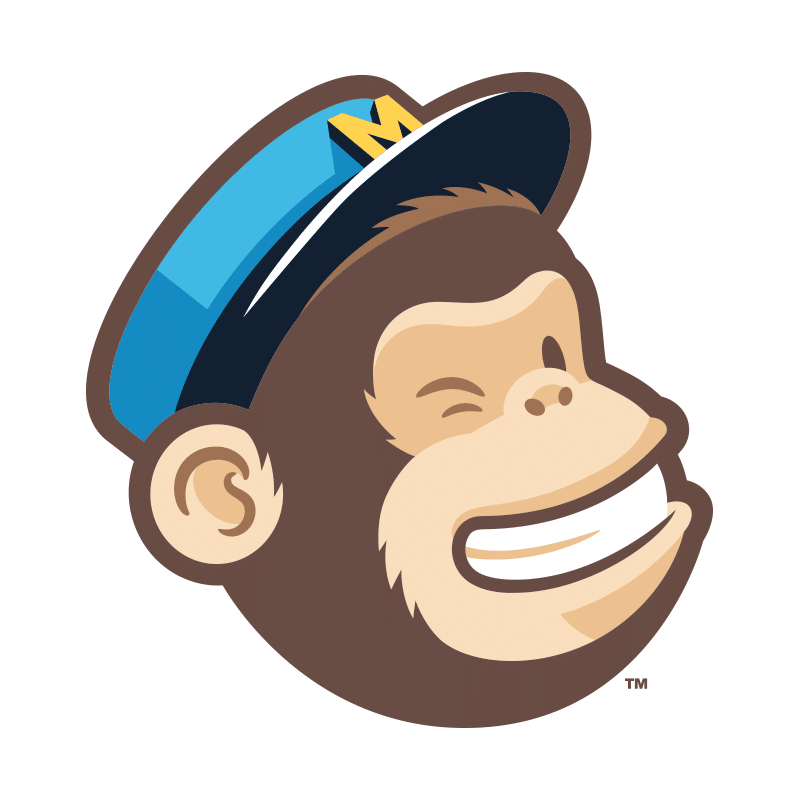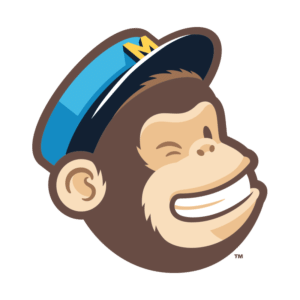 I now use ActiveCampaign for my mailing list.
But when I started out, I used MailChimp. It's got a free plan and very cost-effective starter plans.
MailChimp is an email marketing and newsletter service with a long and proven track record. When doing research for this article, I couldn't quite believe that they have been going since 2001- that's not long after I first started building my own websites!
Since you are reading this article I am hoping I don't have to tell you how powerful social media is for your business- meeting your customers where they are.
However, don't forget email! I keep on hearing stories about the demise of email- that the younger generation isn't bothering with it anymore. This is utter nonsense! What do you need to sign up for the likes of Facebook or Twitter? A valid email address! You may have push notifications on your phone to alert you when someone tags you or updates their status on Facebook- but many people have notifications sent to you by email?
Building up your own database of email contacts is vital for the majority of small businesses. It helps you find out more about your customers or potential ones. MailChimp makes this so easy and over time you can add more information such as demographics (age, gender, location etc).
Whilst many of the features are free, if you want more and specifically you want to send to more than 2,000 subscribers, you'll need to upgrade. However, the prices are very reasonable (from $11 per month) so it shouldn't be a problem. Perhaps one of the biggest reasons I recommend MailChimp is its customer service.
#6 LastPass
How many sites and applications do you use that require a password? How do you remember the password? Do you use the same password for everything, or even for just a few? With so little time at our disposal, it is sometimes all too easy to cut some corners when it comes to security. LastPass allows you to have top security across all your social networks and never have to remember more than one password. I definitely recommend using it- and it is a lot easier than you might expect.


I know many people use the same password across all their sites, but what if a hacker gets hold of that password? It means they can gain access to all your accounts and lock you out. There was even the story of a hacker remotely wiping someone's computers and mobile devices (read about Mat Honan's experience here). Your email account's password is arguably the most important of all- since if a hacker were to gain access to your email account they can potentially reset the password for all your accounts.
LastPass works in your browser or on your mobile device. Once you enter your LastPass password, LastPass automatically fills in all your usernames and passwords so you never have to remember them again. You can also do the LastPass Password Challenge to see how secure you are.
My recommendation once you have installed LastPass is to take the time and change all your passwords to more secure ones. LastPass can even generate ridiculously complex passwords for you- ones that would be impossible for a hacker to guess (unless they had a couple of million years to spare!). For example, here is a password generated by LastPass (16 characters including special characters)- J#BS0AiOdb0!PeRU. You'll never have to write down a password again!
#7 Rev
Video is powerful, but 85% of people watch Facebook video without sound. That's why adding captions to your videos is so important. If you can grab your viewers attention at the start with captions, you might convince them to put the sound up and watch the rest.
And, Live video is powerful, but why just leave it there? Why not repurpose your live video content into a blog?
I use a transcription service called Rev, I do. I've been using it for years and it's saved me so much time.

Rev is an audio or video-to-text transcription service that uses real human beings to do the work. Over the years I've transcribed meetings, live videos (after they've been broadcasted) and more.
They only charge $1.50 per minute and transcribe audio or video into text in a variety of formats.  For example, they can give you an srt file which you can add to your Facebook or YouTube videos to get really accurate closed captions. To save money, you could get the first 3 or 4 minutes of your live videos transcribed. That way, you'll only pay $5 or $6 and hopefully encourage your replay viewers to turn the sound up. But if you can, get the whole thing transcribed - it's pretty cost-effective at $1.50 per minute!
Or you could get a full transcription to create full show notes, or repurpose them into a blog post!
Pricing:Rev charges $1.50 per minute for their transcription services.
#8 Google Analytics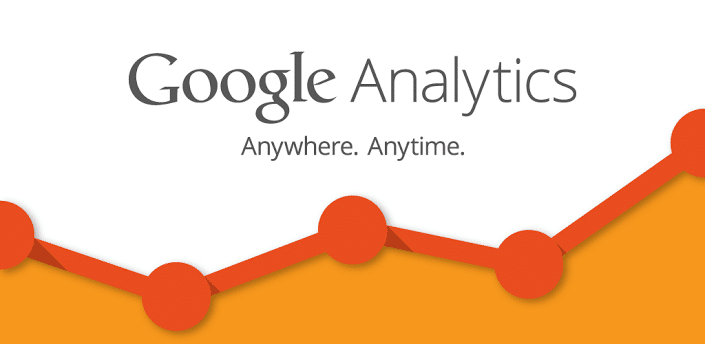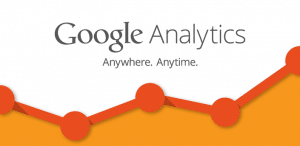 If you have a website or a blog then it's highly likely that you already have Google Analytics installed, and if not- you should!
Google Analytics was launched back in November 2005 and is a completely free enterprise analytics product. That means it doesn't just tell you how many hits you have to your website- it tells you how many actual visitors you have, where they're from, how long they stay on the website, where they come from and much more!
GA was radically overhauled back in 2011 to include custom dashboards and real-time statistics and it also has a very powerful social media analytics report built in. If you don't track your visits and visitors on your website then how can you tell if your social media presence is actually making a difference? Whatever business you are in, Google Analytics is a must. Sure there are other analytics tools that you can add in addition that can do some cool things like Crazy Egg, but I think for the majority of websites GA is the tool to use.
Conclusion
So, there you go, 10 social media tools that all small businesses should be using. Of course, you may disagree and you may think there are some glaring omissions.  If you have any thoughts, then please leave them in the comments below!