25 Features the Best Social Media Management Tools Have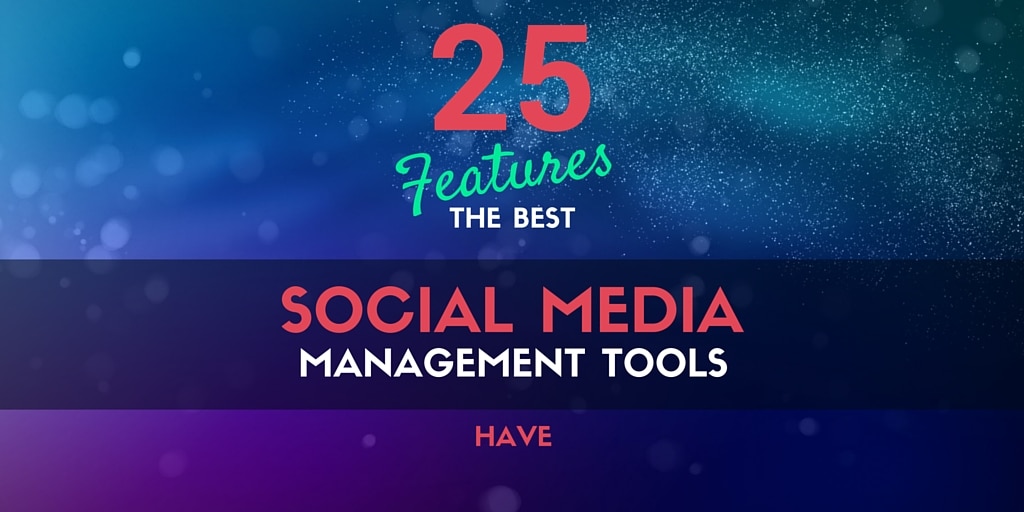 This is a Seriously Social Community guest post by Michael Patterson
---
As the market for social media management tools continues to grow, it's critical to consider the most crucial features your social media tool should have.
This article breaks down the 25 most important features to look for when making your decision and is broken up by various tool-types.
I've also included blurbs on why you absolutely need each of these features for your own social media efforts.
Disclaimer:
I'll preface this article by saying I work at Sprout Social, a social media management tool for business. While working at Sprout has given me a breadth of knowledge into the features marketers find crucial for managing their own social presences, it's important for me to caveat that the examples I use herein are typically from our own platform. I've done this because I know how to speak to Sprout Social, but bear in mind there are other tools out there with similar functionality to those that I list (I just don't love them as much).
---
Social Media Publishing Tools
Sharing smart, relevant content across your social media accounts is one of the best ways to drive new followers, increase engagement with current customers and establish your brand as a thought leader in its respective space.
When comparing social media management tools make sure that you consider the following publishing capabilities.
#1 Message Scheduling Tools
If you're not taking the time to plan your social media content calendar in advance, you could find yourself scrambling to find something to share at the last minute.
Since networks require an insatiable amount of content, that time spent scrambling for content could lead to a massive headache. It's key to have a social media tool that allows you to sit down and plan weeks, or even months, worth of content at once.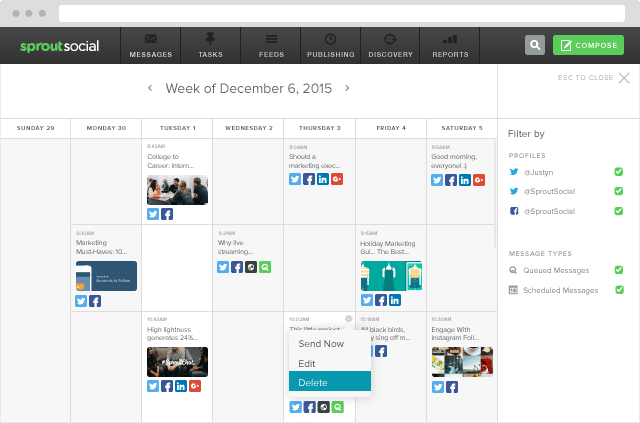 Try to find a tool that allows you to visualize your entire content calendar at once. This helps you address gaps in your posting schedule which you can then fill to ensure a seamless flow of unique social content.
#2 Message Queueing Tools
With social media scheduling tools you have to choose a hard day and time you'd like to share your message. While this is fantastic it isn't as conducive to free-form posting.
A social media queueing tool allows you to load up a hopper of content which will share posts whenever you have a lapse in content. So whenever you're on a website and find an interesting post you can load it up into your social queue to be automatically published at a later time.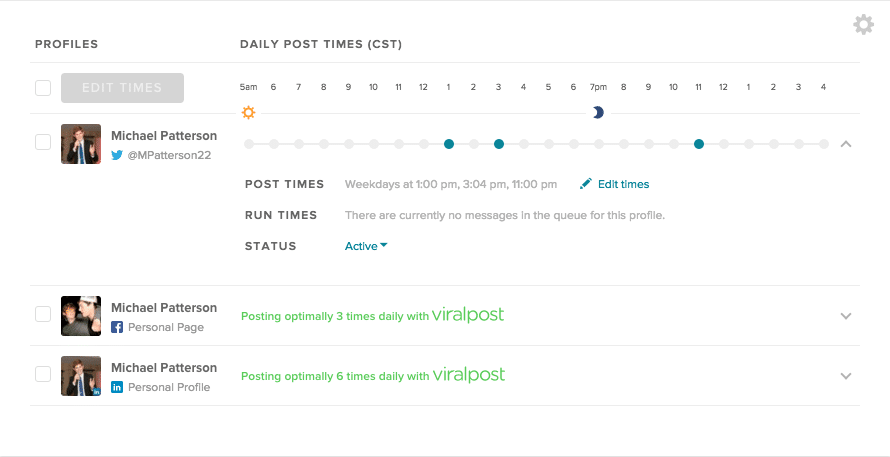 #3 Post-Time Optimization Tools
It's crucial to publish to social when your key audience is actually online. Though there are blog articles that tell you the best time for posting to each network, they're inherently flawed.
No two social media audiences are the same, so no two best times to post are the same. That's why your chosen social media management tool should have a feature that automatically shares your content at a time determined a best fit for your unique audience.
#4 Post Geo-Targeting Tools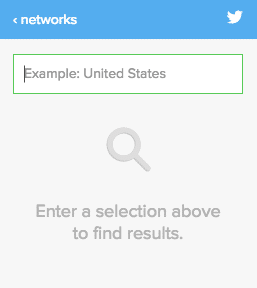 Large brands (especially those conducting business around the world) need to be conscientious about which social media updates they're sharing to each location.
A post that may resonate with your fans in the United States may be completely misconstrued by those living in other countries.
There are stories all over the internet about marketing campaigns gone awry because key messaging didn't translate. Geo-Targeting tools let you share each of your social posts to distinct locations, helping you avoid a PR nightmare.
#5 URL Tracking Tools
A lot of social media management tools can tell you how you performed across the various social networks in terms of reach and clicks. However, if you want to get an idea of how users actually behaved once they reached your website, you'll need to track the URLs that you share.
Pick out a social tool that automatically appends all of the links you share with UTM tags that you can analyze within your website analytics tools. If you're new to the idea of link tracking, check out the Google Analytics article on the topic.
#6 Message Approval System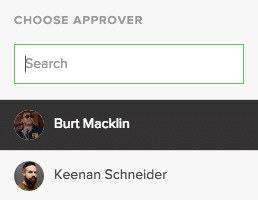 There are a lot of examples companies sharing an inappropriate message on social media that came back to hurt their brand. While it's possible to recover from a negative social media update, it's in your best interest to avoid getting in those situations in the first place.
A message approval system makes it possible for certain team members to craft social media messages, while also requiring those messages to be approved by someone with more authority over posting.
---
Social Media Engagement Tools
One of the most important things you can do on social media is engage with your following to provide service to your customers, drive new customers and grow all of your relationships.
Unfortunately most brands aren't keeping up with engagement, and 7 in 8 social messages sent to brands on social media go completely unanswered within the first 72 hours.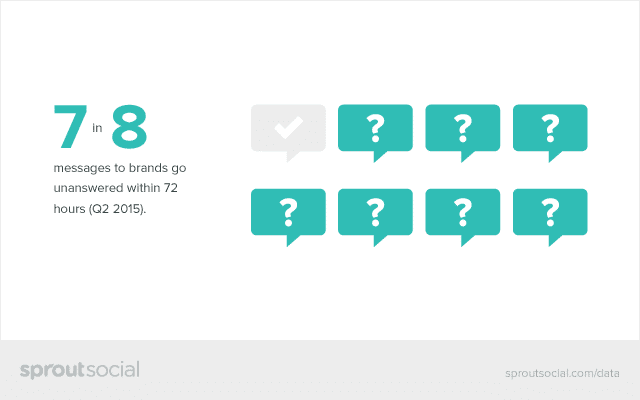 Make sure your social media tool of choice has robust social media engagement features to ensure no important social media messages go unanswered.
#7 A Social Media Inbox
The tool you choose should put a strong emphasis on aggregating all of the messages you need to respond to into a reliable stream.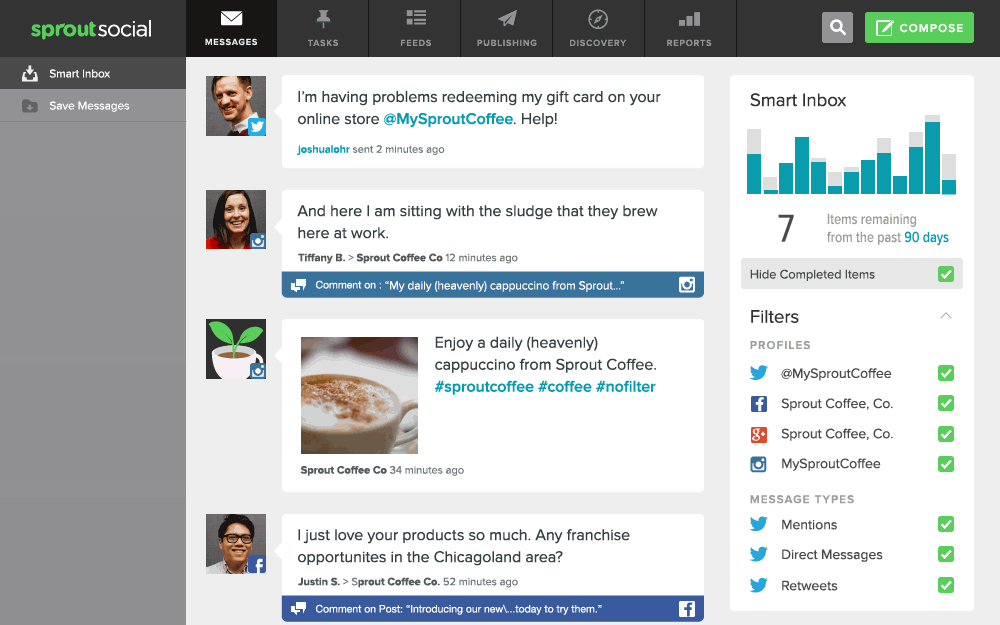 Some users prefer multiple feeds, but one robust social inbox is better for making sure you and your team are responding to all messages in a prompt manner.
#8 Inbox Message Completion
Once you've completed responding to a key message, you should clear it from your inbox. This streamlines the engagement process and ensures that you're not responding to messages twice, or worse yet, not responding to messages at all.
You'll also know when you've completely caught up on your messages, and you can then allocate your time on another social task.
#9 Keyword Monitoring
Social media listening is an important feature for savvy marketers. Social media monitoring allows you to find all of the conversations happening about your brand regardless of whether or not you're directly mentioned.

When you see that you're mentioned you can navigate to those conversations and create a dialogue with the people already discussing your company, whether positively or negatively.
---
Social Media Analytics Features
Stakeholders at your company will constantly ask you to justify the need for social media, so you'll need a tool with robust reporting features prove your worth.
Not only are social media reports great to prove the value of social media, but they also help you optimize your overall performance. You can use a social media analytics tool to analyze past successful social posts in order to inform ongoing strategies.
#10 Individual Network Reports
Not all social media networks should be embraced by your brand.
At a certain point in time you have to know when to give up on a network not producing results in order to allocate time to a more productive site.
Utilizing a report that gives you data on how you perform across your entire social ecosystem (getting as granular as individual networks) will help you decide when it's time to invest, and when it's time to pull the plug on social sites.
#11 Engagement Reports
Though social media engagement features like a Smart Inbox will help you effectively respond to customers, it's also important to utilize social reporting to see how well you're keeping up.
Choose a tool that tells you not only how frequently you're responding to key inbound social media messages, but how quickly you respond. Compare those results with others in your industry to see how you compare.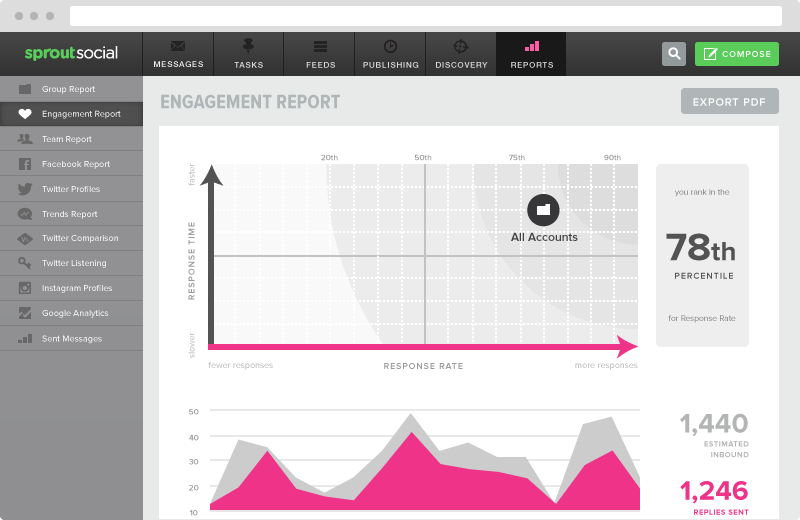 #12 Team Reports
If you're running a large enough social media account (or if you're managing several smaller profiles) you may be working with a team. Make sure to choose a social media tool that has team reporting functionality so you can compare which of your team members are performing well and which could use some improvement.
Data found in a team report can also help you make the decision on when to expand your team.
#13 Sent Message Reports
In order to craft successful social media messages, you need to figure out what exactly resonates with your audience. You can do this by looking at reports of all the messages you've sent in the past to see which were successful, and which were duds.
Study the various message copy, post type and posting times of successful messages, and use that to dictate your strategy moving forward.
#14 Trends Reports
A good trends report will show you things like which topics and hashtags you're generally associated with, which accounts you mention most in your posts, which accounts are frequently mentioned with you and much more.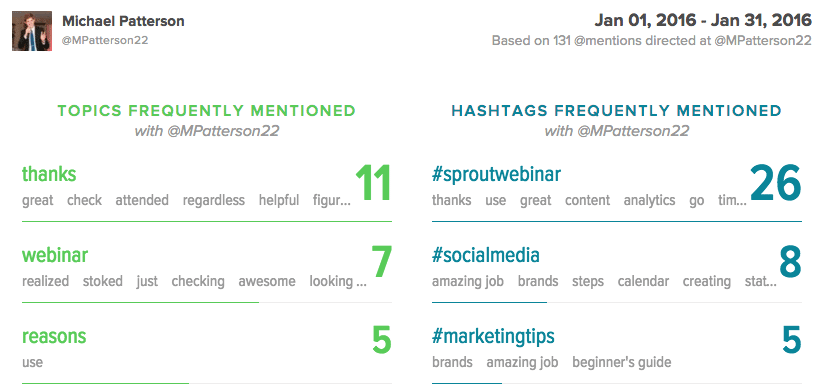 These different trends can help you figure out what kind of content to write about and which people to build stronger relationships with.
#15 Custom Branding
At the end of the day, it's the social media manager doing the bulk of the work. Though social media tools may generate the reports for you, all of the data is based on your own day-to-day activity, and you should take credit for it.
Choose a social media management tool that allows you to add your own logo to your social reports to ensure you're getting the well deserved credit.
---
Team Collaboration Features
Larger social media teams need a way to work together fluidly without stepping on each other's toes or doubling their efforts.
As more companies embrace social media throughout various departments within their organization – customer service, sales, human resources –the need for collaborative tools is more important now than ever. If you foresee working with a team in the future, make sure the tool you choose has the following functionalities.
#16 Assigning Tasks
Specific people or teams within an organization may be more well equipped to answer certain questions than others. Pick a tool that enables you to assign each social media message to a person or group is the best fit to respond to those needs. Most tasking tools even allow you to monitor and follow up on how frequently and effectively tasks are being completed.
#18 Collision Detection Tools
I've mentioned double-responding and missing social media messages a few times throughout this article as being something to avoid at all costs. That's because it's so critical.
Relationships with your social followers are fickle and fleeting, and each conversation should be approached carefully. Collision detection tools show you when someone is responding to, or has already respond to, a message.
#19 Account Permission Tools
Not every person within your social organization has the same level of authority over the account.
Interns at your company may only be allowed to draft messages and monitor keywords, while senior management is expected to publish the messages and run robust reports.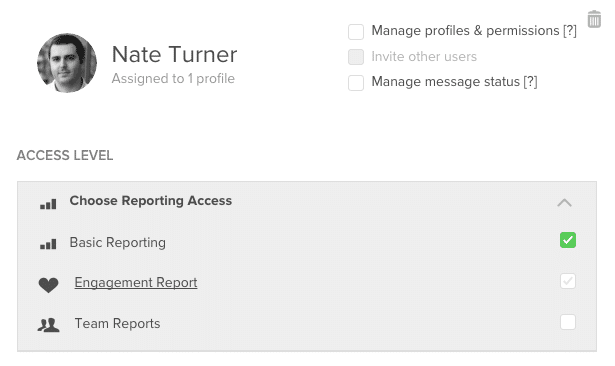 Use a tool which allows you to delegate specific permissions to specific users so that each individual stays focused on their key activities, and so that nobody has access to functionality that they shouldn't.
---
CRM Features
CRM stands for Customer Relationship Management, and it's typically a suite of tools to help you keep track of past interactions and information on your customers and leads.
Social CRM tools allow you to leverage personal information on social followers to cater messages for a more meaningful interaction.
#21 Conversation History Tools
One of the most important CRM features in a social media manager's arsenal is the ability to look at historic conversations with unique social users.
Every time someone reaches out to you with a question or concern, you can look at past interactions and consider a few key questions to determine the level of attention that person needs.
Is this someone who frequently trolls your accounts that requires less attention?
Is this a new interaction and a potential new customer we should task to someone in sales?
Is this a dedicated brand advocate who requires immediate attention?
#22 Customer Notes Tools
Not all of the info you need to cater your conversation with someone on social will be in the message history.
For example, if a team member found a strong sales opportunity with an individual it's doubtful that they tweeted that person "$$$$$$$$". However, that person could task that individual over to the sales team with the note "this person is ready to close a deal".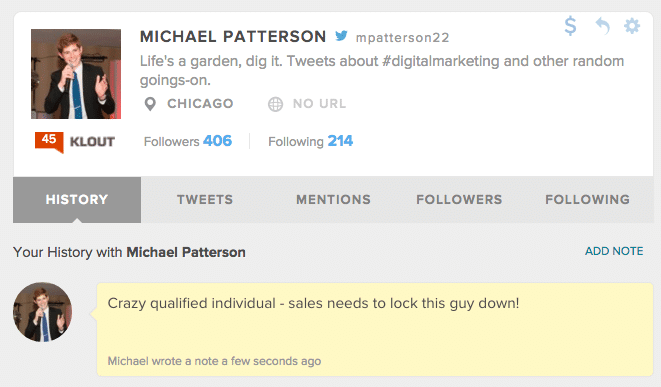 ---
Mobile Features
Social media never sleeps, but you can't sit in front of your desktop all day.
That's why it's key to choose a social media management platform with robust mobile capabilities, allowing you to bring your social presence with you wherever you go.
#23 Mobile Application
You should look for a social media mobile app that has almost all of the same features as the desktop platform. At the very least you'll need a mobile application that streams all of your inbound messages and allows you to respond effectively when you're on the move so you never miss a key opportunity.
#24 Push notifications.
An incredibly nice feature to have for your mobile social media app is push notification that let you know whenever someone mentions your brand on social media. That way you can quickly respond to these messages without requiring you to keep your eyes glued to the app all day.
---
Employee Advocacy Tools
Employee advocacy is a relatively new idea in the social media marketing world.
Employee advocacy tools make it easy for companies to encourage their employees to share brand content to their networks of trusted connections, exponentially increasing the reach of content and harnessing the power of word of mouth marketing.
#25 Bambu
Bambu is an employee advocacy tool we created here at Sprout Social.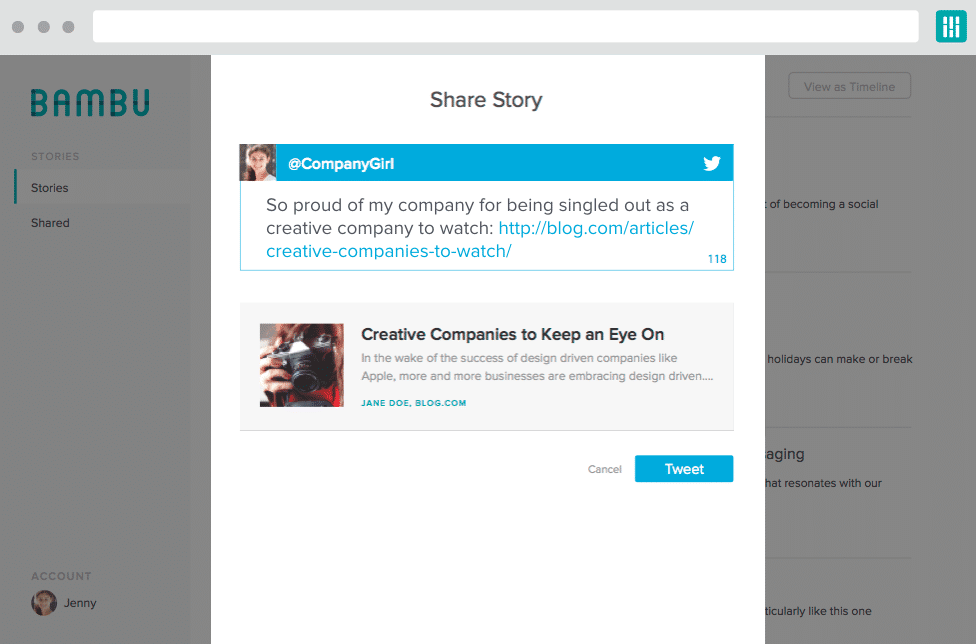 Bambu makes it easy for individuals at your team to load up a queue of your most important for the rest of your organization to share. Bambu also works incredibly well as an internal communications tool, making it easy to discuss best social media practices and current requirements and responsibilities.
In Conclusion
That's a lot of information to digest when considering a social media management tool, but the reality is that social is growing in importance all the time, and you need to spend quality time picking out the perfect solution for you and your company.
Fortunately enough, many of the social media solutions out there, such as Sprout Social, offer a free trial so that you can get your hands dirty and test drive each platform for yourself!
---
A note from Ian...
There are many social media management tools out there, and you need to do your own research to find the best tool for your situation.
I'm a massive fan of Sprout Social, but I do also recommend alternatives such as Hootsuite, Agora Pulse, Oktopost and Jollor. There's also Buffer if you're looking for just a publishing & scheduling tool.
A huge thanks to Michael for this guest post, and I highly recommend you check out Sprout Social and have a test drive with their free trial.
Related articles: