7 Reasons NOT to use Hootsuite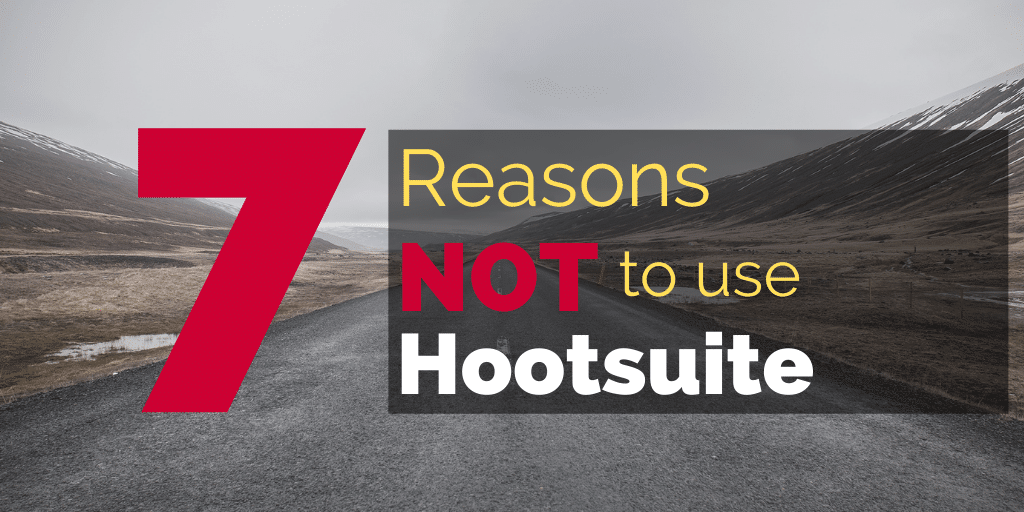 Hootsuite Review & Hootsuite Alternatives
I update this article regularly. If you notice anything that has changed, please contact me.
This is a full Hootsuite review. I cover Hootsuite pricing, alternatives and the 7 reasons why you might not want to use the social media management tool.
I first published this article back in 2012. It started off as "4 Reasons NOT to use Hootsuite". I added an extra 3 reasons a little later.
I had no idea that this post would get so much traction. It's had over 848,000 views and over 950 comments. And I've heard it's certainly known within Hootsuite. I believe that they couldn't understand why it became so popular!
But it was time for an update.
Please note this article is very long and detailed. You can use the contents table to get to the sections you want to read.
550% Increase for Hootsuite Legacy Pro Plan Users
In May 2021, Hootsuite forced legacy pro account users to upgrade to the new pricing. For some, this meant a 550% increase. Also, the already limited free plan was made effectively useless with a max of 2 social networks and only five scheduled posts per month! As of March 2023, the free plan has been removed.
The Pro plan used to be $5.99 per month and it's now $149 per month (if you pay monthly). That's an increase of over 2387%!
---
Hootsuite Today
In some ways, not much has changed. But some things have, and I want this article to be as helpful as possible.
There are so many social media management tools out there. It's so confusing for many entrepreneurs, social media teams and business owners, and I aim to help you make the right decision for you.
For some of you, Hootsuite might be the perfect tool.
Many people have read this article and have become Hootsuite users.
If you read through my points and don't find that my reasons affect your situation, then Hootsuite could be the tool for you. And, of course, there are lots of great things about Hootsuite. I still recommend it to some of my clients.
But this article focuses on the problems and disadvantages and why you might not want to use it.
The title of this post may sound a little provocative, but I aim to be constructive in my criticism.
I have had a lot of experience with Hootsuite over the years. At one point, it was my preferred tool.
Back in 2012, I wrote this post out of my personal frustrations with it.
What I find really surprising is that not much has changed.
There aren't that many new features...
The user interface is very similar (despite a lick of paint).
It's still clunky and buggy.
One thing has changed - the prices have rocketed up.
The pro plan has increased by 7 and a half times since I wrote this article!
To be honest, that's depressing. This article, and others like it, haven't done much to initiate change at Hootsuite.
It's still a tool I want to like, but I don't have much confidence in Hootsuite becoming the tool I want it to be. And that is sad.
Please let me know your thoughts. Join over 850 other comments below, and participate in the discussion whether you agree or disagree with me!
Of course, do have a read of my other social media management tool posts. For example:
If you want to try Hootsuite, there is a 30-day trial of the Pro plan…
What is a Social Media Management Tool?
A social media management tool does more than publish or schedule content.
I love Buffer, and SocialChamp but they are not proper social media management tools. They do a great job at posting and scheduling content and offer analytics, but that's it.
I love SEMRush, Talkwalker and Brandwatch, but these are listening or reporting tools. They are not true social media management tools.
Social Media Management Tools aim to be the "One Tool to Rule them All". They try and help manage all aspects of your social media empire, including:
Posting and scheduling content to your social media channels
Analytics and reporting on your social media efforts.
Engagement. So you can respond to your social media mentions, comments and messages efficiently.
Listening. So you can find and engage with people talking about your brand, competitors or keywords.
For more information, feel free to watch my presentation on how to Choose the Ideal Social Media Management Tool.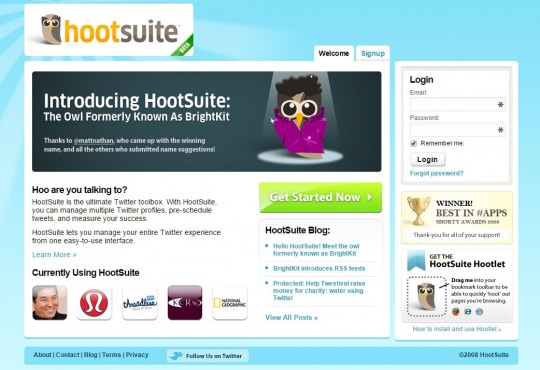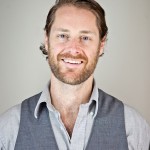 Hootsuite was launched back in 2008 by Ryan Holmes. He launched it through his digital services agency, Invoke Media.
At first, it integrated with Twitter only and was called BrightKit.
In 2009 they launched a competition with a $500 prize to help choose a new name. The winning name was Hootsuite.
Since then, Hootsuite has grown tremendously. It's the biggest and most well-known social media management tool. Hootsuite has over 16 million users and employs 1,000 people from over 175 countries.
In 2018 they received $50 million in growth capital. It will be interesting to see if the platform improves with this funding.
In October 2018, Hootsuite was up for sale. They hired Goldman Sachs to explore selling for at least $750 million! No buyer has been found as of 2023.
The head office is in Vancouver, Canada.
Hootsuite integrates with a large number of social channels. The main ones are:
Twitter
Facebook groups
Facebook pages
LinkedIn profiles
LinkedIn pages
Instagram
YouTube
Pinterest (publishing only)
If those aren't enough, you can look through the Hootsuite App Directory. Third-party developers create the bulk of these apps. Some are good, and some are, well... not!
Here are some other advantages:
Schedule updates (including on a calendar and even upload from a spreadsheet (CSV file)
Team Features. Collaborate as a team (delegate replies, tweets, mark as done, track messages etc.)
Mobile apps (iOS & Android)
Customised analytics (including scheduled reports)
RSS integration (post updates from an RSS feed)
So it's time to get on with the reasons why you should NOT use Hootsuite!
Reason #1
Expensive - Especially for Teams
Hootsuite's pricing is very confusing and complicated. I recommend reading this blog post on Hootsuite pricing, which is well worth a read.
As of March 31, 2023, there is no longer a free plan.
Professional (from $1188 per year or $149 per month if paying monthly)
Team (from $2,998 per year)
Business (from $8,868 per year)
Enterprise (possibly from $16,000 per year).
Hootsuite Professional
The cheapest paid plan is Hootsuite Pro.
When I first wrote this article, Hootsuite Pro cost $5.99 per month. It allowed you to manage an unlimited number of social channels. It came with two users, and you could expand up to 10 users. Additional users used to cost from $15/month.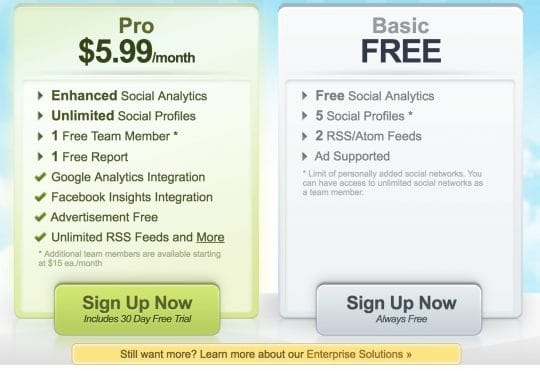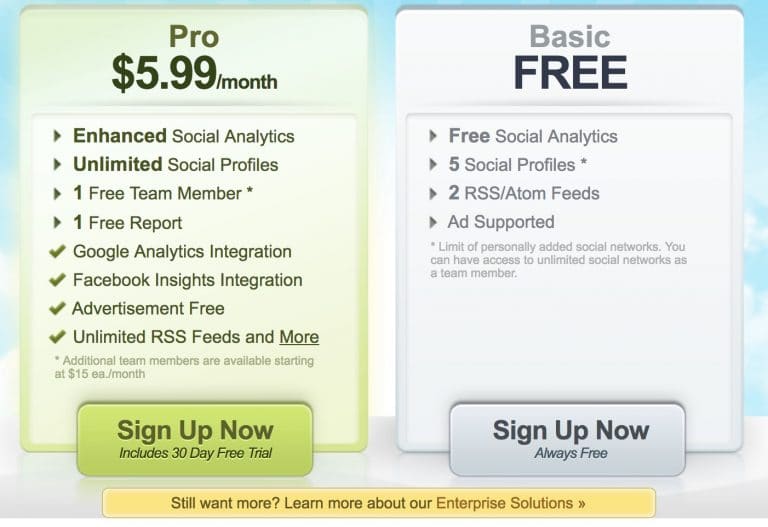 The Hootsuite Professional plan costs $149 per month, which adds up to $1788 per year! This limits you to a maximum of 1 user. There is no team facility anymore with the Professional plan.
You do get a discount if you pay yearly. The first year will cost you $950.40 which works out to $79.21 per month. Subsequent years will cost you $1188 per year (equivalent to $99 per month).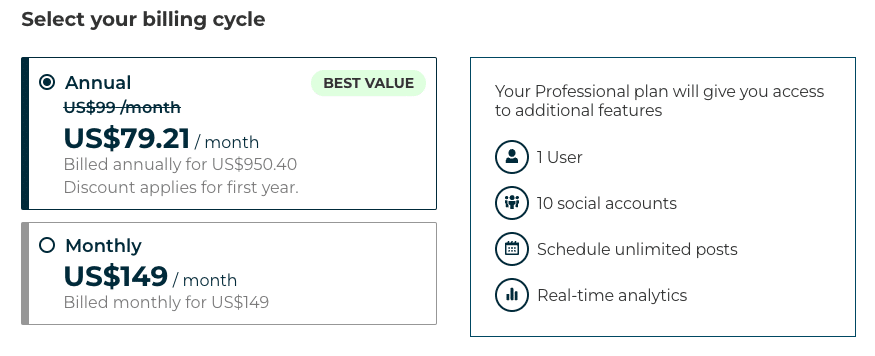 Hootsuite Legacy Pro users were forced to upgrade
Hootsuite had many legacy pro users. Many of these users had more than one team user per account. Hootsuite also had many users on the free plan. They've been focused on moving users to its new, more expensive professional plans. Some features such as Twitter DMs were removed from legacy accounts back in 2018.
Then in May 2021, all legacy pro plan users were forced to upgrade to the current prices. People were not happy!
Team Features
There are two levels of team features.
#1 Team Users
Do you have a team of people managing your social media channels?
Are you a Micro-business owner or a "solopreneur" and have a VA (virtual assistant)? VAs can help you publish content and manage your social media.
Do you have a larger business with a social media team?
Or maybe you have dozens of team members worldwide managing a global brand?
Tools with team plans allow more than one user to access the social media dashboard. These team members can manage your channels without knowing the social channel passwords.
This is vital from a security point of view.
It's surprising how many businesses share passwords for their social media accounts.
But what if one of your team members becomes disgruntled?
Or leaves your business?
They still have your passwords!
They could log into Hootsuite and post inappropriate content.
They could change the password.
They could close down the account!
Most of these cases would not happen if each user had different user accounts. Once they left, their access could be removed from the social media management tool dashboard.
#2 Team Management
Team management features are a must if you have a social media team. Even if you have an extra team member, such as a VA, being able to manage your team within the tool is essential.
Tools that offer team management allow you to assign different roles to your team.
For example, admin, editor and moderator. Facebook has this built into business pages.
Social media management tools should have this too. Team members can assign tasks to each other, and you can approve content as an admin or editor.
Team management features usually include:
Assign user roles. Control the level of access for each user on your plan.
Assign tasks. Assign incoming messages, comments, mentions etc., to other team members.
Team activity. See when team members are online and what they are viewing or who they are replying to.
Publishing workflow. Go from drafts to published posts with a team approval workflow.
Team statistics. Get the number of responses and response time for each team member.
Team audit trail. See who took action on a message.
Hootsuite Plans for Solopreneurs
If you are a solopreneur or micro-business owner, you might be managing your social networks on your own. If so, I recommend managing your networks natively on each network.
If you really want to use a social media management tool, only need access yourself, don't need full analytics and want to manage up to 10 social channels, then Hootsuite Professional is still not a good option. And it's expensive.
A good alternative is Agorapulse. It has a generous free plan, and its cheapest paid plan is only $69 per month (if paid monthly) or $588 per year (equivalent to $49 per month).
Hootsuite Plans for Teams
If you need to give access to another team member and want to use Hootsuite, the pro plan won't be enough. You'll need to upgrade to Hootsuite Team or higher.
Hootsuite Team Plan
The team plan costs $2,988 per year and includes three users.
You can pay monthly, but it's even more expensive at $399 per month. That's $4,788 per year!
You can manage up to 20 networks (or 10 with some team plans) which is quite generous, but there is a big problem.
Although the team plan gives you three users (including you), it has very few team management features.
Out of the ones I mentioned above, it only allows you to assign tasks to other team members.
Assigning tasks is a powerful feature but with the Team plan…
You can't assign user roles
You can't view live team activity
You can't view team statistics
There is no team audit trail
There is no team publishing workflow.
For example, you may have a VA or a creative team working on draft posts for a campaign. Or perhaps you run an agency and have a team member working on a campaign for a client.
It would be great to assign different roles for content creators, editors and clients and to have a leader or the client who can mark with final approval. But with the Hootsuite Team plan, this isn't possible. Having a proper team audit trail and a publishing workflow is really important, but you don't get that with Hootsuite Team.
Hootsuite Business Plan
The business plan costs from $8,868 per year and includes five users.
You don't have the ability to pay monthly, so you need to have the cash flow to pay the yearly fee.
You get to manage up to 35 social channels. And can have up to 10 users in your team.
Each extra user costs $1,188 per year, although it's challenging to get exact prices. The Hootsuite website doesn't state the price for extra users. If your team is five or more, you could be paying anything from $7,188 to tens of thousands of dollars per year for Hootsuite Business.
Pricing aside, there is some good news. You do get proper team management features with the business plan.
As well as assigning tasks to other team members, the business plan allows you to...
Assign user roles
Use a publishing workflow
View team statistics
View a team audit trail
The only little thing that I would have loved to have seen was the ability to see live team activity. This is available in both Sprout Social and Agorapulse at significantly lower prices - $5,988 per year for Sprout Social and $948 per year for Agorapulse.
Hootsuite Enterprise Plan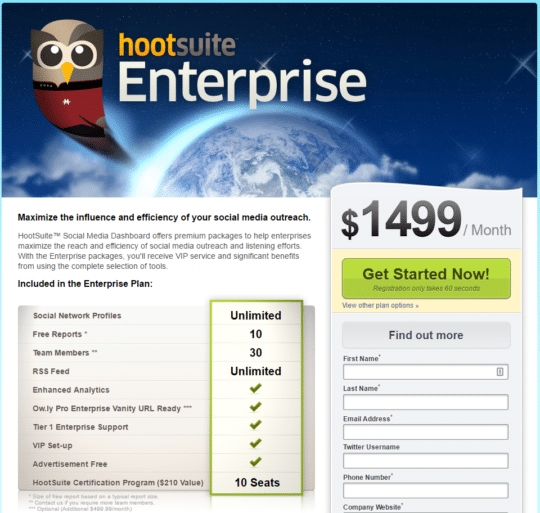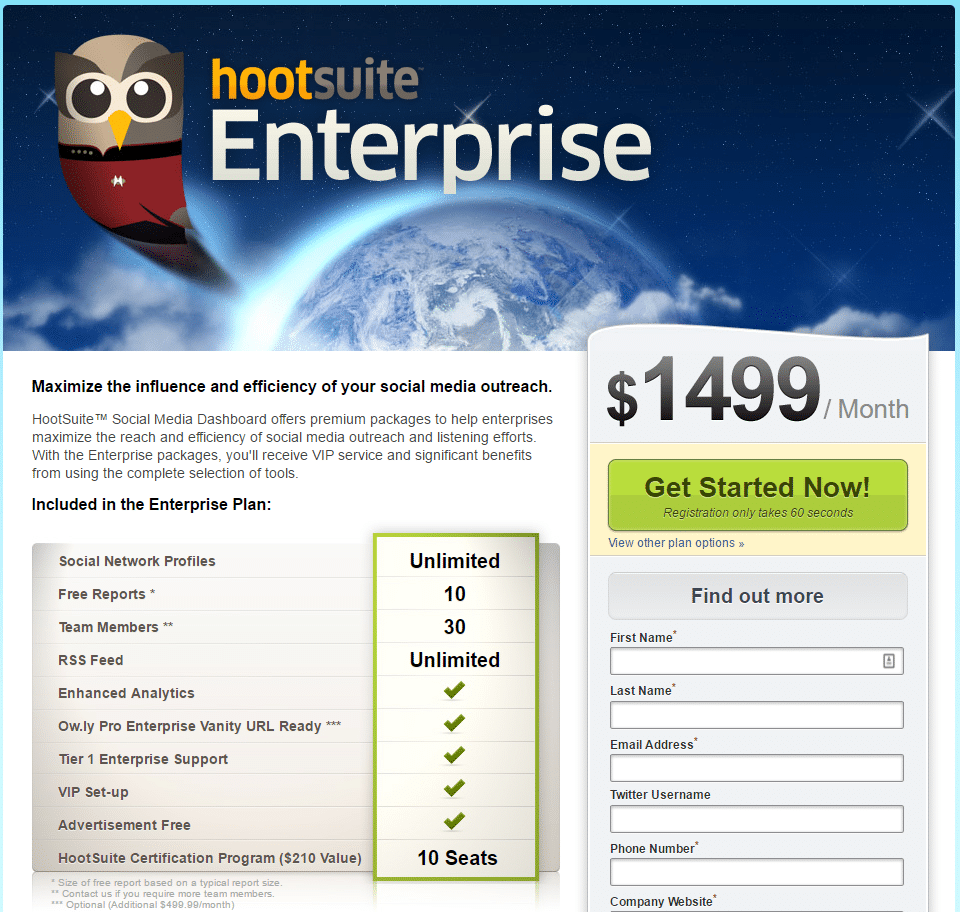 If you need more than ten users, you may need to opt for Hootsuite Enterprise. Although the Business plan advertises for up to 10, internally, it may be up to 15 - so best to check.
It's been years since Hootsuite published prices for their enterprise plan. However, from my research, it's likely to start from $16,000 per year for five users to $25,000 per year for ten users. Many businesses pay upwards of $100,000 annually, and some have $1 million yearly contracts.
For teams, the Hootsuite Enterprise plan doesn't offer many features over the Business plan. You still don't get to view live team activity. But you get other features in Enterprise, and you can customize your solution and get personalized training.
Reason #2
Dashboard is Hopelessly out of date
Multi-Column for the Win?
Hootsuite launched as a Twitter-only platform.
The Hootsuite dashboard is remarkably similar to TweetDeck with its multi-column layout.
TweetDeck is another Twitter-only social media management tool owned by Twitter.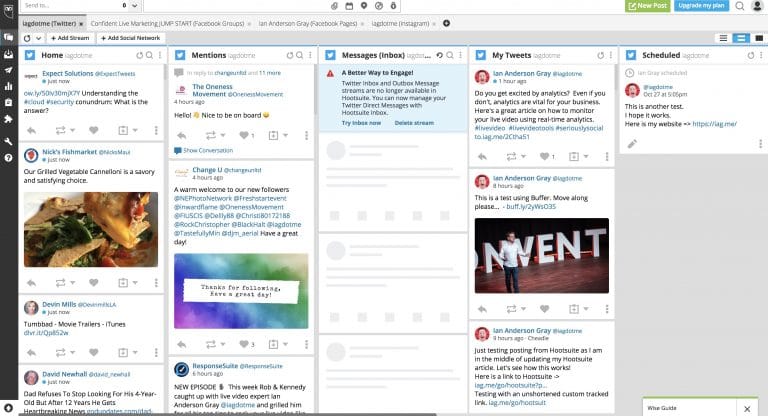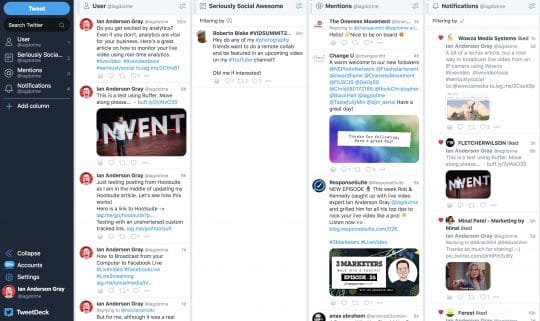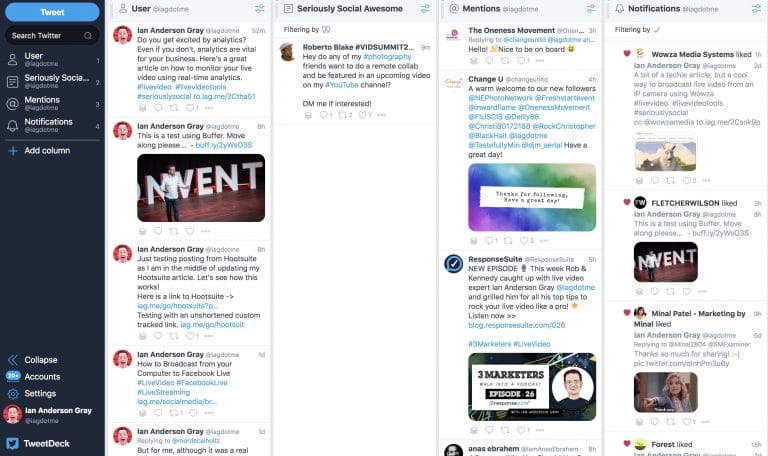 Hootsuite now integrates with many networks, and the multi-column layout makes less sense.
I think a Multi-column layout is great for Twitter but not so much for other networks.
What is Multi-Column?
In Hootsuite, you can have more than one dashboard. Here is an example of one dashboard: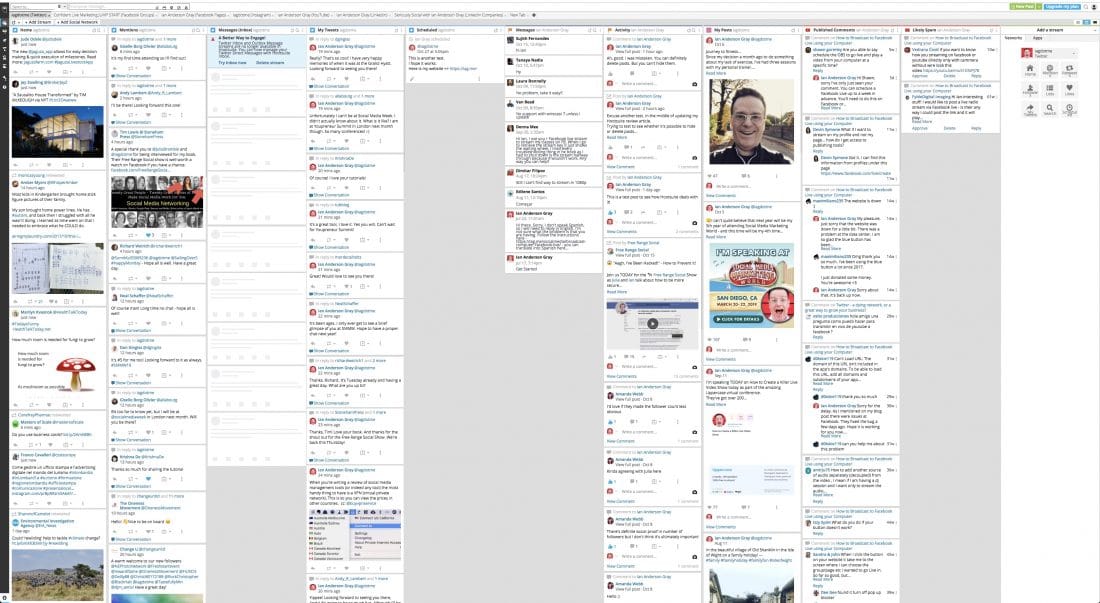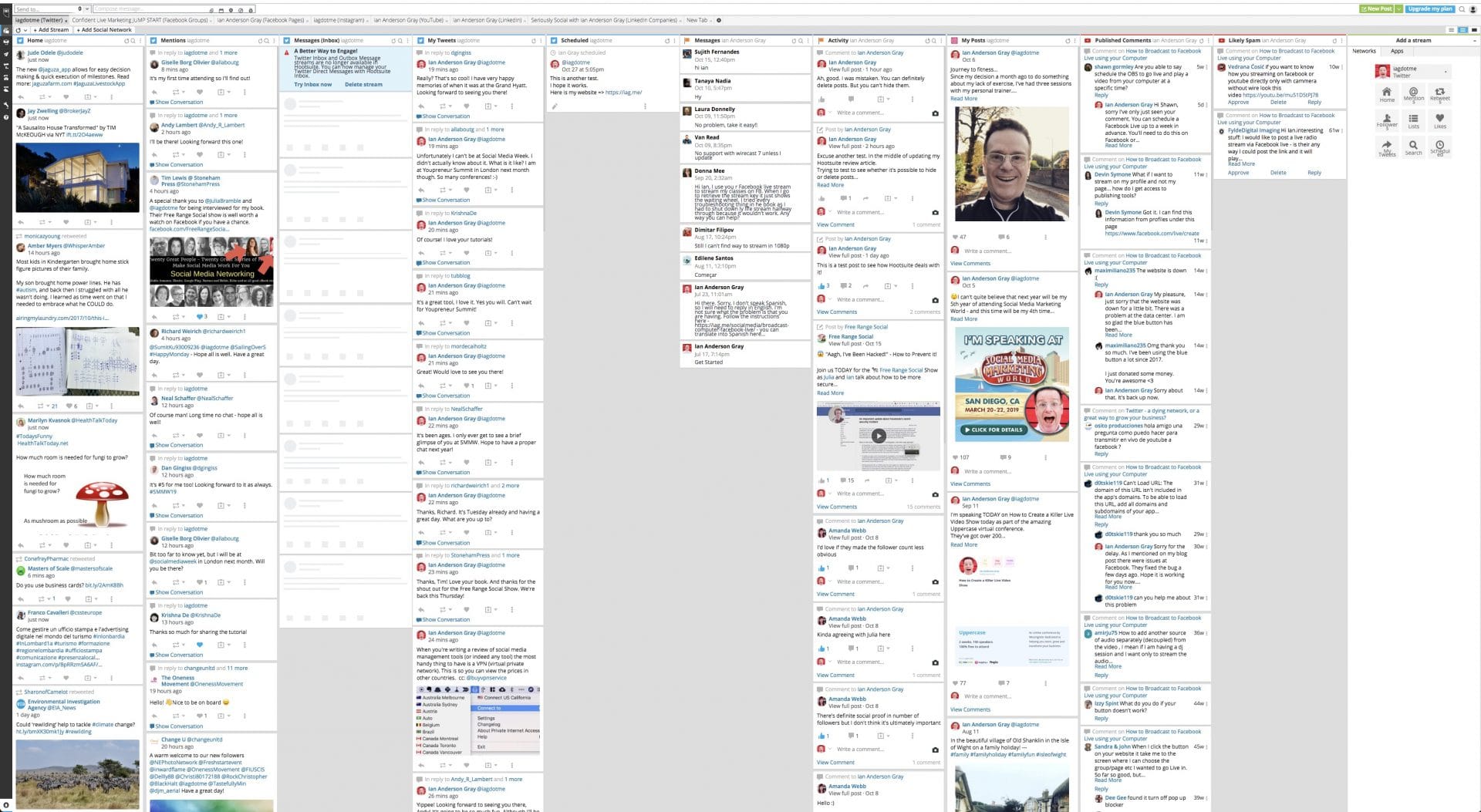 Each dashboard can have multiple columns.
A column is a stream from a social channel, and could be:
Your tweets from Twitter
Your mentions from Twitter
Tweets from a Twitter search
Tweets from a Twitter list
Your Facebook page posts
Your Facebook page messages
Your Instagram posts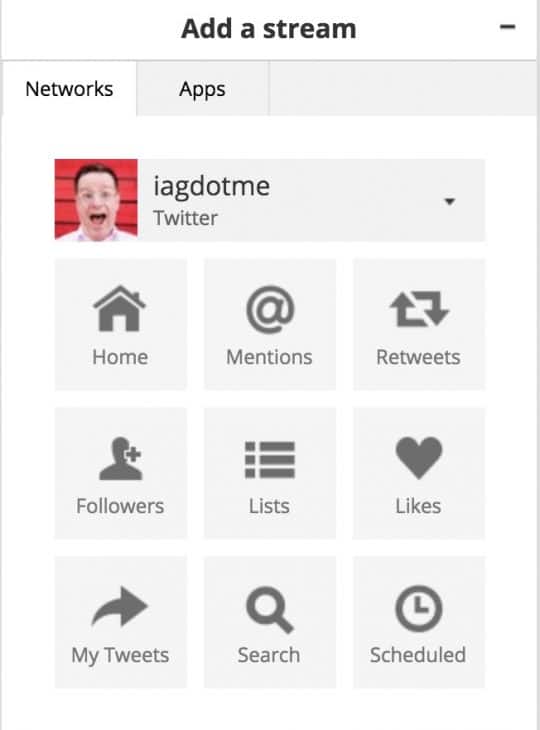 Multi-column - you either love it or hate it.
It's kind of good to get a quick overview of your social media empire.
But honestly, in most cases, it's really overwhelming.
The exception is for Twitter management. But in those cases, I'd recommend TweetDeck.
Social Media Overwhelm
One big issue is that it's not obvious which mentions, comments and messages you or your team have dealt with. More on that later.
It's not clear when anything new has come in. It would be great if you could sort, archive or mark as read, but you can't. Yes, you can assign a post or comment to a team user, but you need to be on the $2,988 per year team plan for that.
The human brain can get easily distracted. The Multi-column layout in Hootsuite is just too busy and cluttered. Welcome to social media overwhelm! There's so much information it can feel like you're looking at the Matrix!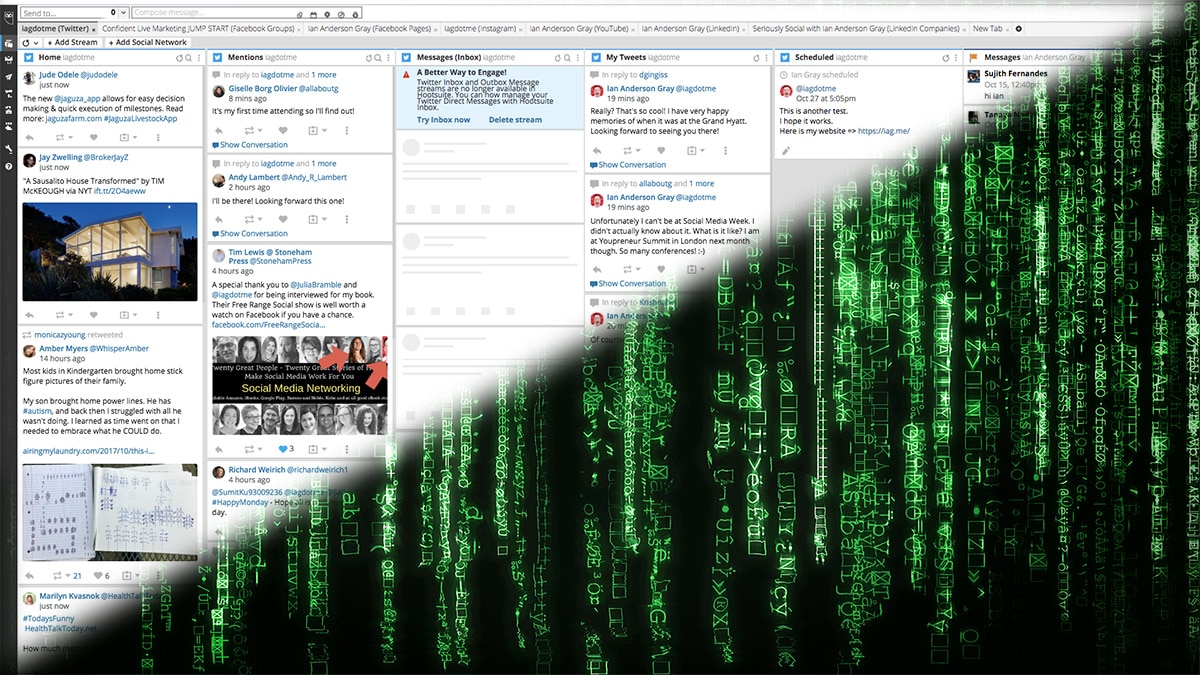 I much prefer Sprout Social's unified stream (Smart Inbox) and Agorapulse's per-network Inbox.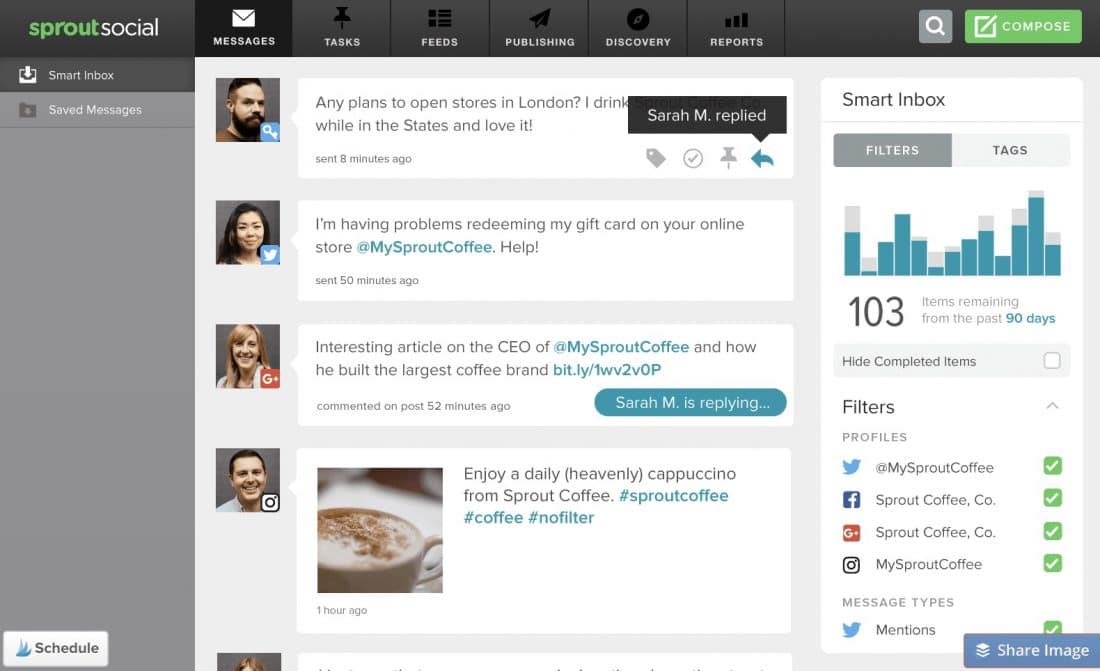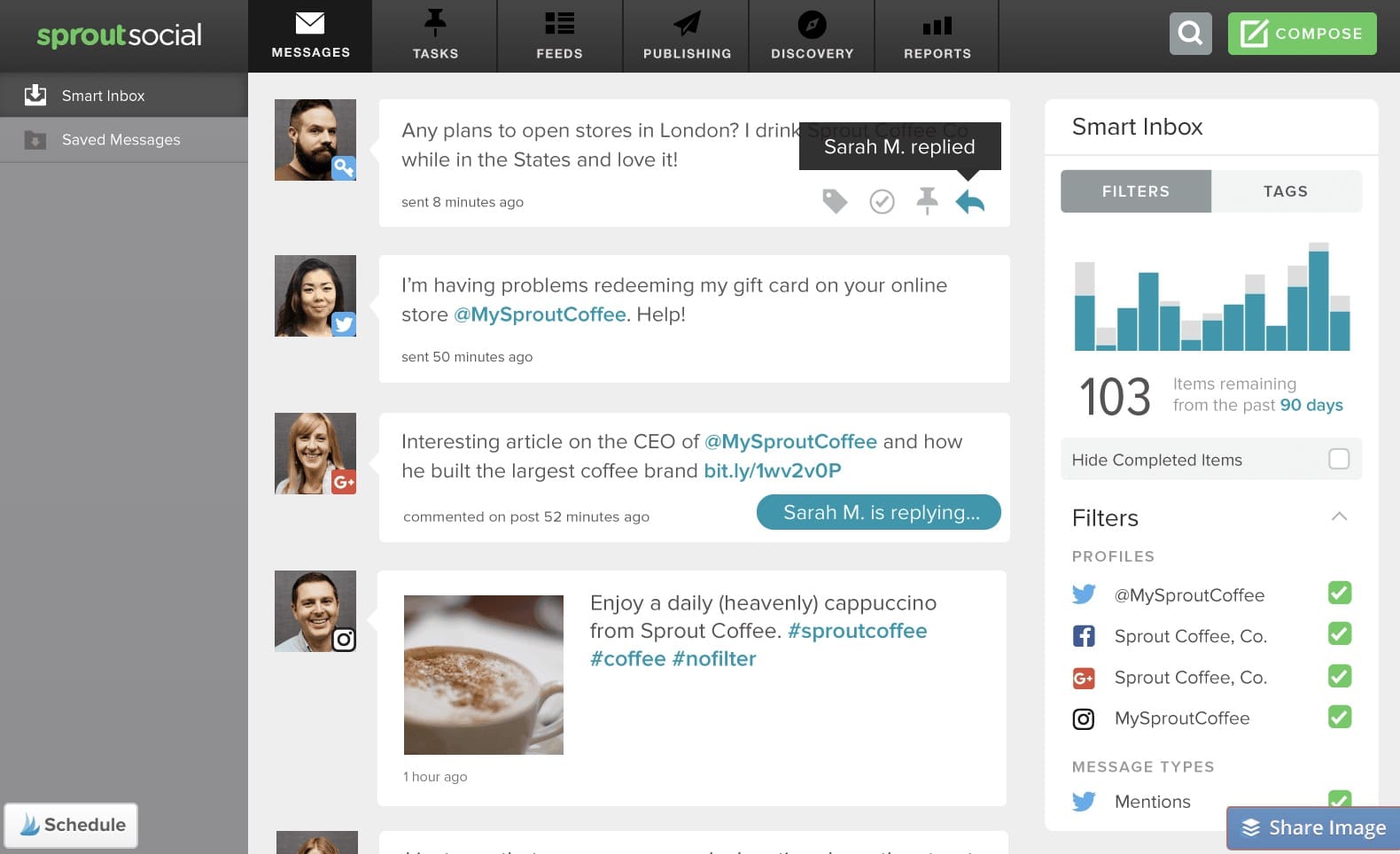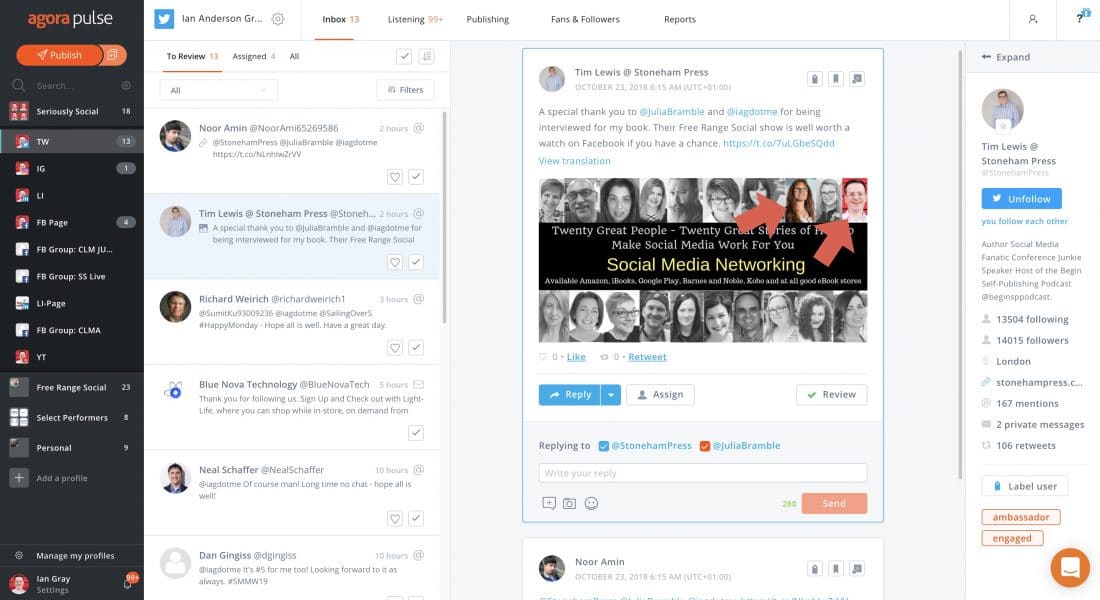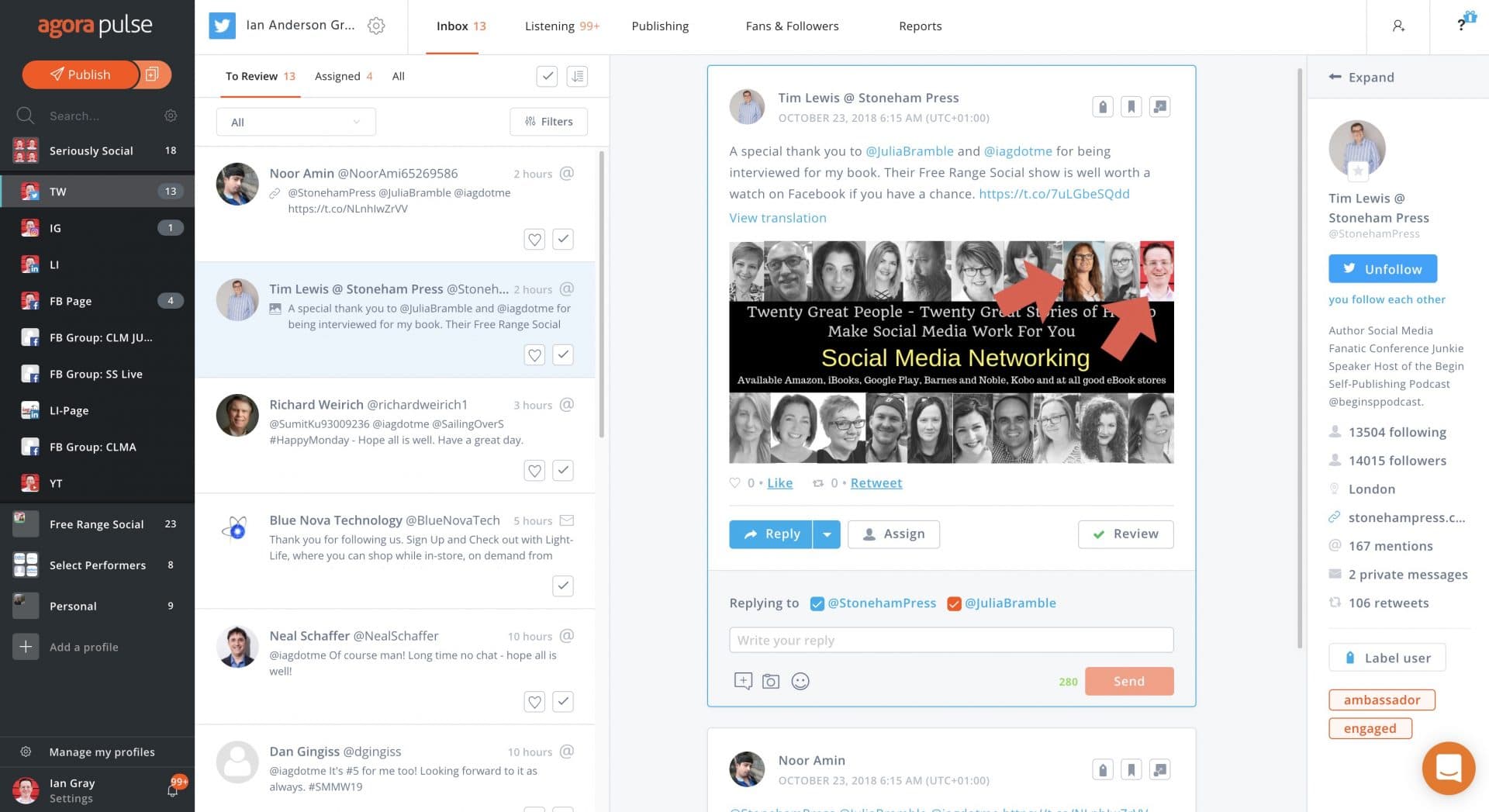 UI hasn't changed for years.
Hootsuite has millions of users. It also has had the kind of funding that would make most tool companies jealous!
And that's why I am confused about why Hootsuite is taking so long to improve its UI.
The Hootsuite UI has been one of the biggest criticisms from users over the years. People call it "clunky", "old fashioned", and "buggy".
So, back in 2014, they decided to make fun out of these negative comments with a video. Team members from Hootsuite, including CEO Ryan Holmes, read out negative Tweets about their UI. And then they announced a new and improved version.
Unfortunately, the video is no longer available due to a copyright claim by Marmoset LLC. You can read the original announcement from Hootsuite in an article here.
But as you'll see from the video, it was nothing more than a minor cosmetic change. Nice colours, fonts and spacing, but the same old Hootsuite. Very disappointing. What have they been doing with all that money?
No ability to Pause Bulk posts
You've scheduled all your posts across your social channels. You've got different campaigns set up, and all looks good.
But disaster strikes.
A world event has happened.
Or a negative news story on your brand has been published.
An emergency stop button would be really useful right now!

You need to pause all those scheduled posts for now - so they don't get published. Otherwise they're going to look really inappropriate.
A key feature of a social media management tool is the ability to pause your posts.
But it's a missing feature from many tools.
Buffer allows you to pause the queue for each network. You'll need to make sure you pause each queue separately.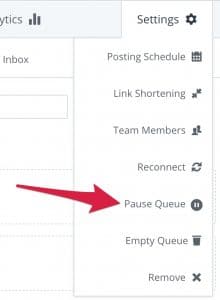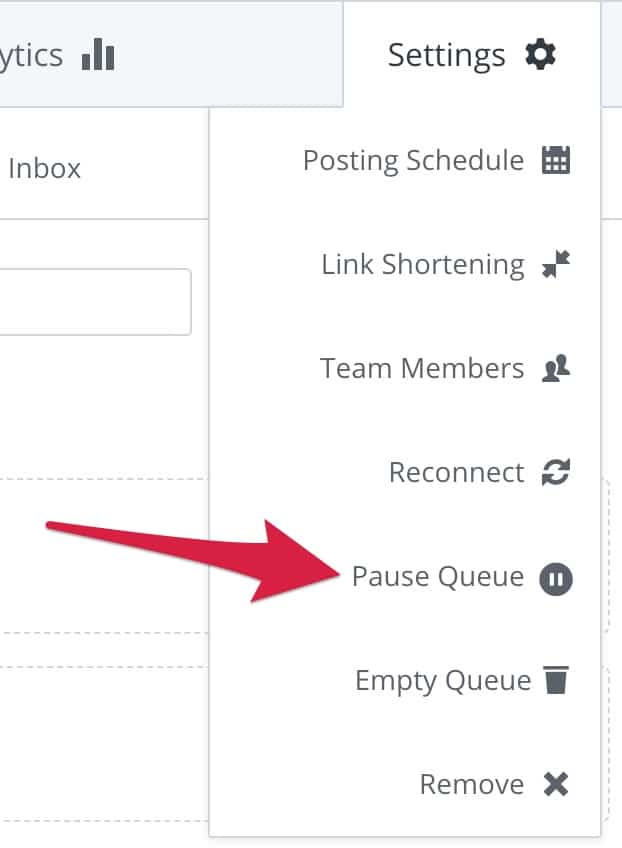 Some tools kind of have it. Agorapulse allow you to pause queues of posts, but not non-queued scheduled posts.




But Hootsuite does not allow you to pause your posts at all. It doesn't even have the ability to queue your posts (but more on that one later!)
I assumed that Hootsuite had the ability, but Ruth M. L. in a reply to one of my LinkedIn threads mentioned it.
You could bulk download your posts to a CSV file and then delete them from Hootsuite. Then re-upload them after the crisis has happened. But that's a lot of work to do.
Or another workaround would be to revoke access to Hootsuite across all your social media channels.
But a nice pause button would have made our life a lot easier!
Calendar Restrictions compared to other tools
Calendar view only shows posts from Hootsuite
If you use Hootsuite to post and schedule all your posts, then this is no big deal.
But many of us use a selection of tools to publish content.
For example I often post natively from Twitter, Instagram or Facebook. Or I sometimes use another third party tool such as Buffer or IFTTT.
The calendar view in Hootsuite only shows posts that have been posted via Hootsuite. If you use more than one tool, then it's impossible to keep track of your content.
For example, here is a previous week's view of my Twitter account in Hootsuite: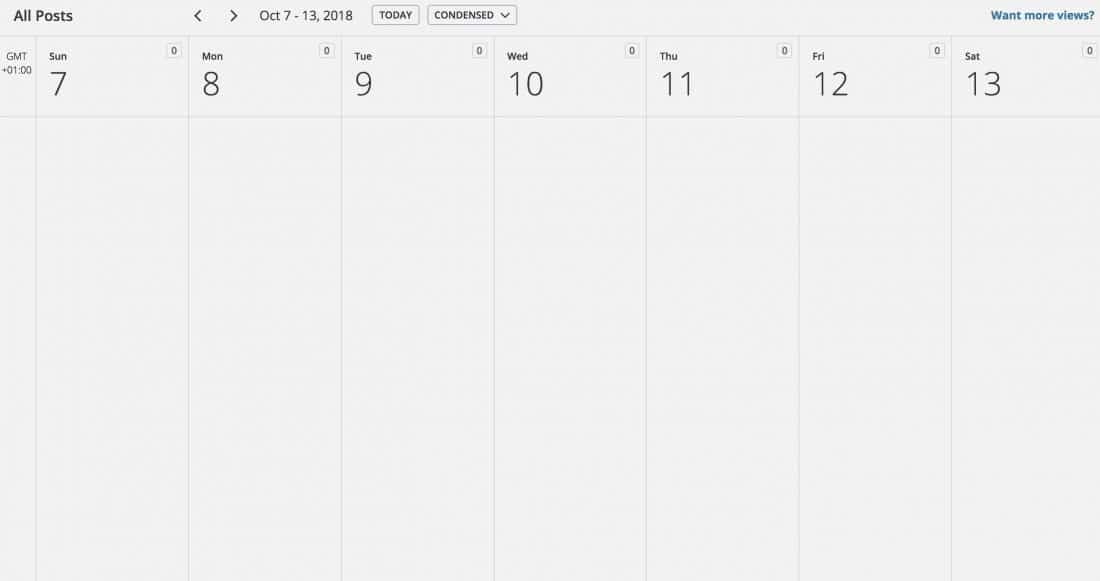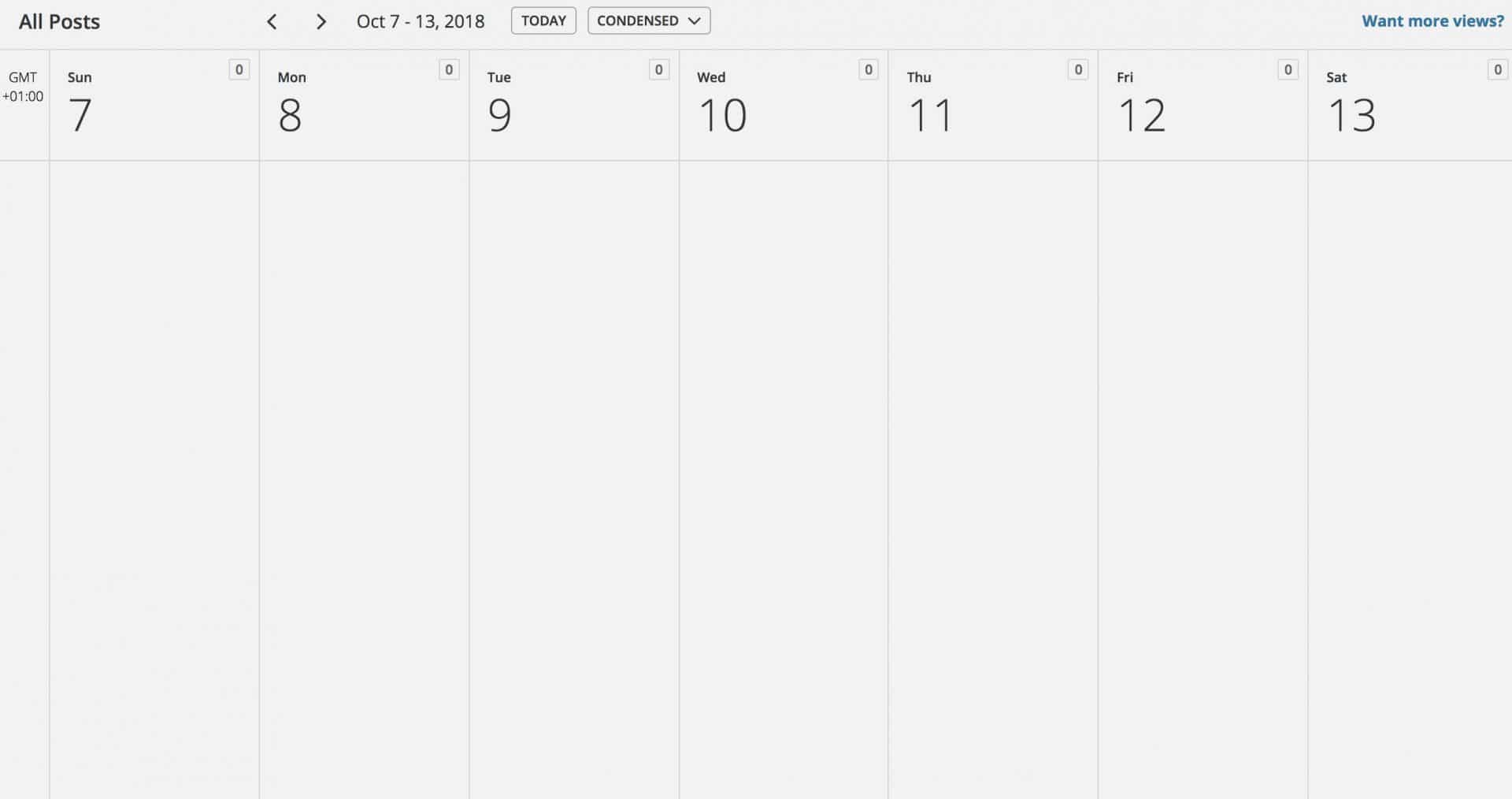 Here is the same week's view in Agorapulse: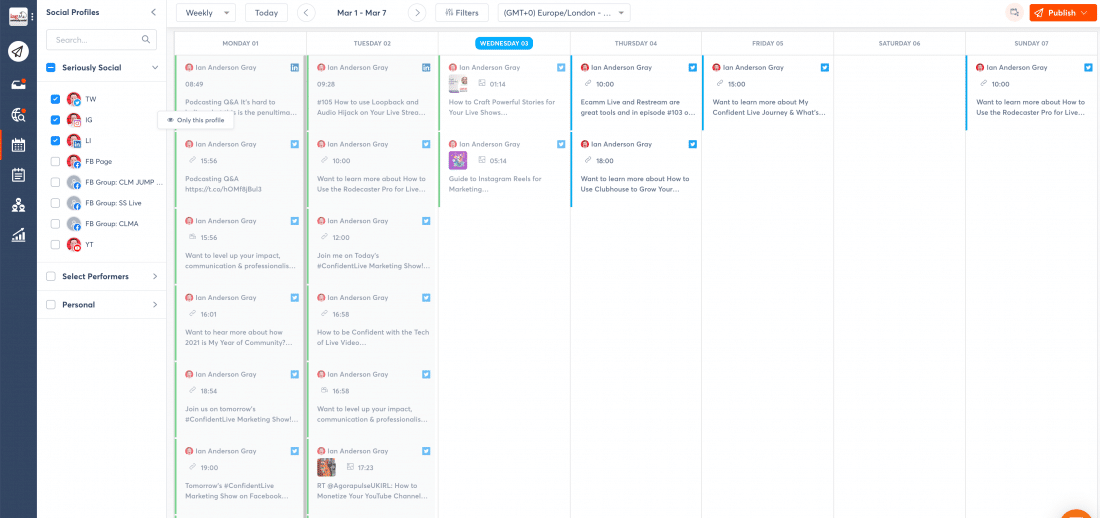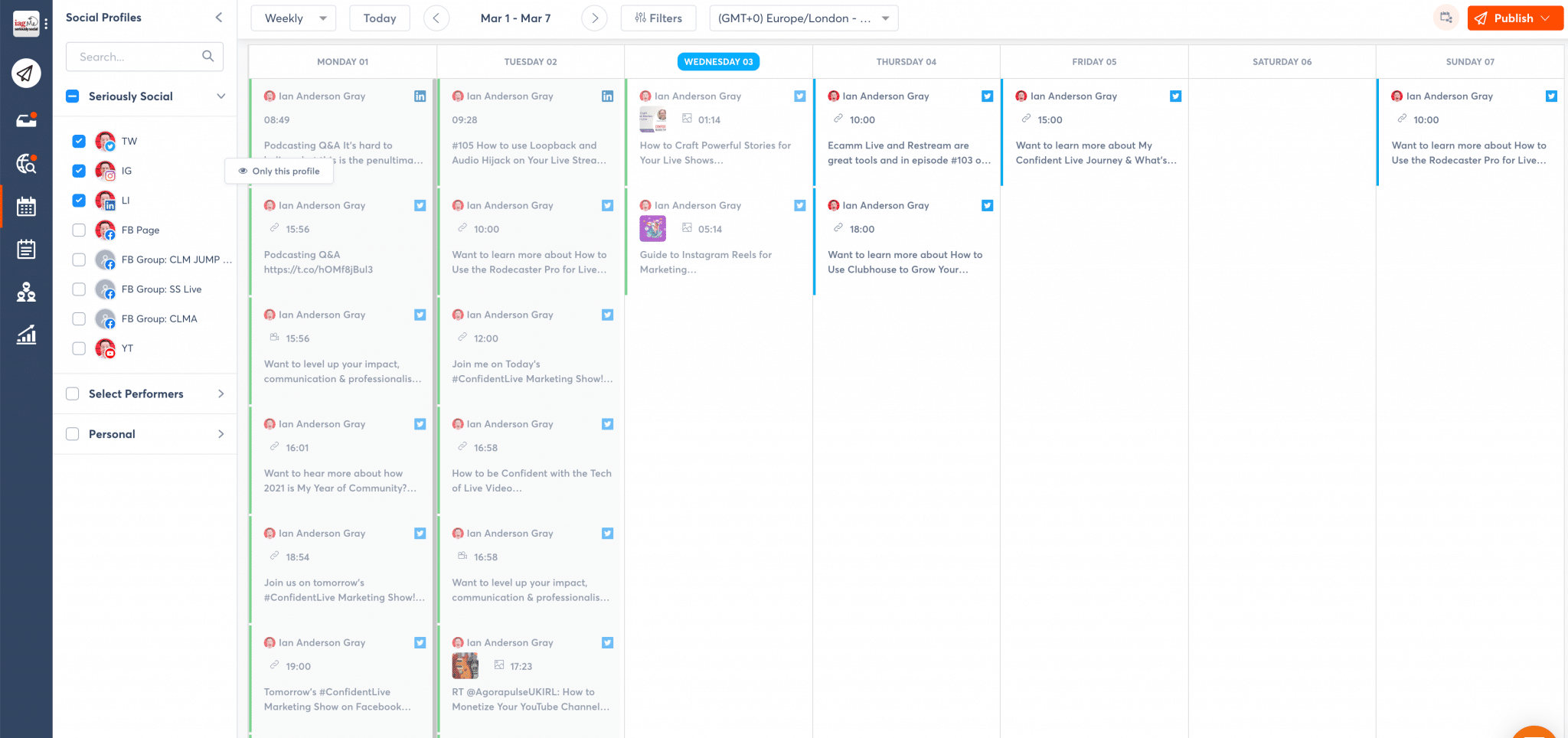 Although I use Agorapulse for scheduling some posts, I also use other tools such as Twitter itself and Buffer. They are all listed there so I can get a proper view of what has been published.
And Sprout Social is the same. It shows you all published posts no matter whether you used Sprout Social to publish them or not. Here is an example of their week view: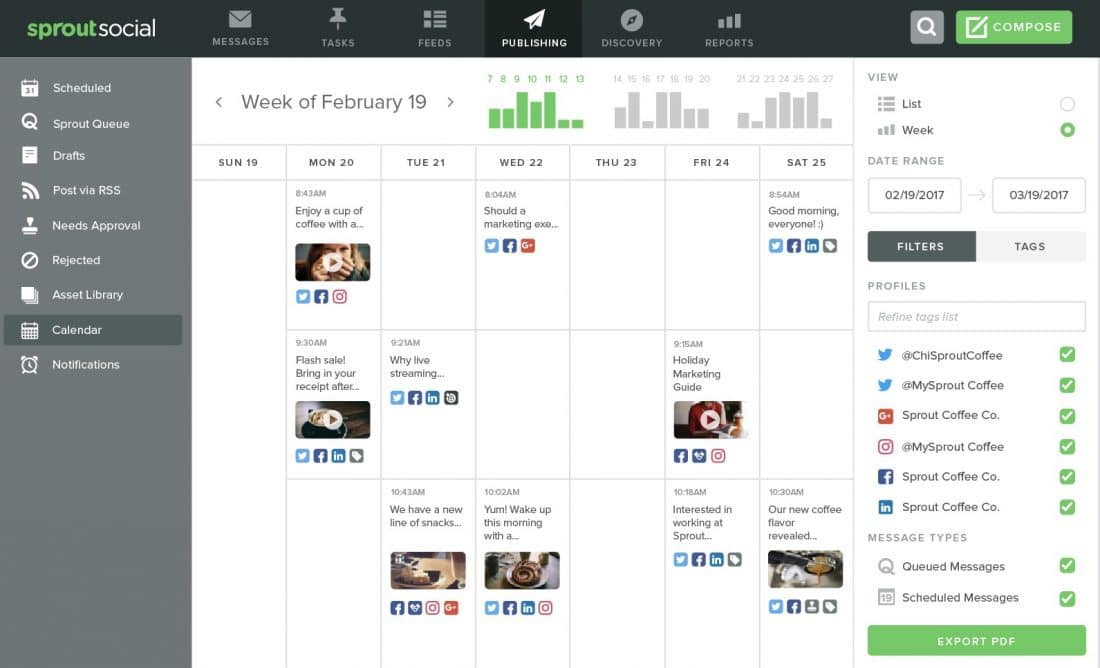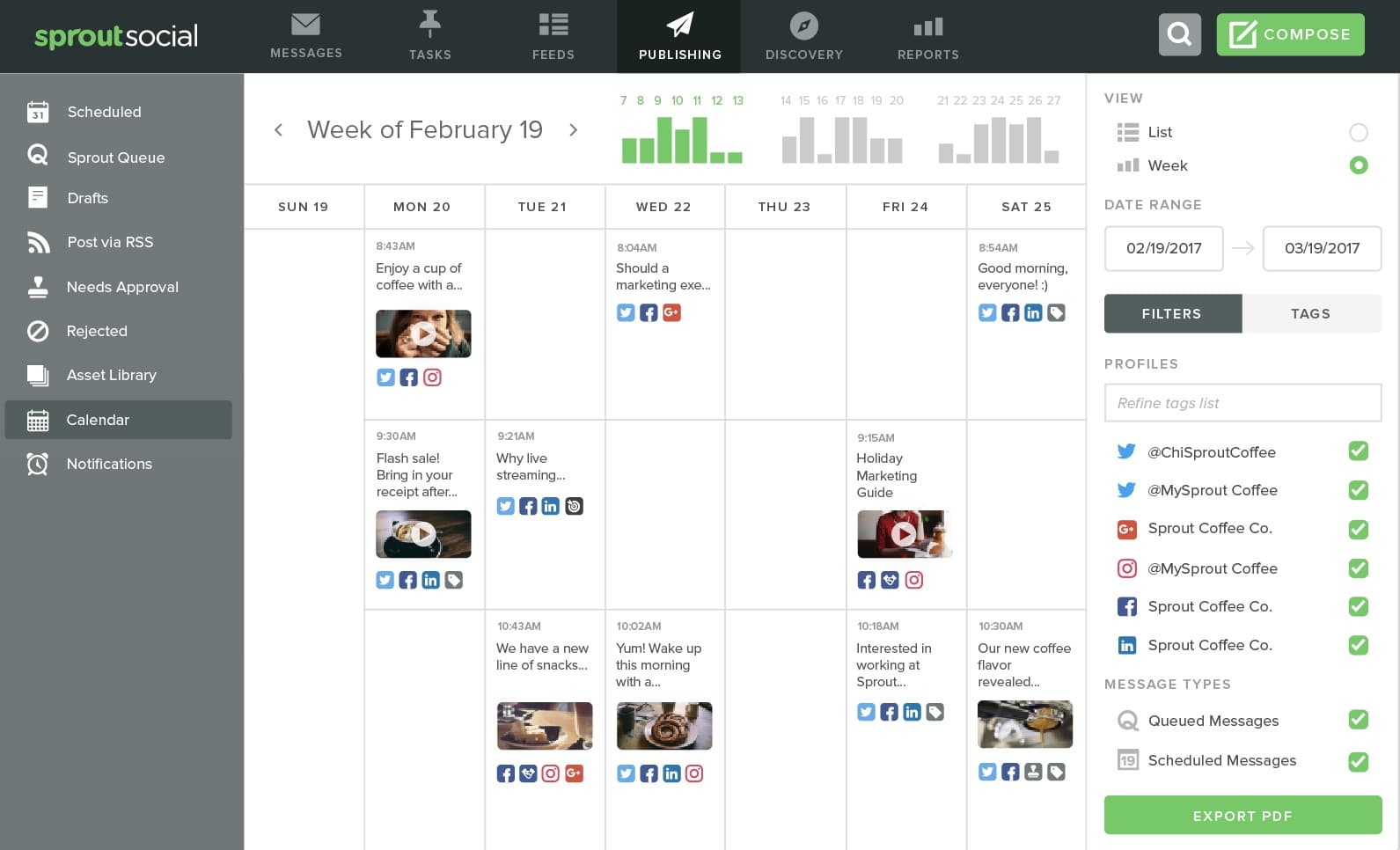 Hootsuite Calendar has No Monthly View
While other tools such as Sprout Social and Agorapulse have both weekly and monthly views, Hootsuite only offers a weekly view.
Not a massive deal, but it would be nice to have a monthly view.
Post Previews Can be Buggy and you can't edit them
Hootsuite previously did not give you the previews of your social media posts before you posted them.
Being able to see a preview of how they will look on the platform is important. Hootsuite now gives you previews, together with the preview image... most of the time.
But it is surprisingly buggy. I've never seen this on any other tool, and I've tested a lot - Sprout Social, Agorapulse, Sendible, Jollor, Kontentino... I could go on!
Also, you can't edit the preview in Hootsuite.
Editing Previews in Agorapulse
Agorapulse allow you to edit directly on each network's preview. This allows you to craft different content for each network from one window. This is important, because each network has a different set up and different audiences. For example, with Twitter you have up to 280 characters and you can mention other screen names. With Facebook you can include a much longer post and mention Facebook pages.

Some networks allow you to edit the summary of the link. LinkedIn allows you to do this, and so does Facebook only if you verify you own your website: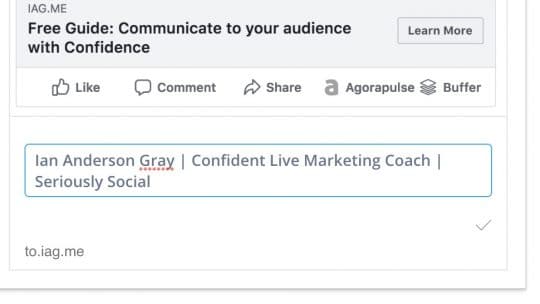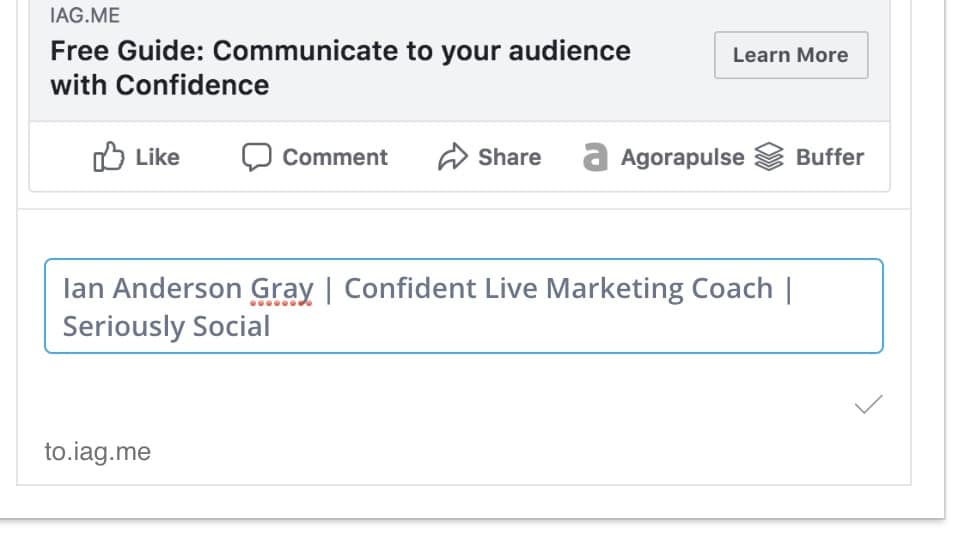 Editing Previews in Sprout Social
Sprout Social doesn't allow you to edit the preview either. So you can't choose different content for each network, and you can't change the summary for Facebook or LinkedIn.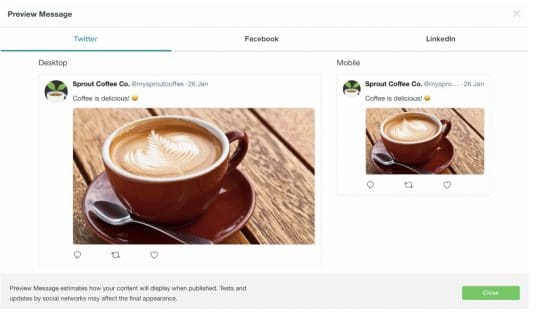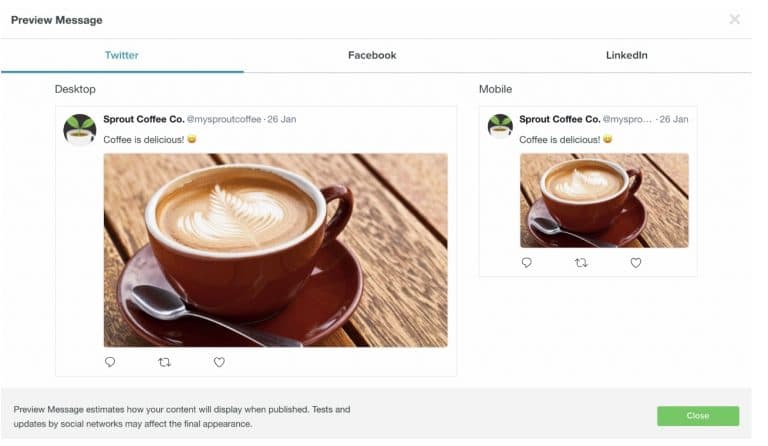 Viewing Previews
If you use a link shortener or a link with a redirect, Hootsuite can get mightily confused!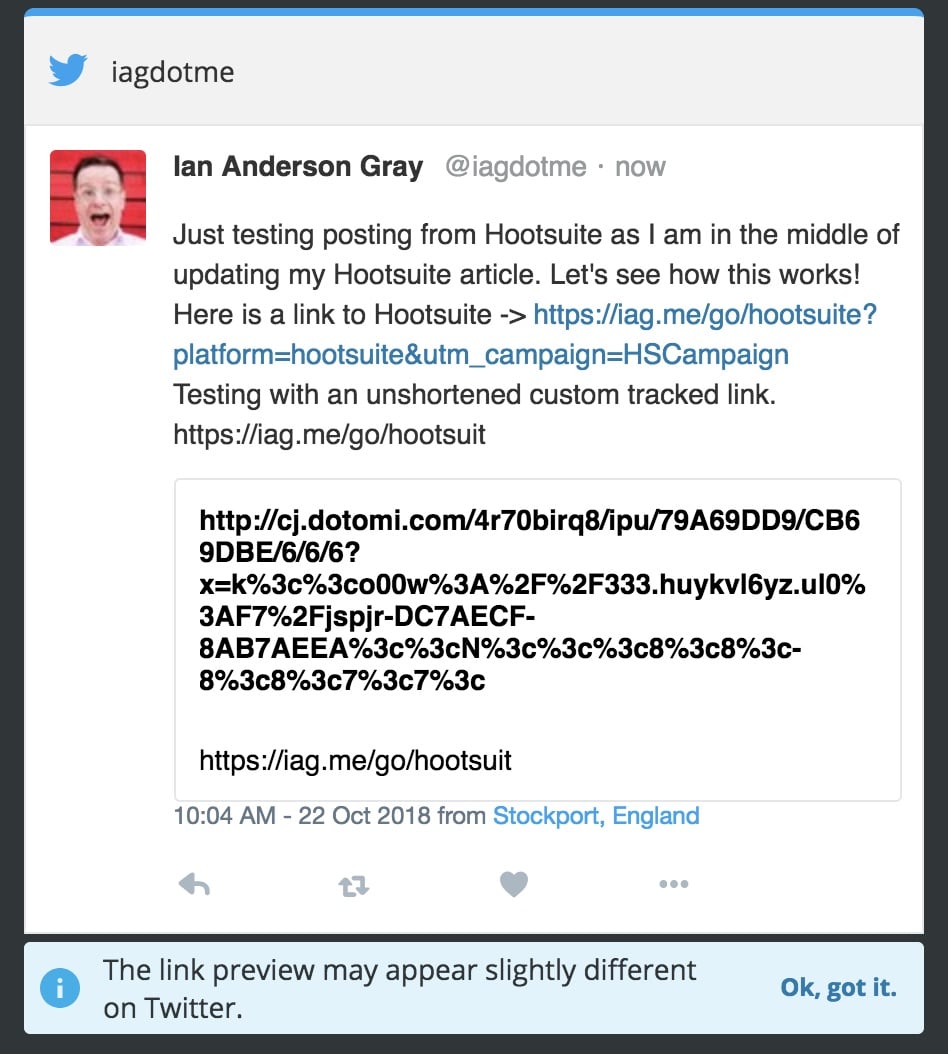 But even if you add a straight link, Hootsuite sometimes can't extract the page image and preview: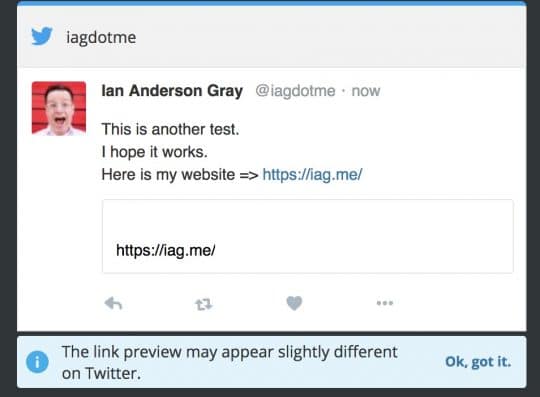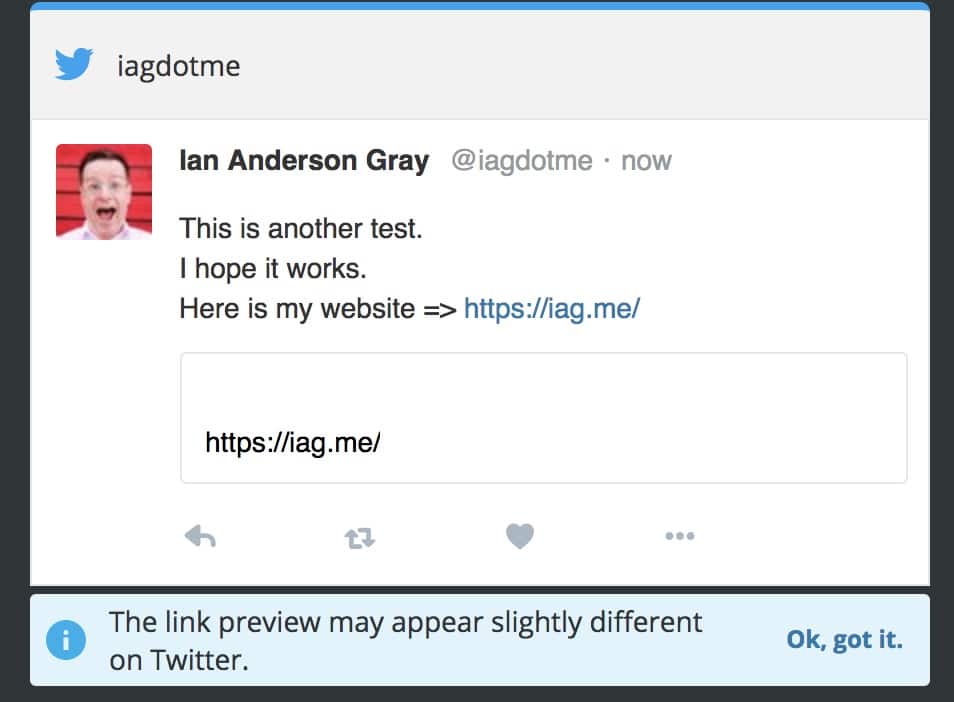 Here is a similar post with the same link previewed in Agorapulse: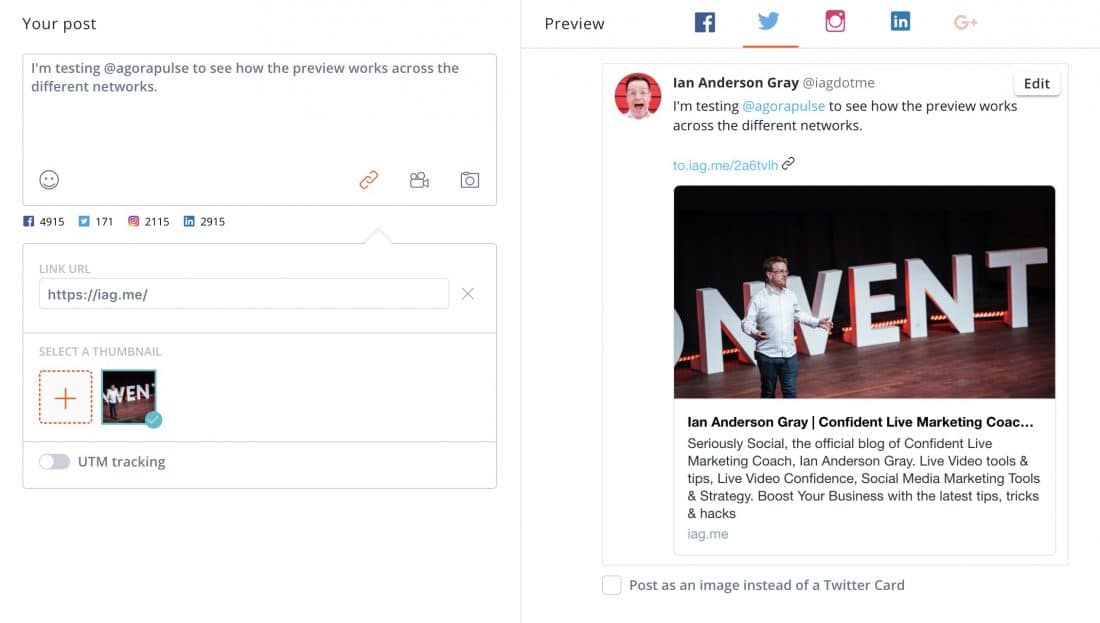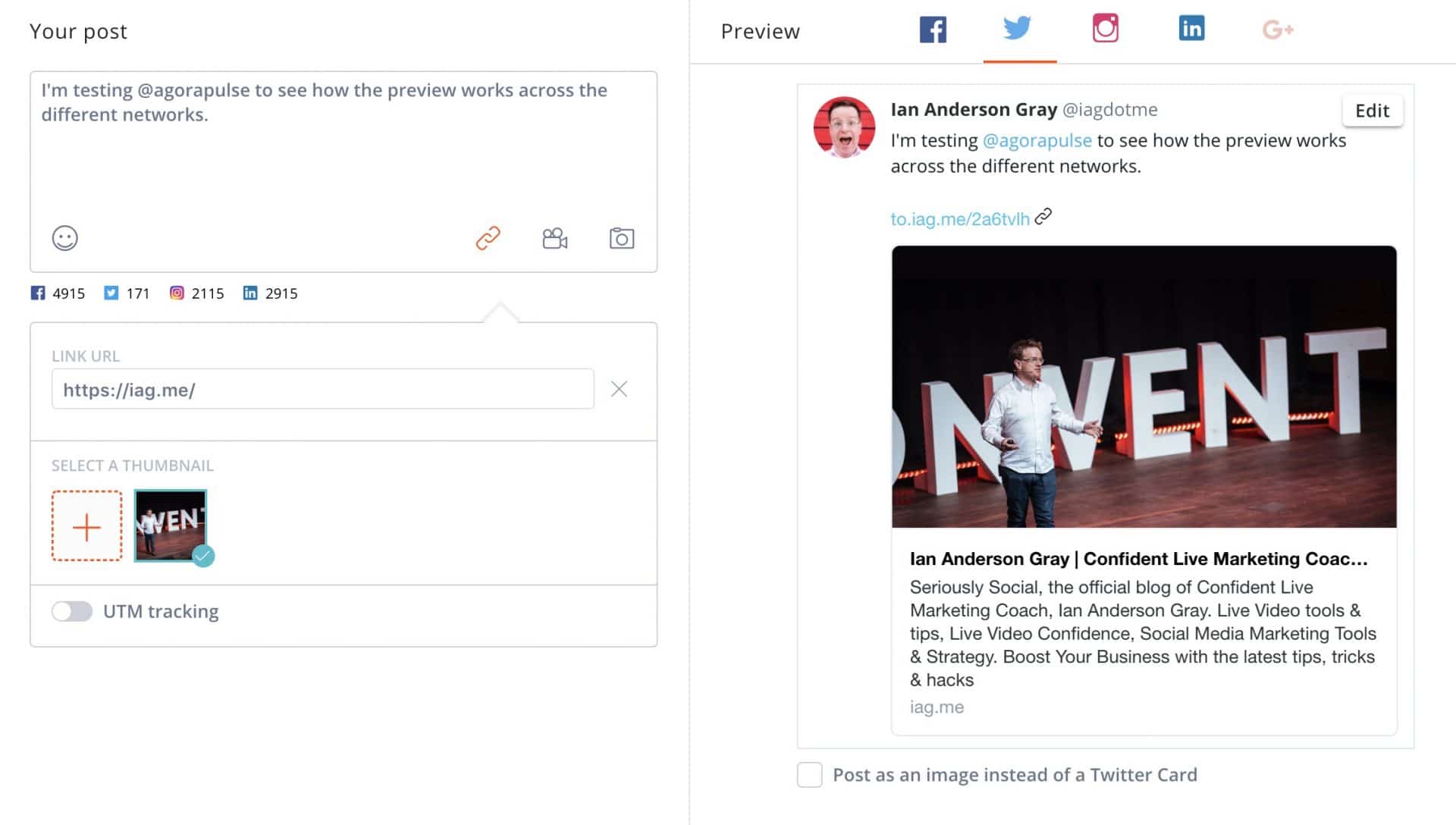 I particularly like the way Kontentino previews posts. You can create text, photo, video, link and carousel posts. As well as being able to add UTM tags, you can even add a call to action button.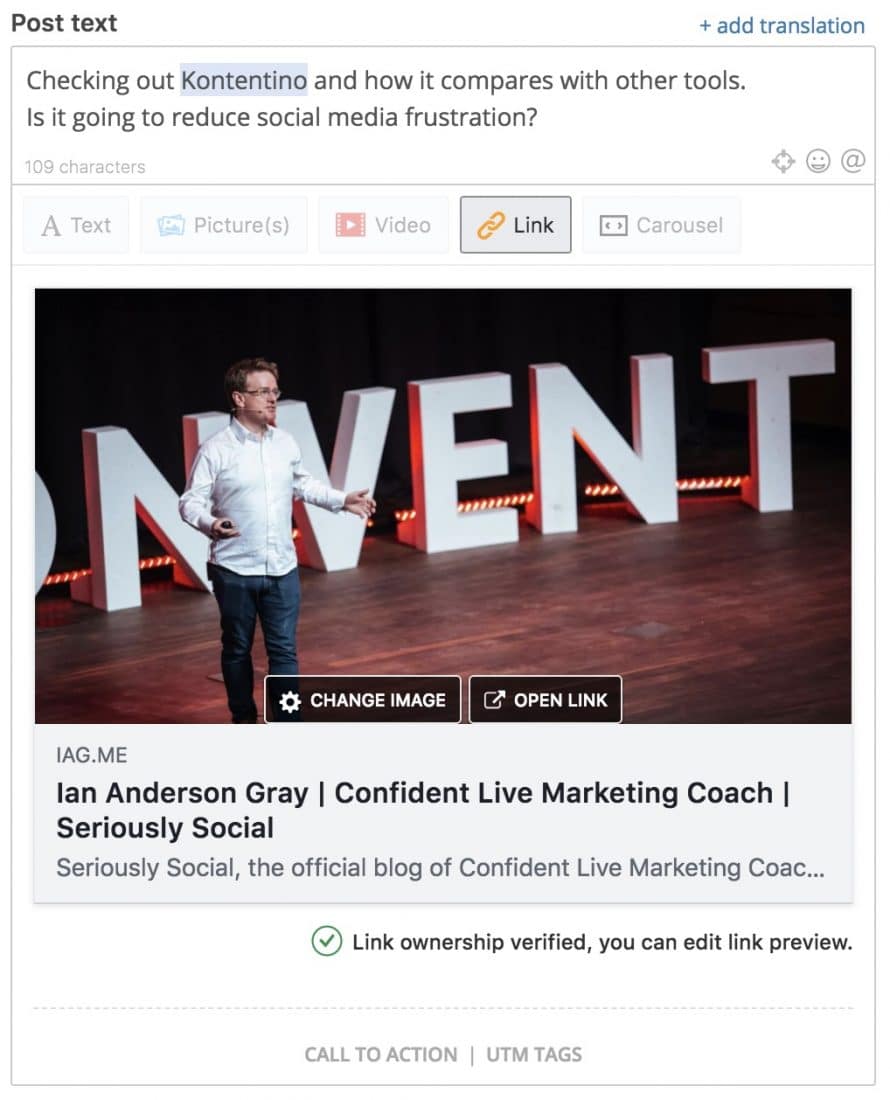 Then once you've added the call to action, you can view exactly how it will look like on desktop or mobile view.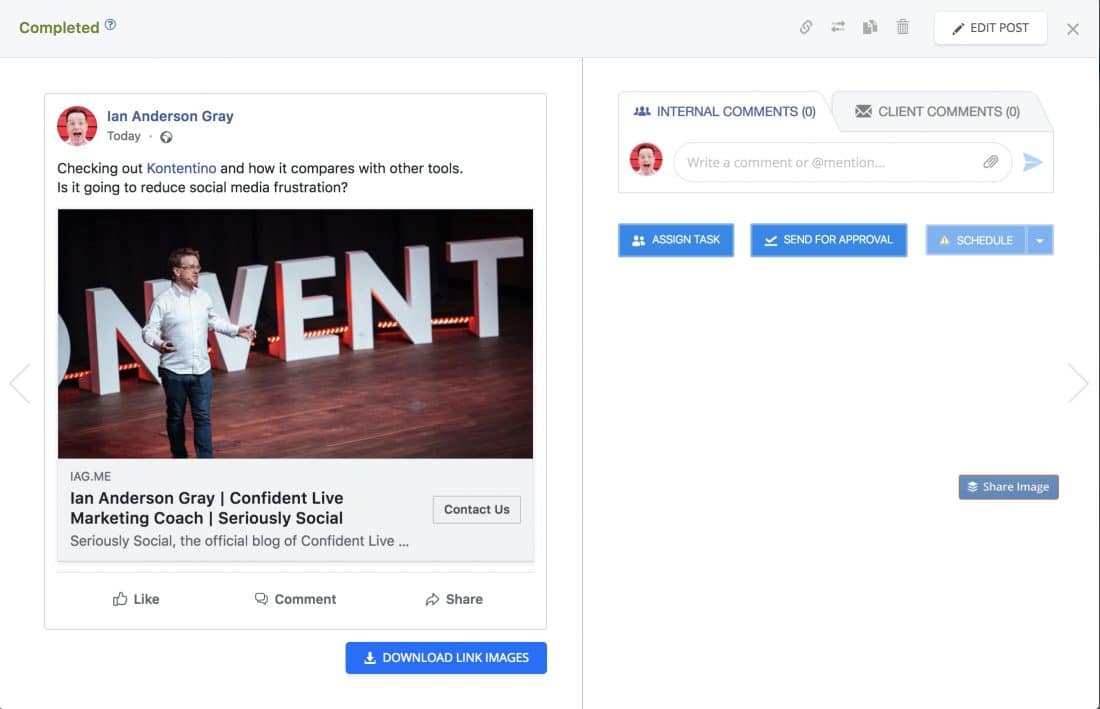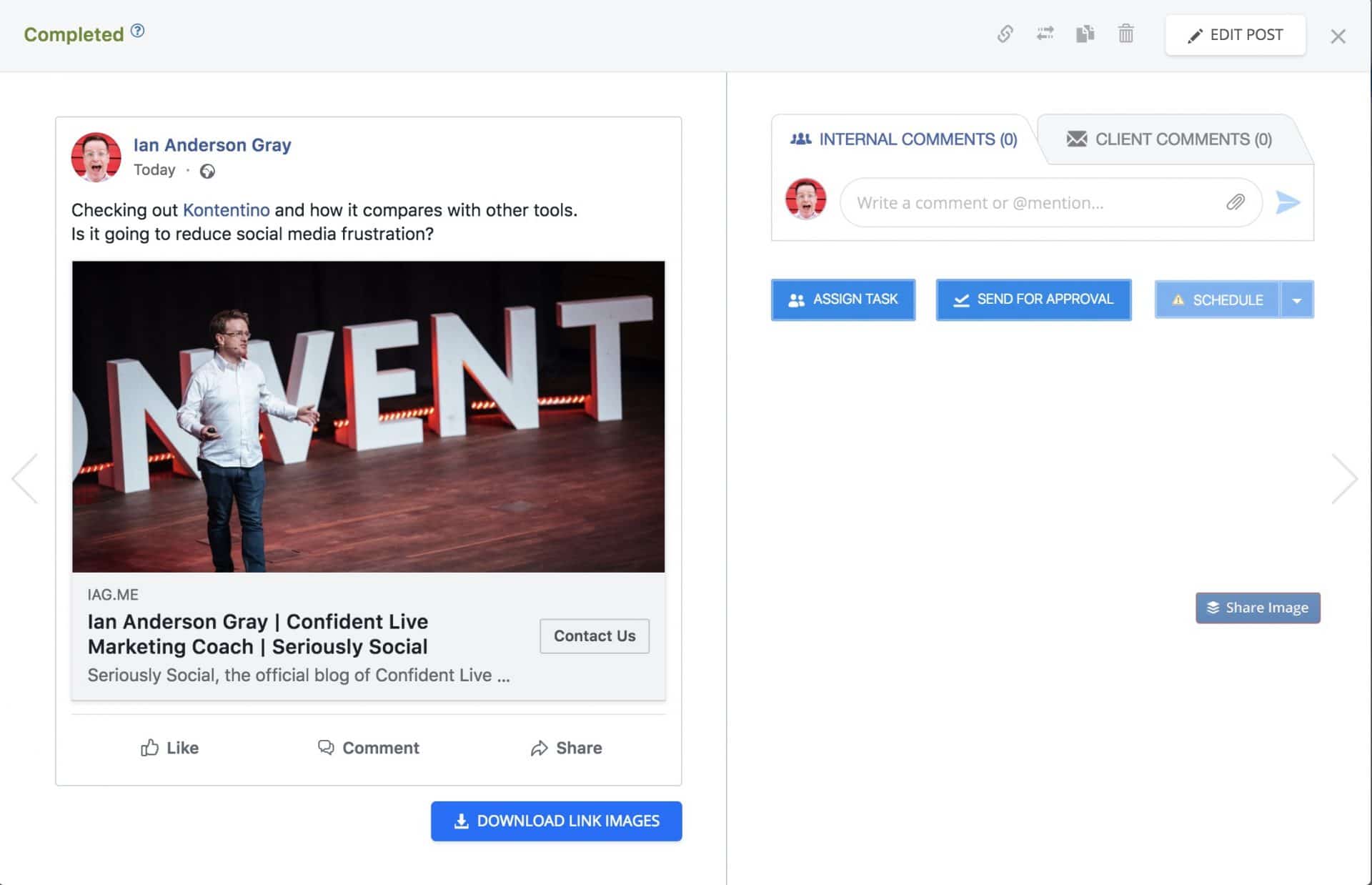 You can't move a post back into drafts from scheduled
You get a complete publishing workflow in the $8,868 Hootsuite Business Plan. But that's not what we're talking about here.
If you create a draft social media post, then schedule it but then change your mind... you can't move it back to drafts. The only option is to delete it and start again.
Having said that, you can't do this in Agorapulse or Sprout Social. But you can duplicate the post and delete the original one. With Hootsuite, you can either edit or delete.
You can't publish a scheduled post now
And if you changed your mind and wanted to publish a scheduled post right now, you can't.


Your only option is to change the date and time of the scheduled post. At least you have the option of posting it 5-10 minutes in the future. But having the ability to publish a scheduled post now would have been a helpful option.
Digital Assets Library
Social media is very visual. Even Twitter, which used to be 140 characters of plain text, now supports videos, images and audio media.
If you're working with a lot of digital assets, either on your own or as part of a team, this can get a bit of a nightmare. I know digital agencies who have resorted to mad things to share their digital assets like...
Shared USB thumb drives
Shared network drives
Emailing each other the files
Services like Dropbox or Google Drive
If you're exchanging files with clients it's even more complicated.
Having a digital assets library where you can manage all your images, videos and other digital assets takes this nightmare away.
Hootsuite does have a media library and even gives you access to a free library of images and GIPHY integration. However, you don't immediately have the ability to upload digital assets and re-use for later.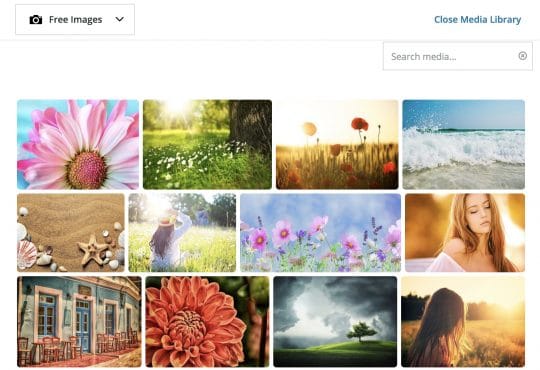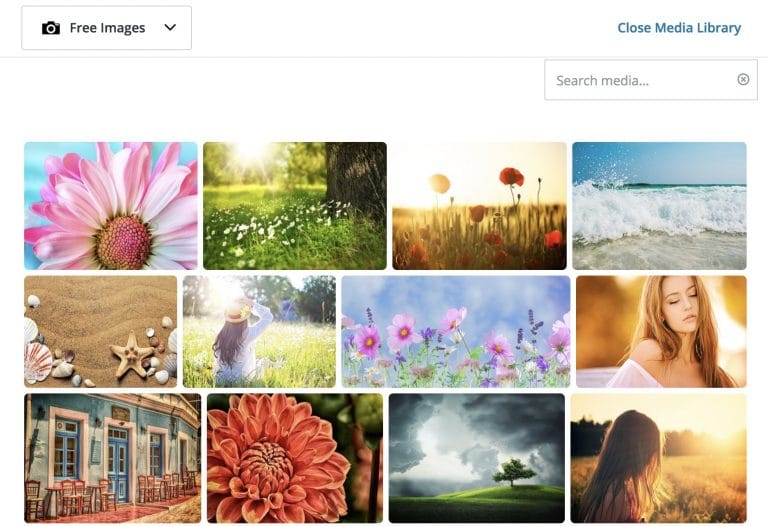 Many social media management tools don't have this feature. MavSocial and Agorapulse are the exceptions. They allow you to upload files to a central library and use them in your posts.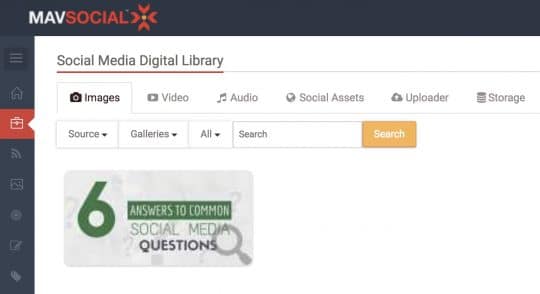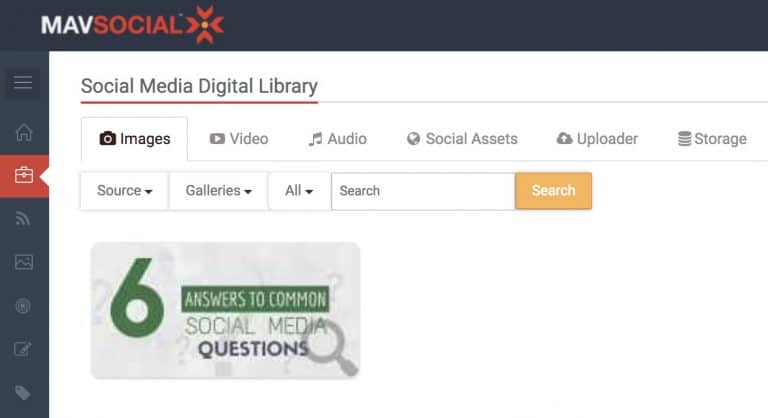 SproutSocial has its Digital Asset & Content Library, but this is only available on their $249/month Enterprise plan.
But Hootsuite does have a workaround there. You can add apps to your media library. For example Google Drive and Dropbox. This is really useful and allows you to access all your shared assets.


The downside is that you can't upload images or videos from Hootsuite to your media library (via Dropbox or Google Drive). So any images or videos you've used before in Hootsuite aren't accessible unless you upload it manually on your computer. The media library has so much potential, but this is an oversight.
Pinterest Functionality is Publishing Only
It's great that Hootsuite integrates with Pinterest. Although you could argue it's a niche network when compared to Instagram, Facebook and YouTube, it's a great web traffic generator.
According to this study by Statistica, Pinterest is the second highest referrer of traffic from social media, with 7.53%. For many of my social media consultant friends, Pinterest is the highest referrer by far.
But Hootsuite's Pinterest integration is very basic. It's nothing more than a Pin publisher and scheduler.
If you want to schedule or publish a pin to Pinterest, you need to use the separate "New Pin" button.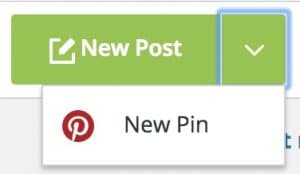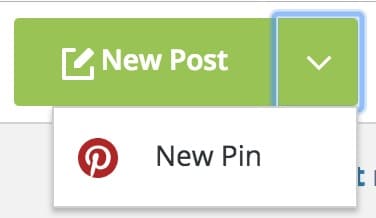 This means that you can't schedule to Pinterest as well as other networks at the same time. You need to post Pinterest pins separately.
Then you can select which boards you want to schedule your pin to. Unfortunately, the selection panel is buggy and doesn't show all my boards. The styling was slightly off, with the checkbox overlapping my user image. I also couldn't tell which of the boards were mine and which were shared boards.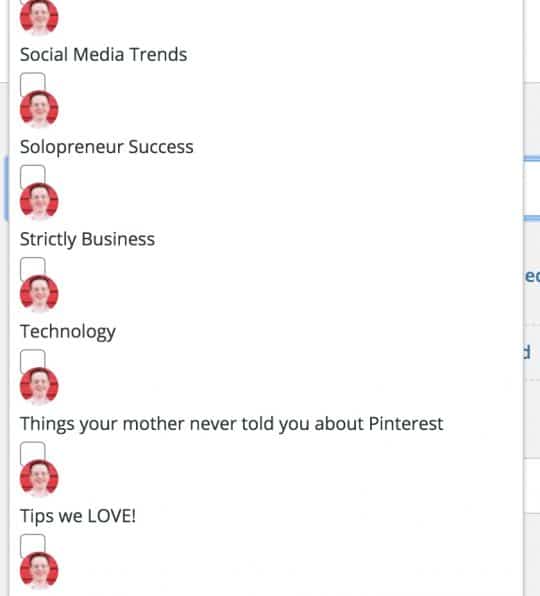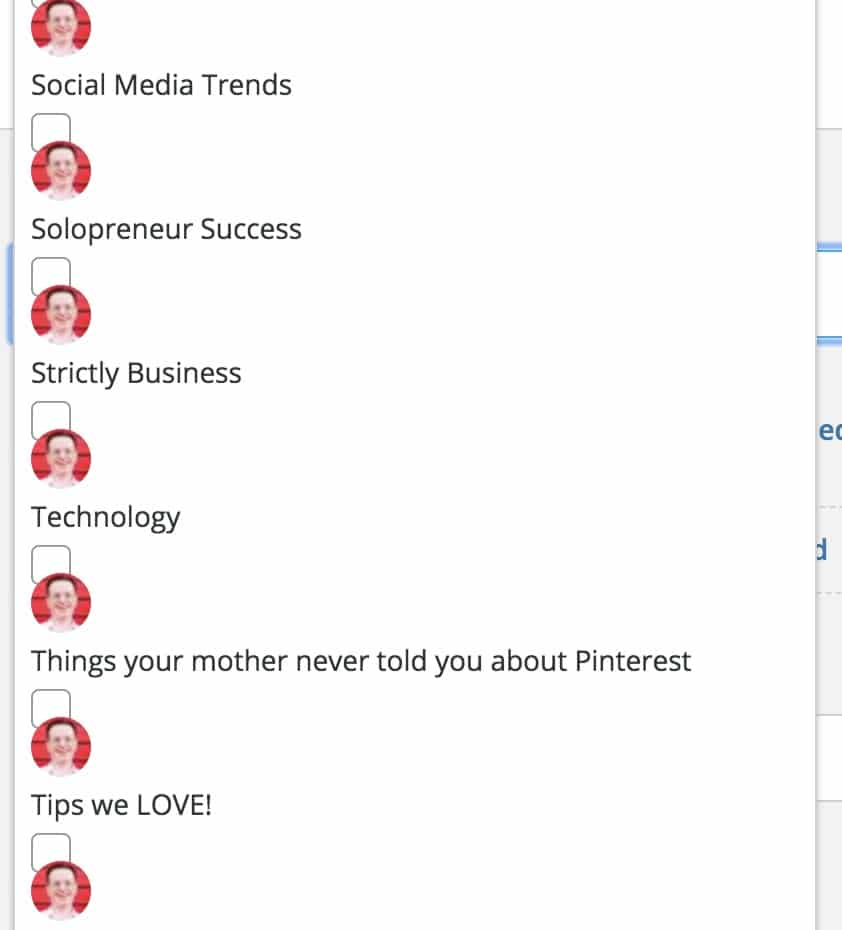 When you publish or schedule your pins to multiple boards, they all get posted simultaneously. This isn't good practice. It's much better to space out the posting to multiple boards over a more extended time period. This just isn't possible with Hootsuite without creating one scheduled pin at a time.
You do get the advantage of using Hootsuite's media library, but that comes with its own issues, as I have stated previously.
Hootsuite doesn't offer any engagement or analytics features for Pinterest. There are some Pinterest reports in the old legacy reports system, but this is only for Enterprise users.
Sprout Social offers a much better Pinterest integration with decent analytics. Agorapulse doesn't currently integrate with Pinterest.
But if you really want to manage your Pinterest channel effectively, then the best tool I've found is Tailwind.
Tailwind offers powerful analytics, interval scheduling (to stagger publishing to multiple boards), SmartLoop to repeat evergreen content and much more.

Reason #3
Poor Social Inbox - Difficult for Engagement
One of the big time savers in using a social media management tool is working through all your social mentions, comments and messages efficiently.
Being able to see new comments in the dashboard and either replying or delegating to another team member - or just archiving.
On Facebook, you may need to hide or delete comments that are offensive or libellous or just plain negative. Choosing a tool that does these things may be essential for you to.
Hootsuite makes it challenging to manage your social mentions. However, there have been some improvements in dealing with Facebook messages and Twitter direct messages with the Hootsuite Inbox.
Post & Comment Moderation
You can hide Facebook comments
Todd Maffin wrote an in-depth Hootsuite review back in 2016. In it he said that Hootsuite is dangerously out of date. Unfortunately that blog post doesn't exist any more.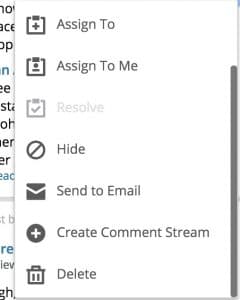 At the time, Todd wrote that you couldn't hide or delete Facebook comments! Thankfully, now you can. This is really important - to be able to hide or delete comments if they are overly negative or libellous.
But you can't hide Facebook posts
For posts posted by users to your page, although you can now delete posts, you still can't hide them.
The only way is to do this yourself on Facebook, or send a note to a team user asking them to do this on Facebook.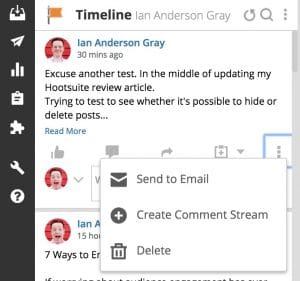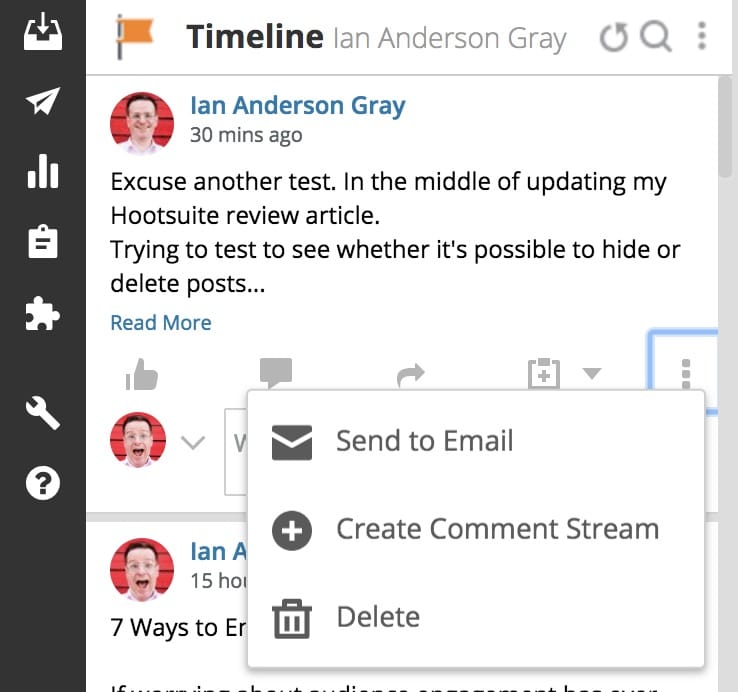 Hootsuite Inbox is Woefully inadequate
I was sad to see Twitter DMs moved away from the main dashboard.
But I was excited about the potential of the new Hootsuite Inbox.
I was expecting Hootsuite to catch up with Sprout Social and Agorapulse and offer an inbox view. Here you would be able to view comments, mentions and replies in a single stream and respond or delegate.
But no...
Right now, Hootsuite Inbox only works with Facebook page messages and Twitter Direct Messages. And from November 2018, they added LinkedIn pages.  So, if you want to manage your LinkedIn profile messages, or the comments and social messages from Twitter, Instagram, Facebook and LinkedIn, you will be disappointed.
While reviewing it for this article, I couldn't get Facebook messages to appear. But Hootsuite Inbox is still in beta, so maybe things will improve.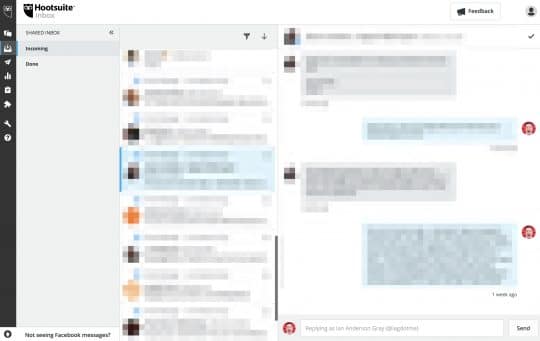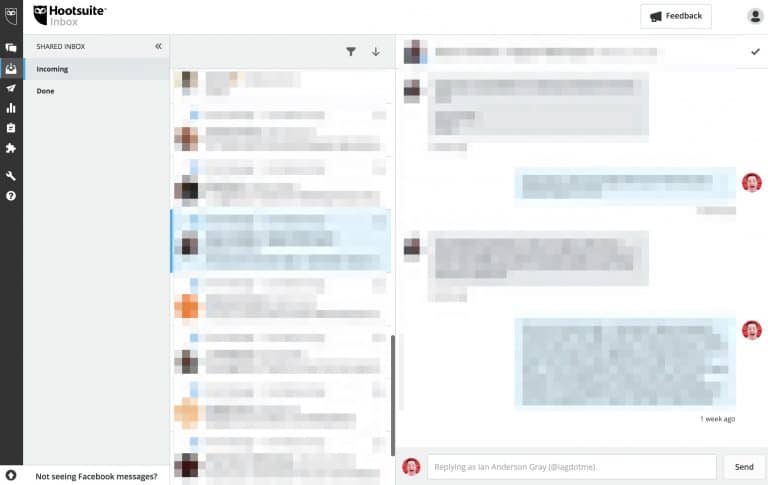 In this video from May 2018, product manager Arvin Dwaka mentions they are hoping to add other message types. But nothing has changed since.
Hootsuite Inbox is their first stab at an inbox zero workflow. I'll talk about this later in this article, but this allows you to either respond to a message, assign it to another team member, or just dismiss. Once you've actioned the message, it disappears from view. Both Agorapulse and Sprout Social offer this - but not just for Twitter DMs and Facebook messages.
It's a start, and it's good to see Hootsuite finally doing this.
You can filter by social network and order by recent or oldest first.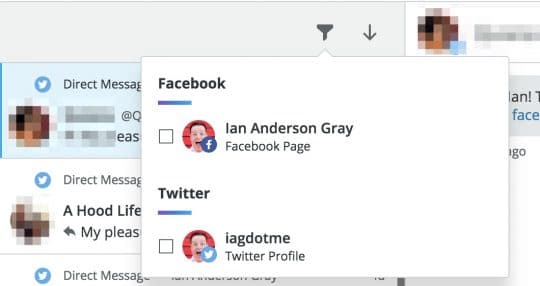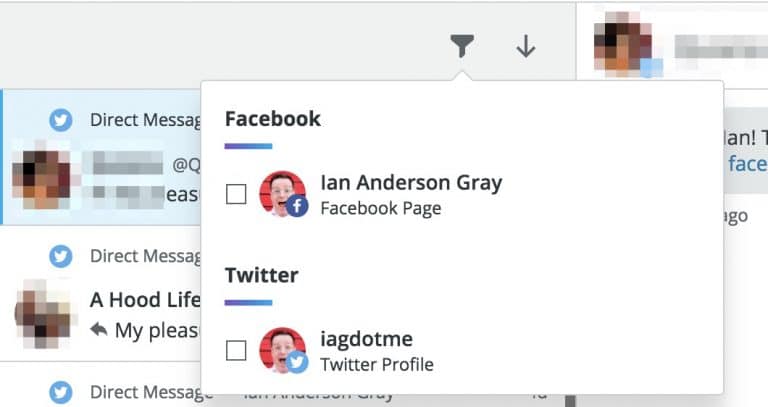 Very basic, but still useful. However, I'd love to have more powerful filters in the future.
No Bulk Select in Hootsuite Inbox
One big oversight is that you can't select more than one message at one time.
This would allow you to select lots of similar messages and bulk dismiss or assign to a team member.
And you can't bulk dismiss all messages in one go.
The only thing you can do is to review each message one by one.
Hootsuite Inbox is very basic. Sprout Social and Agorapulse are far more advanced and useful with their inbox zero features. But hopefully they will improve it over time. Please do!
No Zero Inbox Workflow
When it comes to email, most of us have a system for dealing with incoming messages.
After new emails come in, some of us might check our emails a few times per day (and probably more often than that)! Depending on the email, we may take one of the following actions...
Respond straight away
Forward/delegate to another team member
Archive since no response is needed
Delete if it's spam
Dealing with social media comments, mentions or messages should be the same.
Social media management tools such as Sprout Social and Agorapulse have zero inbox systems. They allow you (and your team) take actions on incoming social messages. You can reply, delegate, archive or delete.
The great thing is that you and your team will only see messages that are either new or have been delegated to you. All responded to, archived or deleted messages will not appear unless you need to see them.
Agorapulse
Agorapulse has a really easy to use zero inbox workflow. You can select multiple messages per channel to archive, or you can review each one separately.
You can reply, assign to a team member or review/archive. For Twitter you can like or retweet too. You're also able to label or bookmark the message, and label the user too. And the great news is that this works across Facebook pages, Twitter, Instagram, LinkedIn and YouTube.
Another thing I love is the way you can set it to move to the next message automatically once you've actioned the current message. It makes you so quick!


As well as incoming messages, Agorapulse gives you a separate stream for each channel called Listening. Here you can search for keywords or key phrases using simple or advanced search.
Another thing that I love about Agorapulse's zero inbox workflow is their "Inbox Assistant". With this you can set up automated moderation rules based on certain keywords.
For example if I receive a direct message with the phrase "thank you for following me" then it automatically gets reviewed. If I get mentioned on Twitter with the phrase "via @iagdotme" it gets assigned to my VA.
There are loads of ways you can get this to action messages in the background.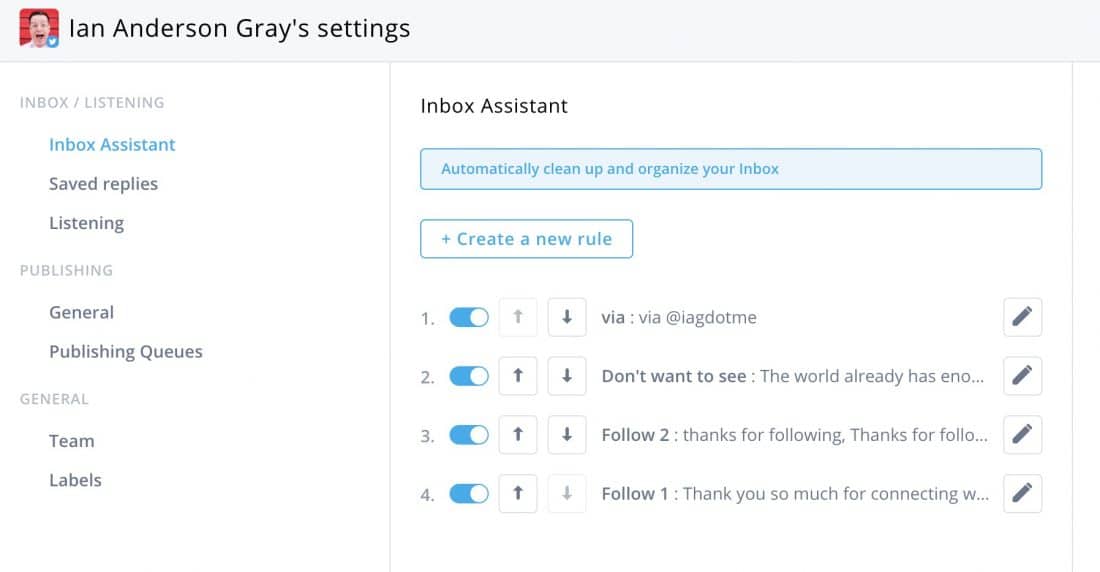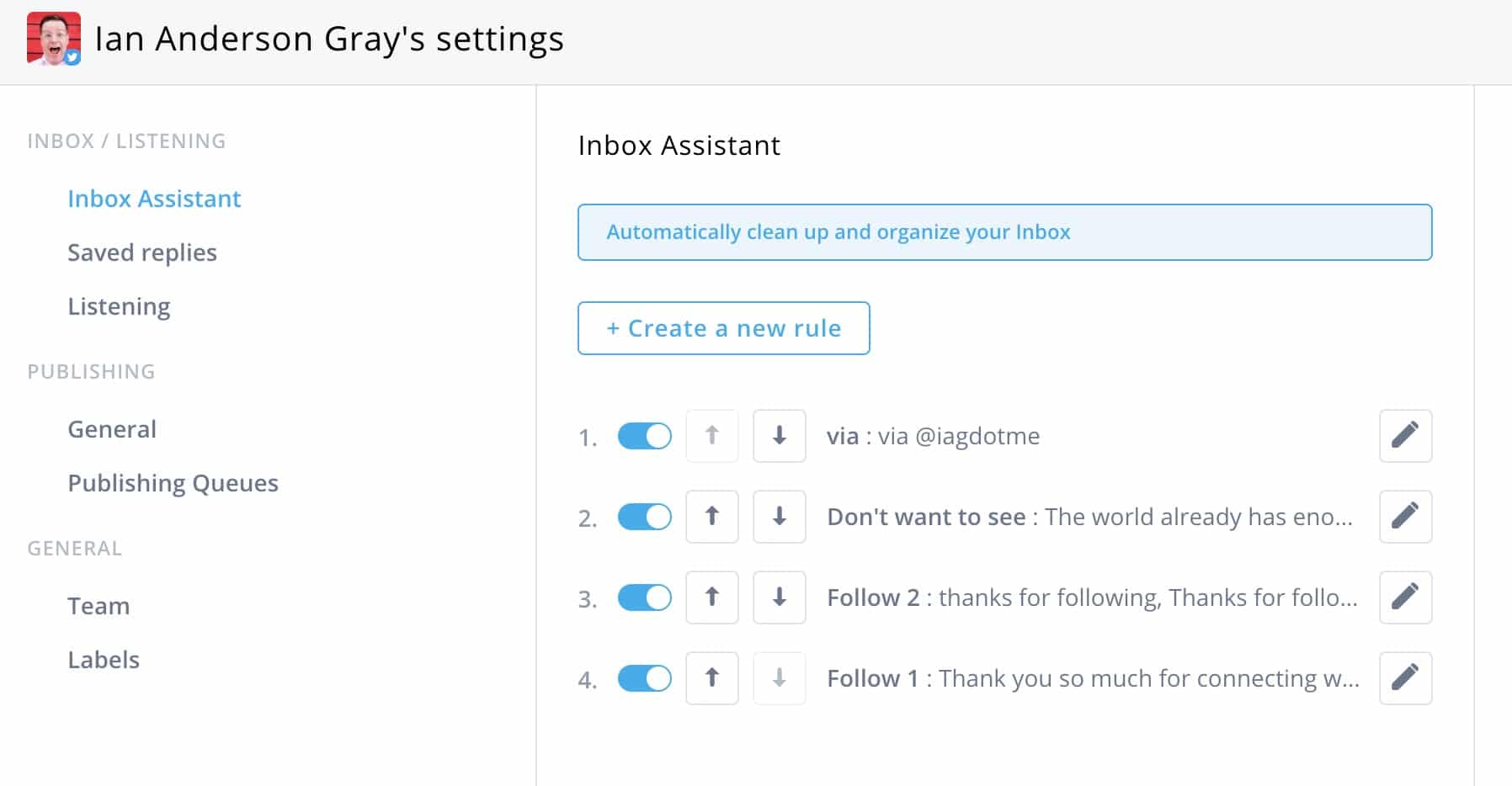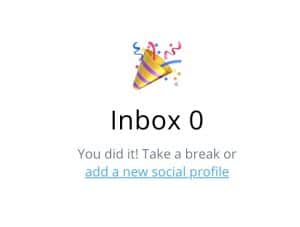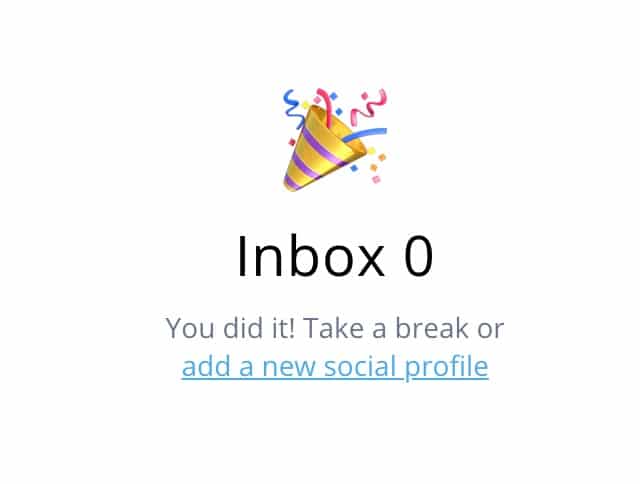 Once you get through all your messages, you'll get that happy inbox zero feeling - knowing that all messages have been dealt with.
Sprout Social
Sprout Social also has an inbox zero workflow and it's called Smart Inbox. All your channels' messages come into one inbox. But you can also filter them by social channel - for example just show Twitter or LinkedIn or a combination of the two. You're also able to filter by message type - for example show Twitter DMs or Facebook comments or private messages.
You get a really helpful chart of your incoming messages and can visualize your progress.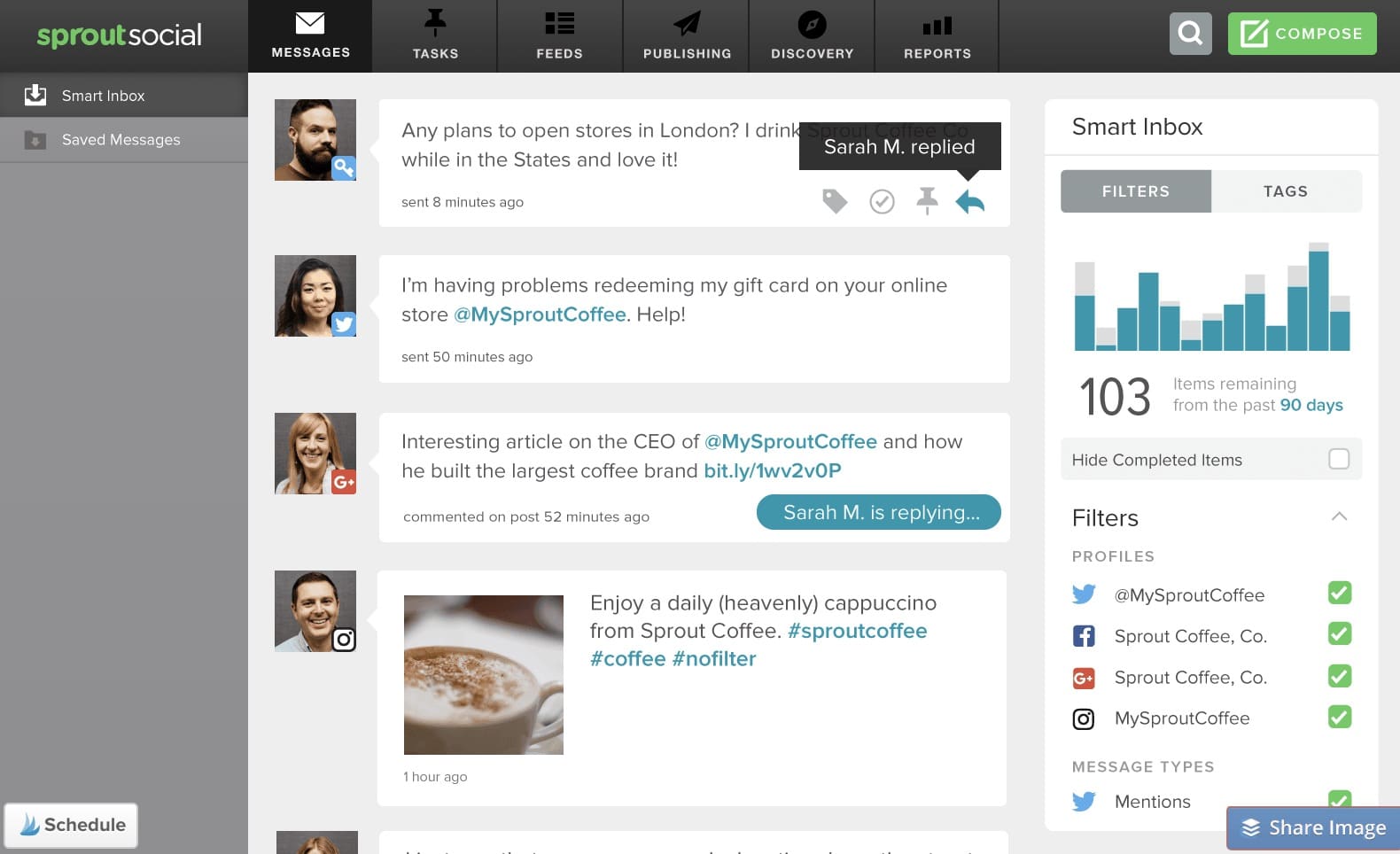 A unified inbox won't be everyone's cup of tea, but I do love the way you have full control over what you see in Sprout Social's Smart Inbox.
Like Agorapulse, you can select more than one message or you can select all and archive them (Sprout Social says "complete").
For each message type you have different options. Some of these features aren't available in Agorapulse such as Advanced Retweet (retweet with a mention), report as spam, email the conversation and translate into your language.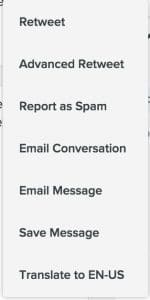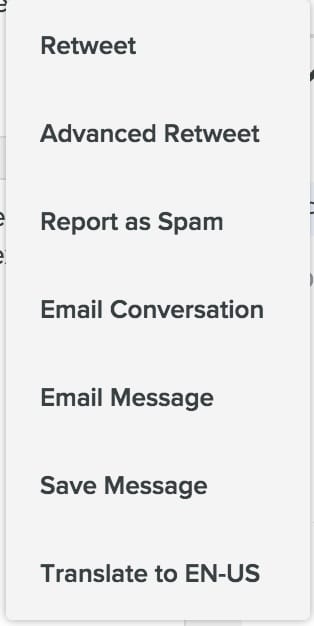 To respond to a message you need to click on reply or task. In my testing, this was a bit slow as you're taken to a new screen for each message. Then you can reply, assign a task type, mark as high priority or assign to another team member. And of course mark the message as complete.
As well as incoming messages, you can monitor Twitter keywords, Instagram hashtags and Instagram locations.
There are no automatic moderation rules like you get with Agorapulse, but the Sprout Social zero inbox workflow is very feature rich.
Sendible
Sendible has a zero inbox workflow of sorts. Like Sprout Social, they offer a unified inbox that contains messages from all your channels. It's called the Priority Inbox. It uses an algorithm to display messages in order of what it thinks are the most important first. I'm not a great fan of relying on an algorithm, but you do get the chance to show the streams for each individual channel.
After you reply to a message you do get the option to archive each one. But it's an extra click to do so.


And you can archive multiple messages. I could have done with an indication of how many messages I have in my inbox and when I try and archive all, it only archives what's on my page. But I'm pleased to see Sendible have the feature.
Hootsuite
While the new Hootsuite Inbox offers a simple zero inbox workflow, it's only for Twitter DMs and Facebook Messages.
If you want to monitor and engage with your Twitter mentions or your Facebook, LinkedIn, YouTube or Instagram comments, you're going to have to use Hootsuite Streams.
Compared to Sprout Social and Agorapulse's zero inbox workflows, this is a total nightmare.
It's not so bad for Twitter, since Hootsuite gives you a mentions stream. Here you can view all your comments or mentions and reply to them. But you can't mark them as completed, so it's difficult to know which ones have been dealt with.
For Instagram, YouTube and your Facebook page, you can't access comments and replies in one stream.
For Facebook, you have a few options.
Add a "My Posts" stream. Scroll through your posts to see if anyone has left a comment.
Add a "My Activity" stream. This is better, but it mixes posts where your page is mentioned and comments to your posts.
Add a comments stream for a specific post. This is useful if there is a particular post that you want to keep track of, but you'll only see comments to that one post.
For Instagram, you only have one option - add a "My Posts" stream, which lists all your posts with the number of comments by each one. I asked their support about this and they said that they had:
"recently lost the ability to create a comment stream for Instagram. There have been some API changes recently that have disabled this functionality."
Imagine, someone has left a comment on a post from a few weeks or months back? You won't know unless you scroll down through all your posts, and see that the number of comments has gone up by one!
And even more frustratingly, even if you or a team member has dealt with the message - there is no archive button - so it will continue to appear.
Difficult to view comments on Facebook Ads / Unpublished Posts
Do you ever create Facebook ads? I'm not talking about boosting posts - I am talking about posts that are created solely for ads. They don't appear in the page's feed and are sometimes called unpublished or dark posts.
It's now possible to view a page's ads by clicking on the "info and ads" tab on the Facebook page.


When anyone comments on an ad post, you'll want to see it straight away and engage with it.
In Hootsuite there is no Facebook ad comment stream. The only way to see such comments is to ad the Unpublished posts stream: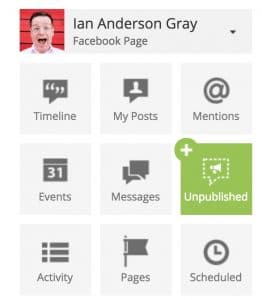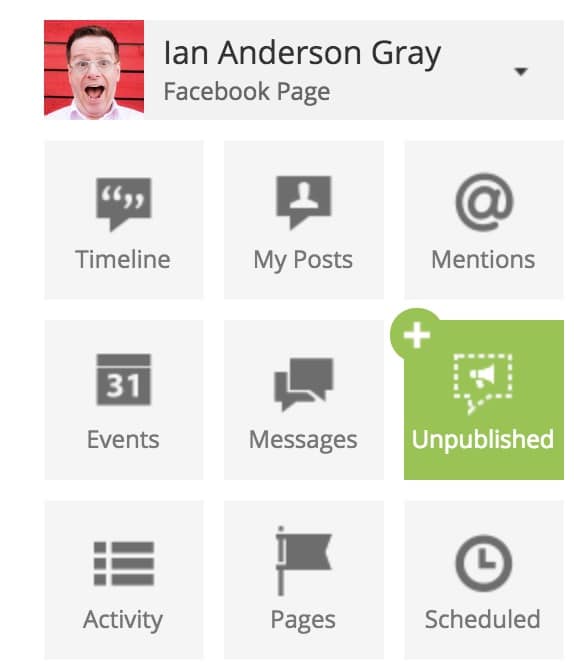 When you do this, you will see all your unpublished posts - a collection of current and previous Facebook ad posts.
It might be ok to manage if you have 2 or 3 ads. But what if you have 20, 30, or hundreds of ads? What if someone comments on an ad post that is at the bottom of the stream? It's almost impossible to manage!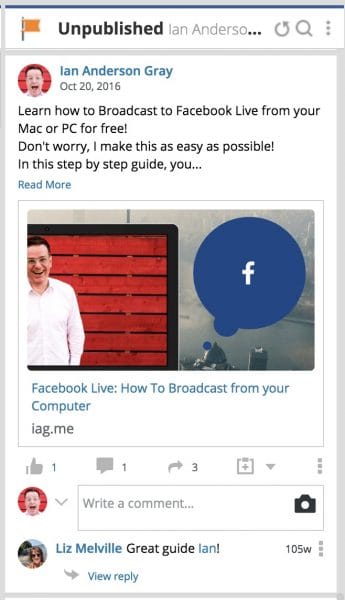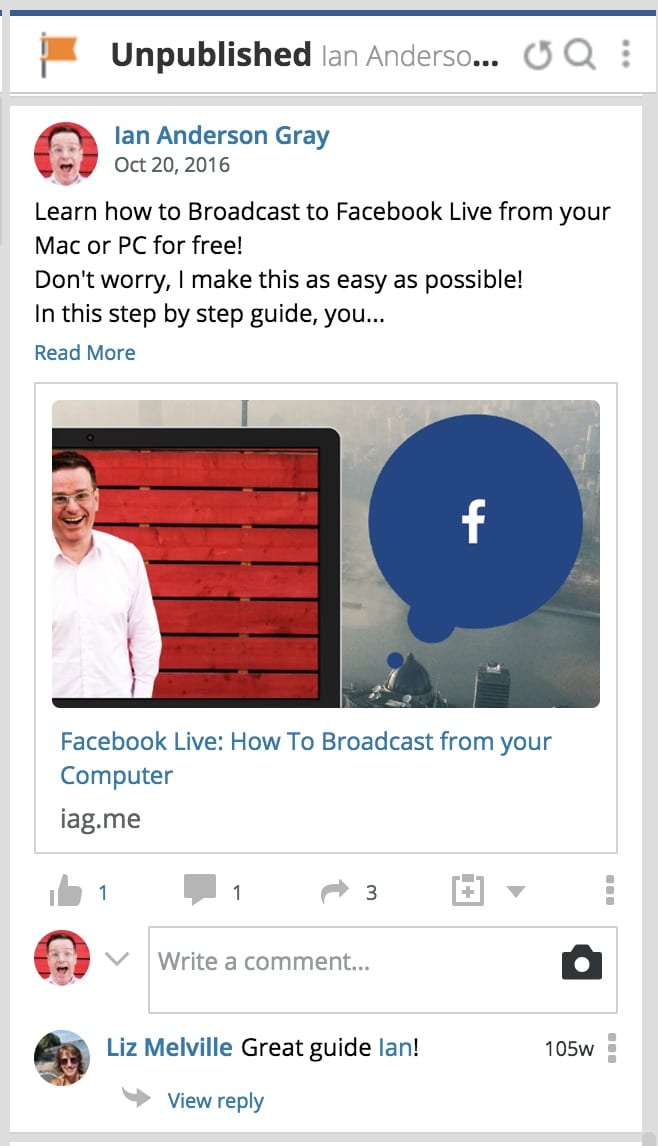 Reason #4
Expensive Analytics and Reports
At the time of writing this article, Hootsuite is moving over from their old point-based report system to their new Analytics.
Hootsuite Legacy Reports
The old report system is still available, and is the only way for free and pro users to access reports. Some reports are free, such as the Twitter and Facebook profile/page overview, Ow.ly Click Summary and owly URL click Stats.
The old reports are really very basic and clunky, especially when you compare to other tools such as Agorapulse or Sprout Social.
For example the Twitter Profile Overview only displays how many followers you have, how many people you follow and the number of times you are listed.
It has a follower growth chart, but the scale is zero to your max number so it's often difficult to see the growth. Finally, if you don't use the owly link shortener, the most popular links section will be blank.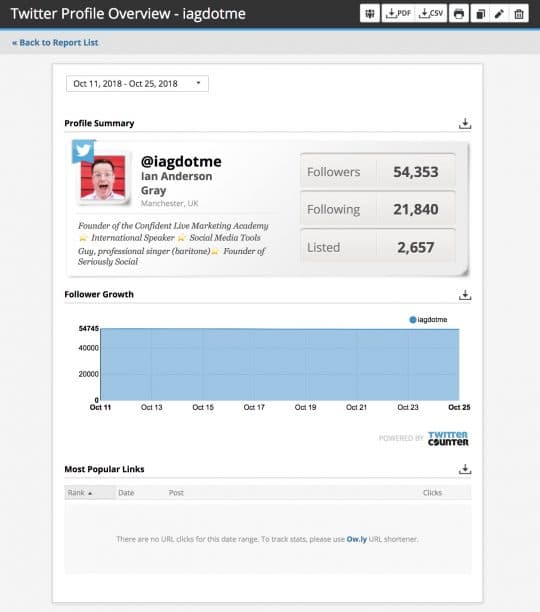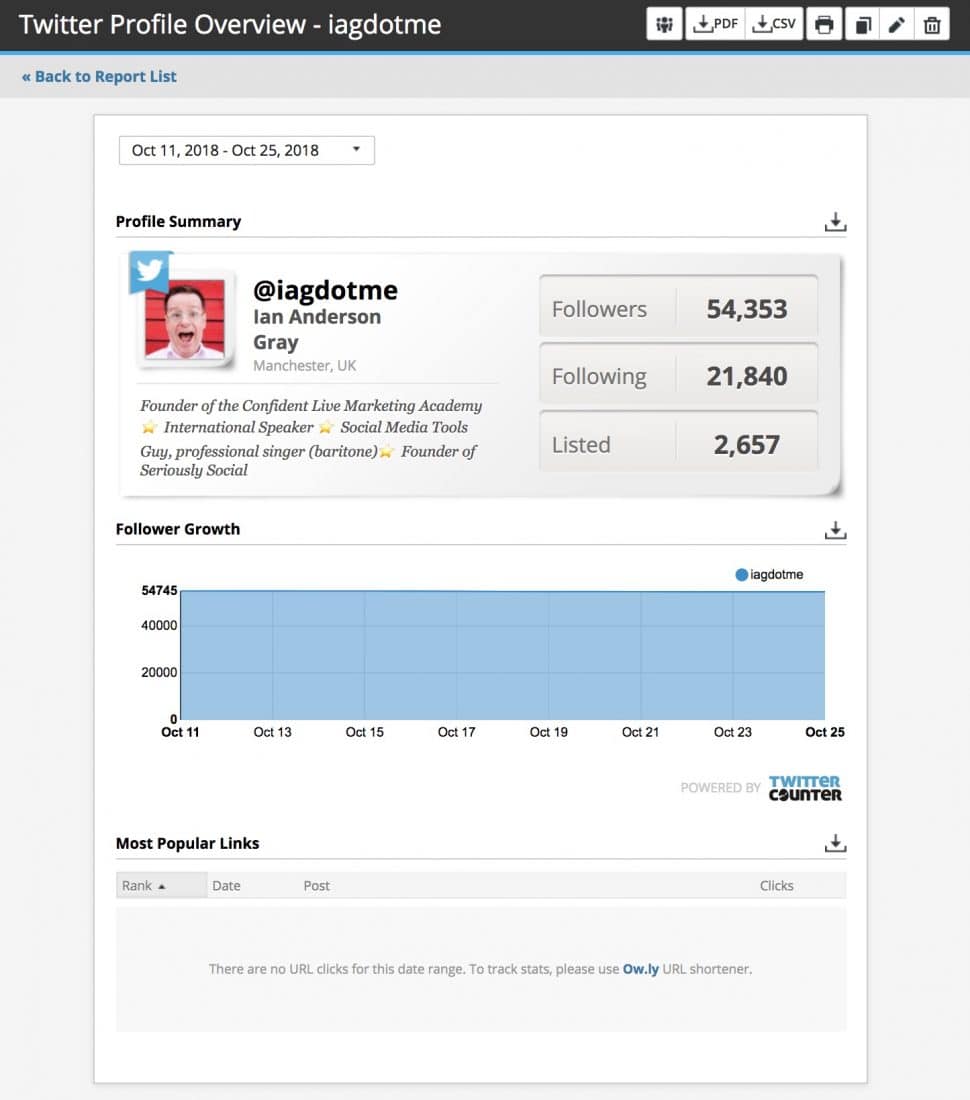 For Facebook I was having problems viewing the data. This could have been a blip in the system, but frustrating nonetheless:


One good thing is that you can download the report data as a pdf or in CSV format.


As you will see shortly, this is something you won't be able to do with Hootsuite's new system unless you are paying for the Team plan or above.
For paid reports, you buy using points. Pro plan users get 50 points per month.

Paid reports in Hootsuite include:
Facebook Insights: 30 points
Facebook Aggregate: 15 points
LinkedIn Page Insights: 20 points
Google Analytics: 50 points
For Pinterest reports, it first appears that the Pinterest Engagement report is free and the Pinterest Aggregate report costs 30 points. But these are only available to $16,000+ per year Enterprise customers!

If you've run out of points, you've got two workarounds for the non-enterprise level reports. Firstly, you can delete previous generated reports to free up your points. Then you can generate new ones. This is a pain because you may find yourself deleting and regenerating reports each week or month.
Secondly, you have the option to buy more points.


Except you don't.
Not any more.
Now that Hootsuite have their new analytics, you will be asked to "unlock custom analytics". This basically means upgrading to at least the $1,548 per year team plan: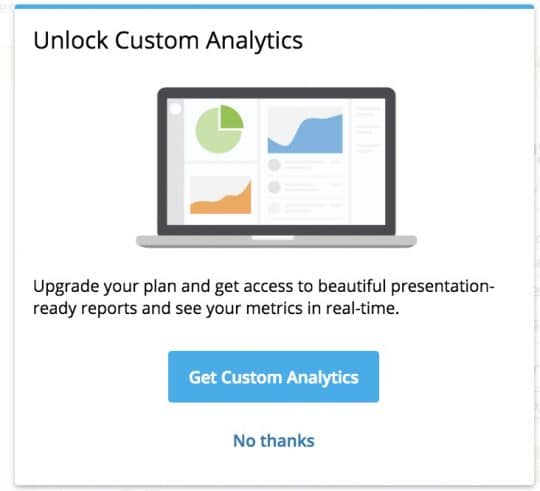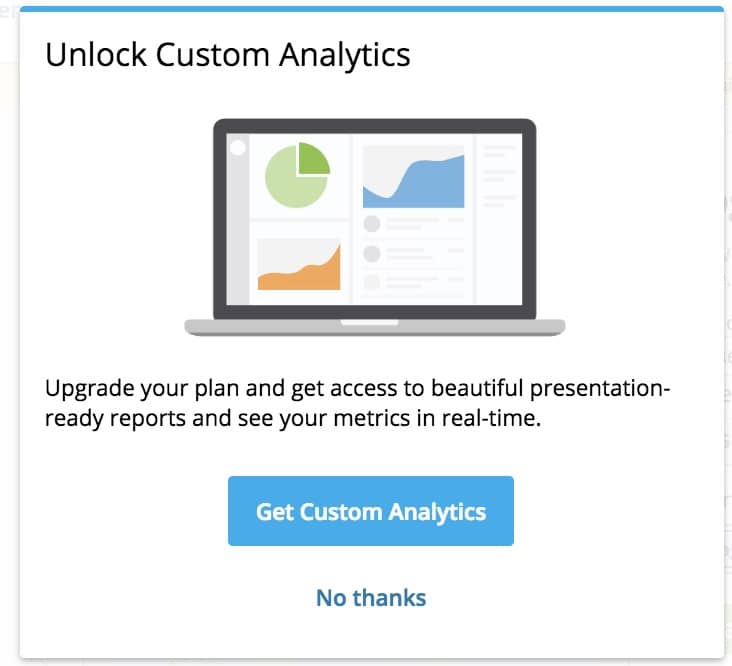 Hootsuite New Analytics
I was quite excited when Hootsuite announced their new Analytics.
At last, a move away from their point-based clunky and buggy reports. And they look so much nicer! A much improved UI as you can see: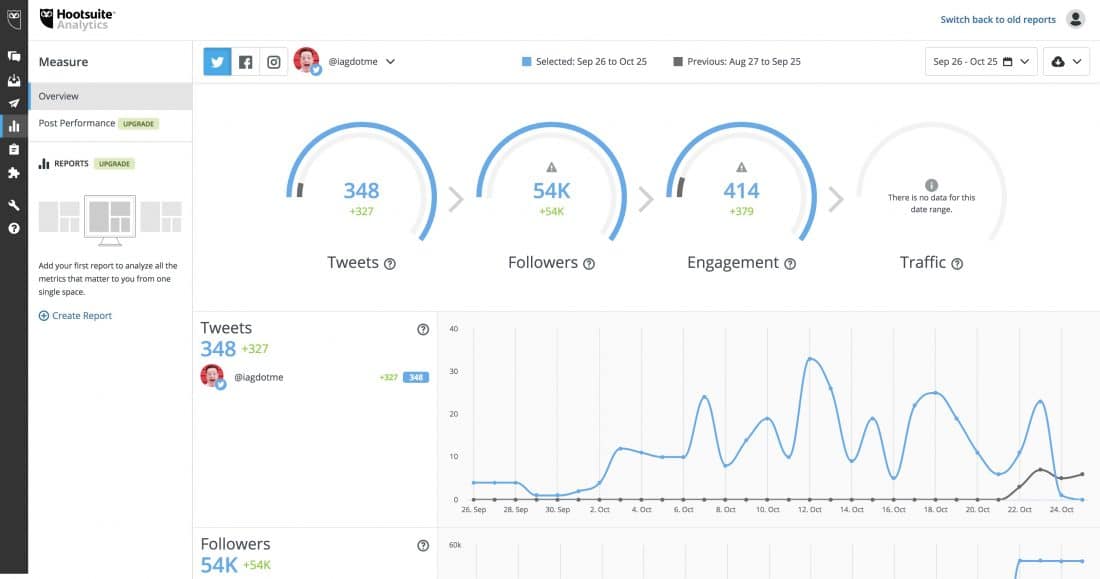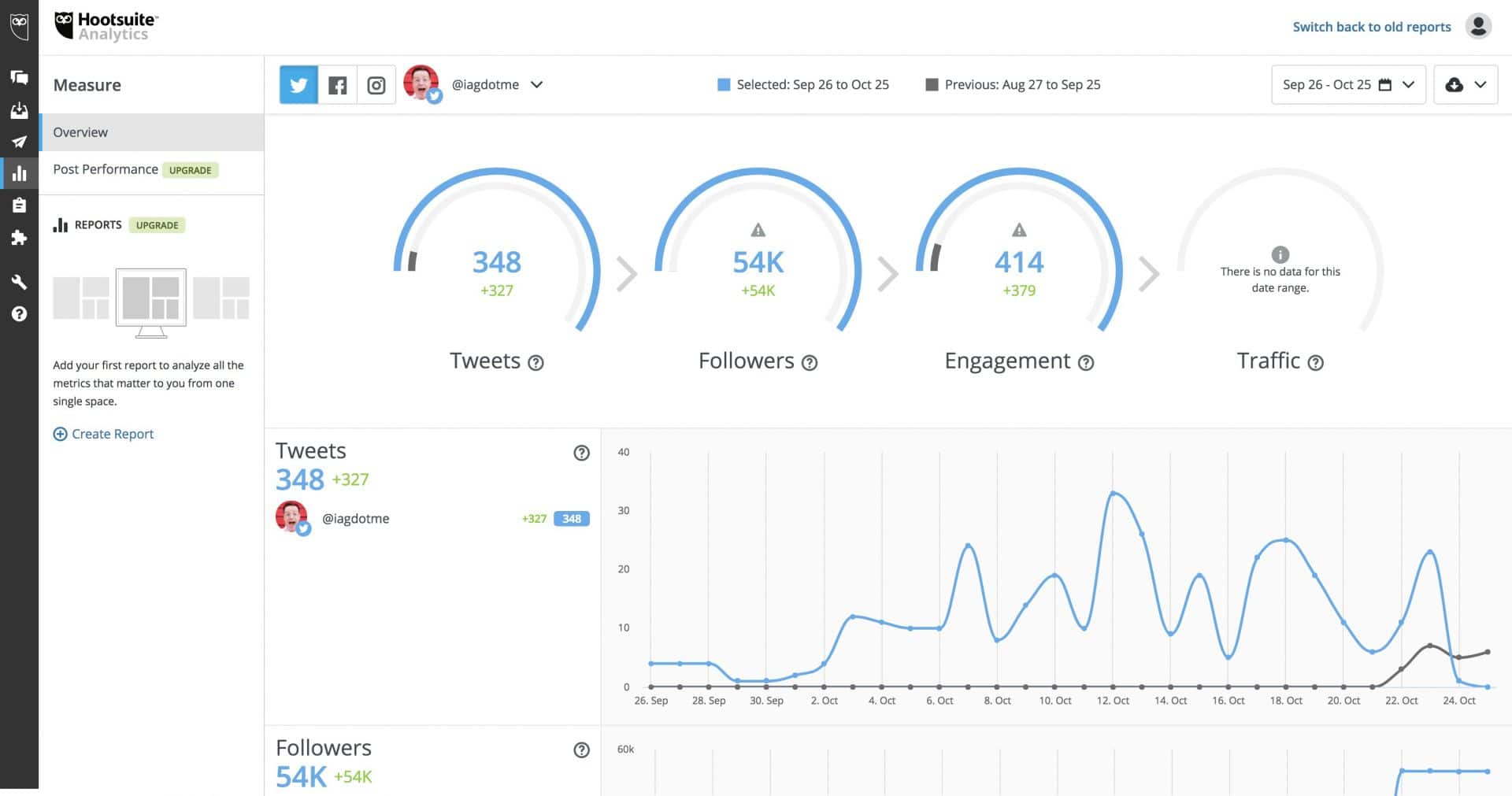 The Twitter report is much more visual and helpful with a decent follower graph. You get engagement stats and even a sentiment graph:


But unless you track all your links within Hootsuite, you won't see any traffic reports.
Hootsuite Analytics is only for Twitter, Facebook and Instagram
Unfortunately Hootsuite Analytics only works for Twitter, Facebook and Instagram. So even if you add your LinkedIn, Pinterest or YouTube accounts, you can't see reports for those channels.


No Data Export unless you are on the Business or Enterprise Plan
Hootsuite has a handy export feature, which allows you to download to PDF, Powerpoint, Excel or CSV. This is a big improvement over the old report system. However, this is not available to Pro or Team plan users. You need to upgrade to the $7,188 per year Business Plan.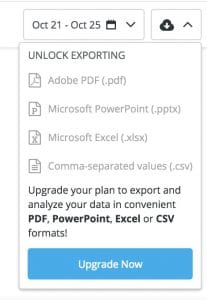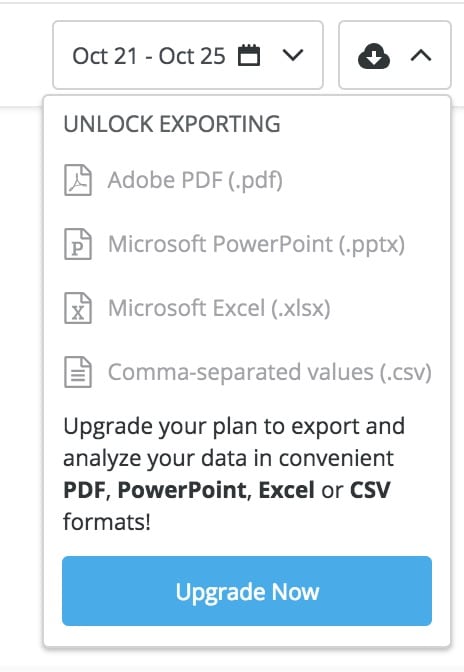 Post Performance and Reports Not available to Pro users.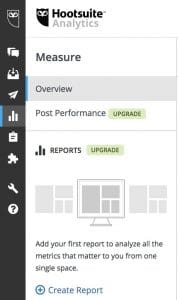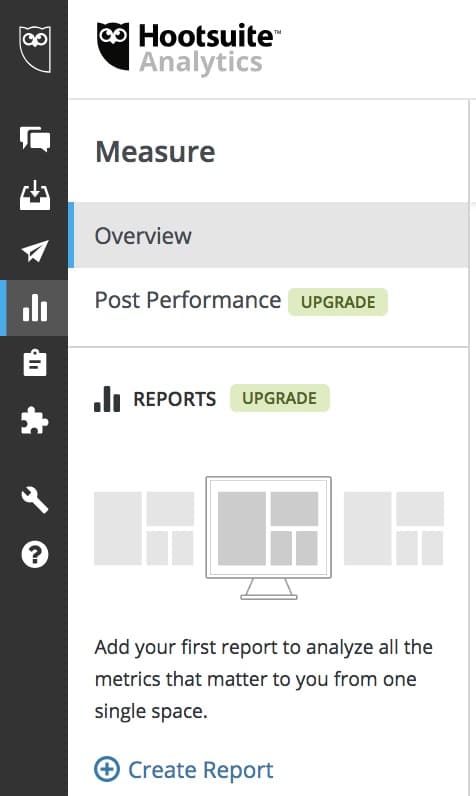 If you want to view reports with the Hootsuite's Analytics feature, you need to be on the $1,548 per year team plan.
You can, for now, continue to use some of the reports from the old system. But if you need the new reports, you'll have quite an upgrade cost on your hands!
Expensive compared to other tools
If you want access to reports and the ability to export, you'll need to pay over $7,000 per year. How does that compare with other tools?
Sprout Social
Sprout Social's reports are not only powerful, they are beautiful. They offer unified reports for all your channels and individual reports for each channel.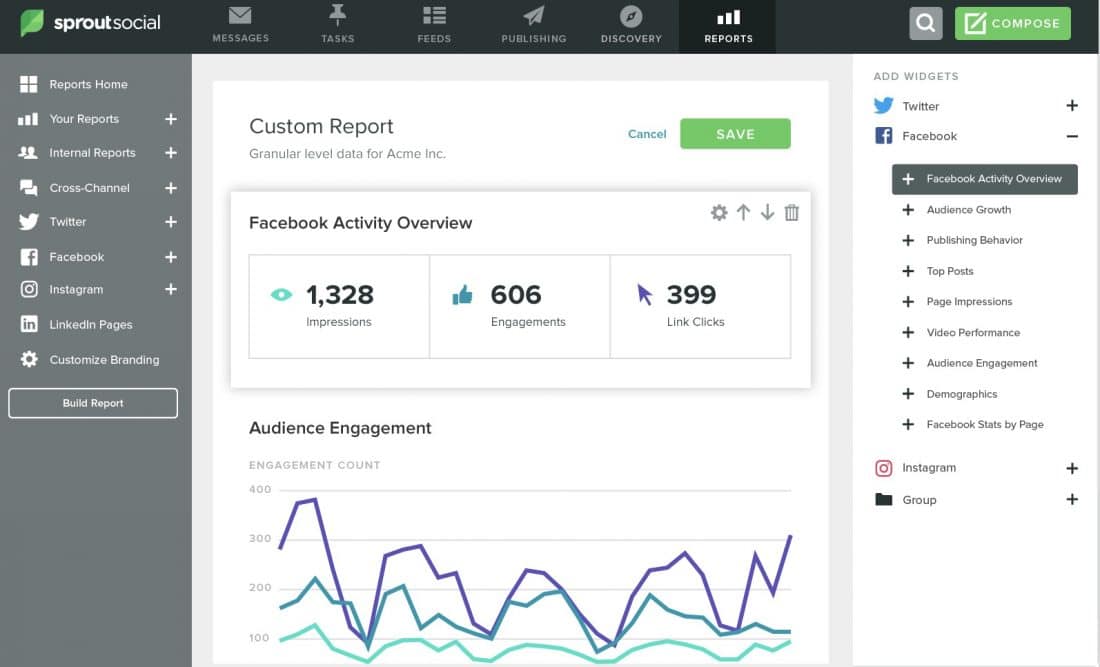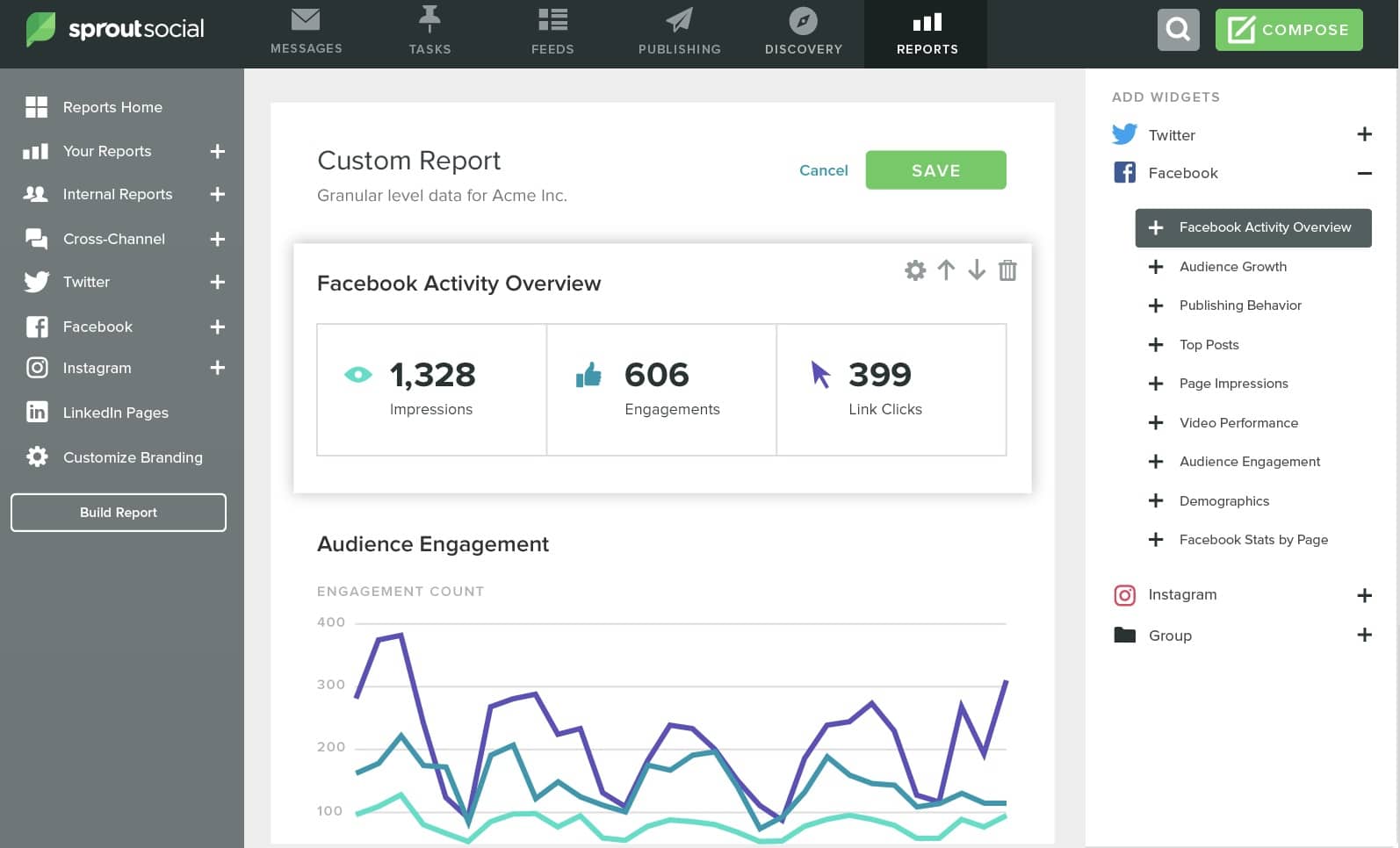 You can also download each report as a CSV or a PDF file.
Unfortunately, like Hootsuite, Sprout Social doesn't make all reports available to all plans. Their entry $99/user/month plan includes group and core reports. But if you want reports such as the Twitter, Instagram or Facebook Competitor Report and more, you will have to upgrade to the corporate or enterprise plans. You can see a comparison table here, or look at the plan comparison page on the Sprout Social website.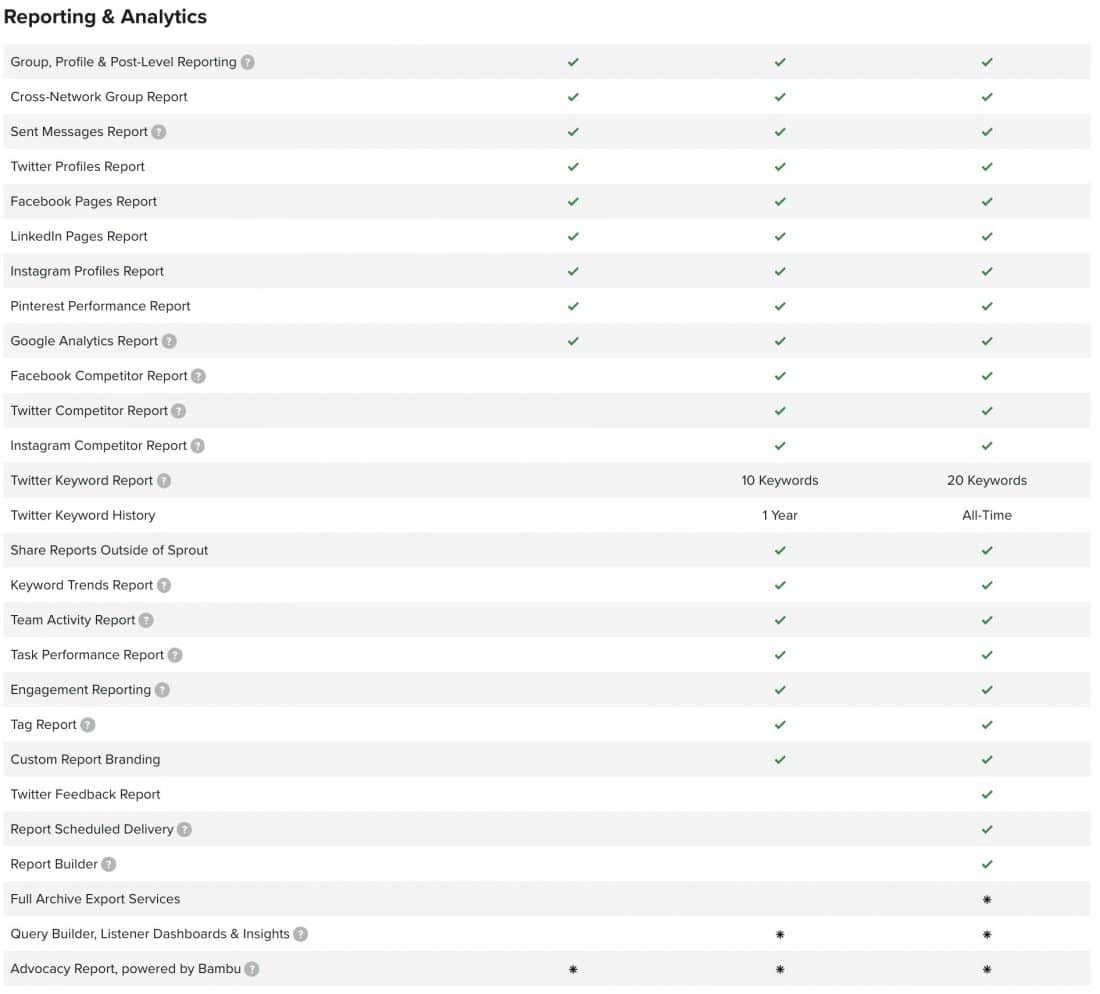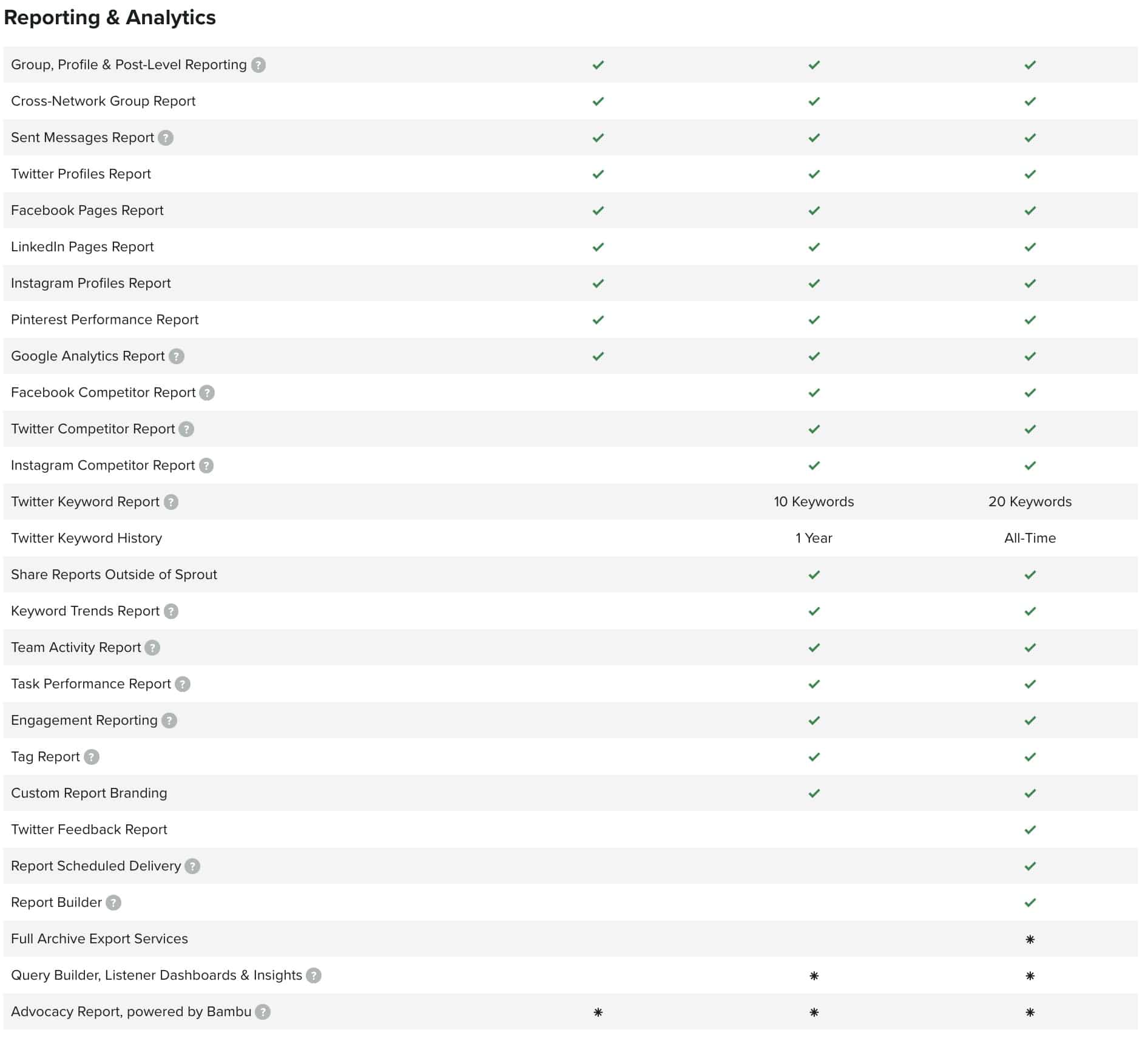 Agorapulse
They've got reports for Twitter, Facebook pages, LinkedIn pages and Instagram. You can download them all as PDFs or CSVs format. PowerPoint format is available with the tool's Power Reports add-on.
You can also compare your Facebook pages with competitors and that can be integrated into the reports.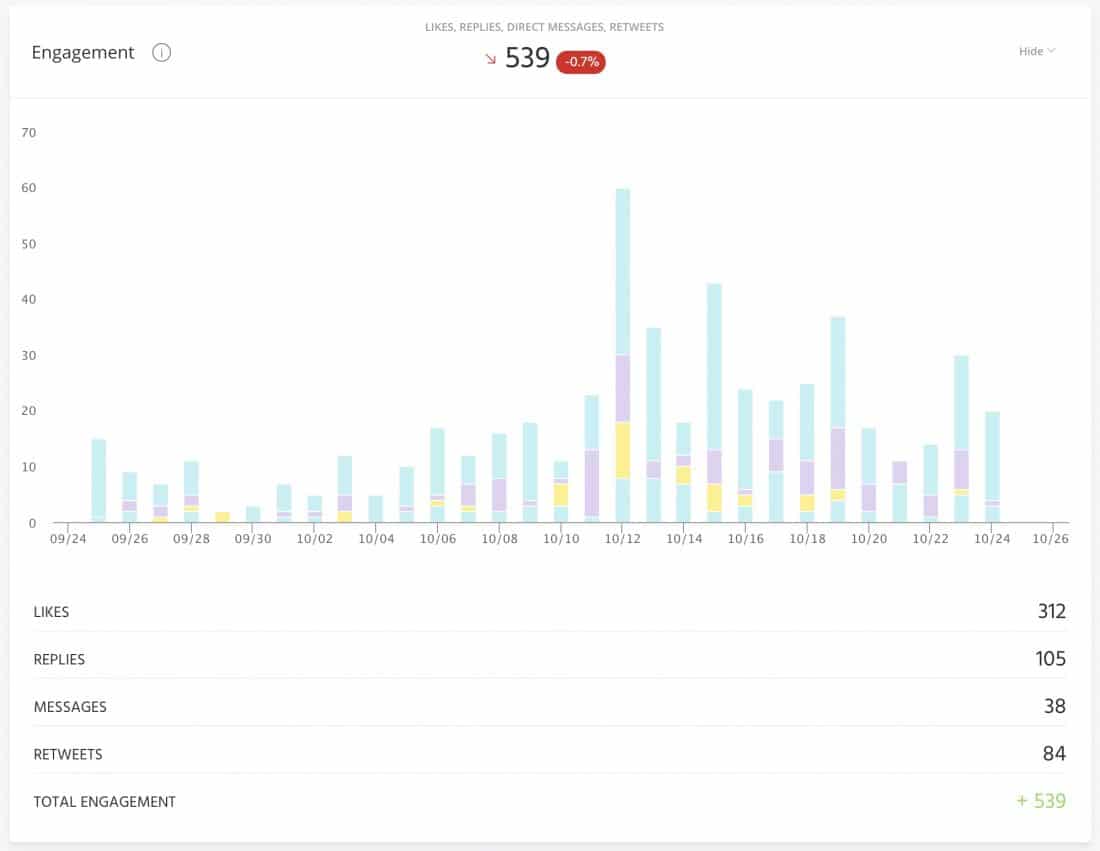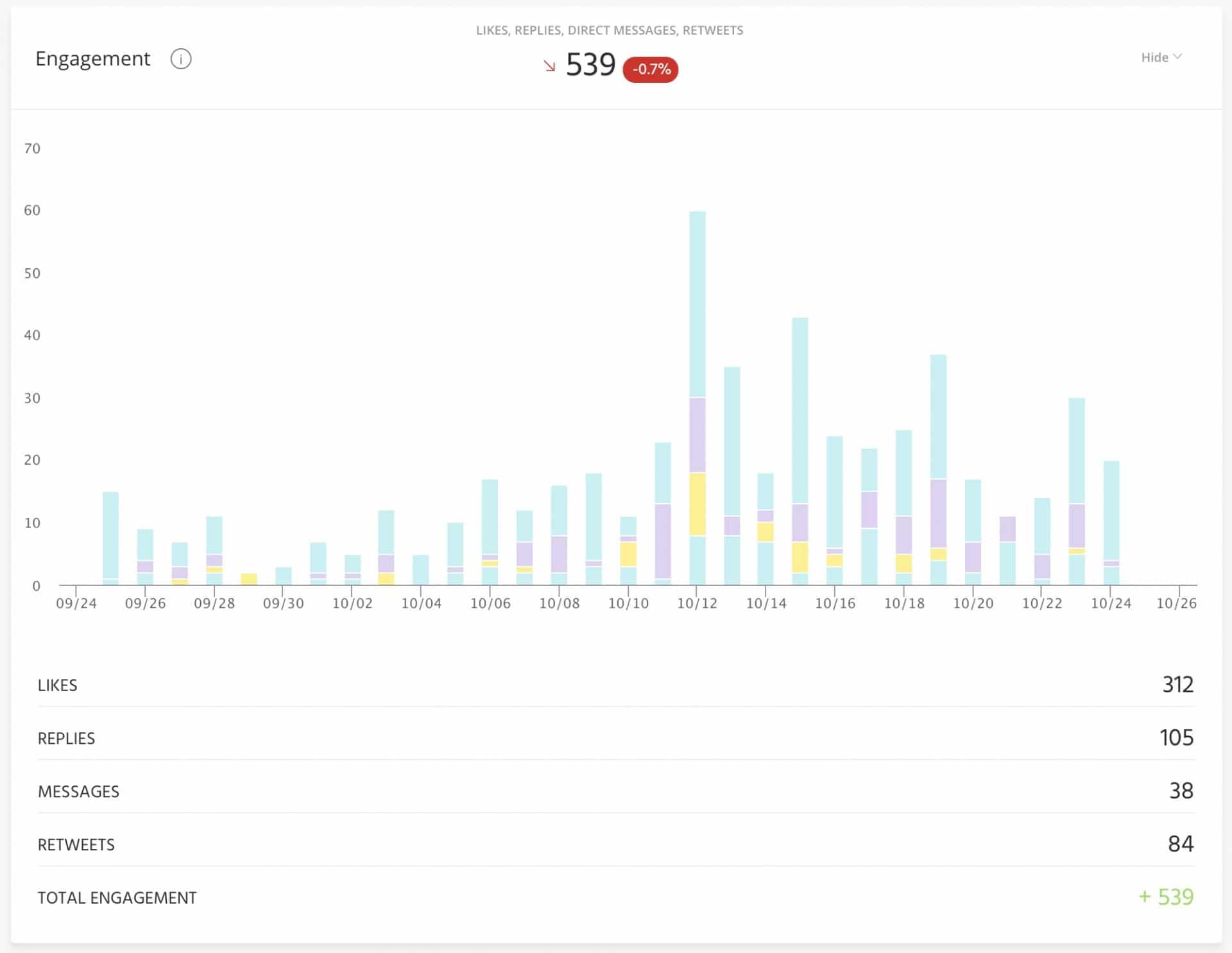 One great thing is that nearly all reports are available on all plans, which makes Agorapulse very cost-effective if you need reports for all your channels. If you need unified or customized reports, though, you'll have to purchase Agorapulse's Power Reports add-on.
What is a queue?
Most tools allow you to schedule social media posts as well as publish immediately. This means you can post content in a specific time and date in the future. Some tools even allow you to bulk import content and schedule them all at specific times.
Social media content queues are a bit different. First of all you create a schedule for each of your social networks. These are time slots throughout the week when your content will be posted. You could have the same times each day or different times each day.
I post quite a lot of content to Twitter from my queue - ranging from 8 to 12 time slots per day. But for Facebook, I only have 4-5 slots per week. You're in control!
Then you will need to add content to your queues. When a time slot comes up, the first piece of content gets posted, and the second piece of content comes to the front ready for the next time slot. When it's time for the next time slot, that piece of content gets posted… and so on.
Once all pieces of content in the queue have been published, nothing more will be posted unless you add more to the queue.
Why would you want to use a Queue?
Using a queue is an easy way to get content posted throughout the week. Some tools also allow different schedules for different categories.
And some tools allow you to repeat content.
Repeating content can be really useful on certain networks. Agorapulse CEO Emeric Ernoult wrote a blog post on how he Got 24 Times More Views on LinkedIn. And repeating content has been very powerful on Twitter in the past. This is because not all your followers would have seen your content the first time. Also, having the ability to repeat weekly event-based posts to Facebook groups or Twitter chat announcements is really useful. Do bear in mind that Twitter does not want you to post duplicate content.
Which tools have it?
SocialOomph
SocialOomph was first called TweetLater and was founded in 2008. It was one of the first Twitter automation tools that offered queues and recurring updates. It now integrates with Facebook, LinkedIn, Pinterest and RSS feeds as well as Twitter. The professional version works out at $55 per month.
Buffer
Buffer was the tool that first made queuing posts popular. For each of your networks, you can choose the exact times per day, or you can choose a different schedule for weekdays and the weekend, or even a different schedule every day.
However, you don't have the option to repeat or loop your content so there's no recycling evergreen content.
Once your queue or reservoir is empty, that's it. You'll need to keep on adding posts to keep things topped up. Also, no categories for different types of content with different schedules
For one user, Buffer is good value for money, with free and $6/mth plans.
You can import from RSS feeds but not CSV files. But it's great because it integrates with automation tools IFTTT and Zapier so you can import content from other platforms very easily.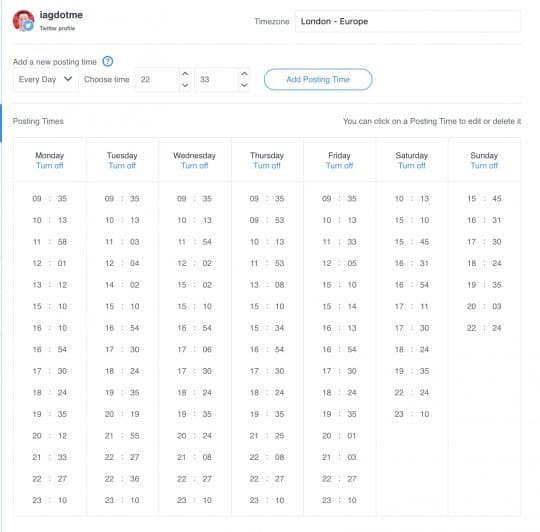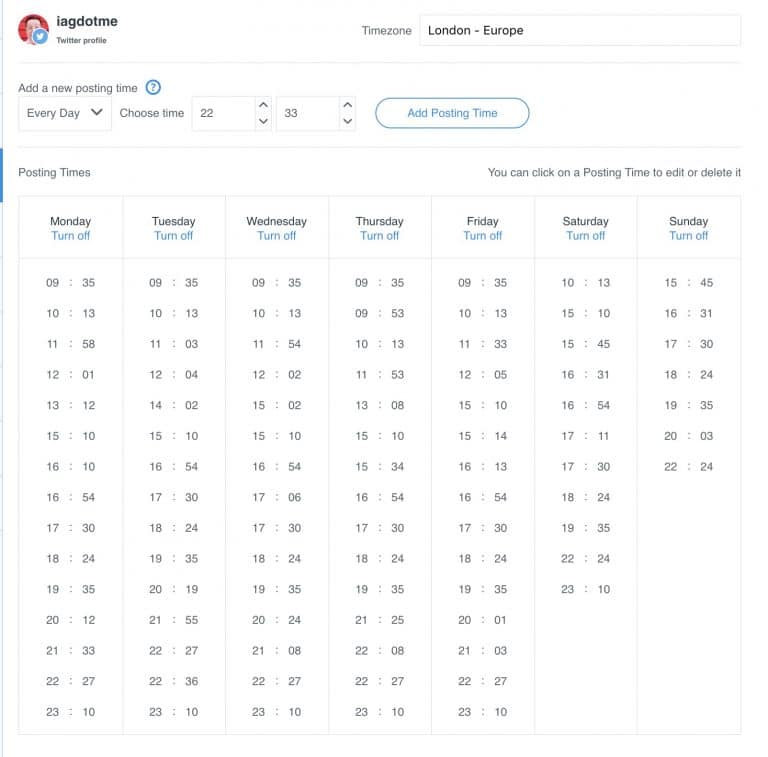 Sprout Social
Sprout has two options - Viralpost and the manual times queue.
Viralpost chooses the times for you using an algorithm. In Sprout Social's words it "works for you by taking the guesswork out of delivery times. This data-centric solution analyzes your audience's usage & engagement patterns, content velocity and other factors to determine the optimal times to deliver content."
This is only available on the $99/user/month Premium plan and above. Anyone on legacy standard plans will need to upgrade.
The manual times option in Sprout Social is similar to Buffer.
You can choose post time settings for weekdays/weekends or individual days. But the number of times is quite limited depending on the plan you're on. The old standard plan only gives you 5 slots per day. New plans now give you 10 per day (for Premium), 20 (for Corporate) and 30 (for Enterprise).
But there is no ability to recycle evergreen content. And you can't have categories for different types of content with different schedules.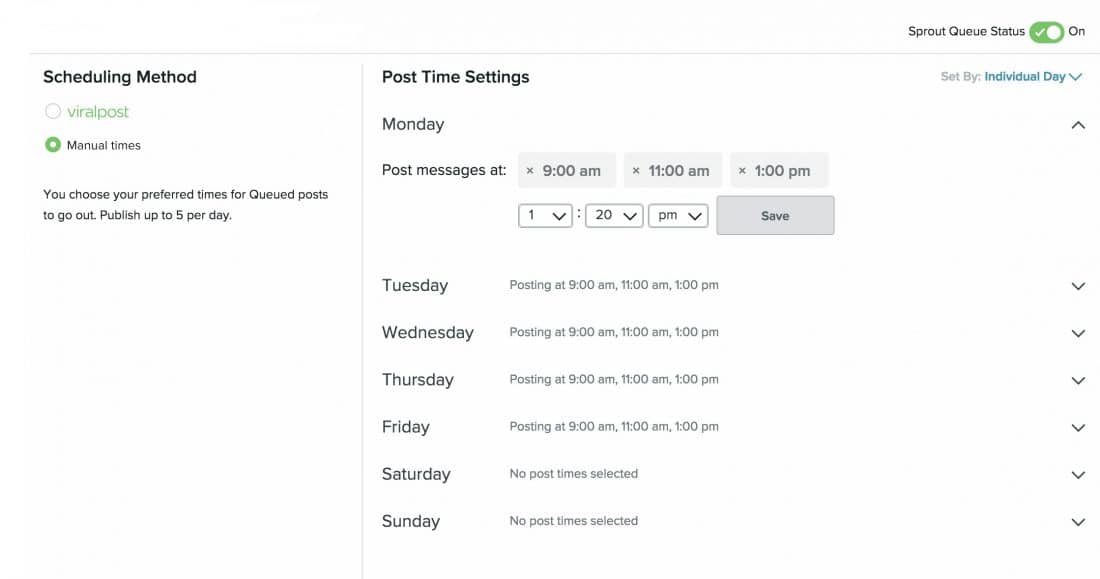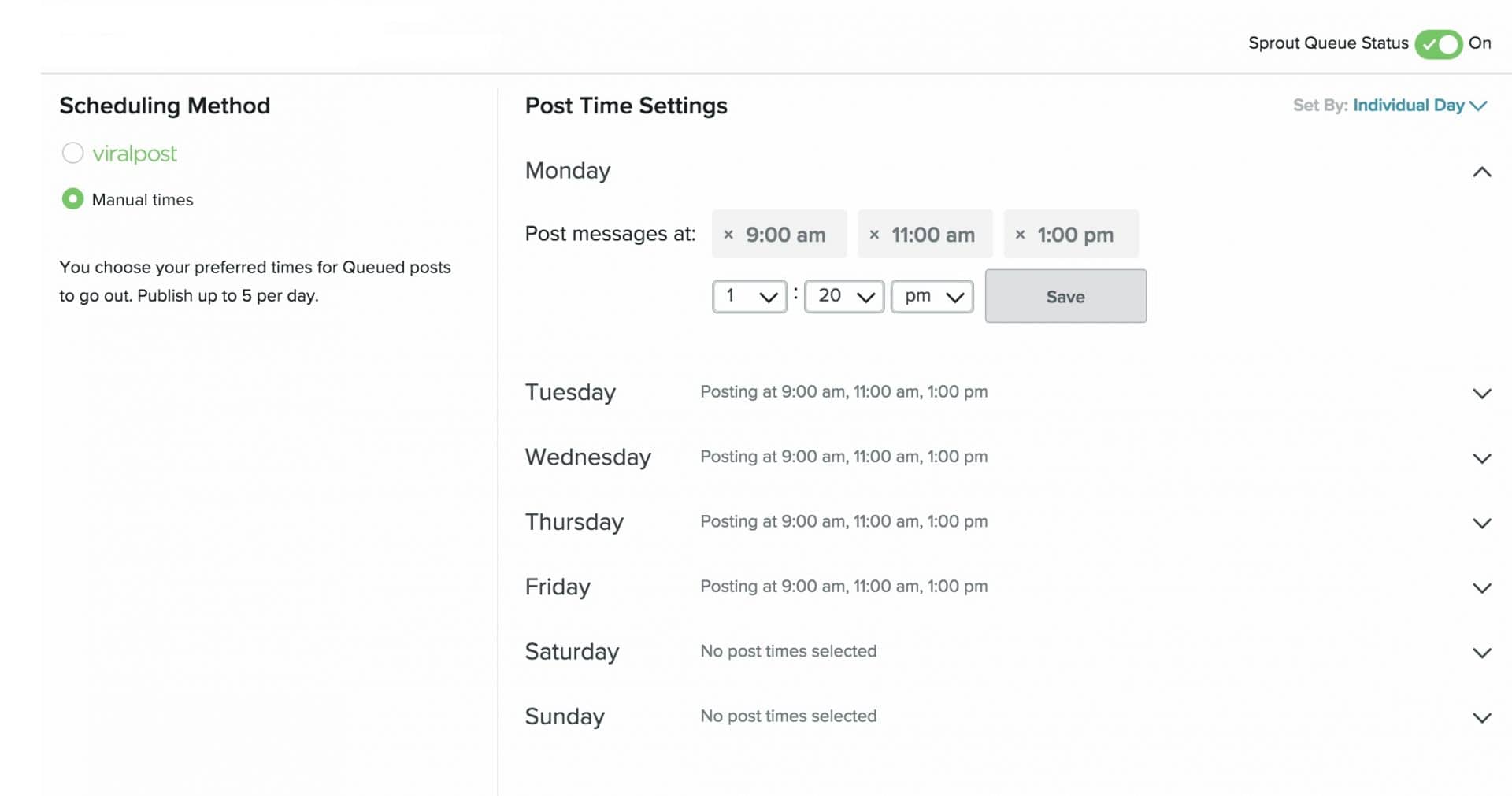 Agorapulse
Agorapulse has a full publishing queue system with categories. You get to create different categories for different types of content. For example, I have one for evergreen content, another for amazing posts I've found during my content research and another for events. Each of these has a different schedule with time slots throughout the week.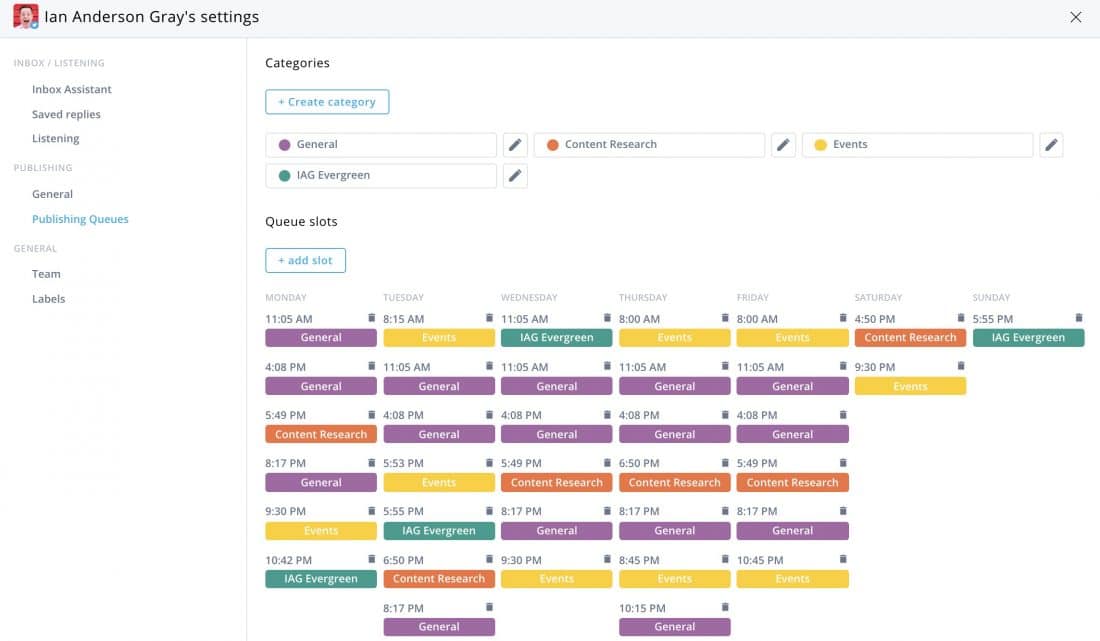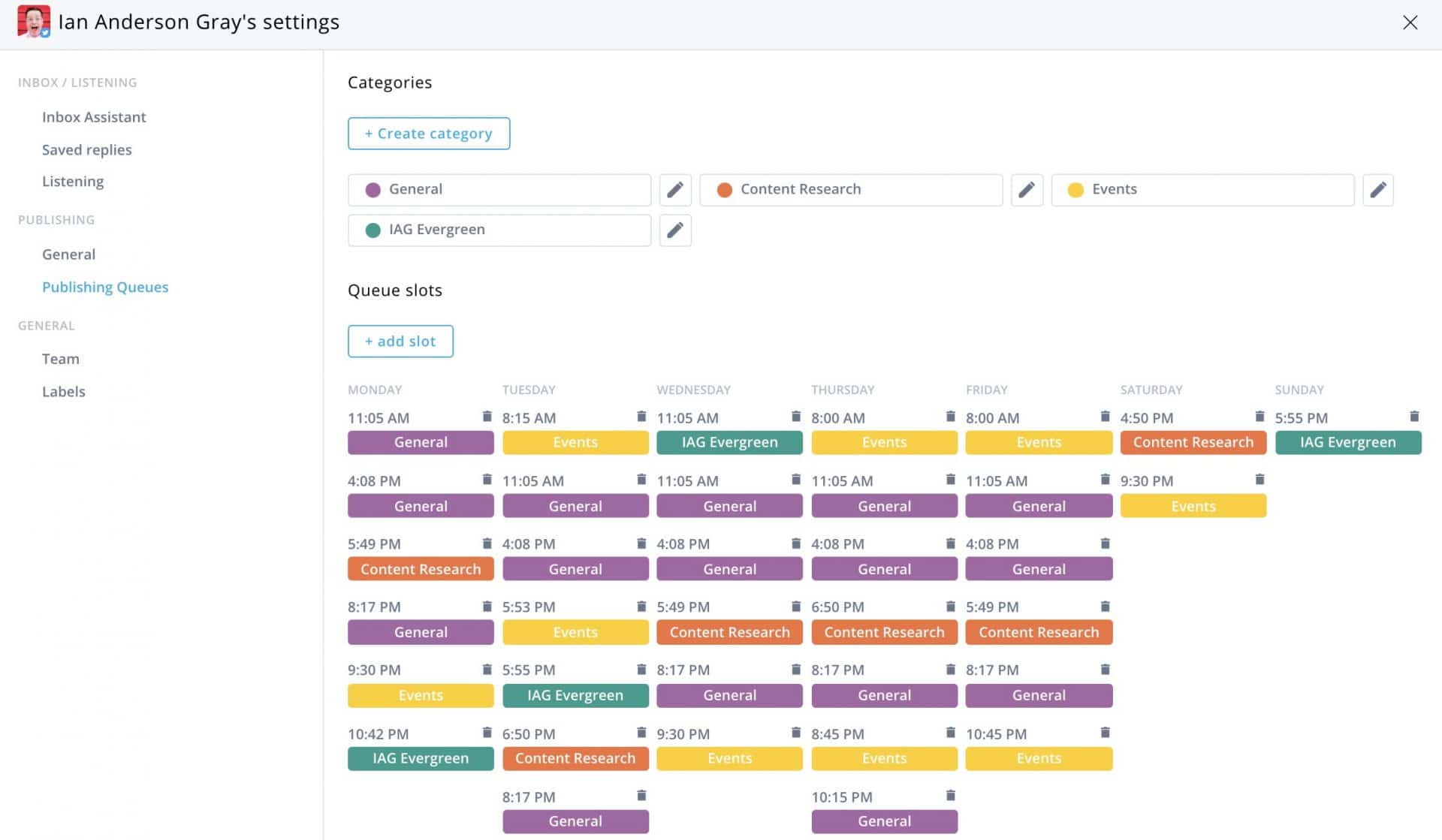 For each piece of content (depending on the network) you have the option to post it once or many times (from twice to 50 times). I actually like the fact that content expires as looping content forever is bad practice as it means your content becomes stale.
You can also export the content for each queue. Since Twitter no longer wants us to re-post the same content, you can download, tweak and re-upload.
Edgar
Edgar was the first tools to offer a content library, each with categories and their own schedule and the ability to repeat evergreen content. It launched in 2014 and became very successful. Like Buffer, it's not a full social media management tool. It really just does one thing - schedule content. It used to cost $79/mth but they've reduced it down to $49/mth.
To find out more, check out my Edgar review.
SmarterQueue
SmarterQueue is a more powerful, geeky and less expensive alternative to Edgar. Their plans start from $16.99 per month. You can recycle evergreen content, create categories with their own schedules and more. It has a great bulk import system and even tries to import images directly from the web pages. Again, like Buffer and Edgar, it isn't a full social media management tool in that it doesn't help with engagement. But if you want a tool to publish and schedule from a content library with categories, queues and looping content, check out SmarterQueue.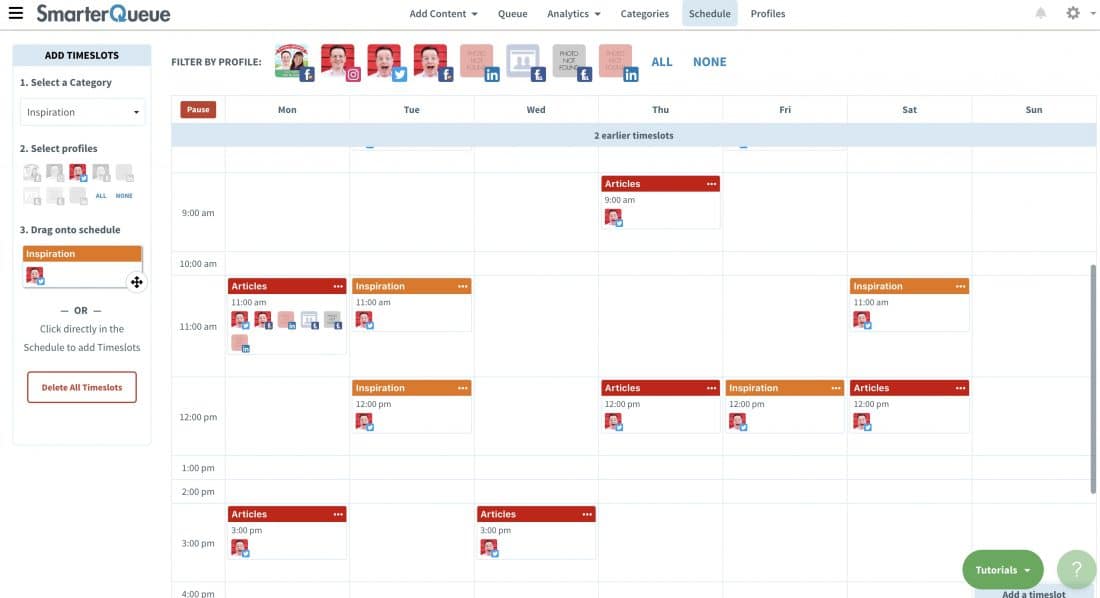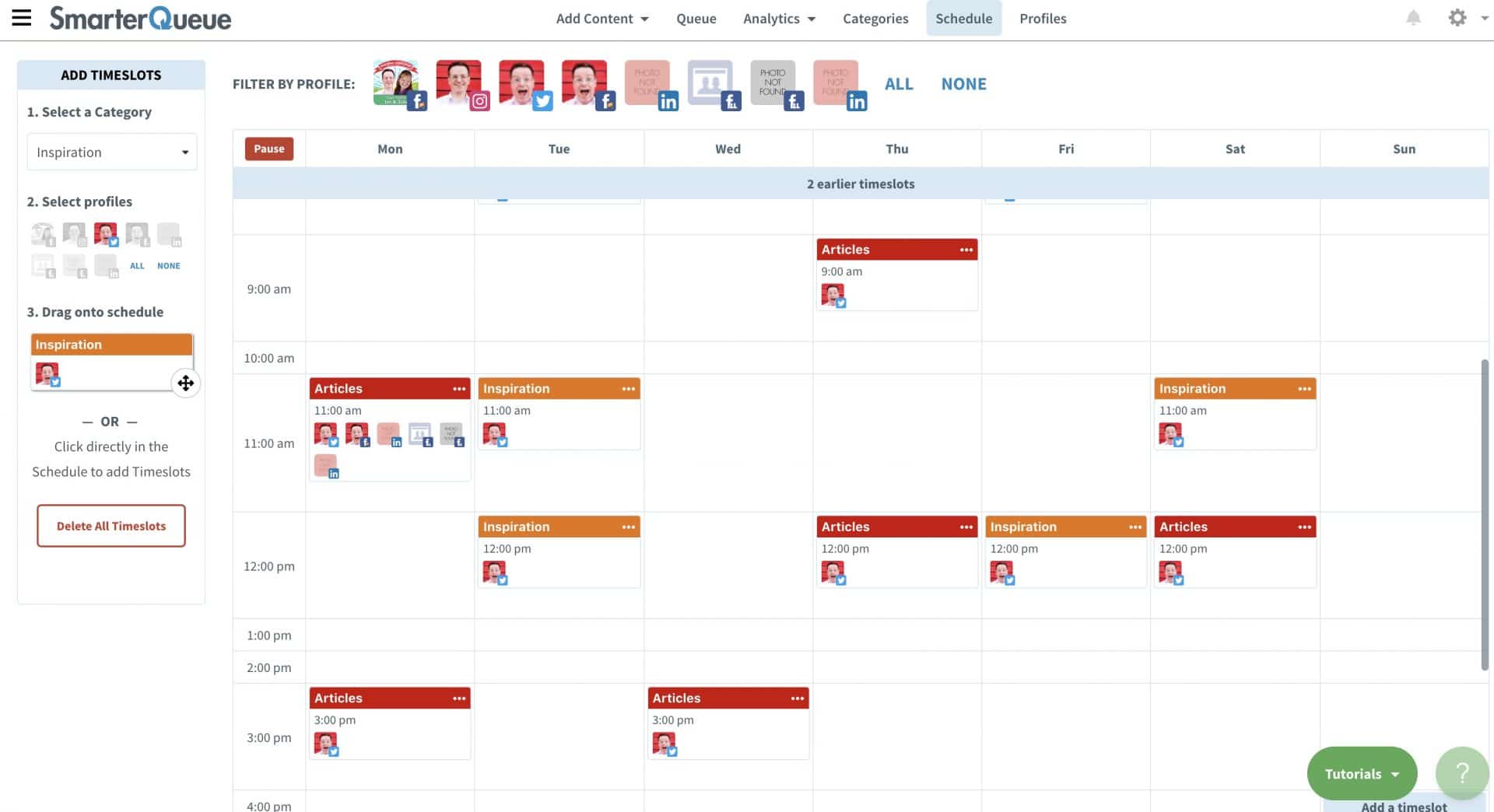 Hootsuite
And so finally we come to Hootsuite's offering. It's called AutoSchedule and has been around since 2012.
AutoSchedule only available on legacy message composer
AutoSchedule is not available in the new publishing tool. You'll need to post your scheduled posts using the legacy message composer. This means you won't be able to preview your posts before you schedule them.

AutoSchedule is very basic
Hootsuite's AutoSchedule is similar to Sprout Social's Viralpost, in that it uses an algorithm to work out the "best times" to post each day.
Sadly, it's very basic. You choose your days and how many time slots per day between a certain time frame. You only get one time schedule per week and you only get to schedule up to 10 per day.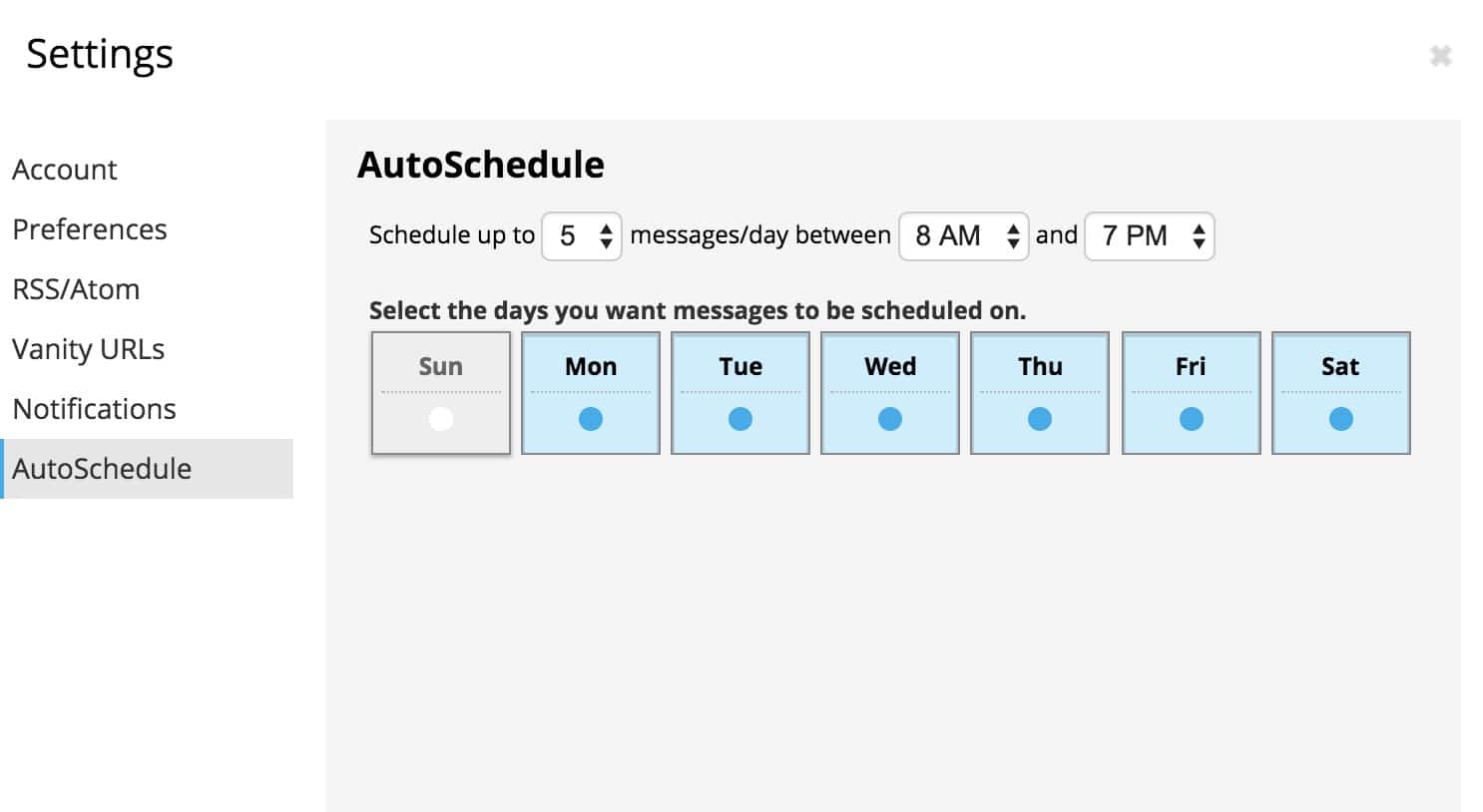 No control over times
But perhaps the biggest issue is that you have no control over when it posts out your content. It uses a proprietary algorithm to work it the "optimal posting times". It all sounds great, but we have no idea how Hootsuite works out those times.
Hootsuite could post out our content at exactly the wrong moment. Maybe you've just launched another campaign, and AutoSchedule decides to post something unrelated. Maybe you're hosting a Twitter chat, and again AutoSchedule posts out content - and it gets lost.
AutoSchedule is a nice to have, despite it being very basic, but we really need a manual queuing option too.
No content categories
Like Sprout Social and Buffer, Hootsuite's AutoSchedule doesn't allow you to create different content categories with their own schedules. It will post out all content using the one schedule.
No evergreen queue recycling
Finally, Hootsuite doesn't have the ability to repeat or loop content in a queue. Once it's posted, that's it.
Reason #6
Historically Terrible Support (but improving)
Learning how to use a new social media management tool effectively takes time.
Sometimes you may make a mistake. Or need an answer to a problem quickly.
Quick and reliable support from your social media management tool is really important.
Hootsuite has been plagued with reports of bad customer service for years. My view is that they've not been able to cope with all the free or low-paying pro plan users.
However, things do seem to be getting better. Maybe they are ploughing more resources into their support department?
While I was researching this update, I contacted them a few times and got a fairly quick response. So please do take that into account while reading this section. Hopefully things are on the up!
Hootsuite offers a few support and training solutions for users.
Hootsuite Academy
First of all there is the Hootsuite Academy. These give you access to different training courses. There are two free ones: Hootsuite Platform Training and Social Marketing Training.
Paid ones range from Social Selling Training at $299 to Hootsuite Enterprise Training at $499.
Did you notice that?
Hootsuite are charging Enterprise users (who are paying from $16,000 per year) a $500 training course to use their product!
But, that aside, it's good that they offer a free training course on how to use the platform.
Hootsuite Help Center
Like most social media management tools, Hootsuite offers a knowledge base website. They call this the Hootsuite Help Center. As Help centers go, it's actually pretty good. I could have done with a few more videos, but the content was easy to follow.
Live chat, Twitter support and telephone support
Hootsuite offers a live chat facility.
I tested this out, and was pleasantly surprised to get a reply within a couple of minutes. I didn't ask a complicated question, but they did reply in a friendly and helpful manner.
It's supposed to be available 24 hours (Monday-Friday), but in my experience it wasn't always available. I was told that if they're not able to respond right away, it's because they're under capacity - but they'll be able to reply by email.
They offer support in English, Spanish, French, German, Italian, Portuguese and Japanese which is very comprehensive..
They also offer support via their Hootsuite Helpers Twitter channel.
Hootsuite doesn't offer telephone support. Personally, I don't think that's a big deal. I rarely want to deal with support issues over the phone. But occasionally it's nice to have the option. I do think it might be different if you are paying tens or hundreds of thousands of dollars (or even millions) per year for the Enterprise plan.
Comparing with other tools
Agorapulse offers 24 hours (Monday - Friday) live chat/email support in English, Spanish, and French. They also offer a more limited support over the weekend.
Their average response time is 30 minutes, but usually, you won't have to wait more than 5-10 minutes. They provide training via recorded webinars, and for larger plans, they provide a full personalised walkthrough and telephone support.
Sprout Social doesn't offer live chat, but they do offer telephone, email and Twitter support. It's 24 hours and they offer support in English, Spanish and Portuguese.
G2Crowd rating
G2Crowd allows customers to rate the tools they use. It's useful to get a comparison between different tools and what their customers think of them.
I don't always agree with their definitions though. For example they include tools such as Buffer, Edgar and SocialBakers in the social media management category. But it can be helpful to get a rough picture.
I wrote a comparison of the top 5 social media management tools according to G2 Crowd on my blog. Hootsuite scored lowest for their level of support.
For this update, I compared Hootsuite with Agorapulse, Sendible and Sprout Social. Although 8/10 is not a shocking score for quality of support, this is far lower than the score of 8.8 for Sendible, 9.0 for Sprout Social, and 9.3 for Agorapulse. It also scored lowest for the "ease of doing business with" category and product direction.


Reason #7
Expensive Custom URL Shorteners
This is not so much of a big deal as it used to be.
Hootsuite used to force you to use their own URL shortener, ow.ly.
Thankfully, you now have the choice - most of the time.
Why URL shorteners?
Let me explain a little about URL shorteners.
URL shortening started as a result of people wanting to add links to their Tweets without using up as much space.
Later on, URL shortener providers offered tracking services. This gave reports on the clicks on the link. For example, the number of clicks and the location of those visitors.
The big advantages in using link shortening services like bit.ly or bl.ink is that they are portable. You can use them with just about any tool you want, or simply paste the shortened link into your social network or email marketing tool. That means you can track all the stats no matter where they are posted.
You can also set up tracking, including Google Analytics parameters, and get full analytics.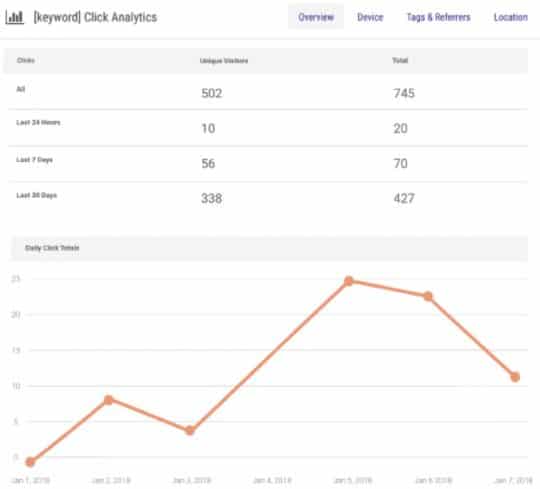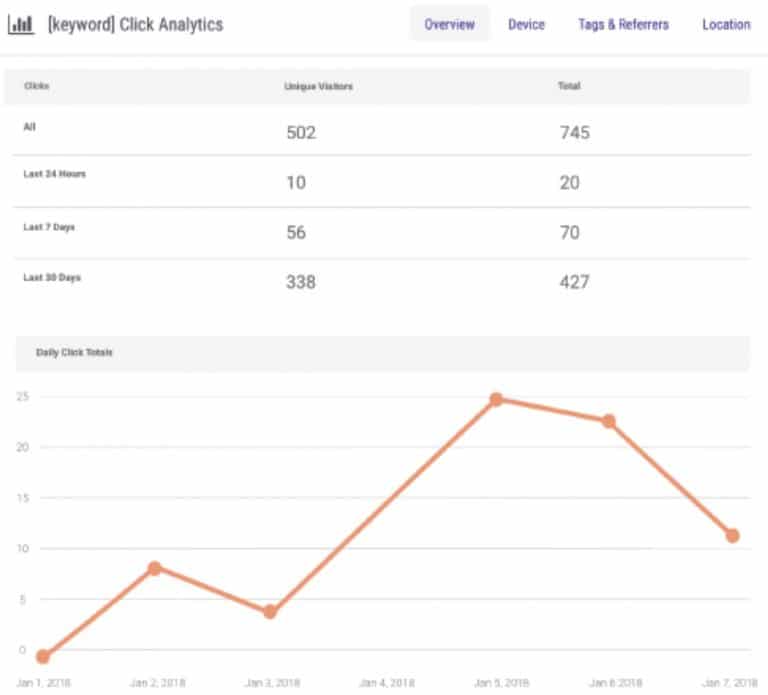 The other advantage with these link shorteners is that you can create your own custom branded short URL. For example:
Unshortened:
https://iag.me/socialmedia/reviews/7-reasons-not-to-use-hootsuite/
Shortened with bit.ly:
https://to.iag.me/7reasons
Shortened with bit.ly and using my custom URL:
https://to.iag.me/7reasons
Shortened with bl.ink and their smart links URL:
http://reasons.social/hootsuite7
Shortened with bl.ink and my custom domain:
http://ian.live/7reasons
You can paste in your shortened domains into any tool, but one cool thing about bit.ly is that it integrates with lots of social media tools including Buffer, Sprout Social, Agorapulse, Sendible and more.
But not Hootsuite.
Hootsuite's URL Shorteners
Hootsuite now allows you to choose between no shortening or the ow.ly link shortener.
With no shortening, you can can use the original URL. Or you can paste in a custom URL from another service such as bit.ly or bl.ink.
With link shortening switched on, your links will be shortened using the Hootsuite ow.ly URL shortener.
It also offers url tracking. I found this a little buggy, but finally I got this to work.
URL tracking is really useful. It allows you to see where your visitors have come from to visit a page, buy a product or do something else on your website.
Tools that offer URL tracking add strings to the end of the URL. Services like Google Analytics can then track these. And you can see how successful your social media campaigns have been.
Hootsuite offers tracking with Google Analytics, Adobe Analytics and custom.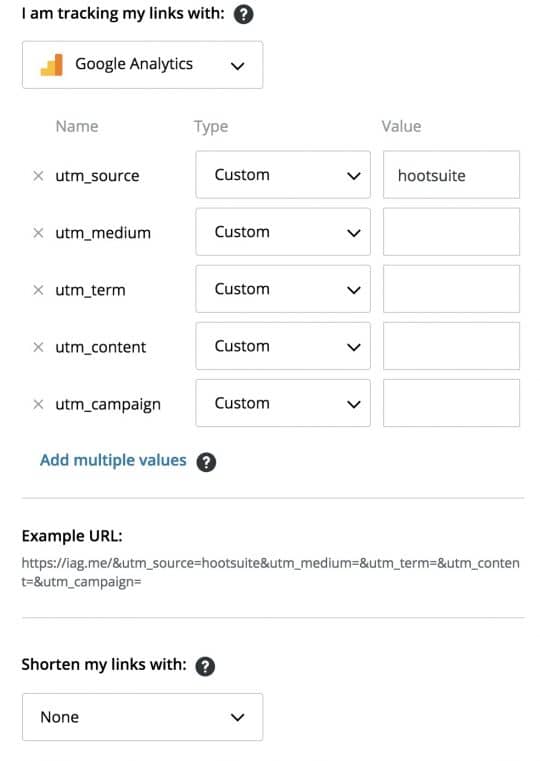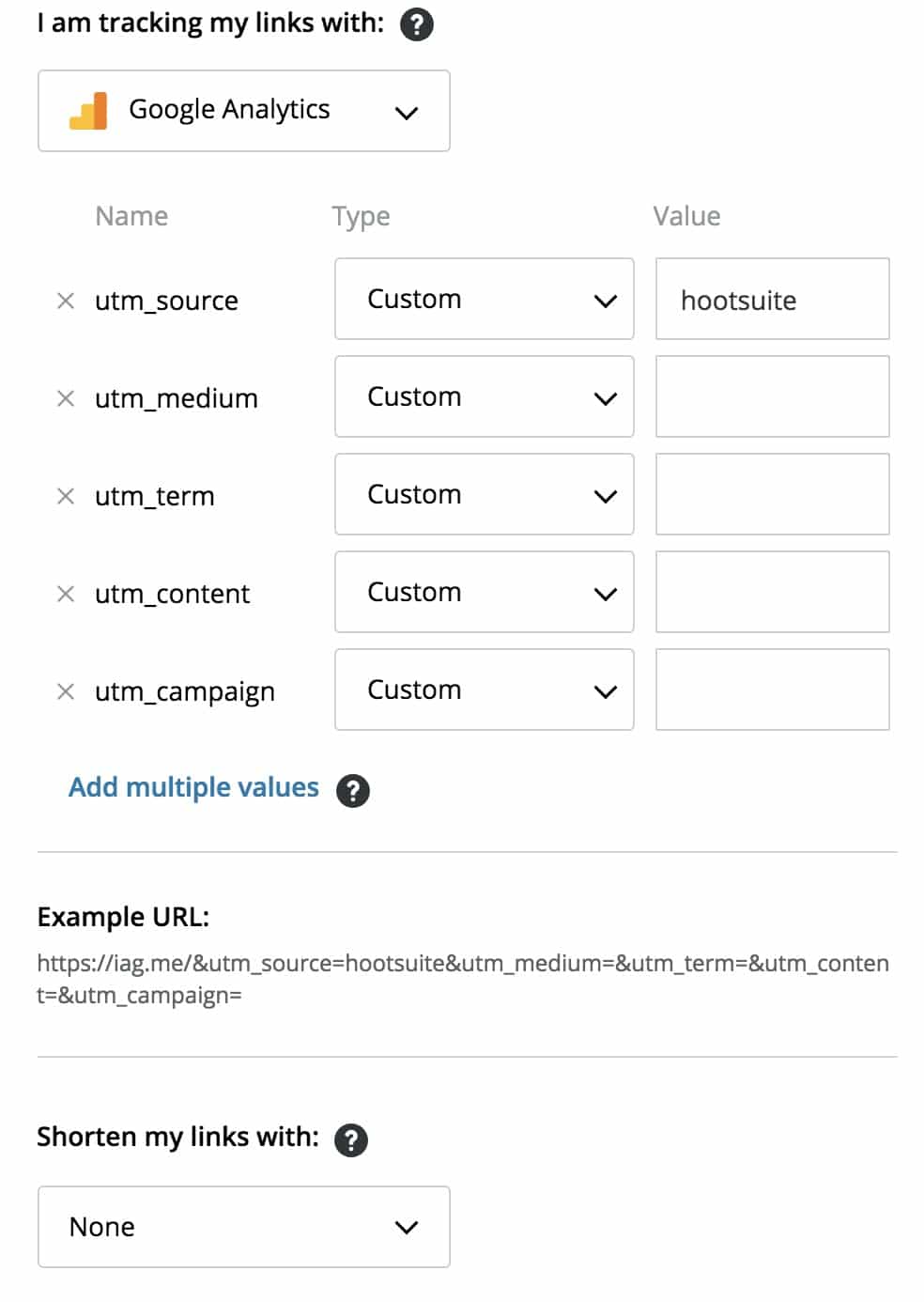 I have to say, Hootsuite have definitely made improvements here. It's good to see them offering so many tracking features.
No custom urls unless you are on the team plan
A few years back, a custom URL from Hootsuite was already pretty expensive - $49.99 per month.

If you want a custom URL now, you're going to have to upgrade to the $1,548 per year team plan.
And like before, this custom URL is fixed to Hootsuite. Unlike portable services like bl.ink and bit.ly, the Hootsuite URL shortener can only be used within Hootsuite.
Workaround
Of course you could just paste in your bit.ly or blink custom urls, but that's time consuming.
Tools like Sprout Social, Buffer, Sendible and Agorapulse all integrate with bit.ly and shorten your links automatically with your custom URL -  so it's a lot easier.
I've given 7 reasons why you might not want to use Hootsuite as your social media management tool. But, what's the next stage?
If the above reasons don't put you off, then Hootsuite may well be the best solution for you. Check out the alternatives below as well as test out Hootsuite. They offer a free plan and a 30-day free trial.
Look at an alternative
Whether you've been using Hootsuite for a while, or looking for a new social media management tool it's important to do a comparison. I recommend making a list of your top requirements in order of priority. Then compare at least 3 tools to see how they stand up to your list. Most tools have a free trial and provide support while you make your decision.
To help with this, I've listed loads of alternatives below.
Social Media Management Tools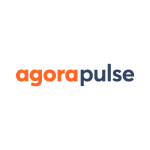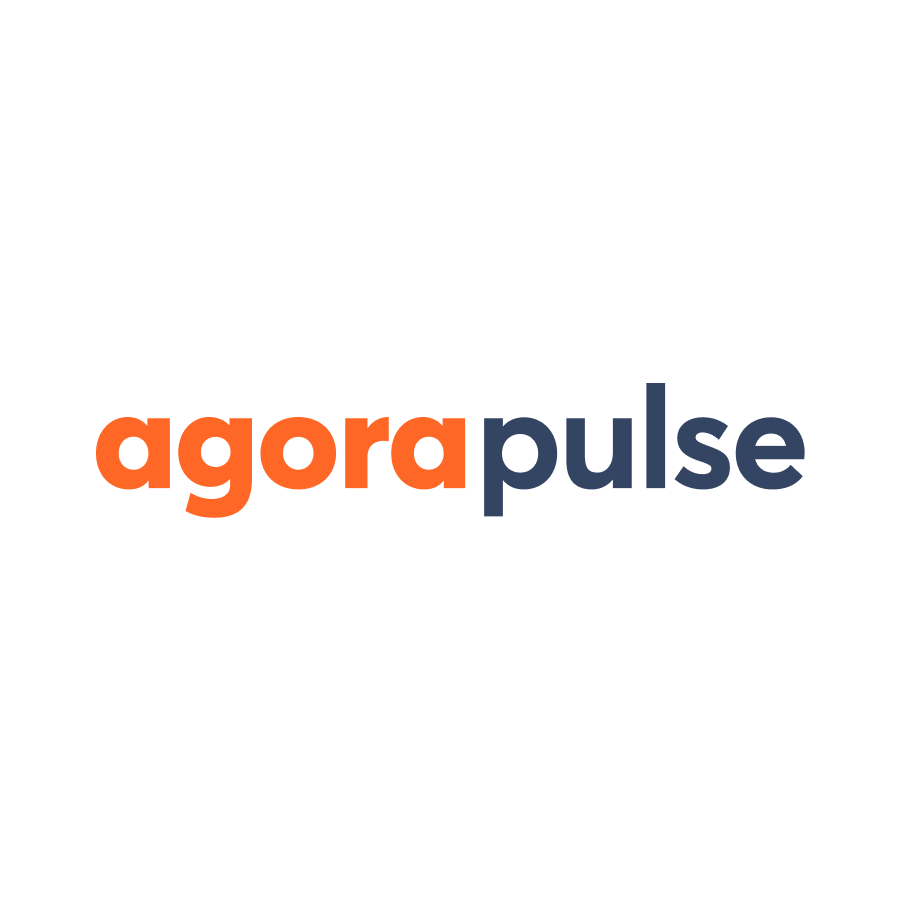 Free Trial, then from $69/user/month
A powerful fully-fledged social media management tool
Publishing:
Facebook Pages Facebook Groups Twitter Twitter DMs LinkedIn profiles LinkedIn pages YouTube Instagram Direct Publishing Instagram Push Notification Publishing Tik Tok
Social Inbox
Facebook Pages Facebook Ad & Dark Post Comments Facebook Messenger for Pages Twitter Mentions Twitter Search Twitter DMs LinkedIn profiles LinkedIn pages YouTube Instagram
Listening & Monitoring:
Facebook Pages Facebook Messenger for Pages Twitter Mentions Twitter Search Twitter DMs LinkedIn profiles LinkedIn pages YouTube Instagram
Analytics & Reports:
Facebook Pages Twitter LinkedIn pages Instagram
Other features:
Official Instagram Partners, Official Facebook Partners, iOS mobile app, Android mobile app
A powerful social media management tool for Twitter, Facebook, Instagram, LinkedIn and YouTube which aims to offer enterprise-level features at a lower monthly price. It has an inbox zero feature that allows you to get through your social comments and messages really easily or delegate them to team members. There is a very handy automated moderation rules feature for social networks which can filter spam out for you or automatically delegate or review certain messages.
AgoraPulse has a built-in customer relationship management tool (CRM) allowing you to build up a list of your social contacts. The integrated reports and analytics are detailed and engaging and you can also export as a PDF or CSV file. The publishing feature is really powerful too with Instagram Direct Publishing & YouTube video publishing.
There is a mobile app for iOS and Android devices.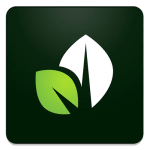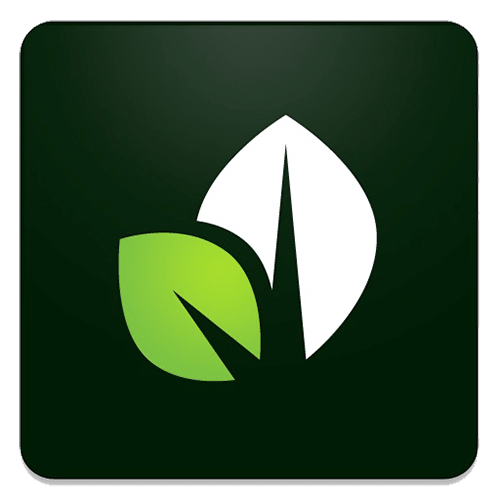 Free trial, then from $249/month (extra users $199/user/month)
Publishing:
Facebook Pages Facebook Groups Twitter Twitter DMs LinkedIn profiles LinkedIn pages Instagram
Monitoring:
Facebook Pages Facebook Messenger for Pages Facebook Groups Twitter Lists Twitter Mentions Twitter Search Twitter DMs LinkedIn pages Instagram
Other features:
Official Instagram Partners, iOS mobile app, Android mobile app
A big competitor to Hootsuite with some awesome features (really snazzy reports, multiple bit.ly URL shortener integrations etc)  - it does have a hefty price tag though- prices start at $249/month (sadly, they recently removed the entry $59/month and the $99/month plans a while back). There is no free account but they offer a free trial. Do have a look at my related article 7 Reasons NOT to use Sprout Social.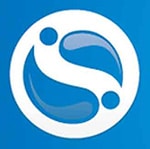 Free trial, then from $29/mth (for one user)
A full social media management tool with a huge number of integrations.
Publishing:
Facebook Pages Facebook Groups Twitter LinkedIn profiles LinkedIn pages Pinterest YouTube Instagram Direct Publishing Tumblr Google My Business Medium
Social Inbox:
Facebook Pages Facebook Ad & Dark Post Comments Facebook Messenger for Pages Twitter Lists Twitter Mentions Twitter Search Twitter DMs LinkedIn pages Instagram
Listening & Monitoring:
Facebook Pages Facebook Messenger for Pages Twitter Lists Twitter Mentions Twitter Search Twitter DMs LinkedIn pages Instagram
Analytics & Reports:
Facebook Pages Twitter LinkedIn pages YouTube Instagram
Other features:
Official Facebook Marketing Partners, Instagram Partners, Google Chrome browser extension, Review Monitoring (including sites like Yelp and TripAdvisor), RSS Feed Importer (adding RSS feeds in bulk), iOS mobile app, Android mobile app
Similar to Hootsuite and SproutSocial with an impressive array of features. Sendible integrates with a huge number of social channels including Twitter, Facebook (profiles, pages & groups), LinkedIn (profiles, pages & groups), Foursquare, Flickr, Instagram, Pinterest, YouTube and more. You can have as many team members as you like (although you will have to pay per user above your allocated amount) and it integrates with bit.ly and other URL shorteners.
There is no free account but they offer a free trial. Be aware that Sendible includes a certain number of "services" for each plan. For the basic Micro plan you get 12 "services", with the Small plan 48 services and with the large plan you get 192 services. Services can get a little confusing, because a Twitter list stream, Twitter mention stream, Twitter Search stream, Facebook Group and Facebook Profile stream are all classed as separate services. You can find yourself running out of services very quickly.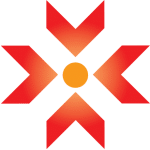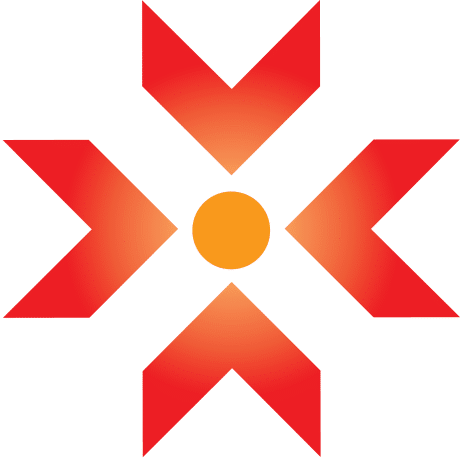 Free Trial, then from $78/mth for 30 profiles
A full social media management tool that integrates with the Chinese network Wechat on its enterprise plan.
Publishing:
Facebook Pages Facebook Groups Twitter LinkedIn profiles LinkedIn pages YouTube Instagram Tumblr WeChat
Monitoring/Engagement:
Facebook Pages Facebook Messenger for Pages Facebook Groups Twitter Lists Twitter Mentions Twitter Search Twitter DMs LinkedIn pages YouTube Instagram WeChat
Other features:
Official Instagram Partners, iOS mobile app, Android mobile app
A simple and affordable social media management tool for curating, scheduling and managing your socials all in one platform. Integrating Facebook, Instagram (direct publishing), Twitter, LinkedIn, YouTube, Tumblr and WeChat, it streamlines the entire social media process from content discovery to audience engagement to reporting. WeChat integration is only available on the business/enterprise plans, which start at $199/month.
MavSocial has an AI-powered digital asset management system, scheduling calendar and post-recycling tools, Social Inbox, comprehensive real-time and exportable reports, and customizable team management features. Social listening to be released shortly
A mobile app for iOS and Android is available to make social media management even easier on the go.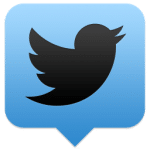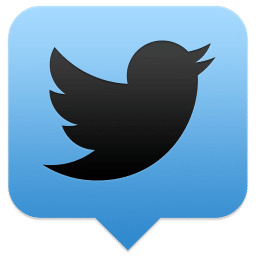 Free
Publishing:
Twitter
Monitoring:
Twitter Twitter Lists Twitter Mentions Twitter Search
Twitter Management Only.
This used to be one of my top recommendations, but Twitter has done their best to make this less useful. But Tweetdeck is a free way of managing multiple Twitter accounts and useful for scheduling posts as well as managing Twitter Chats.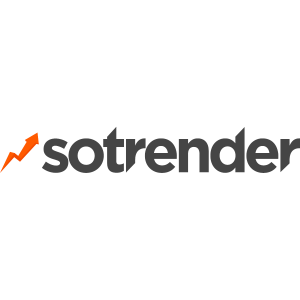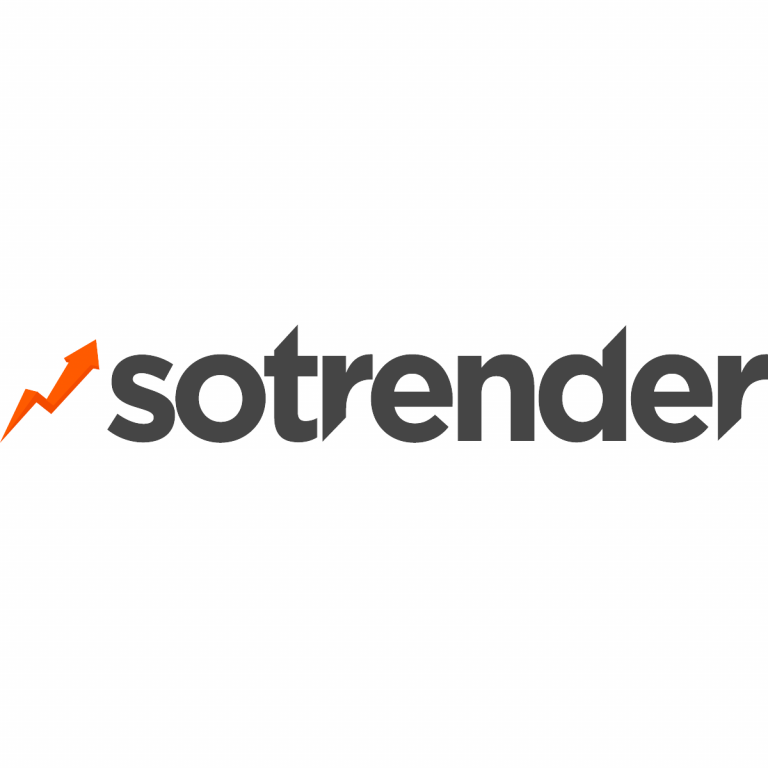 Free trial, then from $20/mth (for one user) or from $35 for plans with social inbox
A really powerful reporting and social media performance measurement tool with a newly added social inbox
Social Inbox:
Facebook Pages Facebook Ad & Dark Post Comments Facebook Messenger for Pages
Analytics & Reports:
Facebook Pages Twitter YouTube Instagram
Sotrender is an incredibly powerful analytics, reporting and performance measurement tool for Facebook, Twitter, Instagram and YouTube. Although Sotrender isn't a full social media management tool (in that it doesn't offer publishing or listening/monitoring) it does have an easy to use social inbox for Facebook, analytics, reporting and competitor analysis.
The analytics feature goes far beyond what Facebook and other networks tell you in their insights. As well as data on the demographics of your audience, Sotrender also shows you your top community members. I love the segmentation chart which breaks down your community into different categories - Debators, Occasional, Activists, Likers and Writers. You can also view when your audience is most active, so you know the best time and day to post your contet
I also love the tips feature, where it lists your posts with tips on how to approve for next time.
You can also create stunning reports (perfect for agencies and larger businesses) and compare your social channels with your competitors.
Social Media Planning & Publishing Tools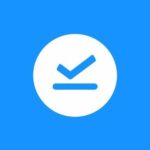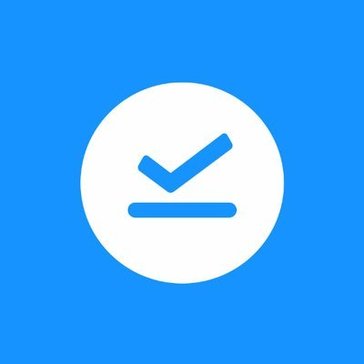 Free and from $59/month
Kontentino is a content planning and publishing tool which has packed some amazing features. It has team planning and collaboration at heart, and it's perfect for agencies who want to work with their clients and get approval. Clients can approve work directly through the web app or on mobile with the click of a button. You can preview how your content looks across all platforms including all the major Facebook ad formats. Kontentino sends over all the scheduled posts to Facebook and allows Facebook to schedule them. This allows you to tag posts and do things that can only be done directly on Facebook.
Social Media Publishing & Scheduling Tools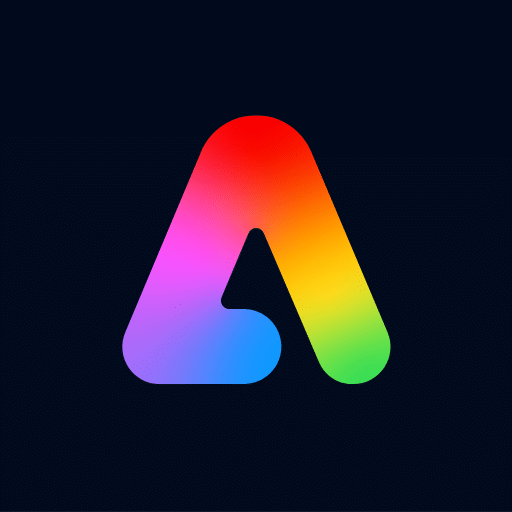 Adobe Express
Free plan, and from $9.99/month
Adobe Express is a streamlined, user-friendly visual creation tool that transforms your ideas into eye-catching visual content effortlessly. It's offered as a web app or a mobile app for iOS or Android. Whether you're starting from a blank canvas or choosing from thousands of pre-built templates, stock photos, animations, and more, Adobe Express offers you the creative flexibility to bring your vision to life.
Other features:
iOS and Android mobile app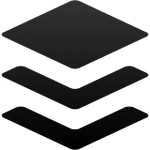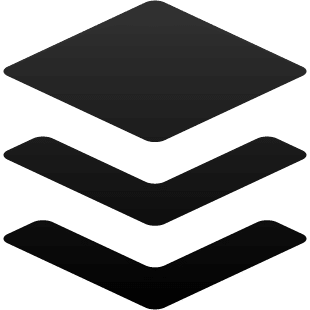 Free or $6/mth for Essentials Plan, $12/mth for Team Plan. Agency plans from $120/month
Publishing:
Facebook Pages Facebook Groups Twitter LinkedIn profiles LinkedIn pages Pinterest Instagram
Monitoring/Engagement:
No Monitoring/Engagement available,
Other features:
Official Instagram Partners, iOS mobile app, Android mobile app.
Allows you to post or cross-post to Twitter, Facebook (profiles, pages or groups), LinkedIn (profile, groups or company pages), Instagram, Pinterest or Google+ business profiles/pages. You can either post straight away or create a schedule for each social network. Buffer is an amazing tool and one that I use every day.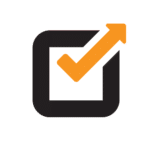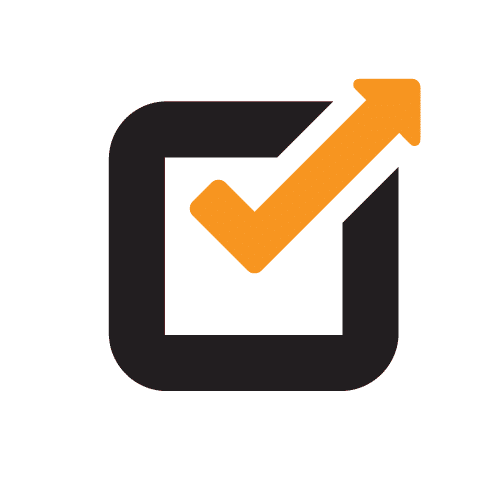 Free or $29/mth for Champion Plan; $99/mth for Business Plan
Social Champ allows you to schedule and publish content to a wide variety of networks, not just once, but many times in a cycle. You can also link up your RSS feed and set up filters.
Look at other Resources
If you need any more help on getting started with Hootsuite or want more advice on whether or not Hootsuite is for you, check out these posts…
Hire me!
Perhaps you are still confused and you need some expert help. I offer a social media consultation service in which I can help find the best selection of tools and solutions for you or your business.
What the * means above...
If a link has an asterisk by it, it means it is an affiliate link and generates a little income for the site. If you end up signing up for the service and paying it may result in a small proportion going towards the upkeep of this site. You shouldn't notice any difference in the sign up process.
The editorial line is NEVER impacted by these links. I will only ever recommend a product or service if I think it is worth recommending! If a product or service does not have an affiliate scheme, then we will still include it in the same way.
In the interests of transparency, here are the non-affiliate links which will not help iag.me: