7 Reasons NOT to use Sprout Social
Sprout Social Review
Currently being updated for 2018
With more and more businesses seeing the power of social media to market themselves, social media management tools such as Hootsuite and Sprout Social are being seen as vital.
A Social Media Management Tool (SMMT) or Social Media Management System (SMMS) allows you to manage multiple social networks from one dashboard and potentially share and delegate tasks amongst a team. Of course, the word "management" is perhaps a little vague and can mean different things depending on the tool you use. All social media management tools allow you to publish to at least one social network and hopefully allow you to do many other things such as monitor schedule, analyse, produce reports and more.
Hootsuite is no doubt the most popular of Social Media Management Tools. They were one of the first, have done a great job at marketing their tool and have a reasonably full-featured free version. However, it's far from the only social media management tool out there. There are literally dozens and dozens of them (and I'll introduce you to quite a few at the end of this article).
One of the most famous (other than Hootsuite) is Sprout Social. It's a premium tool- aimed at small to large businesses as well as the enterprise sector and it's got a loyal following of super fans. With such a provocative blog title, I'm actually quite afraid of these superfans- so if you are one, please be kind to me- I aim to be as balanced as possible in my approach!
The History of the Sprout
The History of the Sprout
Sprout Social had its beginnings in 2009 when the current CEO Justyn Howard was frustrated by the lack of social tools that allowed him to connect with customers- particularly tools that were focussed towards businesses and brands.
The following year Justyn and current CTO Aaron Rankin founded Sprout Social together with Gilbert Lara (Creative Director) and Peter Soung (director of web/mobile).
Gilbert Lara
Creative Director
Peter Soung
Director of Web & Mobile
They're a privately held company and had over $11 million in investment since their founding. They are based in Chicago in the US.
You can read more about how Sprout Social came to be in this interview with Sprout Social, Justyn Howard.
Reasons you SHOULD use Sprout Social
There are so many great features about Sprout Social, and I'll be going into these in more detail in a forthcoming article. For the time being, I'd like to highlight the following "pros":
Has an in built Customer Relationship Management system (CRM)
Monitoring (although not quite as comprehensive as Mention or the likes of Brandwatch)
Support for teams (drafts, calendar, tasks etc)
Support for multiple profiles, departments, and companies
Security and ability to set specific permission levels and roles
Analytics & Reports
Helpdesk facility (on Premium and above plans) to use social media for customer support
Mobile apps for iPhone, iPad and Android
Integrates with Feedly (for your RSS feeds)
What is this Article About?
A few years back I wrote an article called "7 Reasons NOT to use Hootsuite" which has become an incredibly popular article. That article came from my frustrations from using Hootsuite and to point out some of the downsides and potential deal killers in using Hootsuite as your social media management tool. I wrote a follow-up article on the reasons why you might want to use Hootsuite to try and be as balanced as possible.
This article is slightly different because I've never been a long time Sprout Social user and when I have used it, I haven't found myself becoming frustrated in the same way as I did with Hootsuite. I really like Sprout Social and I do think it will be the right fit for many people. Having said that, there are frustrations, and I wanted to share these with you.
There is a lot of love from Sprout Social users and with good reason. Sprout Social is an impressively robust social media management tool and a joy to use. It's actually very hard to find reviews on the web that mention anything bad about Sprout Social except for the odd niggle.
However, the quite a bit of the love comes from long standing customers who are paying a substantially lower rate ($39/user/mth, $29/user/mth or even $9/user/mth).
The entry price (now the Premium plan) is $99/user/month, and that is going to be quite a leap for individuals and small businesses. However, I am getting ahead of myself, I'll cover the pricing further down in this article.
Sprout Social will be the right tool for some businesses, and perhaps even you. My aim is to give you enough information to help you make the right choice. If, after looking through the potential downsides in this article you're still impressed with Sprout Social - then it's obviously the right tool for you. I also know that Sprout Social are continuously evolving and adding new features. Fairly recently they added the ability to publish to LinkedIn company pages and I know they are looking at adding new features over the coming year. It's my hope that Sprout Social will look at my article and as a result make their tool even better than it is today.
So without further ado, let's dive into some of the cons in using Sprout Social
Reasons NOT to use Sprout Social
#1 Expensive – especially for teams
Update (July 2018) - Sprout Social no longer offer the $59/user/month Deluxe plan anymore. It's called the Standard plan for existing customers. Since December 2017, the cheapest plan is the Premium $99/user/month plan.
Update (April 2017) - Sprout Social have updated their team and enterprise pricing. They now charge per user and have reduced the minimum number of users down to one.
Update (June 2016) - Sprout Social have reduced the number of social networks for each plan. The Deluxe plan used to have 10 profiles, now it as 5. The Premium used to manage up to 20, but now it's only 10. You can purchase an extra batch of 5 profiles for $25/month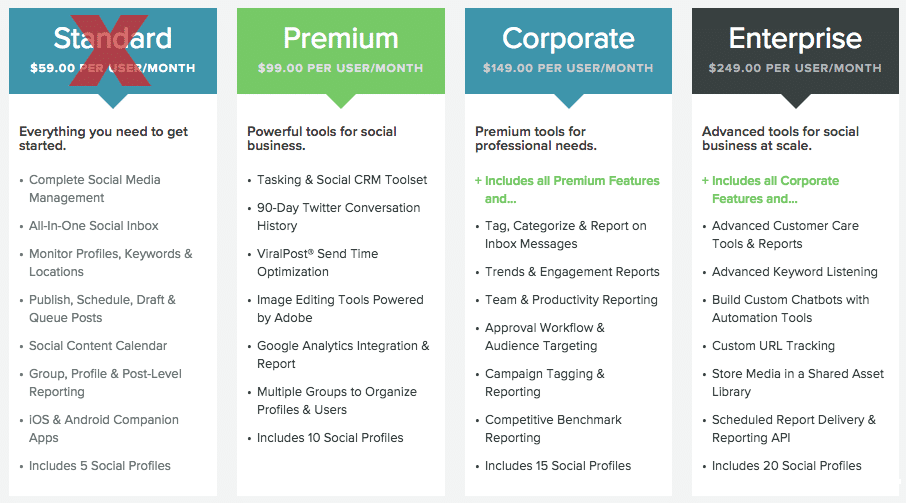 This is the biggie and the one that Sprout Social gets the most criticism for...
It takes a huge amount of investment to build a tool as comprehensive as Sprout Social. They will have large monthly server costs, salaries to pay for a large team, development costs and a big marketing budget. As consumers, we have become used to low costs on the internet and find it easy to forget the true cost of building something great.
It's a difficult job for tool vendors to work out pricing, and I have no doubt Sprout Social have spent a huge amount of time and research into their pricing structure. But for many, Sprout Social will just be too expensive.
Prices now start at $99 per user per month for the Premium Plan. Sprout have axed their $59/user/month Deluxe plan for new users. This plan is for small to medium-sized businesses and allows you to manage up to 10 social profiles.
The corporate plan which will suit bigger agencies as well as bigger brands and businesses costs $149 per user per month. Sprout
It's important to say that Sprout Social isn't really aiming at the casual blogger or the individual. They grew out of wanting to cater for businesses and brands- and hence the higher price tag.
Over the years, the prices have increased as you would expect. And Sprout Social have been supportive of their long standing customers by keeping the prices the same. However, the prices have significantly increased over the years. Back in 2012, it cost $9/mth for a Pro account and $49/mth for a business account.
Back in 2014 the entry cost was $39/user/month. And now it is $99/user/month- a significant increase.
It's particularly expensive for teams. Social media management tools are particularly important for teams- not just for delegating tasks and managing updates. It's also important from a security standpoint. If you are managing social media accounts amongst a team, you should NOT be sharing social networking passwords. What would happen if one of your team moves jobs or is sacked or if they're a victim of a phishing attack? There are too many horror stories of businesses' and brands' social accounts being hijacked by rogue employees or hackers.
Sprout Social, Hootsuite and other social media management tools allow you to manage your social networks without sharing the passwords. Each team member can have their own sub-account with its own username and password. An administrator can choose which accounts they have access to and remove them if they no longer work at the company. In my view, it is perfectly acceptable for there to be a cost involved on a per user basis.
However, when the cost per user is already quite high, this is going to make it difficult for a small business to afford. It will cost a business $2,832 per year for a small team of 4 to use Sprout Social's entry plan. If they were to be on the Premium plan, this would cost $4,752 per year.
Total Users
Description
Hootsuite
Cost/yr
(If paying mthly)
Sprout Social
Deluxe
Cost/yr
(If paying mthly)
Sprout Social
Premium
Cost/yr
(If paying mthly)
1
Hootsuite free plan only includes up to 3 social profiles. Sprout Social Deluxe includes up to 10 and Premium up to 20.
$0
$708.00
$1,188.00
2
Hootsuite Pro plan includes up to 2 members (including yourself) and includes up to 50 social profiles. Sprout Social includes up to 10 and Premium up to 20.
$119.88
$1,416.00
$2,376.00
3
Hootsuite Pro includes 2 team members (+1 extra user at $9.99/mth).
$239.88
$2,124.00
$3,576.00
4
Hootsuite Pro includes 2 team members (+1 extra user at $9.99/mth + 1 user at $14.99/mth)
$419.88
$2,832.00
$4,752.00
5
Hootsuite Pro includes 2 team members (+1 at $9.99/mth +2 users at $14.99/mth)
$599.88
$3,540.00
$5,940.00
6
Hootsuite Pro includes 2 team members (+1 at $9.99/mth +3 users at $14.99/mth)
$779.88
$4,248.00
$7,128.00
7
Hootsuite Pro includes 2 team members (+1 at $9.99/mth +4 users at $15/mth)
$959.88
$4,956.00
$8,316.00
8
Hootsuite Pro includes 2 team members (+1 at $9.99/mth +5 users at $14.99/mth)
$1139.88
$5,664.00
$9,504.00
9
Hootsuite Pro includes 2 team members (+1 at $9.99/mth +6 users at $14.99/mth)
$1319.88
$6,372.00
$10,692.00
10
Hootsuite Pro includes 2 team members (+1 at $9.99/mth +7 users at $14.99/mth)
$1499.88
$7,080.00
$11,880.00
11
The maximum number of users in Hoostuite Pro is 10, to add more users you will need a Hootsuite Enterprise account.
Hootsuite don't publish the prices for Enterprises, so this is the last known price. Hopefully it should be cheaper than this.
$17,988
$7,788.00
$13,068
At least Sprout Social's pricing system is transparent and simple to understand. You can see from the above table how complicated Hootsuite's are!
With Sprout Social, there are no hidden prices as far as I can tell. You know how many social profiles are included in your plan and you know how much extra it will cost for an extra team member. You get full reports included in all the plans (although you get more snazzy ones in the Premium and above plans).
That's very different with Hootsuite which have a strange pricing tier for team members and require you to upgrade to the Enterprise plan (for which they don't publish prices for, but is likely to be well over the $20,000 per year mark).
---
#2 Lack of YouTube and other visual platforms
Update June 2015 - Sprout Social have, as expected, added Instagram integration! I've updated the article accordingly.
If you are wanting to monitor your Pinterest or YouTube account, you will be disappointed with Sprout Social's lack of integration. Sprout Social only supports Twitter, Facebook (profiles & pages), Google+ pages, Instagram & LinkedIn (profiles & pages). Although Hootsuite doesn't offer Pinterest, or YouTube out of the box, you can add them via their comprehensive app directory. This allows you to add visual networks such as Instagram, YouTube, Pinterest and many others. There are a few other social media management tools that have Instagram integration, but there are certainly fewer of them. Examples that integrate with Instagram and YouTube include Jollor and Sendible, and AgoraPulse integrates with Instagram.
It is important to note that no social media management tool can post directly to Instagram via the official Instagram API. Instagram only allow 3rd party tools to allow liking and commenting of posts and be able to search. There are tools that effectively allow posting to Instagram, but they quite often get around the system by using multiple smartphones connected to servers. There have been reports of Instagram suspending accounts that have used such tools. The only way to post to an Instagram account is via the official Instagram account. If you are interested in scheduling your Instagram posts, then consider a mobile app such as Latergramme which won't actually post your photos, but will handle them and alert you when the next one should be posted.
However, although you may not be able to post to Instagram using a social media management tool, being able to monitor your stream, likes, comments, as well as your followers, friends and competitors posts, is very powerful. Being able to monitor and analyse your Pinterest boards and YouTube channel would be incredibly powerful from your social media dashboard.
When I reached out to Sprout Social to ask them of their plans here, their official reply was:
"We're always keeping our eyes on social networks that are widely used by our users and evaluating both how they can be integrated into our platform and what we can add to the existing network (whether it is enhanced engagement, streamlined management or advanced analytics) through that integration."
---
#3 Lack of Facebook and LinkedIn group publishing
Update June 2015 - Things have been a bit mad in the 3rd party apps world over the past few months. LinkedIn decided to ban posting to groups via 3rd party apps. It looked like Facebook were going to do the same thing, but they now allow 3rd party apps to post to groups where you are the administrator. So Sprout Social will never be able to post to LinkedIn groups. As for Facebook groups, SproutSocial added a feature where you can see Facebook group posts in your timeline. However, you can't post to Facebook groups from SproutSocial
Sprout Social does integrate with both Facebook and LinkedIn, but so far they are yet to support posting or monitoring groups. I do know they are looking at the possibility of adding these in the future, so there is hope. They finally added support for LinkedIn company pages in December 2014, it is good to see they are looking to move the tool forwards.
Although I am not a fan of LinkedIn groups from a design and user interface perspective, they are a powerful networking and relationship area. Being able to post to and monitor LinkedIn groups would be really helpful- particularly for businesses in the B2B sector (business to business). And then there are Facebook groups- for many years ignored by businesses and brands, but are having a recent surge in popularity. Facebook groups don't suffer from the design or user interface problems of LinkedIn groups. They are a joy to use (and easy to use) and are great in building a community. Sprout Social need to support posting to and monitoring Facebook and LinkedIn groups. My favourite social media scheduling tool, Buffer, has supported them for a long while and Hootsuite has too. Oktopost does a fantastic job of posting and scheduling to LinkedIn groups and would be my social media management tool of choice if LinkedIn groups are a must for your business.
I asked Sprout Social if they had plans to add LinkedIn and Facebook group integration. They responded…
"We're always evaluating different social networks to integrate with as well as expanding on the ones we currently support. Unfortunately, we don't have any specifics to share, but we can say we are exploring the social options that are currently available."
Again, not very helpful and quite general, but not an unexpected answer. I think the truth is that Sprout Social are looking at all the options, but how high groups are on their agenda, I have no idea. We'll have to wait and see.
---
#4 Unified Inbox & No side by side streams
Where would we be without our social streams? Whether it be your Twitter home stream, a Twitter list, a keyword search, your LinkedIn connection updates, Facebook page updates or more, social streams allow us to monitor what is happening across our social media empire and our competitors'.
Sprout Social offer two types of social streams- "feeds" and "discovery". The feeds are a list of posts from the connections you follow or the posts from accounts on your Twitter lists. Discovery allows you to set up a stream of updates for a search term. Sprout Social made the decision to display only one stream at a time. On the streams section, you have to toggle between different social accounts (Twitter, Facebook etc), and you have to toggle between different Twitter lists. If you want to view a search stream for a particular hashtag or key phrase, you need to click the discovery tab and view it there.
Users familiar with Hootsuite and TweetDeck will be used to the way you can add many columns of streams so that you can monitor multiple streams and profiles on one page. On TweetDeck, I can easily see mentions and replies to my 3 main Twitter accounts, as well as my main Twitter list and a Twitter search term- all one view. Hootsuite allows you to do that for all your social networks (such as Twitter, Facebook, LinkedIn and Google+).
Sprout Social fans will already be shouting "but what about Smart Inbox"? Yes, of course. I love Smart Inbox too and this gives you more functionality than I was mentioning above. Smart Inbox displays all the updates that Sprout Social thinks are important in one stream or a unified stream. I'll go into more detail in my next point, but again, Smart Inbox only displays one stream at a time on the page.
The lack of ability to display streams will no doubt divide many opinions. Some won't mind and some will find it frustrating. Sprout Social's decision not to offer multiple streams per page is deliberate, and this was confirmed by the CEO, Justyn Howard in a reply to a tweet of mine whilst I was writing this article:
[start_centertweets]
@iagdotme We're big fans of a single column. It may not be for everyone, but we believe it's a lot cleaner and streamlines workflow!

— Sprout Social (@SproutSocial) February 16, 2015
@iagdotme also columns become ineffective once you've got more than a couple profiles. Hunting around on tabs is problematic. @SproutSocial

— Justyn Howard (@Justyn) February 16, 2015
@iagdotme stitching them all together is very technically challenging, so trust we did it for good reason 🙂

— Justyn Howard (@Justyn) February 16, 2015
[end_centertweets]
I can see their thinking, and a single column view might well increase productivity for businesses and brands. It will also come down to getting used to a different way of working. For me, I find it frustrating, and I'm not alone. Friend, digital marketer and Sprout Social user, Liz Jostes from Eli Rose Social Media feels similarly:
[start_centertweets]
@iagdotme I feel like it would be a big improvement for SS. Just having all the feeds for 1 account on 1 page would be HUGE.

— Liz Jostes (@LizJostes) February 16, 2015
@iagdotme @Justyn FWIW, I'd put my SS subscription to use if columns were easier to access. The one complaint I have for SS.

— Liz Jostes (@LizJostes) February 16, 2015
[end_centertweets]
Marketing Director, Joe Morris feels the same:
[start_centertweets]
@iagdotme @SproutSocial like Tweetdeck Column options and adding a Klout score would be helpful as well

— Joe Morris (@jspeedymorris22) February 16, 2015
[end_centertweets]
It's not a case of multiple columns being difficult to implement as Justyn Howard clarified, he feels a single and combined view is more powerful:
[start_centertweets]
@LizJostes @iagdotme I meant more technically difficult to NOT do columns, but it allows us to do many other unique things so we deal 🙂

— Justyn Howard (@Justyn) February 16, 2015
@LizJostes @iagdotme columns are easier, but limited

— Justyn Howard (@Justyn) February 16, 2015
[end_centertweets]
He is obviously not alone in thinking that (there are plenty of happy Sprout Social Users) and obviously the team at Sprout Social do. A friend, digital marketer, speaker and Sprout Social user, Brooke Ballard also likes the single stream view and had this to say:
I prefer one stream on one page — it helps with SMM ADHD! Plus, with the Smart Inbox you can see a little green light when another stream (brand/client) has an incoming message, AND you can even check that message from a preview screen before clicking over to respond. Example: Sometimes it's just a follower notification of a "you're welcome" that doesn't need an immediate response — great for time management.
Brooke Ballard, B Squared Online Media
So perhaps the jury is out on this one. In addition, Sprout Social is not the only social media management tool that prefers the single stream view. Sendible, MavSocial and AgoraPulse all adopt the single stream view and it is fair to say that Hootsuite and Tweetdeck are the most famous examples which allow you to view multiple streams on one page. I am open to being convinced that single view is better- and maybe I could get used to only viewing one stream at a time. However, I would like to have a more advanced way of filtering the results, which brings me on to…
---
#5 Limited filtering
Smart Inbox does a really good job at displaying the most relevant updates and you can easily reply and follow as well as create a task (for example delegate to another team member) or complete.
There are also some helpful filters to allow you to zoom in to the posts you really want to see. For example, you filter the smart inbox to show only mentions, direct messages, retweets or new followers. You can also filter by brand keywords and you can use Twitter's advanced search operators. This allows you to search for tweets mentioning a keyword, filter by location, filter out tweets with images and more.
That's all great, but it doesn't give you quite the same control as tools such as TweetDeck or Hootsuite and doesn't allow you to filter your Twitter list streams. For example, if I wanted to display tweets from a Twitter list and then filter out tweets with no images or links, I am stuck.
Although using Twitter's advanced search operators are great, they're not going to be apparent to less technical users and it would be great if Sprout Social added a few more filters and options to help dig a little deeper into the streams.
I have to say, Sprout Social support were very quick to get back to me when asking them on this subject:
[start_centertweets]
@iagdotme In your brand keyword, for tweets to exclude images, you can use the operator: "keyword -Filter:Images". We hope this helps!

— Sprout Social (@SproutSocial) February 16, 2015
[end_centertweets]
---
#6 You can't assign a different bitly account per profile
I admit this is unlikely to be a big issue for many, however, I wanted to highlight it since it affects me.
One of Sprout Social's helpful features is the way you can group social channels. These groups could be for different departments within a bigger company or organisation or even different companies all together (for example if you are an agency managing multiple brands). This is particularly useful if you have different teams of people managing different groups of social channels. You can assign a different bit.ly account to shorten your links for each group- something that is really helpful.
With Hootsuite you can't use bitly at all- you're forced into using the Hootsuite url shortener ow.ly. If you use another social tool in addition to Hootsuite, your social analytics will be fragmented since Hootsuite can only track clicks through their ow.ly url. If you want to use a custom short domain (for example I use to.iag.me and select.social) you will have to pay over $588 per year for this feature with Hootsuite- and you can only use it within Hootsuite. The url shortener bit.ly allows you to set up a free custom short domain and works with many social tools such as Buffer, Friends+Me and SproutSocial.
I have two short urls with bit.ly. I use to.iag.me to shorten links on my Seriously Social profiles and I use select.social for my Select Performers accounts. In Sprout Social, I could put my Seriously Social profiles in one group and my Select Performers in another, but this completely separates them- effectively treating them as separate companies. It also means I can't cross post two accounts in separate groups. With Buffer, I can assign a different bit.ly account for each social profile. This means I can cross post and share content across my profiles easily and the correct url shortener will be used.
Sprout Social don't seem to have any plans to change this in their response to me, although perhaps they were trying to tantalise me with their use of the word "currently"!
"We currently allow customers to connect a separate bit.ly for each group that they have."
As I said, this won't be an issue for many, but I hope Sprout Social allow us to assign a different bit.ly account per profile in the future.
---
#7 Scheduler only allows different times for weekdays and weekends
Many of you will have heard of the social scheduling tool, Buffer. When Buffer was created, it was set to do only one thing- schedule social media posts throughout the week. It allows you to set a schedule for each day of the week for when your social media updates are posted. You can set a different schedule for each network. Hootsuite and Sprout Social followed with their own versions some time later- with Sprout Social calling theirs Sprout Queue. It's a very helpful feature, and if you're on the Premium or above plan it becomes more powerful with Sprout's ViralPost feature.ViralPost works out the best times to post your content- so that the most people will see it. You can set the specific time frames to post for weekdays and weekends:
[start_centertweets]
@iagdotme Account Owners can set the timeframes for weekdays and weekends that they'd like ViralPost to optimize from. We hope this helps!

— Sprout Social (@SproutSocial) February 16, 2015
[end_centertweets]
Unfortunately, you can only set schedules for weekdays and weekends- not a different schedule for each day (and the maximum number of posts per day is 10):
[start_centertweets]
@iagdotme Yes, that's correct. The maximum amount of messages that can be published utilizing ViralPost is 10 per day.

— Sprout Social (@SproutSocial) February 16, 2015
[end_centertweets]
This is not going to affect everyone, but I prefer to set a different schedule each day. I may want to post a few on a Saturday and I usually don't schedule anything on a Sunday. Unfortunately you can't currently do that with Sprout Social. With Buffer I can set a different schedule each day and I can set more than 10 posts per day if I wanted to. Whilst I love the sound of ViralPost, it doesn't give me the flexability I would like, particularly as I am used to Buffer. Maybe this is something they can improve over time?
Were 7 Reasons not enough for you? Here are some more!
#8 No Multiple image Support
You can only add one image per post (multiple images aren't supported). Hootsuite allows you to post multiple images (although it will take the visitor to a Hootsuite branded page if they click on them) and TweetDeck supports multiple images for Twitter (but won't allow you to schedule the post if it contains more than one image)
#9 Reports Great but not the Best
I really do like the reports in Sprout Social- they are very engaging and easy to understand. It's been one of the many reasons why I've recommended Sprout Social to friends and clients over the years – particularly over Hootsuite's offerings.
Sprout Social give you a group report, engagement report, team report, Twitter profiles report, trends report, Twitter comparison and sent messages. As you can see in the following screenshot, the reports are very pleasing to the eye and easy to understand. You can also export as a pdf or a csv file.
However, there are many tools out there that do as good a job or better job in my opinion. For example, the reports generated by Agorapulse are really comprehensive and look great. It allows you to export as a PowerPoint presentation
AgoraPulse Powerpoint Report Sample
If reports and analytics are important to you, there are better tools out there. However, you could use a reporting tool as well as using Sprout Social. Unlike Hootsuite, SproutSocial make it very easy to use other tools in addition. Hootsuite lock you into their ecosystem due to the compulsory owly url shortener. That means many of the Hootsuite reports only show you data from the times you have used Hootsuite. SproutSocial allow you to use bitly, which is a much more portable URL shortener- supported by many other tools.
There are many users who love Sprout Social's reports, and if you do, please let me know in the comments. For example, Brooke Ballard definitely loves them! -
Thus far I have yet to find a dashboard or management tool that has better reports than that of Sprout Social. They are also nice and "pretty" -- which the client always appreciates. We send raw data reports in Excel and 9 times out of 10 they prefer the "pretty" ones.
#10 Difficult to See which Mentions & Comments You've Already Replied To
For me, this is a big issue for almost all social media management tools out there. If you have a lot of mentions, replies and comments to respond to each day it can become difficult to know which ones you've responded to already. That might not be such an issue if you reply all in one go, but if you reply in batches or work within a team it can get difficult. It's a particular issue for Hootsuite, but Sprout Social isn't much better. I particularly like one alternative tool, AgoraPulse which treats your social mentions and comments like a kind of social inbox. As soon as you reply, they disappear from view so you know you've responded to them. The same is true when team members respond. You'll never get the situation where you reply once or more than one team member responds to the same message.
Sprout Social Alternatives
Other Resources
If you need to get started with SproutSocial and ask them some questions, then there are many articles out there to help. Also, Sprout Social are fantastic at engaging with you. They're fairly quick at getting back to you and they've done a great job at building up a community of superfans (something other social media management tools could do with learning from).
Here are some other articles that you might find helpful:
---
What Next?
So there are 7 reasons why you might not want to opt for Sprout Social as your social media management tool. However, it might be after reading this that you've decided that Sprout Social is the perfect tool for you. If so, great! However, maybe you agree with some of my points. Either way, please do give me your thoughts in the comments below!
Let me help Choose the best tools for you!
I hope this article has helped you, but perhaps you feel you need some expert help. As well as asking a question in the comments below, you might benefit from a one to one service. I offer a social media consultation service in which I can help find the best selection of tools and solutions for you or your business. If you are interested, get in touch!