Hootsuite vs Sprout Social vs Agorapulse: Which One Will Be Best for Your Social Media Needs?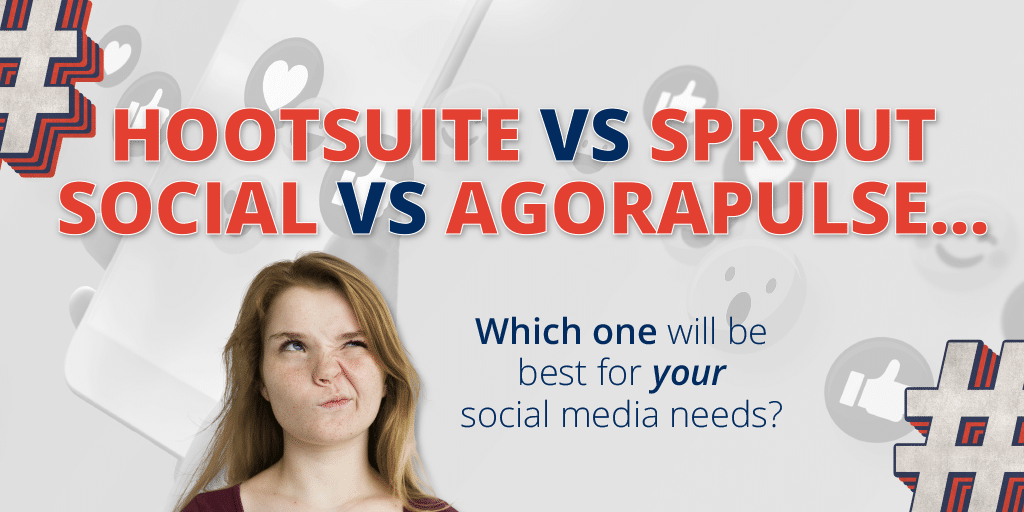 Are you trying to decide between social media management tools? Struggling to find out whether you should use Hootsuite, Sprout Social, or Agorapulse?
There can be a LOT to unpack!
When you compare the top social media management tools, you often hear the same top names. So to make comparing some of the most popular solutions easier for you, I'm highlighting the differences between Hootsuite, Sprout Social, and Agorapulse.
I'm an ambassador for Agorapulse, but that doesn't mean I'll base my ratings on sentiment or opinion.
In fact, I'll base the article on the cold, hard facts of the three tools' rankings on G2, one of the most trusted review sites in the world.
We will let the real-life experiences and reviews from honest-to-goodness users shape this article.
Quick Rundown
Best overall
In comparing the three, Hootsuite lags behind considerably overall. More than 5,000 reviews by real users rank it lower than Sprout Social.
Agorapulse wins overall.
Best features
Hootsuite consistently rates last among the three for publishing, monitoring, and reporting.
By 0.2 points on average, Sprout Social is ahead. (And again, Agorapulse outranks them both.)
Best pricing
Information about the pricing plans for these top three social media management solutions can be confusing, muddled, and just very expensive for Hootsuite and Sprout Social.
For example, Hootsuite only shows annual pricing on its pricing page. Also, Hootsuite provided muddled and misleading information about its Business plan pricing. Growing businesses are forced to jump from its Team plan to its far more heavily priced Business plan (which costs a whopping $7,200 just to start!) or the most expensive Enterprise plan (which starts at an astronomical price of $18,000 per year).
Best for agencies
Hootsuite and Sprout Social's users pricing plans are based on "costs per users/profiles" and depend on what advanced features are needed. So, the costs can add up quickly for a growing agency with specific needs.
So, that's my research in a nutshell.
If you've got time to dig more deeply into the details to help your decision-making, read on!
Overall Comparison
Are the following your biggest concerns in choosing your social media management tool?
Ease of use, admin, and set-up
Quality of support
Product direction
Then, here's what you absolutely need to know.
Ease of use, ease of setup, and admin
The scores for these are (in alphabetical order):
Agorapulse: 9.1, 9.2, and 9.1
Hootsuite: 8.3, 8.3, and 8.4
Sprout Social: 8.9, 8.8, and 8.9
Let's break them down more specifically.
Agorapulse outranks both for ease of use by far. Sprout Social, however, ranks just 0.6 above Hootsuite's 8.3.
Looking for ease of setup? Sprout Social rates 8.8, outranking Hootsuite's 8.3. Agorapulse outpaces both at a significantly higher 9.2.
In regards to admin, Agorapulse is far ahead again by ranking 9.1 from G2 reviewers. Once again, Sprout Social follows at 8.9, just a little ahead of Hootsuite's 8.4.
Hootsuite's support ranks a shockingly low 7.8 from its 1,971 reviews. And it's far lower than Sprout Social's decent 8.8.
Agorapulse, with its 9.3 ranking, has one of the best customer support rankings in the business. It scores high in customer support for G2 and for Capterra and TrustRadius.
Product direction
Do you need a social media management tool that grows with you?
If you're constantly evolving your business, you're going to want a solution that can adapt to it. (Because who wants to keep looking for a brand-new every time that you have something successful happen)
So, how did Agorapulse, Hootsuite, and Sprout Social do?

Once again, Hootsuite has the lowest score of the three tools we're comparing.
At 7.3, Hootsuite's far below Sprout Social's respectable 8.8 for product direction.
Hootsuite has one of the worst scores in the entire industry for product direction.
In comparison, Agorapulse's 9.3 ranking is far ahead of its closest competitors' rank.
I verified this on Capterra, the highly trusted review site (because Hootsuite's dismal ranking really shocked me). And, yes, the same order is there, too: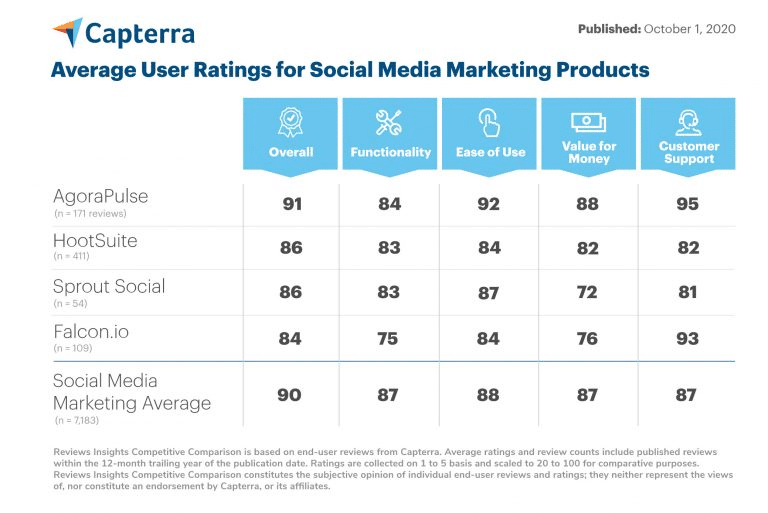 Feature Comparison
Features among the top social media management solutions are very similar. But their ease of use, and the scope of their functionality differ.
Which one of the three is right for you? It depends on what you're looking for.
Let's take a look at the main features of publishing, monitoring/listening, and reporting, and how users rated them for Agorapulse, Hootsuite, and Sprout Social.
Publishing
All three social media management solutions do well in helping users publish content on various social media channels.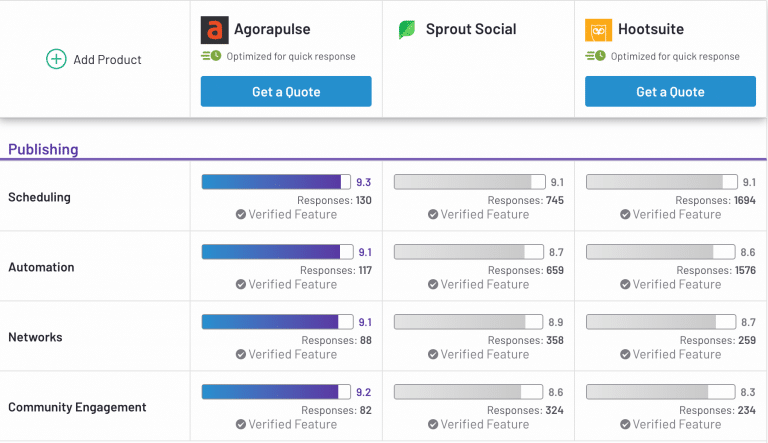 Sprout Social and Hootsuite tie in their 9.1 ranking for scheduling content. Agorapulse edges out ahead with its 9.3 ranking.
For publishing automation, Sprout Social squeaks ahead with its 8.7 over Hootsuite's 8.6.
But Agorapulse, at 9.17, leaps ahead both.
Monitoring
How do the three compare in monitoring?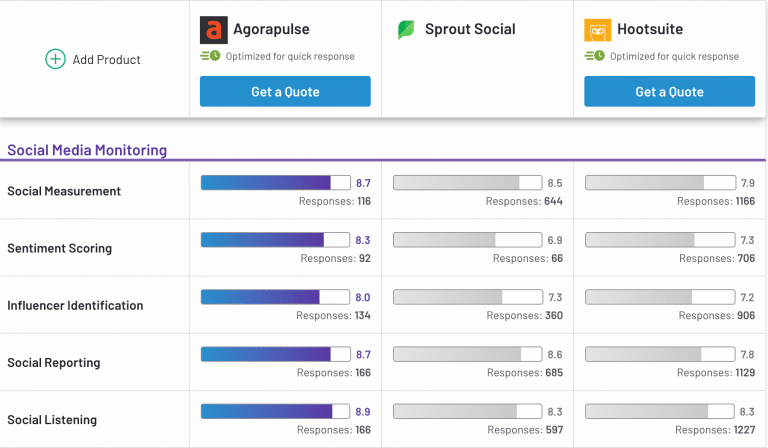 After all, this is a critical component of any social media team. You need to know what your competitors are saying, what conversations your customers are having, and discovering new business opportunities.
Sprout Social squeaks by Hootsuite with an average rating of 7.9. Agorapulse's average rating is 8.5, ahead of both tools.
Reporting
Another crucial task in any successful social media manager's worklife is to report on key performance indicators (KPIs) and other metrics.
That can include:
Competitor analysis
Follower analysis
Content engagement analysis
Influence identification
Paid campaign tracking
Report customizability
Report exporting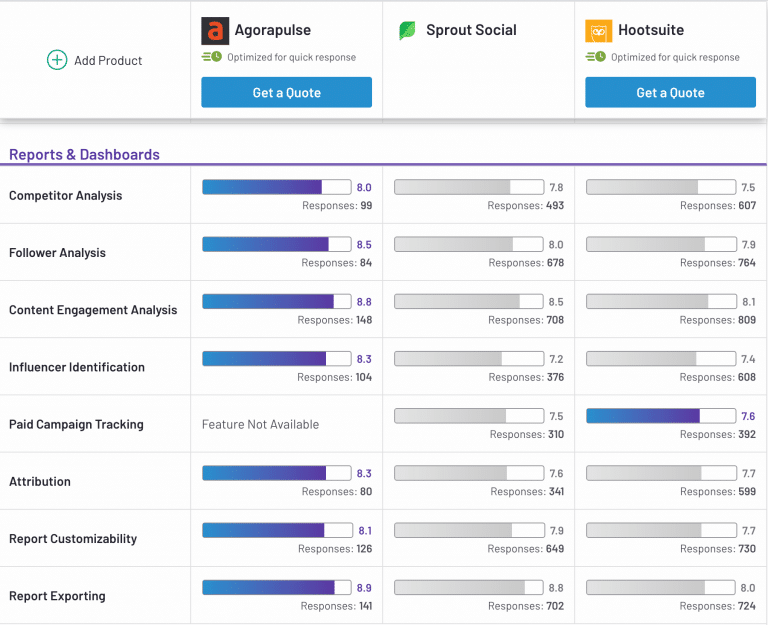 In regards to this feature, Sprout once again edges out over Hootsuite's 7.75 with its own 7.97 points.
And Agorapulse leaps ahead at an average of 8.4.
(I'm starting to see a pattern here.)
Say you need paid campaign tracking, however, Agorapulse will not be your best choice. It offers its AdsReport free tool. However, it is limited and not as thorough as Hootsuite and Sprout Social's paid reporting tools.
Keep in mind, though, the price of those paid reporting features. Itś a Hootsuite add-on and also 50% more per user on Sprout Social.
That means you will have to pay $18K/year (annual option only) for Hootsuite's Enterprise plan with the Impact add-on. If that sounds steep and you go with Sprout Social, youĺl have to pay $149/month per user.
Pricing
Pricing is one of the biggest (if not the biggest factor) for a lot of companies looking for a social media management tool.
Unfortunately, though, finding the pricing of certain tools can be hard to obtain. Either the wording is unclear and evasive or the nickel-and-dime plan seems to hide the final cost.
Hootsuite's real pricing
When you look at Hootsuite's pricing page, you'll only see the annual cost. (The asterisk on all plans states that "prices based on annual billing.")
Want to see the monthly price of a specific plan? You have to create a Hootsuite account first. Only then can you see that your monthly price plan is 30% higher than what you see shared publicly on Hootsuite's pricing pages.
Are you an agency trying to figure out whether to choose the Team plan or the Business plan? Then you need to know that the Team plan (which is touted as the one for agencies) will not allow for more than 20 social profiles or more than three users.
For a growing and active agency, the Team plan is a bust. Hootsuite users will have to go to the Business plan. That means they end up committing to an annual plan for $7,200 upfront. (No, you don't have the option to pay month by month if you upgrade from the Team plan.)
Need more information? Check out this detailed look at how much Hootsuite really costs.
Sprout's per user pricing plan
If you want to find the real pricing of Sprout Social's plan, you will have to do a lot of math. Break out your calculators, and brace yourself. The numbers add up fast.
Unlike Hootsuite, Sprout Social lets you choose the monthly payment option. But read carefully: The price is per user.
Have an active agency or busy social media team? Your monthly bill is going to get very expensive as you start including must-haves, such as more fans/followers, more extensive reporting, etc.
For example, say you want more advanced listening and reporting. Sprout Socialś Advanced Listening add-on begins at a whopping $999 per month. So, add that into your monthly bill. And then you'll have to pay $249 per month for Sprout's Advanced reporting add-on.
That's $ 1,248 per month just for advanced listening and reporting. (Your total bill for a year will be $14,976 just for these add-ons.)
If you want a deeper dive into Sprout Social's pricing, here's a detailed look at Sprout Social's pricing plans.
Agorapulse's straightforward pricing plan
When you look at Agorapulse's pricing page, you'll find direct, clear pricing information for both monthly and annual plans. (You also have the monthly option with Sprout Social.) You can choose from its free, Pro, Premium, and Enterprise plans.
You'll also see that, if you pay annually, you save up to 20%. Unlike Hootsuite, you get a benefit for paying upfront.
(Also unlike Hootsuite, Agorapulse won surprise you with prices higher than what you expect. Hootsuite's monthly plan prices are more than 30% higher than the advertised prices.)
As is common practice, you will not find the Enterprise plan cost. That's because it depends on your specific needs and wants.
You can also easily add additional social profiles on the Premium plan for just $12/each, up to 40 or additional users for $30/each (up to 8). Those are reasonably fair prices.
You're not forced into a more expensive plan just because you're growing. Agorapulse's pricing is especially designed for growing teams.
Also, you won't have to pay an exorbitant fee for quality customer support from Agorapulse. On Hootsuite, you have to pay $7,200 to receive 4/7 priority support provided by "real live human support for any issue at any time of day." (And we know from the above section that this support is substandard.)
At Agorapulse, you don't have to pay extra for quality support. And you also get such features as:
Content approval workflow
Assets (visuals and videos) library
Ability to tag outgoing posts to create campaign reports
Automated moderation rules
Audit log of team response
Saved replies
All without requiring an annual commitment. And starting at just $199 per month.
A helpful pricing tool
If you want to look more into the different features of these tools and how much specifics will cost you, do use my free pricing tool.
I update it twice a year to keep it reliable.
Please note: I've temporarily taken the comparison tool down. It will be back very soon. But Hootsuite has demanded that I remove their logo from my site. So until I can update the tool to remove the logo, I've disabled it.