Top Social Media Management Tools for Your Business
Confident Live Marketing Podcast
Episode 35
Episode Theme: Tech & Gear
January 17, 2020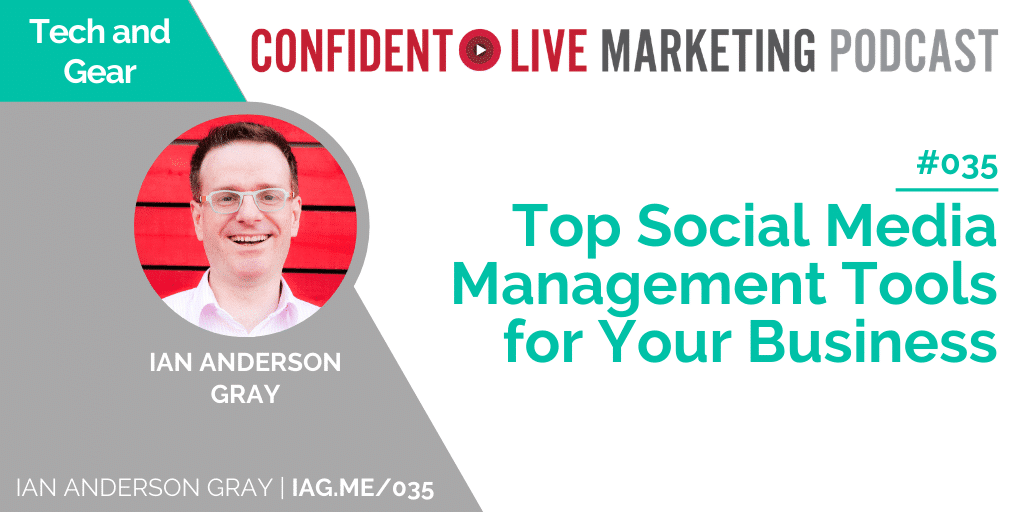 This is the second show of 2020. And I wanted to be honest.
I love what I do, but sometimes it's so easy to feel like you want to give up.
I've not got into that rhythm yet. That schedule.
I've not reminded myself of why I am doing this.
But that is slowly changing as I am putting together my goals.
This year is my year of growth - business and personal.
But first of all, it needs to be about becoming more stable and building the foundations. I talked a lot about this in episode 33.
But it's also about encouragement. Most of us aren't great at encouragement. Most of us don't listen. I encourage you to reach out to someone you know in business or in your personal life and give them a word of encouragement.
Today's Episode: Social Media Management Tools
Today, I am talking about the top Social Media Management Tools. This comes from my mega-article, The 7 Must-Have Social Media Management Tools for 2020.
Why talk about this?
I am all about using live video to level up your impact and authority. With live video, you are broadcasting to social media channels. And it's where you'll engage with your audience.
A social media management tool helps you become more efficient in managing your social media empire.
But what is one?
A social media management tool aims to do it all.
In Lord of the Rings speak, it's the "One Tool to Rule Them All".
Tools like Buffer Publish and Social Champ are great at scheduling content
Brand24 and Talkwalker are great listening and analysis tools
But none of these is a true social media management tool.
An SMMT does everything…
Publishing: posting/scheduling your social media posts
Calendar: Display all your posts (past and present) for all your networks in a calendar (and/or list) view.
Social Inbox: interacting with your social messages
Listening & Monitoring: Keep up to date with what people are saying about your brand and competitors. Track keywords and phrases as well as hashtags across all the social networks.
Audience & Community Management: View insights into your audience. See who are the influencers and the most engaged. Have the ability to follow and unfollow and add your own notes. Kind of like a simple social CRM (customer relationship management tool)
Team Features: Have the ability for individual team members to log in with their own logins and have a team approval system.
Analytics & Reports: Measure your social media success with reports across all your social networks. With the ability to compare with your competitors.
The 7 Tools
The 7 Social Media Management Tools I mention in today's show are:
ContentCal (Now part of Adobe Express)
Brought to you by Restream & Content10X
Restream
Restream is the complete multi-streaming suite for entrepreneurs. With Restream you can stream to multiple platforms all at the same time. They have a plethora of destinations including LinkedIn Live, Facebook Live, YouTube Live, Twitch, Periscope and so much more. You can stream from another tool to Restream and Restream will take care of the multi-streaming for you really easily. Or you can broadcast directly from Restream.
Restream also has chat, analytics and a scheduler. With the chat service you can view and engage with your audience from all the destinations you stream to.
I've been really blown away by the Analytics section - this shows your stream metrics - now many viewers, watched minutes, new followers and more. And finally, the scheduler allows you to broadcast pre-recorded video live.
Content10X
Content 10x are experts in content repurposing. They provide a full end to end repurposing service - taking one piece of content and repurpose it to explode it across the internet… saving you time and building your business. They also have an awesome blog and podcast packed with great advice on all things repurposing. And now, Amy (the founder of Content10X) has a book.
Please Subscribe!
Don't miss an episode! You can subscribe on Apple podcasts here - or on other podcast players.
The Confident Live Marketing Show
The Confident Live Marketing Show is a weekly live video show and podcast. It's aimed at established entrepreneurs who want to level up their impact, authority and profits through the power of live video, webinars and podcasts. We'll focus on knocking down the 3 main barriers these entrepreneurs face when creating live content - camera confidence/mindset, tech/gear and content marketing.
It's hosted by Ian Anderson Gray. He is the founder of the Confident Live Marketing Academy and is the host of the Confident Live Marketing Podcast. He helps entrepreneurs to level up their impact, authority and profits by using live video confidently. He's founder of Seriously Social - a blog focused on live video and social media tools. He's an international speaker, trainer, teacher and consultant. He has a passion for making the techno-babble of live video and social media marketing easy to understand. As well as being a geek, husband, and dad to two kids, Ian is also a professional singer and lives near Manchester in the UK.