7 Reasons why you SHOULD use Adobe Express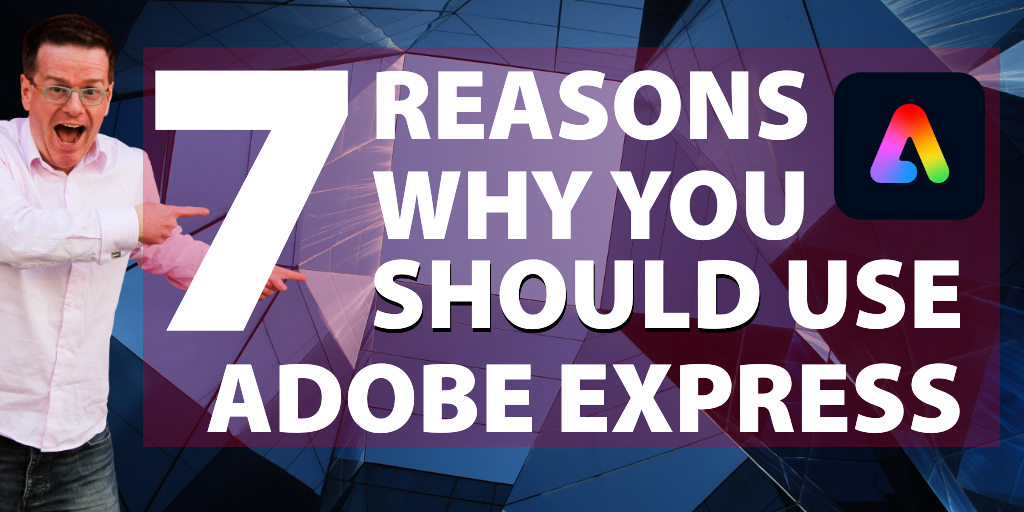 Please note: I'm an ambassador for Adobe Express. But this blog post is an honest review, and all the thoughts are my own.
Adobe Express - Why am I writing this?
Back in October 2016, I received an email from a guy called Andy Lambert. He said some nice things about my website and asked if he could buy me a coffee. He also mentioned the tool he and his team were working on. It's name was Content Calendr.
Intrigued by the tool (as well as not being able to turn down the offer of a free cup of coffee), we met up.
ContentCalendr became ContentCal and became a very popular social media management tool. I was impressed by the ease of use, powerful features and the calendar at the heart of the tool.
I wrote a review article called "7 Reasons why you SHOULD use ContentCal".
Then in December 2021, ContentCal was acquired by Adobe.
Since then, a lot of ContentCal's functionality has been baked into Adobe Express. More on Adobe Express shortly, but it's a new and heavily updated version of Adobe Spark. It was time for me to update my article!
Over the years, I've written a lot about social media management tools. Back in 2011, I wrote the hugely popular 7 Reasons NOT to use Hootsuite, which has been updated many times. I've also written about other social media management tools such as Agorapulse and Sprout Social. Adobe Express is more of a visual content creation tool rather than a social media management tool.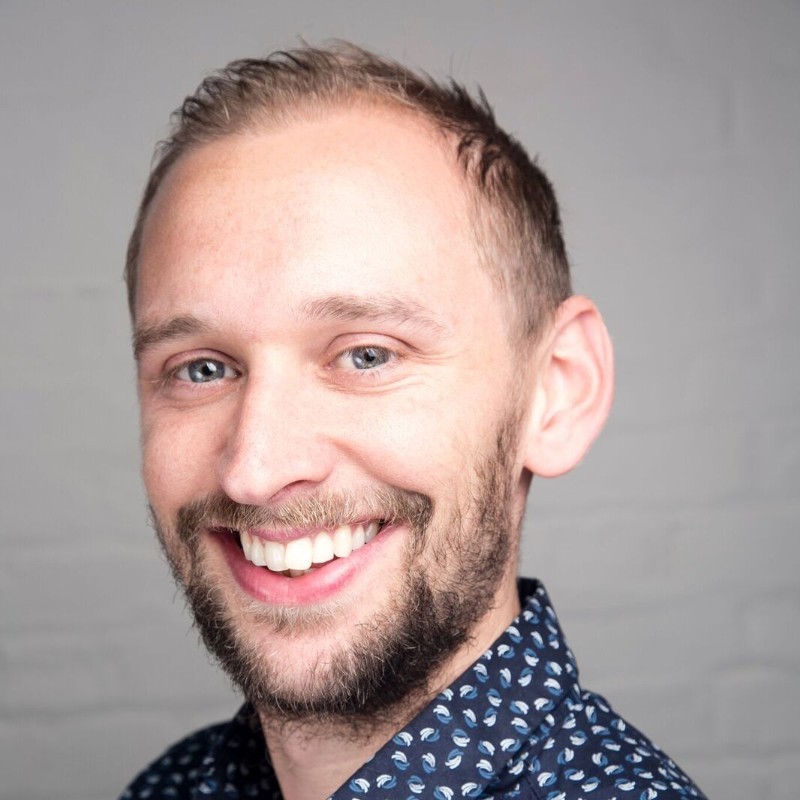 What is Adobe Express?
Adobe Express is an easy and quick-to-use service that helps you create stunning visual content. You can create the content from scratch. Or from the thousands of included templates, stock photos, animations and more.
You've probably heard of Adobe Creative Cloud. It's an amazing subscription service to all of Adobe's professional tools. This includes Photoshop, Premiere Pro, Audition etc.
I use many of these on a regular basis, especially Photoshop and Audition. But unless you are a professional, the Creative Cloud tools can be overkill, too complicated and too powerful.
Adobe Express is a collection of content creation tools for non-designers. Although they're great for designers too.
You can create:
Social media images (including ads and stories)
Logos
Posters and flyers
Presentations
And a lot more!
You get access to thousands of royalty-free Adobe stock photos, fonts, icons, backgrounds and visual elements.
And you get access to some really powerful tools that do cool things. For example, remove backgrounds, convert to GIFs and resize images etc.
It's a web-based tool with versions for iOS and Android. Its aim is to make creating content EASY.

One tool to rule them all?
A social media management tool aims to be the "One Tool to Rule Them All" when it comes to managing your social media. It does more than just post and schedule content.
A full social media management tool should do all the following:
Posting (including scheduling) content to your social media channels
Analytics and reporting on your social media efforts.
Engagement. So you can respond to your social media mentions, comments and messages efficiently.
Listening. So you can find and engage with people talking about your brand, your competitors or keywords.
Audience Management. See who your fans or followers, who is interacting with you and who are your biggest advocates and influencers.
Of course, you may not need a full social media management tool. You could get this by using a combination of tools.
Adobe Express helps with designing, posting and planning content - especially visual content. But it doesn't give you analytics, engagement, listening or audience management features. So it's not a social media management tool.
BUT Adobe Express is a Visual Content Marketing Management Tool. As well as posting social content, it..
Content planning
Manage your brand logos, fonts and colors
Create and design social media images and animations
Quick actions - remove image backgrounds, trim videos, convert to GIFs and videos, QR codes, convert PDFs and much more
Who is Adobe Express For?
Adobe Express is for everyone.
It's especially useful for non-designers or businesses who don't have a dedicated design team.
The fully caffeinated Creator Cloud suite is perfect for professional content creators. But there will still be times when Adobe Express is a much better option. Photoshop and Illustrator are amazing tools, but, for simple tasks, Adobe Express is going to get the job done quicker. And you have access to all those royalty free images.
What is Adobe Express NOT?
No tool is perfect or comprehensive for all our needs. Although Adobe Express combines the features of so many tools together under one roof, it doesn't pretend to do everything.
It's not a full social media management tool. And so it doesn't offer analytics or reporting. There is no social inbox. There isn't a video assets library. Think of it as a visual content marketing tool, and you'll understand what Adobe Express is about.
That being said, the team are working hard behind the scenes to expand its current functionality and add more. I've had the chance to see some of what they are working on, and I am excited about its future.
Reasons NOT to use Adobe Express
There's nothing much not to like about Adobe Express. But there are a few things to bear in mind.
It's either a web app or a mobile/tablet app. That makes it super flexible. But if you prefer working on dedicated desktop apps (such as the ones that come with Creator Cloud) you're out of luck.
Adobe Express is a visual content planning and creation tool. But it's not a full social media management tool (yet). You'll need another set of tools for a social inbox, analytics and listening. Some tools such as Agorapulse and Sprout Social have all these features, but they lack the design features of Adobe Express. Also, currently Adobe Express doesn't integrate with TikTok.
Reasons why you SHOULD use Adobe Express
#1 Price
Running your own business can be expensive. You may not have the resources to hire your own design team. Design, content creation and social media management tools can help you be really productive. But they can also be expensive - costing you hundreds or even thousands of dollars per year.
As I write this article, there are some free tools and some inexpensive tools out there. In the social media management tool world Hootsuite offers a free plan, but it's very very basic. Agorapulse offers a much better free plan, but at some point you're going to have to upgrade.
In the visual content design tool world, there's Canva and Easil. Both are great tools and offer free plans. But you need to be aware of the restructions, and you will need to pay for many of the templates and images.
Adobe Express has a generous free plan with thousands of templates and design elements. You also get access to Adobe Fonts which is a biggie. You get a limited selection of royalty-free Adobe Stock photos. And you get some cool tools including being able to remove backgrounds and animation.
The Premium plan costs either $9.99 per month or $99 per year. This opens up a huge library from Adobe. This includes all the premium templates and design elements. The entire collection of over 160 million royalty-free Adobe Stock collection photos. Over 20,000 licenced Adobe fonts. The ability to convert and export to and from PDFs and other file types.
And it also includes a social media planner and scheduler. These are features that have been added from ContentCal.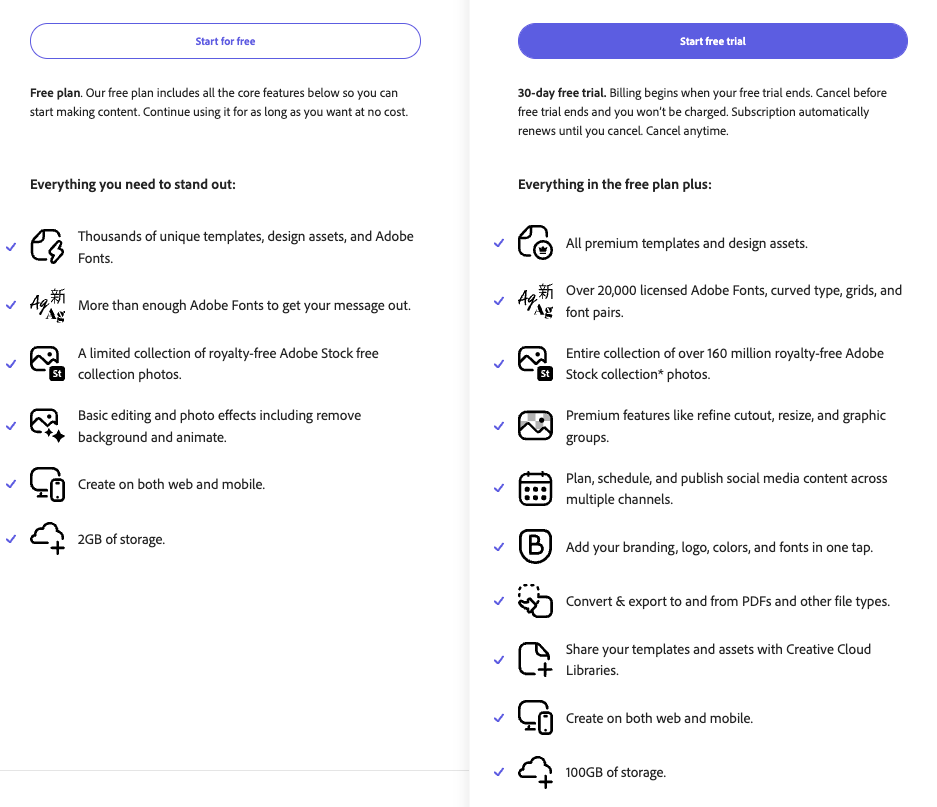 #2 Easy to use
I love Photoshop. I have Illustrator (but never learnt how to use it). Adobe Creative Cloud tools are amazingly powerful.
But for some tasks, using these tools can sometimes be a little like using a sledgehammer to crack a nut!
What I love about Adobe Express is that it makes creating social media images, videos and stories so easy. And you don't need to be a designer or good with design. You get access to templates, fonts, images and more - all within the tool.
It's incredibly intuitive and quick to get things done. Having access to the huge stock library of images saves so much time. And the ability to add my own branding with a click of a button is amazing.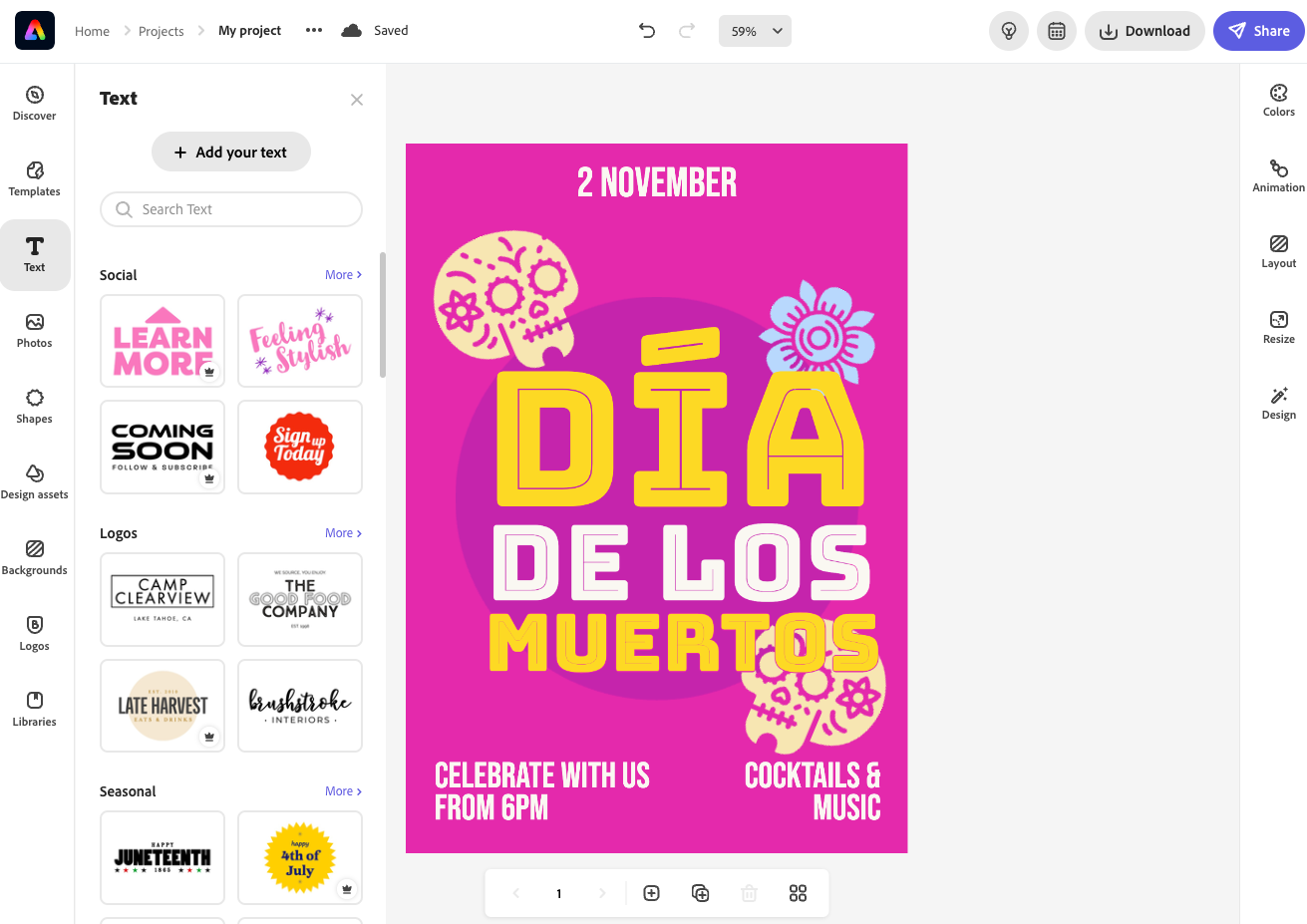 #3 Just need one tool
While Adobe Express isn't a full Social Media Management Tool. It combines so many tools in one. This makes it easier to find what you're looking for. And it's cheaper, since you don't have to pay for lots of different tools.
For example, you don't necessarily need to pay for...
Stock photos
Social Media Planner & scheduling tools
PDF tools
Image and photo editing tools
Design tools
...Because Adobe Express has all of those things built in.
#4 Easy Access to Fonts, stock photos
Most visual content design tools give access to the free Google font library. These are great. But since Google Fonts are free, they tend to be over-used. Adobe Fonts are part of their premium library, and will help you stand out. You can still upload your own fonts, and use Google Fonts if you want to.
You can create social media images using other tools. But one of the most powerful features of Adobe Express is that you get access to Adobe's stock image library. This makes it so easy to find the image you want - whether it is for a background image or something that just pops!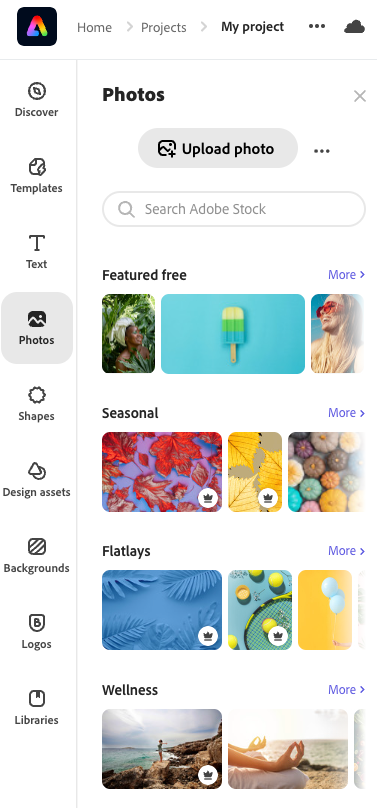 #5 Sharability!
Where do your audience hang out? The liklihood is that they are scattered across many different platforms. That could be Facebook, Twitter, LinkedIn, Instagram, YouTube, TikTok, Snapchat and more.
Adobe Express supports a plethora of different social media formats and sizes.
This includes:
Social media posts (Instagram, Facebook, Pinterest, YouTube thumbnails, LinkedIn and Twitter)
Stories (TikTok, Snapchat and Instagram).
Social media profiles (Facebook profile cover, Facebook page cover, Facebook event cover, YouTube channel art, Twitch, Twitter, LinkedIn, Etsy and Eventbrite).
Artwork for print media.
There's a huge range.
#6 Social Platform Support
Adobe Express allows you to post and schedule content to your
Facebook Page
Twitter profile
Instagram (business account preferred but also works with personal accounts)
LinkedIn (personal or business page)
Pinterest
If you want to schedule your visual content to all of your social networks easily, Adobe Express has you covered.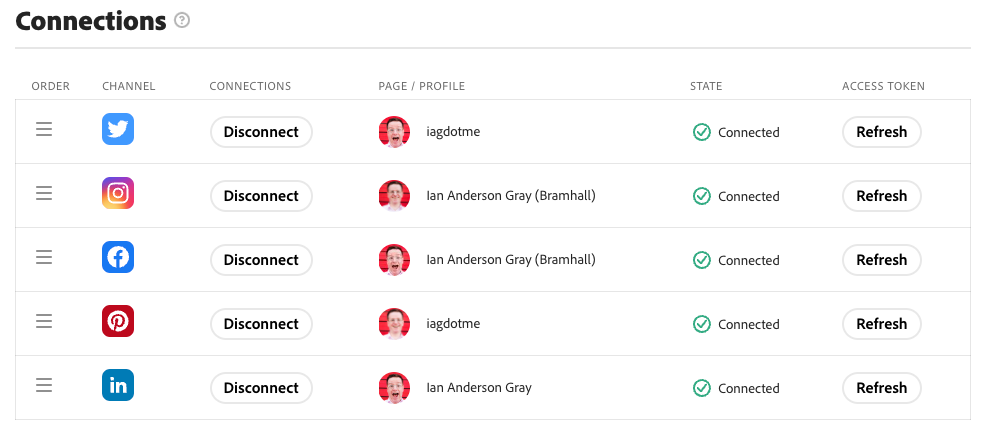 Just like ContentCal did, Adobe Express' scheduler, puts the calendar front and centre. You can toggle between monthly and weekly views. And a powerful feature allows you to filter draft, scheduled, published and failed posts. And you can filter posts from your different social channels.
Currently, Adobe Express doesn't support more than one profile of the same network. So you can't have more than two or more Twitter accounts for example. But you can schedule to multiple channels of different accounts, and it's easy to do.
If your Instagram account is a business profile, you can publish single images and videos as well as carousel posts automatically.
You can also post Instagram stories or longer videos via the Adobe Express mobile app. This is a manual process since the Instagram API doesn't yet support these formats.
When it's time for your post to be published, you'll get a push notification on your phone or tablet.  With a couple of clicks, your you can post it to Instagram.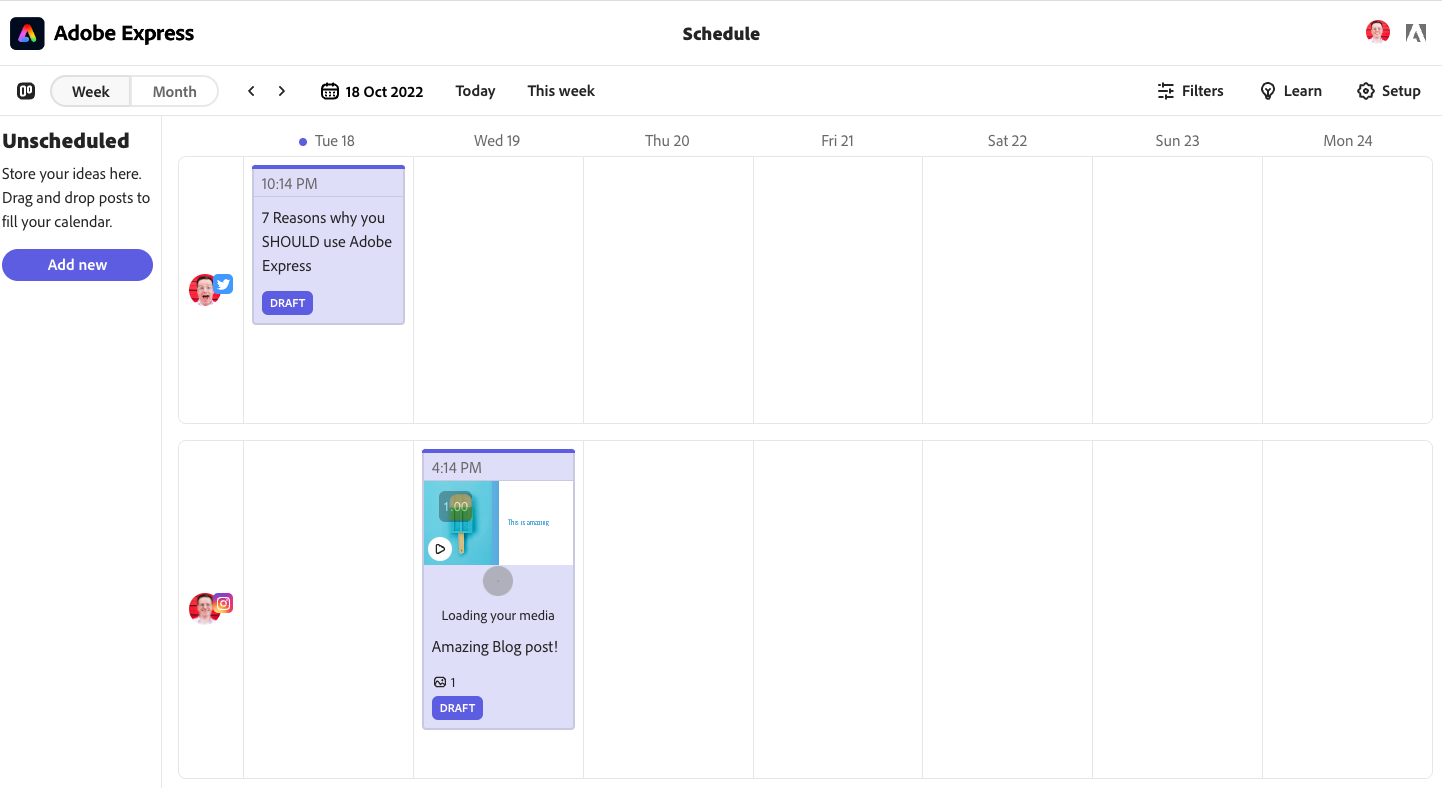 #7 Quick Actions
Do you find yourself needing to convert, resize, crop, trim images, or remove backgrounds?
How about creating pdfs, QR codes?
You can do all of this from Adobe Express. I think it's worth getting Adobe Express just for these quick action features.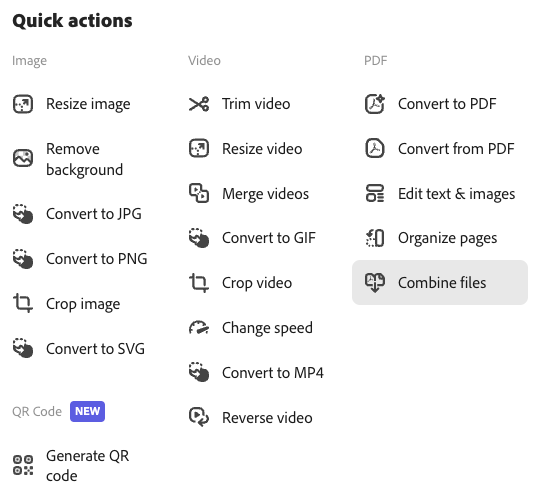 For images and photos, you can...
Resize
Remove background
Convert to JPEG
Convert to PNG
Crop
Convert to SVG
For videos, you can...
Trim
Resize
Merge
Convert to GIF
Crop
Change to speed
Convert to MP4
Reverse
For PDFs, you can...
Convert files to PDF
Convert from PDF (supports Excel, Powerpoint, PNG, JPG, Word)
Edit text and images (edit text and rotate or resize images in your PDF documents and add or update copy - change font, size, color, and alignment of your text)
Organise pages
Combine files
And you can create QR codes with the Adobe Express QR code generator.
The image tools are powered by Photoshop. The video tools are powered by Adobe Premiere. And the PDF tools are powered by Acrobat.
Summary
So there you go, 7 Reasons why you SHOULD use Adobe Express.
Is it perfect? Does it do everything?
No. But there's no perfect tool that does everything.
Adobe Express is a powerful set of tools for all kinds of businesses. In fact, I would call it the Swiss Army Knife of the visual content marketing tool world.
But what do you think? Love it? Hate it? Let me know below in the comments.