How To Create A Killer Confident Live Process For Your Live Shows
Confident Live Marketing Podcast
Episode 115
Episode Theme: Content & Marketing
July 2, 2021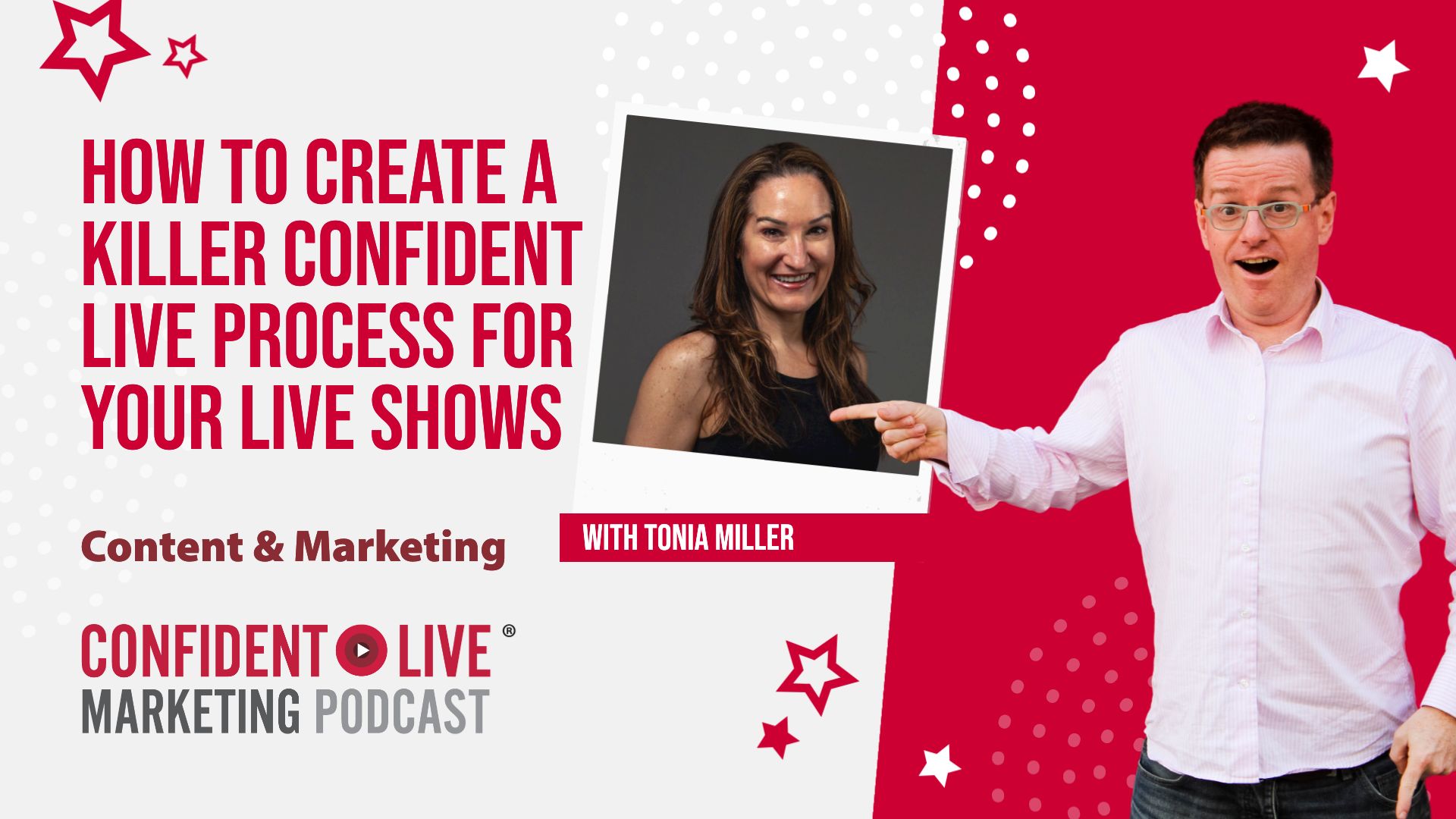 Have you ever felt overwhelmed when trying to create a live show?
Do you want to make sure that you have a step-by-step process to follow to help you stay on top of the running of your show?
If you want to be confident, consistent and successful, then you need a process for your live show.
In today's article, I'm looking at how to create a killer confident live process for your live shows.
I'm joined by my amazing virtual assistant Tonia Miller, and we're going to explore how you can create a process that will allow you to be super productive and turn your live shows into a plethora of different content.
What You'll Learn
[7:26] How did Tonia Become a Virtual Assistant?
[10:43] How did Tonia and I Meet?
[14:48] How Important is Trust when Working with a Virtual Assistant?
[18:47] Why is a Process Important for a Live Show?
[23:41] What Tools do You Need to Create a Process?
[28:34] What does my Process Look Like?
How did Tonia Become a Virtual Assistant?
Listen at [07:26]
Tonia is a virtual assistant who specialises in live video management, and we've been working together for three years now.
But, how did she actually get started in this industry?
"I've done a lot of different things including custgoner service, office management and call center management that led to me having a versatile skill set to help small business owners and entrepreneurs manage their businesses."
Tonia does a lot of different things for me behind the scenes, but the live show and the podcast have really become her major role within my business.
"One thing that I've learned is that everybody's vision is a little different and everybody has different goals for what they want to do and what they want their show to look like."
And that's something to remember as we go through my process today. It's fine to take inspiration from this article, however, you'll need to make your own process because each business will have different needs for their prices.
Tonia and I have been working together for three years after a mutual friend introduced us via email when I was looking for a virtual assistant.
We chatted over Zoom, but I wasn't 100% ready to commit to a virtual assistant at that point as I was still very much in the discovery phase. We then met in person at Social Media Marketing World as Tonia was working for Social Media Examiner.
"It was really funny because you just happened to make a comment about not having enough time, and I looked at you and said 'that's because you haven't hired me yet'."
We started working together about a month or so later, and since then our relationship has developed. Tonia now puts in around twice the amount of hours that she initially did when we started working together, and it's constantly developing.
You don't have to start with everything, you can start simple. And I've talked previously about how developing your mindset, and delegating tasks by growing a team is an important part of growing your live show, and a virtual assistant can really help with this.
Related content: Top mindset qualities for confident live streamers
How Important is Trust when Working with a Virtual Assistant?
Listen at [14:48]
When you hire a virtual assistant you usually have to hand over passwords, email access, credit card information and various logins. So it's absolutely vital that you have trust between yourself and your virtual assistant.
"It's a conversation I have with every client, because I do need access to sensitive information to help my clients manage their businesses. If I lose my client's trust, I can lose my entire business."
Having so many mutual friends certainly helped cement that trust between me and Tonia, plus the fact that she was already working with prestigious clients including Social Media Examiner.
This pre-existing relationship really helped to build trust in the early days, and it is always good to look for a virtual assistant that is working with people you already know.
"It's also really important to be honest with each other about what your strengths are and to explain what you are wanting out of the relationship over time."
Tonia and I had to lay out upfront what each other's skills were, and also be honest about what we enjoyed and what we didn't.
"I tell everybody that if you're looking for somebody to design images, I'm not your person, it will look like a five-year-old did it. But I am an Excel nerd, I love spreadsheets."
That meant that I could delegate the appropriate tasks to Tonia, and that allowed us to build a working relationship based on transparency.
Why is a Process Important for a Live Show?
Listen at [18:47]
So, why do you need a process for a live show?
Can you not just wing it and see how it goes?
"I'm a very step-by-step person and if I'm not looking at the process, I will miss things. I would say there are well over one hundred different steps that have to be taken for every single show in order for it to be accomplished. And if we don't have a process in place they won't always happen."
A process not only helps you ensure that you remember everything, but it gives you a visual process you can look at and potentially use to improve what you are already doing.
Although Tonia and I have been working together for few years, we are still onstantly improving the process
What Tools do you Need to Create a Process?
Listen at [23:41]
So, how do you actually organise your process?
Some people are set on using an Excel spreadsheet, or something similar to organise their process, while others use online tools.
With Tonia and I being at opposite ends of the world, an online organisational tool makes the entire process really simple and streamlined.
"If you're going to be working with somebody, then I'd say you 100% need some sort of tool. That way you can use it to delegate different tasks that need to be done."
Tonia and I use Asana, a project management tool, to organise my live show process. This works well for us, as it's a live document and allows us to add in all the stages of the live show process and note down all the ideas for the future.
If you're going to be working with somebody remotely on your live show, you 100% need some sort of organisational tool so you can delegate different tasks that need to be done. @mrstoniamiller
Click To Tweet
Another tool that many people swear by is Click-up, and Trello is also popular, so it's really just about finding a tool that works for you and your virtual assistant.
Then on top of these tools I use Slack to help me easily communicate with all the people in my team.
As well as Tonia, I've got Natalie from Hot Content who helps with the repurposing of the show into a blog, Amanda Webb who works on Ads and strategy, Sacha Liddiard who works with the Facebook Messenger Bots and Lauren, my amazing designer.
I would definitely recommend using something like Slack to help streamline your communication.
You can download my process guide to see a full rundown of everything we do, plus a list of tools that we use.
So, my process involves five stages, which follow the Five Ps of live video, and I think it's important to break it up into these sections:
My live video process involves five stages, which follow the Five Ps of live video: Planning, pre-promotion, production, post promotion and repurposing.
Click To Tweet
Planning
Pre-promotion
Production
Post-Promotion
Repurposing
Let's look at each of these stages in a little more detail.
Each of these stages has multiple steps in the process, however, we'll just look at a broad overview of each.
1. Planning for Live Video
First things first, we have to plan a show and this starts with finding and booking guests that we think will bring value to the show.
The first thing that we do is send the guest a booking link via Calendy, so that they can schedule a date for the live show that suits us both. Calendy also sends out email and text reminders to the guests of the show in the run-up so they don't forget about it, or double book.
We then email the guest a checklist, which we automate via Zapier. If they are brand new to live video we can arrange a run-through just to make sure that everyone knows what they are doing.
Once a guest has booked a spot for the live show Tonia receives a slack notification and begins the planning and organisation of the show.
Tonia adds all the relevant information into a spreadsheet including the guest name and theme of the show. She then creates a 'notes document' for every single show, which includes the outline for the show and any details necessary.
At this stage, the show is scheduled in Restream, and all the social content is scheduled in Agorapulse.
Related content: How to build your social media empire with Agorapulse
2. Pre-Promotion for Live Video
Once you've done all the planning it's time to let the world know that you are going to go live.
This is a really important area, and definitely one that I need to do better at, particularly when it comes to email.
At this stage, the show is scheduled in Restream, and then it's time to share it out across multiple places including Facebook pages, Facebook groups, YouTube and all your social channels.
One thing we've been doing recently is creating an event on our Facebook page, which is great as you can invite people to that. It's not something that we do for every single episode as there are two per week, but something that might be useful for some shows.
If people don't know that you are going live, then they won't be able to turn up and watch, so make sure that you tell them.
3. Production for Live Video
Once you've planned your show and told people about it, it's time to get ready for the day of your live show.
If you are hosting and producing the show yourself then there will be a long list of things that you need to do.
I'm a massive fan of using Ecamm Live and Restream, and I'd recommend keeping it as simple as you possibly can to begin with.
If you would like a free month of Restream you can get one here.
It's also useful to have someone help out with moderating the comments on the day of the show. If you have an extra person to help with this, it will allow you to focus more on other aspects of the show.
Related content: How to use Ecamm Live and Restream together?
4. Post Promotion for Live Video
People often think that once they've gone live it's time for a lie down. But, no, the hard work is just beginning, and it's time to begin post promotion.
When it comes to a podcast or show you have two audiences:
Your live listeners
Your replay listeners
And in most cases, more people will tune in to listen to the replay rather than the live show.
There are a number of steps that Tonia goes through in the post-production phase to make sure that we are getting the show out to as many people as possible.
Some of the main things that Tonia does post-show are:
Adding the trimmed video to YouTube
Scheduling in social content
Adding the video to playlists on YouTube/Facebook/LinkedIn
Interacting with listener comments
There are individual steps that need to be undertaken for each of these post-promotion steps.
For example, for Facebook posts, we will schedule one post the day before, one 15 minutes before, one five minutes before. And then we will do it a few hours after, two days later and then every five days after (3 times). So that all amounts to around nine different social posts for each show, and the majority are promoting the replay rather than the live show.
A dedicated Asana process can really help Tonia (or you) stay on top of everything she needs to do, as there are often seven or eight shows on the go at the one time, so things can easily fall by the wayside if there is no step-by-step process.
Once we've done all the post-promotion and repurposing we also pass along the links to the show guests so that they can introduce their audience to the show and expand the overall audience.
Related content: How to create a social media marketing plan for your live shows
5. Repurposing for Live Video
You've created this amazing content, so why not repurpose this and turn it into evergreen content that is going to last a long time.
Once the video has gone live, we download it and then do a couple of things with it in order to repurpose it.
Firstly we turn it into a podcast using Captivate, which is super easy to do and takes approximately five to ten minutes maximum.
You take the edited MP3 file and upload it, add text, add date and change the image before scheduling the episode. This is definitely something that Tonia has helped me with that I wasn't doing before I started working with her.
Once you've done this you can grab the code and you can embed the code into a player on your website, which is part of the process for creating the blog post.
After this, we upload the transcript to Descript, and Natalie from Hot Content takes this and turns it into a blog post version of the live show.
Then Tonia takes this created blog post, plus the podcast code and uploads this to WordPress to create a blog post which goes live every Friday.
The consistency of the shows and the process really helps keep everything on track. We know exactly what we have to do, and when we have to do it.
If you would like to take a closer look at my process, then have a look at my process guide.
This Episode's Sponsor
This episode is sponsored by Agorapulse
Who is Tonia Miller?
Tonia Miller is owner of The Versatile Virtual, a virtual resource business that helps small business owners and entrepreneurs manage their business operations. Most recently Tonia has found a niche facilitating live shows and podcasts for her clients. 
In her free time, Tonia loves hanging out with her family, working out, reading, and enjoying time in her garden and hobby farm.