How to Use Ecamm Live and Restream Together
Confident Live Marketing Podcast
Episode 103
Episode Theme: Tech & Gear
April 9, 2021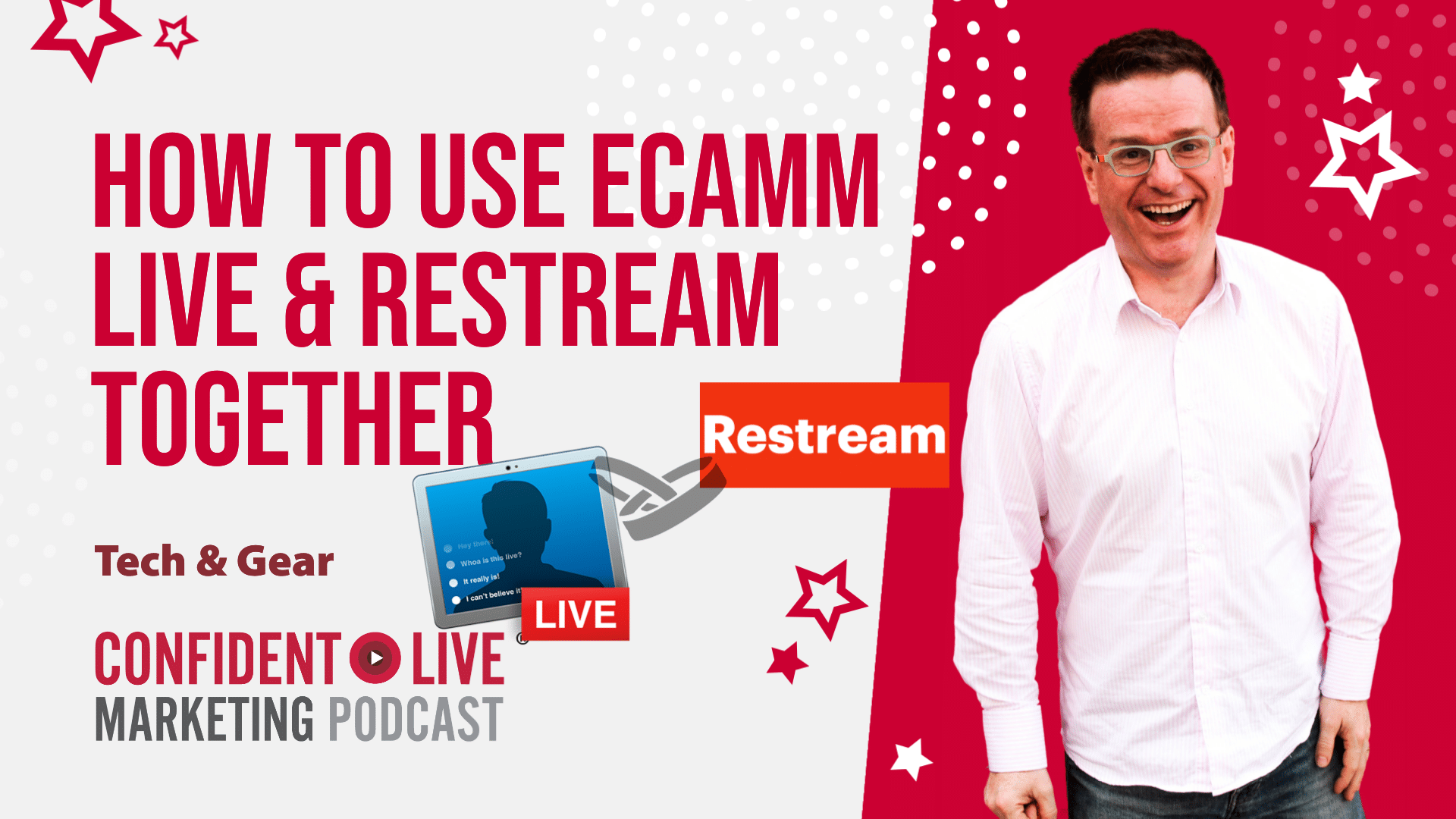 There are so many live video streaming tools out there, and so many live video platforms. How do you choose?
Ecamm Live and Restream together are both amazing apps in their own right. But did you know they combine amazingly well together? In this episode, I'll show you how to use Ecamm Live with Restream - so you can schedule, multistream, manage comments from all your different destinations, and do so much more. We'll also look at OBS Studio and Restream Studio.
Can You Use Restream & Ecamm Live to Schedule Your Live Show?
Listen at [07:30]
Up until around a year ago, this was not possible until Restream introduced the events feature.
However, you can now schedule your live broadcast to YouTube, Facebook, and LinkedIn.
This is really important as it allows you to promote these in advance, via email and social and messenger bots. Which as we know is vital to increasing the audience for your live events and shows in general. When you create the event in Restream, you're given the scheduled live links so you can share them out.
Plus using the two together allows you to see the comments across all the different channels.
If you are looking for a free tool, and if you are a PC user then OBS Studio might be a great tool for you because it's free.
It also works on almost all platforms including Macs, PCs and even Linux as well. So from that point of view it's great.
It also has great flexibility and power. You can do amazing things like crop images, rotating frames and that sort of thing. And if you want to get really geeky and look into the bit rates, frame rates and the resolution then OBS is going to be great for you.
However, the downside is that it's a nightmare to bring a guest onto your live show with OBS. You can use tools like Skype or Zoom, but you have to jump through some hoops to make it work. Do check out episode 109 when I was joined by Chad Illa-Petersen to talk about Top OBS Studio Tips for Awesome Live Streams. He introduced us to a tool called OBS Ninja.
It's also difficult to see the comments, or show them on screen. It's not something that is built into the OBS studio. In fact, it does no real social media interaction at all. So you have to get that from Facebook or YouTube and then put it into the OBS Studio, or use Restream instead.
So it's great if you want that customizability, but you have to be willing to jump through some hoops.
This is why I use Ecamm Live. It combines all the amazing features and allows you to schedule and create a really professional-looking broadcast. However, it only works on Mac, so you won't be able to use it if you have a different operating system.
But, if you do use a Mac, let's look at how you can use Restream and Ecamm Live together to create a really slick broadcast.
How To Use Ecamm & Restream Together...
Listen at [27:05]
You can use Restream Studio, on its own. It's something I would definitely recommend for beginners. However, it's when you combine Ecamm Live and Restream together that the magic starts to happen!
To get started, you need to set up an account, so go to iag.me/restream and you can set up a free account. You'll have a watermark and a little bit of text at the end on a free account. If you have a paid plan there are no restrictions, and you get a special discount with my link.
To set up a live stream firstly you need to go to the events dashboard and create an event, where you can schedule a live stream (or a pre-recorded video).
You can add a title, and a description for the video and then schedule the video in. With Facebook you can schedule anywhere between ten minutes, and one week in advance. YouTube is a little more flexible. I usually schedule a week in advance.
However, things get really cool when you use Ecamm Live alongside Restream. You can still select the destination that you want to go live to, but in this instance, you can select Restream and go live via an event, which will give you a countdown until you go live.
The other cool thing is that you can see all the comments from different channels appearing in Ecamm Live. This makes them easier to manage and respond to, plus you can highlight them and display them on the stream. When you respond, it broadcasts the chat to all the different channel streams, which is amazing.
So that's why I love the combination of Restream and Ecamm Live, I think it's a real marriage made in heaven.
Let me know if you agree!
Resources
Please Subscribe!
Don't miss an episode! You can subscribe on Apple podcasts here - or on other podcast players.
The Confident Live Marketing Show
The Confident Live Marketing Show is a weekly live video show and podcast. It's aimed at established entrepreneurs who want to level up their impact, authority and profits through the power of live video, webinars and podcasts. We'll focus on knocking down the 3 main barriers these entrepreneurs face when creating live content - camera confidence/mindset, tech/gear and content marketing.
It's hosted by Ian Anderson Gray. He is the founder of the Confident Live Marketing Academy and is the host of the Confident Live Marketing Podcast. He helps entrepreneurs to level up their impact, authority and profits by using live video confidently. He's founder of Seriously Social - a blog focused on live video and social media tools. He's an international speaker, trainer, teacher and consultant. He has a passion for making the techno-babble of live video and social media marketing easy to understand. As well as being a geek, husband, and dad to two kids, Ian is also a professional singer and lives near Manchester in the UK.