How to Use Instagram Video to Drive More Sales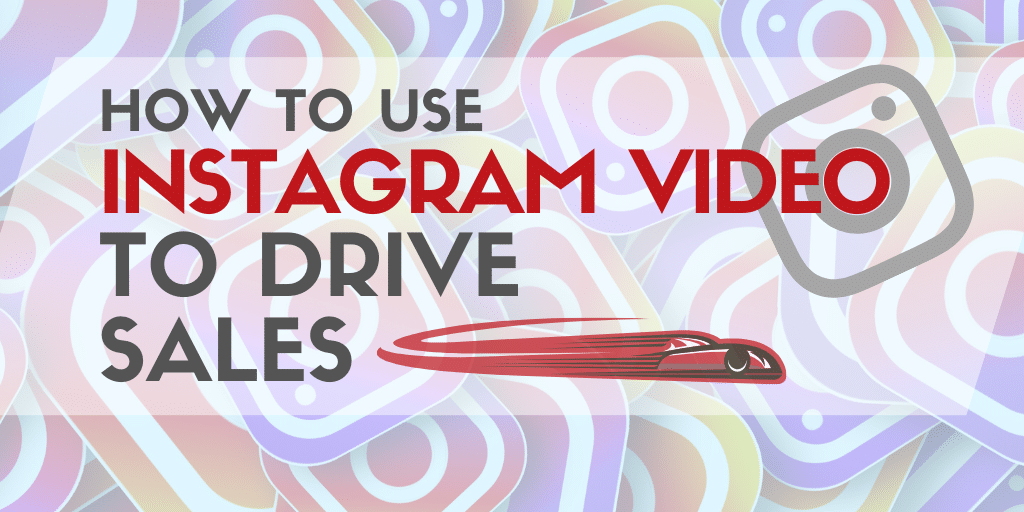 A Seriously Social Community Article by Mitt Ray
I'm really excited to be including another article by the fabulous Mitt Ray. This one is all about using Instagram video to drive sales - both pre-recorded and Instagram Live. Are you using Instagram video?
Ian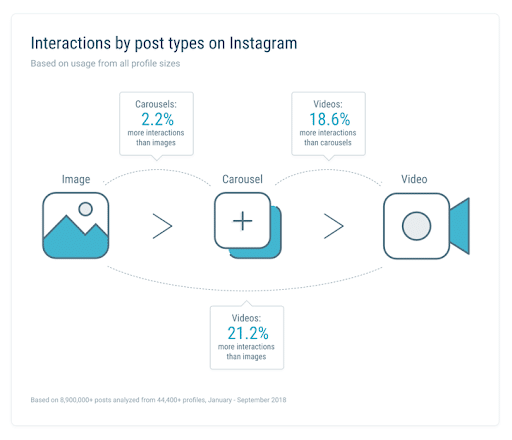 People publish fewer videos than photos on the network. Therefore, creating videos will not only boost your engagement and sales but will also help you stand out.
Below are my top tips on how to use Instagram videos to drive more sales...
Nurture with Engaging Video Content
In order to sell on Instagram, you will need to create sales videos to promote your product. But before you do any of that you need to nurture your audience and build a relationship with them.
You can do this by publishing engaging and/or entertaining content as it will get your audience to like and trust you. As a result, they will be more likely to buy your products in the future.
This will also reduce the number of unfollows you get. When you publish too many promotional posts, people may unfollow you as they don't like being sold to.
However, if you combine publishing quality informational videos with sales videos people will be okay with seeing the occasional promotional post.
So, publish more quality non-promotional videos if you want to keep your followers. I recommend people to publish 1 promotional video for every 3 to 4 non-promotional videos.
An example of a company that understands the importance of publishing non-promotional posts is BuzzfeedTasty.
If you go through their Instagram account, you will notice that most of their videos are like the above one where they only share recipes. They don't try to sell anything.
This helps them increase their engagement and follower levels. They combine this with the occasional promotional post to get sales.
Promote Products in Educational Videos
Another technique you can use to get sales is to promote your products in non-promotional videos. This is where you create video tutorials that provide answers to your Instagram followers' questions and problems while using your product.
This way you are educating your followers and selling your product at the same time.
To start, put yourself in the minds of your target audience and make a list of their pain points and their most pressing questions. Then brainstorm ways in which your product can solve those problems. And finally, create educational videos that will solve these problems.
A company that gets this right is another food brand called Califia Farms.
They share videos like the above one on their Instagram account. Their videos are mostly recipes that show you how to prepare healthy and dairy-free meals, as they are a company that sells dairy-free milk products. Their audience consists of people who avoid dairy for health or ethical reasons, so they will find videos like this useful.
These videos can help them sell more products as they incorporate their products into the recipes as one of the main ingredients. But they do it in a very subtle manner.
Another thing you might have noticed from the above videos from both Califia Farms and Buzzfeed tasty is that there is no speech in their videos. All the communication is done through the recipes and the overlay text.
They do this because 83% of video viewers watch videos with the sound turned off, so, if you add subtitles more people will watch them and understand what is going on.
You can easily add subtitles to your Instagram videos by using a tool like the Screencast-O-Matic Video Editor.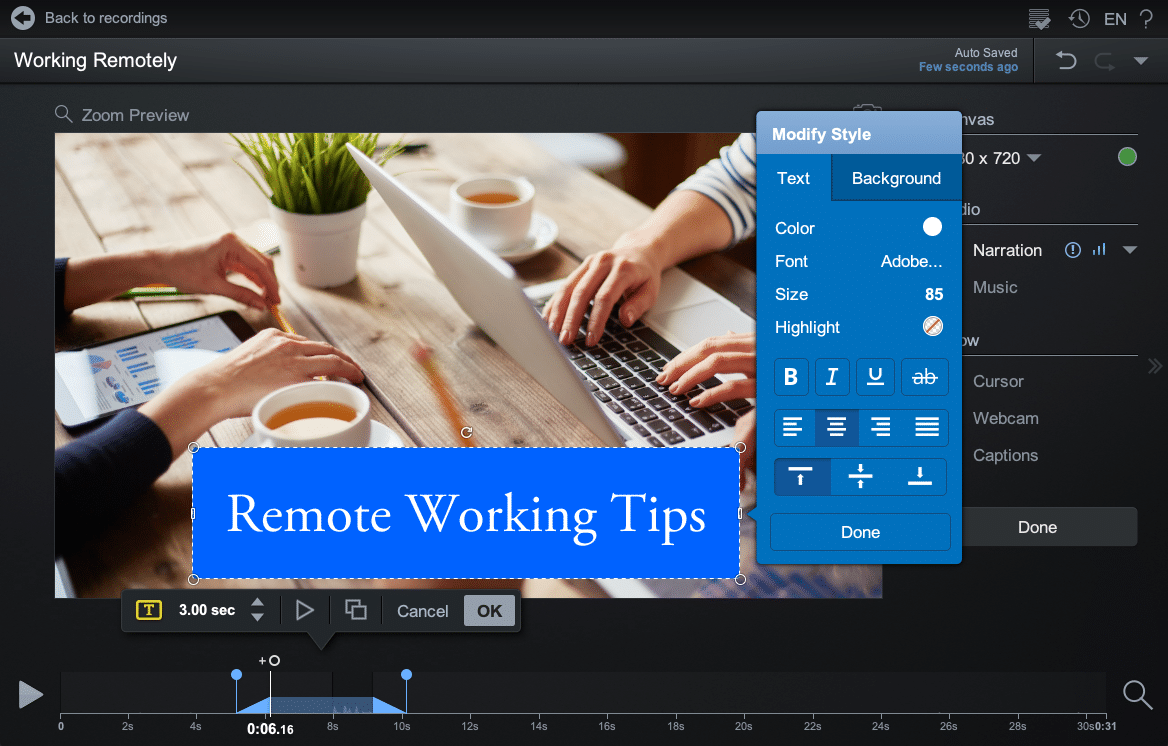 You can record your video with a video camera or your phone and upload it to their editor and add your overlay text. The font can be of any size and color you like. You can also add other elements that get the text to stand out.
After you create educational videos and drive up engagement and trust, you can create sales videos that only focus on getting people to buy your product. These types of videos will drive less engagement but will generate more revenue on Instagram.
These videos should be focused on one thing, which is to get people to buy your product. So, make the product the focal point of the video and quickly show people how it can be used.
And don't just do this in the video, but in the caption as well. Here you can list all the benefits of using the product and then follow it with a few hashtags.
When you publish this video make sure you change the URL in your Instagram bio to the product landing page and tell people to click the link in the bio to find the product.
A good example of an Instagram sales video is this one from Food52.
You will notice that the entire focus of the video is to show you what you can do with the silicone spoon they are promoting in the video. There's nothing else to distract you. They also added the 'link in bio' call to action in the caption.
If you want to avoid the 'link in bio' step and make it easier for people to buy your products, I recommend that you tag products in your videos. Instagram has a shoppable post option that lets you tag products in both photos and videos.
When you tag products in videos like in this post from que Bottle, the bag icon will appear on the bottom left corner of the video and people can click on it.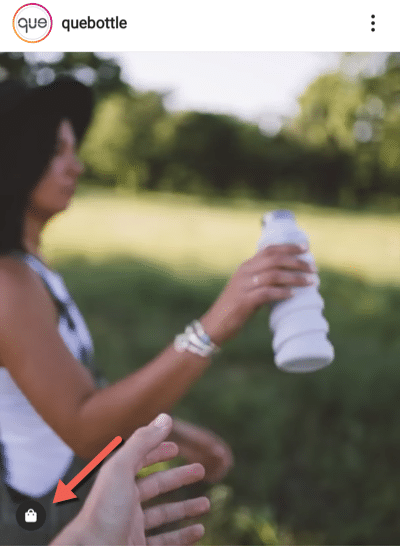 Then all the products tagged in the video will pop up on the post and people can click on them, visit your website directly and purchase them.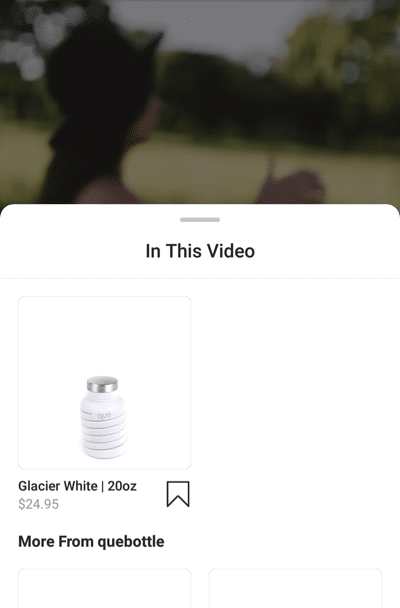 This should increase click-through rates as people can visit your website directly instead of in a roundabout fashion. que Bottle was able to do this as their site is set up with Shopify.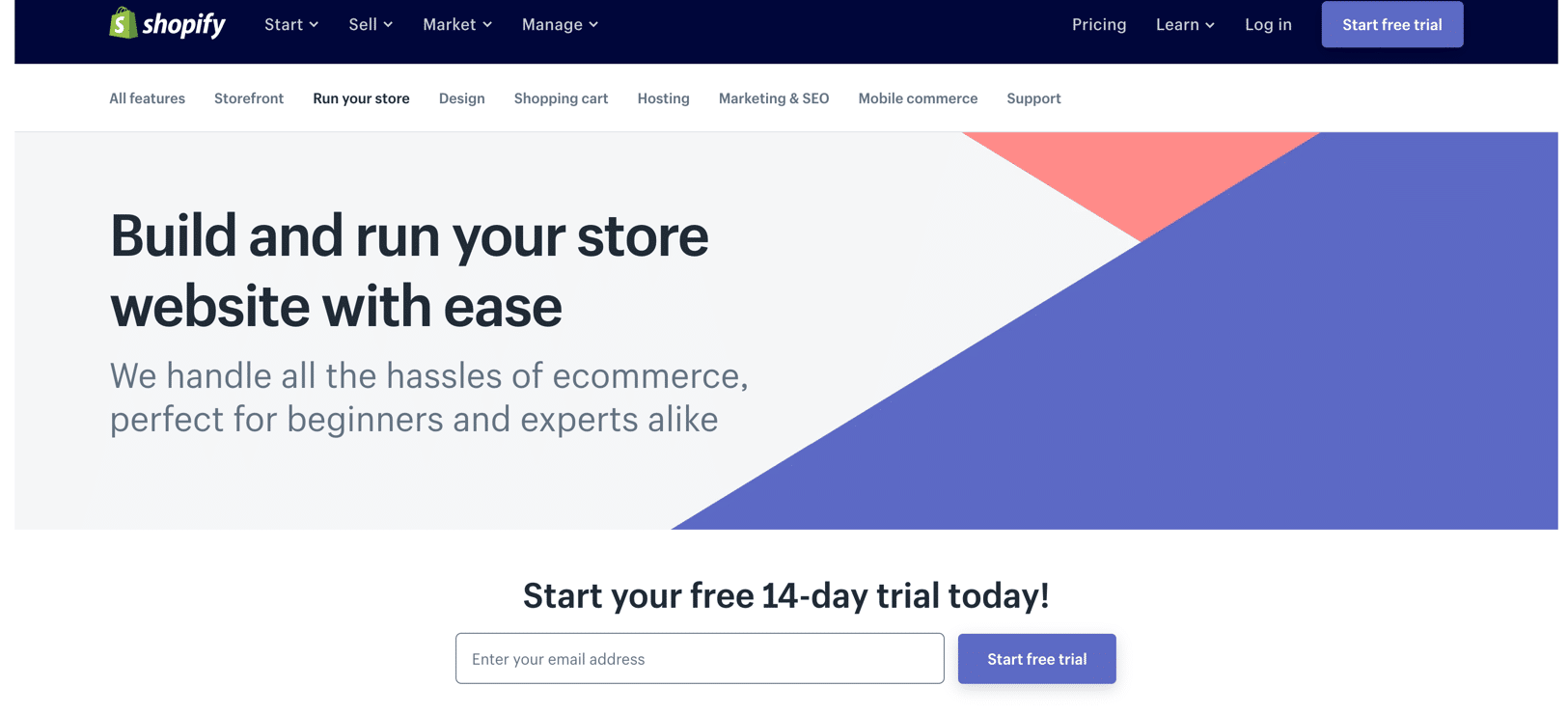 Shopify offers an integration with Instagram that lets you tag products from your store in your post.
If you too want to take advantage of this, make sure you set up your store with Shopify or a builder that offers this integration.
This will also be less work for you as you don't have to constantly change the bio URL and switch back again. Instead, you can use a tool like split.link to create an Instagram landing page that makes it easy for people to find all the important links to your company.
You can also use video ads to drive more sales. Videos can be more direct as Instagram lets you include a link in them.
Here's a good example of a video ad from Domestika. The entire focus of the video is to drive more sales for their courses.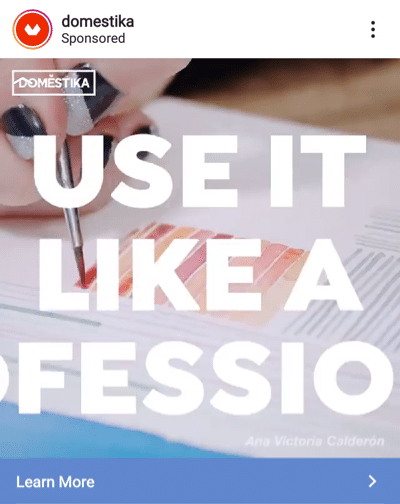 There's also a colorful call to action with a link that can help drive traffic and sales.
If you want to take your Instagram video marketing to the next level you should give Instagram live videos a try as people spend 3X more time watching a live video over a video that isn't.
People like watching live videos because it is happening in real-time and they get to participate in real-time. It's the same reason why people love attending webinars.
Try to go live a few times a week. You can have a different theme for each live video you do. In some, you can share educational content that nurtures your followers, while in others you can share promotional content where you show your products and explain the benefits of using them.
Another paid technique you can use to drive more sales is influencer marketing. It can actually work out cheaper than ads as you get a return of $6.50 on average for every $1 of spend.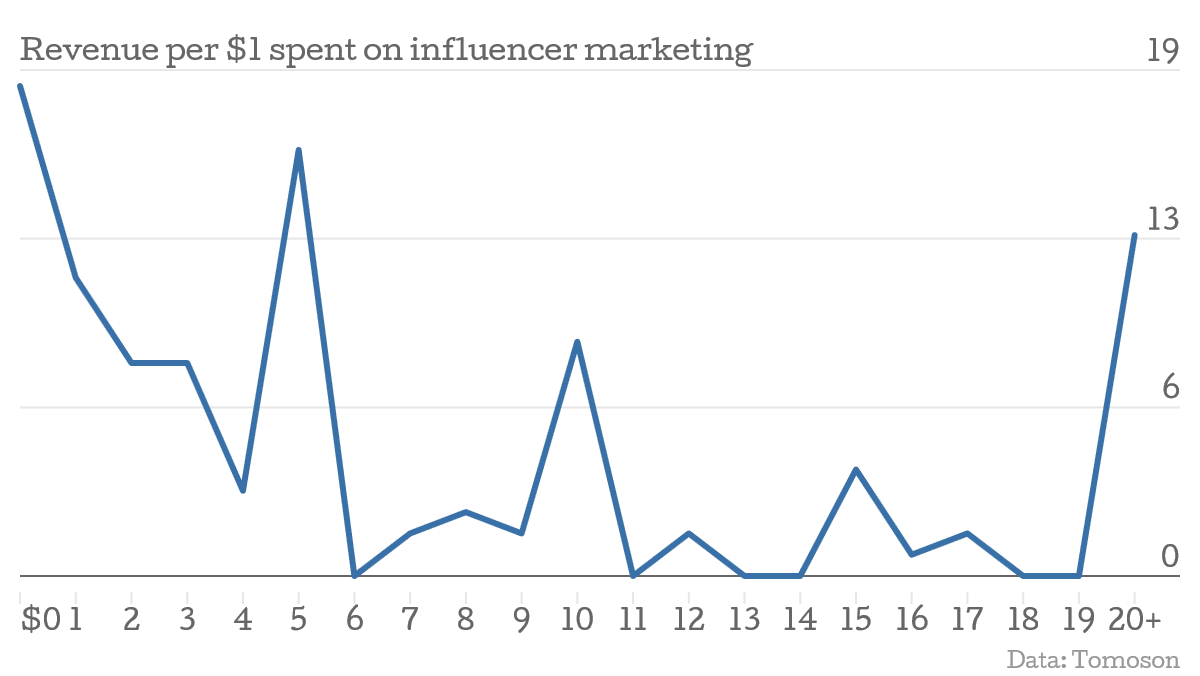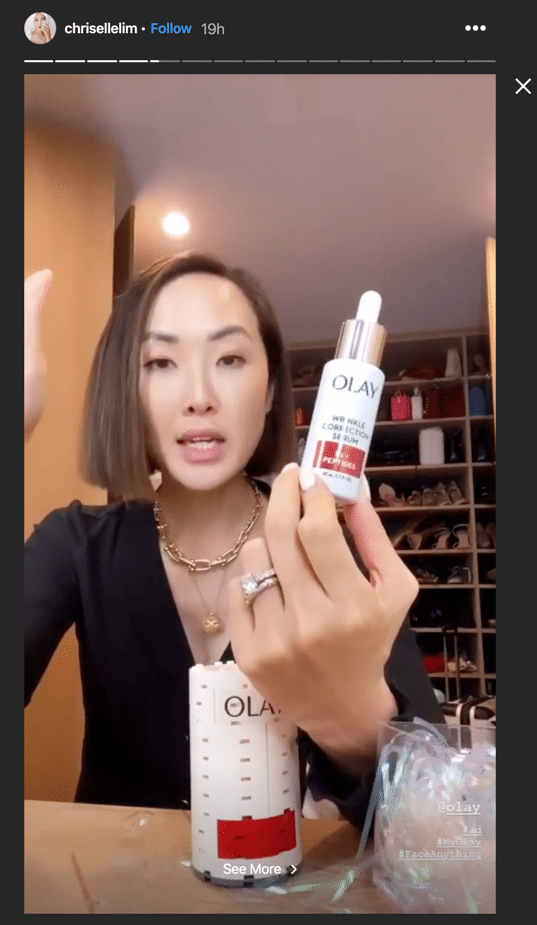 Here she unboxes a product from Olay and tells you a bit about it. As this is a story post and Chriselle has more than 10,000 followers, she's able to share a link to the product in the story. This should help Olay get more sales.
Conclusion
These are the different ways in which you can use Instagram video to drive more sales. Begin implementing them today to improve your ROI from your Instagram marketing efforts.