How to Broadcast to LinkedIn Live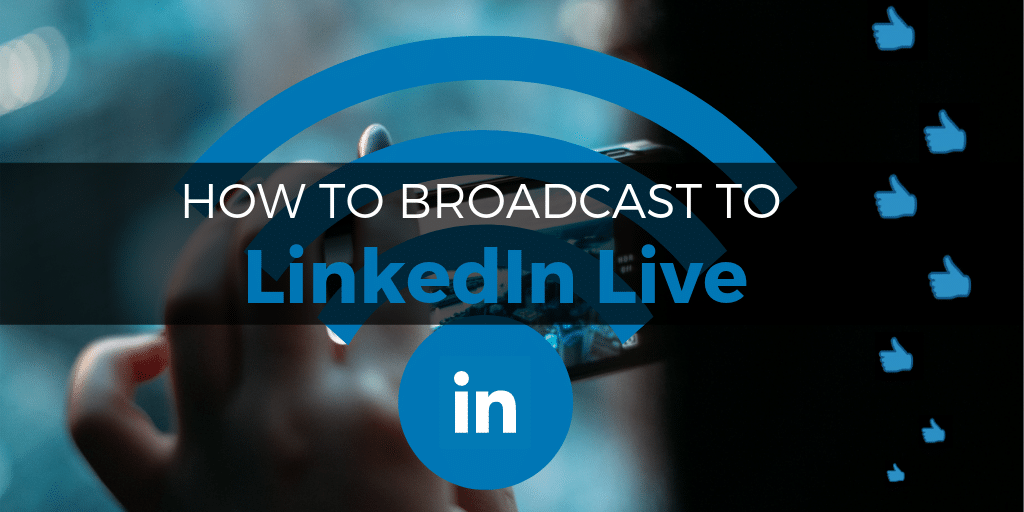 Want to Live Stream to your audience on LinkedIn?
...To your Company Page or Profile?
...Using your Mac or PC?
Following on from Facebook, YouTube, Instagram and Twitter, on February 22, 2019, LinkedIn launched its own live video service - LinkedIn Live.
LinkedIn has taken its time. Facebook rolled out Facebook Live to a limited number of celebrities in August 2015 before expanding it to US iPhone users in January 2016. Since I was an Android user at the time and live in the UK, I had to wait a while longer, and in May 2016 I was prompted to write an article on How to Broadcast from your Computer to Facebook Live. That article has had over 6 million page views since then.
Twitter's answer to Live Video, Periscope was launched in March 2015 and Instagram Live was launched on November 21. 2016. And YouTube has been offering Live Streaming since 2011.
But while we've had to wait, LinkedIn has been silently watching and learning from the mistakes the other providers have made. If you've ever played with Facebook Live, for example, you know how buggy and clunky it is even to this day.
I'm not usually for trying to predict what's going to happen in the social media world. But last year, I did predict that LinkedIn would launch LinkedIn Live in 2019 - in both the ContentCal blog and on Ross Brand's Live Streaming Universe and it did happen!

Initially, when LinkedIn live launched, it was rolled out to a small select group of influencers around the world. I was setting myself up for a long wait.
But, amazingly I was given access to LinkedIn Live shortly after. Saying that I was excited is an understatement.
A few years later, LinkedIn Live is still in beta, but it has rolled out to many more people. This guide is frequently updated and is here to help you get started yourself.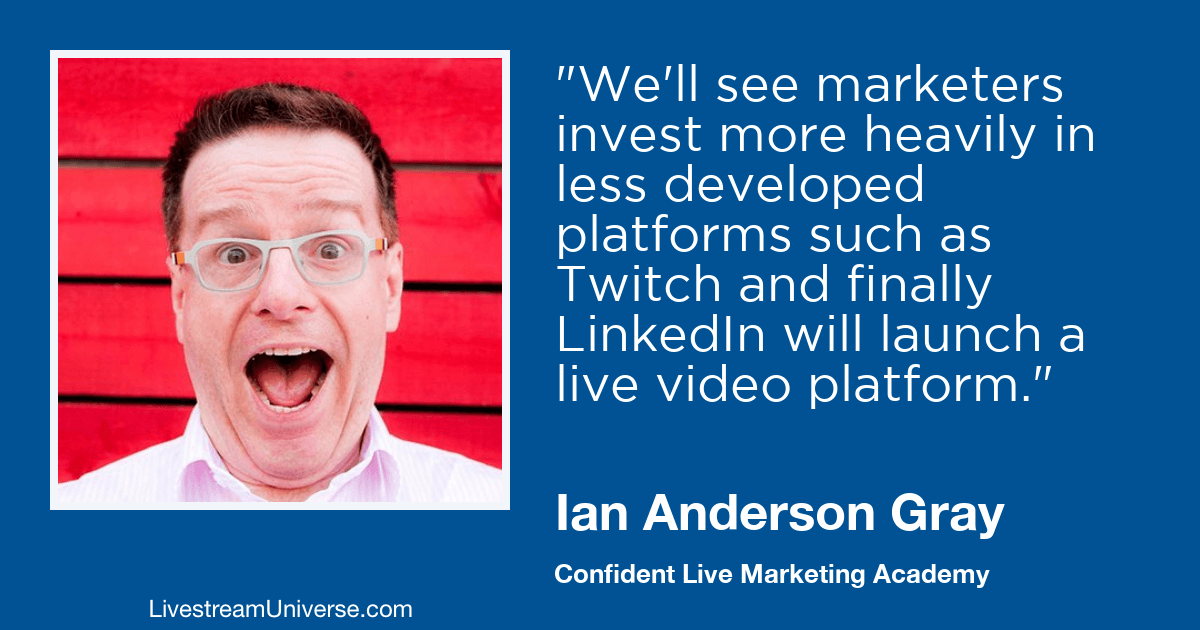 LinkedIn Live Tech Specifications
If you're not interested in the more geeky stuff, please pass on this section. But I still think it's important to understand some of these things. LinkedIn Live does have some limits - you can't stream forever, and you can't stream in 4K yet. And the actual technical specifications will really depend on the tool you are using to stream to LinkedIn with. These are the specifications that LinkedIn state.
Length: 4 Hours (Maximum)
Aspect Ratio: 16:9 only (at the moment you can't do square or portrait videos)
Resolution: 1080p (maximum)
Frame Rate: 30 fps (maximum)
Key Frame: every 2 seconds (60 frames)
Bitrate (video): 6mbps (maximum)
Bitrate (audio): 128kbps and 48khz sample rate
Encoding: H264 video, AAC audio
Protocol: RTMP or RTMPS (secure RTMPS is preferred)
Current LinkedIn Live Limitations
At the moment, there are a few limitations to the LinkedIn Live beta.
#1 It's Invite Only (Not anymore)
LinkedIn is now open to all!
#2 You have to use a 3rd Party Tool
The only way to broadcast to LinkedIn Live is via a 3rd party live streaming tool.  You can't stream from the LinkedIn web or mobile app.
Restream has a free version, but the rest of the tools are not free. Some of the paid apps offer a free trial. LinkedIn now allows you to stream via any tool using RTMP.
Updates
It used to not be possible to schedule your LinkedIn Lives. But now you can. A post will be created once you schedule your LinkedIn Live. The placeholder image will then become the video once you start broadcasting.
It also used to not be possible to stream to LinkedIn Live via RTMP. But there's now a LinkedIn Live Dashboard if you have access.
What's Great about LinkedIn Live
So far, I've been very impressed with the quality and how robust LinkedIn Live is. They've really thought it through, been inspired from other platforms (as well as learning from their mistakes) and I am really excited about it.
#1 You can Interact with your Connections in an Authentic Way
There I go... using the "authenticity" word again. But it is true. LinkedIn is the professional social network, but that doesn't mean we have to be all corporate and boring on LinkedIn. Video and storytelling are already exploding on LinkedIn - but these are all one-way communication formats. Yes, our connections can comment, like and share on our posts - but they can't interact in the same way as they can with a live video. And more importantly - we can respond to those comments live! We can answer their questions and even bring them on to the live video as our guests. That's exciting stuff.
It means we can stop trying to be perfect and interact with our connections in a human way - be vulnerable and authentic. It's actually what people crave.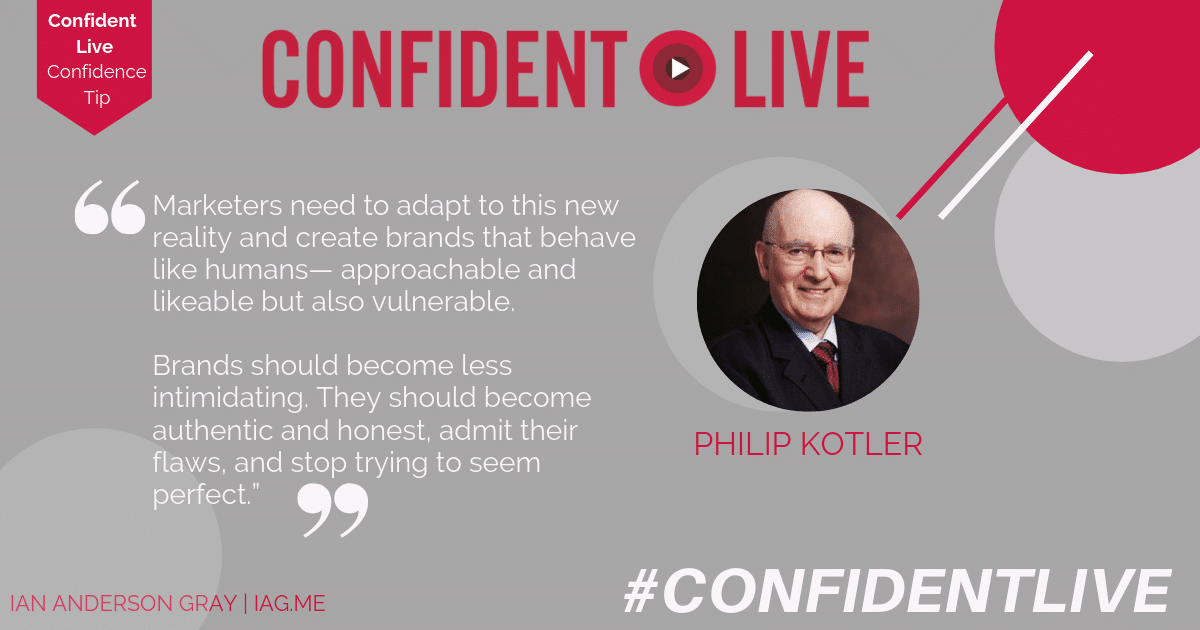 #2 The Video Quality is Really Good
So far I've only tested streaming in 720p (that's not full HD), but the quality of the video was really crisp. Facebook Live's quality is nowhere near as good - much more pixelated with lots of compression going on. It's going to be perfect for more detailed presentations and sharing slides with text.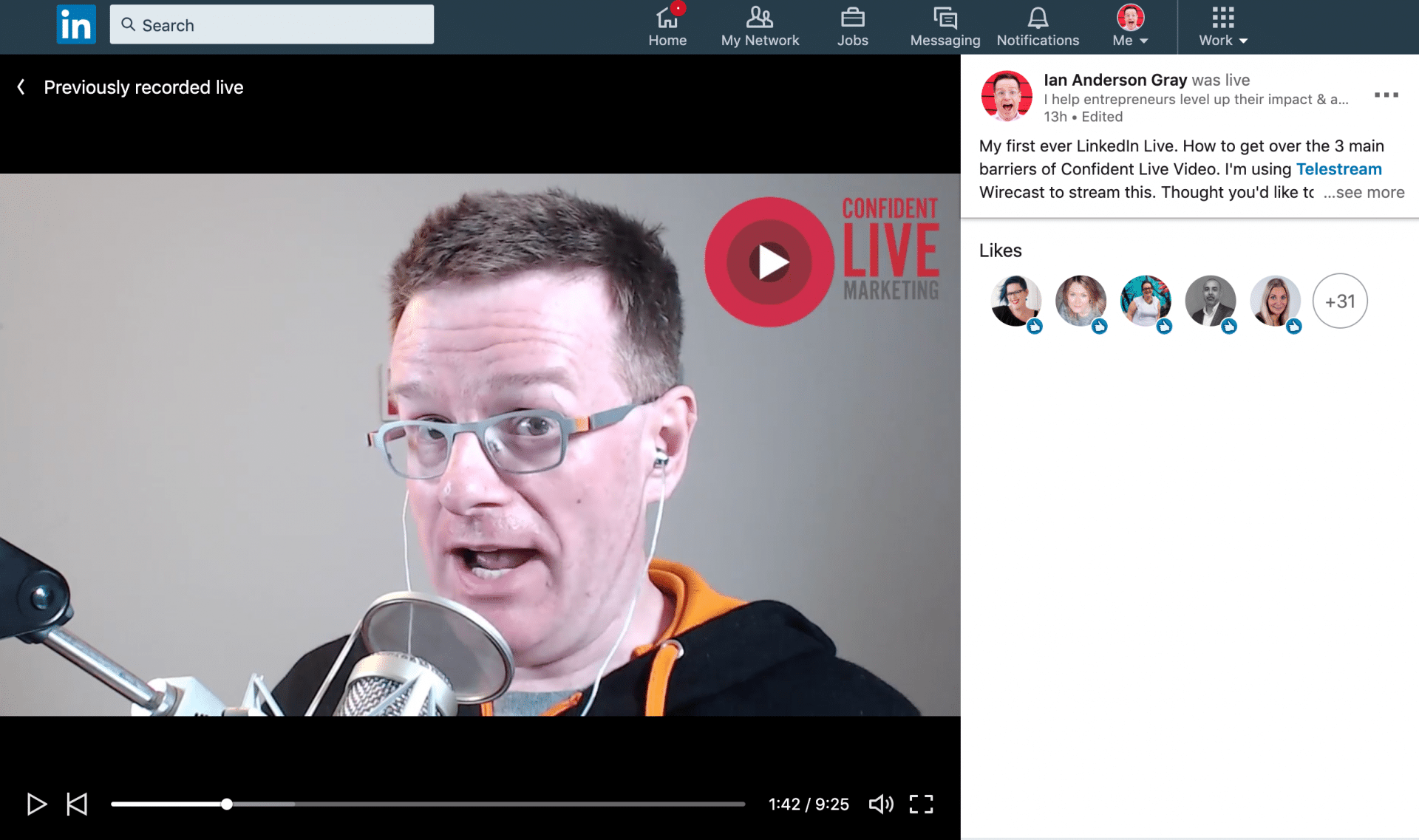 #3 Comments & Reactions Similar to Facebook Live
At the moment, if you want to see the comments and reactions on your LinkedIn Livestreams, you'll need to view them on your phone or computer. Before you go live, go to your LinkedIn profile, then click on "See all activity" under Articles & activity and then finally click on "posts". Around 10 seconds after you go live reload this page and you'll see your LinkedIn Live broadcast at the top. LinkedIn displays how many live viewers you have and shows live comments and reactions.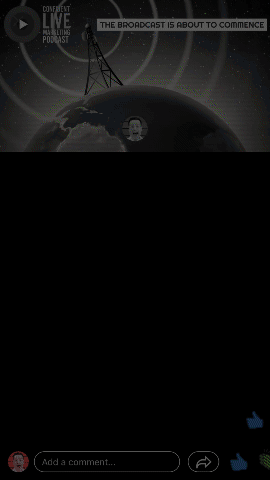 LinkedIn does provide threaded comments - so you can reply to individual comments. After you've finished broadcasting, you can edit your post text (and tag people in if you like).
You can also see how many comments, views of your video and reactions number of reactions.
And that brings on to LinkedIn Live's reactions... They're a bit different to Facebook's.
And that brings on to LinkedIn Live's reactions... They're a bit different to Facebook's.

There are currently 5 reactions:
Like
Celebrate
Love
Insightful
Curious
LinkedIn Live is still new, and the rules may change at any time.
At the moment, LinkedIn does NOT want you to do any of the following:
No selling of services or overly promotional material
No short streams. Anything less than 10-15 minutes should be reserved for native video
No full-screen logos/graphics (a small logo in the corner is okay)
No long "starting soon" screens that keep your audience waiting - 1-2 minutes max
No unprofessional content. All content is publicly visible.
No pre-recorded streams. All streams should be live and in real-time
No talking about using LinkedIn on LinkedIn!
How to Apply for LinkedIn Live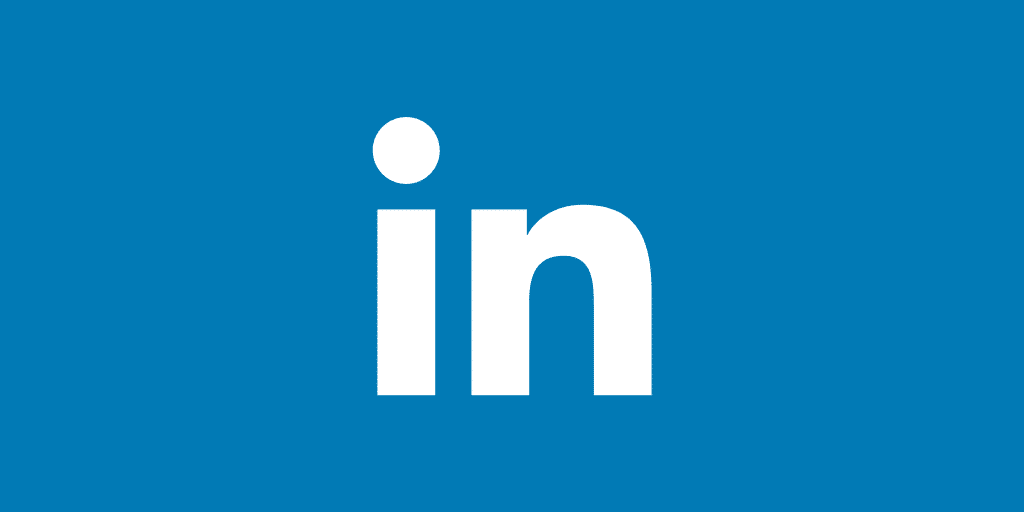 When Facebook Live was launched, Facebook initially rolled it out to a small group of celebrities during a beta period. Eventually, they expanded it further later in the same year.
LinkedIn is doing the same. In late February LinkedIn Live was rolled out to a select group of influencers - mainly in the US. The rest of us had to wait. Slowly, LinkedIn is expanding the rollout. For now, the only way to get on the waiting list is to apply.
Thankfully, there is an application form that is publicly available. In LinkedIn's words...
To request to become a live video broadcaster, please fill out the application. We're currently piloting live video streaming with a few broadcasters, so the feature isn't currently available to all members.
Before you do apply though, do remember that you can only live stream to LinkedIn via a 3rd party tool - and these are not free.
You'll also need to choose whether you want to broadcast to your personal profile or one of your company pages.
You can find the application form for LinkedIn Live here.
Finally, LinkedIn state that submission does not guarantee acceptance. If your application is accepted, they'll contact you with more information.
How to Broadcast to LinkedIn Live
Once you've been accepted into the LinkedIn Live beta, you're now ready to broadcast.
You'll need to choose one of five tools to stream to LinkedIn Live. One is a web app, StreamYard, which runs through your browser. Three are desktop tools - Wirecast, Socialive and Wowza. SwitcherStudio is a mobile live video platform for iOS devices. And Restream is a multistreaming service that runs in your browser and allows you to stream to multiple services at the same time. Recently Restream has launched their Studio feature which allows you to broadcast directly from your browser with guests, comments and more.
I'll cover how to connect and broadcast to LinkedIn Live from some of these platforms.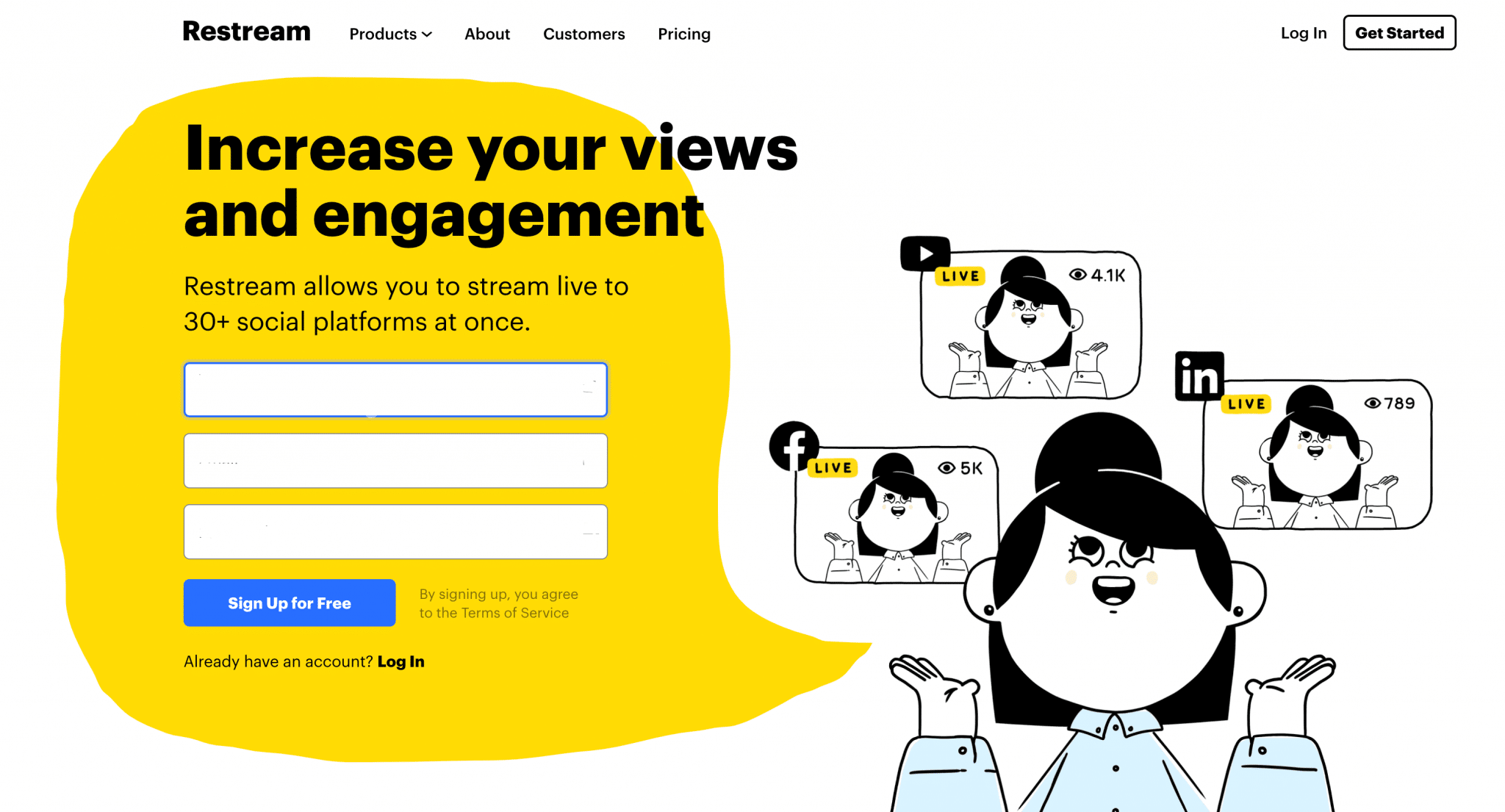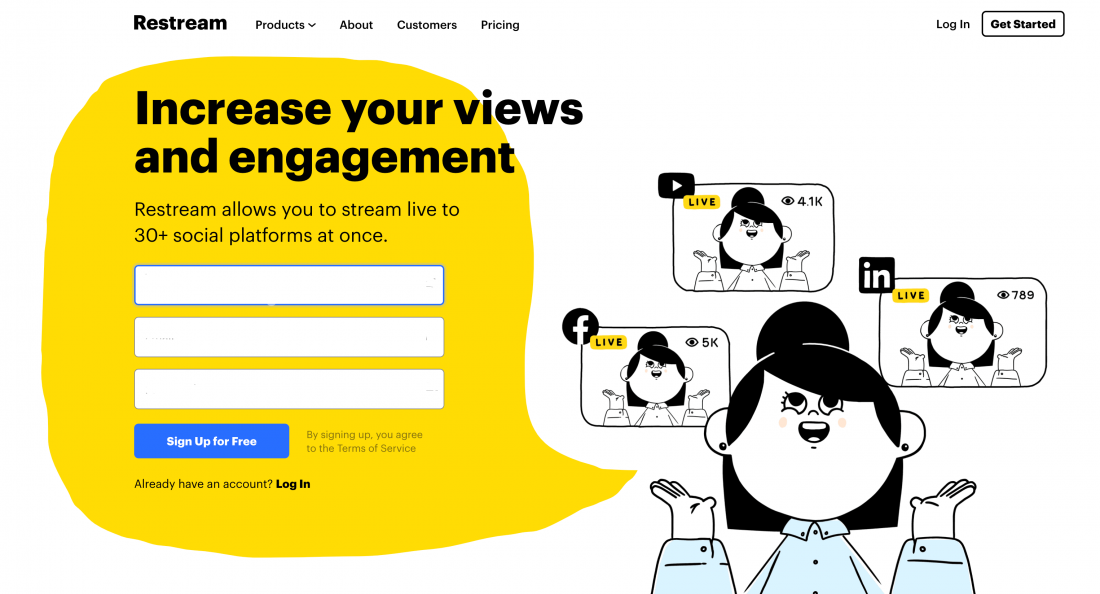 I've used Restream off and on for years, but recently I've decided to add Restream to my Live Video Studio. Traditionally Restream is a multicasting (or multistreaming) service. It allows you to stream to over 30 destinations all at the same time. So, for example, by streaming to Restream, you can broadcast to Facebook Live AND YouTube Live at the same time. Or even Facebook, Twitch, YouTube, Periscope, VK and LinkedIn Live all at the same time!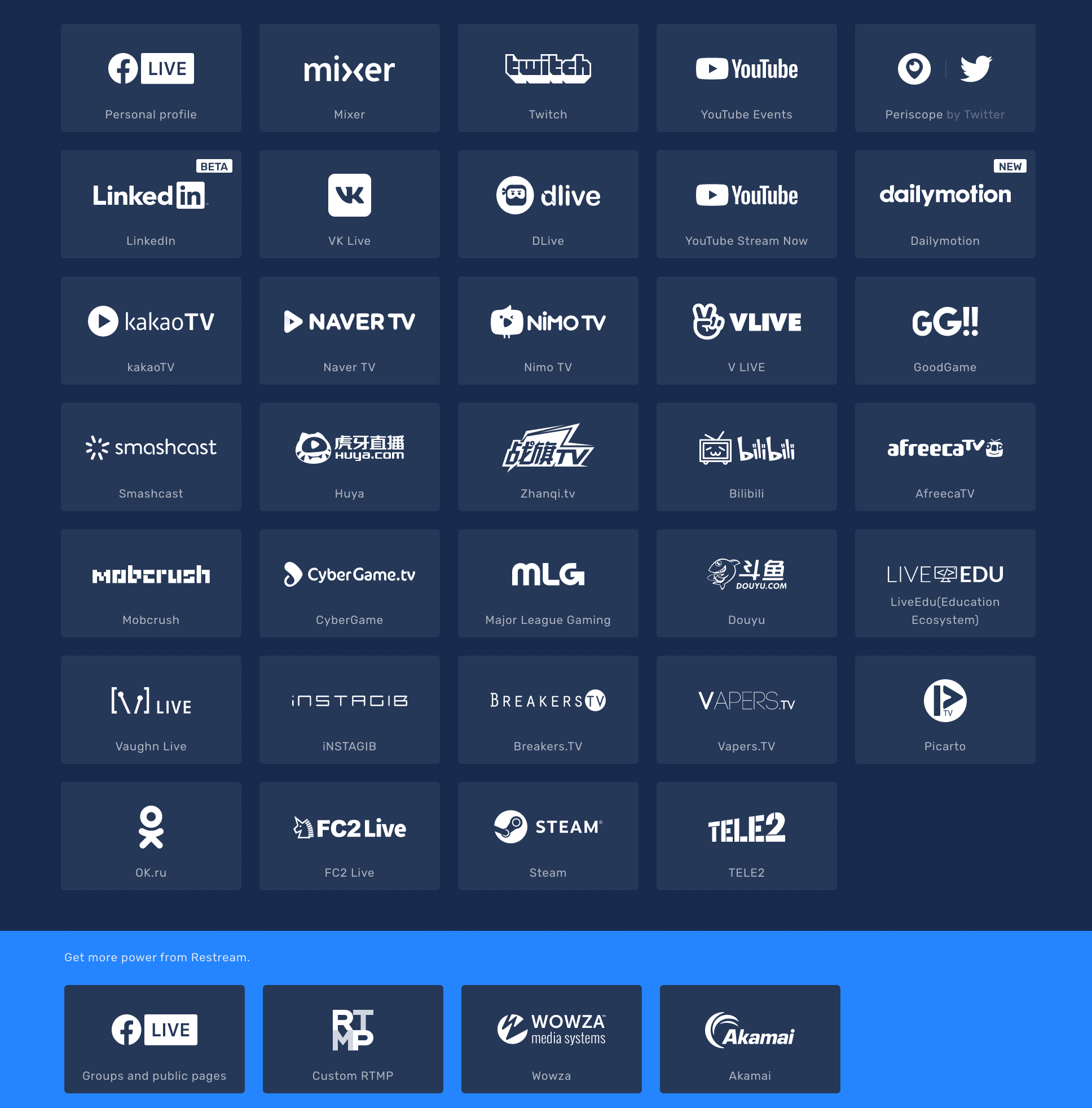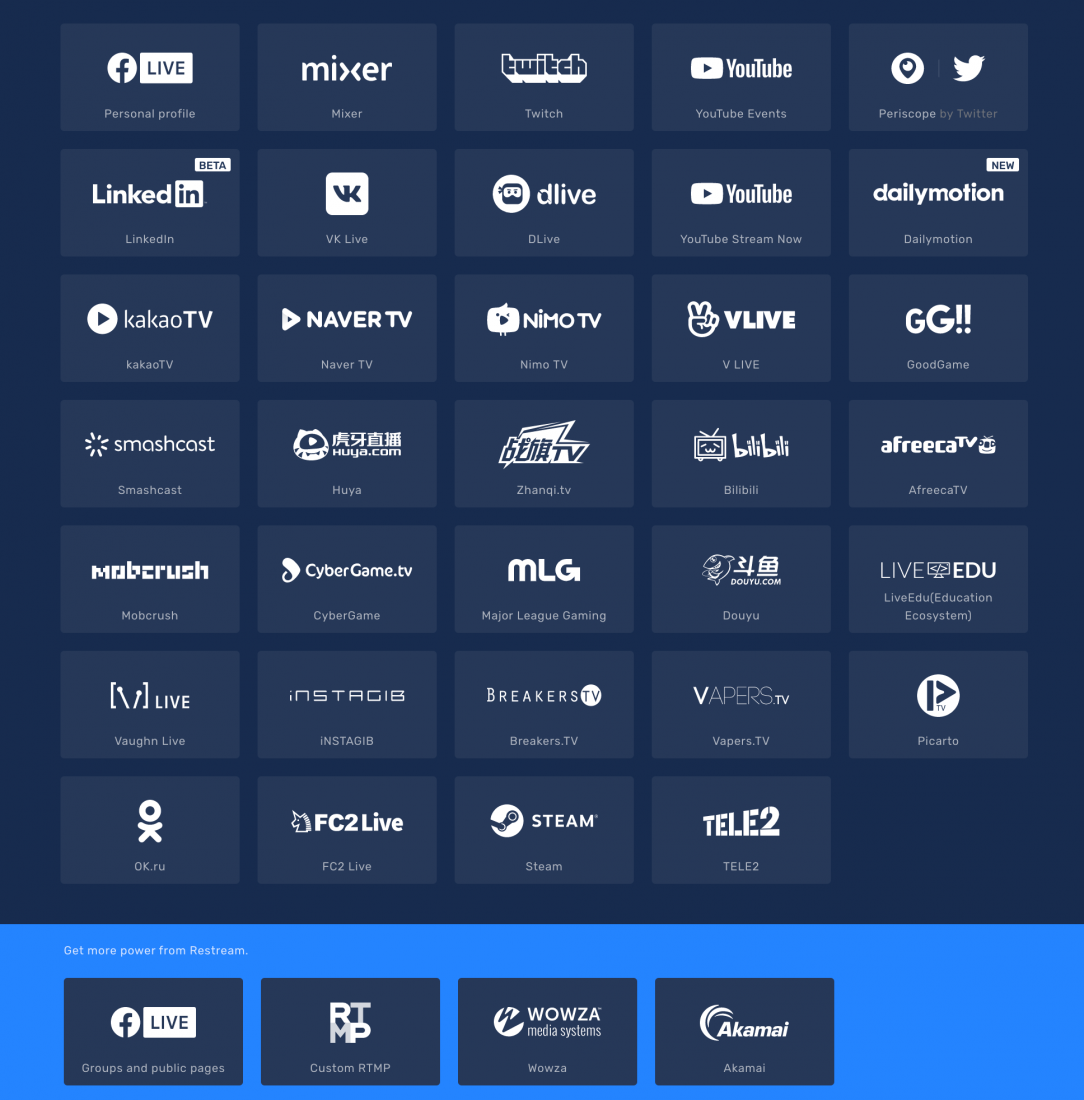 With the Restream multicasting service, you can broadcast from a live video streaming tool to Restream, and Restream will take care of your multicasting for you.
But Restream has now launched Restream Studio which allows you to live stream from your browser. You can multicast to over 30 destinations, view and highlight comments, bring in guests and add graphics on the screen.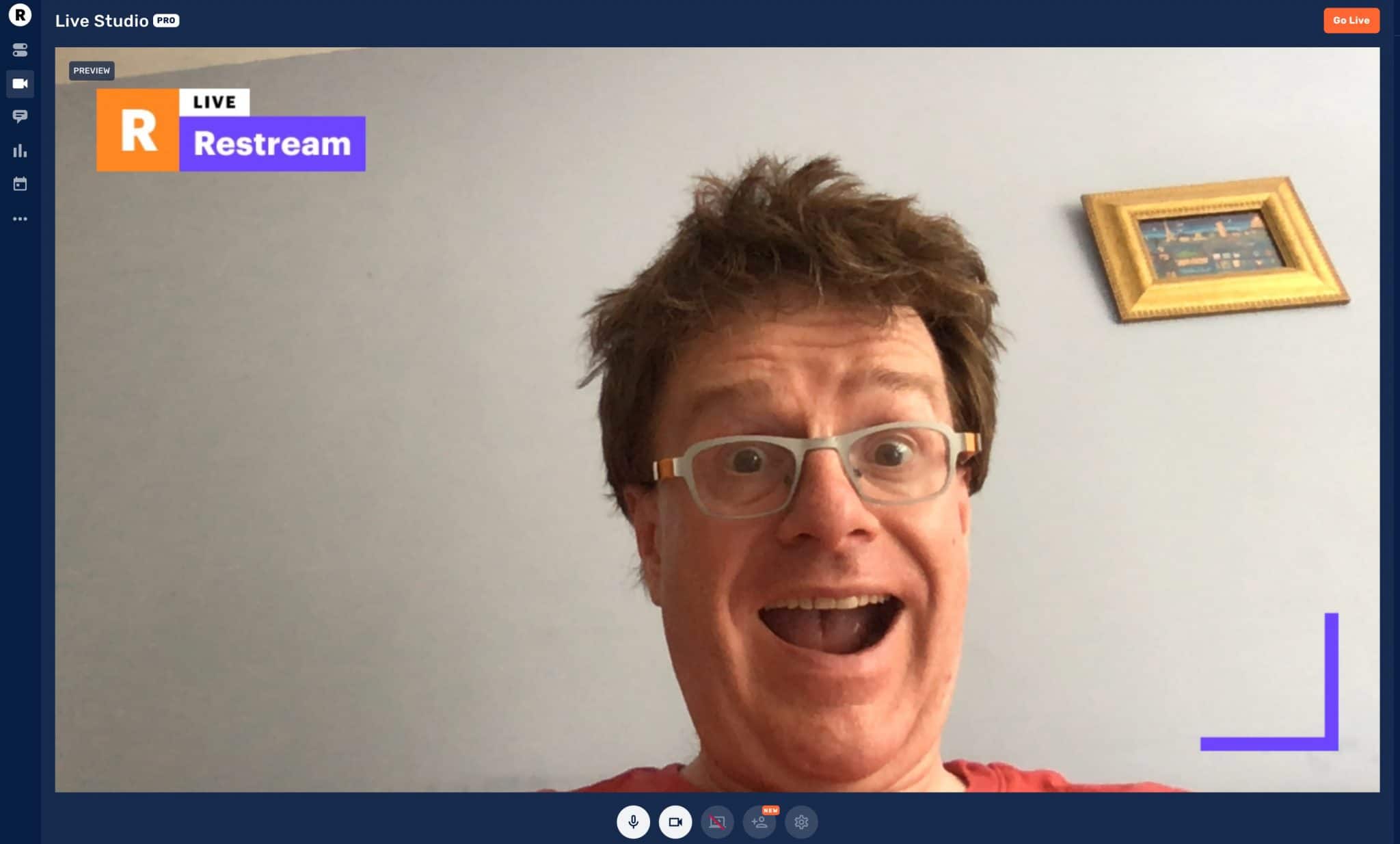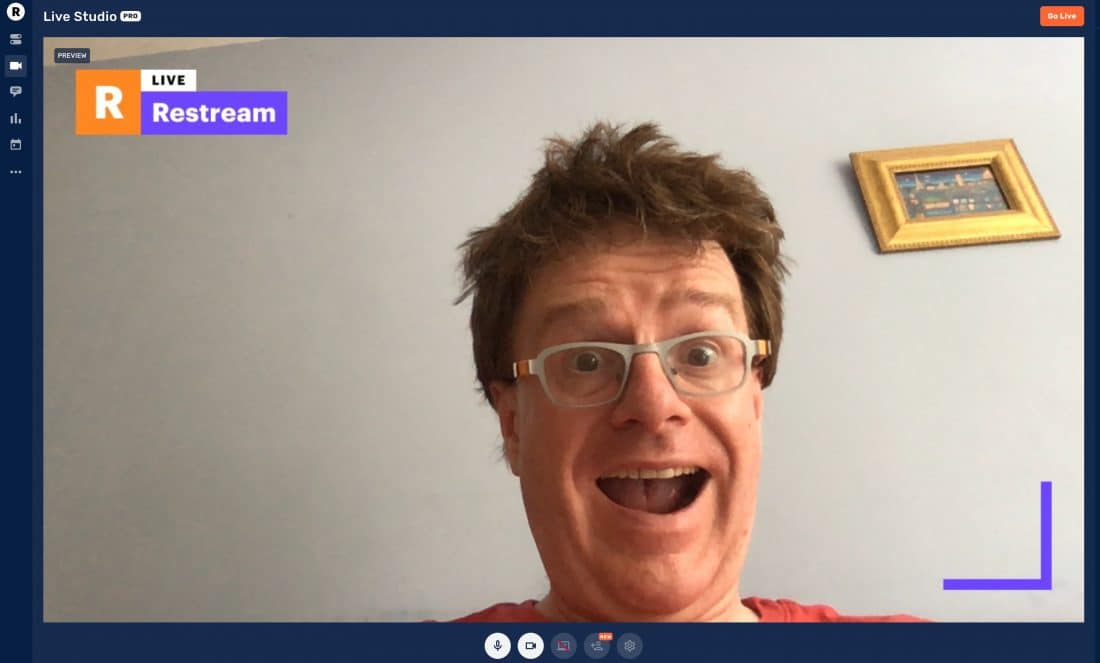 To start using LinkedIn, you'll need to add it as a destination within LinkedIn. Assuming you have access to LinkedIn Live, it's really easy. Just click on "add destination" and then select LinkedIn Live:


Once you've done that, you then need to choose between streaming from another tool to Restream, or stream directly from Restream Studio.
The advantage of using another tool such as Ecamm Live is that you have more control over the look and feel, and can create really professional broadcasts. To do this, enter the stream url and stream key into your tool. Or if there is direct integration (such as in Ecamm Live), you can just connect to Restream.
Once Restream starts receiving the stream, you can then toggle on LinkedIn Live.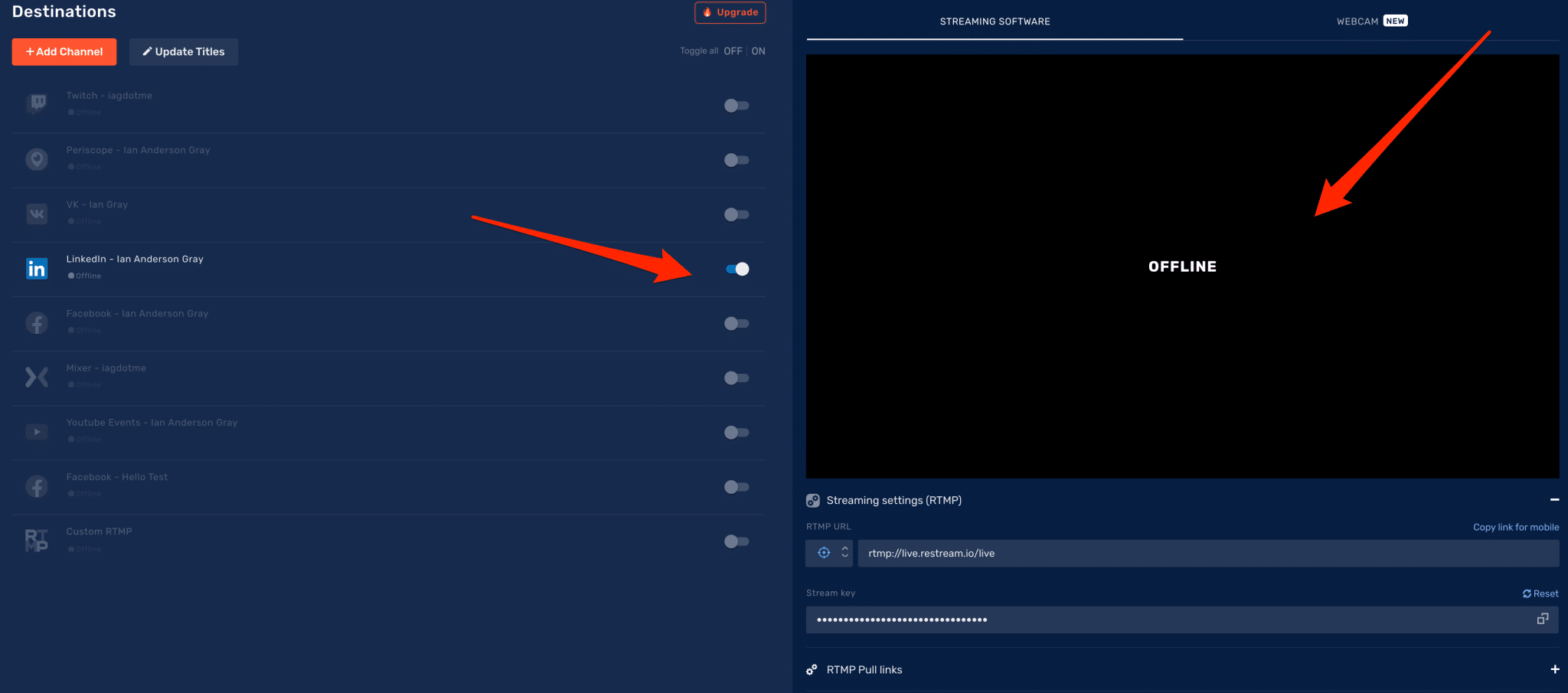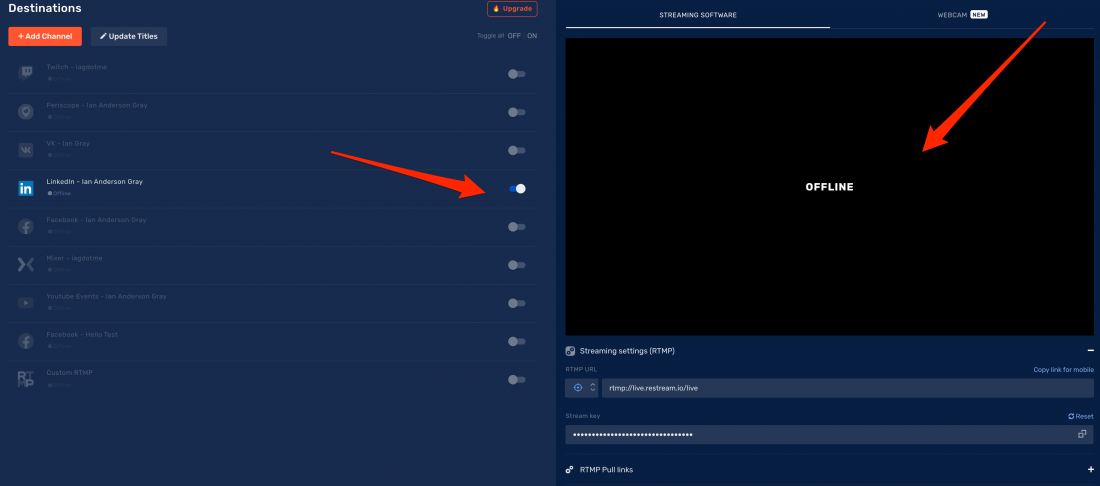 If you are using the studio, just set up your webcam and microphone and any overlays you want. Then in set up, select LinkedIn Live and enter the title and description: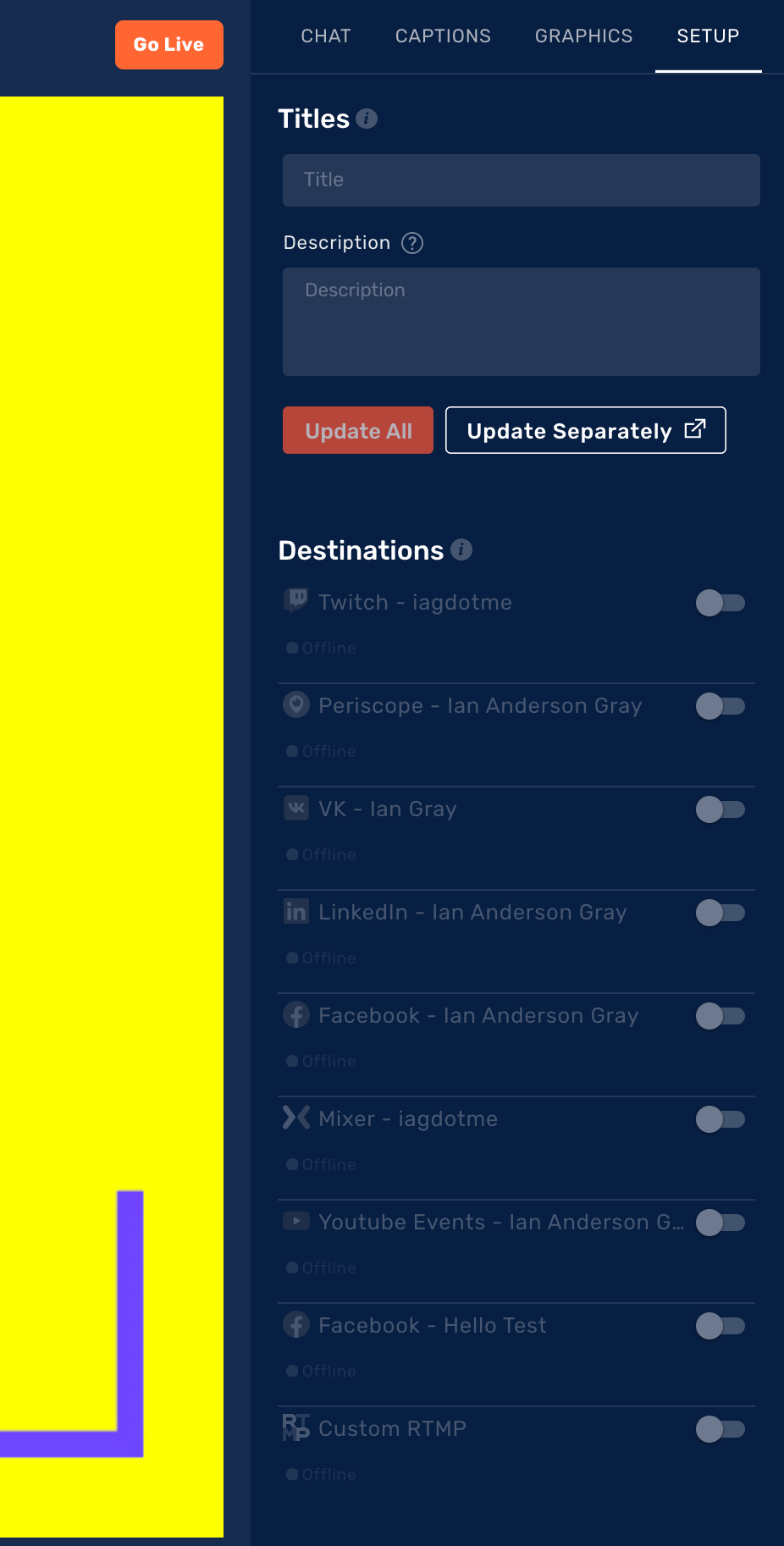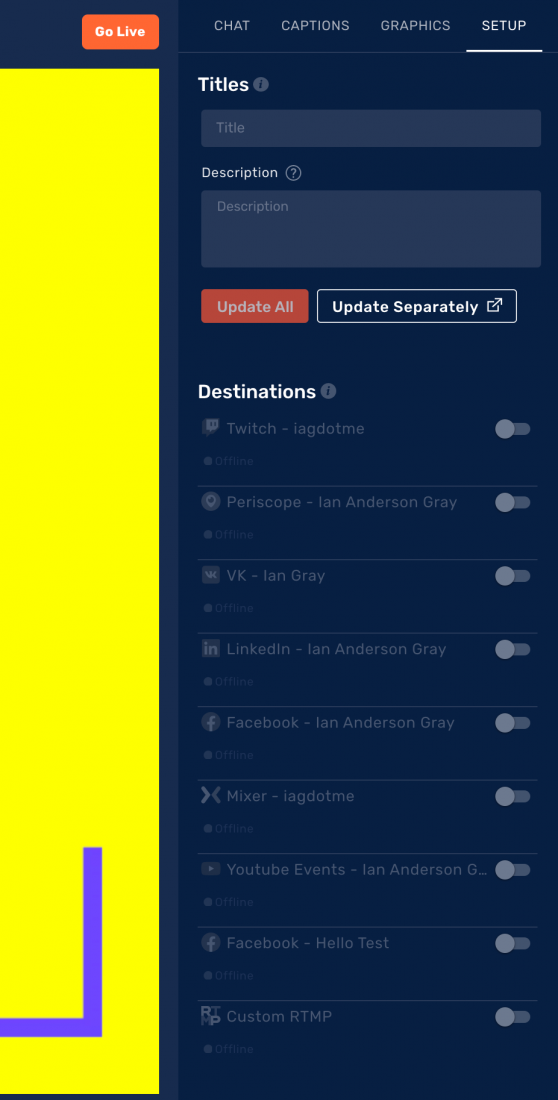 Restream is one of the only tools that allows you to view and highlight LinkedIn comments which is great. Do be aware, Restream adds their own branding on the free version and on the cheaper paid versions. You'll need to pay for the more expensive plans to remove the "Powered by Restream" words.
But Restream is an amazing multicasting suite that integrates fully with LinkedIn Live.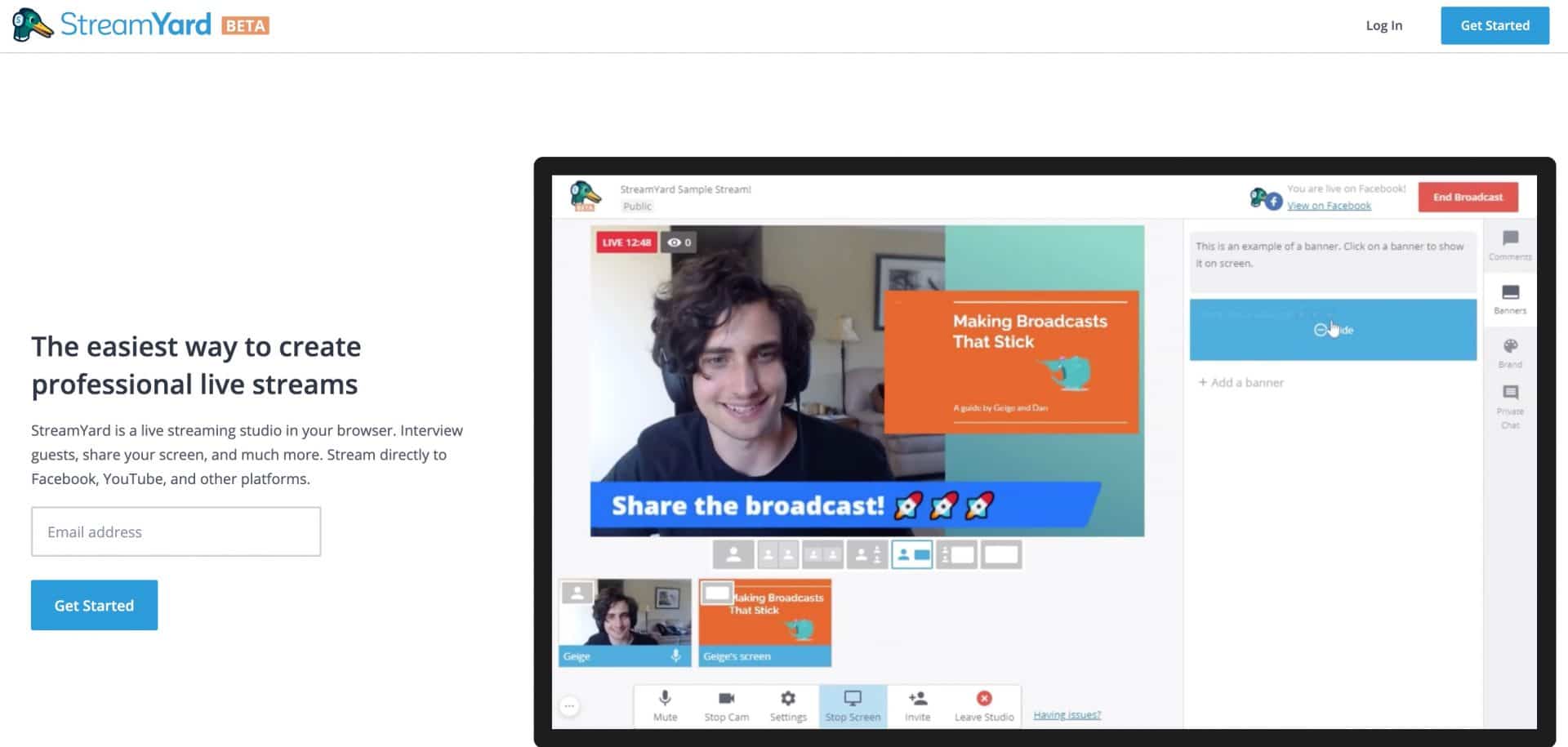 As of August 2019, Streamyard was given access to LinkedIn Live.
It's got a feature-rich free version
You can bring in guests really easily through their browser
It's cross-platform since it works through your web browser (PC and Mac)
The free version includes screen sharing
it's so easy to use and is great at bringing in guests. It runs via your web browser and so works on both PCs and Macs. StreamYard works for both PC and Macs.
Setting up LinkedIn Live in StreamYard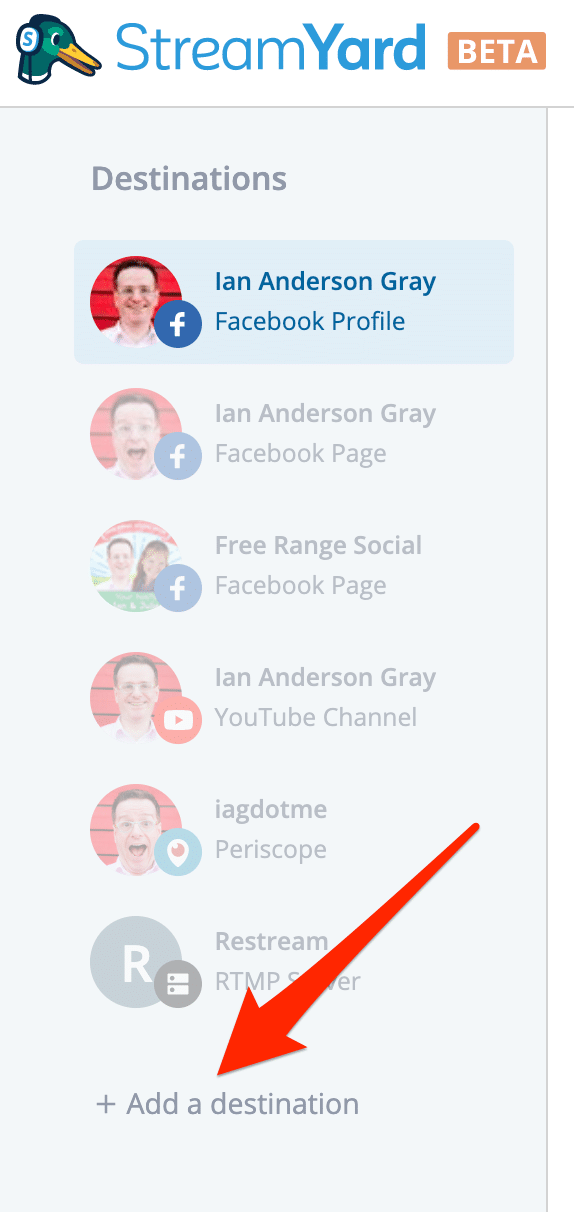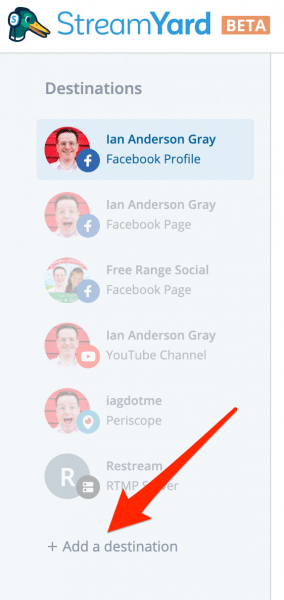 Once you've either signed up for a StreamYard account or signed in, you'll need to add a new destination in the side panel of the StreamYard dashboard.
StreamYard has a generous free plan which will help you get started. It does have the StreamYard logo on the top right of your live streams. You can pay $25/mth to remove this and get extra features too. LinkedIn Live is available on all plans.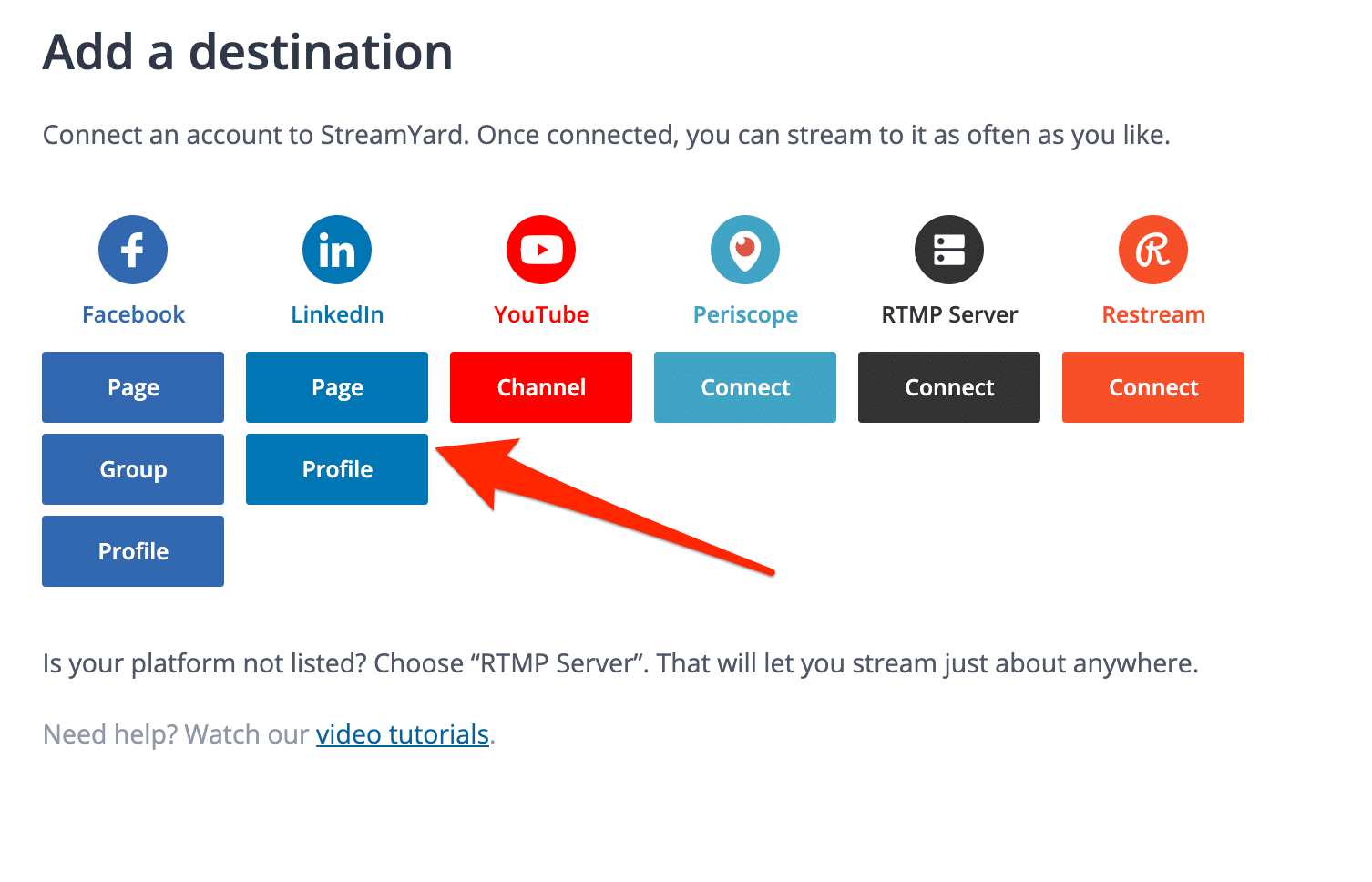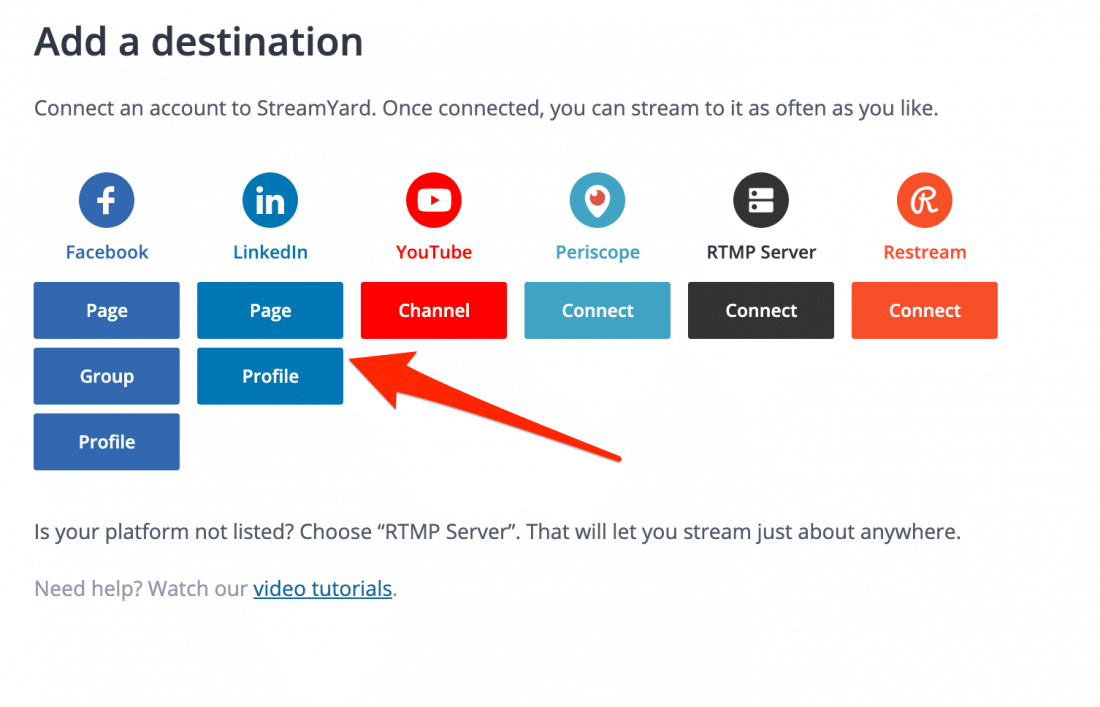 Then you'll need to connect to your LinkedIn profile or page. In the LinkedIn beta, you will have applied to either your profile or one of your pages. Make sure you connect the one that LinkedIn Live has been enabled for here.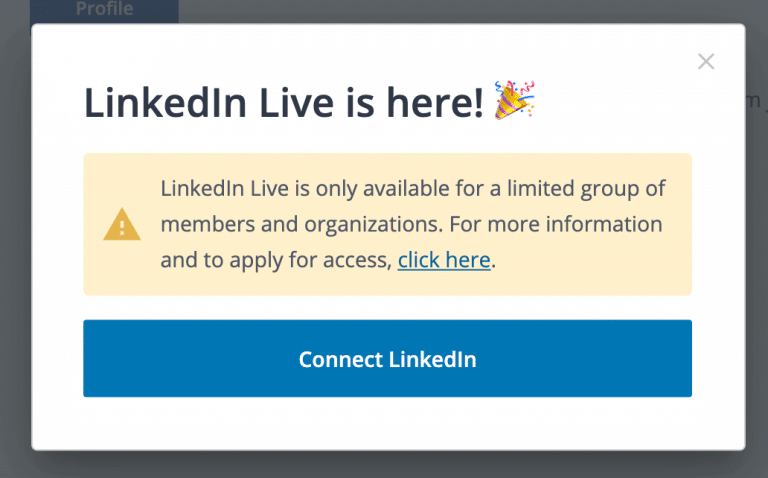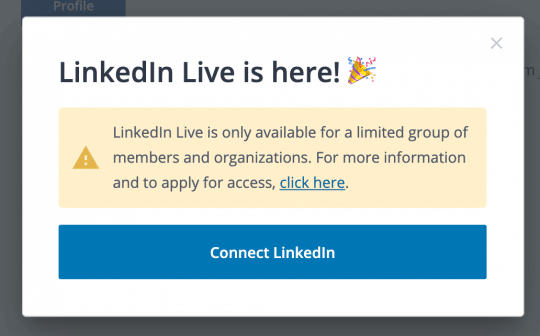 Click through to authenticate with your LinkedIn account. You'll probably need to enter your LinkedIn username and password at this point.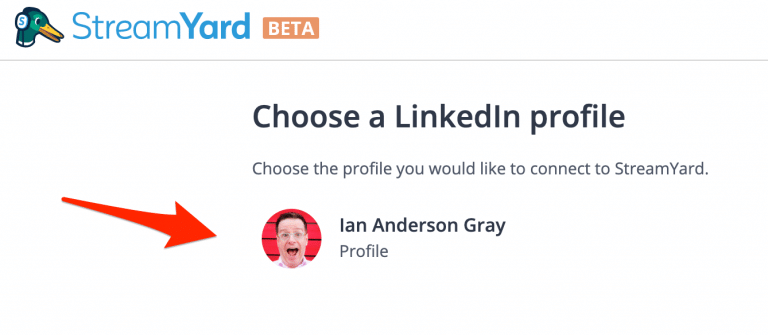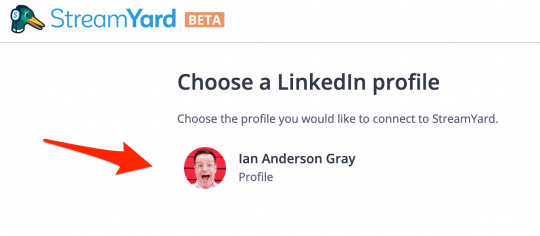 Click on the correct LinkedIn profile or page that you want to add from the list.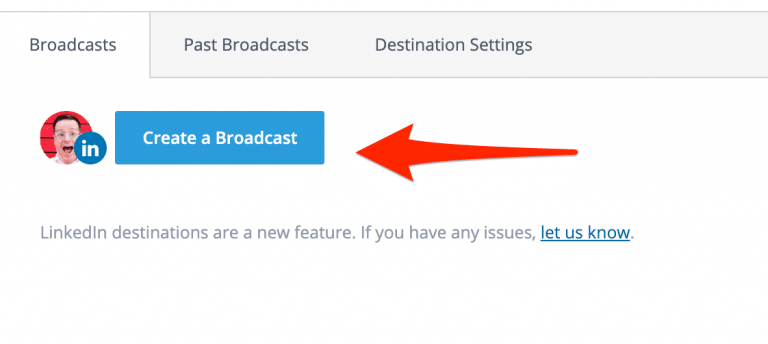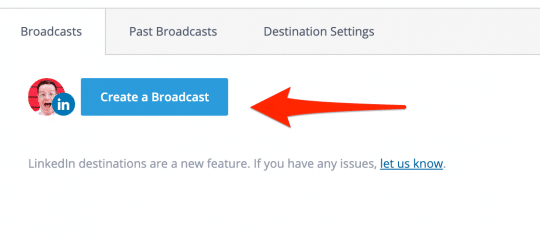 With LinkedIn Live selected as the destination in the dashboard, it's now time to create a broadcast! Click on the Create a Broadcast button.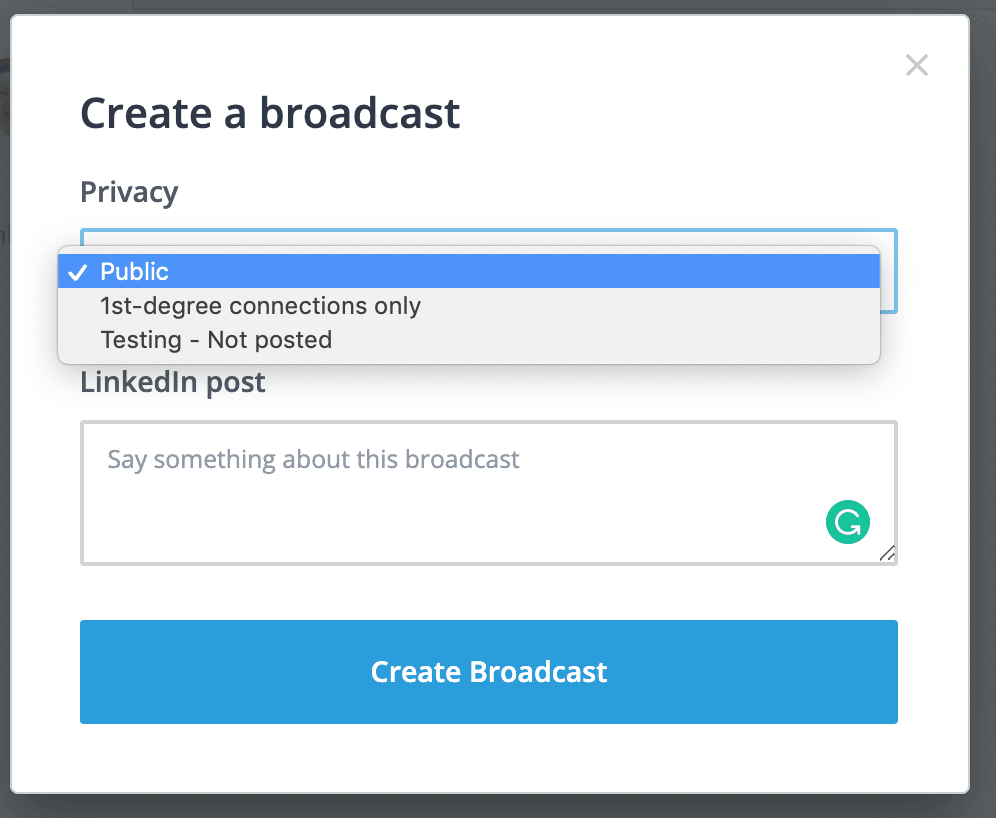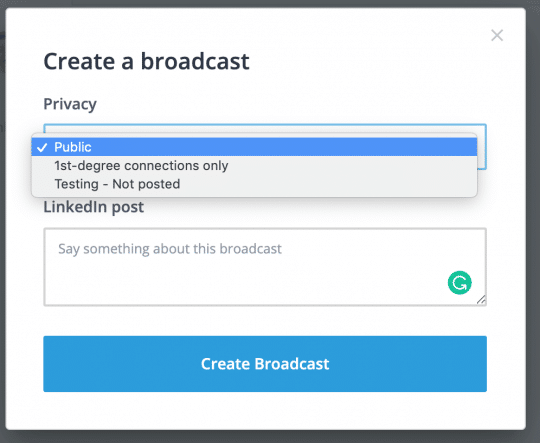 Select the privacy setting you want for your live broadcast. You have three options- public, 1st-degree connections or testing.
Then enter the text for your LinkedIn Live post. Click on the Create Broadcast button. Don't worry, you're not live yet. But StreamYard has created the broadcast on LinkedIn and it's waiting for you to properly go live.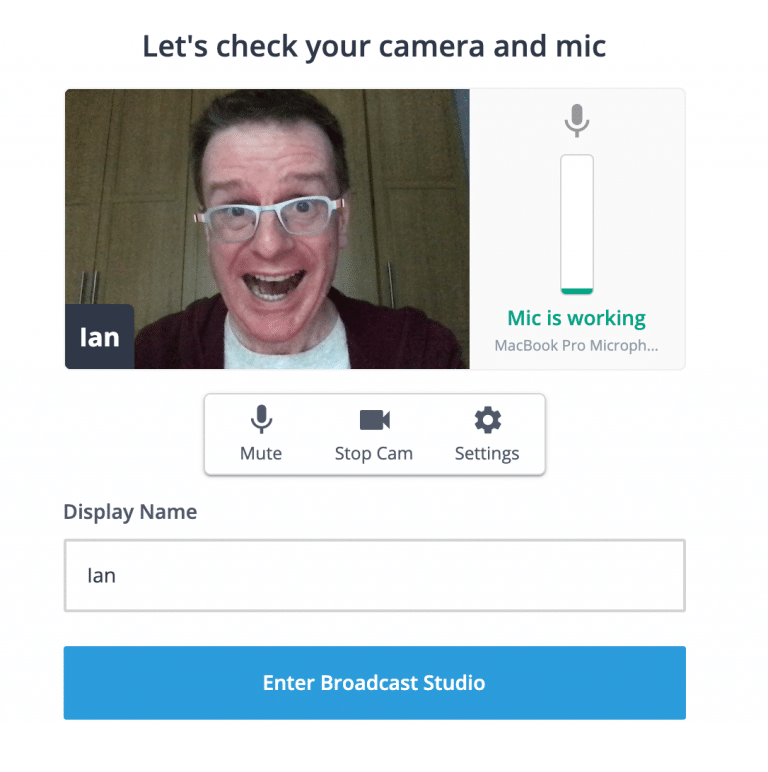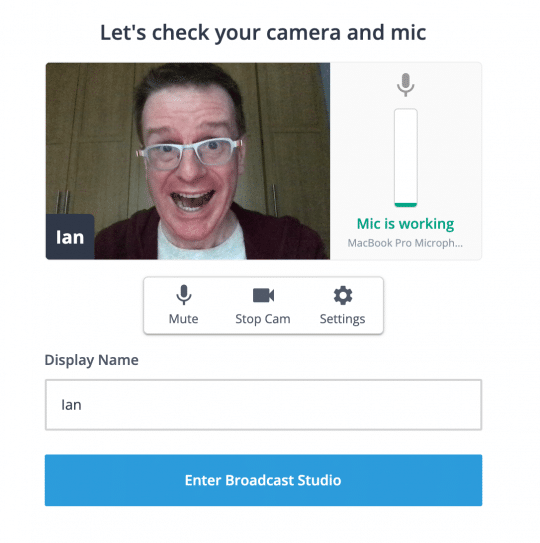 You now need to select the correct microphone and webcam and make sure they're all working properly.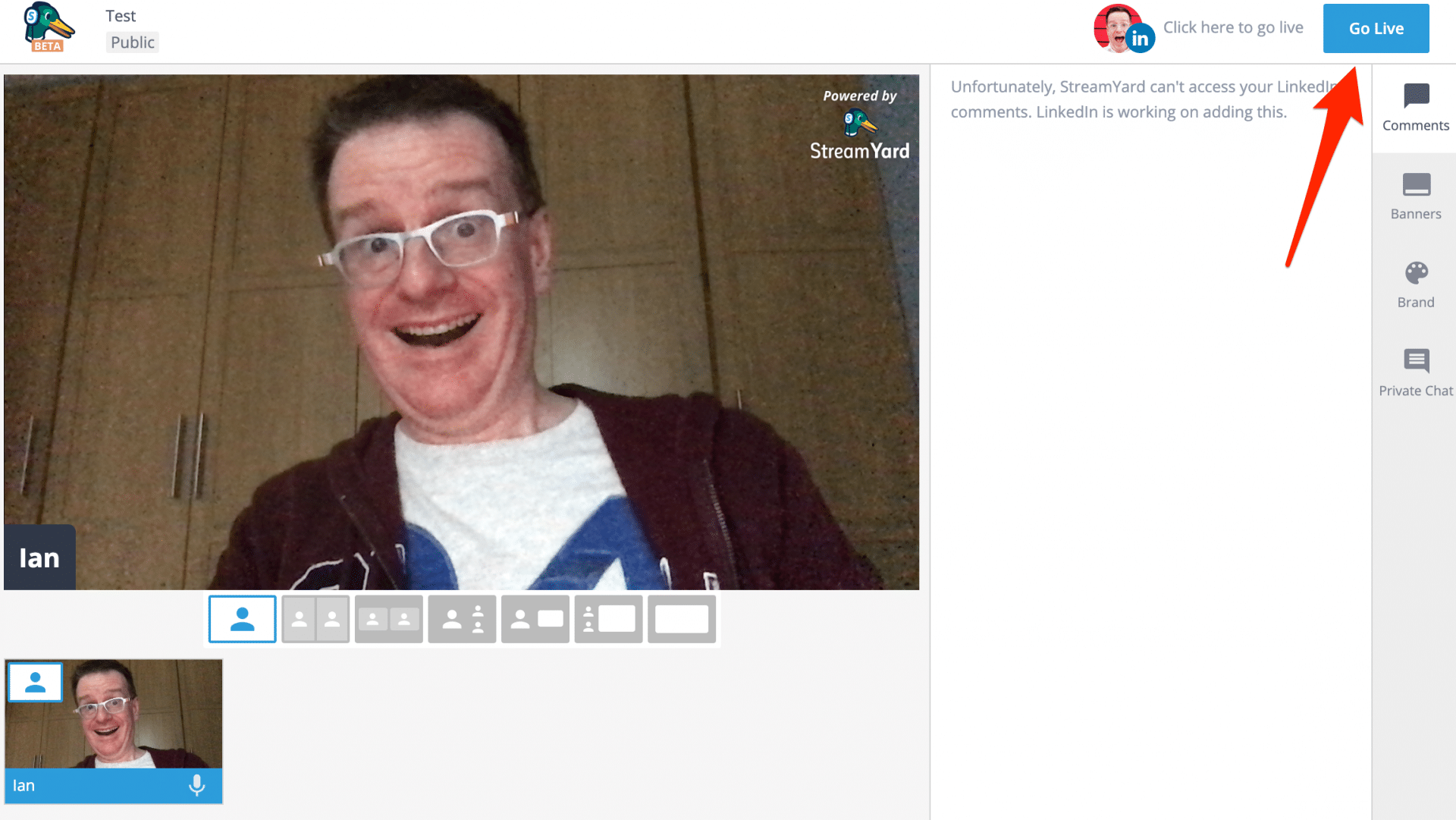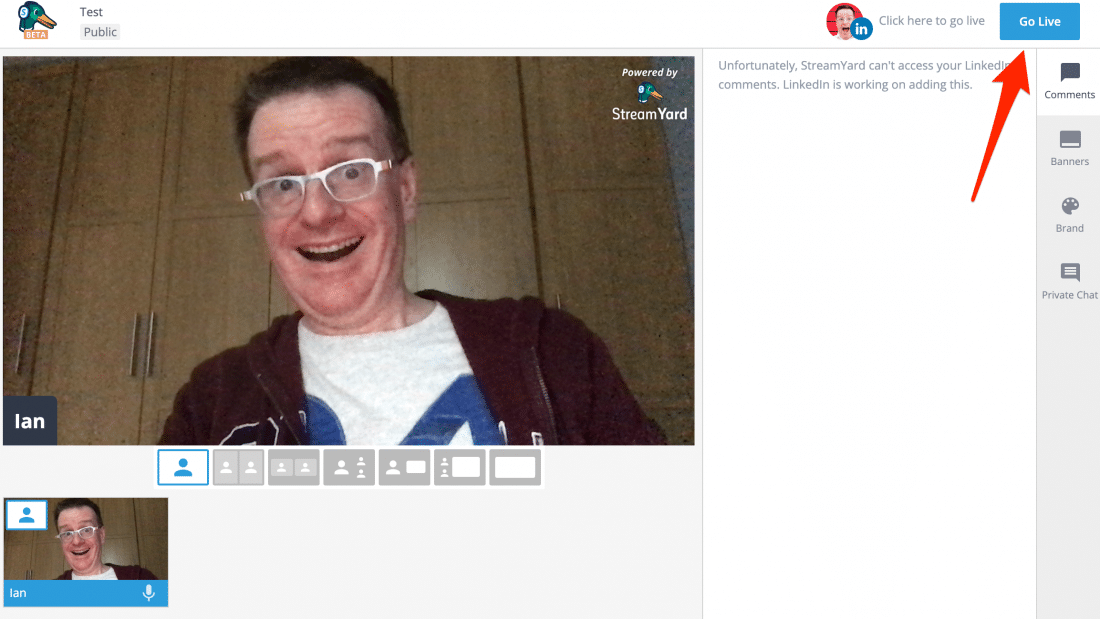 You are now in the StreamYard dashboard where you can create your own branding, overlays and titles. You can bring in your guests at this point and select the layout you want. Once you are happy, click the blue "Go Live" button at the top right. And you are live! 🙂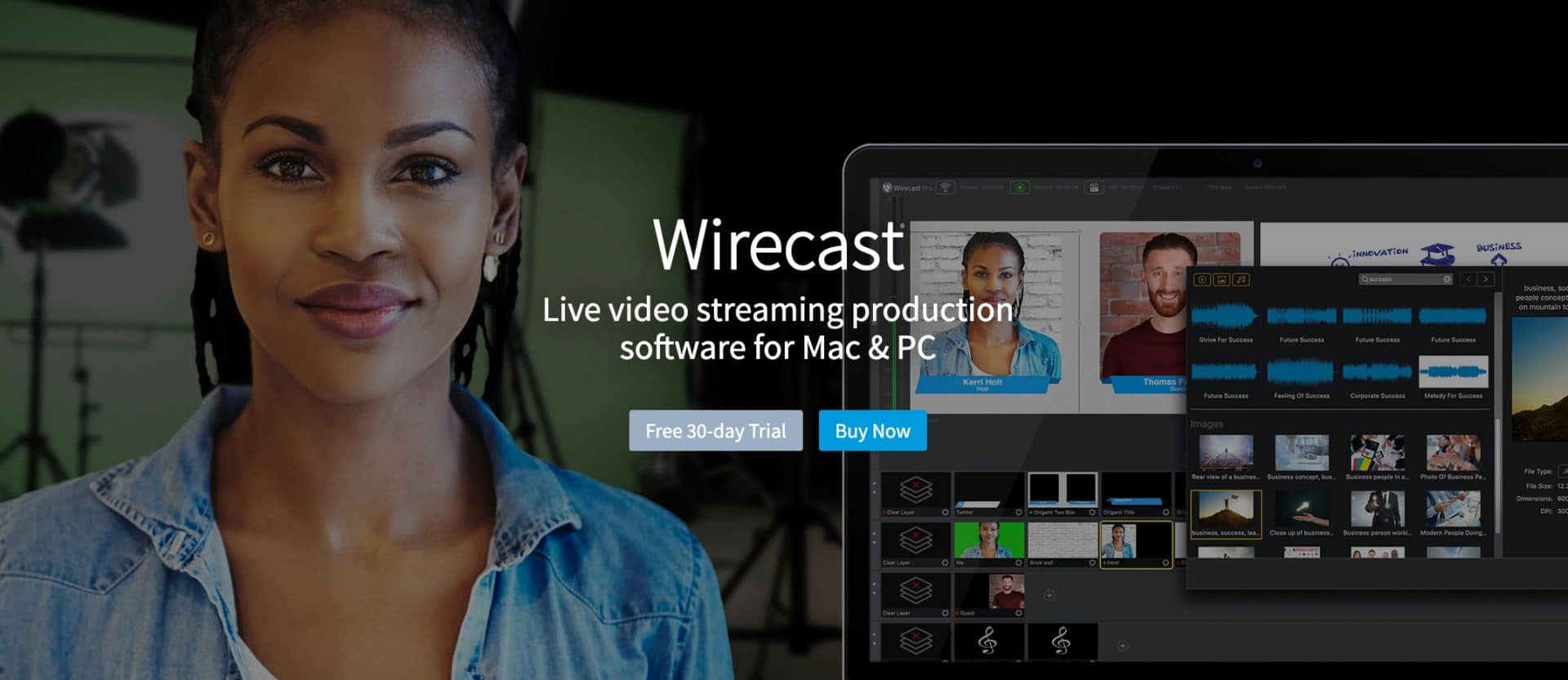 I've used Wirecast for years. It's a professional and powerful live streaming tool for Macs and PCs.
When I wrote this article It had three versions - Wirecast One ($249), Wirecast Studio ($449) and Wirecast Pro ($699).
But now the Studio version has gone, and Wirecast Studio now costs $695.
But, as they say, you get what you pay for. It's certainly the most feature-packed and robust cross-platform live streaming tool I've used.
It's not as easy to use as other tools such as Ecamm Live (a firm favourite of mine). But once you get used to it, it's actually quite intuitive. If you're struggling, then check out my Wirecast Course which will get you on track!
As well as LinkedIn Live integration (from version 12.1), Wirecast integrates with pretty much any live streaming platform including Facebook Live, YouTube Live, Periscope, Twitch and via RTMP. You can also broadcast to more than one platform at one time if your computer is up to it. You can bring in guests with their Rendezvous system, share your screen, add media (images, videos and audio tracks) and it has great transitions between scenes.
To get started, you'll be absolutely fine with Wirecast One. The only big missing feature is the ability to bring in guests with Rendezvous. And Most individuals and businesses will be absolutely fine with Wirecast Studio. But if you want more fancy stuff such as SDI and HDMI outputs, 3D virtual sets, instant replay, ISO recording and bringing in up to 7 guests with Rendezvous, you'll need Wirecast Pro.
Setting up LinkedIn Live in Wirecast
Assuming you have access to LinkedIn Live, it's really easy to broadcast to LinkedIn Live from Wirecast.
This animated GIF shows all the steps. But don't worry, I'll go through each step individually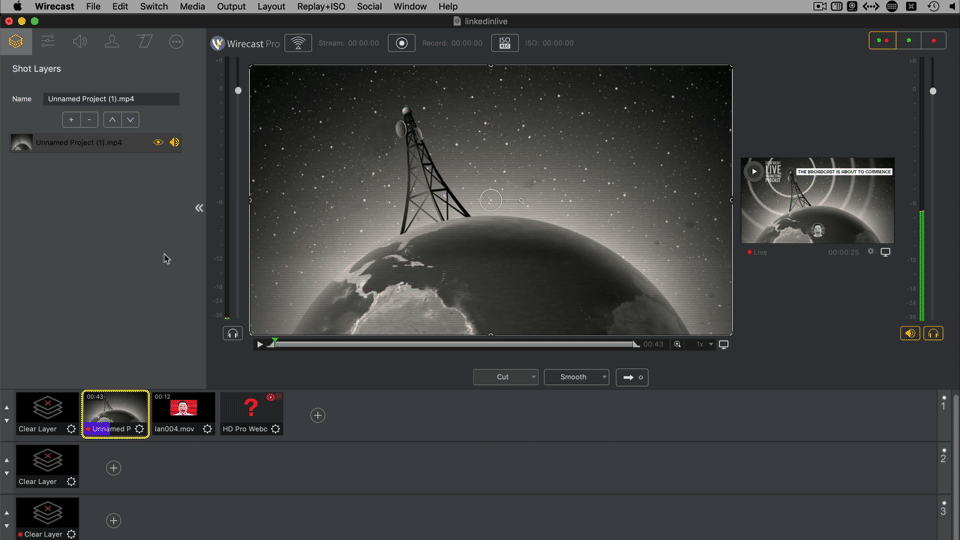 After you load up Wirecast, create a new document. Then click on Output->Output settings in the top menu. Then select LinkedIn Live from the list of destinations. If you do not see LinkedIn Live, make sure you have at least Wirecast version 12.1.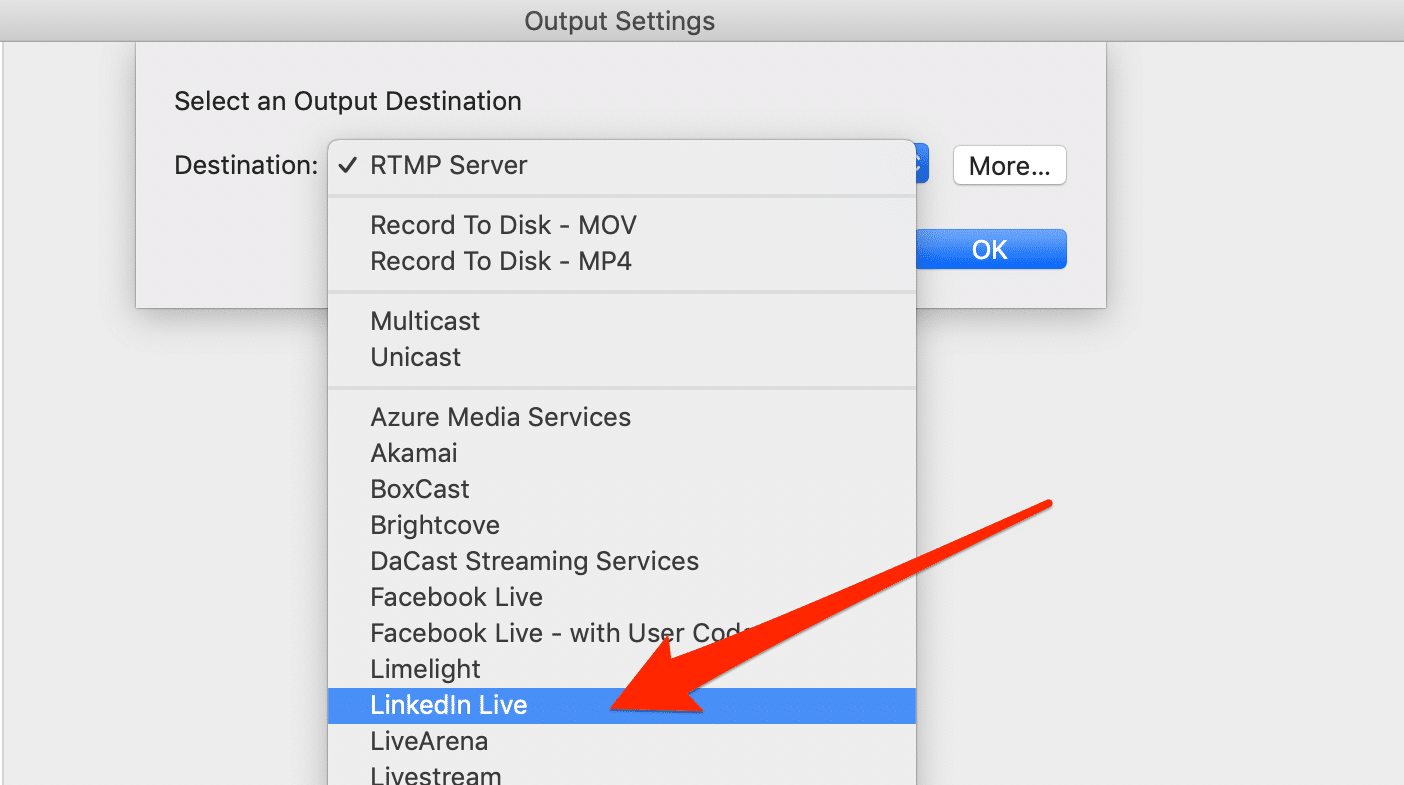 After you've clicked OK, you'll be presented with the Output settings menu for LinkedIn Live. I recommend typing in "LinkedIn Live" followed by the name of your profile or page in the name field. That's so you can distinguish between other channel types later.
At the moment, Wirecast gives you one encoding preset to stream to Wirecast with - 720p. Just leave this for now, although you can create your own preset if you're feeling all advanced!
Now, you'll need to select whether you are broadcasting to your company page or your profile. Make sure you choose the one you've been accepted into. Then click login to authenticate with LinkedIn.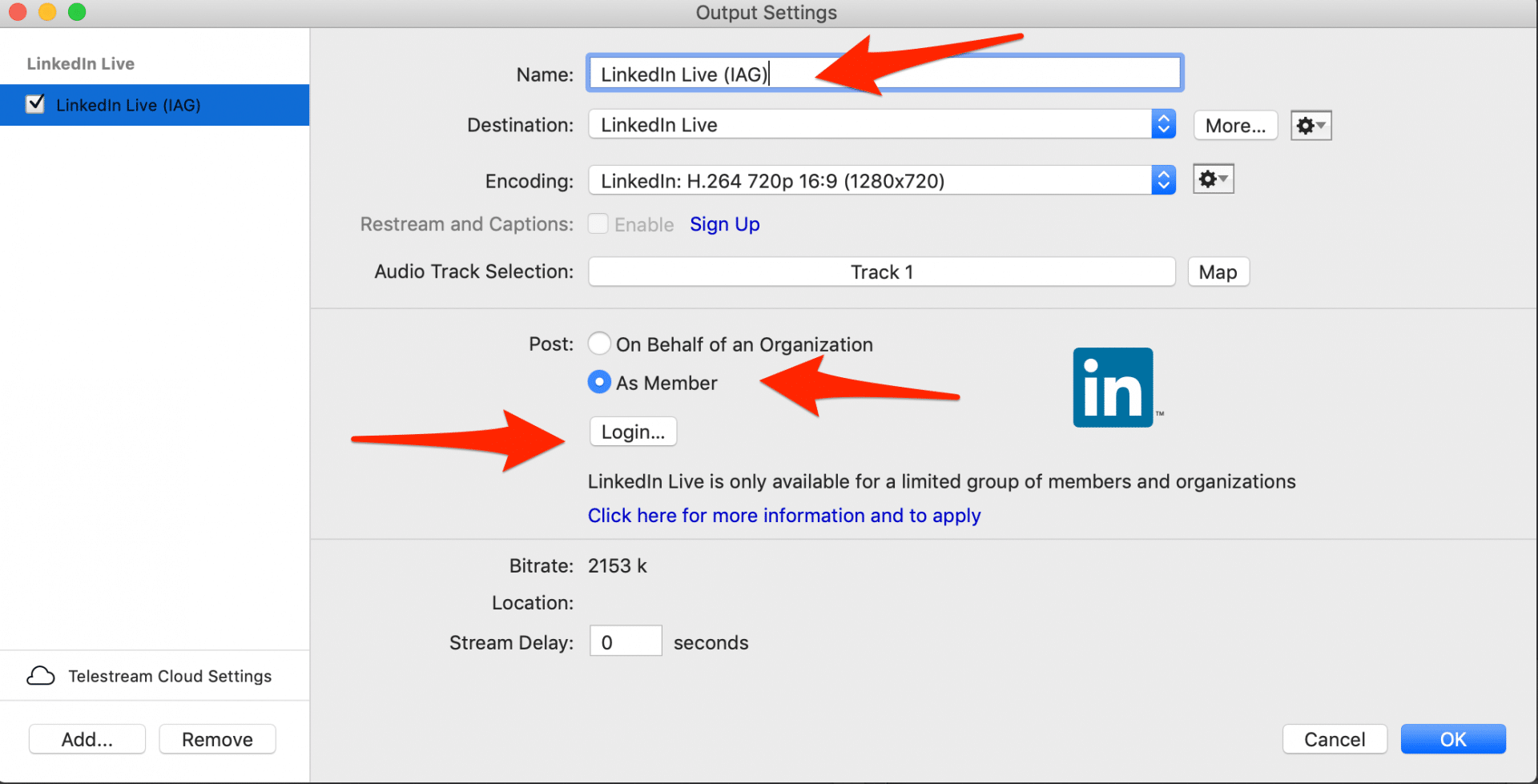 You'll need to enter your username and password and click OK.
Now you'll have 2 extra fields. "Ingest Region" which is a posh way of asking you where you are located and Post.
Select which part of the world you are in the Ingest Region field. That way you can stream to a LinkedIn Streaming server close to you - and have fewer issues with latency (delay).
Then you can enter the text for your LinkedIn Live video in the post box.


At the moment, you can't tag any other users in Wirecast's LinkedIn Live post box. But you can text including hashtags. After the broadcast, you can edit the text on LinkedIn and tag people.
After you've entered the text for the post, click the "create broadcast" button and after Wirecast has connected with the LinkedIn API and created the post, click the blue OK button.
At this point, the post is queued up in LinkedIn - ready for you to start broadcasting to it. So, it won't appear until we start broadcasting to it!
Before you start broadcasting, though, you'll need to create a scene (or a shot as Wirecast calls it). Here you can add your webcam (so people can see you) and a microphone (so people can hear you). I'll just go through the very basics here to get you started.
Firstly, click on the plus on the top layer. Select Video capture, and then select your webcam on the right. Then click add.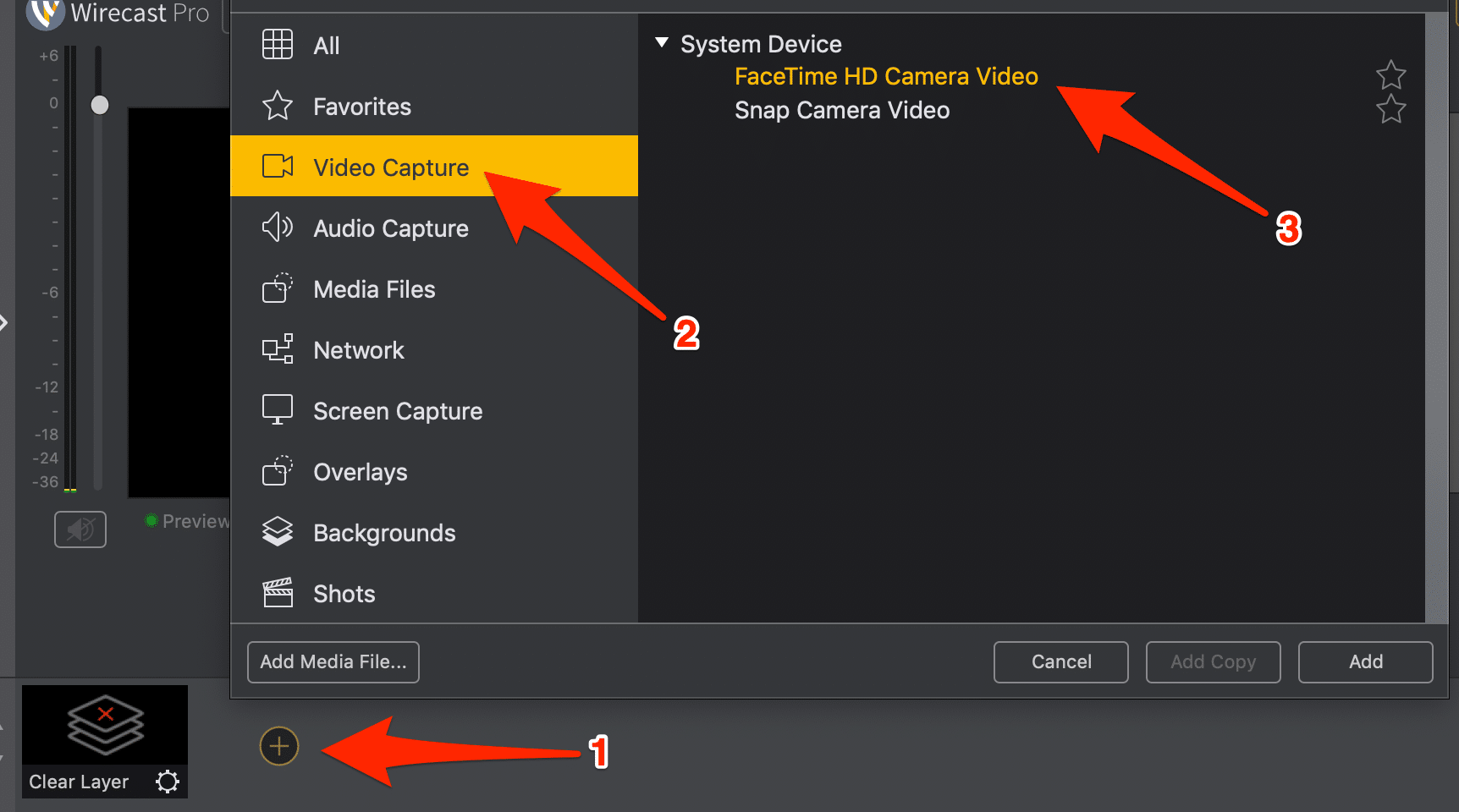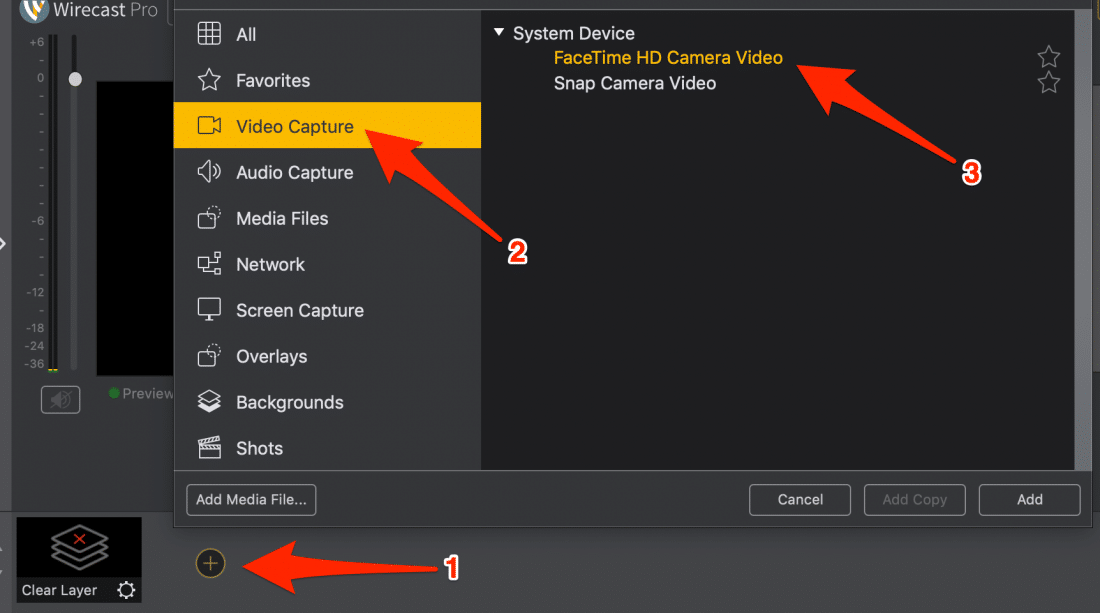 Once you've done that, it's time to add your microphone. Click on the layers icon on the top right, then click on + to add a new layer to that shot. Then select Audio Capture in the menu, select your microphone and then click on Add.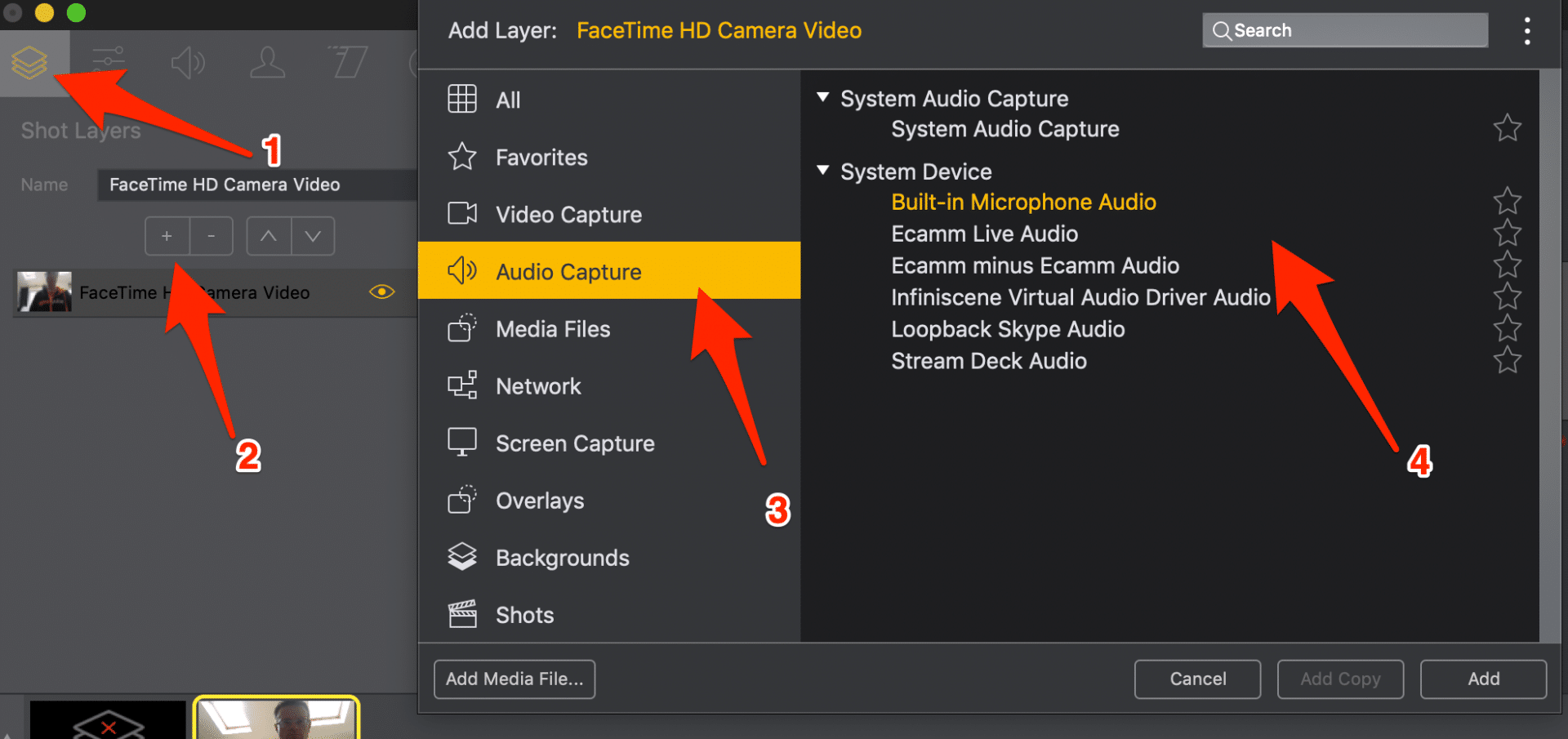 Now you've got the basics to go live, but you now need to push the shot you've just created to the live view. In Wirecast, the left view area is the preview area, and the right area is the live view. The live view is what your live viewers will see.
To push the shot to the live view, click on the right arrow underneath...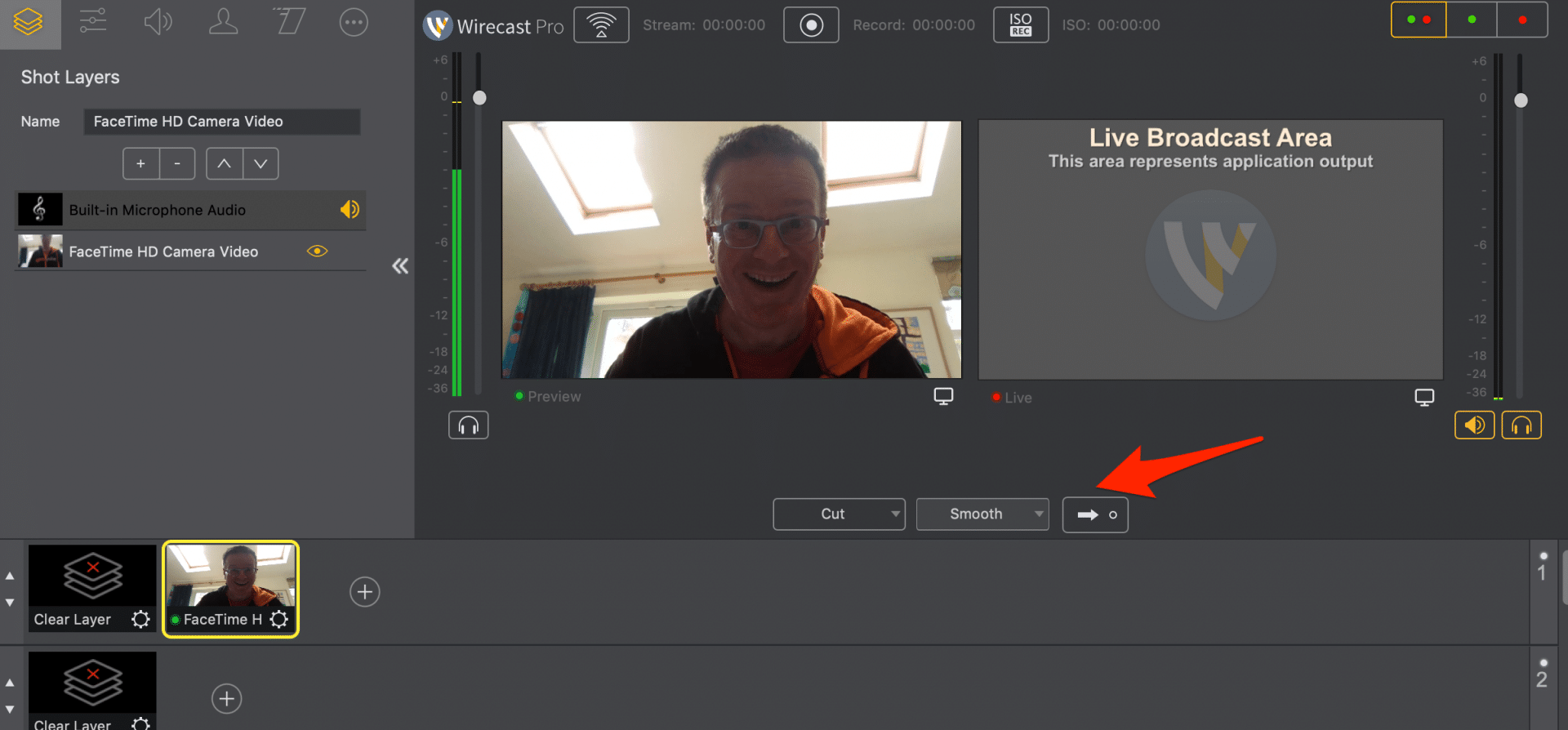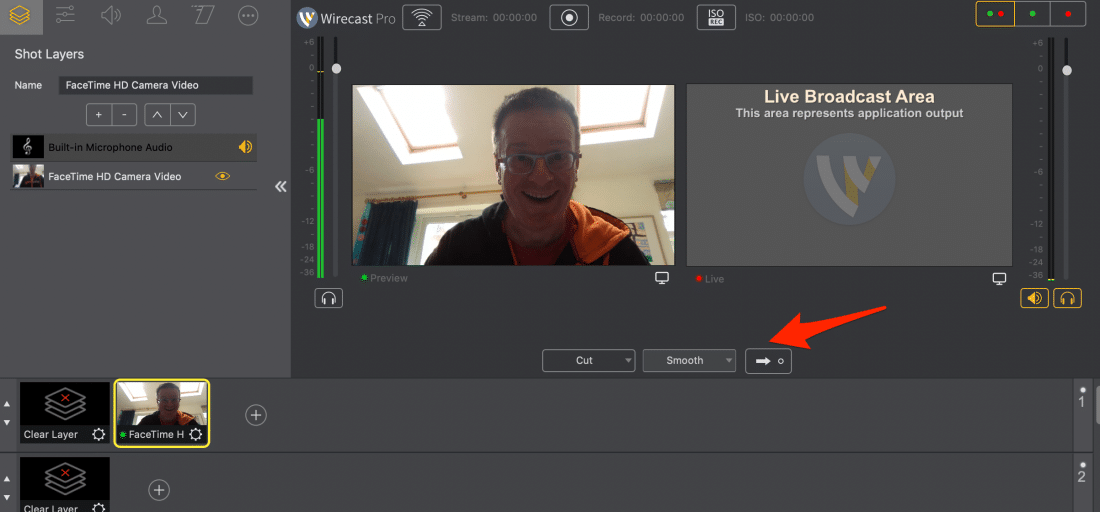 If you create other shots in Wirecast, you'll need to remember to select the shot and then click the push to live button each time. If you're lazy like me, then you can always enable the AutoLive feature which automatically pushes the selected shot to the live view. It's under "switch" in the top menu: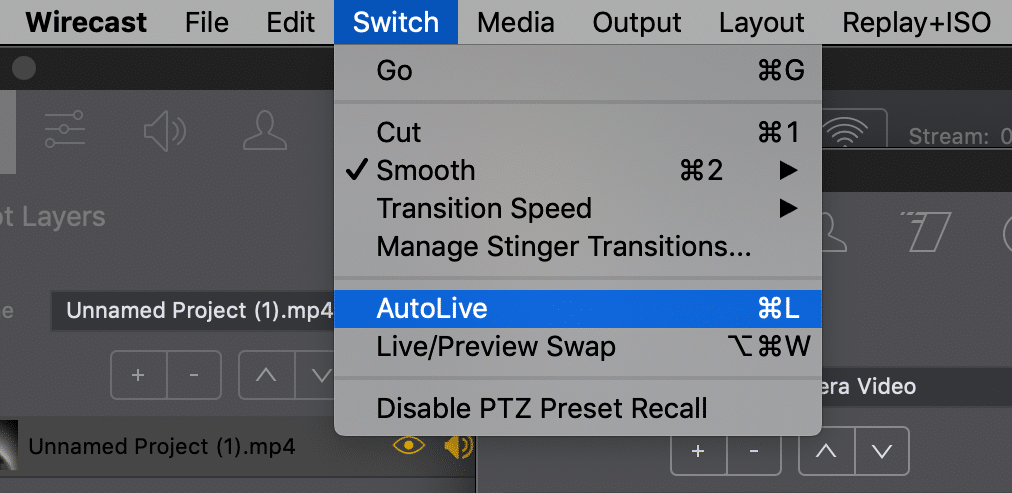 Once you're ready to go live, click on the start broadcast button at the top. Give it a second to engage and you're now live. There will be a delay of 6-10 seconds between your stream and what your audience hear and see. That's so that LinkedIn's server can work their magic their end.
Once you want to end the broadcast, click the same button to end it.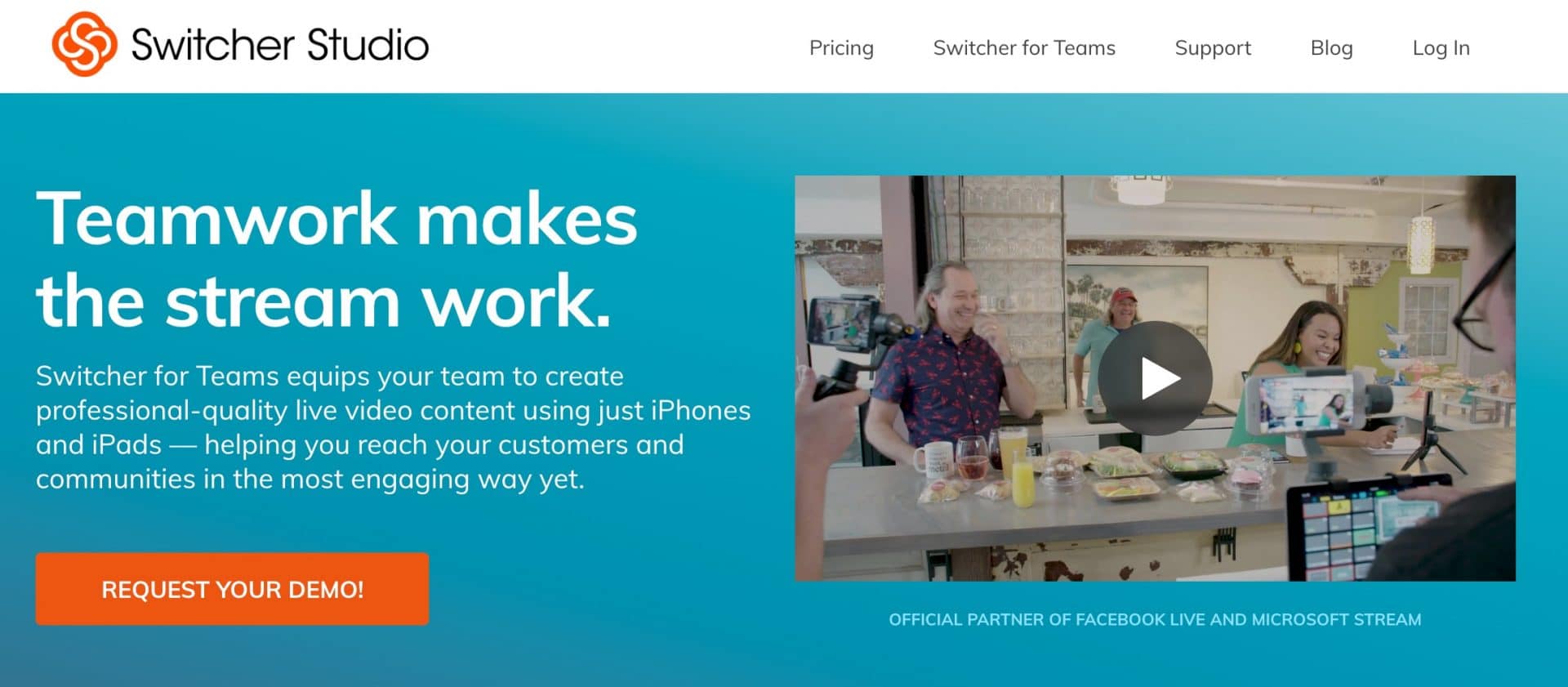 SwitcherStudio is very different from the other live streaming tools in this article. It uses iPhones and/or iPads to create a live video studio. You have one controller (or "switcher") and then use your other devices as cameras. Although you can use an iPhone as a switcher, it's easier to use an iPad. That way you've got more room to switch camera angles and select scenes.
SwitcherStudio has a number of different plans. For individual or non-commercial use, the Personal plan is the cheapest at $39 per month (or the equivalent of $29 per month if paying annually).
The professional plan is $75 per month (if paying monthly) and the equivalent of $49 per month (if paying annually). This gives you extra features such as Microsoft Stream integration, RTMP remote setup & auto-sync, Scoreboard for live sports and Facebook Crossposting.
SwitcherStudio integrates with the usual platforms including Facebook Live, YouTube Live, Periscope, Twitch and custom RTMP.
If you have a selection of iPads and iPhones that you can use, it's a great way to create a live video studio with lots of different cameras. You can even use a Mac or a PC for screen sharing.
The downside of SwitcherStudio is that it only works on Apple iOS devices with at least iOS 12. That means older devices such as 3rd or 4th generation iPads won't work. And of course, if you are an Android user, you are out of luck. Here is a list of compatible devices.
But if you do have 2, 3 or more compatible iOS devices, SwitcherStudio is an amazing tool. It allows you to create a mobile video studio, and easily create professional looking broadcasts.
Setting up LinkedIn Live in SwitcherStudio
Once you've created an account with SwitcherStudio, log in and head to the LinkedIn Accounts in the dashboard. Click on Link Account next to LinkedIn Live.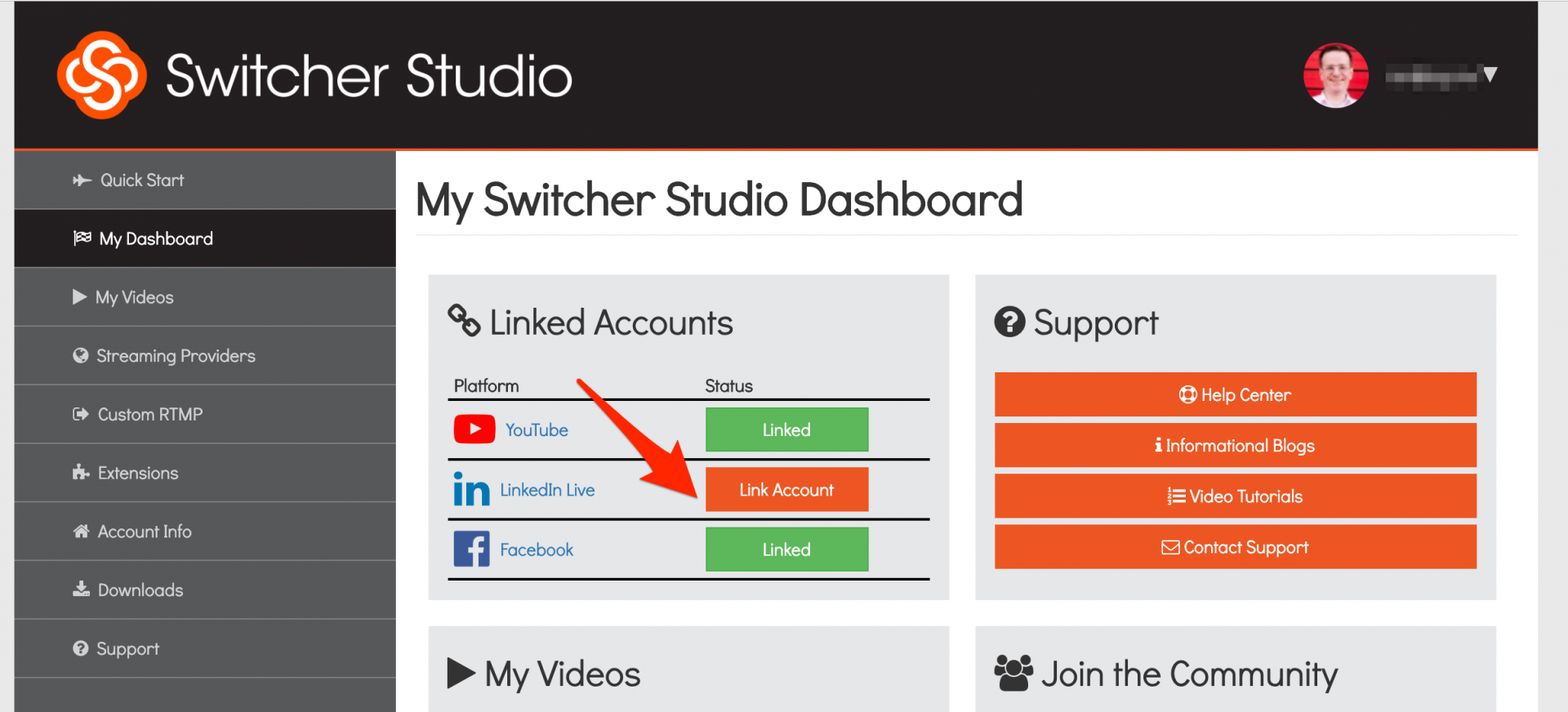 You'll now need to select whether you are going live to your personal profile or your company page. Make sure you select the channel that you have been given access to. Once you click the button, you will need to log in to LinkedIn for authentication.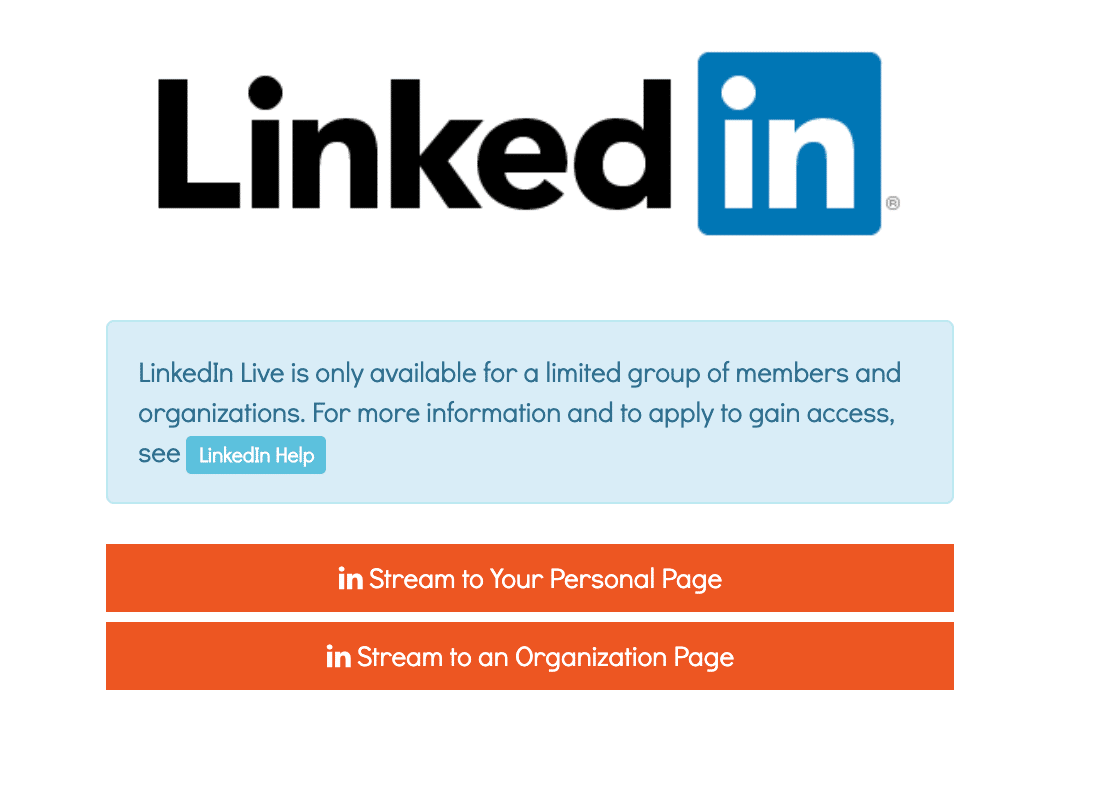 Now you can create the LinkedIn Live post. Enter the text for the post in the post title box and select the Stream Quality. The resolutions are as follows:
Low: 360p
Medium: 540p
High: 720p
HD: 1080p
If you've got enough bandwidth, try High or HD. But if you're struggling you can try Low or Medium.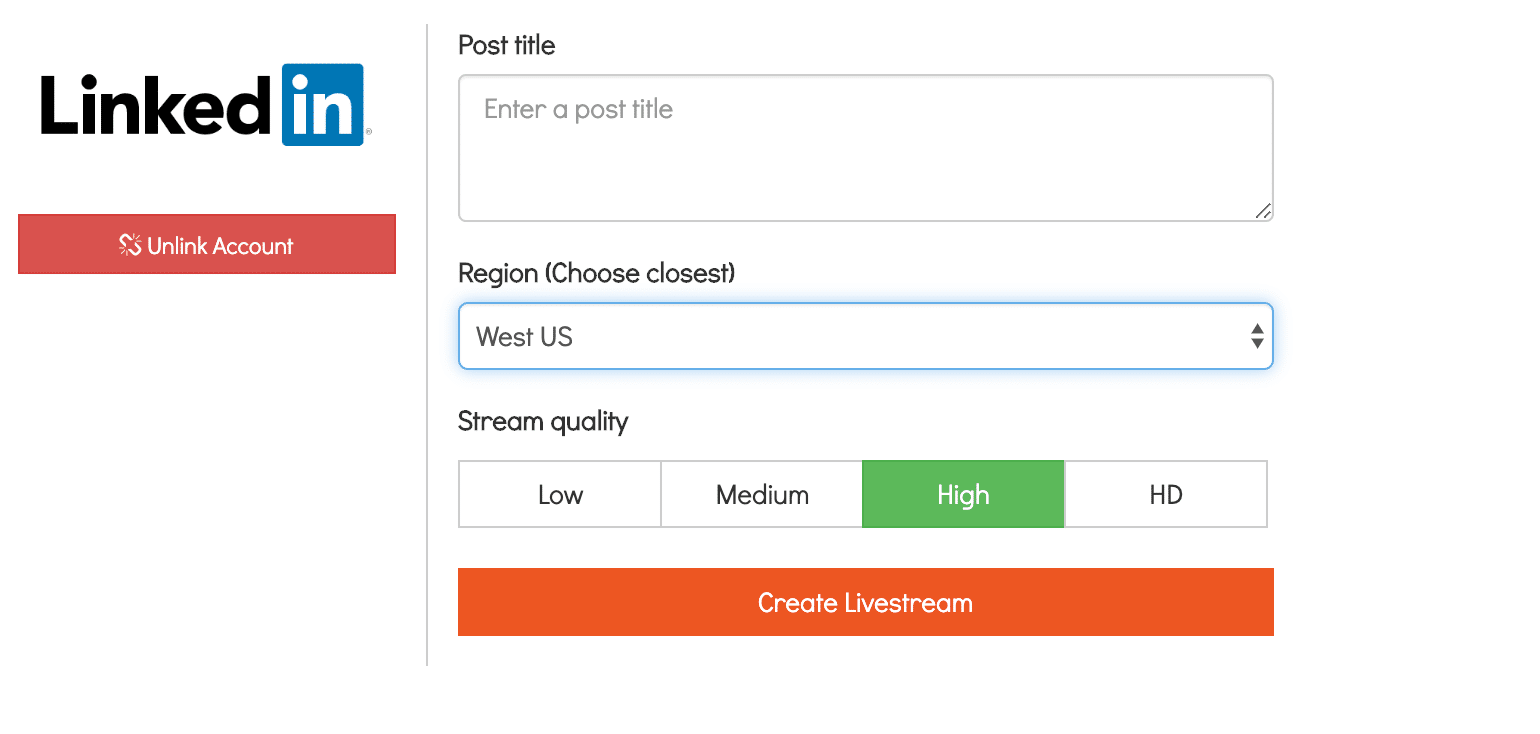 Now it's time to choose the region closest to you so that you can connect with the nearest LinkedIn Live streaming server to you. This will reduce delay or latency in your streams which is always good!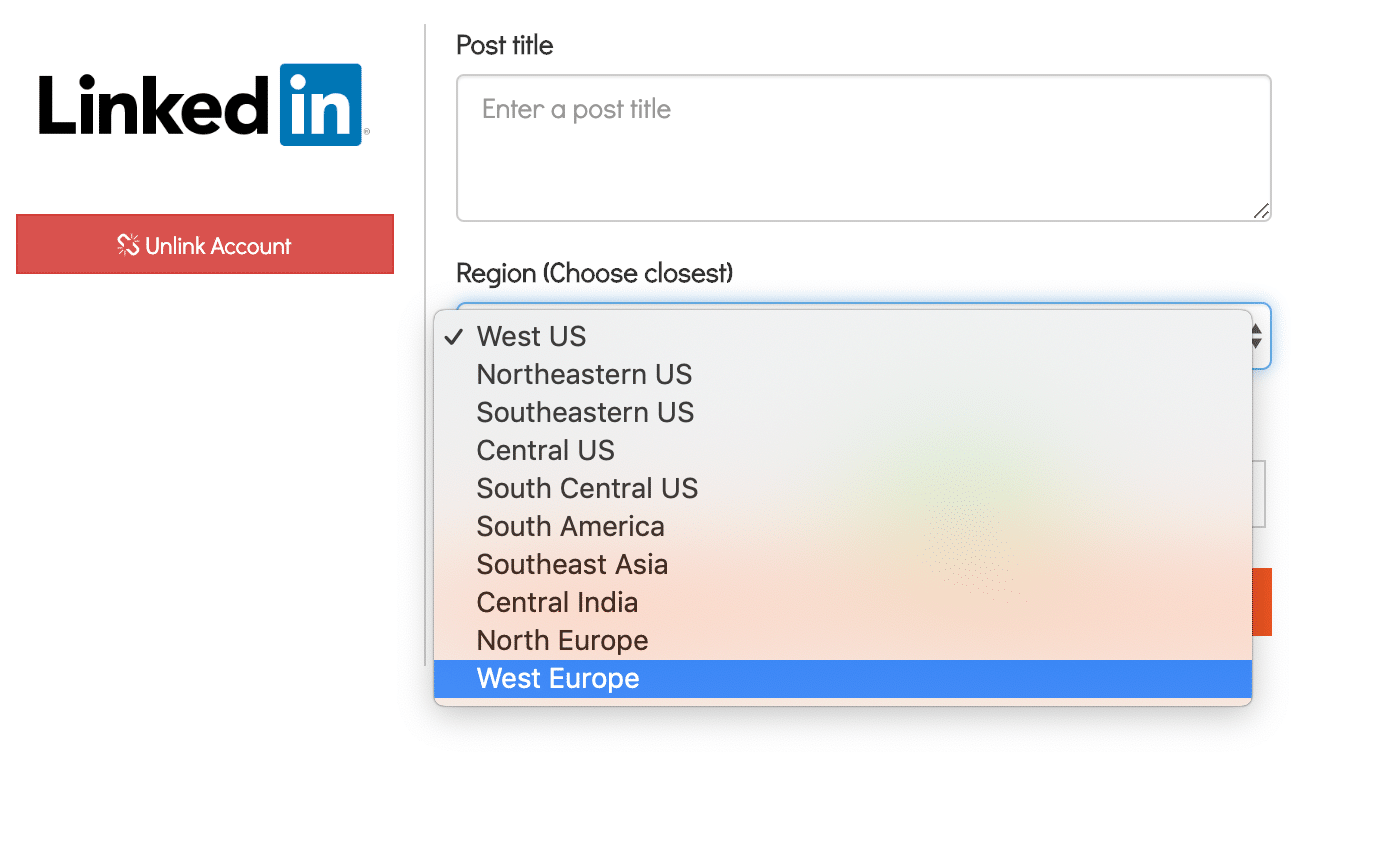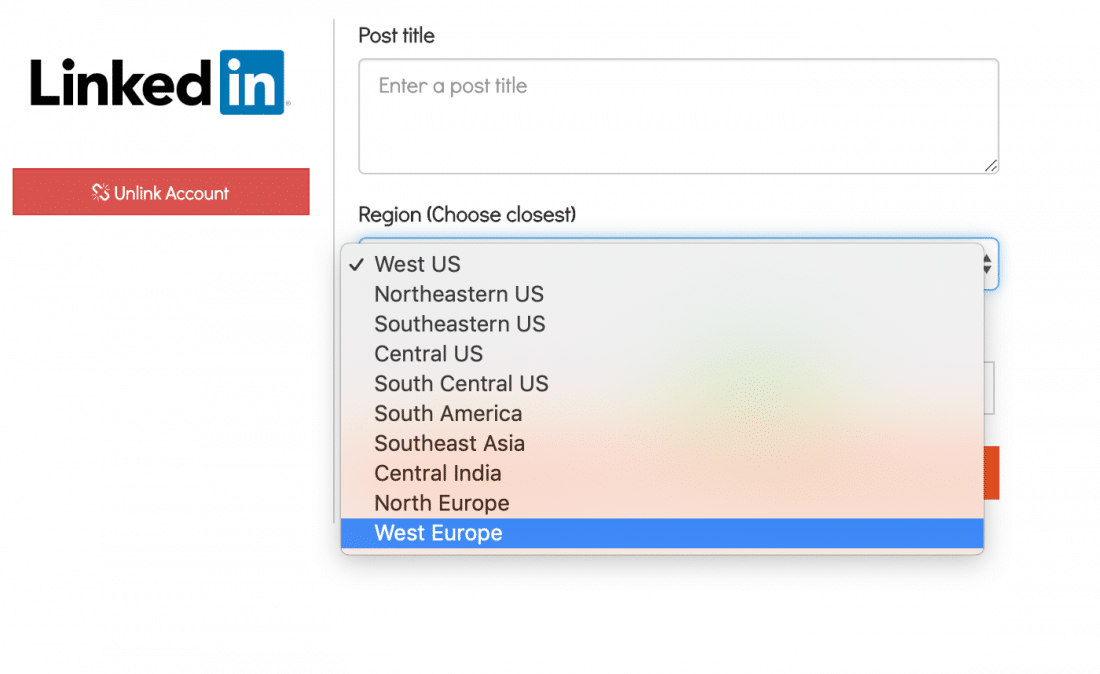 Once you've selected that you can click the "Create Livestream" button. SwitcherStudio will connect with the LinkedIn Live API and create the LinkedIn Live video in the background. You're not live and the post won't appear until you start broadcasting to it.
I've done all the above via the SwitcherStudio web interface, but of course you can do all of this via the iOS app: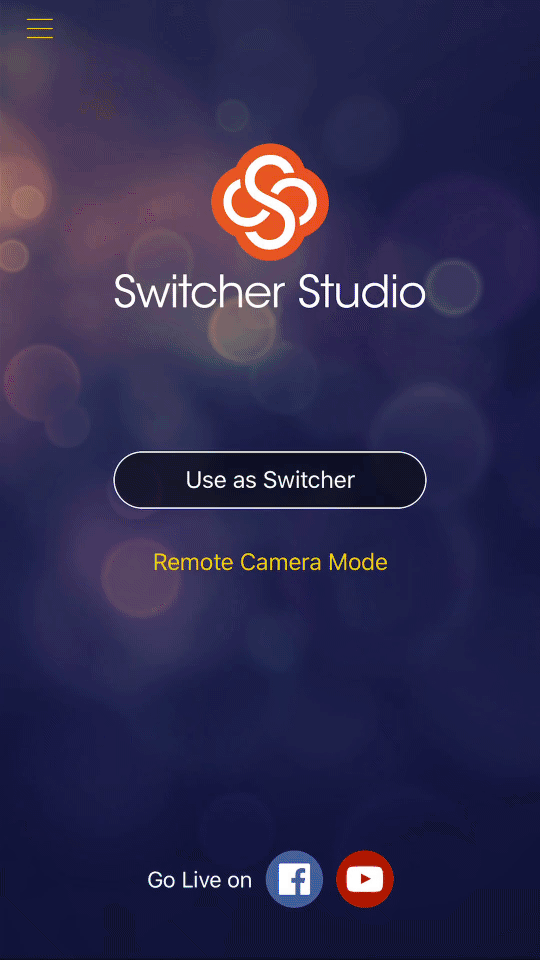 Then it's a case of creating the scenes for your show, and then broadcasting to LinkedIn Live. I'll share more on the basics in a later update to this article.
To get the best experience with LinkedIn Live, you'll need to check a few things.
Your Computer
Unless you're going for the mobile SwitcherStudio option, you'll need a fairly powerful computer for live video. A cheap PC laptop or a MacBook Air is going to struggle. The more impressive your computer's specs, the better.
You'll need a modern PC or Mac. It's cheaper to buy a desktop PC with higher specs than a Mac. Make sure it has a fast, quad-core processor. 16GB of RAM or more is best (but 8GB is okay). And if possible, if your computer has a graphics card, that will improve your performance.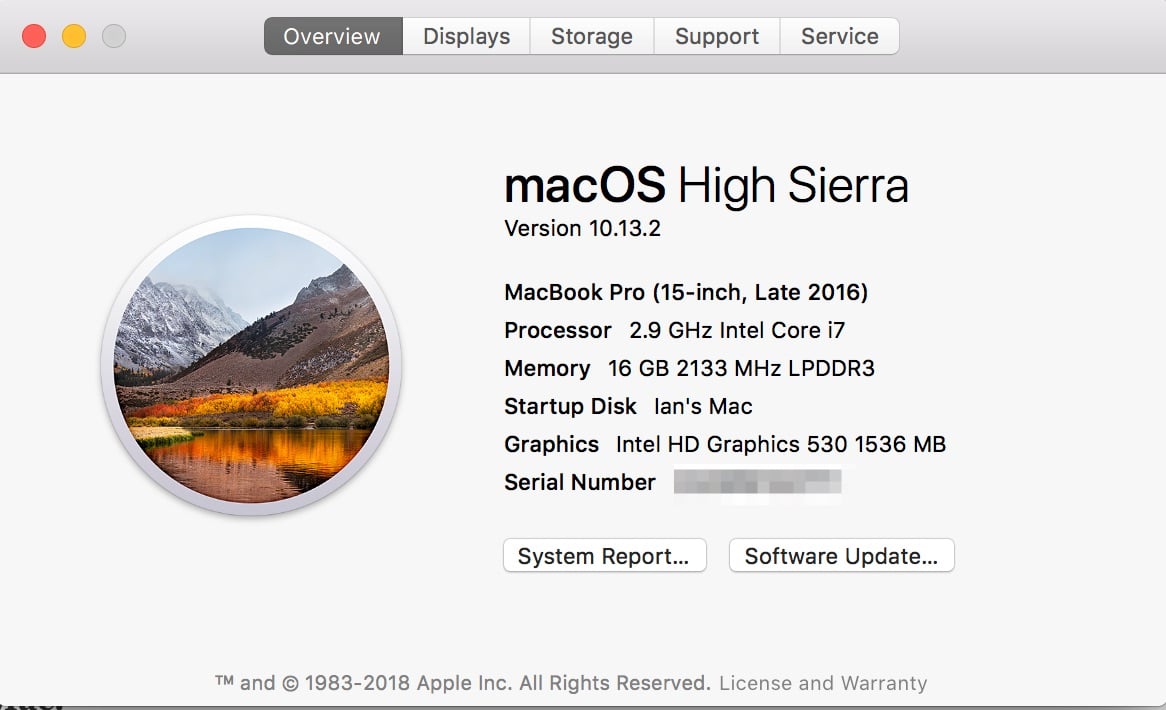 Internet Connection
A fast Internet upload speed is important for broadcasting any kind of live video. For best results, I recommend at least 10 Mbps to ensure that the highest-quality video and audio will come through. LinkedIn Live requires a minimum of 3Mbps.  But your internet connection can go up and down a lot, and so it's best to have an upload speed quite a bit higher than this.
I highly recommend that you run a speed test before you go live every time. I like Speedtest.net which offers desktop apps for Mac and PC as well as mobile apps for Android and iOS.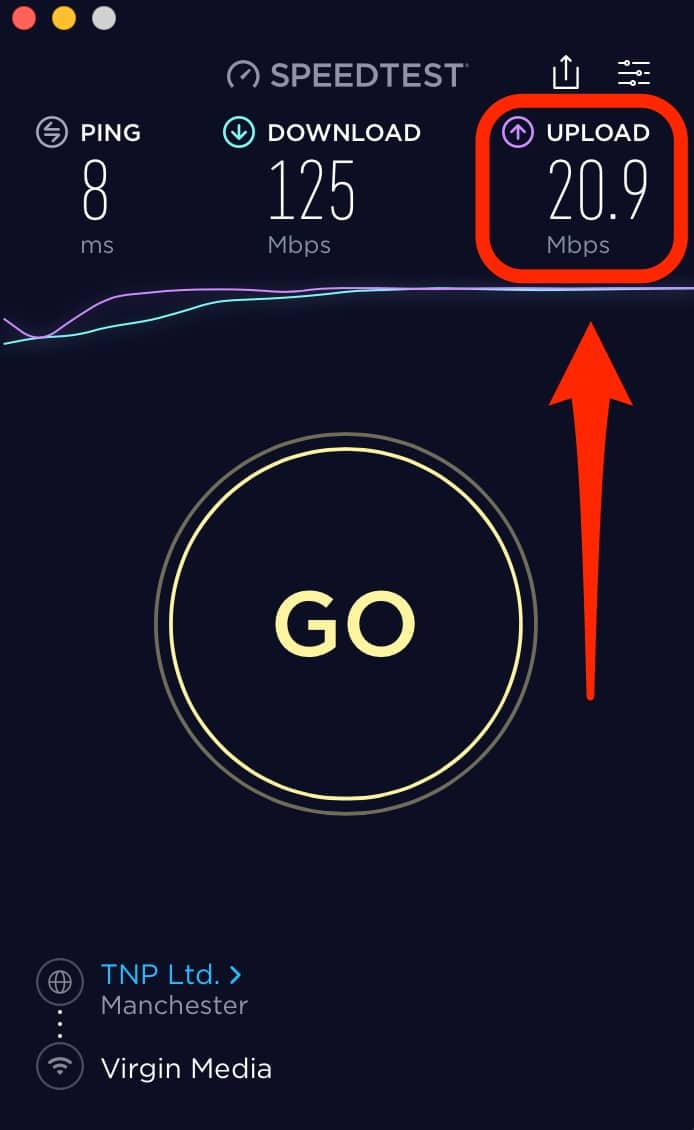 Webcams & Microphones
Don't rely on your computer's webcam and microphone. The quality is unlikely to be great. The Logitech range of webcams is great, and you can even use more professional mirrorless or dSLR cameras. Here are some recommendations
Cameras:
Microphones:
So, you're ready to start live streaming to LinkedIn Live?
So, it's just a case of hitting that start broadcast button?
No!
There are 5 things you should be doing as part of your live video. I call this the 5 Ps of Live Video.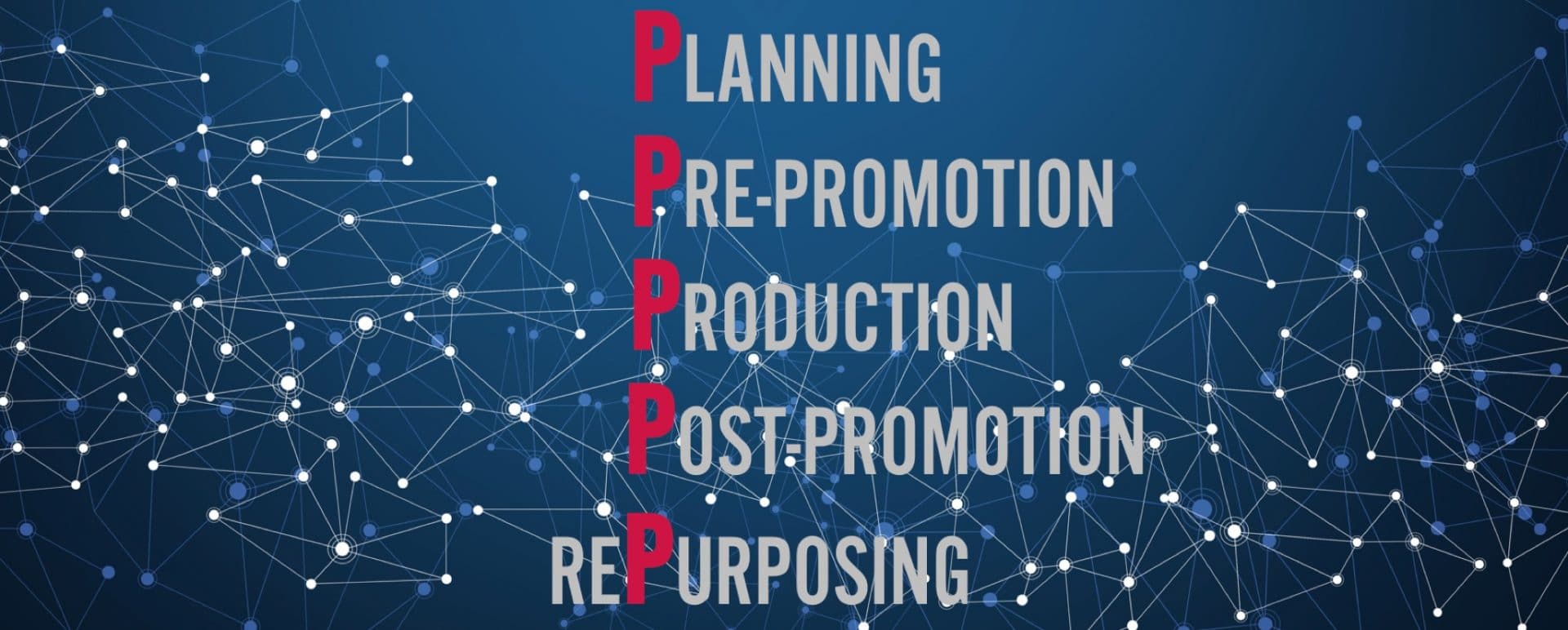 #1 Planning
What is your live video strategy? What format will your live video be?
You need to plan your content and work out what and when your content shall be.
There are loads of ways to plan your content. Maybe using pen and paper or an Excel spreadsheet.
Or you could use a tool like Agorapulse.
But first, we need to BLAST your content.
The acronym "BLAST" is the brainchild of my friend, Sam Ashdown. You can read more about this in her article How to use Live Video to Attract and Convert High-Value Instructions.
BLAST is a great way to remember different types of live video content - whether that's on LinkedIn Live or another platform such as YouTube Live or Facebook Live.
BEHIND THE SCENES - e.g. How you run your business
LOCAL - e.g. What's happening in your area, local spotlights etc
A DAY IN THE LIFE - e.g. Your thoughts and a typical working day for you
SNEAK PEEK - e.g. Something new your working on. Exclusive content!
TIPS & ADVICE - e.g. pillar content, advice and how to content.
The other 4 Ps
I'll share the other 4 Ps as I update this article. Come back soon!
Other Tools
I'm going to be updating this article over the next few days. I'll be covering other tools that will help you add extra professionalism to your live videos as well as planning them.
For example:
What do you think?
But for now, I'm going to leave it there.
I'd love to know what you think.
Are you looking forward to using LinkedIn Live?
What are you going to use it for?
As always, let me know in the comments below