9 More Steps to Become a Social Media Guru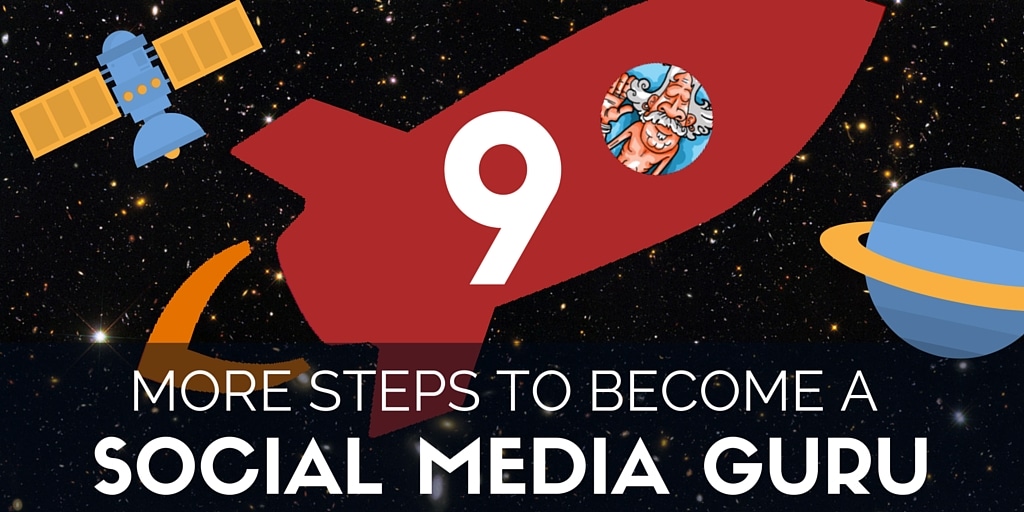 Just so it is clear, this article is supposed to be completely

IRONIC

as well as funny and educational!
So, please read it as what NOT to do!
---
Wow, it's been a long time since I last shared with you the secrets to becoming a social media guru.
In it, I shared some top tips on how you can climb to the giddy heights of social media guru stardom!
It's not about hard work or learning so-called best practices. It's not about gaining leads, customers or sales or being authentic either!
Being a social media guru is all about quick fixes, short-term goals and most of all about you!
Remember, this is a magic art- taught at the University of Middle Earth. Don't share these secrets with anyone else.
Ready to get started? Let's begin...
---
#1 Be a Reposting Ninja (Don't forget the Penguins)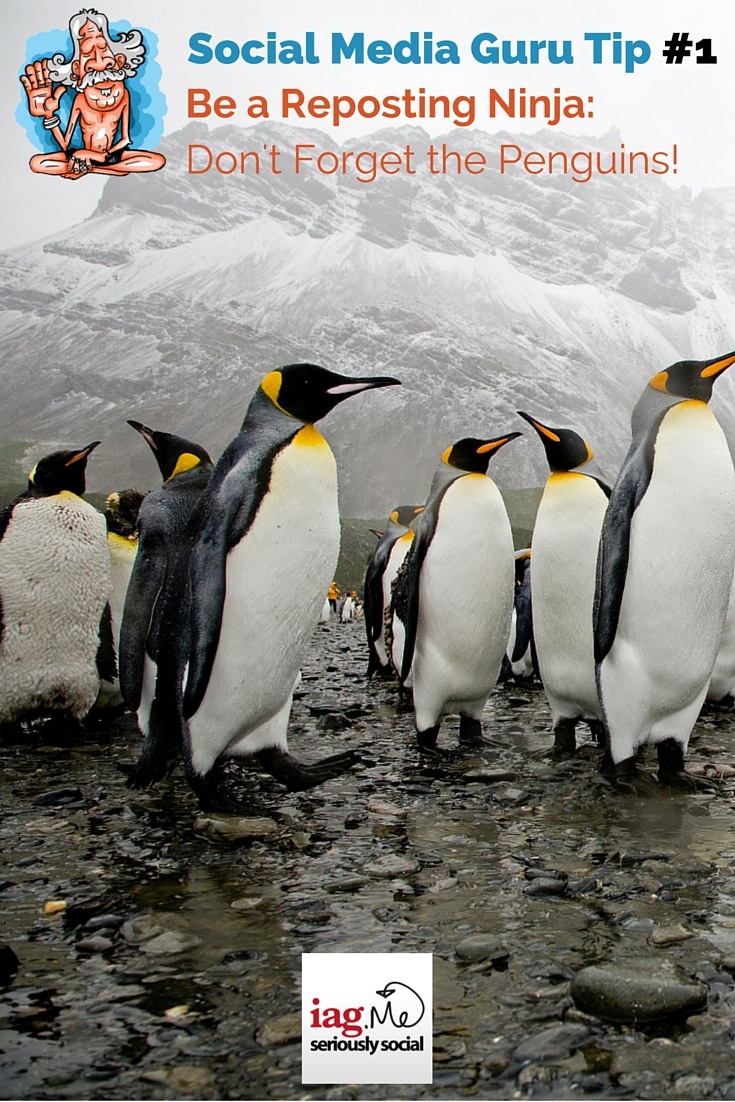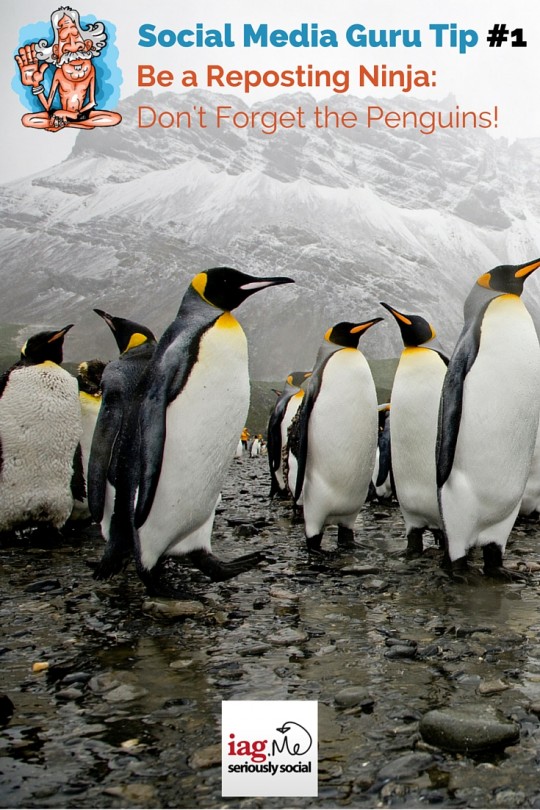 It doesn't matter whether you are a solopreneur, a local business or a global brand, you should always think global (we'll cover this a little more later).
This means you need to make sure you are constantly repeating your social media content multiple times every day.
The reason for this cunning strategy is to reach everyone in every time zone in the entire world. Not that it matters, you are doing this because it looks cool, and because it's what other gurus do.
It's important not to research your social media audiences across your various social networks.
Don't bother to find out the best times to reach the people you want to reach - when they are using a particular platform. That's far too much work for a busy social media guru such as you!
Also, don't worry about which country anyone is located and whether your business is trying to each potential customers in that location. Just open up your automation tool and switch on the repeat mode.
Just don't forget those Penguins in Antarctica- they could be your next customer!
---
#2 SEO: Write for Robots not Humans
You don't need to actually know what SEO is or what it's for . All you need to know is that it's all about getting to the top of Google.
Getting to the top of Google is EVERYTHING!
It doesn't matter what you get to the top of Google for - just get to the top of Google for lots of stuff. The more unrelated and "niche" it is the better.
For example if your web site is about digital marketing then why not try and get to the top of Google for unrelated words such as:
"tennis"
"pizza delivery"
"Himalayan beaver cheese"
"nasal hair"
"ocean current thermodynamics"
"World Tiddlywinks Championships 1977"
Don't fall into the trap of thinking it's about leads, sales or revenue or even that silly Return on Investment. It's all about that number 1 slot.
Some "low level" SEO types go on and on about searching for long tail keywords and use tools such as Long Tail Pro, Moz or SEMRush to search out relevant keywords to their niche.
This is a total waste of time!
By all means use these tools (and using tools for every job you do will certainly help you on your way to gurudom), but don't bother with the research. Just go for long tail- and rank for silly words that no one is looking for.
Remember that getting to the top of Google is all that counts!
---
#3 Learn the LinkedIn Power Techniques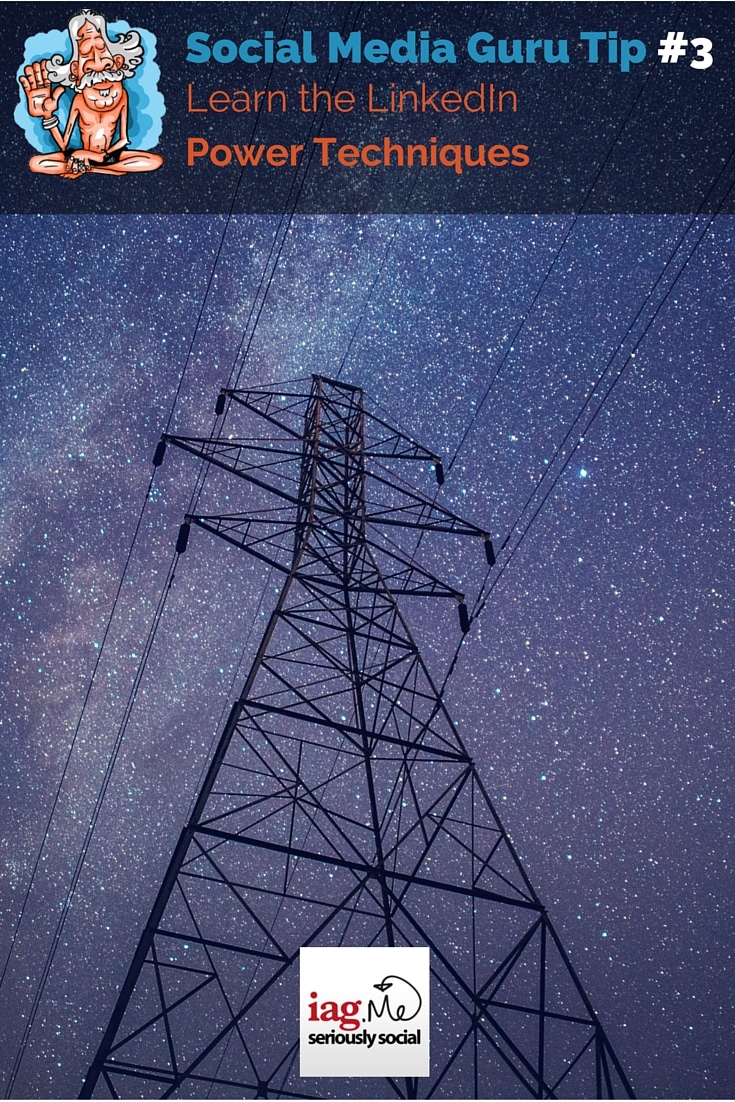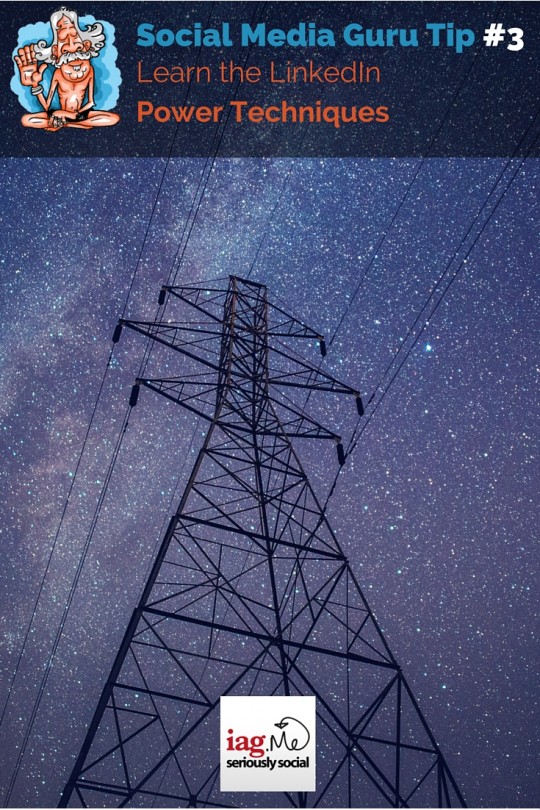 LinkedIn should be one of the top social networks of any social media guru.
You'll be blinging up your LinkedIn profile with your latest holiday snaps, inappropriate photos and a hefty use of emoji.
In addition, you'll no doubt be striving to have more connections than anyone else (especially with people you don't know).
In order to build up the number of connections you have, LinkedIn have got some special features to make your life easy.
As soon as you create your LinkedIn account and before you've started building and optimising your profile, LinkedIn allow you to send connection requests to everyone that you know. Some inexperienced social media consultants suggest you should wait until you've finished your profile before you send out your connection requests, but that's just like so much work.
Remember it's all about the number of connections you have. Here are my top guru tips for LinkedIn connection requests:
Connect your Google address book or upload your contact list to LinkedIn
Send connection requests to everyone (NEVER personalise the requests- LinkedIn make this easy for you).
Send out invitations for all those people in your address book that aren't on LinkedIn
Repeat step 3 on a monthly (or weekly basis if you have the time). This will frustrate your unbelievers so much that they will give in and sign up for a LinkedIn account
Connect with anyone else on LinkedIn who looks useful (Remember, you don't need to know them and never personalise requests!)
To send a personalised connection request you will need to visit their profile and click on the "connect" button. You'll then be able to customise your response. Some social media people suggest that doing this shows that you care and builds up trust. However, remember- you are a busy guru and as well as not having enough time you are just interested in the numbers not the people.
Finally, never read anything by Melonie Dodaro on this subject (especially this article).
---
#4 Look Down on Those with Lower Social Stats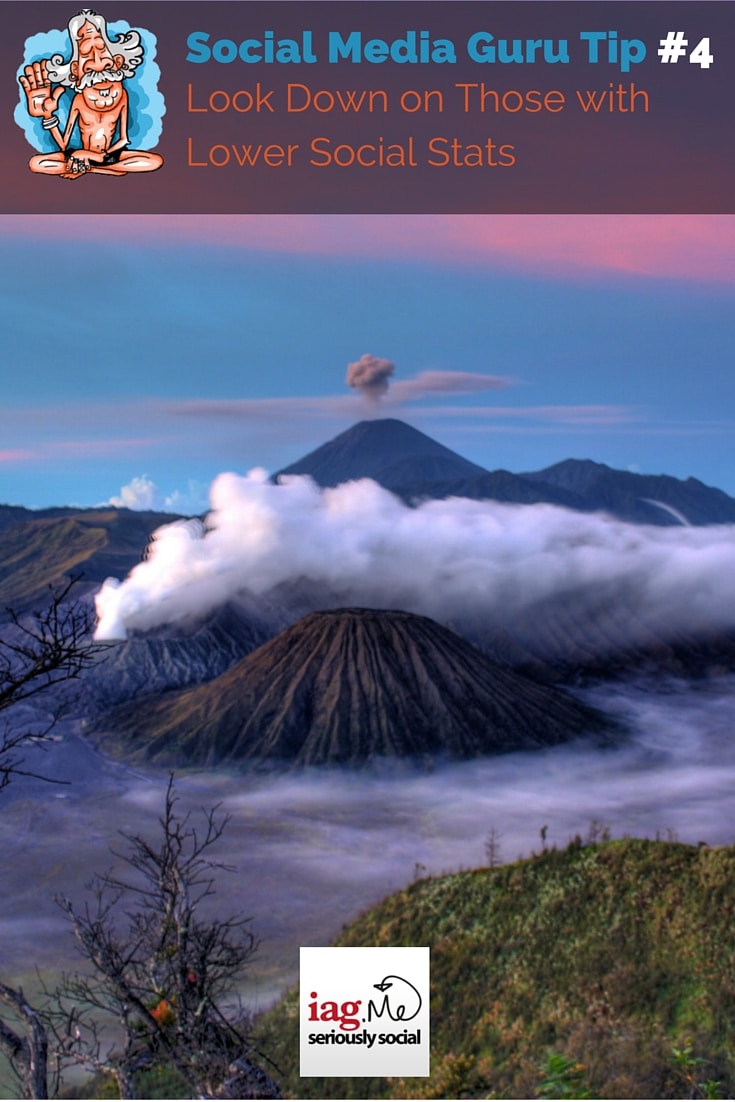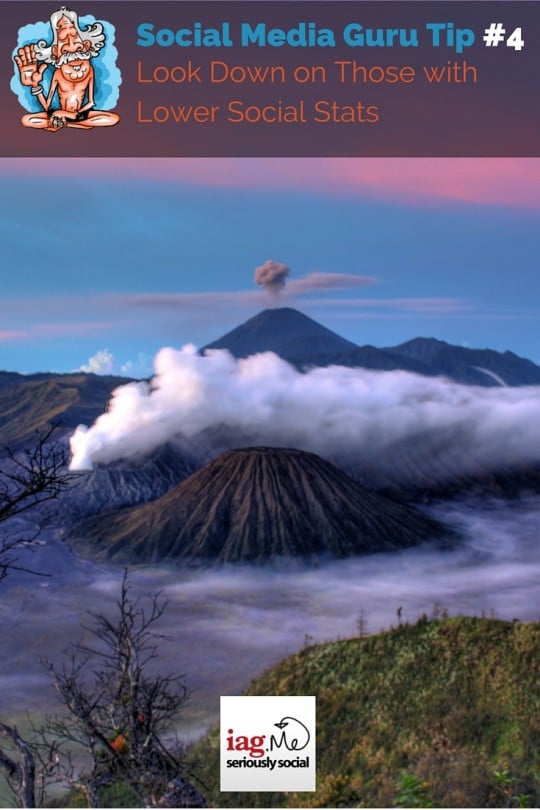 We covered metrics and the Klout score in particular in the previous social media guru article.
The Klout score is the Guru score.
You need to treat it as a precious stone forged in the bowels of Mount Doom or something. We'll come to some other Guru Stats in the next step.
You've worked really hard at manipulating the stats, so you need to flaunt your scores whenever possible.
Flaunting also means looking down on people with lower scores than you, or on people with less followers than you on Twitter.
How dare a Twitter follower with only a few thousand followers point out a flaw or give constructive criticism when you have 50 times as many followers and double their Klout score?
However, it's not just a case of looking down on them, you need to pity them.
You need to pity them because they've probably had to work hard at increasing their followers- probably without using any of your super social media guru super powers (such as automation, social bribes and buying followers).
They probably are more interested in relationships, community, integrity, conversation and engagement.
Just remember- pity and look down on them from your high throne of gurudom.
---
#5 Be a Stats Rock Star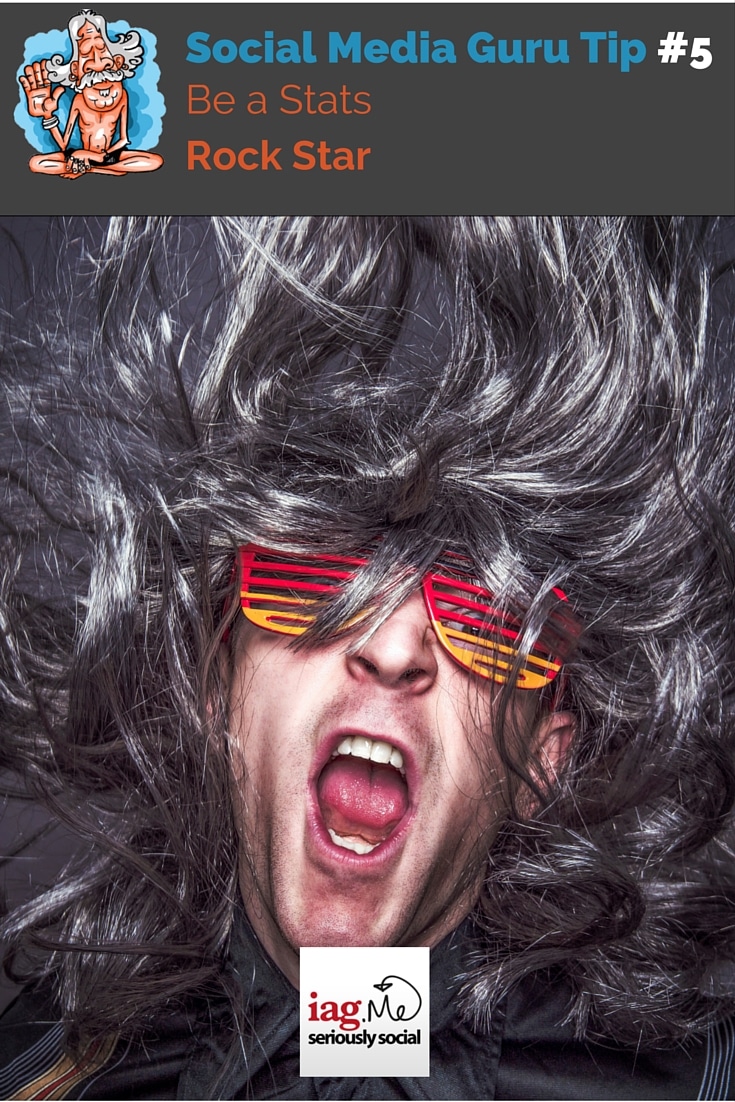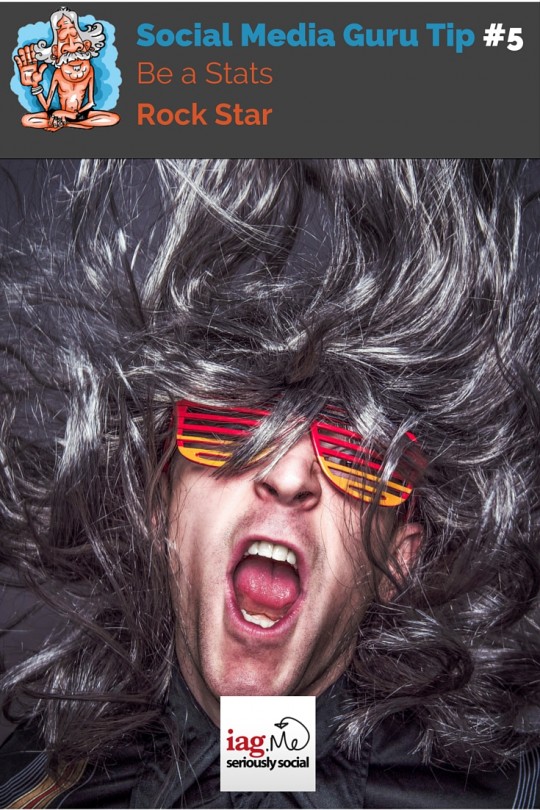 There are lots of different types of stats. Some are important and some are not. You need to be interested in the ones that make you look good. Don't bother with useless stats like:
Traffic to your website
Number of Leads or Sales
Revenue & Profit
Conversitions from your Facebook ad campaign
Any form of ROI
These numbers are very difficult to show off. You want to show your true awesomeness to your fans with pride.
Make sure you boast about the following on a regular basis:
Number of Twitter Followers, Facebook Fans, Instagram Followers etc
Klout Score
Social Shares
How many free webinars you've given over the past 6 months.
How many likes one of your Facebook posts received.
---
#6 Block Criticism & Attack Others Openly Online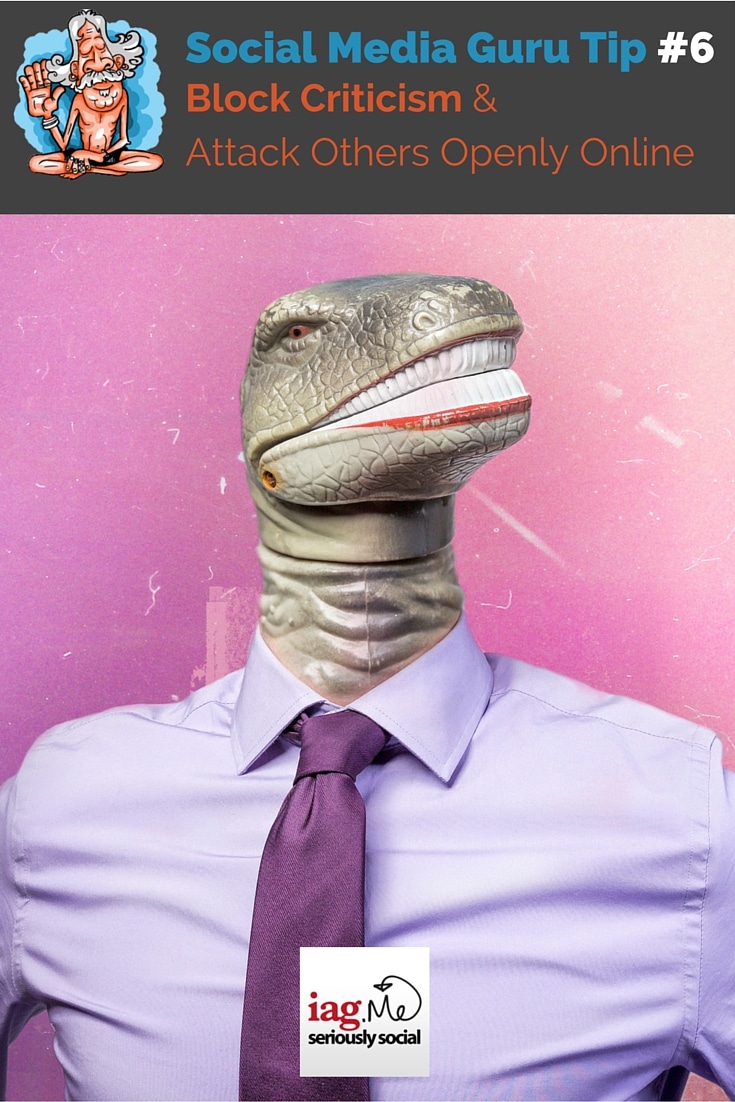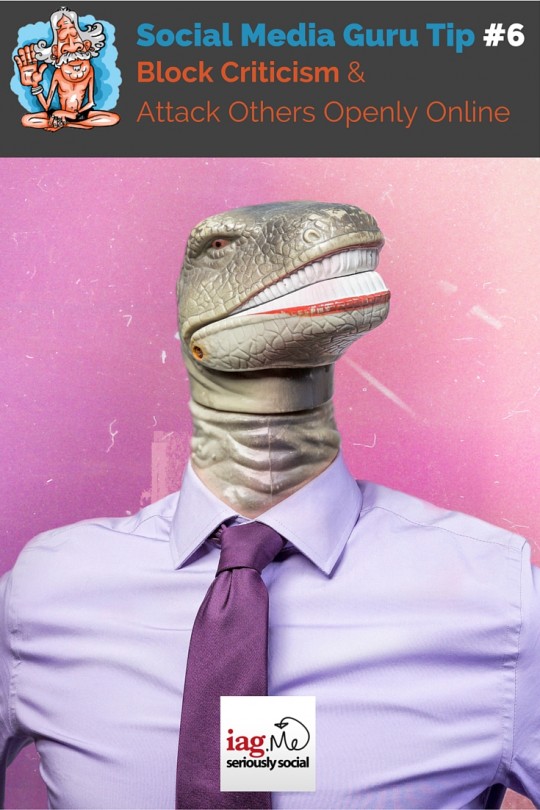 Most people using social media are human beings and make mistakes.
However as a social media guru you are always right and you need to make that known.
If you ever receive criticism you need to respond with all the force you can muster.
Remember, you have numbers on your side and you can use the power of the influencer!
With your high Klout score, 20 million Twitter and Google+ followers and huge mailing list you can publicly shame your critics.
In the end your critics will be silenced.
It's not about whether you are right or wrong, or whether you feel that someone is being untruthful online. Some social media people would suggest that you should treat all comments with respect and try and bring such conversations to a private medium such as email or a phone call.
Here are some top tips for dealing with criticism:
Always remove critical comments on your Facebook page- NEVER engage.
If you're in the mood for a fight- openly condemn the critic
Use highly volatile words such as "LIAR", "EVIL" and "STUPID"
Once you've used the words in step 3, use more colourful language to really offend the offender.
(optional) play the victim in order to get sympathy- NEVER admit any mistakes!
Write a blog post, openly attacking the critic. Use their Twitter screen name in your article's title
If at all possible NEVER think or leave some time to heal the wounds- you need to post your thoughts as soon as you can- strike while the iron is hot!
Ask your Twitter followers or Google+ fans to openly attack the person or block them
Email your mailing list to tell them how hard done by you are. Ask them to make up their own mind and spread the word
---
#7 Always Quantity, Never Quality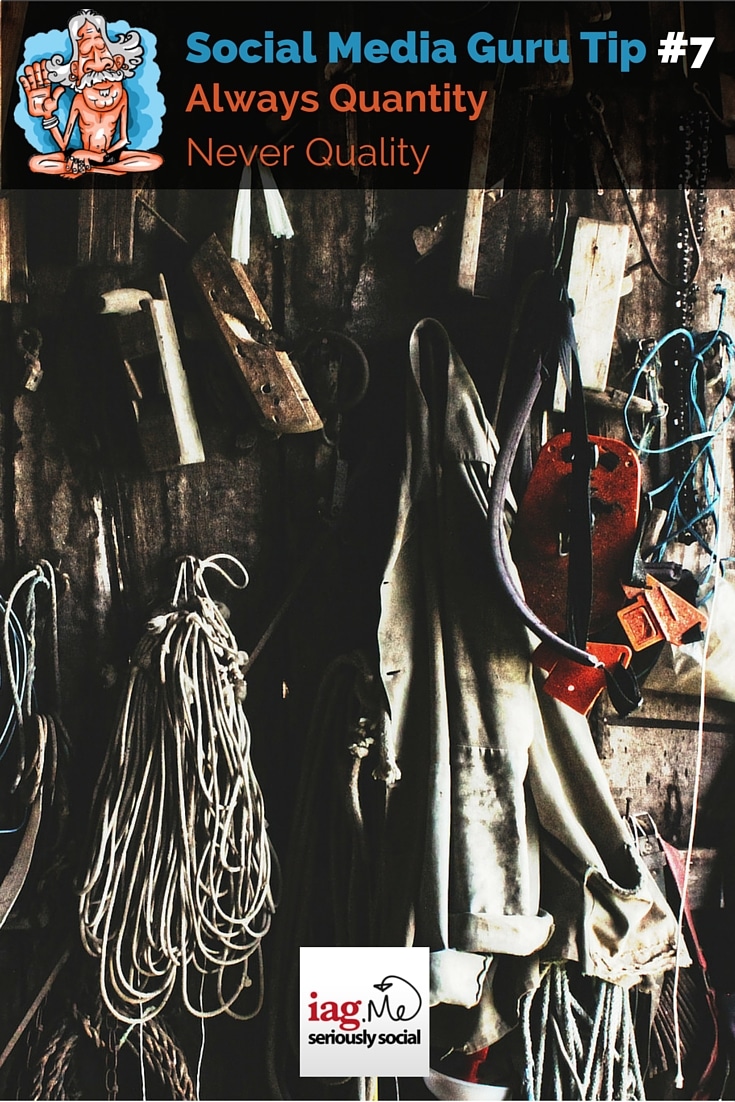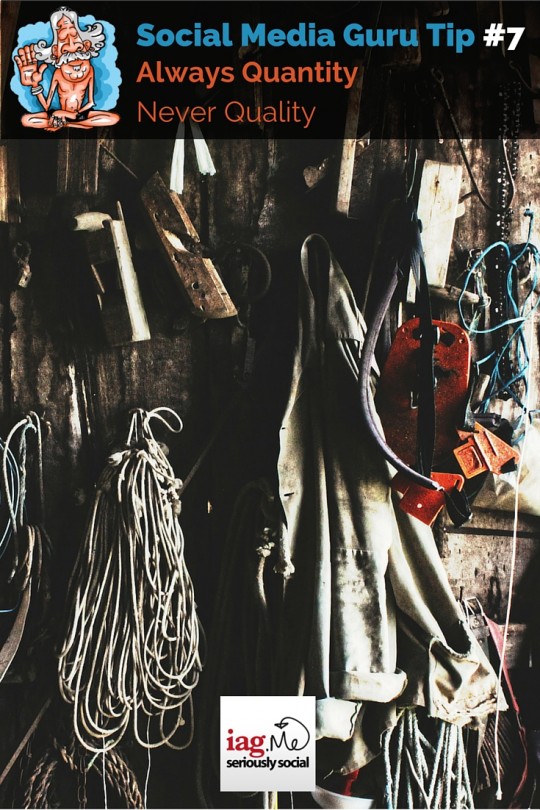 As a content creator (or content regurgitator as I prefer to call it), you need to make sure you are publishing very regularly.
Ideally this should be multiple times a day, but at least 5 or 6 times a week.
The key here is to create very low quality content or preferably copy, lift or "re-purpose" other content or just link to existing content on the web. Don't bother seeking permission when you do this. It's on the internet, so it must be free.
There are some unfortunate digital marketers and content creators out there who manage to post short and regular blog posts that are also oozing with quality. Never do that.
Adopt the fast food social media approach.
Marketer and Speaker, Brooke Sellas was obviously having a bad day when she wrote her article The Most Annoying Social Media Update EVER (no longer available).
Despite Brooke discussing social media updates she finds annoying, I have to commend her for sharing some quality social media tips. Read it- it is a gold mine of guru tips. For example:
Create low quality content about each day. For example "Happy Monday", "Wednesday- Whoo hoo. We're almost there!" and of course the infamous Friday posts
Always engage in Follow Fridays. Don't worry what that is- just add the hashtag #FF in every social media update you publish on Fridays (or in fact any day of the week to be honest)
Brooke also has some power tips, but they are geared towards people wanting to be effective online, so I'll have to change them for us special social media gurus:
Have nothing to say- make sure you are posting just for the sake of posting
It's old, played out, and (happily) everyone else is doing it! (Result!)
It's not relevant, useful or valuable. (surely that's a good thing, Brooke?)
You're treating your audience like they're two, unintelligent or "just" simple thinkers. (absolutely, you need to treat your audience like they have no brains!)
---
#8 Be Inauthentic: Never be Yourself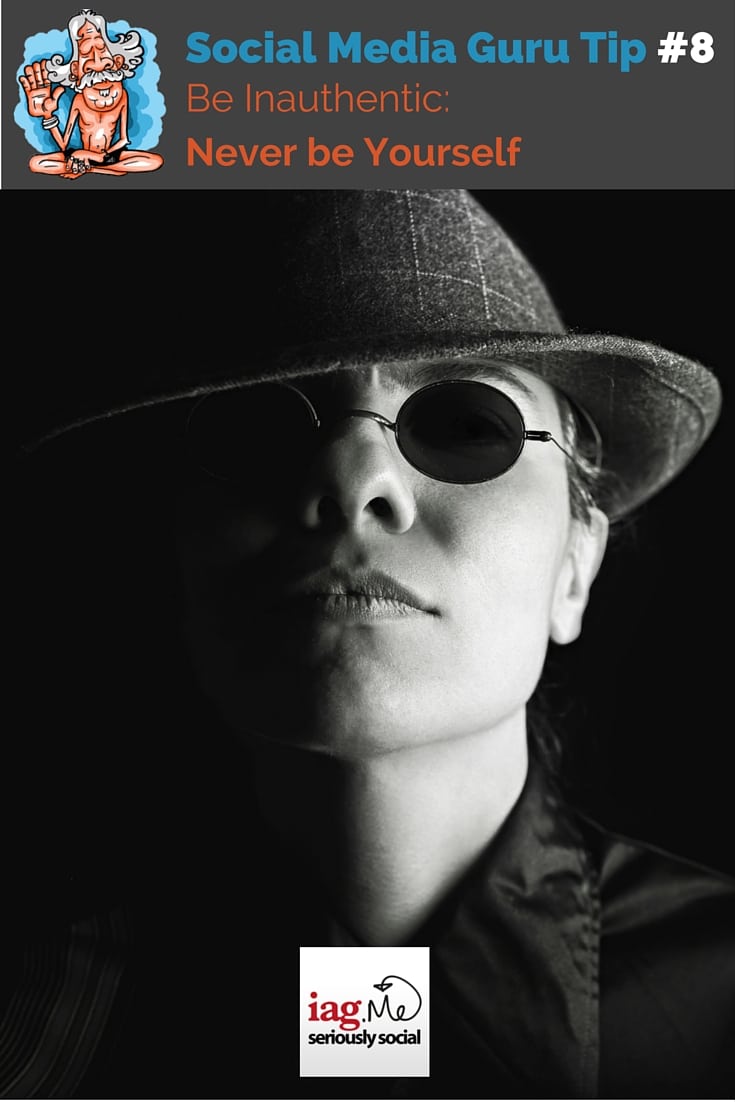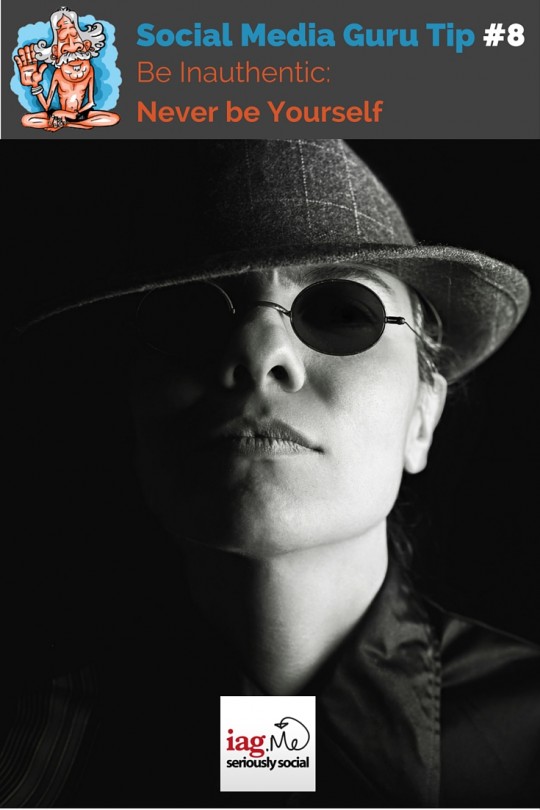 In the previous social media guru article we discussed how you should hide behind your business and conceal your humanity. People like to buy from robots, not humans. It's important to warp who you are. This is especially true if you are an introvert or a deep thinker. No one likes a smarty-pants!
To make it easy for you, I've come up with some pop up personas that you could use and modify for your own. They're guaranteed to work!
Steve Power (The Power Seller)
No matter what, Steve sells. Every Tweet and Facebook post are oozing with sales talk. What's the point in using social media if isn't to sell? If there is a dreadful tragedy in the world, Steve uses that as an opportunity. He uses all the latest sales and marketing techniques to sell sell sell!
Princess Pretty Pinky Pink Positivity (Always positive no matter what!)
Sugary sweet is what it is all about. Princess has nothing to do with criticism (in the constructive kind) and avoids thinking deeply about anything. It's all about sharing the positive stuff in your life (or making it up) and lots of images of cute kittens, babies and positivity quotes.
Stuart Snakeoil (The Slippery Salesman)
Stuart is quite similar to Steve, but he tends to be more into the "dark arts" of marketing such as the never ending countdown timer, made up testimonials, pop ups that neve dissapear and more.
Sharon Sheep (Follow the herd)
Sharon loves all the new stuff. She suffers from SNTS (Shiny New Toy Syndrome). She was first on Meerkat, Periscope and Blab. She is always following the herd and to what everyone else is saying. She never works things out for herself.
Abacus Klout (The Stat Follower)
Abacus is not interested in relationships or building a community, except in so much as gaining some rather attractive stats!
Whatever you do, don't listen to this WebSearchSocial podcast episode on "being authentic". Please, give me a break! Never disclose the real you- if you're a real social media guru you'd never want to display your true self!
---
#9 Forget Local or the World- THINK GALACTIC!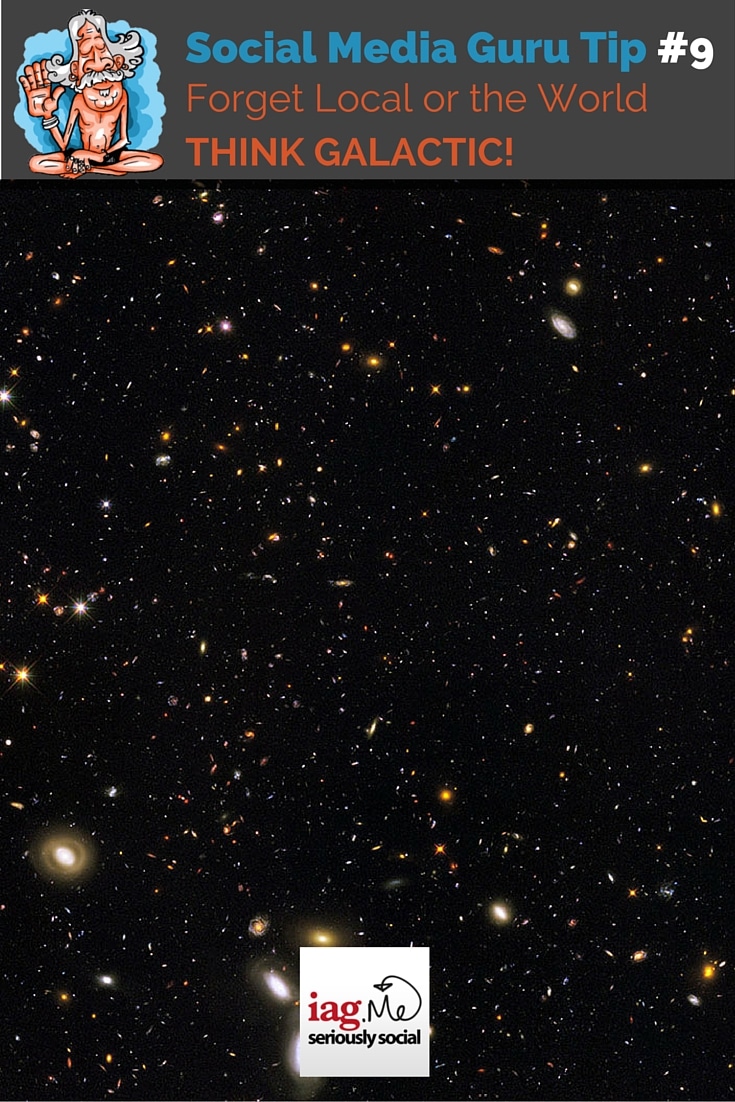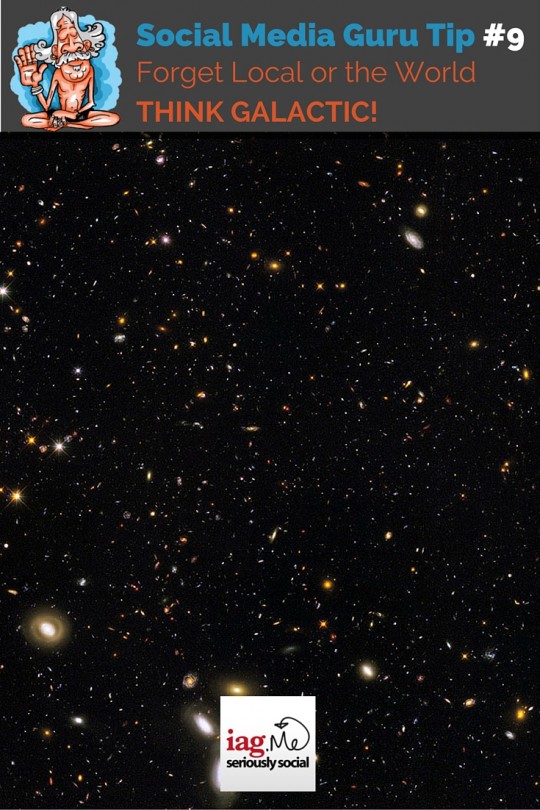 The only reason social media exists is so that you can think big and communicate your words of wisdom with the WHOLE WORLD.
In fact, forget that... as a social media guru you don't want to just conquer the world, you want to conquer the GALAXY.
Don't forget the aliens that could be living in other parts of our galaxy, the Milky Way.
I know they might be waiting a few million years for the communications from earth to reach them- but you owe it yourself to think of all potential lifeforms in the galaxy.
You are a social media guru after all.
Some lesser social media types try and connect on a local level as well on a national or world-wide level thinking that relationships on a local level are important. Don't they realise we live in the 21st century? We live in the age of the internet where the world is connected.
Forget about your local area. How much more cool is it that someone is listening to your stuff on the other side of the world? Especially if they are a penguin or even better an alien on another world.
---
So, what's next?
If you have any top social media guru tips, do share in the comments below. Just make sure you don't share this article with anyone else.
Of course, if you don't actually want to be a social media guru, and you want to help grow your business, increase your sales and be effective... don't follow the tips in this article.
If you haven't already, do have a read of my previous article on Becoming a Social Media Guru in 20 Steps: