5 Quick Twitter Tips to Monitor Your Brand and Website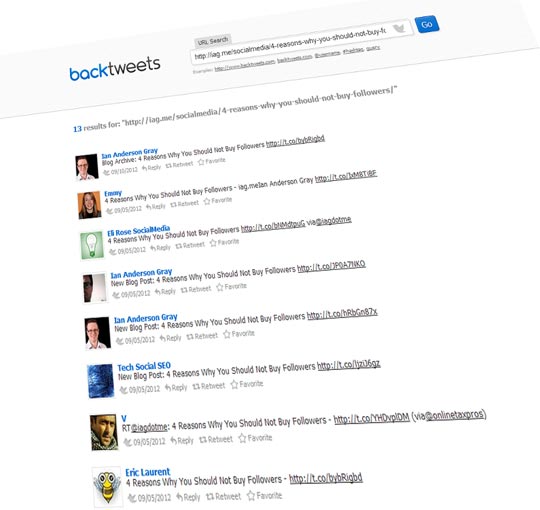 With the number of tweets per day exceeding 320 million it's not a surprise that many businesses and brands find it almost impossible to keep up with what people are saying about them and properly monitor their keywords.
Despite Twitter buying and killing many useful apps that would make our life easier, there is still help at hand. It's still possible to be alerted when someone tweets about your brand, favourites one of your tweets or links to a page on your website. Here are 5 quick tips on how to do this.
Find Out when someone Favourites Your Tweets
It used to be hard to find out when someone favourited one of your Tweets. Twitter now make this very easy, as this information is listed in your @connect list. Make sure that you switch email notifications on for when "My Tweets are marked as favorites" in Twitter's settings. They can still be a little hard to keep track of, so it's probably best to set up a filter in GMail to make them more obvious. Another tool which makes your life easier here, is commun.it. Although it doesn't specifically tell you when someone favourites your tweets, it does monitor this information and gives you a list of the people who engage with you the most.
Find Out When someone Unfollows You
It can be useful to know when people unfollow you, so that you can monitor how your social media strategy is doing. If you suddenly have many people unfollowing you, then it is a good indication that you have done something wrong! Thankfully there are a number of ways to find this information out despite Twitter not making the information readily available.
Firstly you can can follow @unfollowr on Twitter. You will then be sent a weekly report by direct message of all the people who have unfollowed you.
Another option could be Qwitter which I confess I haven't used as of yet. Like unfollowr it sends you a weekly report of unfollowers, but you can sign up for the inexpensive pro account which tracks your unfollowers daily.
One of my favourite tools is Manage Flitter*. In the paid version you get some great analytics tools- one of which shows you all your recent unfollowers. It is really interesting to see just how many people follow you with the sole intention of getting you to follow them back and if you don't reciprocate they will unfollow you!
Finally, if you are just interested in the numbers of unfollowers, sign up for FollowerWonk or twentyfeet.com which tracks your Twitter account. FollowerWonk has recently been acquired by SEOMoz which mean their paid offering is now very pricey. Fortunately you still get to see a graph of your follows and unfollows over the past month:
With TwentyFeet you can track your daily follows and unfollows too. Unfortunately the free version sends out an annoying tweet once a week with your latest stats, but the paid version is fairly inexpensive. Whatever you do, never tweet out who has unfollowed you- that is just very unprofessional and makes you look bitter!
Find Out When someone Tweets near you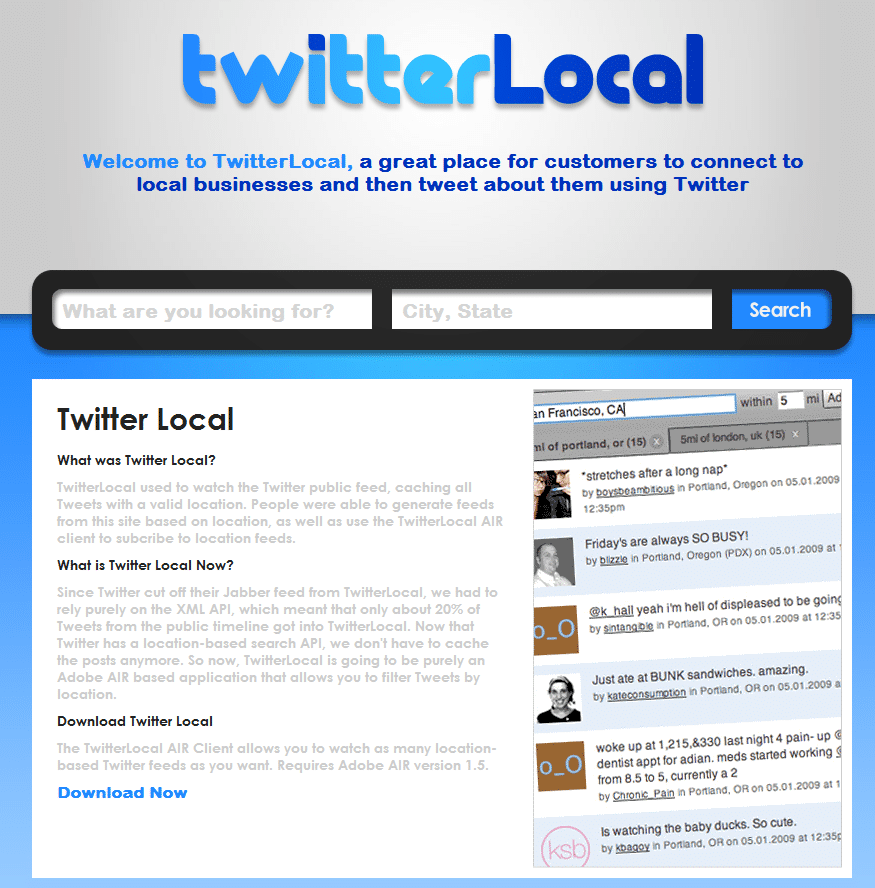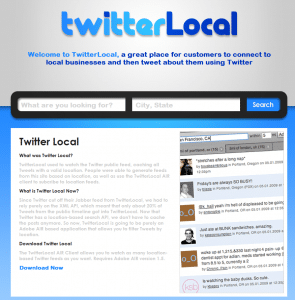 There are a number of tools that allow you to do find local tweets. Unfortunately none of them are very accurate as they rely on Twitter's API for which the location information can be muddled.
Both TweetDeck and Hootsuite allow you to create columns with people who tweet from a particular location. One of my favourite tools is TwitterLocal which is a stand alone application (it runs on Adobe Air and so is cross platform)
Find Out When someone Tweets to your Site
If you have a blog or website it's important to track when people link to a page on your site. For example if you write an article on your blog, and someone links to it on Twitter, it would be really useful to know so that you can thank the person and engage with them. Unfortunately Twitter don't make this very easy and you can't rely on the person mentioning your Twitter name in their Tweet. Twitter's search facility is very lacking and doesn't store historical tweets. Twitter also shorten
s all urls using their url shortener, t.co and of course people use their own url shorteners. Back link service, BackType used to be a good service where you could search for tweets linking to a page on your site, but it was acquired by Twitter in July 2012 and no longer seems to work.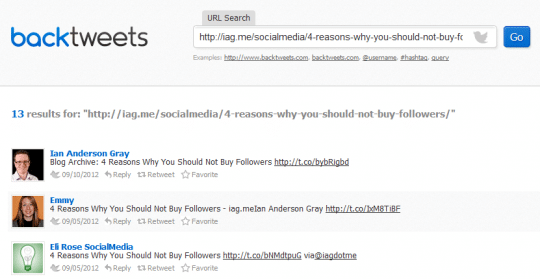 A service I discovered recently is BackTweets. It's very similar to BackType and very simple to use. It is clever in that it can cope with url shorteners. Just put in the url of the page on your website that you want to track and you will see all the tweets that have a link to that page. Unfortunately it doesn't send you alerts every time someone tweets to your site and you have to add each page you want to analyse manually.
It would be awesome if there was a service that showed all tweets to all pages on your website, but I have yet to discover that. If you know of any such service, or any other back link service for tweets, let me know in the comments.
Find Out When someone Tweets about your Brand
To monitor a key phase or hashtag you have many apps to choose from. Both TweetDeck and Hootsuite offer this functionality- just add extra columns to search for the phrases or hashtag. You could also use ifttt and create a recipe that could trigger an action every time someone mentions your brand. This could be a text, email, direct message, phone call or many other things. You may want to archive all mentions of your keyword in a Google Spreadsheet using the Google Drive channel. For more information on this, see my previous article on "Archiving Your Life with IFTTT and Google Drive".
Conclusion
How do you monitor your business or brand? There are so many apps out there and so many ways. I'd love to hear your ideas and what works for you. Do let me know in the comments below.
What the * means above...
If a link has an asterisk by it, it means it is an affiliate link and generates a little income for the site. If you end up signing up for the service and paying it may result in a small proportion going towards the upkeep of this site. You shouldn't notice any difference in the sign up process.
The editorial line is NEVER impacted by these links. I will only ever recommend a product or service if I think it is worth recommending! If a product or service does not have an affiliate scheme, then we will still include it in the same way.
In the interests of transparency, here are the non-affiliate links which will not help iag.me:
This blog post is HUMAN CONTENT!
It's NOT been generated by any artificial intelligence (AI) tools. It's been authentically written by a human author (i.e. me!)