Why NOT to use Facebook Live Producer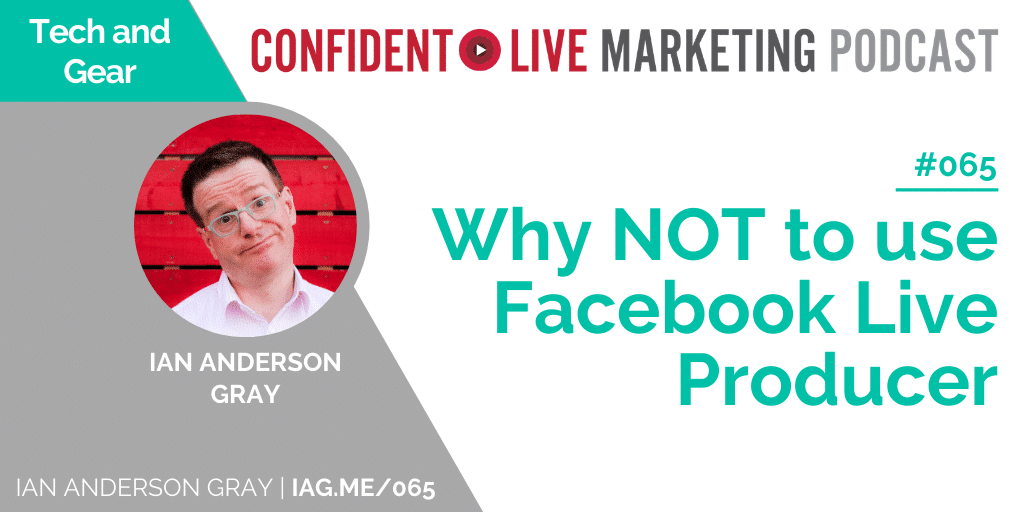 Facebook Live Producer is pretty cool.
If you caught my post a few weeks ago you'll know that it has all sorts of nifty features that allow you to create and manage streams to your page, groups, and profile as well as set up cross-posted videos, create polls and pose questions to your audience.
But that doesn't mean it's the ideal tool for everyone, or for every situation. So I'm going to look at some of the reasons you might NOT want to use Facebook Live Producer.
What you'll learn
Going Live with Third Party Tools
Whether or not you'll want to use Facebook Live Producer can depend on which third party tool you're going to be using.
With OBS Studio, for example, you need to use Facebook Live Producer to generate the stream key.
However, most of the live video third party tools you're likely to use, such as Be.Live, Restream Studio, StreamYard, Ecamm Live, or Wirecast create the live video post for you — whether it's going to be broadcast live or whether you're scheduling it for some time in the future — so you don't actually need to spend the extra time fiddling around with Facebook Live Producer.
It can be Buggy
Confession time: as cool as I think Facebook Live Producer is, I don't actually use it particularly often when I'm creating my scheduled live shows because it can be a little buggy.
For example, I've found that when I try to type in the description of my Facebook live in Facebook Live Producer, it quite often allows me to tag people at the start of the description but not further down, which isn't great.
Of course, since it's a relatively new tool a few bugs are to be expected. So if you, too, have previously tried to use Facebook Live Producer and found it a little unpredictable, it might be worth going back in to check if Facebook has already ironed out some of the kinks.
Duplicate Posts
You might have noticed in Facebook's Introduction to Facebook Live Producer, they actually say that when you schedule a live broadcast, two posts are automatically created.
The first is an announcement post that's published to your page when you schedule your video. It's designed to let your followers know that you have an upcoming live stream and they have the option of clicking 'get a reminder' to receive a one-time notification shortly before you start broadcasting.
The second post is a live broadcast post that appears at the start time of your scheduled post — those who expressed an interest in your announcement post will also get a notification directing them to the broadcast.
The problem is, after your broadcast has ended, you're left with two posts: one of the actual video which now appears like a normal pre-recorded video, and another of the announcement post that just says, 'this has now ended', which looks a little strange and can clutter up your page.
Of course, none of these 'issues' have to be deal-breakers, but it's always worth looking at the downsides as well as the advantages before committing too much of your time or effort to any new streaming tool.
None of these 'issues' have to be deal-breakers but it's always worth looking at the downsides as well as the advantages before committing too much of your time or effort to any new streaming tool.
Click To Tweet
Brought to you by Content10X & StreamYard
Content10X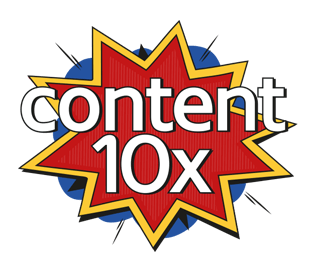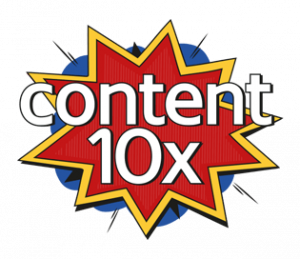 Do you want to find ways to create more content?
You won't after you meet the team at Content 10x!
My friends at Content 10x are a specialist content repurposing agency, they can take one live-stream, or a blog post, podcast, or video, and explode it into a plethora of new platform-specific, on-brand content..
If they don't do all of this for you via their service, they teach you how with their podcast, blog, book and toolkit!
They're smart, responsive, creative, and effective. If you want to take the stress out of content marketing, Content 10x are the people you want to go to.
Visit www.content10x.com to find out more.
StreamYard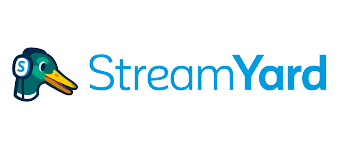 StreamYard is my top recommended live video streaming web app tool. Because it works in your web browser it works for both Mac and PC users.
It's so incredibly simple to use and has so many amazing features such as:
Being able to highlight comments on the screen and add your own titles
Have up to 5 guests on your show without any extra software
Being able to share your screen
Add your own brand colours
You can stream to Facebook, Periscope, LinkedIn Live and YouTube
And now you can use greenscreens!
All of that on the free version!
The paid version gives you even more including being able to add your own logo, overlays, backgrounds and videos and multicasting to up to 5 destinations.
StreamYard has got a great deal for Confident Live Marketing viewers and listeners. You get a 30 day trial with a 16% discount on the annual plans.
To find out and have a play, visit iag.me/streamyard
Please Subscribe!
Don't miss an episode! You can subscribe on Apple podcasts here - or on other podcast players.
The Confident Live Marketing Show
The Confident Live Marketing Show is a weekly live video show and podcast. It's aimed at established entrepreneurs who want to level up their impact, authority and profits through the power of live video, webinars and podcasts. We'll focus on knocking down the 3 main barriers these entrepreneurs face when creating live content - camera confidence/mindset, tech/gear and content marketing.
It's hosted by Ian Anderson Gray. He is the founder of the Confident Live Marketing Academy and is the host of the Confident Live Marketing Podcast. He helps entrepreneurs to level up their impact, authority and profits by using live video confidently. He's founder of Seriously Social - a blog focused on live video and social media tools. He's an international speaker, trainer, teacher and consultant. He has a passion for making the techno-babble of live video and social media marketing easy to understand. As well as being a geek, husband, and dad to two kids, Ian is also a professional singer and lives near Manchester in the UK.