How to Use Facebook Live Producer
Confident Live Marketing Podcast
Episode 62
Episode Theme: Tech & Gear
July 10, 2020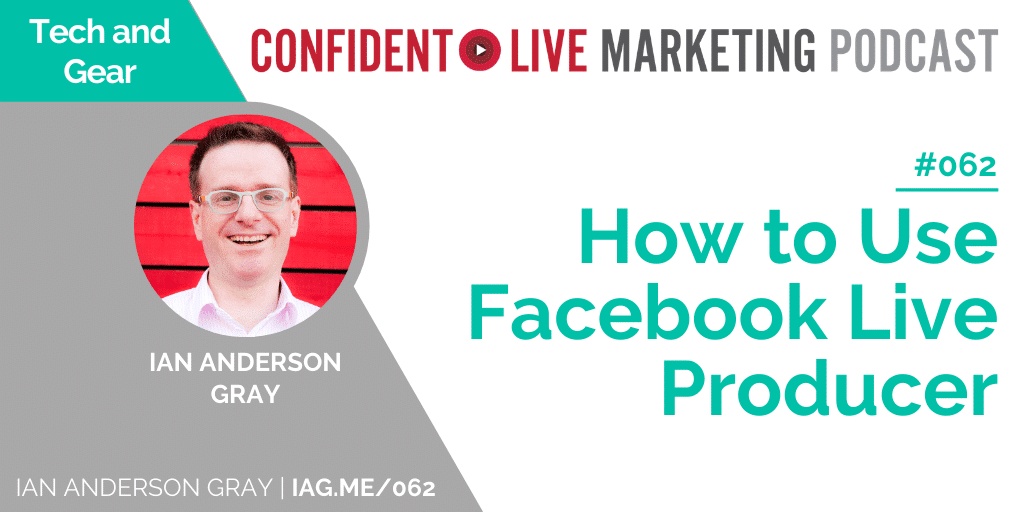 Ready to go all-in with Facebook Live? Then definitely check out Facebook Live Producer!
It's a fairly new feature that Facebook added to their live video platform.
It allows you to do a whole bunch of cool things like creating and managing streams to your page, groups and profile, set up cross-posted videos, create polls, questions and more.
It's definitely worth getting your teeth into so in this post, I'm going to take you through everything you need to know to become a Facebook Live Producer rockstar!
What you'll learn
How to Schedule a New Facebook Live: The Basics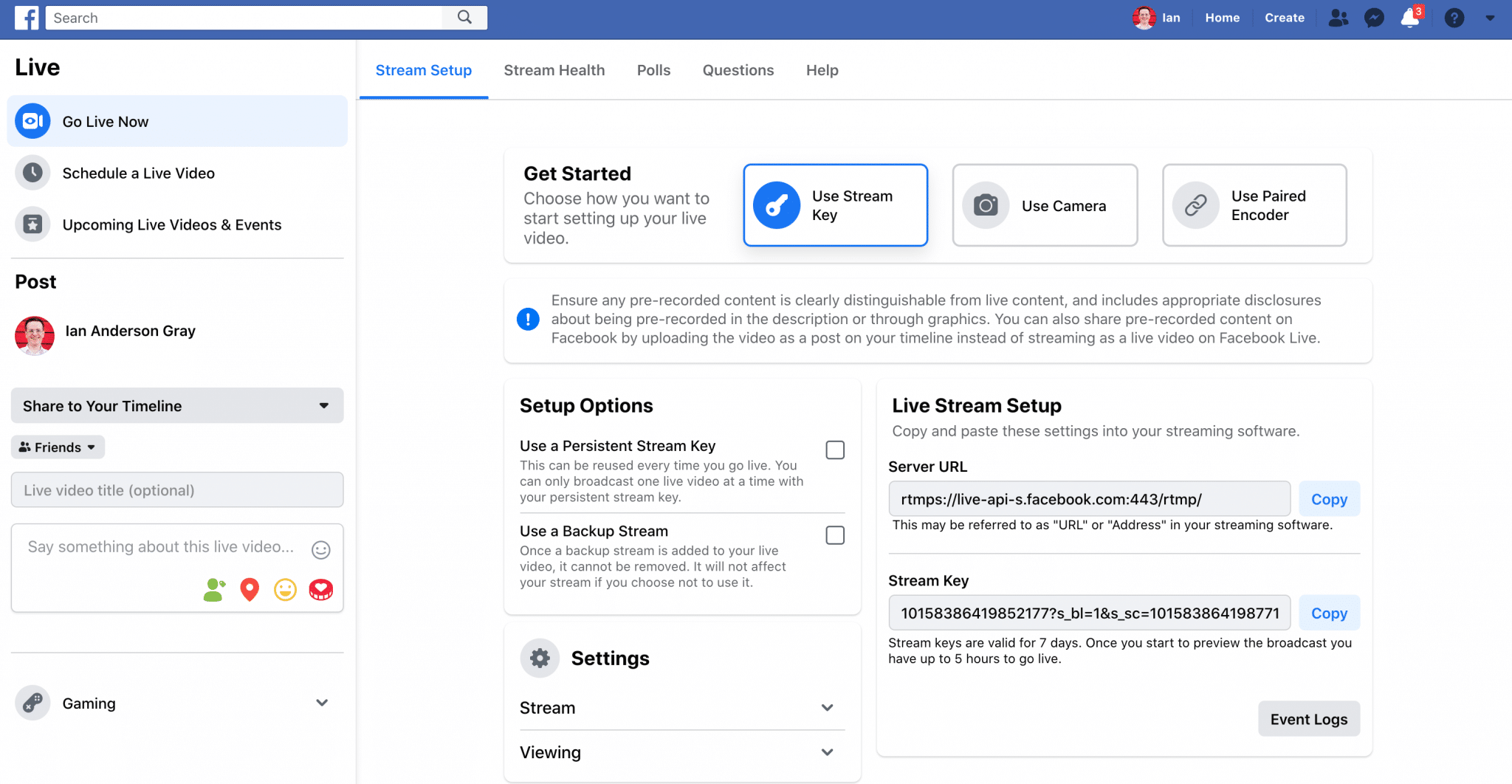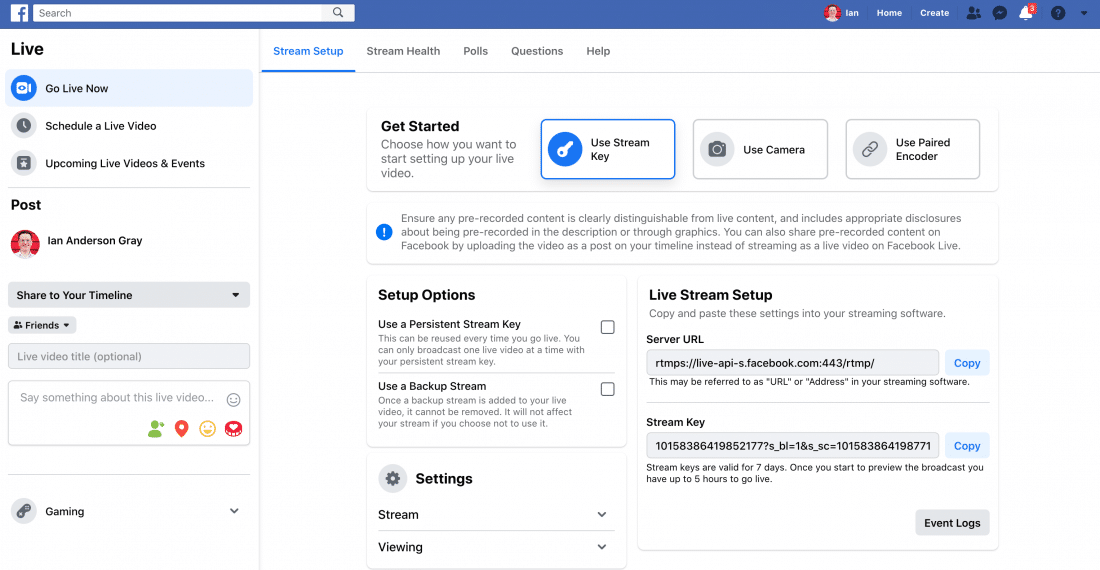 When do you want to go live?
The first thing you have to figure out here is your timing; you can either go live immediately or choose to schedule a live video for later, anything from 10 minutes to a week from when you open the platform.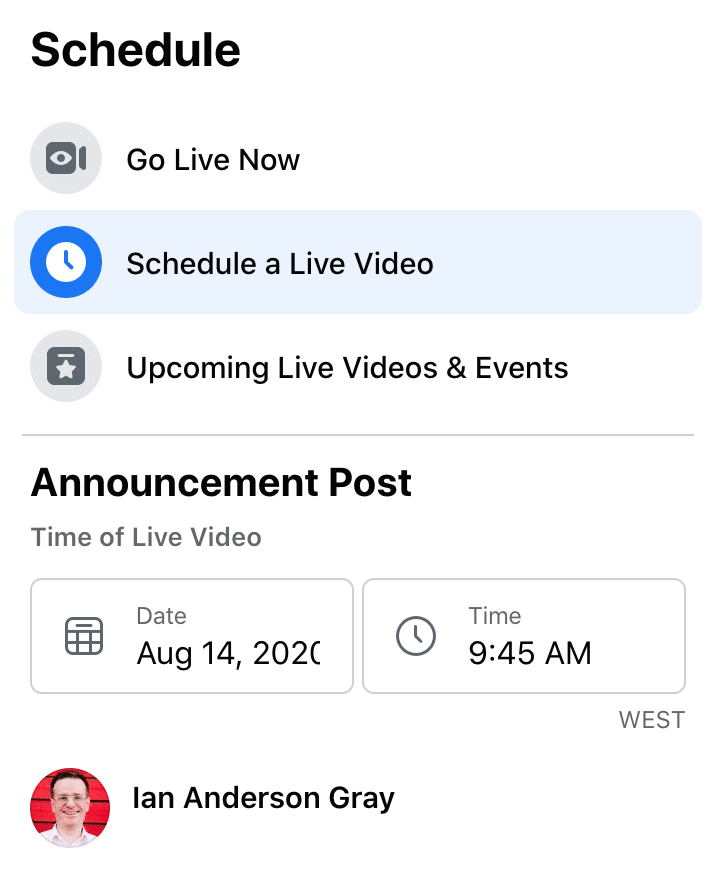 Where do you want to go live?
The second thing you'll need to tell Facebook Live Producer is where you want your video to go.
Your first option is to play it from your own personal page and this can be a decent starting point.
With the option of adjusting the privacy setting, you can choose to do a practice run that will be available only to you or if you're feeling a little braver you can change the privacy to include your Facebook friends — great if you'd like a bit of constructive criticism before you go fully public with your video!
If you reckon you're ready to rock — no practice run required — you can go ahead and schedule your video to appear on any of the pages you manage, or in a group.
With the time and location logistics taken care of, you now have the option to make your live appeal to your target audience.
Try adding a title and a description to let your followers know what you're going to be talking about in your video as well as any relevant hashtags and of course you can always add an emoji or two as well!
Another great feature here is the facility to choose a series for your video. This is sort of like a playlist option particularly useful if your video is part of a regular show you've created.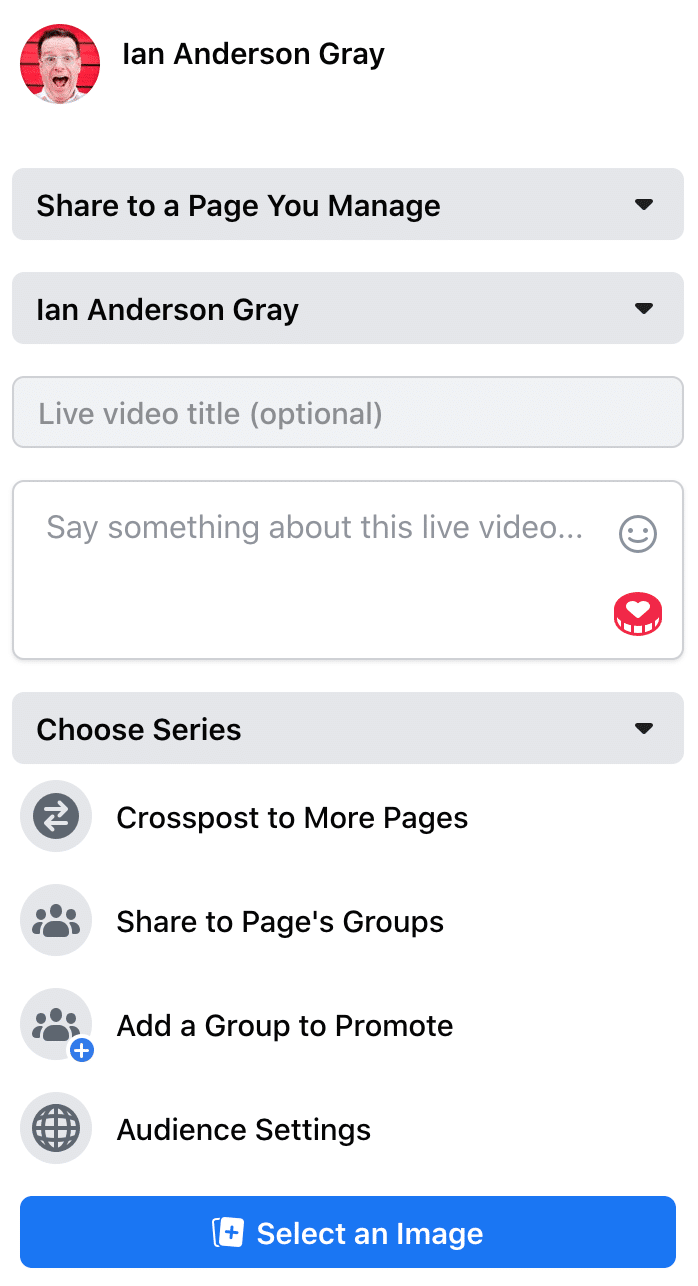 Now, with your live video scheduled, you can really go to town with some of Facebook Live Producer's cooler features.
The first one that I particularly love is the cross-posting option. This allows you to broadcast to other pages that have allowed you to cross-post to.
For example, I might want my video to feature on the AgoraPulse page. You might have other collaborators you work with, other pages you manage, or multiple groups in which it would make sense to share your video.
Go live now — stream key features.
If you want to schedule a live video, you have to use a third-party tool such as Ecamm Live or Restream.
With the Go live now function in your browser you have the option to use your camera, to set up screen-sharing, and to choose your microphone.
You also have the ability to set up a stream key, which allows you to bring your third party software, such as Zoom, back into the mix.
If you want to keep things really simple, you can choose the 'use a persistent stream key' option, which will allow you to keep the same stream key for every single live video you create.
You'll also notice the option to select a backup stream key. I'd proceed with caution here; while it can be useful if your first connection fails, it also means that you'll prevent Facebook from cutting off the stream when you stop broadcasting.
Under the settings section, you'll find a few additional features to explore (with even more options planned for the future, according to Facebook).
Here are a few.
End live video if streaming stops.
You'll find this option under the Stream section of the settings list and I'd strongly recommend unchecking it.
While it can be useful if you're using a tool like Restream and you want Facebook to automatically stop the video when you stop broadcasting, it's not always a great idea as I discovered recently when I was hit by a power cut in the middle of broadcasting!
Because I hadn't selected this feature, I was able to get right back into my live stream, using my mobile connection, and only lost a few minutes in the process.
Embed live video
You'll most likely want to select this option. Once you tick the box, you'll be given the option to get the code you'll need to embed your video on your own website.
Unpublish after live video ends.
Most of the time you'll want to leave this option unchecked.
But if you do happen to create perhaps a time-sensitive video you don't want to keep as a permanent feature of your Facebook page or group, checking this box means that it'll disappear as soon as you've finished broadcasting.
Allow viewers to rewind
Moving down to the viewing part of the settings section, you have the option to make your videos available to even more people by allowing any latecomers to rewind to the start of your video and catch up on anything they've missed.
If you'd rather encourage people to turn up at the scheduled time, just make sure you've unchecked this option.
Turn on auto-generated captions
In theory, this should be a really great feature. After all, we all want to make our content as accessible as possible.
However, it's worth bearing in mind that the captions aren't yet 100% reliable, as a friend of mine found out when he was helping a church with some live streaming and the auto-generated captions churned out some choice words that weren't exactly appropriate for the intended audience.
Proceed with caution for now!
Comments
If you've been receiving some inappropriate or super spammy comments, this is the section for you.
To minimise trolling, the Restricted button is excellent as it blocks comments from any account less than two weeks old, as is the Protected button which stops comments from anyone who's been following you for less than 15 minutes.
And, if you'd really like your video to spark some deeper discussions, it's worth checking the Discussion option, which means that only comments over 100 characters will be shown.
So, now you're up-to-speed with creating and scheduling your live videos, let's have a look at some of the Facebook Live Producer's editing features.
The first step here is to click on the live video you want to edit and click on the 3 dots at the top right-hand side — this should take you straight back through to Facebook Live Producer, even while you're in the middle of broadcasting!
From here you'll be able to see loads of cool stuff, from your comments to your current stream health, which includes metrics such as your frame rate and your resolution.
Graphics
One feature that is really fun to play around with is the graphics package.
Here you can get a graphics URL straight from Facebook Live Producer and copy and paste it into whatever third party tool you're using, whether that be OBS Studio, Ecamm Live or something similar, and add it into your stream really easily. The important thing here is that the tool needs to have the ability to add a web widget.
From there you can play around with overlays, colour schemes, and highlighting comments.
Poll feature
Now, while I love pretty much all of the features I've covered so far, this is the bit I'm really excited about because it isn't available on any third-party tools out there.
With this, you can create some amazing interactions with the people watching your videos by introducing a poll that they can access whether they're watching on mobile or on desktop.
You can create a poll ahead of time if you already have a burning question you want your viewers to answer but equally, you can create a poll while mid-broadcast — great if something suddenly pops into your head halfway through or a comment triggers a relevant question.
The only downside is that, because this feature is baked right into Facebook, only those watching on that platform will have access to any poll you create.
Of course, you can always get around this by asking viewers from other platforms to pop their own answer into the comments section; they won't be added to the poll results but it will still give you access to the information as well as encouraging a wider audience to get involved and interact with your video.
Asking questions
The question feature is another way to encourage audience participation.
It works fairly similarly to the poll feature we've just looked at, allowing you to pose a specific question and those watching on the Facebook platform to answer it in real-time.
And, just to make it even more exciting, you even have the option to display the answers as a graphic on the screen so everyone can see how their fellow viewers have answered your question.
The final feature to note is right at the bottom of Facebook Live Producer and it's the option to Show Live Tab on Page. It's a great idea to use this feature, especially if you do a lot of live videos as it provides you with a consistent URL you can share with your followers to help you get even more eyeballs on your live videos.
So there you have it — Facebook Live Producer's coolest features and given how amazing some of these are, I'm pretty excited to see what Facebook is going to add next.
Now, over to you: let me know if you're going to start using Facebook Live Producer for your own live videos, and which feature you're most excited about!
Brought to you by Restream & Content10X
Restream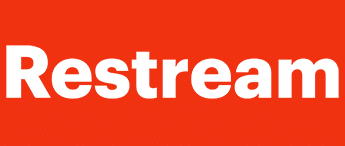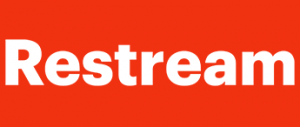 Restream is the complete multi-streaming suite for entrepreneurs.
With Restream you can stream to multiple platforms all at the same time. They have a plethora of destinations including:
LinkedIn Live
Facebook Live
YouTube Live
Twitch
Periscope and so much more
You can stream from another tool to Restream and Restream will take care of the multi-streaming for you really easily. Or you can broadcast directly from Restream to your platform of choice.
Restream also has chat, analytics and a scheduler. With the chat service you can view and engage with your audience from all the destinations you stream to.
I've been really blown away by the Analytics section - this shows your stream metrics - now many viewers, watched minutes, new followers and more.
And finally, the scheduler allows you to broadcast pre-recorded video live.
To sign up and have a play, visit iag.me/restream
Content10X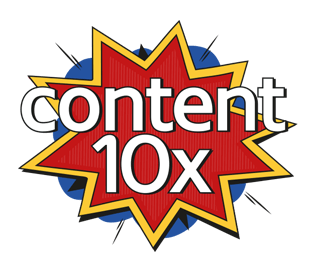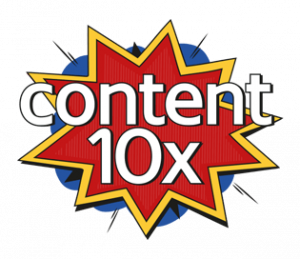 Do you want to find ways to create more content?
You won't after you meet the team at Content 10x!
My friends at Content 10x are a specialist content repurposing agency, they can take one live-stream, or a blog post, podcast, or video, and explode it into a plethora of new platform-specific, on-brand content..
If they don't do all of this for you via their service, they teach you how with their podcast, blog, book and toolkit!
They're smart, responsive, creative, and effective. If you want to take the stress out of content marketing, Content 10x are the people you want to go to.
Visit www.content10x.com to find out more.
Please Subscribe!
Don't miss an episode! You can subscribe on Apple podcasts here - or on other podcast players.
The Confident Live Marketing Show
The Confident Live Marketing Show is a weekly live video show and podcast. It's aimed at established entrepreneurs who want to level up their impact, authority and profits through the power of live video, webinars and podcasts. We'll focus on knocking down the 3 main barriers these entrepreneurs face when creating live content - camera confidence/mindset, tech/gear and content marketing.
It's hosted by Ian Anderson Gray. He is the founder of the Confident Live Marketing Academy and is the host of the Confident Live Marketing Podcast. He helps entrepreneurs to level up their impact, authority and profits by using live video confidently. He's founder of Seriously Social - a blog focused on live video and social media tools. He's an international speaker, trainer, teacher and consultant. He has a passion for making the techno-babble of live video and social media marketing easy to understand. As well as being a geek, husband, and dad to two kids, Ian is also a professional singer and lives near Manchester in the UK.