The 5 Top Ways you can Brand your Live Shows with Graphics
Confident Live Marketing Podcast
Episode 119
Episode Theme: Content & Marketing
July 30, 2021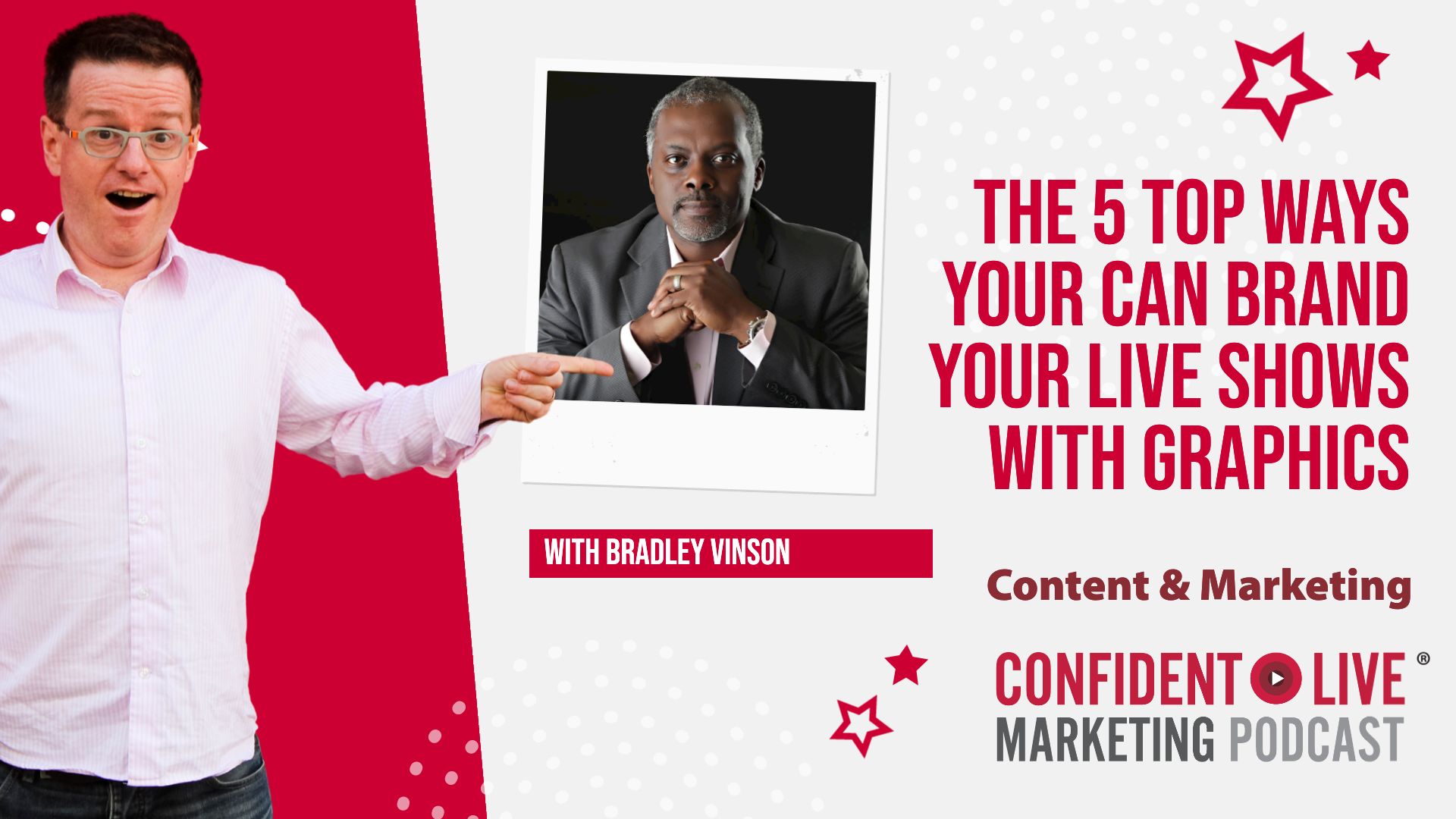 Do you want to have a lasting impact on your audience?
Are you struggling with ways to make your show memorable?
Branding is a great and simple way to make your live show or podcast stand out from others.
In this article, I'm exploring the top five ways you can brand your live shows with graphics.
I'm joined by the amazing Bradley Vinson, from Bradley Teaches, who is going to be sharing some hints and tips that we can use to brand our live show.
It seems that everywhere I go in the community, Bradley is popping up with really amazing content.
He has this amazing skill of making things that are a little complex, really easy to understand.
But, how did he get into this line of work?
"Up until last June, Bradley Teaches didn't even exist, it was a pivot that happened when COVID relegated me to my remote office, and I was just kind of hanging out in the live-streaming communities. And people had loads of questions about graphics, so I figured out their problems and did little videos for them and just got entrenched into the live streaming community."
Much like me, Bradley didn't start his channel with the purpose of making money, however, once he realised that what he was offering had value, he started helping more people and made digital products in response to the demand.
"Serving people is my calling, and I'm just serving people by teaching them how to use graphics."
As you'll know, as much as I love helping people, I'm very passionate about charging for your services. If you don't make money, you can't support yourself and your family, and ultimately you won't be able to bring any value to your community.
Many people love the simplicity of Instagram or Facebook live streaming. But do you need to use a certain type of live streaming software in order to add graphics to your show?
"I'm a Mac guy, and I tell people if you're using MAC then lean into Ecamm Live. If you are not on Mac then Restream or OBS for the more technically minded. But you really want to find your comfort level for what you want to achieve visually."
The key is to think about what graphics you want to achieve, what is your end goal, and then choose your platform around that. A lot of the software offers free trials so play about and see what you like, and what offers the level of capability that you need.
When it comes to choosing the software for your live stream, the key is to think about what graphics you want to achieve, what is your end goal and then choose your platform around that. @BVteaches
Click To Tweet
"Because I'm on Mac I lean heavily into Keynote, the presentation software for creating my graphics and animations. But I also use Canva and do tutorials there too."
So, you don't have to use professional-level software such as After Effects to get graphics, you can use Keynote, Powerpoint, Google Slides or Canva. All of these are really accessible and free and can make really great graphics.
Related content:
Five Types of Graphics for your Live Show
Listen at [52:28]
So, when we first started, Bradley said that he would share with me his top five graphics for making your live show memorable, and they are:
Logo Book
Lower Third
Full-Screen Infographic/Sidebar
Stinger
Follow-Me Graphic
Let's look at each of these in a little more detail…
#1 Logo Book
So first let's look at the Logo Book and why this is a great way to make your live shows memorable.
"This is the most simple way to create an immediate impact. It's what you see when you watch HBO or NBC in the corner of the screen. I'd call that a logo book."
A logo book can be left on the screen the entire time you're on video so it's possibly the most important type of graphic. You should place it in the upper right-hand corner if possible so that it doesn't interfere with your face or anything else on the screen.
"If you are going to use text, then I'd recommend using a Sans Serif font as it's easier to read on-screen. Plus I'd recommend that you create two in contrasting colours so that you use alternating ones depending on your background."
#2 Lower Third
So, number two is a little bit of a misnomer, but it's called a Lower Third. These are any graphics that show up in the lower third of your screen, and there are a number of different types of graphics you can use.
"I have a lower third with my name, which is very basic. Or you can ask your viewers to like, share and comment. It's almost like a call to action for the audience to do something."
This type of graphic doesn't compete for space, as it's not in a high visibility area, but they are there to help support whatever it is you are speaking about.
This has really got me thinking about how I can use this type of graphic for my housekeeping at the beginning of the show as it would be a lot easier if the information was in visual form on the screen.
#3 Full-Screen Infographic/Sidebar
The third type of graphic is another one that is really great for supporting content and it is the full-screen infographic and or sidebar. And they are both really great options if you have a lot of complex information to share.
First, there is the animated sidebar, and this is great for displaying more complicated content, for example: "Here are five things that I'm going to be talking about today."
And the full-screen graphic is a great way to give you a breather from the screen.
The great thing about both of these types of content is that they automatically make people screengrab the video.
If you are outlining what you are going to be talking about, and then display important information, people will screen capture so they don't have to take notes. Now that person has a branded screen capture of your video.
"A full screen or sidebar infographic is the ultimate branding opportunity because now they don't have to re-watch the video and they might actually go and promote that content for you."
#4 Stinger
The fourth graphic is a great way to add a little pizazz to your live show, and it's what I call the Stinger.
It's essentially a bar that moves across the screen.
It's a little different from a transition, as that is usually used when the camera or a scene changes. A stinger is a great graphic to use if you are switching between topics. There is no sound on it, so you don't have to stop talking.
It's a great tool for breaking up your video and helping to keep your viewers engaged.
#5 Follow-Me Graphic
And graphic number five is very similar to number three, as it's a full-screen graphic that I call the 'Follow-Me graphic'.
It's your last chance to give your audience something to do at the close of your video.
"I use it to display social media, web address, email, contact info and it can be animated or static. It's a great call to action to get your viewers to do something."
And that is a great way to close off the video with your viewers.
And that is how you can use graphics in your live video, or show.
You can use a combination of all of these in both animated and static, and if you would like more information on these five graphics, then you can download Bradley's tutorial on 5 ways to easily brand your videos.
It's really important that you find a way to make your show memorable and stand out, and branding is one of the ways that you can do this. This is why adding branding to your live show is a really important aspect.
It's really important that you find a way to make your live show memorable and stand out, and branding is one of the ways that you can do this. @BVteaches
Click To Tweet
"I take my cues from television, no matter what station we watch, at some point during that broadcast, they show you who that content belongs to with a little NBC, or HBO logo."
Branding your live show means that even if people only tune in for a minute or thirty seconds, they can clearly see who that content belongs to.
This is super important these days as people might be scrolling through a feed, and they might not have time to watch the entire show. If you have stand-out branding, this will make your show super memorable and viewers will make their way back to watch the whole show.
In this global community, your content can go international, and your audience needs to know who is providing that content, and how to find out.
It's not just visual branding, I also did a show about audio branding. So, if you are listening and wondering how you can use this information for a podcast, then this is a good show to check out.
This Episode's Sponsors
This episode is sponsored by Restream
Restream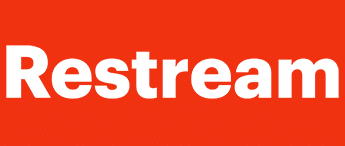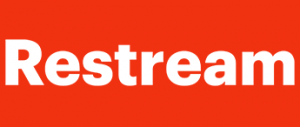 Restream is the complete multi-streaming suite for entrepreneurs.
With Restream you can stream to multiple platforms all at the same time. They have a plethora of destinations including:
LinkedIn Live
Facebook Live
YouTube Live
Twitch
Periscope and so much more
You can stream from another tool to Restream and Restream will take care of the multi-streaming for you really easily. Or you can broadcast directly from Restream to your platform of choice.
Restream also has chat, analytics and a scheduler. With the chat service you can view and engage with your audience from all the destinations you stream to.
I've been really blown away by the Analytics section - this shows your stream metrics - now many viewers, watched minutes, new followers and more.
And finally, the scheduler allows you to broadcast pre-recorded video live.
To sign up and have a play, visit iag.me/restream
Who is Bradley Vinson?
Bradley has been in the design world since the early nineties but only recently he combined his love for teaching with his design and multimedia production skills to create "Bradley Teaches".
He helps content creators move from 'playful' to 'professional' by showing them how to make and use graphics and animations to brand their videos using Apple keynote, Canva, and other web-based software.