How to Schedule Social Media Posts Like a Pro With Social Champ!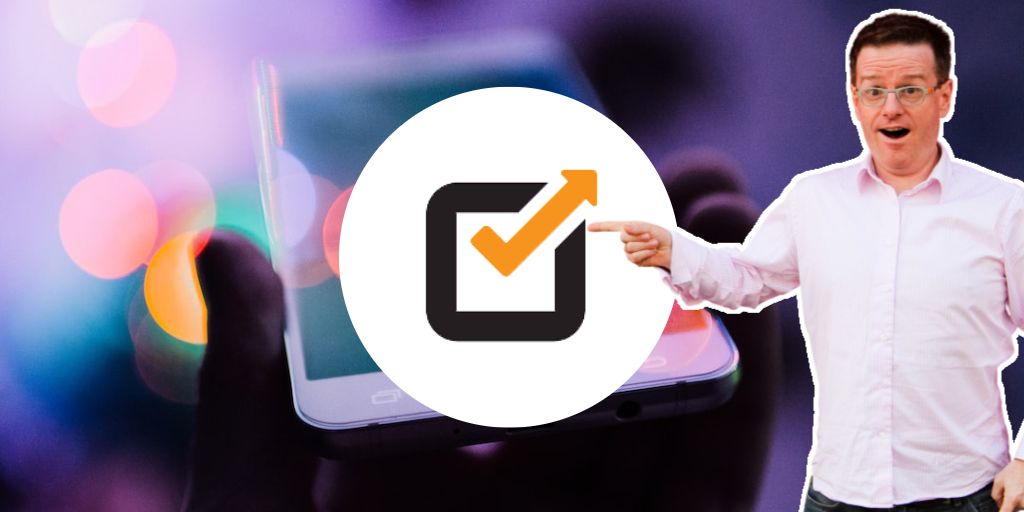 This is a Seriously Social Community post from Social Champ. Please note, that this is not sponsored in any way. I love Social Champ as a social media tool and have recommended it for years. And when they came up with this article, I knew I just had to share it. Enjoy!
---
Social media is one core element of our life now; not only do we use it obsessively all day long, but all of us check it out the first thing in the morning as well. On a personal level, we all use social media to keep in touch with our family & friends and keep an eye on all of our favorite brands.
On a more professional level, social media is actually a crucial part of marketing, which cannot be ignored no matter the circumstances. From B2B to B2C and C2C businesses, all brands are hooked to the idea of uploading stories, running ads, and posting relevant content across all their channels.
And rightfully so!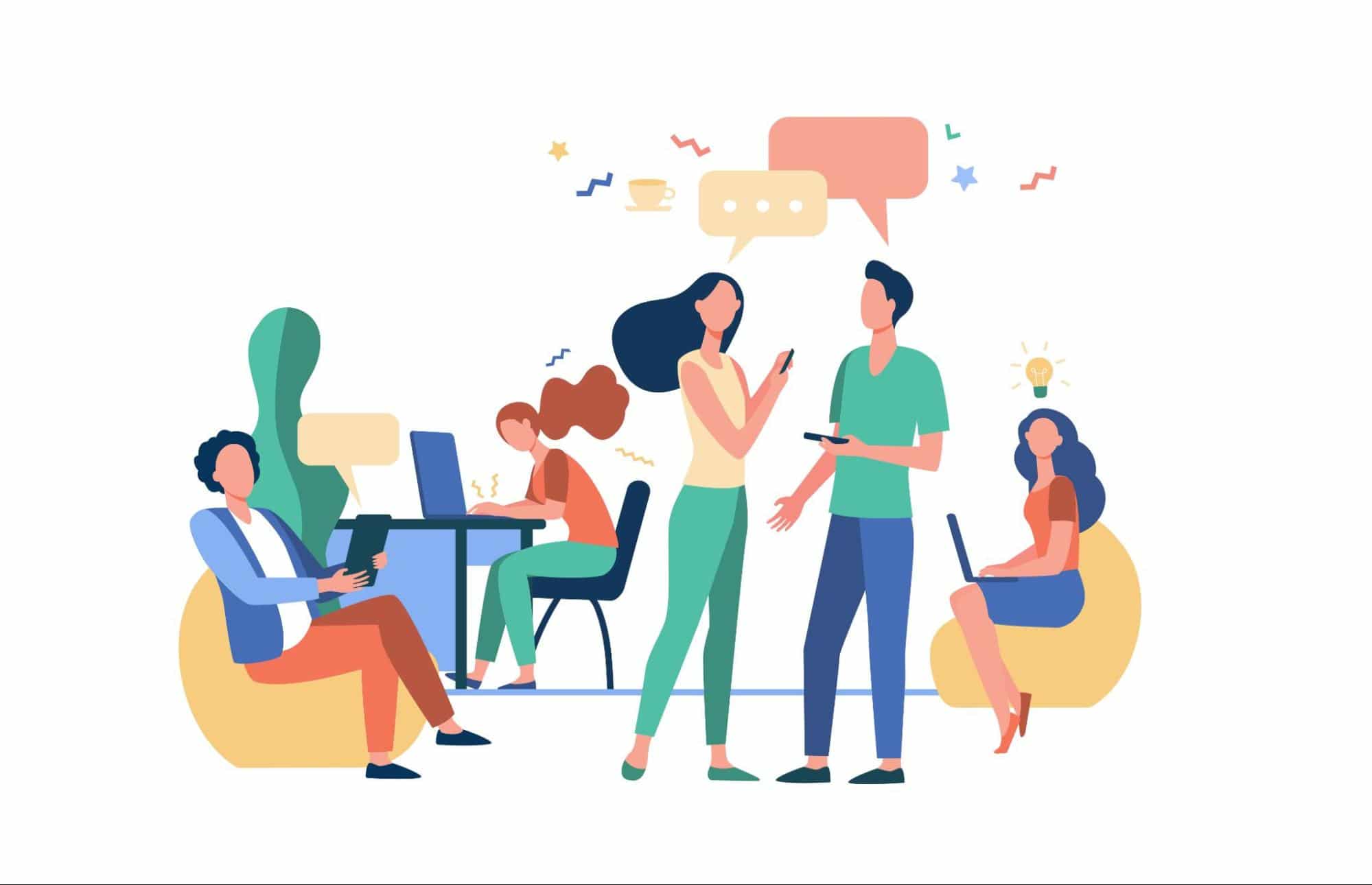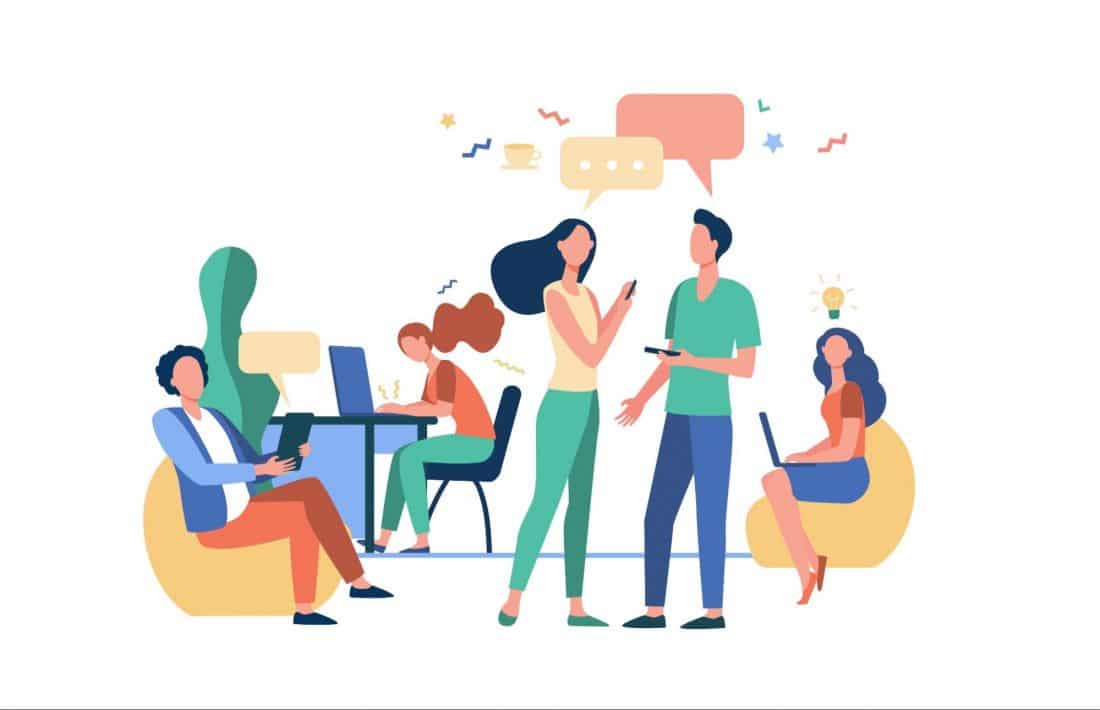 I mean, let's face it, there is no other way to reach such a massive set of audience in one go and such a small budget.
However, working in marketing for so long has taught me one thing. No matter how much you prepare for tomorrow, you are going to be faced with at least one obstacle. In social media marketing, posting on time, among the many other tasks you need to take care of, is that one hurdle.
This is precisely why many social media management tools are built based on scheduling.
So why exactly do we need to schedule posts?
Why Is It Important to Schedule Social Media Posts
Here are my top 8 reasons for scheduling content on all social media channels ahead of time:
#1 You Won't Have to Think of New Content Every Day
This one has pretty much the same reasoning for setting up a menu.
We all hate the question that comes to our mind each day; what shall I post today, and on what channel should I do it?! The answer to this question is pretty mind-boggling. It sometimes takes the entire day or even the week to develop fresh and interesting content for social media.
However, scheduling content beforehand will save you from this hassle. You would have to think of content once and make a comprehensive schedule. Then all you need to do is use a free ( or paid - depending on your usage) social media management tool like Social Champ to schedule it.
#2 Easy Management of Multiple Accounts
All brands are at least active on two social media platforms at a time. This means that you would either have to divide your content into two or think of two separate posts each day. Then you need to remember the best time to post for each network and keep the audience in mind at the same time. All this is just a massive clutter in your brain that would end up in an enormous mess.
But by scheduling content in advance, you save yourself from mixing up all the posts and confusing your followers. This makes management easy for multiple social media accounts and posts!
#3 You Don't Miss Out on the Best Time to Post
Each social media network has a different set of audiences. Therefore, there is no universal best time to collectively post for all social media networks.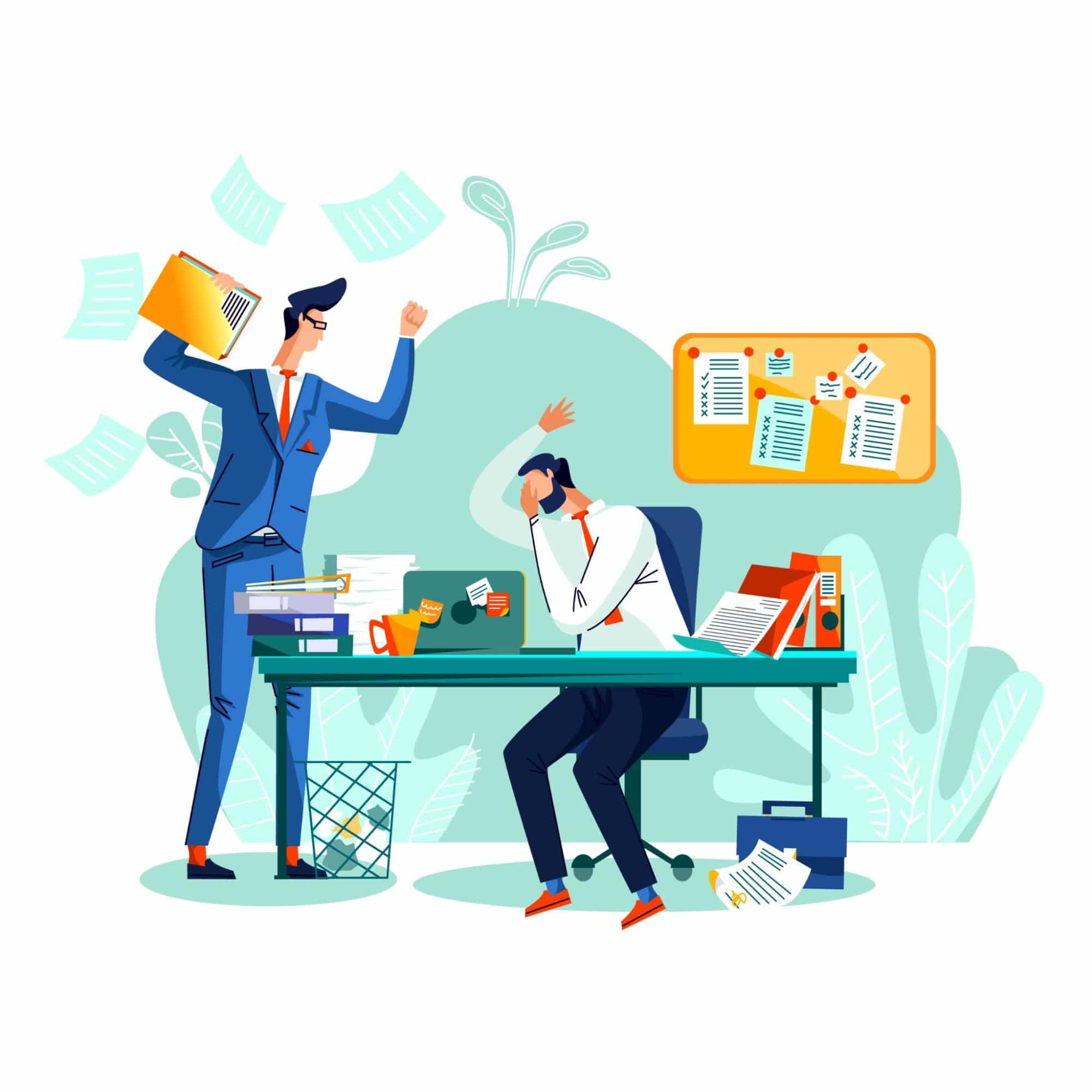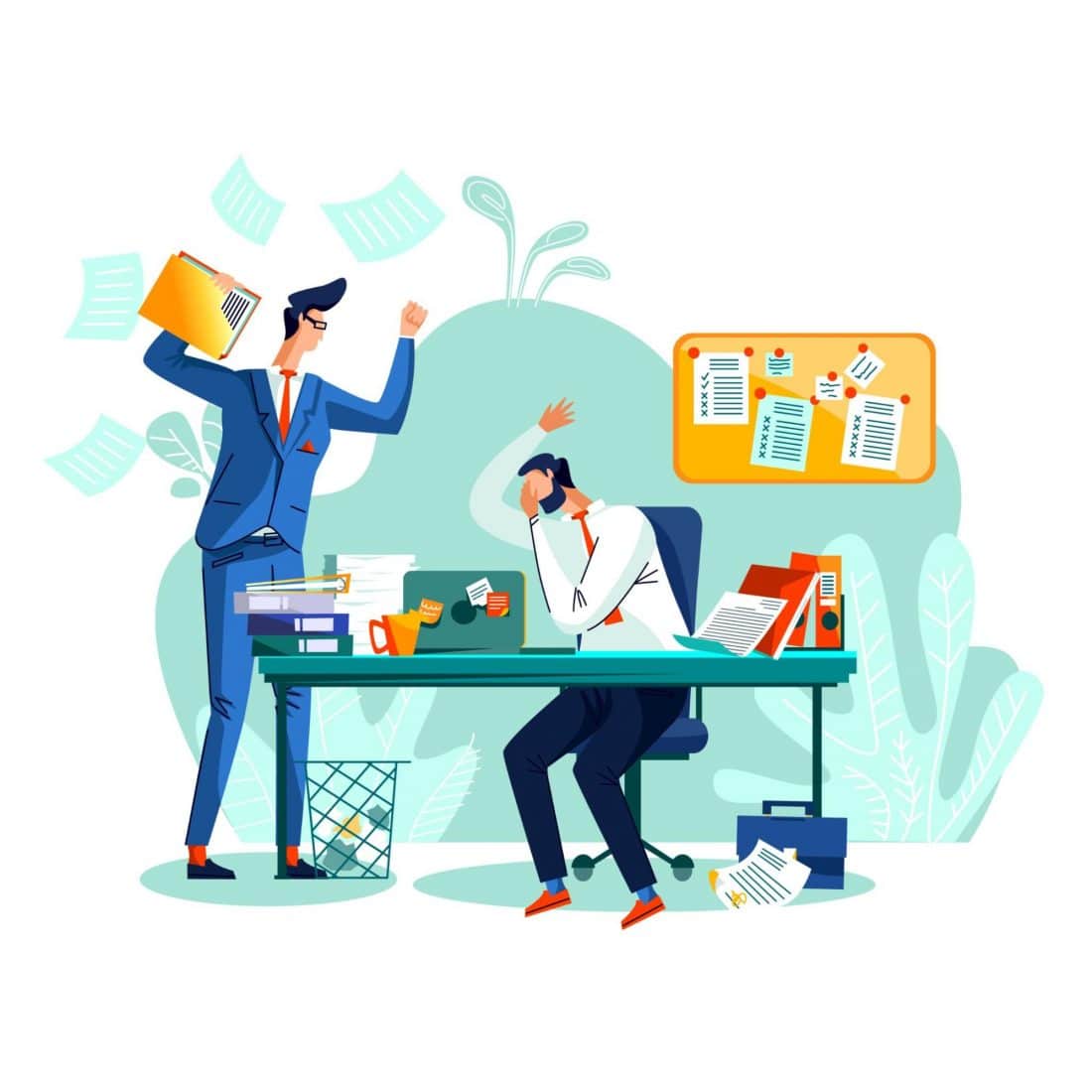 Posting content on run time for all different accounts can result in missing out on the best time for one or more channels. You can take care of this issue by scheduling content with custom time slots so that each post can go up at the most optimal time possible.
Doing this in one go also saves you a truckload of time!
#4 You Save a Lot of Time
Time is the one thing that all social media managers run short of every now and then. This results in having no free time for recreational activities. All the time that you save by not posting on run time can be used in other activities that help your brain stay fresh!
Maybe use that time in a team-building activity or playing an online game or maybe hitting that office gym that you loved while joining?!
#5 Better Strategy Planning
Planning and scheduling in advance leave you with ample time to track and monitor your social media activities. This leads to better strategic planning and even better results next time.
Scheduling content and posting it is a big task, especially when multiple accounts are waiting to be updated. Scheduling beforehand leaves you with time to spend on your internal team communications, better feed aesthetics, content cohesiveness, and experimentation.
It will give you the leverage to pull the plug when the posts are not doing well and put them back inside when you find the most optimal timings to post. This is a huge win for managers who have to build strategies for multiple accounts.
#6 More Time for Other Operations
One thing that takes the hit when you run short on time is audience engagement. But since you will save so much time from scheduling, you shall never have a reason to miss out on engagement. You can use that free time to interact with followers and build a more loyal audience.
Furthermore, you can use that time to follow relevant accounts, maintain human elements, strengthen brand communications, and make your social media more interactive.
#7 Downtime From Your Job
Being a social media manager takes a toll on your health and your family time. This is mainly because your audience is active on social media on weekends as well. You can give yourself the much-needed downtime on weekends and vacations with scheduling.
You no longer have to miss out on that best man's speech or drinks with your friends due to being busy on your phone. You can make the most of your weekends doing whatever you love to do instead of posting and worrying about missing out on optimal engagement time!
#8 Brand Consistency
Lastly, scheduling in advance allows you to keep your brand voice consistent and your posts neutral. With scheduling, you will keep the messages consistent and stay on track with the posting schedule.
It is not easy to build an audience that looks forward to your posts every day. It takes a lot of grit and determination to ensure that you stay in the limelight with your followers. This shows that you care enough to post on time and build a more human connection.
Also, no matter if you schedule for a week or a month, either way, you are less likely to miss out on a day of posting.
Social Champ - Your Social Media Saviour
So we have established time and again that scheduling social media posts is a super important task and should not be ignored at any cost. So here is a run-down one of the most helpful social media scheduling tools; Social Champ.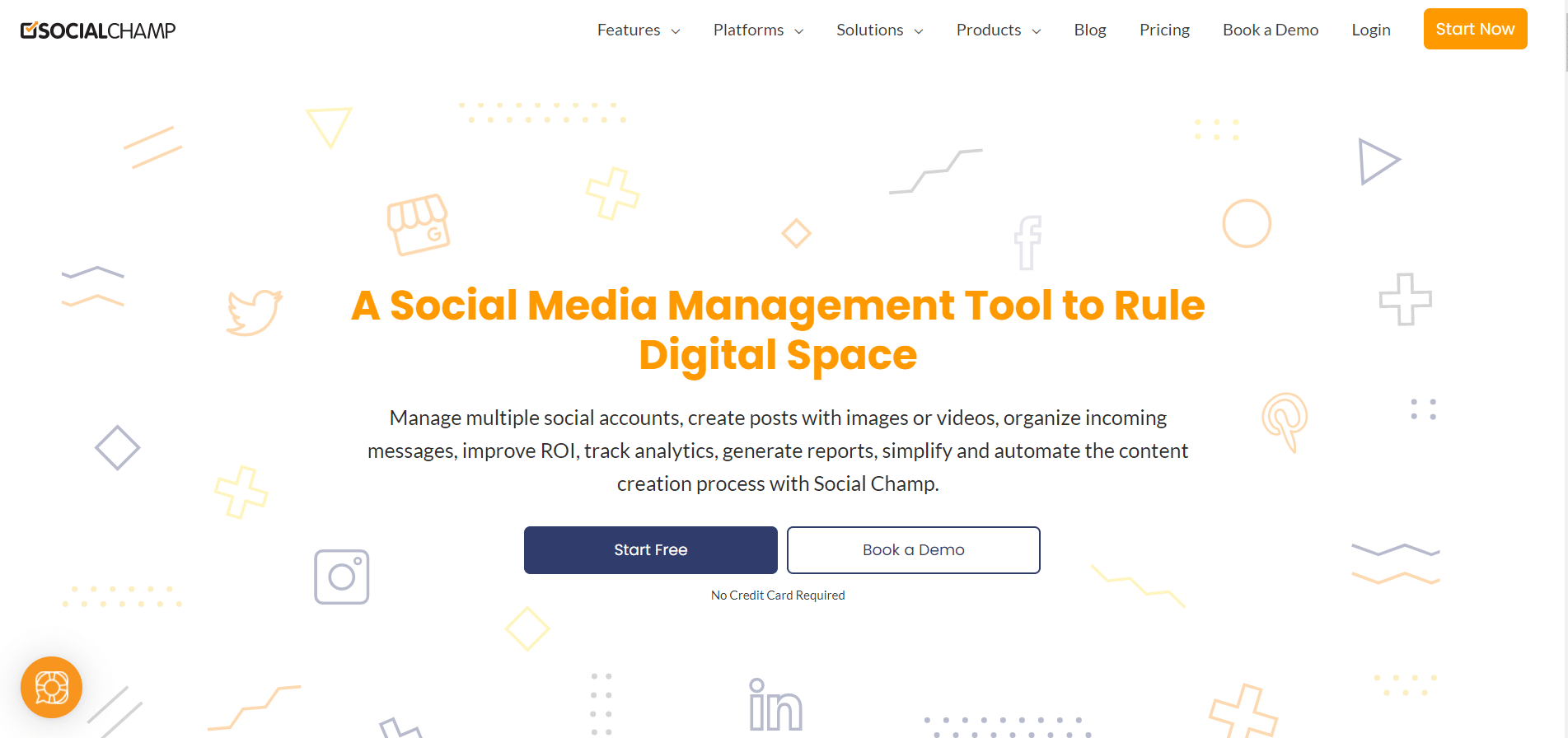 Social Champ is an all-in-one tool to create, edit, design, analyze, and schedule posts for months on end. It supports all the major platforms and has the following amazing features that you should not miss out on:
Social Champ is a free social media scheduler with a plan so impressive that it would at least provoke you to signup. The freemium plan offers three social media accounts, one user, and unlimited postings for life. Furthermore, the plan requires no card details and has all the premium features.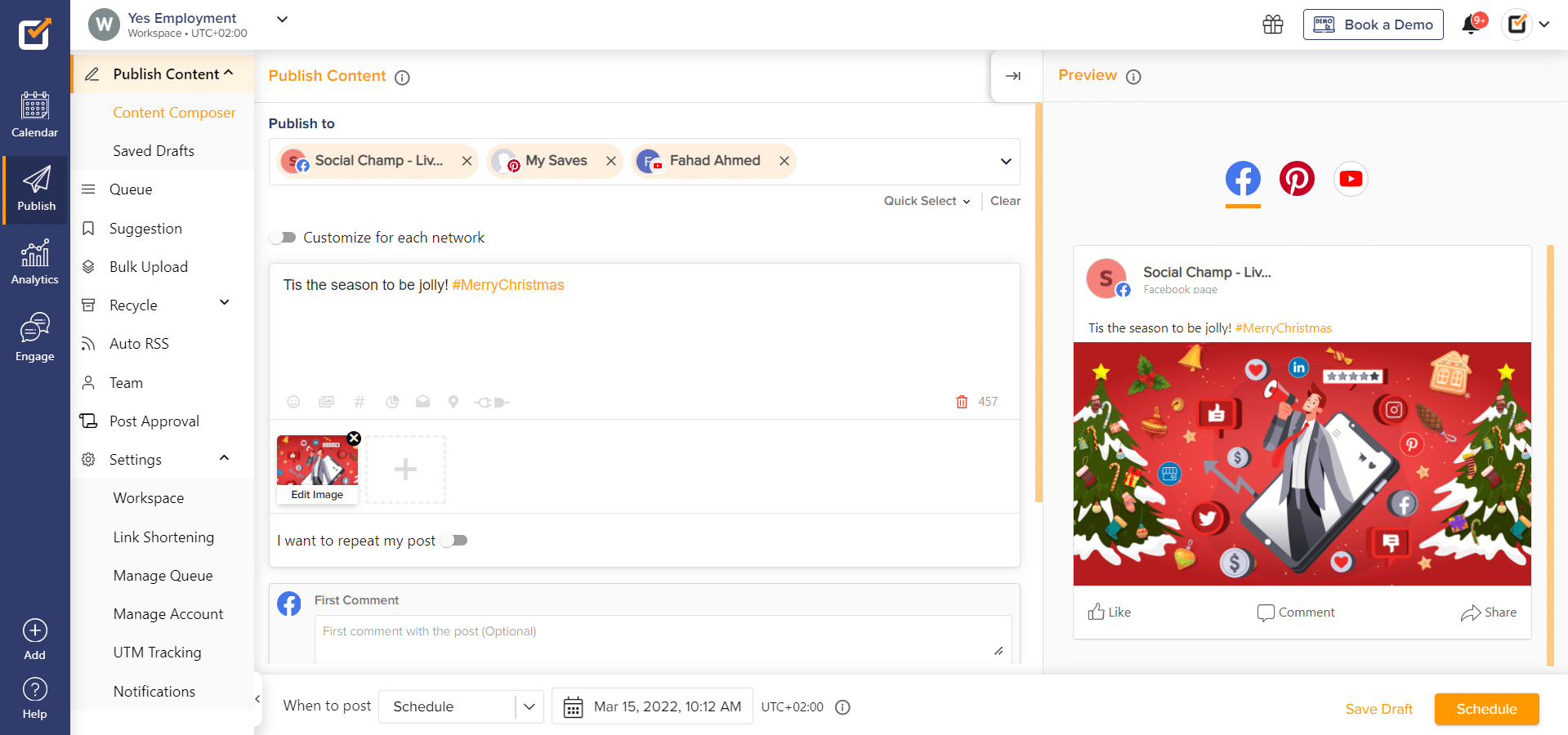 A grid view of all published and scheduled posts with options to edit/delete using the social media calendar. The calendar also allows you to reschedule posts or create a new one from scratch. You can filter posts according to social media accounts or their current status (published/ scheduled/ failed).
Analyze sentiments of all social media posts within the content dashboard to keep your brand voice consistent and neutral.
Schedule tons of content for up to three years using a single CSV file with the bulk upload feature. You can add links, images, text, custom timings, and much more in the file.
Schedule first comments for Facebook and Instagram with text and hashtags for higher reach and less cluttered captions.
Design and edit stunning graphics with multiple visual integrations, such as Canva, Vista Create, Gihpy, Wave.video, Imgur, Flickr, and more. All these integrations are available within the content dashboard and cannot be accessed directly.
Easily collaborate with your team members without sharing credentials and assign them roles, such as editor, author, and admin. Each member will have a different role according to their position. You can also enable post approvals so that each post goes by you.
Connect your favorite blogs with your social media accounts to keep them active by direct posting using an RSS feed. All that you will post on the website will directly go up on the accounts within a time frame of 30 minutes with custom titles and images.
Create collections of your evergreen posts and use them in future campaigns with the recycle feature. This way, all the content is used to its utmost potential.
Repeat content that you feel can generate more engagement from the platform.
Monitor the performance of all your social media accounts separately to identify your best-performing ones and compare them on a weekly and monthly basis. The analytics feature also creates presentation-ready reports with beautiful charts and graphs along with white labeling options for names and logos.
Fully customized posting for all major social media networks with platform-specific features, including Facebook, LinkedIn, Instagram, Twitter, Google Business Profile, Pinterest, and YouTube.
Upload visual content directly from the cloud using the Google Drive integration.
Workspaces to group together frequently used profiles so that you can declutter your Social Champ account.
Hashtag manager to find, organize, and group frequently used hashtags together for easy access.
Post preview to visualize how your post will appear on the selected social media network.
Mention your favorite influencers or accounts using their social handles/ usernames directly from the content dashboard.
Save drafts of posts that you don't instantly want to use and procure them from the dashboard whenever needed.
Location tagging, mentions, custom thumbnails, alt text, multiple image uploading, timeslots, queues, link shortening, and more options to make scheduling a breeze.
Reply to all comments, mentions, DM/PM, and reviews with ONE Social Inbox to bring all conversations under the same roof. You can also label conversations and apply filters for ease of use.
Use the Chrome Extension to post text and images to your social media networks from anywhere on the internet.
The mobile app allows you to schedule on the go but with limited functionality.
Along with these, they have exceptional customer support with live agents and an email address dedicated to solving queries. They also have a fully-fledged helpdesk guide with FAQs and tutorials.
Schedule Posts Like a Pro With Social Champ - Top 14 Tips
We understand that scheduling can be overwhelming or, let's just say, intimidating manually. However, with Social Champ, you can schedule posts like a pro in no time. Here are the top 14 tips that we totally recommend for scheduling:
1. Better Organization for Content
While scheduling content, it is super important to organize your posts so that it is easy to locate the one you are looking for. In this regard, Social Champ's social media calendar plays a crucial role in filtering and organizing content in such a way that you find all the posts in one grid view.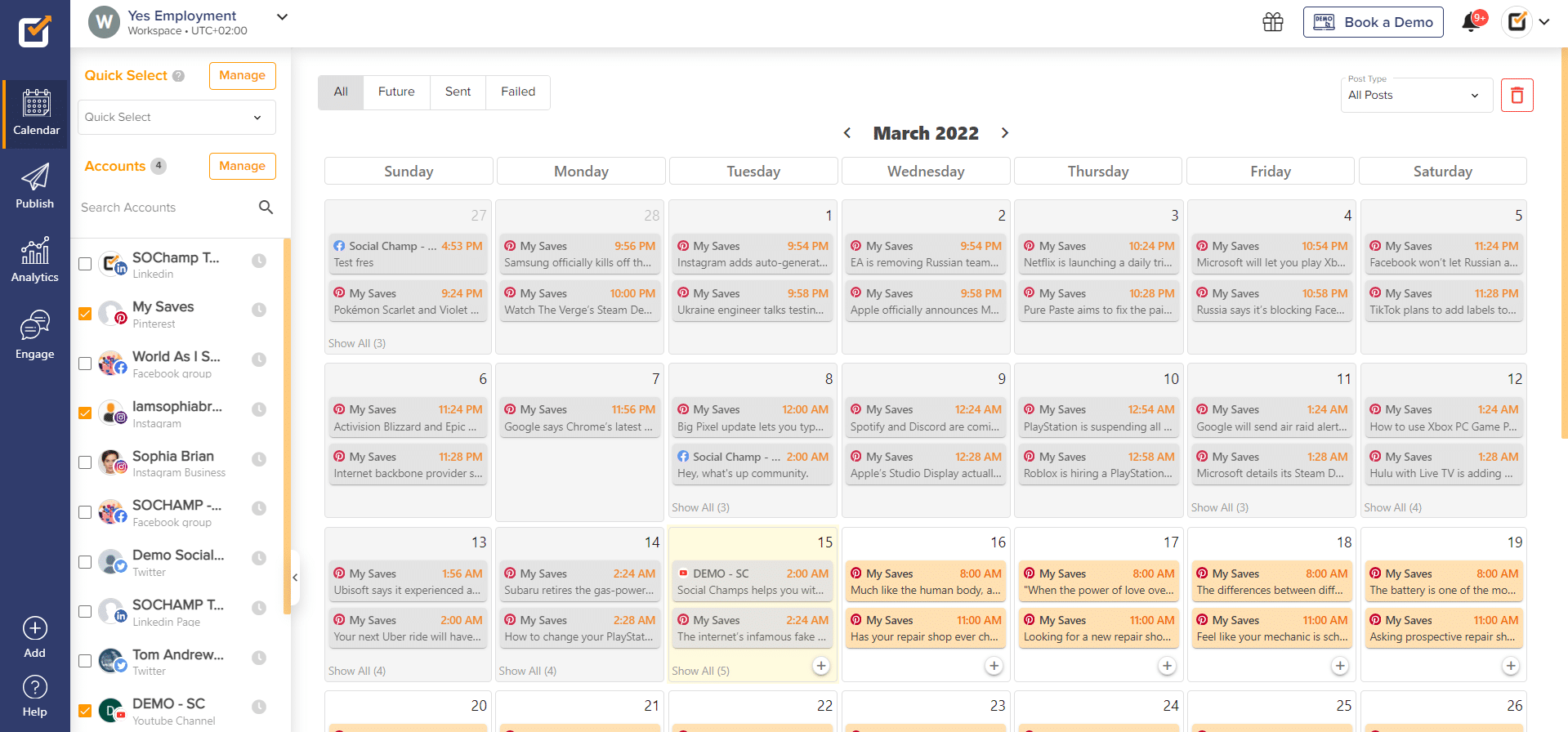 The calendar further allows you to filter posts based on type and status. You can also edit, delete, or reschedule your posts using drag/drop functionalities.
2. Create Custom Time Slots
One of the best practices of scheduling social media content is to select custom timeslots for all your social media networks. Using Social Champ, you can set different timeslots for each individual post using both; the content dashboard and the bulk upload feature.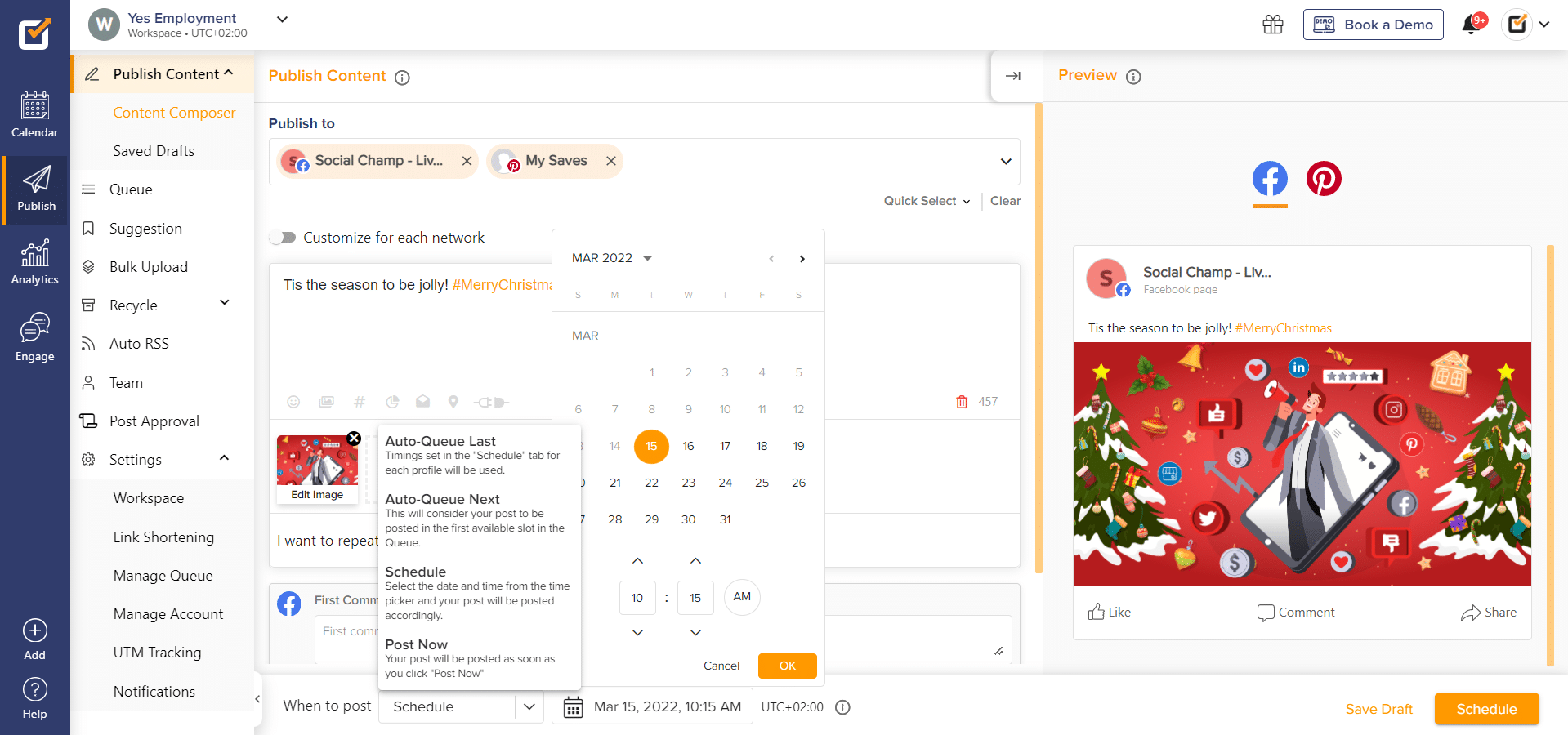 This enables you to keep your profiles active all the time. You would be putting up a post on one account or the other at all times.
3. Post on the Most Optimal Times
You can find the best time to post for each network using the social media analytics features. Social media analytics create graphs and compare each social network's posts with platform-specific metrics.
You can also find the best-performing posts for each social media network and create content around that topic or content type.
4. Keep an Eye on the Analytics
One of the best practices of scheduling content on social media is to track your analytics constantly. Ideally, you should compare and track how well your posts are performing each week or at the end of each month.
This allows you to either pull the plug when something is not performing in the best possible way or insert new posts when something is doing exceptionally well. You can also tweak your strategy according to the results.
5. Identify Your Posting Frequency
With Social Champ's analytics, you can identify your posting frequency. Run experiments first to see if your accounts perform well when you upload a single piece a day or when you put out multiple posts.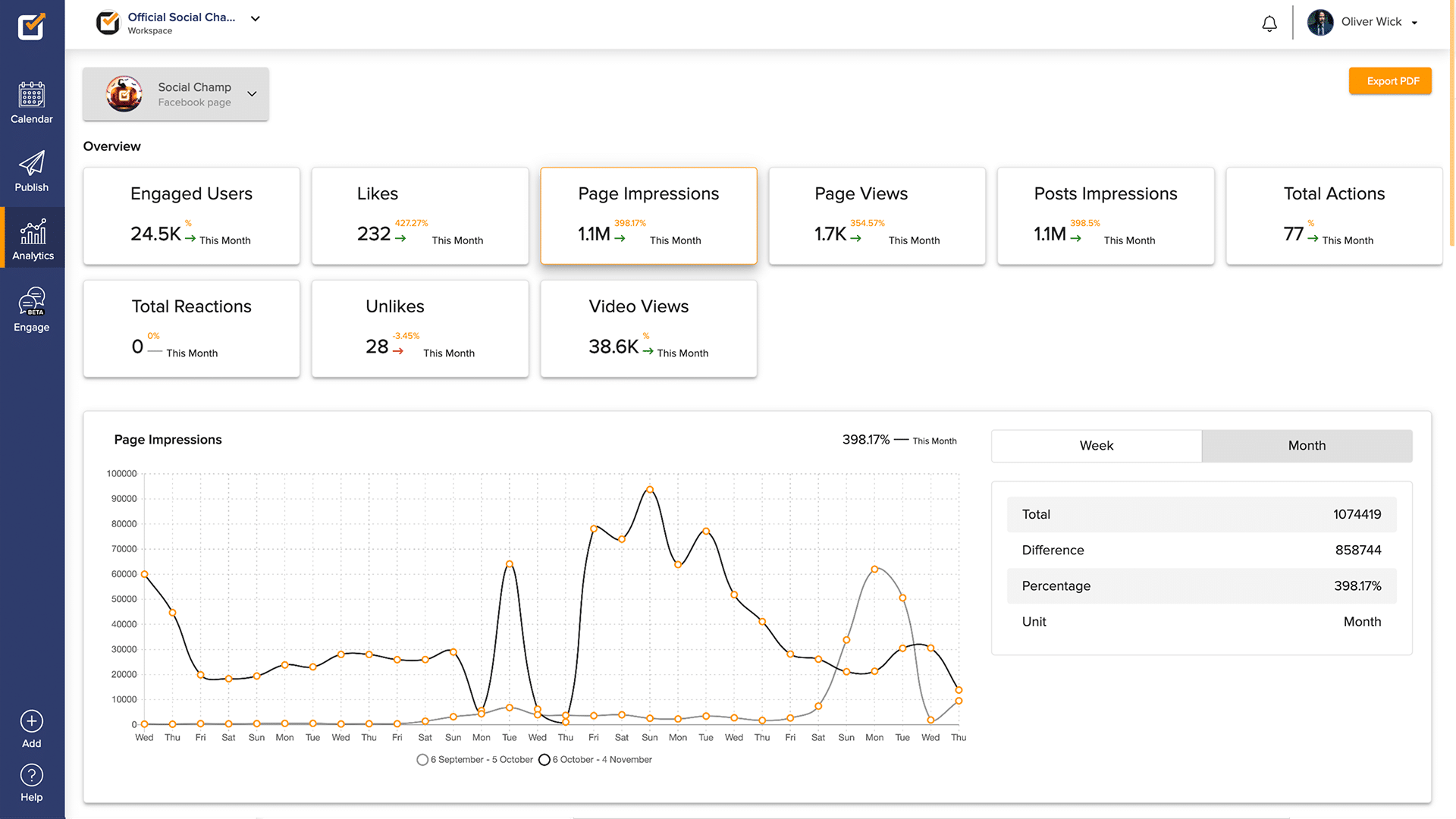 Compare the results on a weekly basis, and you'll have your answer. With these results, you can plan future content.
6. Increase Engagement to Find Leads
Using the Social Inbox, you can reply to all comments from one tab, whether it's Facebook, Twitter, Instagram, or LinkedIn. The Social Inbox allows you to keep your conversations in a flow as you can filter message types, label conversations, and pre-set messages.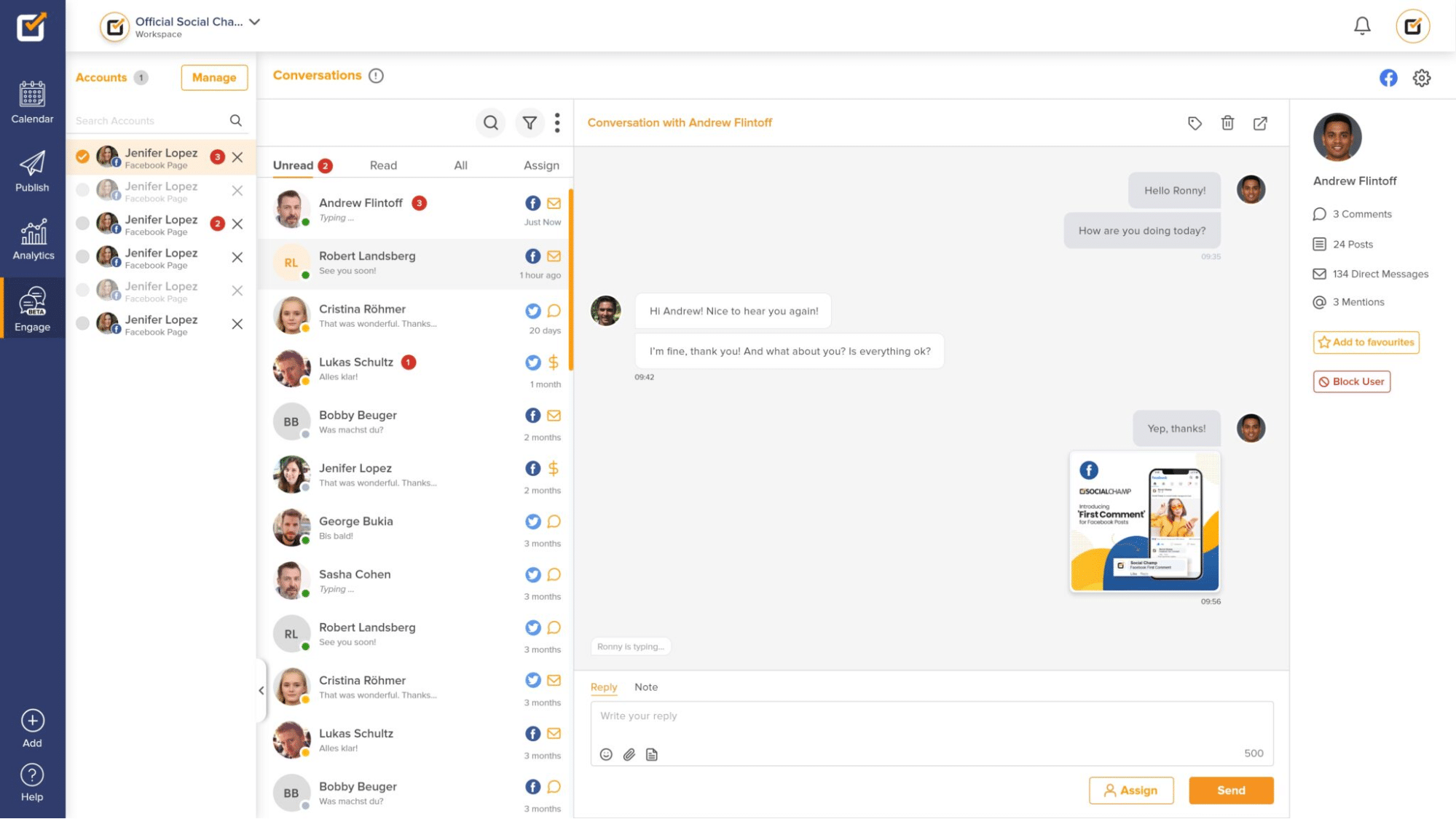 You can also assign a dedicated team member to reply to all comments in real-time.
7. Keep an Eye on Reviews
Bring all reviews from Facebook, LinkedIn, Twitter, and Instagram under one roof using the Social Inbox. Use real-time sync to immediately reply back and keep your audience in a loop. Use custom labels, bookmarks, and internal notes to organize reviews according to priority.
Again, you can assign a team member to reply to reviews for all platforms. Lastly, create rules so that everyone can stay on the same page.
8. Identify Your Best-Performing Content
Identifying your best-performing content is a crucial step in social media scheduling. If you know what works best, you can create more of it. With Social Champ, you can actually find the best-performing ones.
When you figure out what content type performs the best on your channel, focus on creating content around it.
9. Keep Your Content Fresh
One of the best features of Social Champ is its content suggestions. You can use that tab to find relevant and industry-specific content that is performing well in the market at that time. You can also connect such websites with your social media channels using an RSS feed.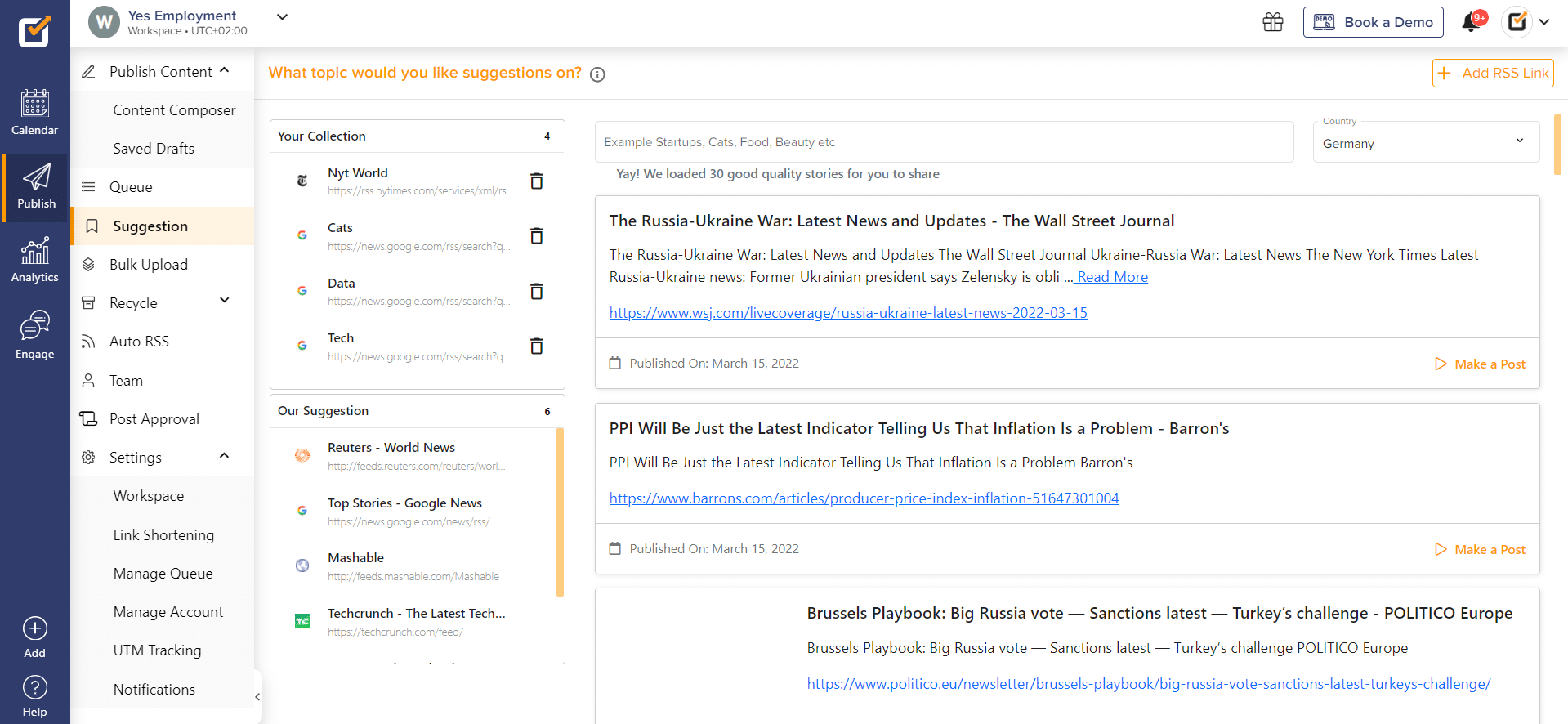 This allows you to mix and match new content with blogs and keep profiles active without creating a whole lot of posts.
10. Directly Import From the Cloud
Scheduling can be tedious if you have to do everything manually. Fortunately for us, Social Champ supports Google Drive and Dropbox for uploading content via the cloud in bulk. You need to save everything on the drives and then directly connect it to your Social Champ account.
11. Schedule for Social Media Networks in One Go
Scheduling saves you a ton of time as you can upload posts for all accounts in one go. However, the same content cannot perform well on all accounts. Therefore, Social Champ's custom content curator allows you to make small tweaks according to the platform.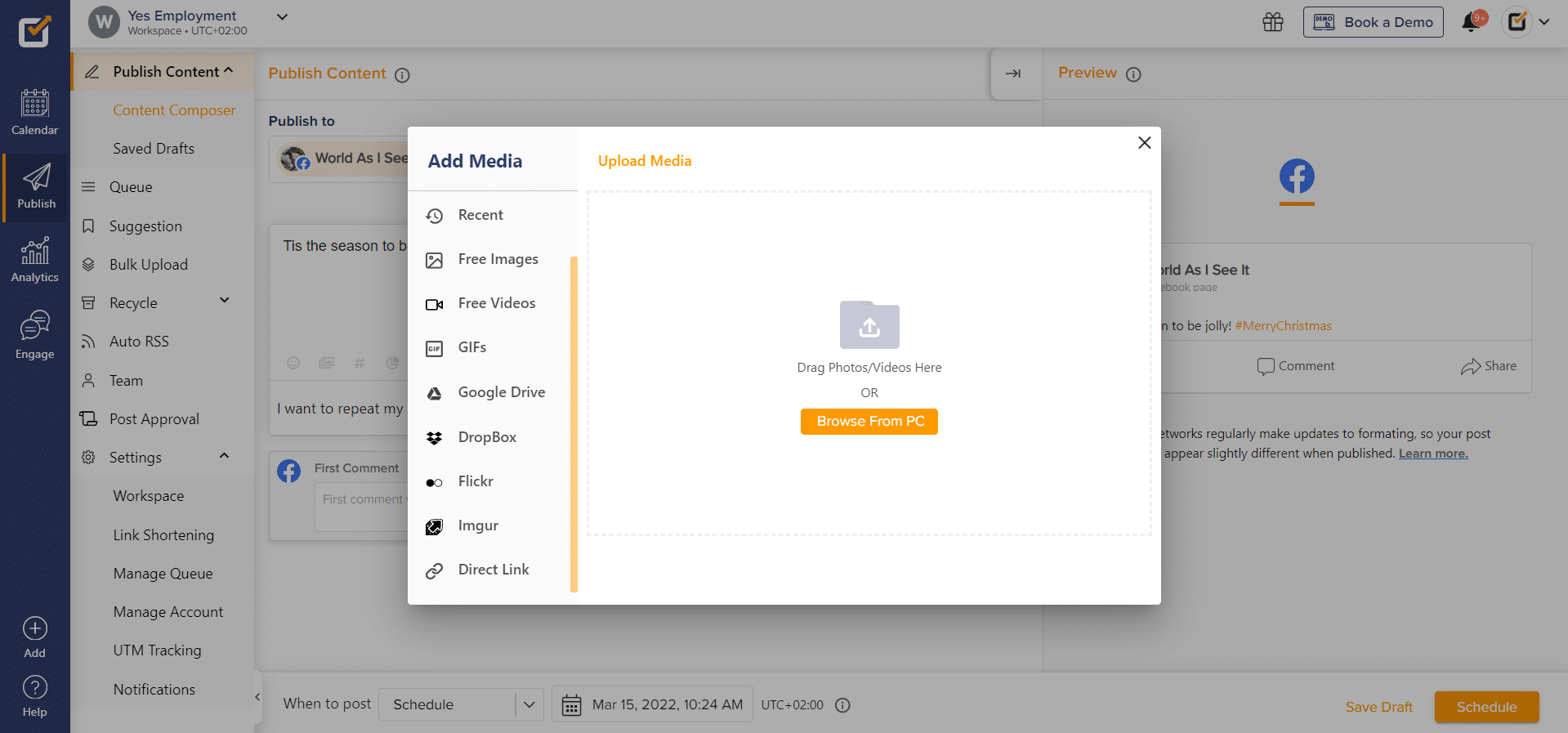 12. Advance Wishes for All Holidays
You cannot run special campaigns or promotions on all holidays as a brand. There are going to be smaller, less celebrated holidays that you would just put up a post for. These holidays act as a great filler for your social media calendar.
Schedule content for all such events/ days/ and holidays in advance to avoid missing out on them.
13. Keep Space for Trending Content
One of the best practices for scheduling content is to leave gaps or spaces in your calendar. Filling it up to the brim leaves little to no space for putting up trending content, and you miss out on engagement opportunities.
Therefore, don't forget to leave small windows in your calendar. Who knows when you have to put a relatable meme or a picture signing your next big partnership?
14. Better Quality Captions
While scheduling content, you can craft better captions as you are not thinking on the spot. However, with Social Champ, you can add emojis, hashtags, and even mentions within the content dashboard.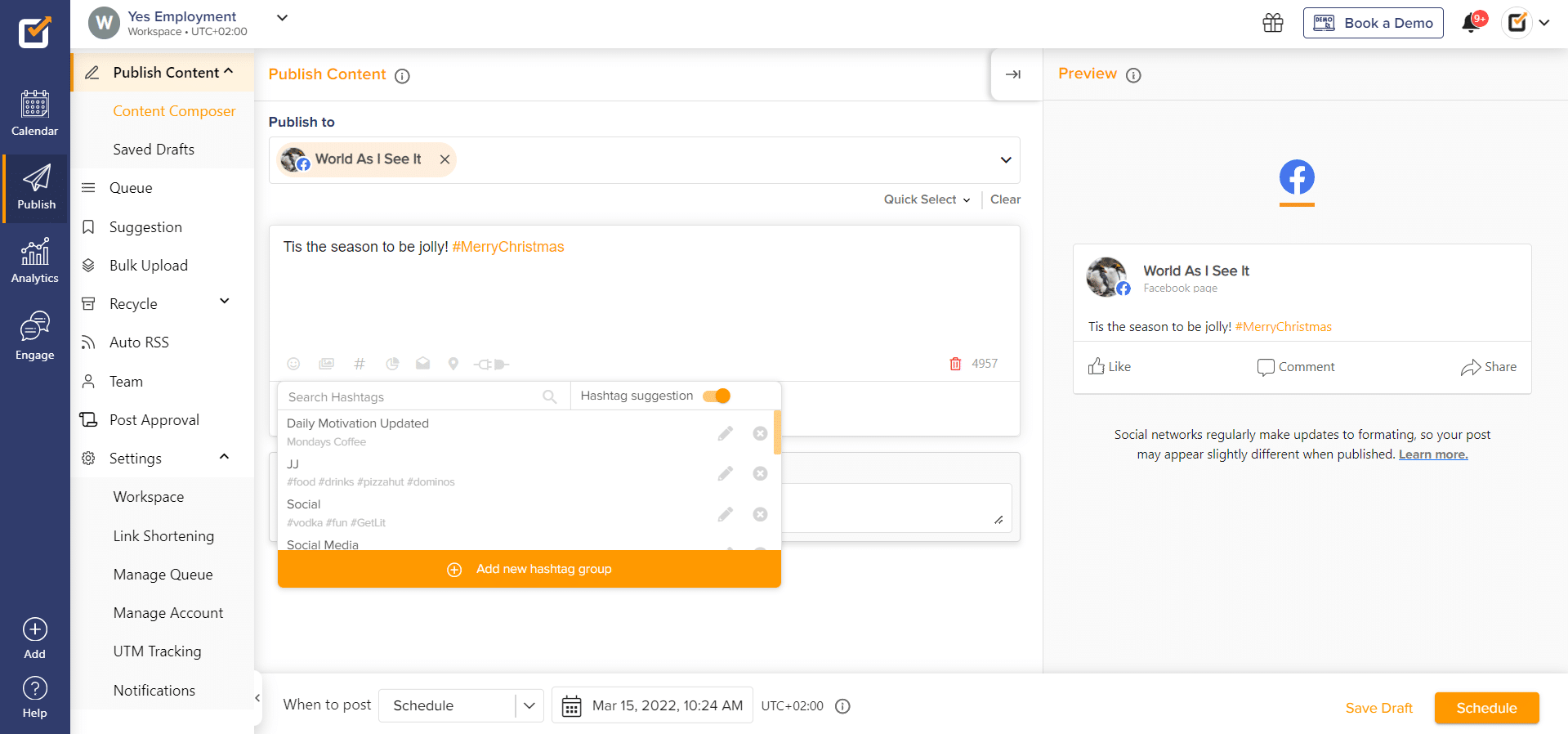 This allows you to make your captions user-friendly and readable rather than boring, long, and monotonous.
Social Champ is for you, for me, and for everyone else!
A social media manager fed up with posting everything, including weekends? Social Champ has a plan for you. An agency with multiple clients and too much clutter on the calendar? Social Champ has a custom solution for you with agency-specific features that makes your life so much easier. A social media influencer looking to make your postings schedule more consistent? Social Champ has a plan for you with YouTube and Instgaram!
Or are you an individual running all of your startup operations yourself? Social Champ has a free plan for you to manage THREE of your social media accounts with all premium features unlocked.

Social Champ is super customer-centric; they work on facilitating everyone who wants to work with their platform. Furthermore, they provide world-class customer support via live chat, emails, demos, and a Facebook group. They also offer a fully-fledged helpdesk with FAQs and guides in the form of both videos and text!
Want to know another amazing thing? They take feature requests with a public roadmap. So now, you, me, and everyone else can submit a request for features that they want next.
Social Champ is a pretty comprehensive tool and has a plan for everyone. It's a great fit for people who are looking for a solution with great customer support and multiple small and big features. The tool offers amazing functionality, clean UI, easy workflows, and unmatchable customer support!
Definitely check it out if you are looking for something pocket friendly, easy to use, or free!