The Complete Guide to Lead Generation & Content Marketing with edocr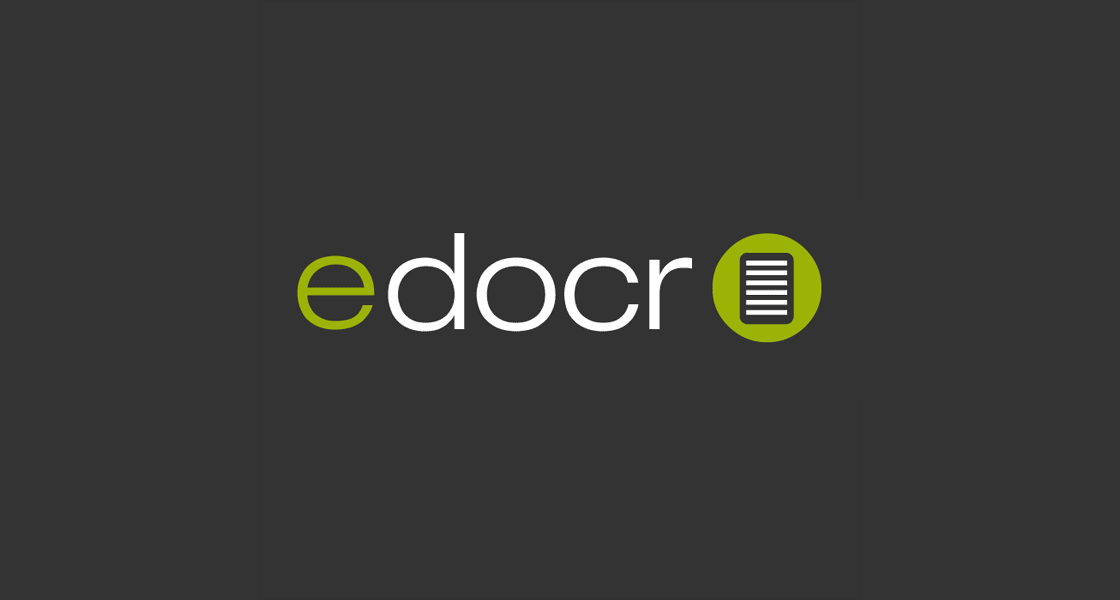 If you are regular reader of my blog, you'll no doubt understand the power of social media and are likely to be an avid user of Twitter, Facebook, LinkedIn or Google+.
If you are a business owner or a brand manager you'll see the advantage of using social networks to be where your customers are and engaging with them in the discussion.
However, there is another type of social network that is so easily forgotten, and that is the document sharing network. You may have heard of some of them before (SlideShare, Sribd, Docstoc & Speaker Deck anyone?) or perhaps not! Document sharing and hosting might not sound sexy, but it is incredibly powerful and is a great way to generate leads and market your content.
Have a look at this infographic produced by SlideShare (by clicking the image you'll see the document hosted on SlideShare itself). Obviously since it is produced by SlideShare itself, it's important to take it as a form of advertising, but the statistics are very compelling- particularly when it comes to business traffic. SlideShare, according to research done by ComScore, recieves 5 times more traffic from business owners than Twitter, Facebook, YouTube or even LinkedIn.
You'll also see from the infographic that the main traffic for content marketing document sharing sites is for businesses to business (B2B). If your business has a solution to a problem that another business has, then uploading a document on how to resolve that problem to a document sharing site could result in a lot more exposure to your business than traditional social networking sites like Twitter and Facebook would ever hope to achieve.
Document sharing sites have the advantage of enabling your documents and content being found more easily by search engines, social networks and perhaps even more powerfully other document sharing site users.
As I have already said, there are many many document sharing/hosting services out there, but for this article I'll be discussing one that you may not have heard of as of yet- edocr.
Before we delve into edocr in more detail, let's briefly discuss lead generation and content marketing...
What is Lead Generation?
I'm not a massive fan of marketing speak, so forgive me here in wishing to translate the jargon. I know it sounds obvious in saying that Lead Generation encompasses all forms of marketing that generates leads, but lets try and unpack that a little more. What is a lead and how does one generate one?! Anyone who shows an interest in you, your business, your products, your content or your name could be called a "lead". They don't have to result in a sale necessarily, but having someone interested in your business is going to help you in marketing your business. Having more people interested in you, your services or product will only help you grow, since more and more people are spreading the word. Hopefully some of these leads will turn into clients and revenue, but you must not forget the power in generating all types of leads.
What is Content Marketing?
Again, it may sound obvious, in that content marketing is about marketing using content. But what type of content and why should you give your content away for free? Wikipedia not always known for defining things in an easy to understand way actually defines content marketing rather helpfully-
"an umbrella term encompassing all marketing formats involve the creation and sharing of content in order to attract, acquire and engage clearly defined and understood current and potential consumer bases with the objective of driving profitable customer action"
So basically giving your knowledge away for free helps you attract customers. I write this blog for many reasons including that I enjoy writing about tech and social media and it's a way of noting down my ideas and thoughts. However it's a way of me (at least hopefully) showing that I know what I am talking about and with the aim that businesses and individuals will ask me to find a solution to a problem they have.
edocr. An Introduction
So, you understand the power of content marketing and lead generation, and (if you've been working at marketing your business online) you may be a keen LinkedIn or Twitter user.
I've already mentioned the most famous and popular slide and document hosting and sharing service, SlideShare which was launched back in October 2006. The San Francisco company, run by Rashmi Sinha was recently acquired by business social networking giant, LinkedIn for around $118 Million.
Back in April 2007 a new document sharing service called called edocr was launched 5,000 miles away in Manchester, UK by businessman and entrepreneur Manoj Ranaweera.
It would be true to say edocr's journey has been difficult and they've had a bit of a troubled history and slow growth. Despite making a promising start and linking up with other UK start ups for a US tour,  Manoj's co-founders left in 2009 and he was left alone at the helm. There were technical issues and a bad experience after out-sourcing the development side to India. In such a completive market it seemed edocr was doomed to failure.
Anyone who knows Manoj Ranaweera can't help to be impressed with his focus and sheer determination and inability to give up. The past 5 years of hard work is starting to pay off with edocr doubling its user base in the space of 6 months. As I write, they have almost 55,000 users and won several awards and positive reviews. Their aim is to grow to over 100,000 in the short term. Manoj says part of this growth is down to moving things in-house, improved performance and integration with 3rd party apps. There is also a constant push to innovate.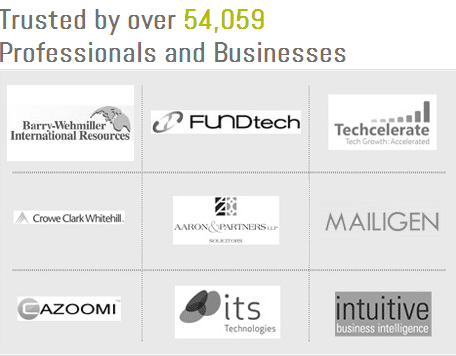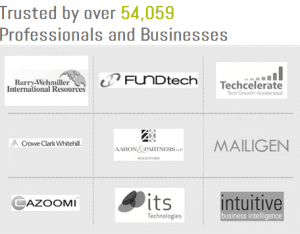 They have some high profile businesses on their books including MailiGen, its technologies and Cazoomi.
The edocr home page makes a simple outline as to what you can do- upload, share, collaborate, analyse. One of the advantages of edocr is its simplicity- it's not about sharing a plethora of different content types (video, powerpoint etc) it is about sharing documents full stop. Before we go headlong into actually using edocr, let's meet the founder and it's a great time to do it, since today (October 18 2012) more or less marks the 5th anniversary of edocr!
Interview with the CEO of edocr
Manoj Ranaweera is the CEO and founder of edocr. He's passionate about his business and about the tech scene in Manchester. I first got to know him through Twitter and he was kind enough to make a guest appearance and talk at a monthly technology meet-up I organise, Cheadle Geeks. He's fairly local to me as we both live and work near Manchester in the United Kingdom. It's quite refreshing for me personally, since it seems most of the software and apps that I use on a regular basis have their home at the tech centre of the universe- San Francisco!
He's incredibly focussed on his job but also very down to earth and very approachable. He was kind enough to allow me to interview him as part of this article. So, here goes...!
Ian: Hi! Can you introduce yourself, where you are from and what you like to do for fun?
Manoj: I used to lead teams for designing control systems for power generation and transmission, water and sewerage networks and light rail transit systems both in the UK and the Middle East. I was getting more and more frustrated with engineering projects and started an Executive MBA programme at Manchester Business School to improve my business and management skills. Half way through, I found myself interested in early stage tech businesses. I joined a startup as an investor and employee to see it fail three months after. Then I took the concept forward and burnt huge amount of my own cash over the next 2 years. In 2007, I started edocr.com with the CEO of a competitor of my first tech startup.
Unfortunately, fun does not feature in my 24/7/365. The only limited time is spent with family. I used to play racket sport - perhaps I should restart.
Ian: Can you describe edocr in less than 140 characters?
Manoj: edocr is the leader in demand generation and lead capture through documents with integrations to CRM and email marketing for lead nurturing.
Ian: How would you describe edocr to the average internet user?
Manoj: edocr helps prospective customers to discover you through your documents. If you have documents, upload your documents to edocr.com, build your company page and increase the chance of buyers discovering your products and services.
Ian: With so many apps out there, why should a web site owner or marketing department use edocr?
Manoj: If you have existing documents, we make damn sure they work as hard as possible to generate new business opportunities for you. Content marketing is getting hotter right now. And we are building the best tools to help you use your documents to extend your brand online, and generate new revenues.
Ian: A lot of people will have heard of SlideShare. What makes edocr different, and why should people choose edocr over SlideShare?
Manoj: Slideshare is great service. Our focus is to provide a tool not just for the marketer, but also for sales, operations and customer service. We achieve this through increasing number of partnerships such as HootSuite, CapsuleCRM, GetSatisfaction, Mailigen, Buffer, Zendesk, etc.
Ian: Can you tell me a little bit more about the team behind edocr, where you are all from/based and what made you come up with the idea?
Manoj: We have a highly focussed team, with sales based in the UK and US and engineering in UK and Sri Lanka. The idea came out of a personal necessity to find documents of interest from one source and the ability to get maximum exposure for analyst reports I was producing at the time. Use cases have grown significantly since then.
Ian: What's the tech scene like in Manchester? What's it like to work there? How many other tech businesses are there?
Manoj: During my first tech startup, there was no tech scene in Manchester. So I started to build a thriving community through Techcelerate. Today, there are others running events from bootstrapping to lean startups. The tech startup scene has suddenly gone into overdrive this year. I expect lot of good things will happen over the next 18 months in Manchester. The number of startups are definitely growing.
Ian: How did you come up with the name edocr?
Manoj: The "r" came from Flickr, which was perhaps the most popular techstartup at the time. edocr, all lowercase stands for electronic document repository.
Ian: How has it been? Have you been pleased with the take up? What's been encouraging and what has been discouraging?
Manoj: Over the last few years, we have refused to die and go away like many others. By surviving we are becoming relevant as market is opening up. We are now growing up by 1000 new sign ups every 6 days, with total above 54,000. We are keen to get this number up to 100,000 as soon as possible. After which, the focus will shift to improving the conversion rates. We are also looking forward to launching edocr Enterprise and adding more and more integrations to increase value we provide to our customers.
Ian: Can anyone sign up for edocr? Who are you trying to target?
Manoj: Yes, anyone can. As a business, we focus on companies with marketing departments who understand the importance of content marketing, as well as produce documents on regular basis. Our key target is manufacturing but we seem to picking up more and more customers in the technology sector, who as you expect are the early adopters of new technology.
Ian: Can you tell me a little more about the technology behind edocr? Host虹ng, PHP/ASP/Ruby etc. Server location or do you use conntent delivery networks?
Manoj: edocr.com is one of the very early techstartups to be built around Amazon Web Services. We started with S3 and SQS in 2007 and migrated the code to EC2 in 2009. All of edocr.com is built on PHP with MySQL as the database.
Ian: What are your plans for the future?
Manoj: There is only one plan. Grow the company. I have been self-funding the company up to now. We believe additional capital will be required to move us to the next stage of our development. We focus on improving our product over the last 13 months. With user numbers increasing, perhaps its the time we explored raising external capital to grow the company. Been one of the 8 selected for inaugural nReduce DEMO day, and the only non US company to be, gives us reassurance that we are heading in the right direction.
Ian: Apart from edocr, which other apps do you use, love and recommend?
Manoj: We love HootSuite, GetSatisfaction, Zendesk, CapsuleCRM and whole bunch of other apps, which helps to keep our business ticking over.
The edocr Guide
So now it's time to get our hands dirty and delve into edocr in more detail! If you haven't already done so, head on down to the edocr website and sign up for a free account.
I've also produced a walkthrough video which accompanies this post...
Browsing Documents & Profiles
When you visit edocr, you don't have to sign up or log in to see users' documents or profiles. You can browse and search documents very easily as they are helpfully listed in categories:
All users are also listed in the user directory which as well as the place to store your documents, is a way to display your profile, website, photo, social networking profiles and other information. Considering you get an opportunity to do this with a free account you have much to gain with little to lose (except about 5 minutes of your time).
Your User Profile
When you log into edocr you will see your user profile screen. You can see mine at edocr.com/user/iagdotme. On your user profile you will see a few more options that will enable you to edit your profile, upload documents, view or upgrade your subscription, view your "buddy" contacts", view your edocr apps that you intergrate with and widgets/buttons. For the numbers in the screenshot above, I've listed the features below...
My Account- View your user profile (the screenshot above)
Upgrade- options to upgrade/downgrade to other edocr plans.
Upload- upload documents to your library.
View- Another link to your user profile
Edit- Edit your user profile.
Documents- View your edocr documents
Messages- Allows you to send messages to your edocr contacts (known as "Buddies")
Subscriptions- Information on what edocr plan you subscribe to including payment information.
Leads-Available on all paid plans, edocr lists other users who have viewed your documents as part of its lead generation feature.
API Keys- some 3rd party apps require a special API key to connect to edocr. These are listed here.
Document Numbers- To help you keep on top of the number of documents available in your plan, you can clearly see the number of documents you have uploaded and the number of documents you have left in your current plan.
Links- Your Profile allows you to list your photo, company website, social networks and mini biography.
Recent Activities-You can see which documents you have uploaded recently, together with other activities.
Buddies- See your connections with other edocr users- known as "Buddies".
Integrations-Any 3rd party apps that you've connected to via edocr.
Widgets & Buttons- the code for the edocr button for you to place on your website/blog.
I'll now go through the most important features in edocr...
Edit Profile
As I mentioned before, your edocr profile will improve your exposure and help people connect with your various social profiles. As well as your edocr Channel or user profile you can add your LinkedIn, Twitter, Facebook and Google+ profiles and add a short biography.
Various privacy settings allow you to choose whether or not to make your email address viewable, receive event notifications receive private messages or buddylist notifications.
User Documents List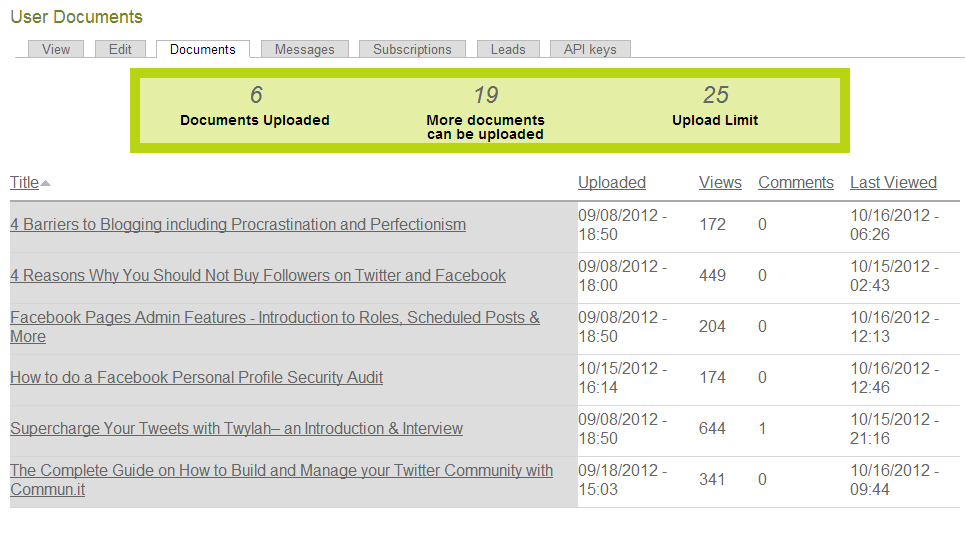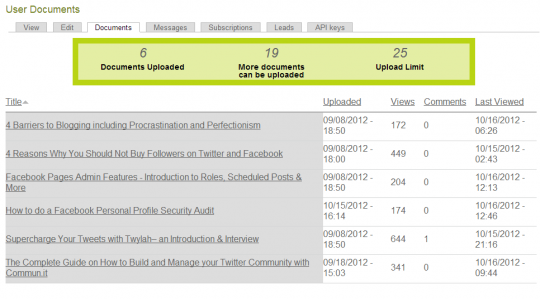 Your document list allows you to see a simple list of all your uploaded documents together with their view count, number of comments and last view date/time. As you'd expect, you can order the list by title, upload date, number of views, number of comments and last viewed date.
edocr Messages
When you connect with another edocr user and make them your "buddy" you can then send them private messages within edocr. This can be useful if you want to contact a connection without knowing their email address or if you want to contact someone in conjunction with an edocr document or lead.
It's also possible to message any other edocr user assuming they've enabled this in their privacy settings. This is useful if you come across a really useful document and you'd like to send them a message about it. If you've used the LinkedIn messaging tool, you'll understand how useful this can be.
Subscriptions
The subscriptions tab allows you to see your current plan. Here you can see what you currently get as part of your plan and the option to cancel. Payment is currently by PayPal (either a PayPal account or debit/credit card via PayPal).
Leads
With paid edocr accounts (Entry upwards) you get the "leads" facility. When you upload a document and people start to view it, edocr comes up with leads for you. These are edocr users who could be potential leads- people interested in your content and potential clients. You can add these leads to your buddy list or contact them directly.
Uploading Documents
Before uploading a document, you need to be aware of the type of document that you can upload:
Plain text (.txt)
pdf files (.pdf)
Microsoft Word (.doc & .docx)
Microsoft Powerpoint (.ppt & .pptx)
Microsoft Excel (.xls & .xlsx)
Open Office (.odt formats)
You can upload multiple files at one time (up to the maximum limit of your plan). The small print is that you can only upload documents that own the copyright for, or have permission from the owner. There is also a maximum file size of 10Mb.
To upload files, click on the big yellow upload button....
With any of the paid accounts, you can upload multiple files at one time. Once uploaded, you are then presented with the document details form. Here you can enter all the important information for the document, including the title, tags, description and category. Take your time on this one as a highly optimised document page will help your document to be found by other edocr users and search engine visitors...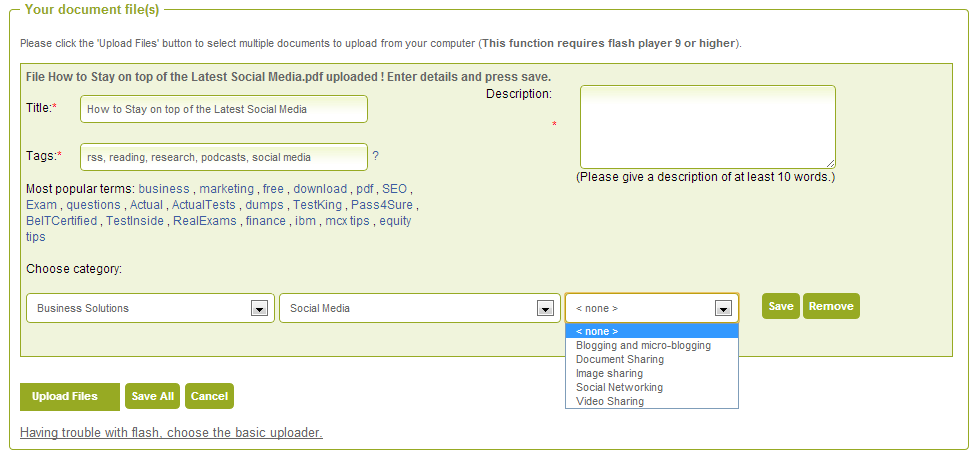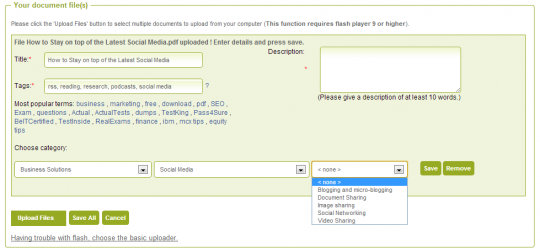 Once uploaded you can then set the publishing options, who can access the document and a url to link to (for example a blog post on the subject).
The Document Page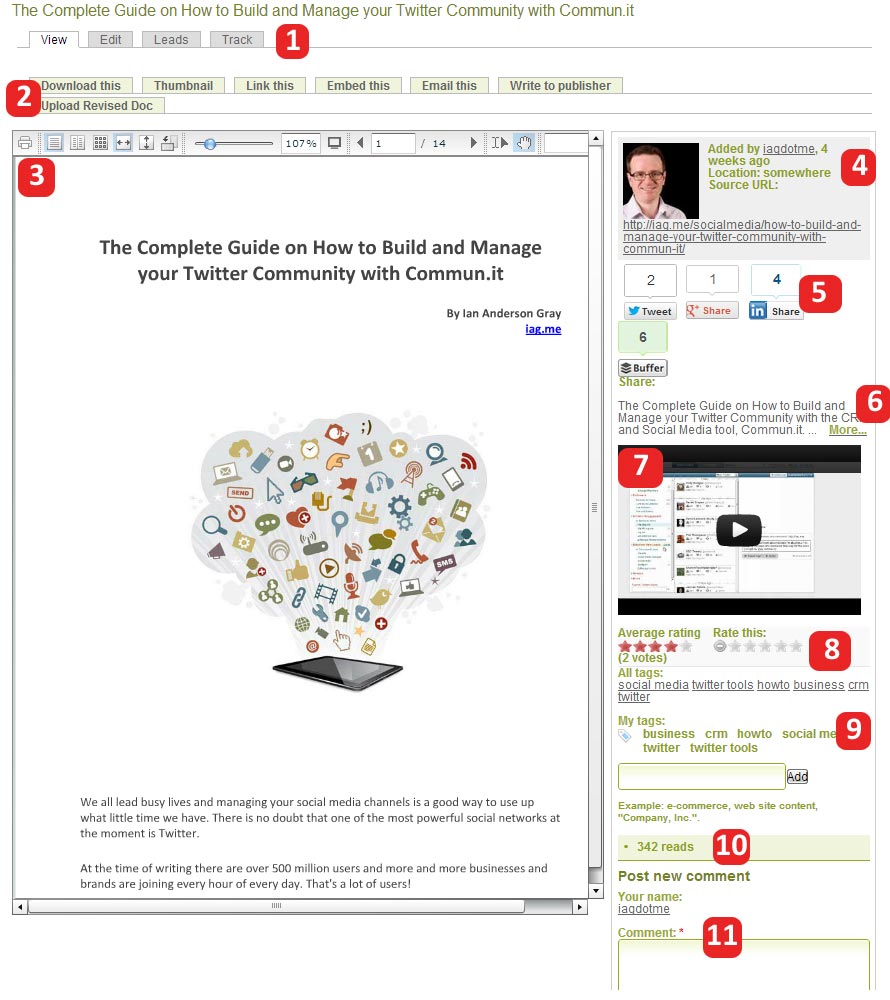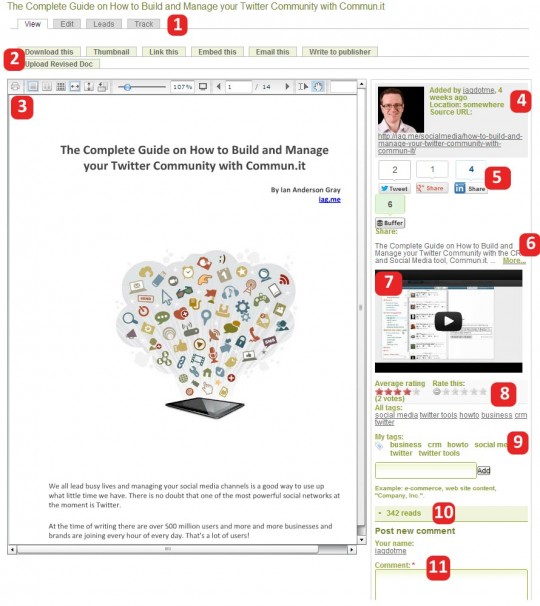 When you upload a document to edocr you will be presented with the document page. This is pretty much what everyone else will see too, except that you are able to edit the document, view leads and track the document (see details on who has viewed the document).
Edit Buttons-So you can view or edit the document and view leads and tracking information.
Document Option buttons- These buttons are available to anyone visiting the document page. They can download the document as a pdf, embed a thumbnail of the document, get the link code, embed the document or email the document. If you are an edocr user you can also message the author. Finally if this is your document you are able to replace the document with an updated version.
Embedded document View- This is the main document view. There is a toolbar at the top which allows you to print and alter the size of the view as well as move through the document. The edocr viewer uses the flash plugin.
Document Info- Information about the document including author, link to user profile, source url and photo.
Social Networking Sharing Buttons- Allows you to easily share the document with Twitter, Google+, LinkedIn and Buffer.
Document Summary-Short summary of what is in the document. This is particularly useful for SEO and to make your document more accessible.
YouTube Video- If you have a video that goes with your document, edocr allows you to embed this in the document page. Very useful!
Rating- The document rating, as rated by other edocr users.
Document Tags- You are able to tag your document allowing it to be more easily found.
Number of Reads- How many people have read the document.
Comments- Any user comments.
Integrations and Apps
One of the most powerful features with edocr is its integration with other apps. For the current list of edocr apps, see the edocr app page. At the moment the list includes Buffer, Hootsuite, TweetDoc, salesforce, capsule, MailiGen, Thetaboard, zendesk and Get Satisfaction.
By connecting your Buffer or Hootsuite accounts to edocr, you can schedule a tweet or post about your document and so maximising your potential leads.
Tweetdoc is a little more niche and is a way of documenting events (such as conferences, workshops, giveaways and competitions). You are able to import your Tweetdoc reports to edocr for wider sharing.
Integration with salesforce, capsule and MailiGen allows you to export your edocr leads for you to further analyse and nurture. If you are interested in lead generation (and you should!), then this is a must.
There are certainly plans to expand the number of 3rd party apps in the future, so don't be surprised if names such as Constant Contact, MailChimp and more are added.
edocr Plans & Prices
There are 5 different edocr plans- free, entry, pro, business and enterprise. If you just compare edocr's free plan with it's competitors such as SlideShare you may be dissapointed- you only have a maximum of 5 documents. However the basic entry account is very reasonably priced (which comes with unlimited leads)- £5 or $8 per month. When you compare this to SlideShare Pro Silver account at £19 per month (which only comes with a maximum of 30 leads per month) you'll see edocr has a real edge.
One disadvantage is that there is a limitation with the number of documents you can host with edocr. The entry has a limit of 25, pro a limit of 150 and business up to 1,000. However if you are wanting to upload a lot of documents, edocr's unlimited lead generation feature is to be taken into account. The edocr business plan allows your company to create a business profile (or organisation). See the edocr organisation page to see an example.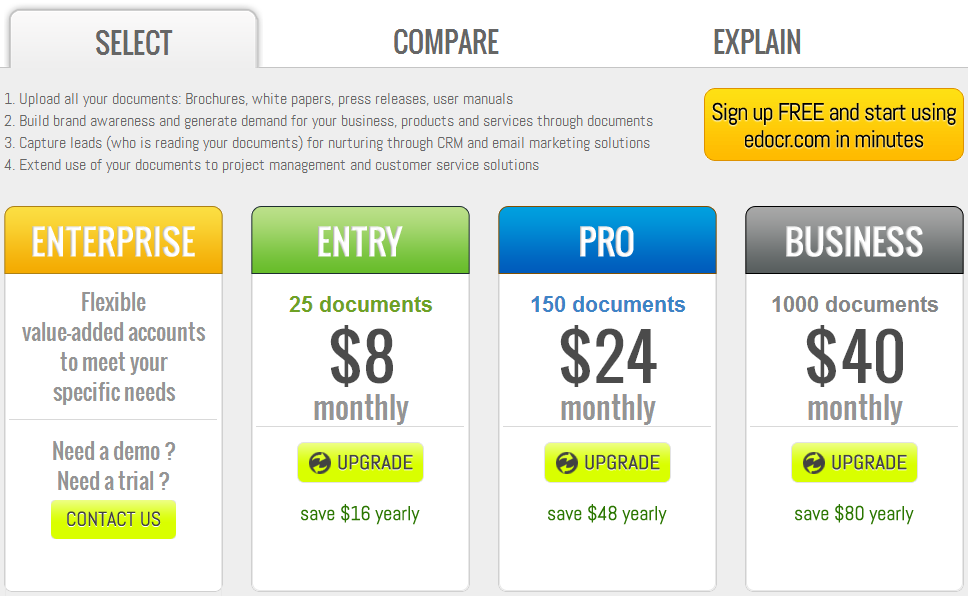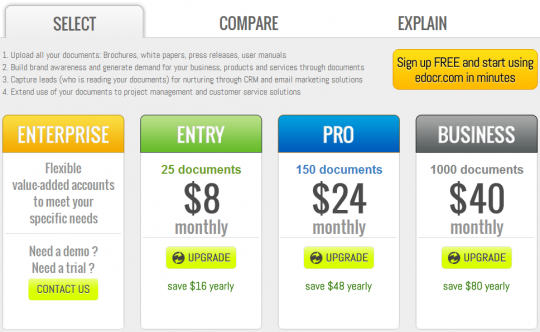 For edocr's pricing, please visit the pages in UK prices or US prices.
Enterprise
When talking to Manoj, it was clear that the company's vision is to expand their Enterprise plan. This allows bigger businesses to customise their experience and have a more one-to-one relationship with edocr and also offering the possibility of bulk uploading older documents. This is important if edocr is going to make money- it's the same dilemma all social businesses are going through and trying to achieve! I voiced my concern about the potential of edocr turning their backs on the free/entry/pro users whilst trying to target Enterprise customers- a tactic that seems to happen all to often in the industry at present. Thankfully this isn't edocr's strategy- it's the free and low cost plan users that have made edocr what it is today and will help the short and medium term growth in the company.
In a press release out today, Manoj puts this quite clearly:
"We realised we need to be more like Huddle (Enterprise sales) than Evernote (freemium) and the outcome is the best of both worlds, the edocr ENTERPRISE offering coupled with our SME offerings; edocr ENTRY, PRO and BUSINESS. We are thrilled to welcome John King and the MMU Agency Life team. It will no doubt be exiting to work with our new integration partners, Mailigen, Malinko, Eloqua and Marketo, delivering further value to our customers"
Summary
I've gone into a lot of detail into the inner workings of edocr and I hope you are now in a better position to get started in content marketing using it. So why use edocr over any of the other document hosting providers? I have to admit that edocr is still a little rough round the edges and not quite as flexible and snazzy as the likes of SlideShare. It still relies on flash and the way it embeds documents doesn't work quite as well. However I do know that the guys at edocr are constantly updating and innovating and now is a good time to sign up. Although we can't exactly call edocr a startup anymore 5 years on, it still has the feeling and atmosphere of a startup and deserves to be given a chance. Manoj has exciting plans for the business and there is no doubt that it is growing. Finally in terms of price, edocr has the edge for small businesses. You get far more for your money when comparing to SlideShare Pro. If you are a bigger business owner, then the customisability and bespoke  nature of edocr Enterprise may be worth considering.
As ever, I'd love to hear what you think in the comments below. Have you used edocr? What do you think of it? Would you use or recommend it?
This blog post is HUMAN CONTENT!
It's NOT been generated by any artificial intelligence (AI) tools. It's been authentically written by a human author (i.e. me!)