A Productive Day in the Life of a Social Media Marketer [INFOGRAPHIC]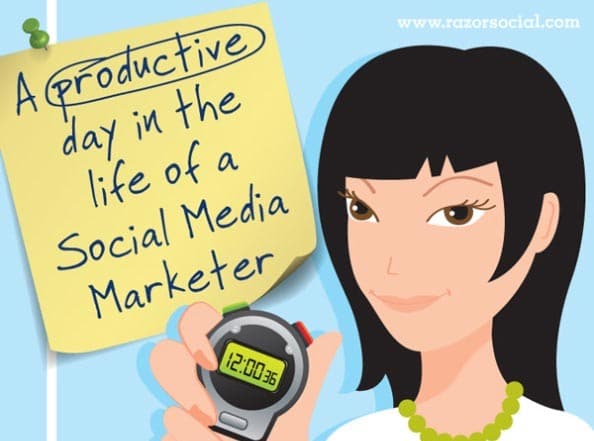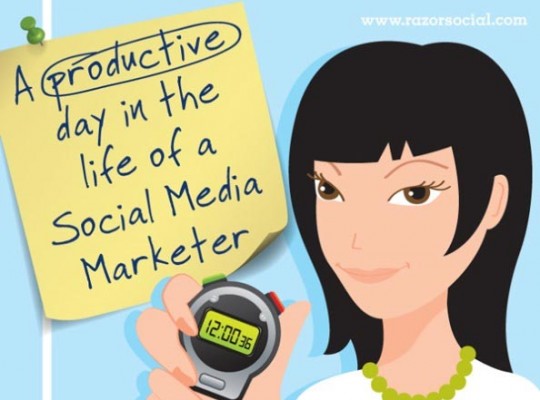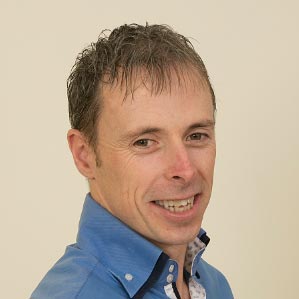 Are you snowed under with work?
Are you not feeling very productive?
Would you like achieve much more in your social media marketing?
I wanted to share with you a great infographic from the wonderful Ian Cleary on his website, RazorSocial. I met Ian at the Cardiff OiConf earlier this year (2013) and he's a great guy. Ian is always hearing about the latest social media tools and I highly recommend you check out RazorSocial if you haven't already. It's quite funny that I am not the only social media tools geek called Ian!
Busy Busy Busy
I think I can safely say that we are all in the same boat when it comes to busyness! Being a social media marketer or having the task of marketing your business can seem like a huge job- and an incredibly busy one. Most of us are looking for ways to make our life easier and to help us be more productive. That's why so many social media and productivity tools exist!
In this infographic, Ian gives an outline of what you could do in a day and the tools to achieve them. I'll add my thoughts at the end…
---

My Thoughts
Now, the infographic is not an accurate blueprint for each day in a social media marketer's life- it's just about highlighting what is possible and what you could do. I'd definitely want to add more time to sleep, rest, walk and spend time with your family! However, that's missing the point. The biggest take away from this infographic is that you need to choose the tools that work for you and to PLAN your schedule. Social media is a huge time suck and if you're not careful most of your day will be gone before you realise what you should have done.
I'd definitely check out the tools in the list. However, not all will be suitable for your business. Some tools are free and some are very expensive- but either way you may find they offer you a huge return on investment.
In addition to the tools, Ian mentions, I'd like to recommend:
Conclusion
So what do you think? What tools do you like to use? Did you discover any new ones from the RazorSocial post? Let me know in the comments below!
This blog post is HUMAN CONTENT!
It's NOT been generated by any artificial intelligence (AI) tools. It's been authentically written by a human author (i.e. me!)