How to Schedule Tweets like a Pro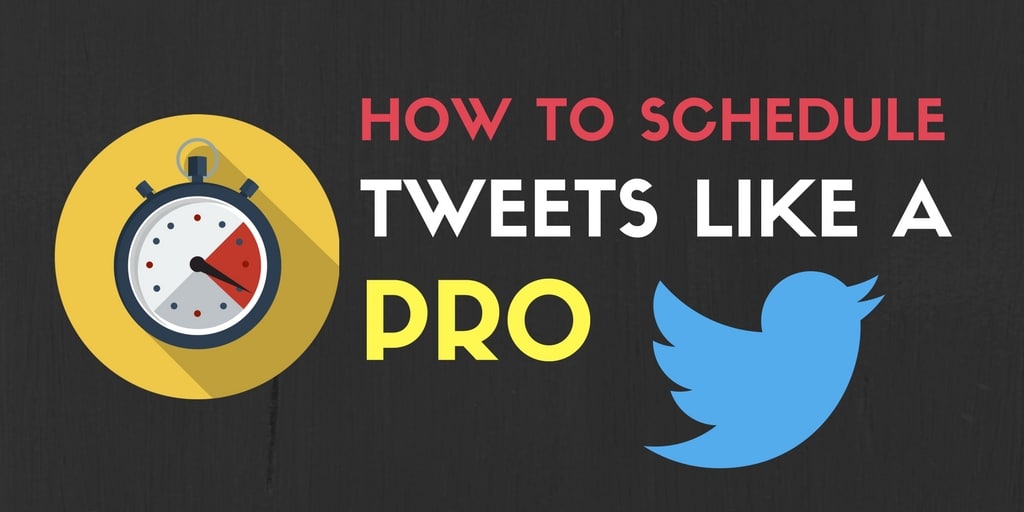 A Seriously Social Community Article by Lisa Kalner Williams
I'm a massive fan of scheduling social content. If done selectively and intelligently, it's a smart use of your time. You can batch create your content at a set time each week, and save so much time. Of course, it's vital that you don't become a one-way communication machine and actually engage with your audience. A big thank you to Lisa Kalner Williams for writing this article on how to schedule to Twitter using 3rd-party Twitter tools.
Ian
I could easily give you very precise, technical tips on how to schedule tweets better.
But those step-by-step instructions will unlikely make your overall Twitter performance any better.
If your current tweets aren't producing any signs of life -- whether they be replies, retweets, or clicks, why spend the time learning how to schedule and upload these sub-par pieces of content with your brand attached to them?
The plan to schedule tweets better relies heavily on a plan to schedule BETTER tweets better.
As the legendary rapper-turned-actor Ice Cube once famously spat, "you better check yourself before you wreck yourself" with a whole bunch of nicely scheduled, but poorly performing tweets.
So let's check ourselves here.
GRASP THE "WHAT"
The "what" takes two forms here.
First, let's consider WHAT you're doing on Twitter in the first place. Are you looking to "get the word out" through retweets? Conversation through replies and direct messages? Web traffic with clickthroughs?
Write that "what" down as a friendly reminder for all you do on Twitter.
Now, analyze your most recent posts. Do they accurately reflect what you set out to do on Twitter?
Let's go to Twitter and download your tweets from the past four weeks to begin a content audit.
Did you know you could do this? It's free and easy. Two good things, no?
On your desktop, click your profile photo on the top navigation bar. Then select "Analytics."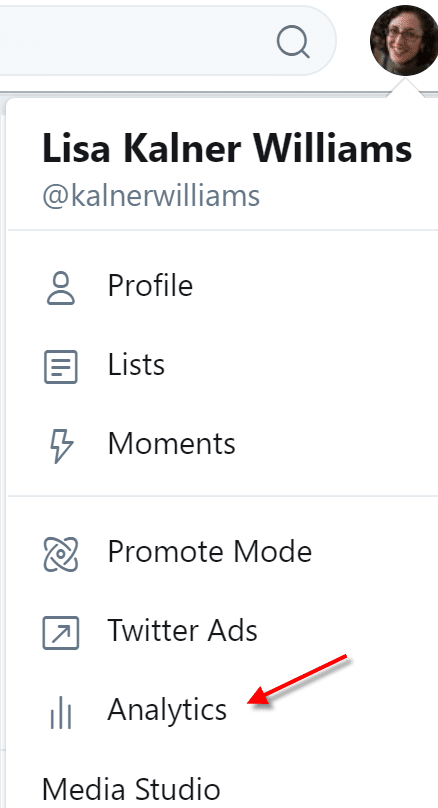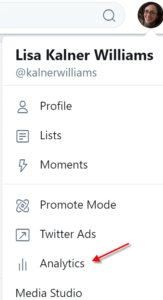 Twitter Analytics
You'll then be privy to a whole slew of data about your followers and tweeting activity.
For the purpose of this article, select "Tweets" on the top menu.
Then select "Last 28 Days" and click "Export Data" to get the analytics.


If you prefer, pull a report from your favorite social media dashboard to help you out.


Exporting a CSV file in Agorapulse
Wherever you go, try to get a CSV file to make it easy for you to sort your tweets according to that WHAT.
If you're all about click-throughs and conversions, go to Google Analytics or KISSmetrics for your data dealing with referral traffic.
Have you the proper amount of tweets that will help you with your "what?"
(Can I take a wild guess and say … probably not?)
Go on and write this down: I need to create more tweets that [accomplish my "what"].
Now examine the quality of the tweets that have given you good results.
What was special about them? Did they address a particular topic? Written in a special style? Had a certain length?
Still got that paper handy? Jot down this sentence: I should create more tweets that [have that special sauce that gave you good results].
You don't have to use paper -- but if you didn't gather it from my Ice Cube reference -- I'm old school 🙂 Just make sure you have this to refer to.
DETERMINE THE "WHEN"
When #1: When to have tweets go live
Now that you have a better sense of what you need to produce -- and chances are it's more than you thought -- get a sense of when you should tweet.
Dig into the analytics of your previous tweets to determine which times and days have given you the best results (again, that "what")? It's rather tricky to do with the native Twitter download so check to see if your social media management tool provides this data.
This is what the report on Agorapulse told me about my personal Twitter account:
Agorapulse Twitter Analytics
Pro tip: DO NOT rely on those "best times to tweet" blog posts -- the authors of those pieces don't know your audience and don't have access to your Twitter data.
Once you grab your specific-to-you data, outline a calendar that allows for those optimal times to tweet.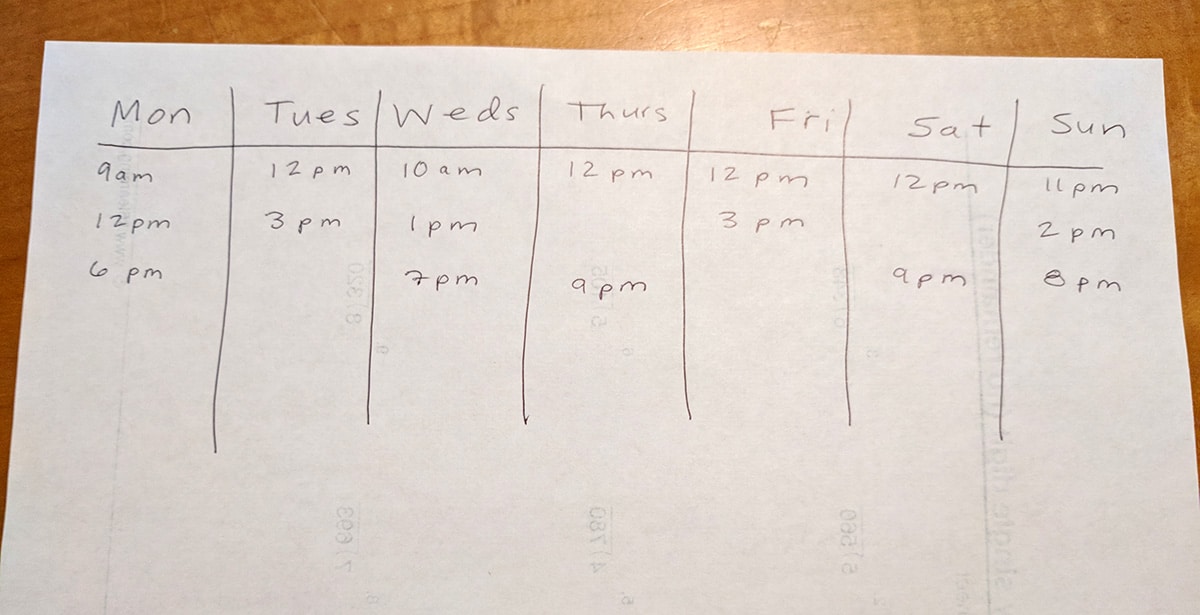 Keep it simple: Create your Twitter schedule using pen and paper!
When #2: When to schedule tweets
Some of these optimal tweeting times might not be at the best times for you to hop on Twitter and type away. So consider scheduling many of these tweets in advance.
Say, if you're a small business trying to drive traffic to your Facebook Live broadcasts, it would be hard to simultaneously live tweet and host a Live. So try to schedule pre-broadcast tweets like this:
---
During the time of the broadcast, you can schedule a tweet along the lines of this:

Designate a specific frequency of uploading new tweets to schedule. Should you prepare and upload these optimized tweets on a monthly basis? Something more frequently?
Once you decide how often you should schedule tweets, put those "scheduling days" on your calendar.
As a remote worker, I like to schedule my tweets on a Sunday evening. If you're more of a 9-5 er, you might want to pick a quiet morning. Turn off your email, social media, and Slack notifications to be extra focused. It's nice to have a chunk of time to create a stack of useful tweets.
PROCEED WITH "HOW"
At this point, you might be thinking, "I checked off the 'what' and 'when' and now have a whole bunch of tweets. How do I get them off my hard drive and onto Twitter?"
You *could* schedule them one by one natively to Twitter.
This is another hidden gem of Twitter. For some reason unbeknownst to rational human beings, scheduling ads is hidden under your profile photo.
Click on "Twitter Ads".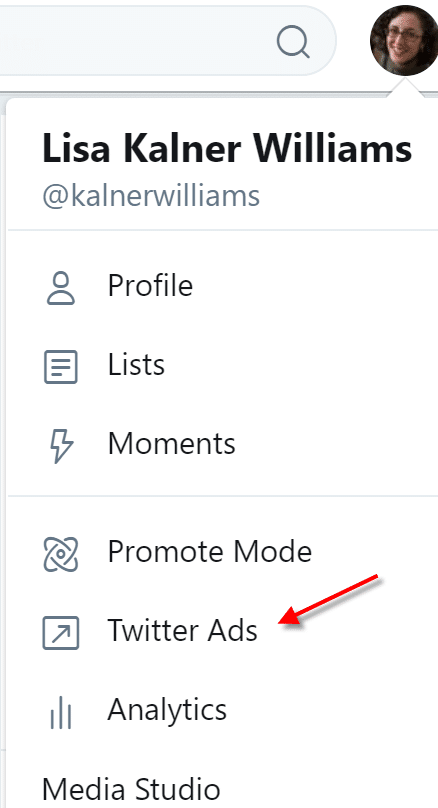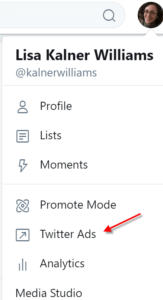 Selecting Twitter Ads
Don't worry -- there's no hard sell (or any sell at all, really) for you to sign up for ads. Click on the blue Tweet button on the top right, or the "New Tweet" button:


Schedule Tweets in Twitter Ads
Once you're in compose mode, be sure to uncheck the "Promoted-only" box to avoid being charged for your tweet.
Then click the "Schedule" button to set the time you want your tweet to be seen by the world.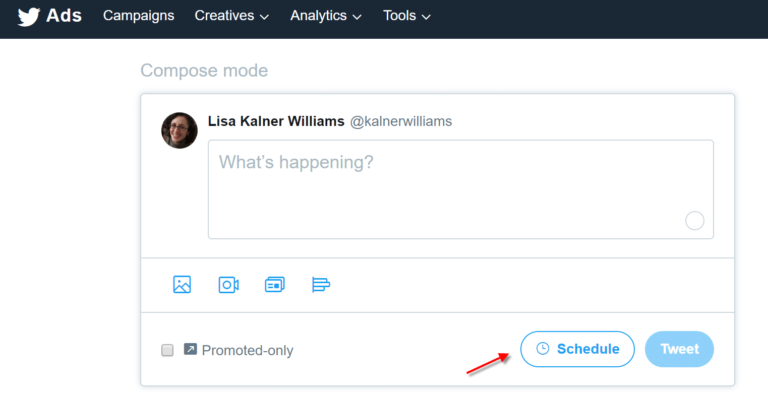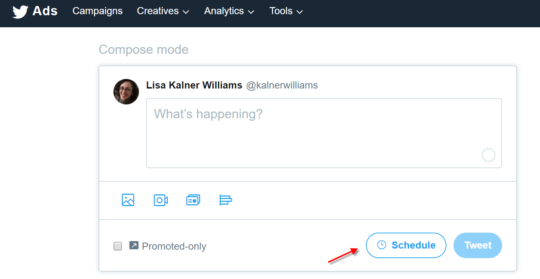 Schedule Tweets from Twitter Ads
By doing all this on Twitter, you'd be following the advice of a good number of 'social media gurus' who espouse that third-party tools decrease your reach.
I've heard this warning over and over again throughout the years, but I've paid it little mind.
The Social Media Lab recently responded to a question from Ian on the use of third-party Twitter tools and confirmed my hunch. They analyzed 1,500 tweets using such tools and found there is a noticeable uptick in impressions by using native Twitter. Have a read of the in-depth study and listen to Ian on the podcast.
Scheduling Tweets on Twitter takes a lot of time!
Yet the numbers weren't quite enough of a difference to encourage most Twitter account managers to leave whatever tool they're using. Most social media managers relish the time and sanity saved -- and the hand cramps lost -- of third-party tools speeding up the process of scheduling multiple tweets. It will take something MAJOR for these folks to go back to the days of yore.
Worthy Third Party Tools
There are a good deal of third party tweet scheduling tools out there. Most are affordable on their own but increase your overall spend on social tools. Plus, there's another login you have to deal with.
Once I started using social media dashboards, I gave up using these standalone tools. If you use a dashboard too, dig into their scheduling options.
Sprout Social
Sprout Social allows for scheduling. You can choose a "let us pick the optimal times for this tweet to go out" option or you can dedicate a particular time to each tweet.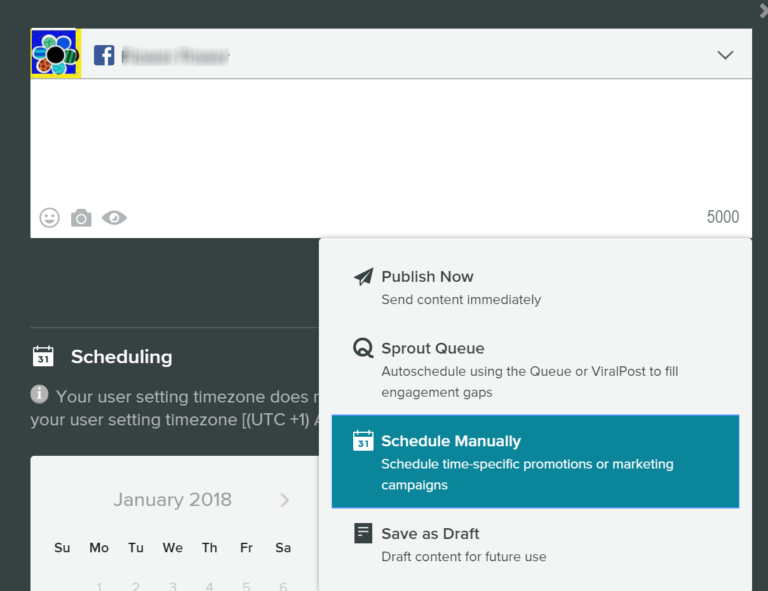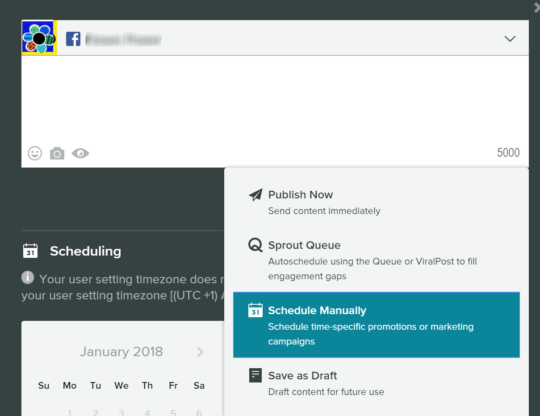 Schedule Tweets from Sprout Social
Sprout doesn't allow for bulk scheduling, so make sure you devote time to scheduling posts one-by-one.
Buffer
Buffer is well known for its easy-to-schedule interface and integrations. By connecting your Tweroid (unfortunately, no longer available) account to Buffer, for example, you'll be able to see the optimal times to tweet based on your own data.
Buffer places limits on the amount you can schedule at one time, so check your plan for how many you can do at once.
And like Sprout, Buffer doesn't have a native ability to bulk upload tweets. It does, however, integrate with two tools that allow you to upload large chunks of tweets. Bulk Buffer is free and through it, I was able to bulk upload 10 tweets to my free plan. (10 scheduled tweets is the free plan maximum.)


Bulk Buffer
It's worth noting that Bulk Buffer hasn't tweeted since 2016. But I mentioned it's free, right?
Another option for bulk uploading to Buffer is Bulkly. For $12/mo, you can bulk upload to one Twitter account on Buffer. (Bulkly tweet regularly so I feel more confident about their staying power.)
Hootsuite
HootSuite allows for scheduling either according to your own schedule or through its proprietary AutoSchedule feature.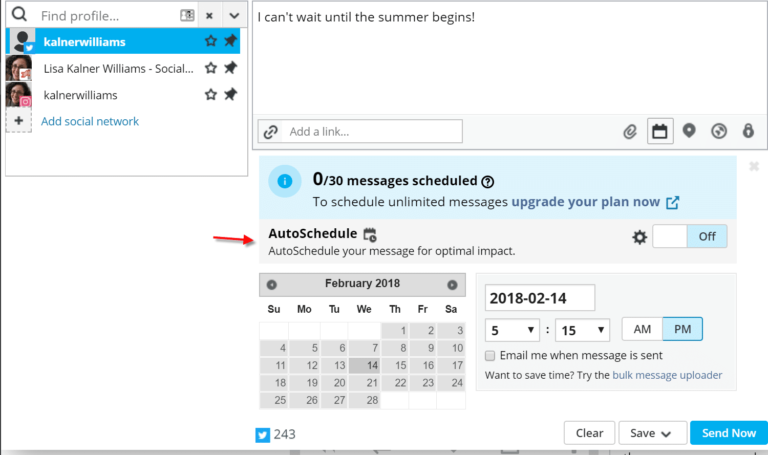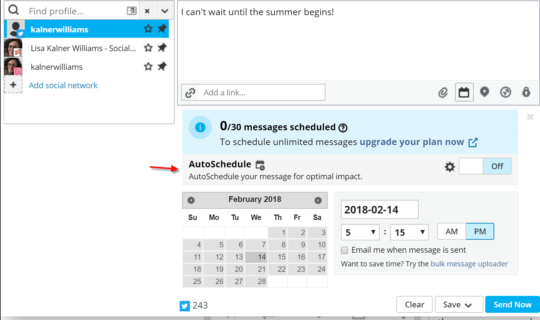 Scheduling Tweets in Hootsuite
If you have a paid subscription, you can use the tool's built-in bulk upload feature.
Agorapulse
Agorapulse allows for scheduling with a few cool twists. You can assign one date for the tweet, specific multiple dates for the tweets, or a pattern of assigned dates (and frequencies) to that one tweet.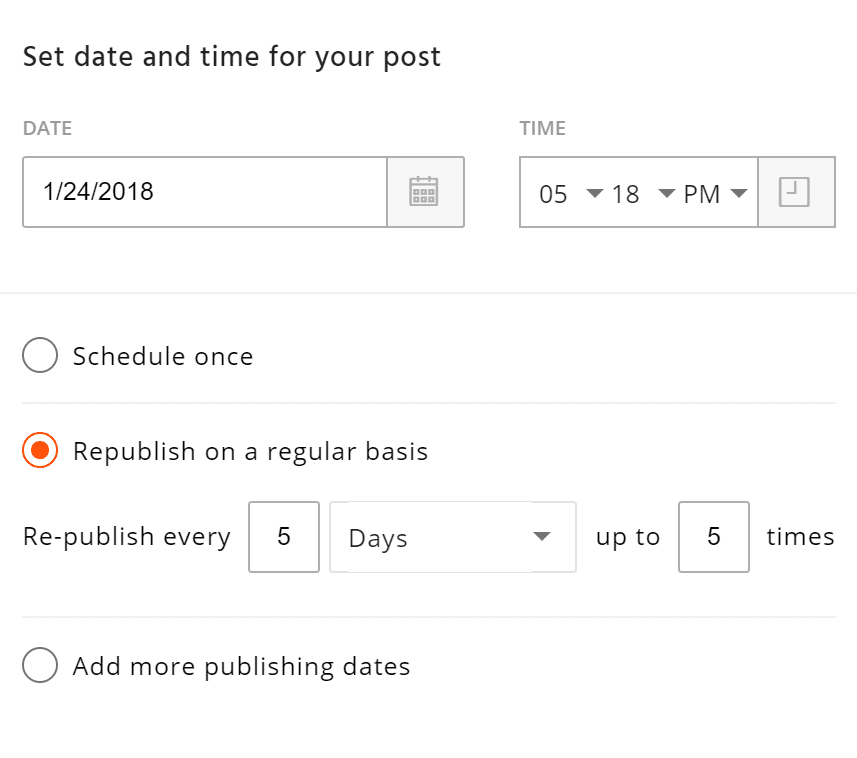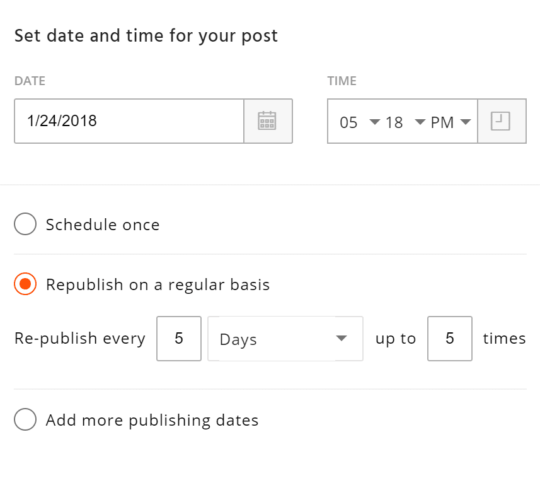 Scheduling Tweets in Agorapulse
You can send tweets to a queue. There is no optimized "best time" feature like the other tools mentioned, but you add time slots based on the data you find in your built-in Twitter reports. You can set a tweet to be queued once, several times, or an infinite number of times if you're daring enough.
All plans include bulk uploading to either a schedule (as shown above) or to a publishing queue.
What's neat about this bulk uploading feature is that if you set it to a queue, you can add Queue Categories to each tweet. It's a perfect way to make sure your content is aligned with your "what." (Hope you didn't forget about what your "what" is already!)
Here are the three categories I've set up with my Agorapulse account: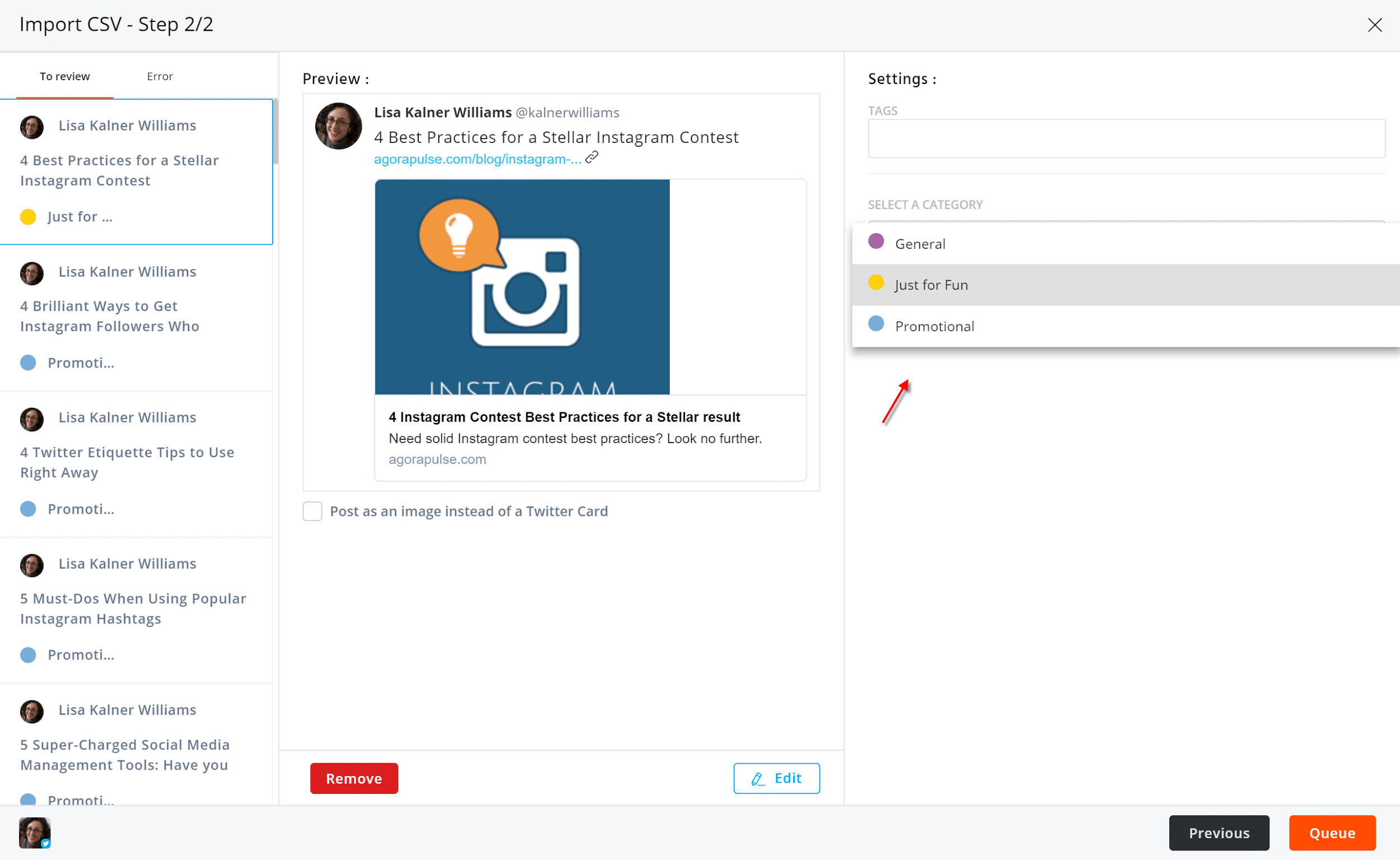 Importing a CSV File in Agorapulse and selecting categories.
WRAPPING IT UP
Once you understand what you need to tweet, what tweets you can easily schedule, when you should schedule your tweets, and how to best schedule your tweets, you should soon see better results with fewer headaches. Comment here and let us know how it goes!
About Lisa Kalner Williams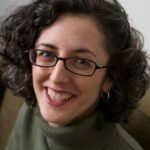 Lisa Kalner Williams is Product Marketing Manager for Agorapulse. For seven years, she ran the successful social media marketing agency Sierra Tierra Marketing, where she went spoke to audiences around the country about using Instagram. She's most likely listening to Spotify right now.
What the * means above...
If a link has an asterisk by it, it means it is an affiliate link and generates a little income for the site. If you end up signing up for the service and paying it may result in a small proportion going towards the upkeep of this site. You shouldn't notice any difference in the sign-up process.
The editorial line is NEVER impacted by these links. I will only ever recommend a product or service if I think it is worth recommending! If a product or service does not have an affiliate scheme, then we will still include it in the same way.
In the interests of transparency, here are the non-affiliate links which will not help the site: