7 Actionable Steps to Build Powerful Relationships with Influencers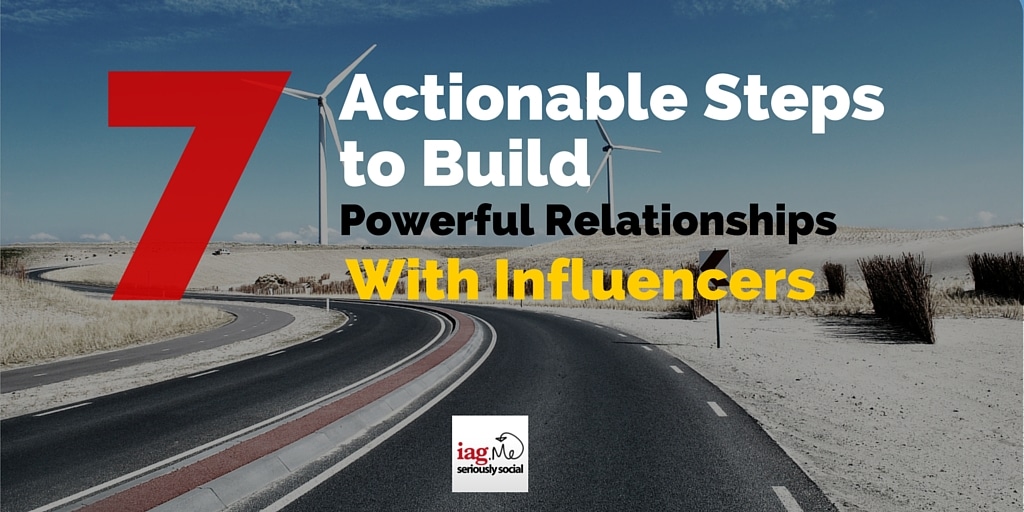 A Seriously Social Community Article by Jason Quey
---
It feels like a bad joke.
You work hard creating your article. You publish it, and begin sharing it with your social networks. You know how to schedule your social media posts responsibly, share it with your email list, and tell all your friends...
Yet there's nothing but crickets.
When I began my 7th blog on influencer marketing, I realized I needed to do something drastically different. I knew that popular bloggers had already captured the attention of the audience I wanted to connect with and help. They could introduce my content to thousands of their readers that could take years for me to reach. And they have the ability to introduce me to other powerful connectors who could move the needle in my business.
But until recently, there was something that kept holding me back...
Every time I wanted to reach out to them, that feeling would kick into high drive and wouldn't let me go.
The fear of rejection.
Between you and me, I think I've realized that "hard work" doesn't always pay off. It's not about simply putting in the time, like you do at a job. When you treat your blog like a business, it's about putting in the hours into the most profitable activities.
I'm going to give you a step-by-step framework to connecting with influential people on social media.
But before I do so, you need to promise me something...
You will use this system with care and treat the people you meet with respect.
As strange as it sounds, at the end of the day, "influencers" are people like you and I. This isn't about using them as a marketing tool. Rather it's about building genuine relationships and connecting us together. One of the biggest mistakes I made connecting with influencers was seeking quick "wins" in exchange for long-term relationships.
Look:
You can have both quick wins and long-term gains. But when left with the choice, focus on the long-haul.
Now that I've said that, let's get started.
---
#1 People don't plan to fail.
But when I fail to plan, I've found this to be very much the same.
It's not glamorous, but it will pay off in spades down the road.
First, pick 5 influencers in your niche.
Don't just go after the 3-A players in your field.
It's not that you can't connect with them or that they won't help you. In fact, I'm going to do a simple experiment to see what happens.
That said, it may take more time to cut through the noise of requests they constantly get.
For example...
If you wanted to connect with prominent people in the field of social media, I see those like Mari Smith, Kim Garst, and Rebekah Radice at the top. These are 3A players.
On the other hand, I see those like:
as influential people who may be a little easier to reach.
How do you know who are the top tier players?
Here are 4 questions I'd ask:
Who are the first people that come to your mind when you think of your niche?
Have they written a book with substantial reviews? As silly as that sounds, that has become a trademark staple of influential people.
How much traffic does their website get? Consider using siteworthtraffic.com. If they get 500,000/month+, that may be a good sign they're a huge celeb.
Because ultimately, you never know until you try.
---
#2 Follow religiously...
I'll tell you what most "experts" say at this point:
Comment on every post at length.
Follow me on Twitter.
"Like" my Facebook page.
Connect with me on LinkedIn.
...and become my biggest supporter by sharing, commenting, and if you can, buy my books, conferences, online courses, and everything else I do.
Does this work?
No.
And yes.
Let me say this:
At first, I was skeptical that experts simply wanted free promotion (and following step 7, buying their products). But as I took action, I realized it worked. Just not as everyone told me it "should." (BTW, that tends to be the case for most things in life). Because I began to know what they wanted and where they engaged.
I knew I did not have the bandwidth to keep track of everyone and everything going on. So instead of cyber-stalking passionately following them, I...
---
#3 Test carefully
I decided to look for clues and make small tests.
Where are they active, but have little noise?
Let's see how this works with Rebekah Radice:
Hop over to their blog and check their comments section.
How many comments do they get and do they respond to them?
Looking at this note from Sherman Smith, it looks like comments could work well with Rebekah.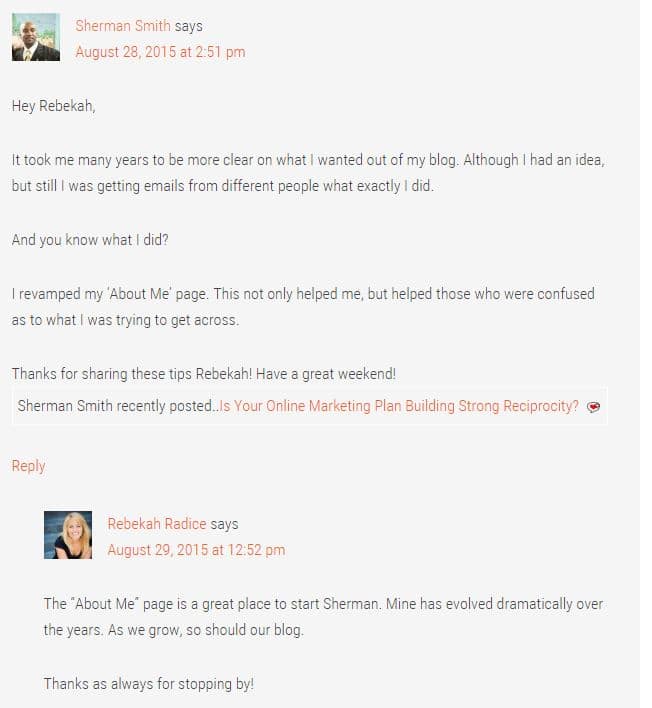 Do they ask open-ended questions on Twitter where you can engage meaningfully with them?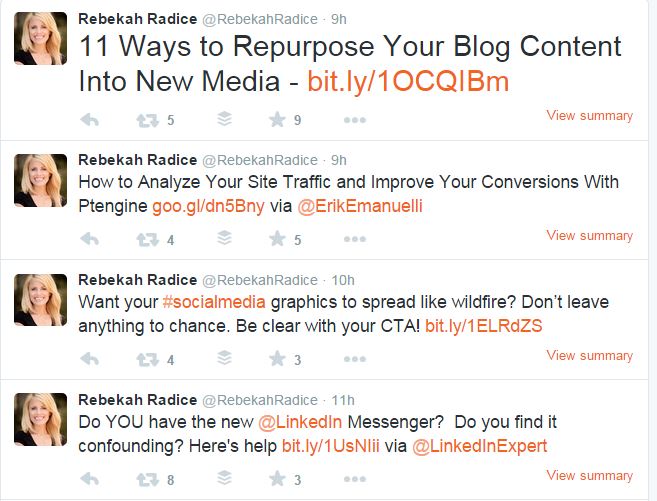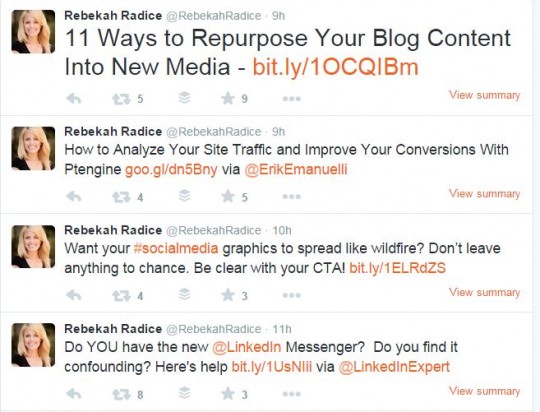 Looking at her feed, Twitter may not be the best option. But, maybe you could stand out in your conversations where others haven't.
Again, the key is to test.
What is their response like on their Facebook page?
You can see Rebekah engages here too, but it could be just a simple level of engagement.
Are they trying to promote a product like a new book, online course, or startup?
I found this to be a really great opportunity to connect with influencers. Even though they may have had success with other projects, they are investing their energy to make sure this new project will take off. When they start a new project, often influencers are seeking feedback to know what their audience (i.e. you) is interested in. It's even better if you become their best student and become a case study for them.
Since there's fewer people involved with a new project, it becomes a lot easier to stand out compared to something that is tried and true.
Do they have a Facebook group they actively manage and participate in?
I've been fortunate enough to find a couple solid Facebook groups, both with great people in the group and those managed by great people.
Here's my recommendation on how to find these groups:
Ask yourself what your influencer is looking for in a Facebook group and join those groups.
See how you like them. Be an active member in them. Then, decide if that's a group you want to be a part of or not.
No matter what you decide to do, your goal is to try things out to see what works and what doesn't. Have fun with it!
(By the way, if you like to connect with me, the links to my profile are above in #2. Try it out and let me know your results!)
---
#4 Create eye catching comments
There's a myth in blogging I see many people fall for time-and-time again:
It reminds me of what people use to say about blogging 3 times in a week or making sure to publish the same time, every day of the week. I'm sure those can help. But they are trivial compared to other key elements of your business.
This myth is more fatal.
Because if you fail in any of the other suggestions, it only affects you. Failure here can greatly affect your relationship with key influencers.
The saying goes something like this:
To get a blogger's attention, you should write long comments.
Longer comments does not mean greater value.
Think of your comment like an email: Your goal is to provide the greatest value in the most efficient way possible. Sure, some influencers do enjoy more engaging dialogues and would enjoy a longer comment. But most care. So they will skip them and move on. Again, the value is to test to see what works and seek to understand why.
---
#5 Link to their article
When you include someone's article in your post, why not let them know?
Links are a critical component of growing your blog with the pros.
There are many ways to connect with someone to let them know about your article. Personally, my first step is to send them an email. It's personal, customizable, and allows me to connect with them without other noise. If you need help finding their email, I've got a special bonus for you at the end of this article.
---
#6 Add value without making a request
This might seem strange since the point is to reach out to someone. But if you are trying to add value to someone's life, you shouldn't make every email transactional.
Recently, I saw that Evernote is now found in the Search Engine Results Page (aka the SERPs). While this was not something I find hugely valuable, I knew those in the SEO world might find it valuable.
So, I shot Dan Shure of Evolving SEO this email:
Perhaps Dan could use this for a blog article or he could tweet about it (which he did).
But did you notice the last sentence in the email?
No need to respond.
If you don't need a response, let them know. This adds value to their lives without needing to take anything from them. I often don't do much in terms of formal SEO.
Why would I do this if have no "use" in connecting with Dan?
That's a mental script I had to overcome. And if you find yourself asking this question, you may want to change your mindset too.
The goal is to add value to others, not expecting anything in return. I admit this exact example in adding value to others won't come up that often. So I came up with 5 more ways you can add value with influencers online.
---
#7 Reply to autosenders
Have you ever received an email from someone after you've signed up to their blog?
Many bloggers enjoy getting responses from those who subscribe to their blog.
If you tell them what you are interested in learning more about, they will know what their audience wants to read.
You can kill two birds with one stone by replying to their email.
How?
This provides you an opportunity to connect with the influencer.
They begin to shape their blog posts based on your feedback.
Remember this key principle of blogging:
Bloggers want to know how best to help you.
This intro email provides them the opportunity to do so.
A win-win all around.
---
Some Final Thoughts
No matter how you go about connecting with influencers, at the end of the day, you need their email address.
Why?
If you do it right, there's a greater connection you can build through email.
After reading "7 Email Outreach Tips to Get More Replies," I reached out to Sujan Deswal and got his take on this:
"I prefer emails because they are more personalized. And bonus - my constant follow up stays between me and them only."
From my experience, I couldn't agree more.