20+ Tools to Turn You into a Twitter Power User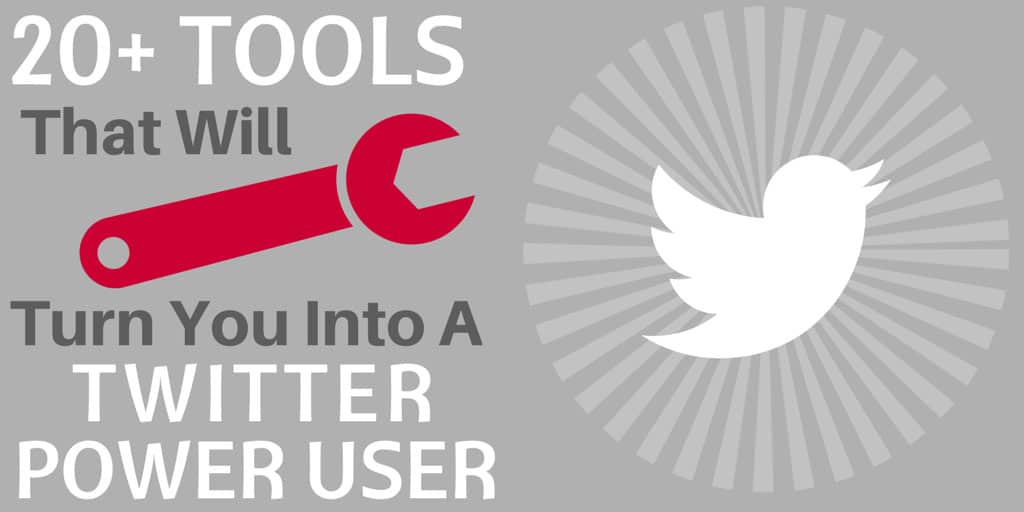 There's no denying it, I'm a Twitter fanatic and have been since Twitter launched. One of the reasons that Twitter became so popular was due to the number of 3rd party apps that were created to help manage your Twitter account. Twitter made it very easy for app developers to develop apps that interacted with Twitter using their API. Things aren't quite as sweet now since Twitter make it much more difficult to develop apps. Some Twitter tools have bitten the dust, and so you'll see plenty of articles that still list non-existent Twitter apps.
In this article I am going to list over 20 tools that will help you manage your Twitter account, your followers, Twitter lists and community as well as managing your Tweets, providing alerts and reports and a whole lot more. I can't mention every single Twitter tool out there, but if you feel I've missed one of your favourite tools, do let me know in the comments-m I'd love to hear from you!
I'm not including any full social media management tools such as HootSuite and SproutSocial. They are less specifically about Twitter, and I've got a big article coming up which will cover these.
---
Follower Management
Most new Twitter users are happy to use Twitter's website or mobile app to keep tabs on the people they follow. However, once you start to build up your following, it becomes more and more difficult to manage from within Twitter. What you need is a follower managing app, and there are a few that can help you dig deeper into the people you follow or follow you.
---
ManageFlitter allows you to manage your Twitter followers and friends through an easy to use dashboard. You can display the people you follow and then use a number of filters. For example, you can display:
Accounts you follow who aren't following you back
Accounts without a profile image
Accounts who are inactive
Accounts who tweet too much or tweet too little (you can set these limits)
There is even a "power mode" setting which allows you to set a large number of filters including min/max number of followers, influencers, mentioned you, profile keyword search and much more. You can save these filters for later use which is really useful.
A feature I use a lot is the "never unfollow" list. I add all the people I never want to unwittingly unfollow. This is important, because it can be easy to accidentally unfollow someone. You can add Twitter accounts to this list in bulk by adding a Twitter list to your never unfollow list. There is also a "never follow" list where you could add accounts you never want to follow.
As well as segmenting the people you follow and unfollowing them or managing your never follow or unfollow lists, you can also find people to follow. For example you could display:
Accounts you don't follow but who follow you
Accounts that another user is following
Accounts that follow another user
Accounts who have mentioned you
You can then choose to follow these accounts or mute or block them. You could also add them to one of your Twitter lists.
ManageFlitter has a free version with limited features, but the pro plan should give you all that you need for $12/mth. There are also plans to manage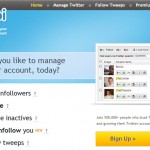 Alternatives: tweepi has many similar features to ManageFlitter. You can unfollow accounts who don't follow you back as well as follow accounts who have followed you. It's not quite as comprehensive and I find the user interface a little clunky. However it does work well and it's a little cheaper than ManageFlitter.

Visit Manage Flitter*
---
#2 SocialBro* (Free or from $13.95/mth)
If ever there was a Twitter power tool, SocialBro is it! The main problem with SocialBro is that it can be very overwhelming at first. However, it is well worth the effort in spending time learning to use it. Like ManageFlitter, it has powerful filters and you can then add the results to a list, add to a white list, add tags, block or unfollow. It also has a powerful reporting feature.
There is a free plan, but unless you're very new to Twitter, you will find its restrictions frustrating (you have to have under 5,000 followers, and reports are based only on your top 100 followers). The price of the plans are based on the number of followers you have. If you have under 20,000 it will cost $13.95/mth, but it shoots up to $39/mth for up to 50,000 followers.
Visit SocialBro*
---
If you've been using Twitter for even a short time, you will have come across dubious accounts that follow you. They could be accounts that send out spam or obscene content, or they could be dormant accounts that do nothing. Whatever the case, these accounts are never going to engage with you and can actually harm your credibility. Why do so many fake accounts try and follow you? Because they want you to follow them back and so boost their follower numbers.
I've written before about why you should not buy followers- but you don't need to be buying followers to find yourself with spammy followers. How do you find out how many fake followers you have? I've mentioned ManageFlitter which can list potentially spammy accounts and allow you to block or unfollow them in bulk. But firstly I'd recommend running the Fake Follower Check from StatusPeople. Once you've run the check you will be shown what proportion of your followers are spam, which are active and which are good. The Fake Follower Check is free, but premium accounts (which cost from $14.99 per month) allow you to automatically block your spammy followers as well as giving you more searches.
Visit Fake Follower Check
---
Monitoring:
So you're managing your followers much more effectively. You are using Twitter lists and you've created a list of people you always want to follow. Great!
How do you now make sure you don't miss the tweets from those who matter the most?
How do you find out when someone shares a link to your website or mentions your brand or name?
What you need is a monitoring tool!
---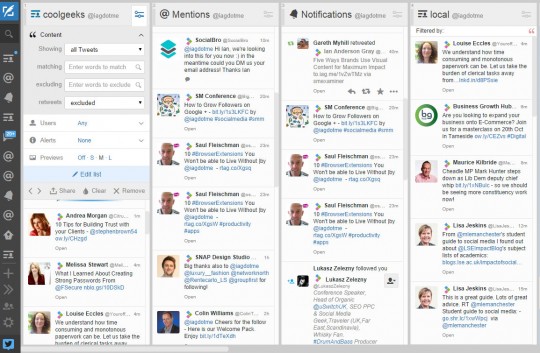 TweetDeck has been around since 2008- an eternity when you think Twitter was launched in 2006! Although some power features have been removed after Twitter bought the tool in 2011, it's still a really useful tool. TweetDeck allows you to easily manage and monitor multiple Twitter accounts. I'm currently using it to manage 12 Twitter accounts, but you could manage more if you needed to. You can add many different streams across your accounts. These could include your notifications, mentions, direct messages, a Twitter list or Twitter search. You can then filter these results by including or excluding tweets containing certain words. You could exclude certain users or exclude retweets. You can set up alerts so that you don't miss those important tweets. TweetDeck is also free which is always a good thing!
Visit TweetDeck
---
I found myself getting frustrated that some monitoring tools didn't do what I wanted them to do. So, I ended up building my own Twitter tool called Twools. It's still in development, but hundreds of people are currently enjoying using Twools.
Twools allows you to set up Twitter streams with powerful filters. For example you could display tweets from one of your Twitter lists but exclude Tweets sent via a scheduling app and retweets. You could exclude certain users (for example users from a specific location or with a certain language setting). As well as displaying on the page, you can create a feed to connect with another service such as Zapier or IFTTT. For example I get an email notification when someone links to my website on Twitter but doesn't mention me. You could also use it to back up Tweets to a spreadsheet.
In order to use Twools you need to install it on your website. The easiest way to do this is by using the WordPress plugin version. More information can be found on the Twools page. Twools is free to use.
Visit Twools
---
#6 Mention* (Free or from $29/mth)
Mention allows you to set up alerts when a certain keyword or phrase appears on the web. Mention monitors Facebook, Twitter, News websites, blogs, videos, forums, images and the entire web and allows you to select some or all of these sources. You can set up a search for a key phrase and exclude other words or websites. It also has "anti-noise technology" which does a good job at filtering out spam and low quality results. On Twitter you get notified when someone mentions you, but sometimes people link to your website in a Tweet but don't mention you. I've set up an alert in Mention that notifies me when this happens. I can then quickly interact with that user all through one dashboard. If it wasn't for Mention I'd never know! You can also use Mention to alert you when your business or brand name is being discussed across the web.
The free version allows you to set up 1 alert with up to 250 mentions per month. The basic plan costs $29/mth and gives you 3 alerts and 3,000 mentions per month. Be aware that the cost may vary from country to country, for example the cost in the UK is £29/mth (equivalent to $46/mth).
Visit Mention*
---
Community Management:
You think you know who is important in your Twitter community? You've put the important people in Twitter lists? Great!
However, do you really know who is in your community?
Do you know who are your supporters and the people who influence you?
You need a social media relationship or community management tool!
---
#7 Commun.it* (Free or from $19.99/mth)
Commun.it is a social media relationship tool. Think about it as a cross between a social media management tool (SMMT) and a customer relationship manager (CRM). It segments your Twitter followers into groups and shows you who your influencers and supporters are. It then allows you to interact with these people straight through the dashboard. You have a number of helpful streams including "consider to reply", "who retweeted me", "consider to re-engage", "not following back", "high value members", "influencers" and "supporters". I use Commun.it every day to help build up my community and engage with them. I've written an extensive article and video on Commun.it called How to Build and Manage your Twitter Community with Commun.it.
Visit Commun.it
---
#8 Klear* (Free or from $249/mth)
At first you might get the impression that Klear (previously twtrland) is a simple tool with limited information. However, once you get going you quickly notice that it is a treasure trove of information. One of the main features of twtrland is a search tool to find the influencers in a particular sector. For example I can find the most influential Twitter users in the social media or digital marketing sector. I can look for celebrities, power users or casual users and choose their country and location. You can even filter by demographics to show just men or women or particular age ranges. If you have a pro account you can dig deeper and filter by skills. What I love about twtrland's Influencers search is the way you can instantly follow people or add to one of your existing Twitter lists.  It also gives you really helpful information about each user including their biography, location, number of tweets, amplification, reach and relevance.
Klear doesn't just integrate with Twitter, it also integrates with Facebook and Instagram.
In addition to the search facility, Klear gives you an overview of your Twitter profile (or in fact any Twitter user's profile)- giving you a wealth of information including:
Ranking
Your top content
Activity per day
Number of engagements per post
How communicative you are
The people you talk with the most
Some features are only available on the paid plans such as advanced demographic reports and full analytics. The free version should give you more than enough to get you started. The pro version used to cost $49 per month, but Klear are now focussing on enterprise clients with a base price of $249/mth.
Visit Klear*
---
Other Community Management Tools
There are other tools in this category you might want to check out:
---
Analytics & Reporting:
We've set up alerts to monitor when certain keywords or links are mentioned on Twitter. However, it would be great if we could have a bigger picture. Are the number of followers increasing? Are tweets being interacted with more regularly (for example retweets and mentions). How about digging deeper into the demographics of these people? What about finding the best time to Tweet? What we need are analytics and reporting tools!
---
It's surprising how many Twitter users don't know that Twitter offers analytics! I have to admit that I rarely log in to have a look. It's odd, because not only are the analytics very powerful and helpful but they are free. They are also very accurate since the data is coming from Twitter themselves. The analytics tool is meant to go hand in hand with their advertising service, but you don't need to be paying for ads to use Twitter Analytics.
There are a number of reports you can view for your tweets and tweets including replies. These show you a bar chart of the number of impressions and a list of each tweet showing you the following:
Impressions: The number of times they were "seen" by a user
Engagements: number of clicks (including hashtags & links), favorites & retweets
Engagement rate: The percentage of engagements per number of impressions
As well as this, you can export the data to a CSV file to use in a spreadsheet app of your choice. Some other 3rd party analytics tools give you more information, but Twitter Analytics is free and easy to use.
Update: For more information on Twitter Analytics and a hidden website analytics service within Twitter Ads, have a read of an article by Paul Shapiro (a professional search marketer)- Twitter Analytics for Your Website: The Other Official Analytics No One Talks About.
Visit Twitter Analytics
---
#10 SumAll (Free or Unknown Price for Premium)
SumAll integrates with an impressive array of services including Google Analytics, Google+, Tumblr, YouTube, Foursquare, Twitter, Facebook, Instagram and more. Once you've added all your channels, you can then view on separate or single graphs. This is a really useful way of seeing how all your social channels are doing in one view from one dashboard. Like Twitter Analytics you can download as a CSV file. If you work in a team, you can invite collaborators which is a useful feature if you are keen to delegate! SumAll is free, but they do offer a number of extras (or "Power Ups") for a fee, or you can opt for a premium plan. Additional paid features include alerts, content creation and advanced weekly reports.
Visit SumAll
---
#11 Twitonomy (Free or $19/mth)
Twitonomy gives you a wealth of information about your profile. In many ways, the profile information is similar to that of twtrland, but you do get more when you compare the free versions. I'll admit the user interface is a little clunky, but don't let that put you off! As well as giving you the number of tweets per day and user mentions, you can see the number of hashtags used, the number of replies and favorites.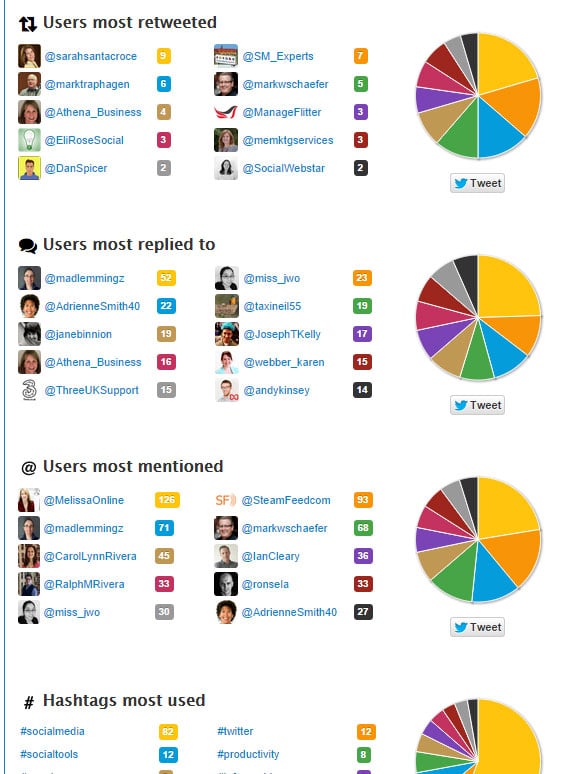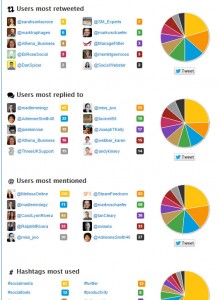 I love the information on which users you have retweeted or people you've replied or mentioned to the most. It even shows you which 3rd party apps you've used the most to send Tweets and which days of the week and hours of the day you are most active.You can download each section as a CSV file.
Visit Twitonomy
---
ManageFlitter* (mentioned previously) (Analytics only available in $12/mth plans and above)
I've mentioned ManageFlitter earlier as a follower management tool. However it does have basic analytics built in the pro plans and more advanced analytics in the business plans. I wouldn't purchase a ManageFlitter Pro account just for the analytics, but it's handy to have the analytics in the same dashboard.
Visit ManageFlitter*
---
TwitterCounter has been around since 2008 and has been tracking Twitter followers, following and ranking ever since. The free plan is fairly comprehensive and gives you well presented graphs for your followers, friends and tweets. You get a lot more features by upgrading to the pro plan including viewing who has unfollowed you, view up to 1 year of statistics and track mentions and retweets.
Visit TwitterCounter
---
SocialBro* (mentioned previously)
I mentioned SocialBro in the follower management section, but this all-in-one Twitter tool has some impressive analytics. You can generate weekly and monthly reports on a variety of sources (including your entire Twitter account or a Twitter list for example). Analytics reports include community insights, "best time to tweet" reports, analytics on your tweets, Real time analytics (who of your followers is on Twitter right now), account comparison (compare your Twitter profile with up to 3 of your competitors) and analyse how many followers you've lost over time.
Visit SocialBro*
---
Klear* (mentioned previously)
As well as helping you discover influencers in your area, Klear can also give you powerful analytics. Although some of these are available in the free version, you won't unlock the best features unless you opt for a paid plan. You get charts showing your brand mentions (across Twitter, Facebook and Instagram) and benchmark how you're doing with your competitors.
Visit Klear*
---
---
Other Analytics Tools:
I can't mention every Twitter analytics tool out there, but here are some other tools you might want to check out:
---
Posting & Scheduling:
Finally, we need to send some Tweets. Of course we could use the Twitter website or the iOS/Android Twitter app. I still do that regularly, but sometimes a power tool is necessary! With Twitter posting tools we can schedule tweets throughout the week, cross post to other networks. As I said at the start, I am not covering social media management tools as I will be writing about those in another article. There are many of those available, including HootSuite, SproutSocial, Oktopost, Jollor, AgoraPulse and more.
---
#13 Friends+Me* (Free or from $9/mth)
I love Friends+Me and it has transformed the way I manage my social media channels over the past year. Friends+Me effectively turns Google+ into a social media management tool. You may think it odd that I am including a Google+ tool in a list of Twitter tools, but Friends+Me uses Google+ to post to other networks including Twitter, Facebook, LinkedIn and Tumblr. You can cross-post to Twitter from Google+ and Friends+Me will use the title from your Google+ post in the tweet, together with the link and an image of the webpage you are linking to. This makes your Tweets really engaging. You can choose to link back to the Google+ post or link to the article itself.
Friends+Me has a powerful scheduling facility which adds to your queue and then posts it out during the week. When you create the post you can choose to schedule it or post straight away:
Friends+Me also has a browser extension, so you can quickly and easily share a link on Google+, Twitter and your other social networks.
Visit Friends+Me*
---
#14 Buffer (Free or from $10/mth)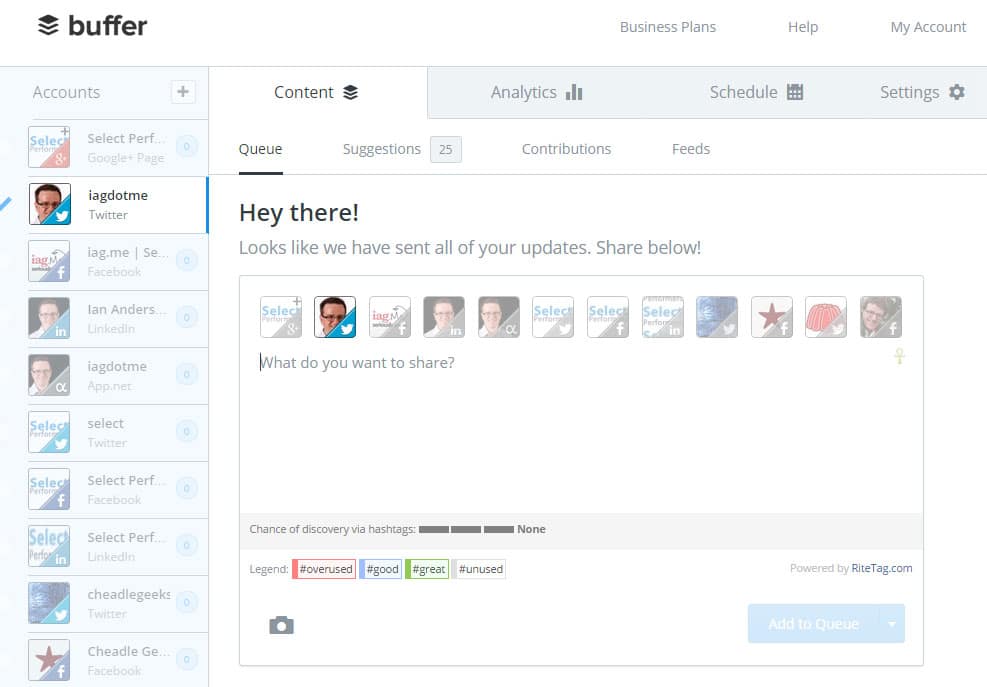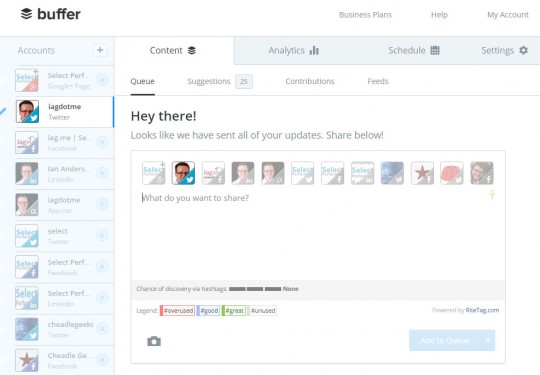 Buffer is a well-known social media tool and is very successful at doing one thing- scheduling your posts across multiple networks. It started as a Twitter only tool, but now it supports a plethora of networks including Facebook, LinkedIn and Google+ pages. The user interface is simple and easy to use and there are mobile apps to help you share content on the move.
Visit Buffer
---
TweetDeck (mentioned previously)
I've covered TweetDeck earlier in the article when it comes to monitoring. TweetDeck also allows you to post or cross post updates across multiple Twitter accounts. This is particularly useful if you are managing many Twitter accounts and need to post or schedule an update across them.
Visit TweetDeck
---
#15 RiteTag (from $10/mth)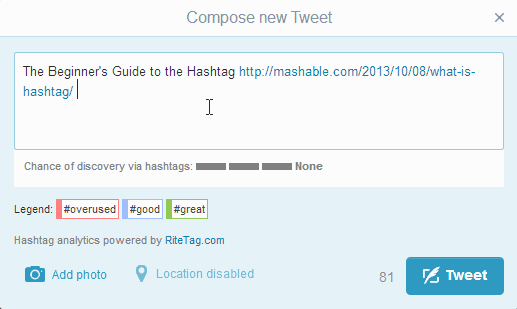 RiteTag is all about hashtags and giving you more visibility in Twitter search. Using hashtags in tweets is important because you are describing what the tweet is about. For example if you are tweeting about digital marketing and you use the hashtag #digitalmarketing then your tweet will be found when people search for #digitalmarketing in Twitter. Using hashtags is a powerful way to extend your reach beyond your followers and really increase your engagement. The problem is, how do you work out what hashtags to use? Sometimes that may seem easy, but using RiteTag can make it easier and more effective. RiteTag allows you to research the best hashtags to use not just on Twitter, but also Facebook. They also provide browser extensions (available for Chrome, Firefox and Safari) that gives you real time information on the hastags you are using to show you if they are popular, underused or good. RiteTag is more powerful than you might think- it analyses over 10 million hashtags! It also integrates with the Twitter website, Buffer, Hootsuite, TweetDeck, SproutSocial and SocialOomph. RiteTag isn't free, but it offers a free 30 day trial and paid plans start from $10/mth.
For further information, this video explains RiteTag in much more detail:
Visit RiteTag
---
#16 IFTTT (Free)
IFTTT is a surprisingly simple yet powerful tool that can connect all your services, apps and even internet connected devices together. I can't begin to go into all the amazing things you can do with IFTTT in this article. However, IFTTT integrates really well with Twitter (despite a falling out a while back). I've set up a number of recipes, but one useful one is to post your Instagram photos to Twitter and have them embedded in the Tweet. Instagram doesn't post the image to Twitter, so it requires people to actually click on the link to see the image. Embedding the Instagram on the Tweet will increase the engagement significantly and is easy to do. You can find out how to do this in article I wrote called How to Fix Instagram Posting to Twitter.
I've linked my Buffer account with Feedly to schedule articles I find interesting throughout the week. Feedly is a feed reader where I can subscribe to all my favourite blogs. I then connect Feedly to Buffer using IFTTT so that each time I mark an article as "save for later" it adds it to my Buffer.
I also link my Twitter app, Twools, so I get an email alert when someone Tweets a link to my website but doesn't mention me.
If you love IFTTT, you'll love Zapier even more. Think of Zapier like IFTTT on steroids or the professional IFTTT. Although Zapier has a free plan, to get the most out of it, you'll need to opt for a paid plan. Zapier integrates with an amazingly large number of services and you can set up some highly advanced recipes.
---
#17 dlvr.it (Free or from $9.99/mth)
dlvr.it is a free service which connects an RSS feed to your Twitter accounts. This allows you to Tweet out the latest articles from your favourite blogs or websites. It's very useful and can help automate part of your social media strategy. However it is important to use this sparingly, as you could end up bombarding your Twitter followers with links! TwitterFeed also allows you to filter which posts get Tweeted. As well as Twitter, TwitterFeed supports LinkedIn and Twitter.
To get the most out of dlvr.it, you're best choosing one of their paid plans which start at $9.99/mth
Visit dlvr.it
---
I'm not sure I would call Triberr a Twitter tool, but I still wanted to include it, because it does post to Twitter and it's been such a helpful tool for my business. Triberr is many things- it's a content curation tool, it's a post scheduler and a post booster. I don't think it is over the top to say that I owe Triberr the thanks for helping to grow my blog and online business over the past two years. It's also helped me build real relationships with other influential bloggers. Triberr is all about tribes of bloggers, all of whom are interested in your content and sharing it to their followers. In turn they get their content shared by you and your tribe mates. It's not automatic (although you can automate posting if you want) but it's all about sharing content you think your followers will be interested. I've grown my Seriously Social Tribe over the years and I'm confident in the quality of the articles my tribe mates post. Hopefully they're confident in mine. Each day, I go through my Tribe feeds and read through which articles look interesting and then click share. These articles then get scheduled to post throughout the coming week. As well as integrating with Twitter, Triberr can schedule to LinkedIn and Facebook as well as integrating with Buffer.
Visit Triberr
---
#19 Edgar (from $49/mth)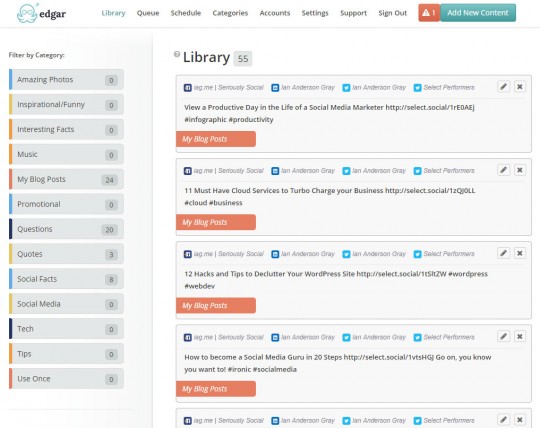 Currently Edgar is available by invitation only, but they they are sending out invites all the time. I was so excited to be able to get a chance to play with Edgar, because it aims to solve a huge problem in content marketing- managing and posting evergreen content. Edgar allows you to build a library of content in different categories. I've created quite a few categories including "Amazing Photos", "Inspirational/Funny", "My Blog Posts", "Questions" and "Social Facts". You can then add your posts or images to these categories and set up a schedule. There is even a browser extension which makes adding new posts really easy. For each post you also need to set which social network you want it to post to. On the whole it's best to craft different posts for Facebook to Twitter, but you can get very creative. Once you've done that, you need to create the schedule. You can have a different schedule for each network, so I'd recommend posting to Facebook less often than Twitter. Here is example of part of my schedule:
Once you've set up the schedule you can just leave it to run. Once all posts have been sent out, you can set Edgar to loop back to the beginning again!
Prices start at $49/mth, so it's relatively expensive when compared to other tools in this guide. However, it solves the big content marketing problem and makes it so easy!
Visit Edgar
---
Which Tools do you use?
I've mentioned over 20 tools, but now I'd love to know which tools you use! Let me know in the comments below and tell me how you use them to manage your Twitter account. Also, as ever, if you need any recommendations on social tools or to formulate a social media strategy, do get in touch. I'm always happy to help.
A big thanks to my friend Ashley Faulkes from MadLemmings for producing the featured image for this article!
What the * means above...
If a link has an asterisk by it, it means it is an affiliate link and generates a little income for the site. If you end up signing up for the service and paying it may result in a small proportion going towards the upkeep of this site. You shouldn't notice any difference in the sign up process.
The editorial line is NEVER impacted by these links. I will only ever recommend a product or service if I think it is worth recommending! If a product or service does not have an affiliate scheme, then I will still include it in the same way.