10 Browser Extensions You Won't be able to Live Without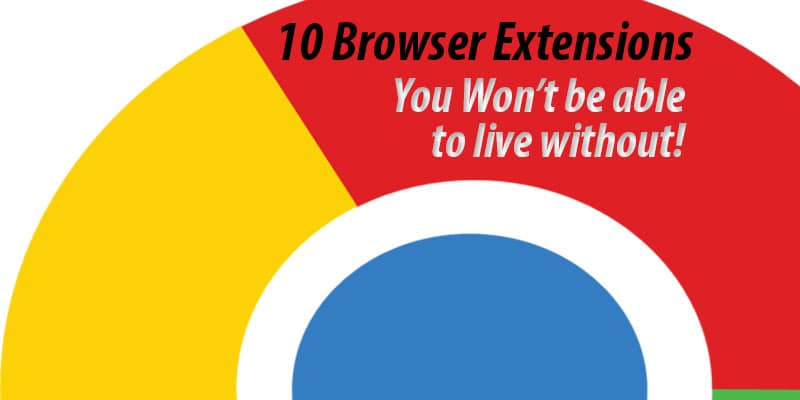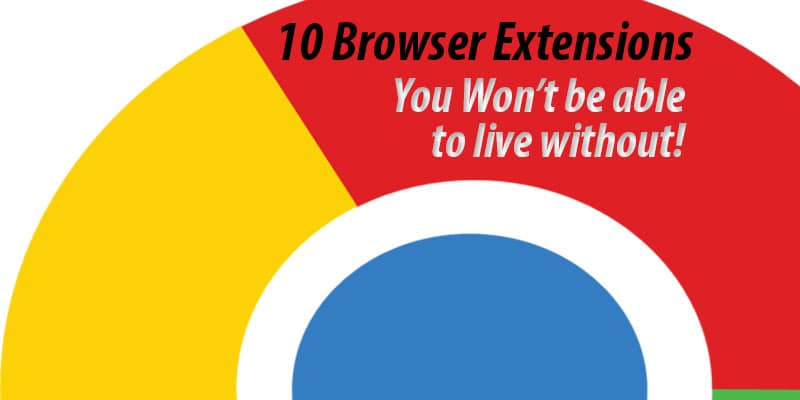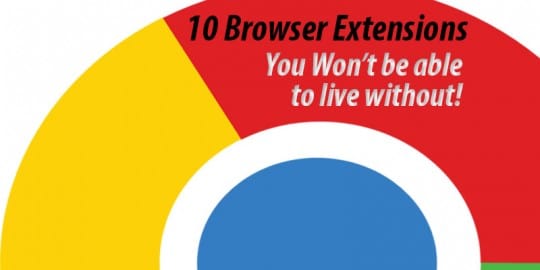 PLEASE NOTE: This blog post was written a long time ago and many of the extensions are no longer available.
Are you addicted to browser extensions? It would seem that I am! Over the years, I've discovered some amazing extensions that enhance my productivity and effectiveness, and I thought it was time that I share them with you.
There are so many to discuss, but in this article, I am going to discuss 10 which I think you will find very useful.
Can you live without them? Well, technically, yes- you will still live! However, they are going to make your online life easier and help turbo boost your productivity!
---
#1 Friends+Me (No longer available)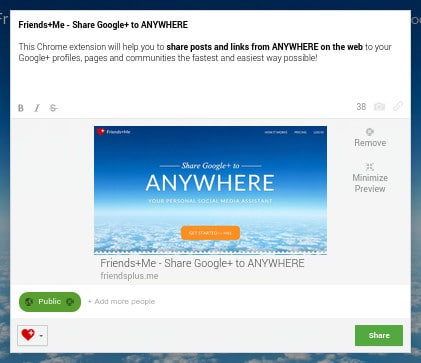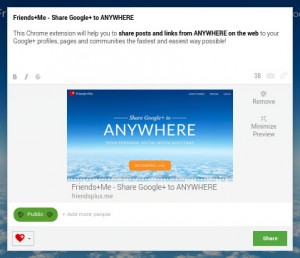 I've been using Friends+Me for a long time and it's probably one of my favourite social media tools. It converts Google+ into a fully fledged social media management tool, allowing you to selectively and intelligently cross post to other social networks.
For many, Google+ remains "yet another social network" that they have to manage. There are some distinct and major advantages in using Google+. I'm not going to go into detail as to why in this post- I'll let Mike Allton convert you in his article "How to make Google+ your favorite social network".
In effect, Friends+Me forces you to post to Google+ first, but allowing you to selectively cross post to your Facebook profile, pages or groups, LinkedIn profile, pages or groups, Twitter profiles, Tumblr accounts, Google+ pages or even app.net! It understands the differences in mechanics between each network too- and converts your post into the best format for that network. For example:
Twitter: Only posts the title as well as an image from the article you are linking to.
For Tumblr, LinkedIn, Facebook and Google+ pages: it posts the whole article with the option of linking back to the Google+ post.
This gives your Google+ profiles and posts more traffic and you will gain more followers. Friends+Me also supports scheduling, so you can space the posting of your content throughout the week. I've been really happy to be part of the beta testing team for the new Friends+Me extension for Google Chrome. It's an amazing addition, and it allows you to share content via Friends+Me as you go about the web. If you find an article you want to share to your social networks, the Friends+Me extension will allow you to post directly from that page- just by clicking a button. Best of all it's free.
---
#2 MightyText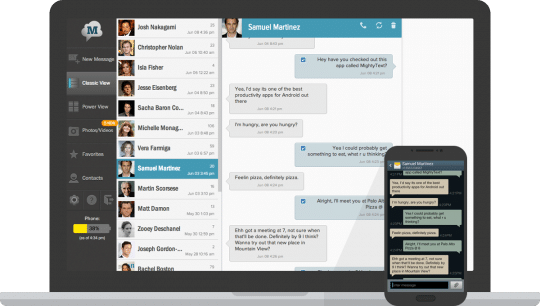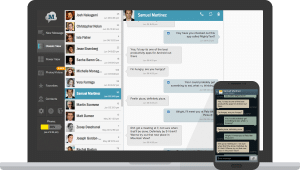 Sorry iOS users, but this is only for Android phone users. MightyText is an Android app and Chrome extension that connects your phone with your browser. It allows you to send and receive text messages from your web browser. It integrates with GMail and Facebook too and can even display notifications from your phone. Other features include scheduling texts, backing up videos and photos and phoning direct from your browser
---
#3 Buffer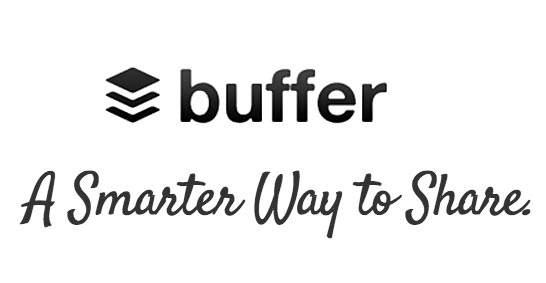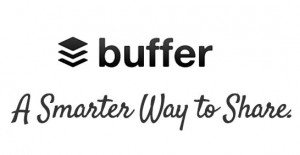 Buffer is a fantastic social media tool that allows you to schedule posts across pretty much all your social networks. It integrates with Facebook, LinkedIn, Twitter, Google+ pages and even app.net. The Buffer browser extension allows you to share an article you come across on the web to some or all of your networks. It's very easy to use and allows you to selectively cross post, schedule or post straight away. In some ways, the Friends+Me extension is more powerful, but Buffer is still a really great tool and easy to use.
---
#4 Riffle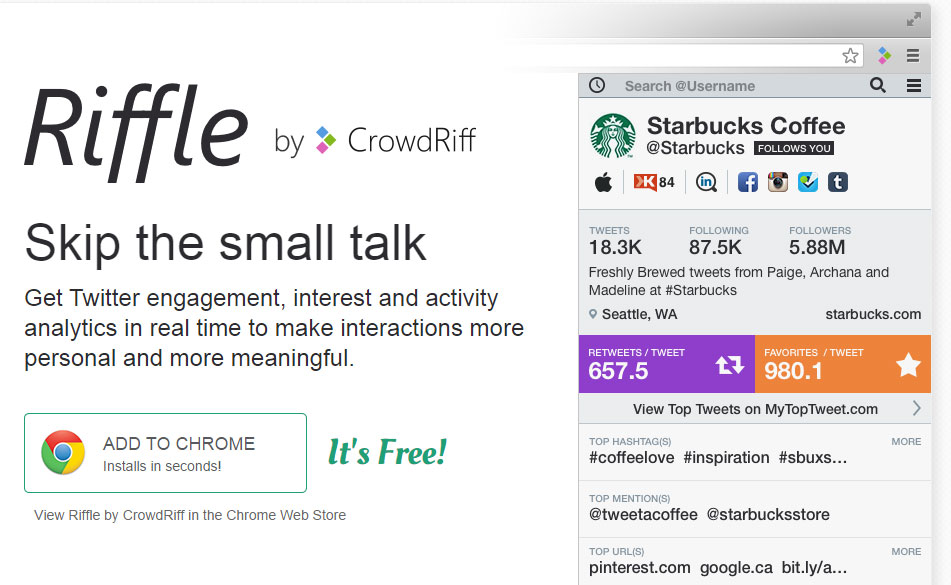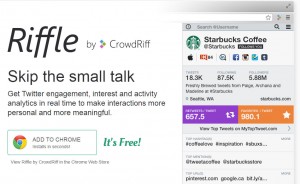 Riffle from CrowdRiff gives you detailed information on your Twitter followers just by clicking a screen name within Twitter. It's handy to see a Twitter user's Klout score, influence/engagement rating and tweeting pattern all from within Twitter!
---
#5 CircleCount (No longer available)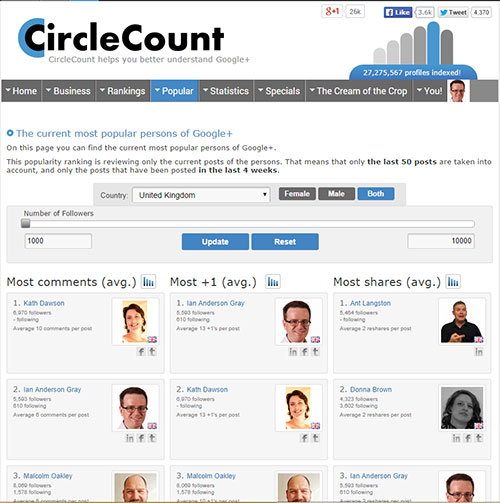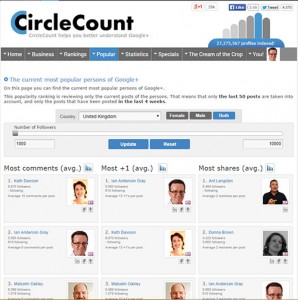 CircleCount allows you to find influential Google+ users within a particular market and/or location. You can then follow them or add them via Circloscope (another tool I'm recommending). The CircleCount extension gives you more information on a user, including their ranking, number of +1s, reshares, location and interest tags.
---
#6 Evernote Web Clipper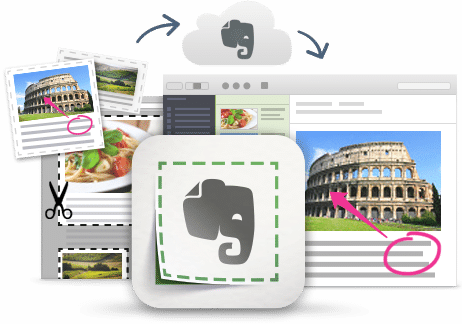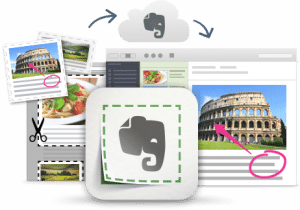 I love Evernote. It allows me to take notes on my computer, tablet or phone, and I can write them, record audio or take a photo. I also archive all my favourite articles in Evernote by using the tools IFTTT and Feedly. The great thing about the Evernote Clipper extension is that it allows me to quickly take a snapshot of the article I am reading and it's easy to find again using Evernote's search facility.
---
#7 Sidekick (No longer available)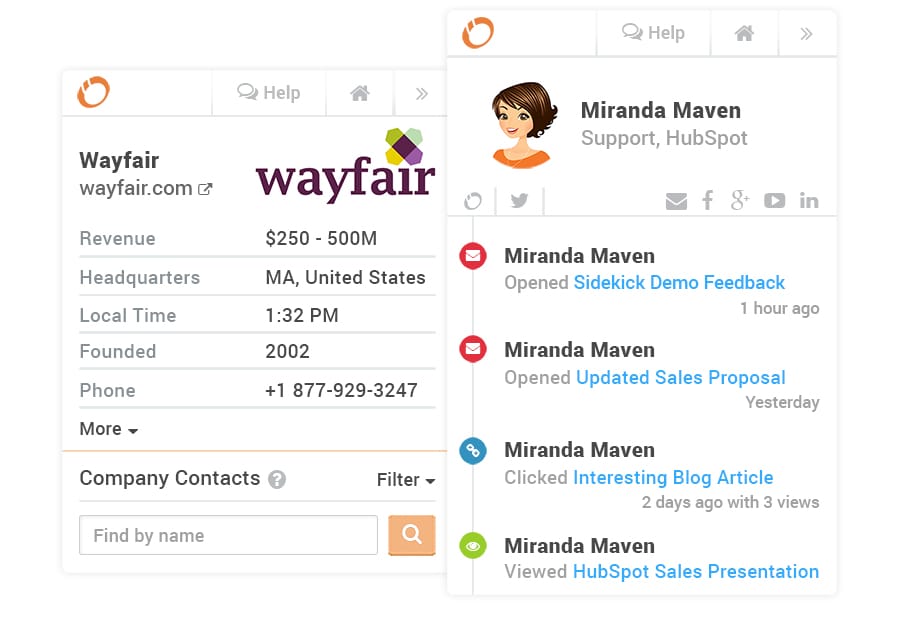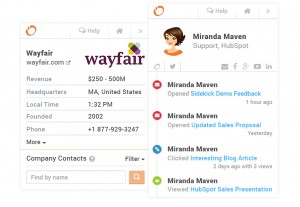 Sidekick is a browser extension from Hubspot. It's a powerful tool that alerts you when recipients have opened your email, their location and from what device. It also gives you more information on the person- their professional history, their location, mutual contacts and email history.
---
#8 RiteTag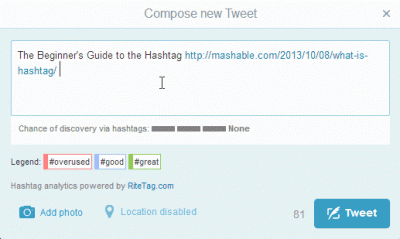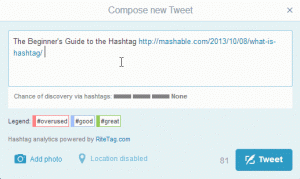 RiteTag helps you be seen more in Twitter by displaying the popularity of hashtags in real time. They constantly analyse hashtags in Twitter to see what is currently trending and it can alert you when you are using an overly popular or underused hashtag. It's very easy to use, and integrates fully with the Twitter website.
---
#9 Klout (No longer available)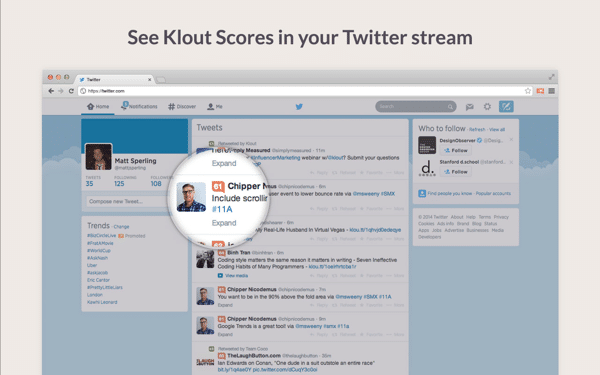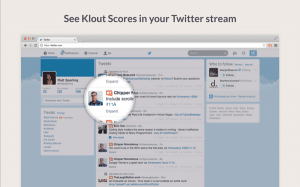 The Klout browser extension displays users' Klout scores directly within Twitter. Very easy to use and helpful, if you trust Klout's scoring algorithm....!
---
#10 Circloscope (No longer available)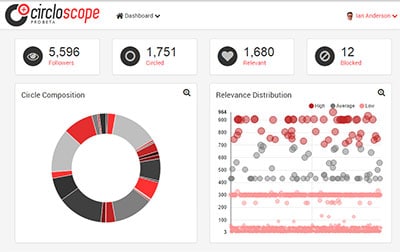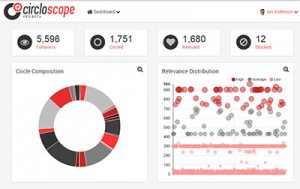 I'll try to be brief, but Circloscope is incredibly powerful! Circloscope allows you to manage your Google+ circles and followers. It is an advanced tool, but well worth the effort. It also integrates fully with CircleCount and another analytics tool, NOD3x. You can set up white and black lists, and filter out people who you follow but who don't follow you back.
---
Which Extensions do you use?
I haven't shared all the extensions that I use, but they are ones I use every day. I am sure I have missed some of your favourites out. If so, let me know in the comments below!