Top Live Video Tips with Jeff Sieh
Confident Live Marketing Podcast
Episode 9
Episode Theme: Tech & Gear
July 19, 2019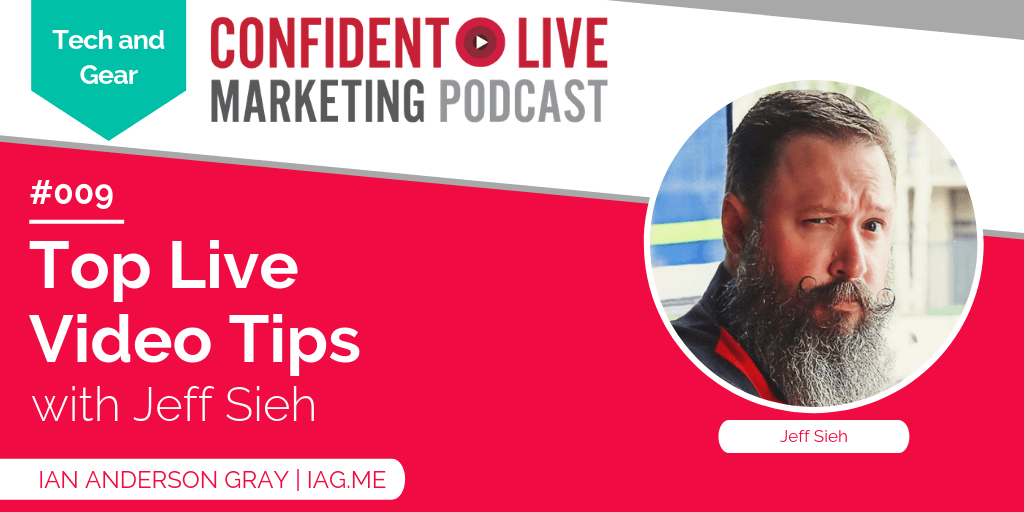 In this episode, I am talking to Jeff Sieh, a visual marketing consultant who specialises in Pinterest, Instagram, and video. He is also Head Beard at Manly Pinterest Tips, and is also on the social team at Social Media Examiner.
Thank you to our podcast sponsors - Content 10x. They are a great re-purposing service that takes your one piece of content and repurposes it into an array of content for all the different social media platforms to help you to promote the original content.
How did Jeff get started?
Jeff got started in the industry way back on Google Hangouts, which is where we met. He was building websites at the time, but people kept encouraging him to look at social media. He says he started the Manly Pinterest Tips brand after he heard Cynthia Sanchez speaking on an SME podcast about how Pinterest had driven traffic to her website.
So, he decided to start a blog, and the first one was called "Manly Pinterest Tips #1 (How I shared a secret board with my daughter)". It really took off, and he was asked to do a Google Plus live show with four other guys where they interviewed some great people like Guy Kawasaki, the producer from Pretty Woman, and others.
He then re-launched the show as his own show while at the same time deciding to grow a beard, which then became his brand. The show grew in popularity which led to him being interviewed on the Social Media Examiner Podcast, teaching in one of their online summits, speaking at Social Media Marketing World and now working for Social Media Examiner on their social team.
Tip #1 Consistency
It's important to show up regularly and consistently. Everyone starts at zero and having no live viewers in the beginning. It's not something that happens overnight.
Jeff says...
"Continue to move forward and you will be a success."
Tip #2 Start with interview shows
Jeff and I both shared how we both get nervous before clicking that button.
Having someone else with you to go live makes things so much easier!
Tip #3 Accept that things will go wrong
Stuff will go wrong, just embrace problems. Jeff shared that in his first interview show with Guy Kawasaki - just before he went live, he knocked over his bottle of water which completely emptied in his lap. So, he had to go through with the live - with a wet crotch!
Tip #4 Have a live checklist
Jeff shared that he has a show where he is a producer, as well as the host and they also live stream to multiple platforms at the same time. He said that he wouldn't be able to do that show without a checklist as there are far too many variables to manage to stay on top of.
"As part of my show, I pre-set a list of questions that I can ask my live guest. I may not use all of them, but it does help my confidence to have them on hand to look at and use, so I don't have anything to say.
Tip #5 Bring up comments
Bringing up comments from the audience really helps with engagement - so if you can use a tool to do this (like belive.tv) - it really helps. People love to see their comments and questions come up.
Tip #6 Have some friends come to ask questions
"I have plants." Jeff says. "When I first started out, I pre-arranged to have some friends or family come live on the show and ask questions that I think would be good for getting the conversation going with my guest."
Tip #7 Test location for the live for your guest
Make sure that you test the internet and set-up for your guest. Jeff very wisely shared that he had a situation once where his guest completely changed the location from where they were live. Make sure you are clear with your guest.
Tip #8 Remember to stay connected with your audience
Look your audience in the eye. You need to be very conscious about where you need to focus so that you are really talking directly to your audience. It's easy to get distracted and look at comments – so train yourself to look at comments, then come back up and look them in the eye again.
This keeps you connected to your viewers so they feel like you are talking to them and paying attention to them.
Tip #9 People will not forgive bad audio
People will forgive pixelated video and picture, but bad audio does not go down well. Invest in a good microphone. Even if you just want to go live with your desktop webcam, at the very least use a good microphone.
Tip #10 How to grow the viewership of your show
Jeff says quite simply: "Be personable. I learned this from Luria Petrucci of Livestreaming Pros". Try to get to know your regulars and acknowledge them. The more interactive you can be, and make them part of the show – that's where you will get the growth.
Tip #11 Avoid multicasting when you are starting out
While it's great to go live on multiple platforms – it gets really hard when you are trying to manage comments coming from people on all the different platforms. It's better to pick one and grow your audience there.
Tip #12 Get your energy up
This really comes across in your live stream. Jeff says: "Make sure you listen, read and watch Ian's content – he gives great tips on warms up and getting your energy up before pressing the 'Go Live' button." It makes a big difference in how you come across in your live.