How to Use Video on LinkedIn to Grow your Business
Confident Live Marketing Podcast
Episode 78
Episode Theme: Content & Marketing
October 20, 2020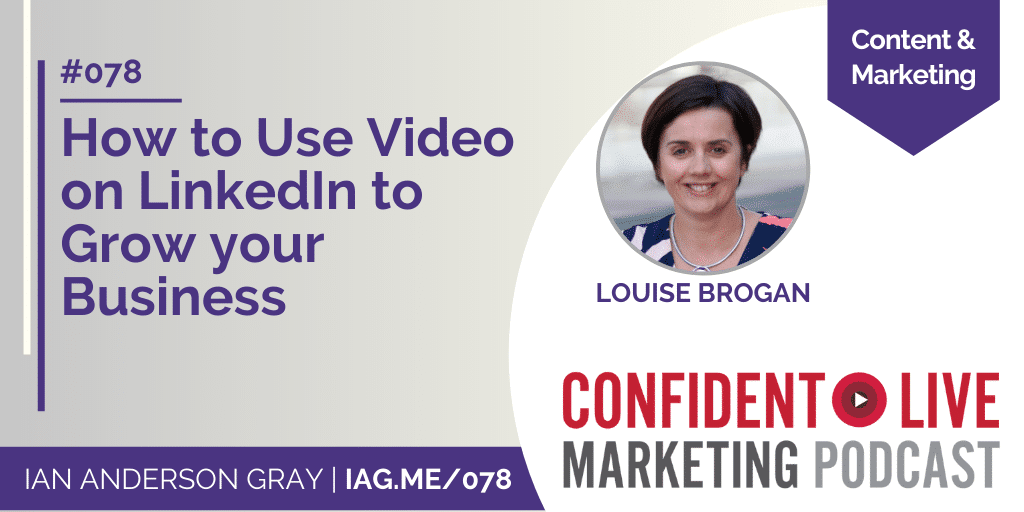 Louise Brogan is a good friend of mine and an expert on LinkedIn. She gives away so many tips in this episode on how you can use video on LinkedIn to grow your business.
Don't forget to click here to be notified of new podcast episodes and get my free confidence guide.
What You'll Learn
[5:38] More about Louise
[8:10] How Louise got into live video
[9:19] Why LinkedIn?
[12:50] Why video so important on LinkedIn
[17:40] How to get engagement when you're just getting started on LinkedIn
[23:40] The biggest challenge you'll face with LinkedIn
[33:10] Getting access to LinkedIn Live (if you haven't already got it)
[41:20] How to decide what type of video content to create
[46:37] Louise's top tips for LinkedIn live video

About Louise
Louise is a LinkedIn consultant, speaker, podcaster, contributing writer for Social Media Examiner and an avid Bruce Spingsteen fan.
She works with entrepreneurs and corporates to demystify LinkedIn and help her clients raise their profiles and win business.
Louise's first-ever live was when she was invited to speak at an event run by the Small Business Saturday team which was streamed live to Facebook.
All her subsequent lives were on Facebook as, although she now focuses solely on LinkedIn, at that point she taught people all social media, not just LinkedIn.
Like all of us, Louise has had lots of little blips along the way when it comes to live video but warns against overthinking it, reminding us we can always go back and delete them if necessary.
Of course, some planning is needed but overplanning is definitely the enemy of live video!
Louise worked with a coach who encouraged her to niche down to one social media channel so she could deep dive into one platform.
If you build a network of people around you on LinkedIn that you are interested in and who you can have really great conversations with, it's a far more interesting channel than the others, there's far more engagement. @socialbeeni
Click To Tweet
Louise really started focusing solely on LinkedIn 18 months ago. It makes it easier for people to refer business to her, easier for her to pitch for speaking engagements, and easier for her to help her clients because she's so laser-focused.
Also, there are less people doing LinkedIn really well so it's a great way to help her clients with their businesses. There's much more opportunity on this platform, even just posting twice a week.
LinkedIn offers a much better return on your time and energy than other platforms.
LinkedIn offers a much better return on your time and energy than other platforms. @socialbeeni
Click To Tweet
Why Is Video So Important on LinkedIn?
Listen at [12:50]
Up until relatively recently, video wasn't really used on LinkedIn, but now it's common to see videos in your LinkedIn feed. Why is that?
People are realising that when you connect with somebody over video it's a much quicker and stronger connection than with just a text post. Video really helps you get your message across. @socialbeeni
Click To Tweet
There are so many different ways to use video on LinkedIn, it doesn't have to be just a standard video post.
You can intersperse video throughout your LinkedIn profile. Underneath the About section is the Featured section where you can upload links to your video posts and also share links to Vimeo or YouTube.
Louise advises people to put a 60 or 90-second video intro about themselves here talking about what they do.
As you go down the profile, you can also add video content in the Experience section, which is where Louise has her speaker reel. Adding video to your profile really helps you stand out.
You can send a video reply to a direct message too which is a really great way to grab attention.
How to Get Engagement When You're Just Getting Started on LinkedIn
Listen at [17:40]
Louise uses the example of a three-legged stool when she teaches her clients about LinkedIn.
If you imagine the seat of the stool being a really good LI profile that attracts your ideal clients, you've filled in all your profile and it talks to the right people.
The first leg is building a network, a genuine one, of people who you're interested in and who are interested in you. There's no point in having 30,000 connections if you don't know who any of them are.
The second leg is creating content that is actually of value and service to your audience. So creating content around what it is you're an expert in and creating conversations around those topics.
The third leg is building relationships through LinkedIn Messenger. Whenever Louise sends a connection request, she always sends them a personalised invitation to explain why she's connecting with them. It helps start the relationship off on the right foot.
The Biggest Challenge With Video on LinkedIn
Listen at [23:40]
Louise believes it's working out what your video content will actually be.
Think carefully about why you're putting video on LinkedIn and spend some time working on a strategy.
Also, if you upload a video post, add text and tell people what the video is about and why they might want to watch it, as well as asking people to comment with their thoughts on something related to the video.
Think about hashtags too. You should include three hashtags on each of your posts that are relevant to the content of the video. Remember, people also follow hashtags on LinkedIn as well as people and brands.
Louise suggests looking on the left-hand side of the screen when you're looking at LinkedIn on desktop. You'll see a 'Discover More' option under the hashtags you're following and you can explore hashtags you might be interested in.
Remember, you can follow as many hashtags as you want.
Tag people in your posts too, though be selective and only do it if the post is relevant to the people you're tagging. Avoid tagging a long list of people in your posts just to get in front of their audience as this can get really annoying!
Getting Access to LinkedIn Live (if You Haven't Already Got It)
Listen at [33:10]
At this point, not everyone has access to LinkedIn Live. Louise had to apply 4 times before she got accepted for LinkedIn live. She believes that the people who are already sharing video on LinkedIn have a better chance of being accepted faster.
Also, one of the guidelines from LinkedIn, is that you shouldn't use LinkedIn live to actually talk about LinkedIn, which is possibly why a lot of marketers aren't getting accepted.
Louise goes live every Friday and, although her business is all about teaching LinkedIn, she avoids talking about it directly.
It's worth bearing in mind that LinkedIn likes to see evidence of you broadcasting a regular live show on another platform too. You can then repurpose some of that content and put it on LinkedIn, combined with native content.
When you fill in the application form, make it clear you aim to help people and that you'll be consistent and regular with your live content.
Deciding What Type of Video to Use
Listen at [41:20]
The guidance is that LinkedIn lives should be over 10 minutes so it gives the platform time to notify people you're going live. You will soon be able to schedule a live stream on LinkedIn too.
If you have the option at this point you can also experiment with LinkedIn Stories.
Louise believes you should show up a bit more professionally on LinkedIn because it is the B2B networking site. You don't have to spend a fortune, but if you are going to commit to doing regular video, invest in a decent microphone and camera.
Make sure you prepare in advance and have your strategy in place.
Also, if you're going to go live, be consistent with it and consider using software such as Streamyard which allows you to go live to YouTube and LinkedIn live. You can then download the video file afterward and use that to repurpose it into more content.
Resources
This Episode's Sponsors
This episode is sponsored by Restream and Content10X
Watch Episode 78


Watch on Facebook


Watch on YouTube


Watch on LinkedIn


Watch on Periscope

Restream
Restream is the complete multi-streaming suite for entrepreneurs.
With Restream you can stream to multiple platforms all at the same time. They have a plethora of destinations including:
LinkedIn Live
Facebook Live
YouTube Live
Twitch
Periscope and so much more
You can stream from another tool to Restream and Restream will take care of the multi-streaming for you really easily. Or you can broadcast directly from Restream to your platform of choice.
Restream also has chat, analytics and a scheduler. With the chat service you can view and engage with your audience from all the destinations you stream to.
I've been really blown away by the Analytics section - this shows your stream metrics - now many viewers, watched minutes, new followers and more.
And finally, the scheduler allows you to broadcast pre-recorded video live.
Content10X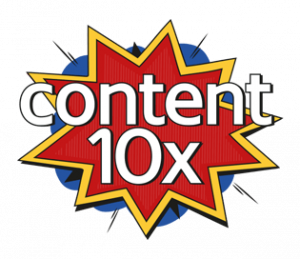 Do you want to find ways to create more content?
You won't after you meet the team at Content 10x!
My friends at Content 10x are a specialist content repurposing agency, they can take one live-stream, or a blog post, podcast, or video, and explode it into a plethora of new platform-specific, on-brand content..
If they don't do all of this for you via their service, they teach you how with their podcast, blog, book and toolkit!
They're smart, responsive, creative, and effective. If you want to take the stress out of content marketing, Content 10x are the people you want to go to.
Visit www.content10x.com to find out more.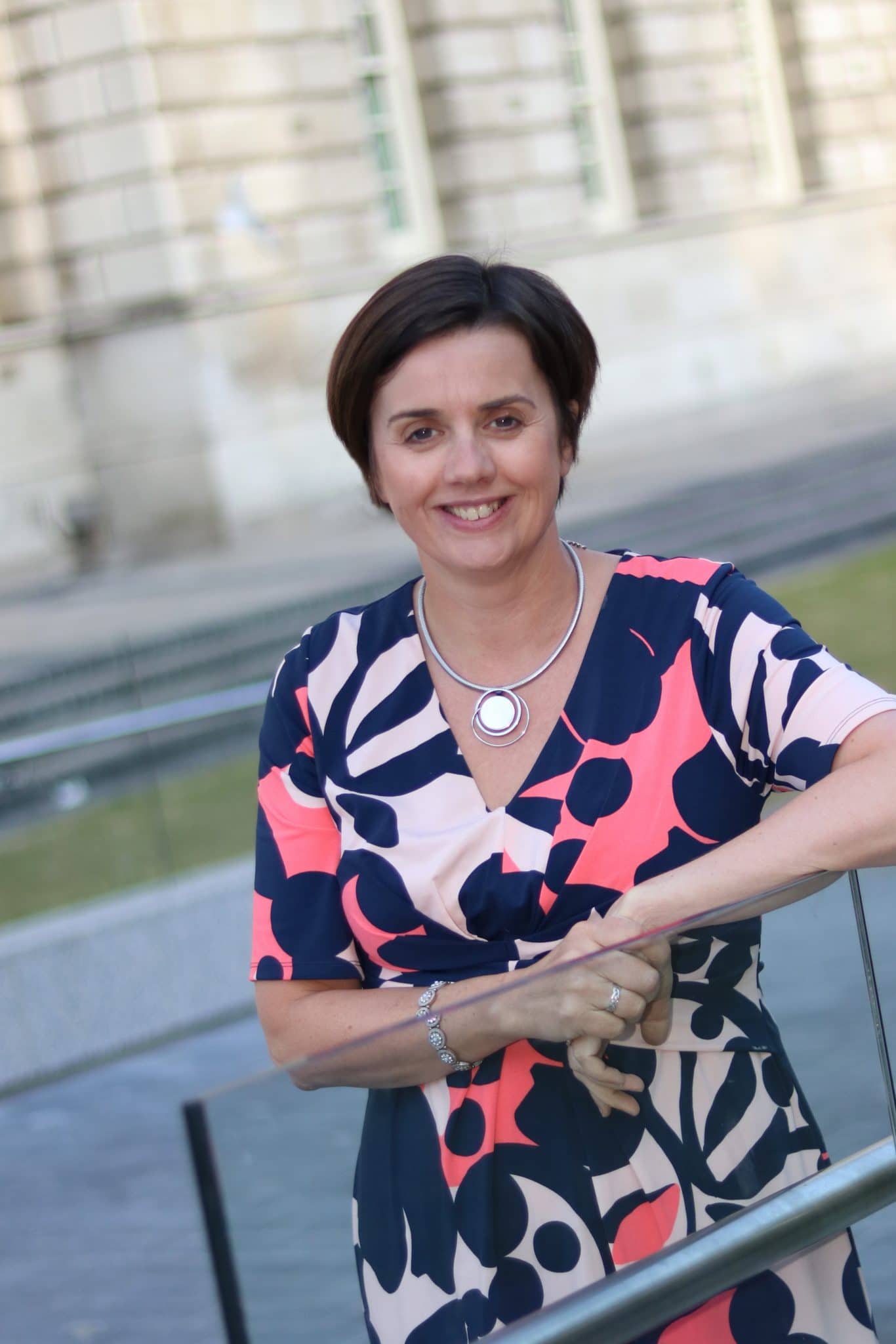 Who is Louise Brogan?
Louise Brogan is a LinkedIn consultant, speaker, podcaster, contributing writer for Social Media Examiner and most importantly, an avid Bruce Springsteen fan. Louise works with entrepreneurs and corporations to demystify LinkedIn and help her clients raise their profiles and win business.
Sponsors
Subscribe Now

Apple Podcasts


Google Podcasts


Spotify


Android


RSS Podcast Feed


Google Play Music


Pocket Casts


Stitcher


Tune In