How to Use the Rodecaster Pro for Live Streaming
Confident Live Marketing Podcast
Episode 102
Episode Theme: Tech & Gear
April 2, 2021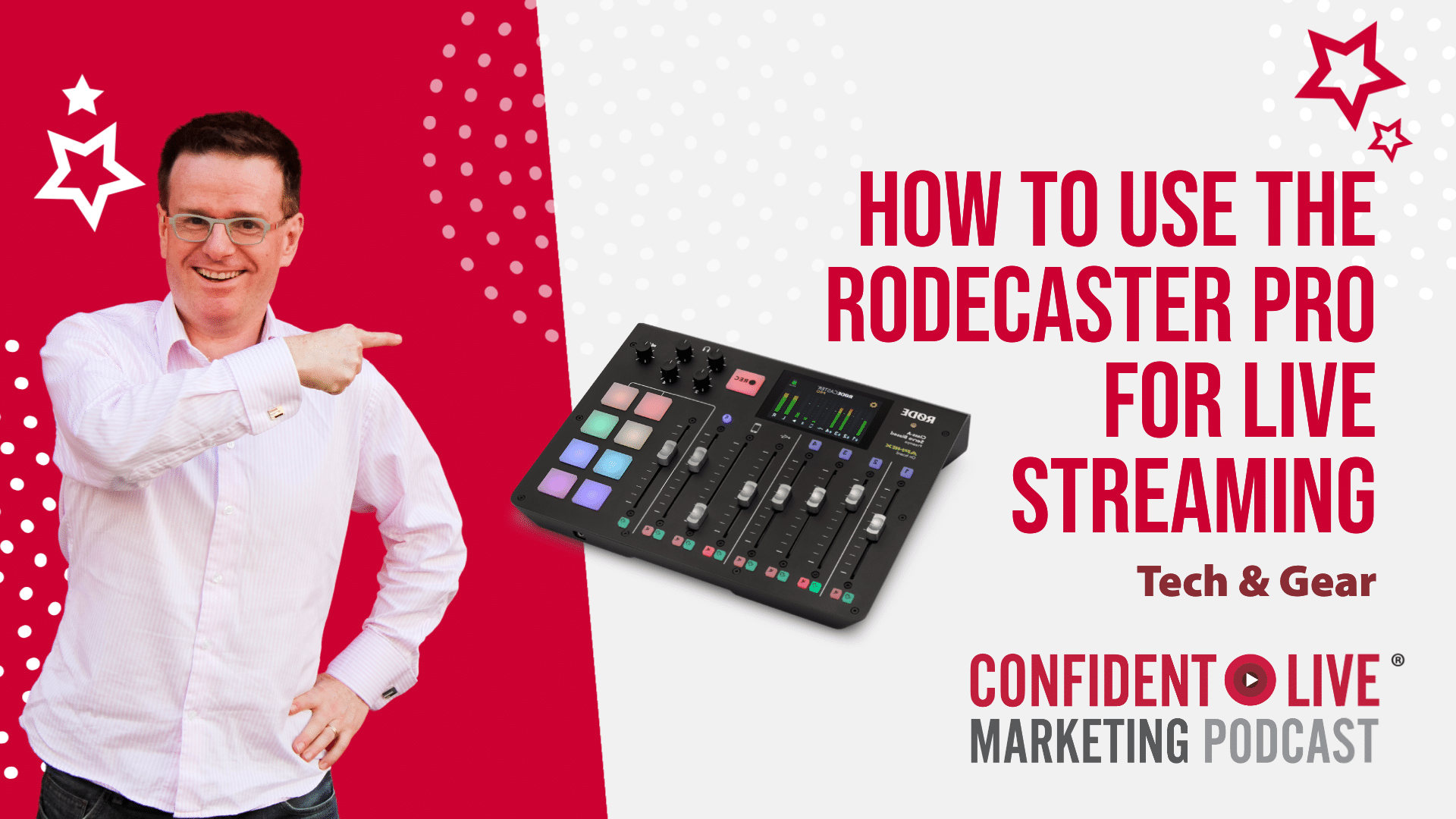 In today's episode, I'm going to talk about the Rodecaster Pro, used and beloved by some of the best podcasters out there.
I'm going to look at the pros and cons of the Rodecaster Pro, and if you can use it for live streaming.
The Rodecaster Pro is a mixer with lots of other things added to it, including voice processing features. Unlike a lot of microphones, it's not too complicated to use.
It comes with four XLR inputs and Bluetooth so you can connect it to your phone, iPad or any other device. I recently used it during a live Clubhouse room to play some additional sounds during the conversation.
You can also use the Rodecaster Pro to record from Clubhouse, but be careful, as generally people don't expect a recording to be made. Make it clear if that's what you're going to do.
One benefit of the Rodecaster Pro is it has audio processing with APHEX effects. If you're not sure what they are, I'll explain.
The APHEX effects are a way of mixing sounds that allow you to adjust the sound levels without making anything too quiet to actually be able to hear. You can also adjust sounds coming from your computer.
You can use sound pads to add intros, outros and sound effects, and toggle between different settings. The Rodecaster also includes a backup recording facility, which can be done directly onto a MicroSD card.
It also has a 'mix minus' feature. That's a techy term, but it means that if I bring in a sound from my computer via a different channel, it'll be picked up and recorded.
The sound from the Rodecaster is also going back to the computer, so the mix minus tool prevents echo and feedback, which is really important, especially if you're recording your live stream.
The Rodecaster is bigger than I thought it would be, but it's surprisingly light and portable. When we start going to conferences again, you can use it with up to four microphones.
It also has space for four headphones at the back, and there's a stereo input too, so you can plug into your smartphone.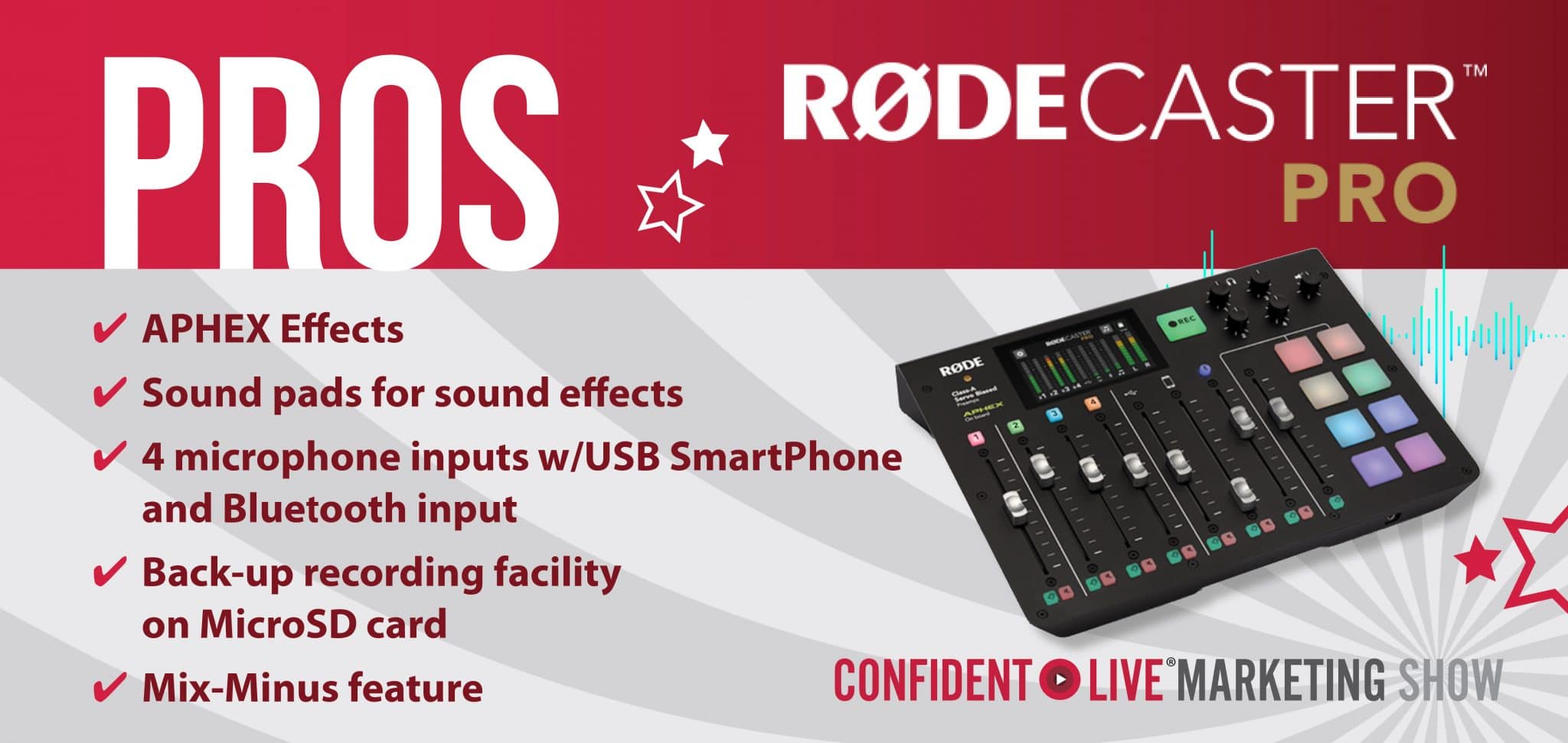 My main objection to the Rodecaster is that I'm not sure it deserves to be called a 'Pro'. It has some great features, but it's not a full mixing desk. There are four inputs rather than an eight or 12 channel mixer setup.
The other problem is that it doesn't come with any meaningful instructions.
"I'm pretty tech savvy, so I got to grips with it pretty easily, and it is fairly intuitive, but it doesn't come with any instructions."
Most people trying to use the Rodecaster Pro will end up watching how-to videos on YouTube in order to work it all out, which is a shame for such a good tool.
The other disappointment was that the latest firmware update included audio ducking. You might not know the term but you'll have heard audio ducking in action, probably on music radio.
Basically, when the DJ comes in and starts speaking over the music, the music level goes down so you can clearly hear him, but the music is still audible too.
Unfortunately, with the Rodecaster Pro, that only works if you're using all of the microphones within the device. It doesn't work for external mics. On the other hand, if you've got guests plugged into it, you'll be able to turn them down when you speak.
Finally, I need to highlight that the Rodecaster Pro is not cheap. A lot of the tools you'll use, particularly at the beginning, will be around £100, but the Pro retails for around £500, which is a big difference. It's best to invest when you're ready to level up, rather than when you're starting out.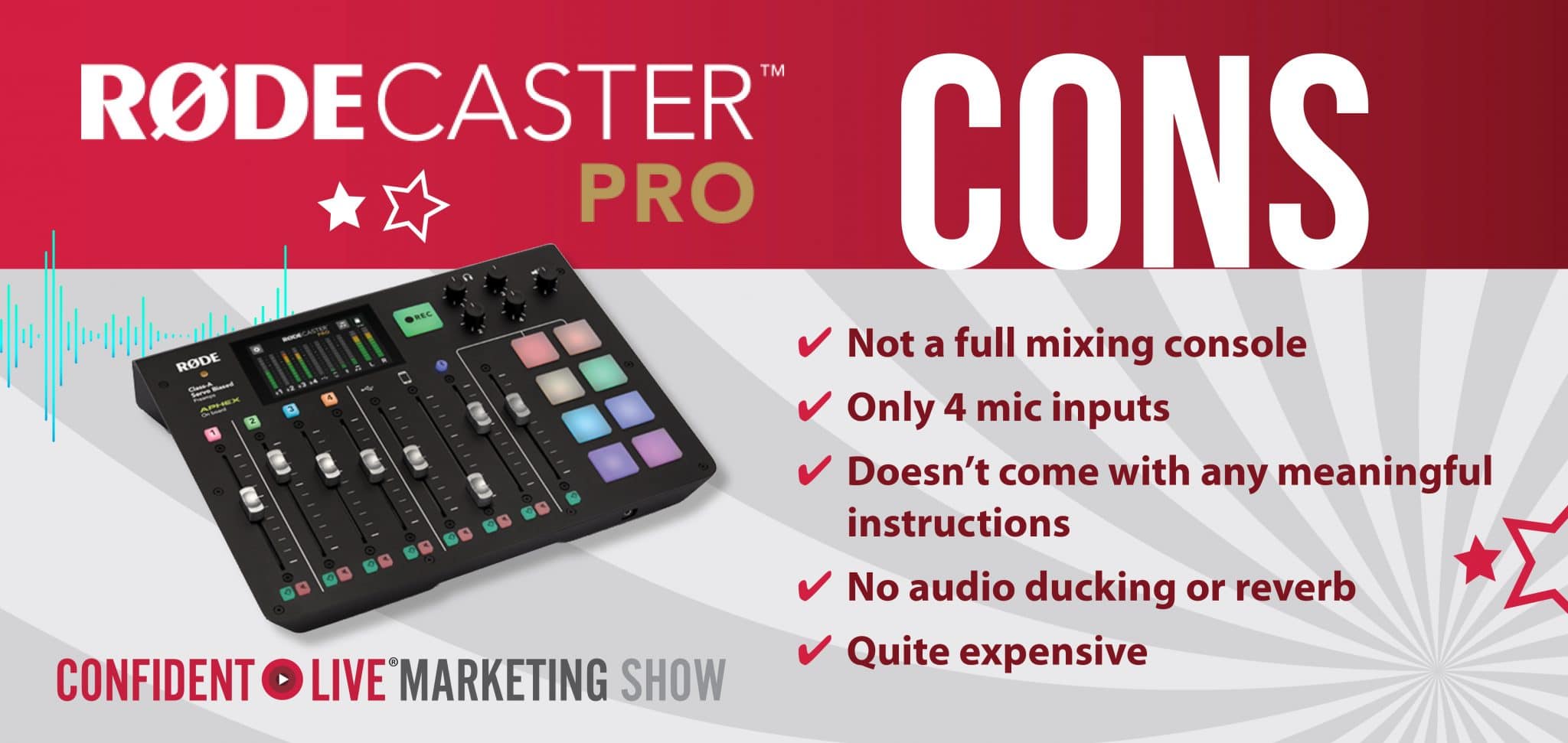 Do you need it for Live Streaming?
Listen at [28:36]
The short answer is absolutely not. If you're already live streaming, want to live stream or maybe launch a live show, you can just start off with your smartphone.
However, it is a great tool for live streaming when you're more comfortable with it. It's a lot easier to use than the Scarlett 2i2 or the DBX 286S. The Rodecaster Pro is easy to set up, it's got processing built into it and it also has a recording function.
You can adjust the main levels on the microphones and on any sounds you bring in from the computer. The Rodecaster will also work with a condenser or dynamic microphone, and it's simple to make adjustments to get rid of background noise.
It also has an audio compressor to make the difference between loud and soft sounds less distinct, which is great if you've got a laptop fan or air conditioner running. Or if you shout when you get excited!
The noise gate feature means when you stop speaking, it kicks in and stops any other audio from coming through. If you're in a noisy area while you're live streaming, nobody will know.
Finally, the APHEX function lets you add some depth and quality to your voice, making you sound brighter but without making it harder to understand you.
I'd recommend adding a Rodecaster Pro to your toolkit when you're well into your live streaming journey. You'll be more confident and you'll know what sounds good.
Resources
Brought to you by Agorapulse & Launch Your Live
Please Subscribe!
Don't miss an episode! You can subscribe on Apple podcasts here - or on other podcast players.
The Confident Live Marketing Show
The Confident Live Marketing Show is a weekly live video show and podcast. It's aimed at established entrepreneurs who want to level up their impact, authority and profits through the power of live video, webinars and podcasts. We'll focus on knocking down the 3 main barriers these entrepreneurs face when creating live content - camera confidence/mindset, tech/gear and content marketing.
It's hosted by Ian Anderson Gray. He is the founder of the Confident Live Marketing Academy and is the host of the Confident Live Marketing Podcast. He helps entrepreneurs to level up their impact, authority and profits by using live video confidently. He's founder of Seriously Social - a blog focused on live video and social media tools. He's an international speaker, trainer, teacher and consultant. He has a passion for making the techno-babble of live video and social media marketing easy to understand. As well as being a geek, husband, and dad to two kids, Ian is also a professional singer and lives near Manchester in the UK.