How to Communicate Your Message with Simplicity
Confident Live Marketing Podcast
Episode 29
Episode Theme: Content & Marketing
December 6, 2019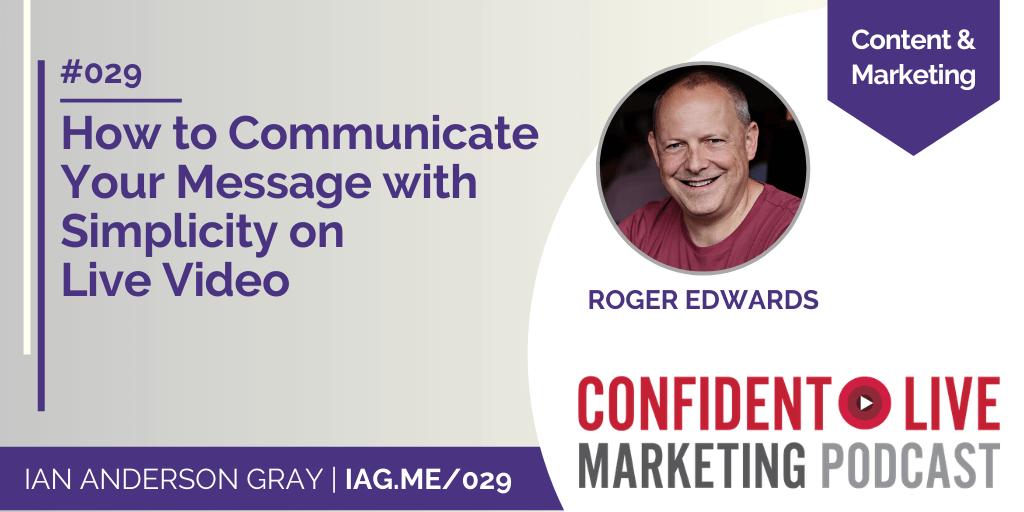 It was great to have Roger Edwards on the show. We've known each other for a few years now, and Roger's big thing is about removing complexity from our marketing and messaging.
So, as well as asking him the usual questions about feeling nervous on camera, I asked him about how we can simplify our messaging. And how we can sell on live video.
We Cover...
How did we meet?
Why Video? Why Live Video?
Do you get nervous on camera? Any tips?
Overcomplicating marketing. What are your favourite examples?
Why do we overcomplicate our marketing?
How do we keep our messaging simple?
Should we use live video to sell? What are the potential pitfalls?
How should we sell? How shouldn't we sell??
Selling can be hard for solopreneur when you need to sell yourself. How can we get better at that?
Resources:
Who Is Roger Edwards?
Roger has done Marketing Director roles in UK big corporates and has over 20 years marketing experience. For the last 7 years, he's been consulting with companies on marketing strategy, content and social media.
He's been taking his Fighting Complexity in Marketing talks onto stages in the UK, Montenegro, Albania, Macedonia, Serbia, Czechia, and the US. He's the host of the award-winning Marketing & Finance Podcast.
Please Subscribe!
Don't miss an episode! You can subscribe on Apple podcasts here - or on other podcast players.
The Confident Live Marketing Show
The Confident Live Marketing Show is a weekly live video show and podcast. It's aimed at established entrepreneurs who want to level up their impact, authority and profits through the power of live video, webinars and podcasts. We'll focus on knocking down the 3 main barriers these entrepreneurs face when creating live content - camera confidence/mindset, tech/gear and content marketing.
It's hosted by Ian Anderson Gray. He is the founder of the Confident Live Marketing Academy and is the host of the Confident Live Marketing Podcast. He helps entrepreneurs to level up their impact, authority and profits by using live video confidently. He's founder of Seriously Social - a blog focused on live video and social media tools. He's an international speaker, trainer, teacher and consultant. He has a passion for making the techno-babble of live video and social media marketing easy to understand. As well as being a geek, husband, and dad to two kids, Ian is also a professional singer and lives near Manchester in the UK.