How to Become a Leading Authority on LinkedIn with Live Video
Confident Live Marketing Podcast
Episode 74
Episode Theme: Content & Marketing
October 2, 2020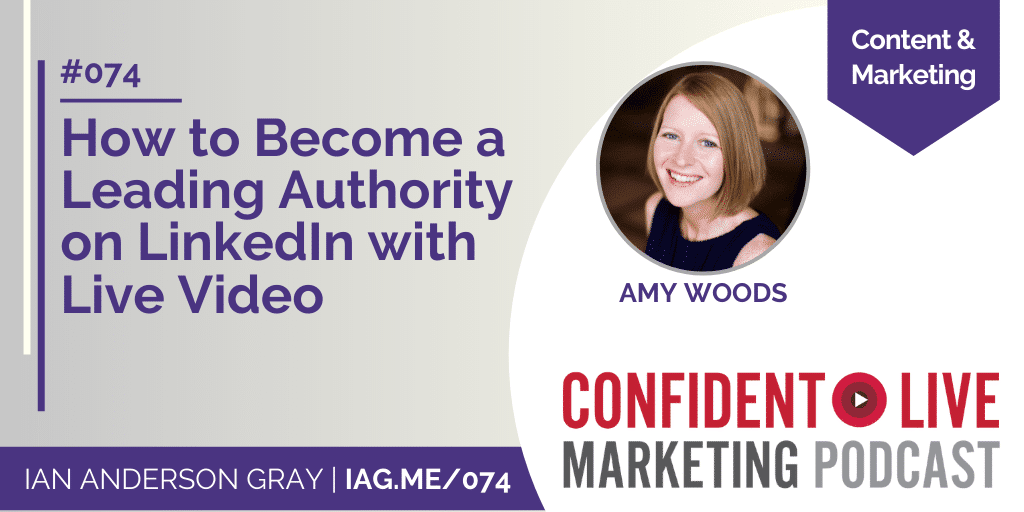 How active are you on LinkedIn? Do you use it regularly and effectively, or is it just another social network that you leave to the sidelines?
I regularly broadcast to LinkedIn Live but I wouldn't say I'm using LinkedIn to its full potential. So thank goodness Amy Woods is here to give me a gentle nudge – or a great big shove! – in the right direction.
As the founder of Content10x, a niche creative agency, Amy knows exactly how to become a leading authority on LinkedIn by sharing either pre-recorded or live video and she's going to let us all into her secrets to LinkedIn success.
The Queen of Content Repurposing
When it comes to content repurposing, there's very little Amy doesn't know.
Not only does she help businesses, entrepreneurs, and thought leaders grow their audience by maximising their return on the content they create, she's also the host of The Content 10x podcast and the author of best-selling book Content 10x: More Content, Less Time, Maximum Result, the ultimate guide to reaching more people online with your content.
Even if you haven't heard her stuff directly, you've almost certainly come across her genius given that she's the repurposing powerhouse behind some of the most well-known podcasts and video shows (as well as one of the sponsors of my own show!).
Is Repurposing Really Worth the Effort?
Creating consistent, top-quality content is hard enough — so is it really worth all of the extra effort involved in repurposing?
Amy is convinced it is. As she points out:
"If you're pumping out content in one place, without doing any additional repurposing, you just won't reach as many people. So firstly, repurposing is about expanding your reach."
If you're pumping out content in one place, without doing any additional repurposing, you just won't reach as many people. @content10x
Click To Tweet
But the benefits don't end there.
"It's also about leveraging your time; if you spend lots of time creating single pieces of core, long-form content without repurposing, you don't do your content justice.

The key thing is staying consistent across different platforms because not everyone likes to watch a live stream, some people just don't listen to podcasts, some people hate Facebook. Everyone consumes and connects with content in different ways.

So if you just do one type of content, creating video for YouTube for example, it's like putting all of your eggs in one basket. But, with only a little additional effort you can spread your eggs further by turning that one video into content for Instagram or a written post to improve the SEO on your website.

And that allows you to reach more people, connect with more people, and establish your authority by putting out a consistent message."
Why is Amy Focusing on LinkedIn Right Now?
With the launch of her LinkedIn 10x service, it's clear where Amy's focus currently lies.
So why has this become Content 10x's signature offering and why are they spending so much time promoting it?
For Amy, it was all about following the data.
Around 3 years into the growth of the agency, Amy conducted a review into what was behind their biggest success stories, what was really working for clients, and what they wanted to achieve with Content 10x.
"We're trying to help people become a leading authority in their industry, to become known through their content, to have customers come to them, to get more speaking engagements, and to make sales easier because they've already proved their expertise via the content they put out.

And, with that in mind, we looked at which platforms have been working best for business growth through content — and it was LinkedIn. It's the platform we see make the biggest difference in terms of authority and business growth.

If you are on LinkedIn, and your clients are on LinkedIn, and you establish leadership and authority, and people know who you are, what you do, and what problems you solve, that's when you see the needle move in people's businesses."
Of course, Amy doesn't advocate for focusing on LinkedIn at the expense of all other platforms. Every asset they create for LinkedIn, such as teasers and graphics, will be put out on Facebook, Instagram, and elsewhere too.
But LinkedIn is definitely the platform that she has witnessed deliver the greatest results not just in terms of building authority, but in driving business revenue too.
What Kind of Content Works on LinkedIn?
While Amy and Content 10x might have gone a bit overboard recently with posting videos on LinkedIn (her words, not mine!), she says that video isn't the only type of content you want to put out on the platform.
"We know that Instagram, Facebook and Twitter are all really visual platforms, but text-only posts actually work very well on LinkedIn."
We know that Instagram, Facebook and Twitter are all really visual platforms, but text-only posts actually work very well on LinkedIn. @content10x
Click To Tweet
But more important than the type of content, Amy says, is the quality of the content. For example,
"Are you asking a question in your content to help drive engagement, are you inviting comments, are you sharing a story…'

I find there's a lot more storytelling on LinkedIn than on other platforms and that can go one of two ways: either they work or they just seem really contrived.

What we try to do is to really mix it, so we'll have a couple of video posts a week, a couple of image posts, and then 2-3 text-only posts."
And within the text-only posts, Amy recommends mixing things up once again, with maybe one or two long-form pieces, almost like mini-articles, and then shorter posts, just a sentence or two long, that will grab attention or will contain a question that people can answer really easily.
She doesn't believe that there's a certain type of content favoured by the LinkedIn algorithm, rather it's a case of 'finding the sweet spot for your audience, and finding what works for you.'
Let's Talk LinkedIn Live
LinkedIn Live is pretty much still in the beta testing phase and hasn't been rolled out to everyone yet. But if you do have access, is it worth using it in your content repurposing efforts?
"Because going live on LinkedIn is still quite a rarity, it can help you stand out and we've found that live video does get pushed a bit more — there's some sort of algorithm advantage at play there.

But, I think it really does depend on who your audience is and when they spend time on the platform."
Amy's theory is that the powers-that-be are still trying to figure out how much time people are willing to spend engaging with live video on LinkedIn and whether they're going to be happy to engage with long-form content.
While she's skeptical about whether people will automatically want to sit down on their lunch break and get involved with a longer live show (and LinkedIn demands your live video be at least 10 minutes long), she has a few tips to help increase your engagement.
She doesn't recommend just turning up and winging it. Rather a show with great structure, or with clearly defined segments that people can look forward to each week, is the way to hook your audience,
"Especially if you consistently provide value and they always come away having learned something new they can apply.

"You just have to play things a little bit differently on LinkedIn because of the type of people you're going to find there, the time of day they're likely to show up, and the frame of mind they'll be in when they do."
You have to bear that in mind when you market your show and think about what will make people want to give up their time to watch your content:
"Really push the benefits of it being live, of having access to somebody, of being able to ask questions. And make sure that you do make the most of the live aspects and don't just run it like a pre-recorded video."
Structuring Your Live Show for Repurposing (and Engagement!)
Amy is keen to point out that there's no one-size-fits-all when planning a live show: what works for one person, might not work for another. But one thing that applies across the board is to make sure that you embrace the live element of your show.
It's a mistake Amy has seen many times – people go live but treat it as if it were a pre-recorded video and neglect the audience engagement side of things altogether.
"It's important to remember that people are showing up because of the live element, the transparency, the authenticity, but also because of the ability to ask questions and the access to your guests, so it's great to have segments of the show where people can interact in that way."
And it's worth focusing on the repurposing segments too, Amy says.
Take Q and As segments for example…
"I love them because you can blitz through it and get all of these wonderful answers that can be turned into all sorts of content, from a text-only LinkedIn post to an image post or a short teaser video."
That way you're hitting various forms of content without a tonne of extra work.
Still not entirely sure what this might look like in practice? Amy recommends thinking about American talk shows and the way they use segmentation.
James Corden's Carpool Karaoke, for example, has become a standalone show in its own right but it started off as a segment of The Late Late Show.
When it comes to bringing a stronger element of audience interaction into your show, Amy reckons that the build-up to your live can be a great place to start.
Try tweeting about your video in advance, seek audience opinion, engage them beforehand and then bring their responses into the live show.
If they know that you're likely to do this, they're more likely to show up to see you discussing their views and answering their questions.
"The key thing is to plan it all out and be consistent so that people get used to the different segments of your show in the same way they get used to the different parts of their favourite TV talk show.'"
Becoming an Authority on LinkedIn
For Amy, becoming an authority on LinkedIn comes down to three things: people need to know who you are, what problem you solve, and you need to be the first person they think of whenever that problem arises.
"When you're coming up with content strategies and planning what you're going to talk about and what you're going to become known for, when the time comes to repurpose that content, it's important to stay on-message and close to the original content, you're really just expanding that message or communicating it in a different form or a different location."
Creating, and repurposing, content can help you become an authority, but you have to be sure you're staying on track for the thing you want to become an authority on.
"On LinkedIn in particular, you want to rise above your peers and you want people to know and recognise you immediately.

It's all about content, it's all about providing value, and it's all about using different content formats on the platform.

But you have to stay clear and consistent about your message and about who you are otherwise people may like you, and they may follow you, but they won't think of you when that problem arises — and they won't see you as the authority on what you do."
Sounds Great but how do I get Started?
If you're convinced but daunted, Amy has a final piece of advice:
"Commit to just one form of content and get consistent with it. Don't get overwhelmed by all of the other possibilities.
Then, when you've mastered consistency there, just take it one step at a time."
Of course, if you want more advice, Amy herself has created an hour's worth of content that'll help you along including her podcasts and her brilliant book. Or, if you're ready to take the 'done for you' approach, check out her LinkedIn10x service.
This Episode's Sponsors
This episode is sponsored by Content10 and Restream
Restream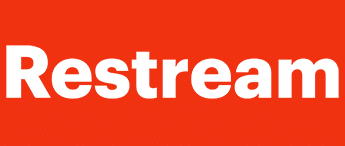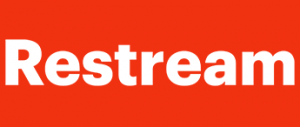 Restream is the complete multi-streaming suite for entrepreneurs.
With Restream you can stream to multiple platforms all at the same time. They have a plethora of destinations including:
LinkedIn Live
Facebook Live
YouTube Live
Twitch
Periscope and so much more
You can stream from another tool to Restream and Restream will take care of the multi-streaming for you really easily. Or you can broadcast directly from Restream to your platform of choice.
Restream also has chat, analytics and a scheduler. With the chat service you can view and engage with your audience from all the destinations you stream to.
I've been really blown away by the Analytics section - this shows your stream metrics - now many viewers, watched minutes, new followers and more.
And finally, the scheduler allows you to broadcast pre-recorded video live.
To sign up and have a play, visit iag.me/restream
Content10X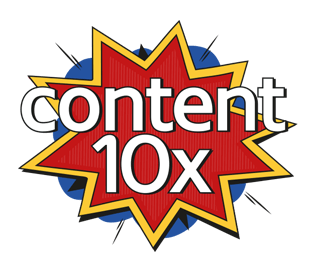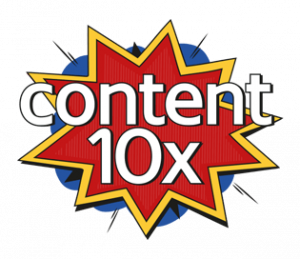 Do you want to find ways to create more content?
You won't after you meet the team at Content 10x!
My friends at Content 10x are a specialist content repurposing agency, they can take one live-stream, or a blog post, podcast, or video, and explode it into a plethora of new platform-specific, on-brand content..
If they don't do all of this for you via their service, they teach you how with their podcast, blog, book and toolkit!
They're smart, responsive, creative, and effective. If you want to take the stress out of content marketing, Content 10x are the people you want to go to.
Visit www.content10x.com to find out more.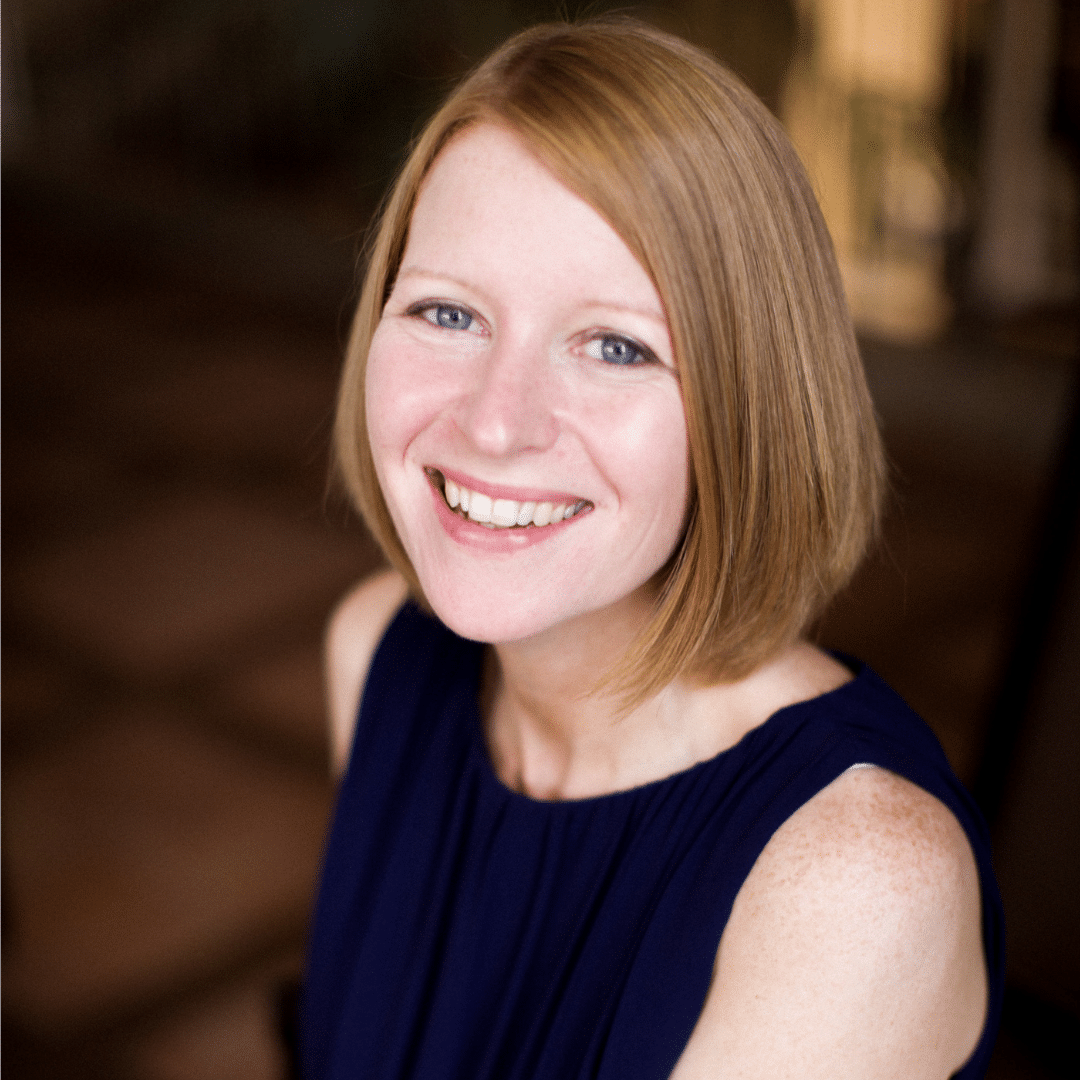 Who is Amy Woods?
Amy is an expert in content repurposing and the Founder of Content 10x – a niche creative agency. She helps content creators grow their audience by maximizing their return on the content they create. She works with businesses, entrepreneurs and thought leaders, and is the content repurposing powerhouse behind some of the most well-known podcasts and video shows.
She's the host of The Content 10x Podcast and she is the author of best-selling book Content 10x: More Content, Less Time, Maximum Results, the ultimate guide to reaching more people online with your content.