Does the Perfect Live Streaming Tool Actually Exist?
Confident Live Marketing Podcast
Episode 69
Episode Theme: Tech & Gear
August 28, 2020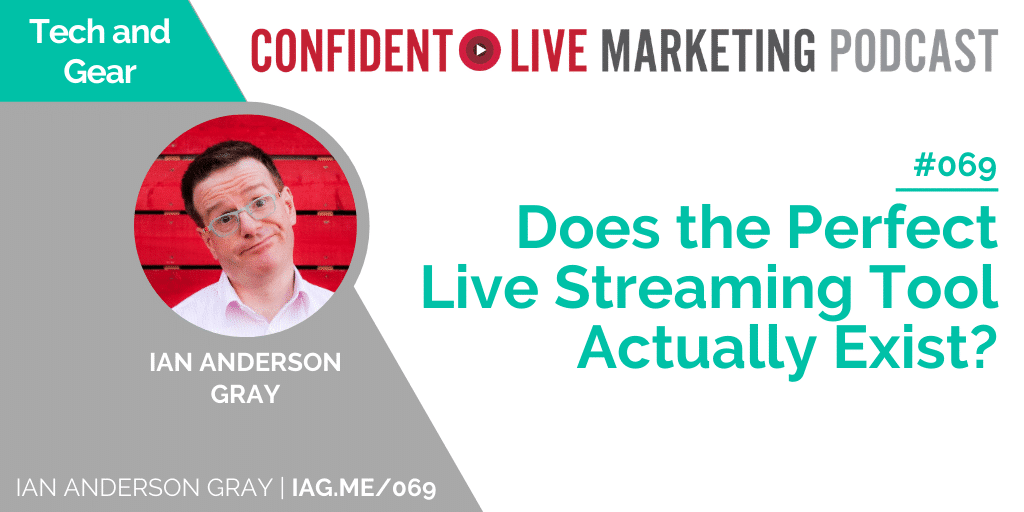 It's 2020 and live streaming has come a long way in the five years since I started with live video. In that time we've seen a plethora of new streaming tools hit the market with each one claiming to be bigger and better than the last.
But does the perfect live streaming tool actually exist?
Short answer: no
Longer answer: no, but we're getting pretty close.
And while we might still be shy of all-round perfection, I guarantee you'll find that there's a perfect tool for your situation. So let's look at the 15 key features you might expect from a live streaming tool, and how to choose the perfect one for you.
What You'll Learn:
[10:05] About live streaming tools that allow you to switch scenes
[13:08] How to add overlays
[16:00] About playing pre-recorded videos
[17:00] All about screen sharing
[20:22] How to highlight comments on screen
[25:35] About bringing in guests
[28:10] How to choose live streaming software that's easy to use
[29:30] About scheduling your live shows
[30:50] How to find out whether your live streaming tool links in with your social networks
[33:55] About switching between multiple cameras
[34:50] About the importance of live streaming to multiple channel simultaneously
[37:30] How to broadcast in HD and stereo sound
[40:42] How you can benefit from green screen support
[41:24] About DSLR support
1. Switching Scenes
Choosing a live streaming tool that allows you to switch scenes is a real game-changer if you want to bring guests into your video.
But even if you're running a solo show, being able to switch from one camera to another, for example, can make your show seem more professional.
It's also easier on the eye too — no matter how good looking I may be, you don't necessarily want to look at just my face, from the same angle, for the full length of my show!
The good news is that most tools these days have this feature, including OBS Studio, Restream Studio, StreamYard, and Ecamm Live and you can easily change between a shot of you, your guest, or a split-screen.
2. Adding Overlays
I'm a fan of graphical overlays; if you've watched any of my videos you'll see that I like to include elements of my branding on my screen, such as the Confident Live logo at the top and my name at the bottom.
As well as your own branding, you might want to include your guests' logos too. You can also play about with text overlays, maybe if you want to emphasise a certain point or add a call-to-action to your video, and you can even turn your text into a scrolling ticker.
Again, most of the main tools will allow you to do this including Ecamm, Restream Studio, StreamYard and vMix — but it isn't available with Zoom.
(If you want to know HOW to create your overlays, I recommend using something like the Pro version of Canva which allows you to create graphics on a transparent background and is ideal for using with video.
I'm planning a future show/post on that so be sure to subscribe if you want to know more.)
3. Playing Pre-recorded Videos
Even if you're planning to stream only live shows, having the ability to also play pre-recorded videos is really important. On my own show, I regularly use pre-recorded videos for my intro, for when I'm talking about my sponsors, and for my outro.
While your streaming tool of choice will most likely be set up for this facility, it's worth checking to see whether it imposes any restrictions. Some tools, especially web-based systems, only allow pre-recorded videos of up to 5 minutes in length and others might place a limit on how many megabytes you can upload.
4. Saving Your Video for Later
This might not be too important to you if you're broadcasting to, say, YouTube and you're broadcasting in high quality because you can download that and save it.
My preference, however, is to use a tool that allows me to record my live video and save it to my computer so I can use it later for repurposing.
Most of the usual suspects have this function and there are some more advanced tools, like Wirecast, Switcher Studio, and vMix that have an additional feature called ISO recording. This is really cool because it allows you to record every single camera source on your system.
I could, for example, record the raw footage from my own Canon M50 separately from the feed from my guest which makes it easier to edit out any mistakes or comments I don't want on the final feed and then create a really professional looking repurposed video for later.
The downside of ISO recording? You need a pretty powerful computer to handle the extra pressure.
5. Screen Sharing
Screen-sharing ability will be vital for you if you want to create 'How to…' style videos or do demonstrations for your audience.
Most of the tools I've already mentioned do allow this, as do Be.Live and Zoom. It's worth checking, though, whether your preferred streaming tool allows your guests to screen share as well.
6. Highlighting Comments on Screen
Live video is such a great way to communicate your message to your audience, but it shouldn't be a one-way street. If you're not allowing your audience to engage with you, to leave you comments, and to ask you questions, you're really missing out.
In fact, in my experience, having those audience comments on the screen is what turns a show from good to great.
The ability to add comments to your screen is so important because it makes your audience feel special and valued. It makes them feel part of the show. And if your live streaming tool allows you to add their profile picture and their name to their comment, so much the better.
Unfortunately, OBS Studio doesn't integrate well with other platforms so for this feature Ecamm Live, Be.Live, StreamYard, and Restream Studio are all better options.
7. Bringing in Guests
I LOVE having guests on my show: we have really cool conversations, bring my audience info on subjects outside of my own expertise, and generally just have a great time picking their brilliant brains.
And of course, I want to make it as pain-free as possible for my guests to appear on my show, so a tool that allows me to bring them in quickly and easily is a priority.
At the moment, Ecamm Live, my tool of choice, integrates with Skype, but they have a new feature, currently in beta testing, that will allow you to bring guests in via the web.
I've tested it myself and it's working really well so that could be an excellent option for you if you're a Mac user. For everyone else, Restream Studio and StreamYard also make it incredibly easy to bring guests in via the web.
8. Ease of Use
It's so important that your chosen software is going to be relatively simple to use (even for tech geeks like me!).
In fact, that's why I moved away from tools like OBS Studio and Wirecast. As much as I like them and do still recommend them, given how often I broadcast live, I need a tool that I can rely upon and that I can set up easily without spending hours faffing about.
For you, if you're starting out and maybe just doing Facebook lives, I would stick to using the Facebook Live app on your phone.
But, if you want to broadcast from your computer, I'd recommend using a tool like Restream Studio or StreamYard that allows you to manage your live stream through the web.
Not only do these tools offer most of the features I mentioned above, like overlays and switching, they're also relatively easy to use.
9. Scheduling Your Live Shows
At the moment, Facebook and YouTube are the only platforms that let you schedule your live broadcasts in advance.
This is such a vital piece of the puzzle because scheduling allows you to promote your video by sending it out on social media, by letting your email subscribers know when it'll go live, by using Facebook messenger bots, and generally telling everyone when and where they can tune in.
Certain tools like Ecamm Live and StreamYard already allow you to do this and the facility is coming soon to Restream Studio too (that's another one I've been testing and so far, I'm impressed!)
10. API Integration
This sounds terribly geeky but it's actually a great follow-on from the last point because it's about whether your live streaming tool links in with the various social networks and allows you not only to schedule your live show but to add a title, description, and images, and view and respond to comments.
Some tools don't allow this and require you instead to set everything up in, for example, Facebook Live Producer, and then broadcast to Facebook using RTMP.
Now, while that isn't as complicated as it sounds, it's definitely more complicated than it needs to be, so it's worth finding a tool that integrates fully with the API of Facebook, YouTube, and any other platform you might want to broadcast to.
OBS Studio doesn't support this, but StreamYard, Ecamm Live, Restream Studio and Wirecast are all good options for API integration.
11. Switching Between Multiple Cameras
This is more of a 'nice to have' than a deal-breaker, but I really love having the ability to switch between multiple cameras.
My main camera is a Canon M50, but I like to switch now and again to my Logitech c920 for different angles or use my downwards-facing camera pointed at my desk if I want to demonstrate things on my stream deck, for instance, or write something down and show my audience.
If that's a feature you'd like to make use of too, it's worth making sure your streaming tool supports this. Not many of the web-based ones do…yet. I'm sure it's something that'll become more widely available as more and more people realise how cool a feature it is!
12. Multistreaming
Again, this is a bit more technical and is something that won't matter to everyone. But it is really important for me.
It's tempting to think of certain lesser-known channels and assume that they'll bring in very little traffic, but looking at the analytics after a live video often surprises me so I reckon it's worth broadcasting to multiple platforms.
However, if you're going to go live to several different platforms simultaneously, you want to make sure you have a tool that's going to make things quick and easy for you.
Tools like Wirecast and vMix offer hardware-based multistreaming so you'll need a really powerful computer and strong internet connection if you want to go down that route.
A cloud-based system, like Restream, is awesome for multistreaming because rather than sending your broadcast separately to each platform, your computer just has to get it to Restream and they send it out to your chosen platforms.
Not only does it integrate with about 30 different channels, but it also gives you the option of looking at the analytics afterward so you can assess where your audience is coming from.
13. Broadcasting in HD and Stereo Sound
If quality is important to you, this is one feature that's definitely worth thinking about; it can make your videos look more professional and make it easier to repurpose them later, which is why I'm such a fan.
Unfortunately, Facebook doesn't yet support full HD, but YouTube does and you can really see the difference in quality, so do look into whether your streaming tool supports this.
Stereo sound is another feature that I love, possibly because of my musical background and the fact that I like to add the odd musical interlude to my shows!
Not every tool supports stereo so if you think it's something that you would enjoy or you're a fellow music fan that wants to play around with that aspect of live video, you'll want to double-check that your tool is up to the job. Restream Studio is actually experimenting with a new feature that will allow you to broadcast in stereo, so I'm looking forward to seeing how that works out.
14. Green Screen Support
If you're shooting your videos somewhere with a boring background, a green screen could just save the day as long as you have a decent camera and some good lighting. I use an Elgato green screen which is really easy to use and allows me to jazz up my own background.
A lot of the streaming tools offer green screen support including OBS Studio, vMix and Wirecast.
15. DSLR Support
The final thing to consider is whether your streaming tool offers DSLR or mirrorless camera support.
I love Ecamm Live for this. Although it's not the only way to use a DSLR or mirrorless camera as a webcam, Ecamm makes things so simple — all I have to do is plug my Canon camera into my computer via USB and it picks it up as a webcam, ready to go. Couldn't be easier!
Again, it's definitely not an essential feature so don't worry if your preferred streaming tool doesn't allow it, it's just something that I really like and that makes my broadcasting that little bit easier.
So there you have it: if I were to commission the perfect live streaming tool, these would definitely be the key features on my design wish list.
Of course, you might not broadcast as often as I do, you might have different priorities and an entirely different wish list. In the absence of actual perfection, you just have to figure out which of these features are deal breakers for you, which are 'nice to haves' and take it from there.
Please Subscribe!
Don't miss an episode! You can subscribe on Apple podcasts here - or on other podcast players.
The Confident Live Marketing Show
The Confident Live Marketing Show is a weekly live video show and podcast. It's aimed at established entrepreneurs who want to level up their impact, authority and profits through the power of live video, webinars and podcasts. We'll focus on knocking down the 3 main barriers these entrepreneurs face when creating live content - camera confidence/mindset, tech/gear and content marketing.
It's hosted by Ian Anderson Gray. He is the founder of the Confident Live Marketing Academy and is the host of the Confident Live Marketing Podcast. He helps entrepreneurs to level up their impact, authority and profits by using live video confidently. He's founder of Seriously Social - a blog focused on live video and social media tools. He's an international speaker, trainer, teacher and consultant. He has a passion for making the techno-babble of live video and social media marketing easy to understand. As well as being a geek, husband, and dad to two kids, Ian is also a professional singer and lives near Manchester in the UK.