7 Reasons why you SHOULD use Ecamm Live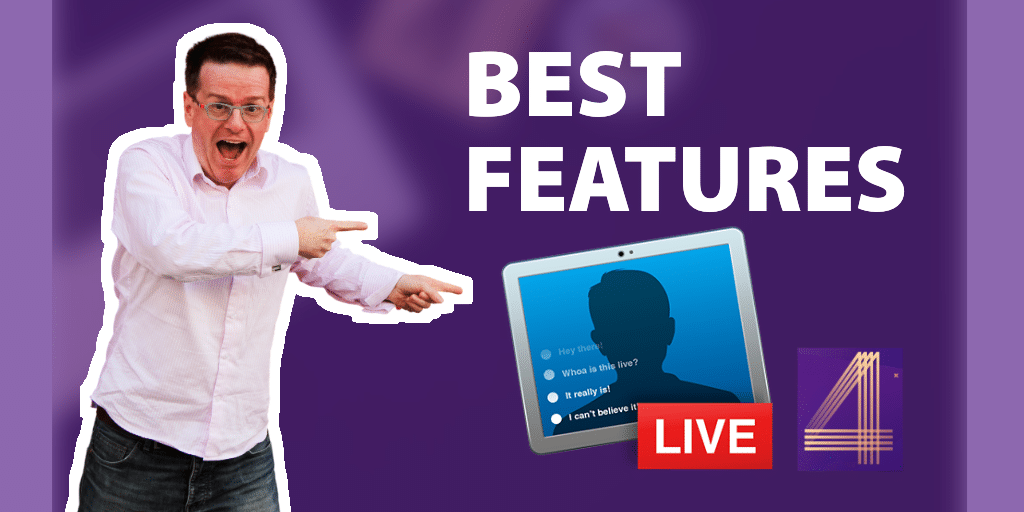 Ecamm Live is central to my content creation process. I've used it for years, and version 4 has taken things to the next level. 
This article covers seven game-changing features, including multi-streaming, isolated video recording, and Amazon Live comments. Let's jump in!
What is Ecamm Live?
Ecamm Live is more than just a live video tool. It's also a robust video switcher designed exclusively for Mac. With this handy tool, you can do anything from live broadcasting to recording podcasts and product videos. It's a Swiss army knife for anyone in the content creation game.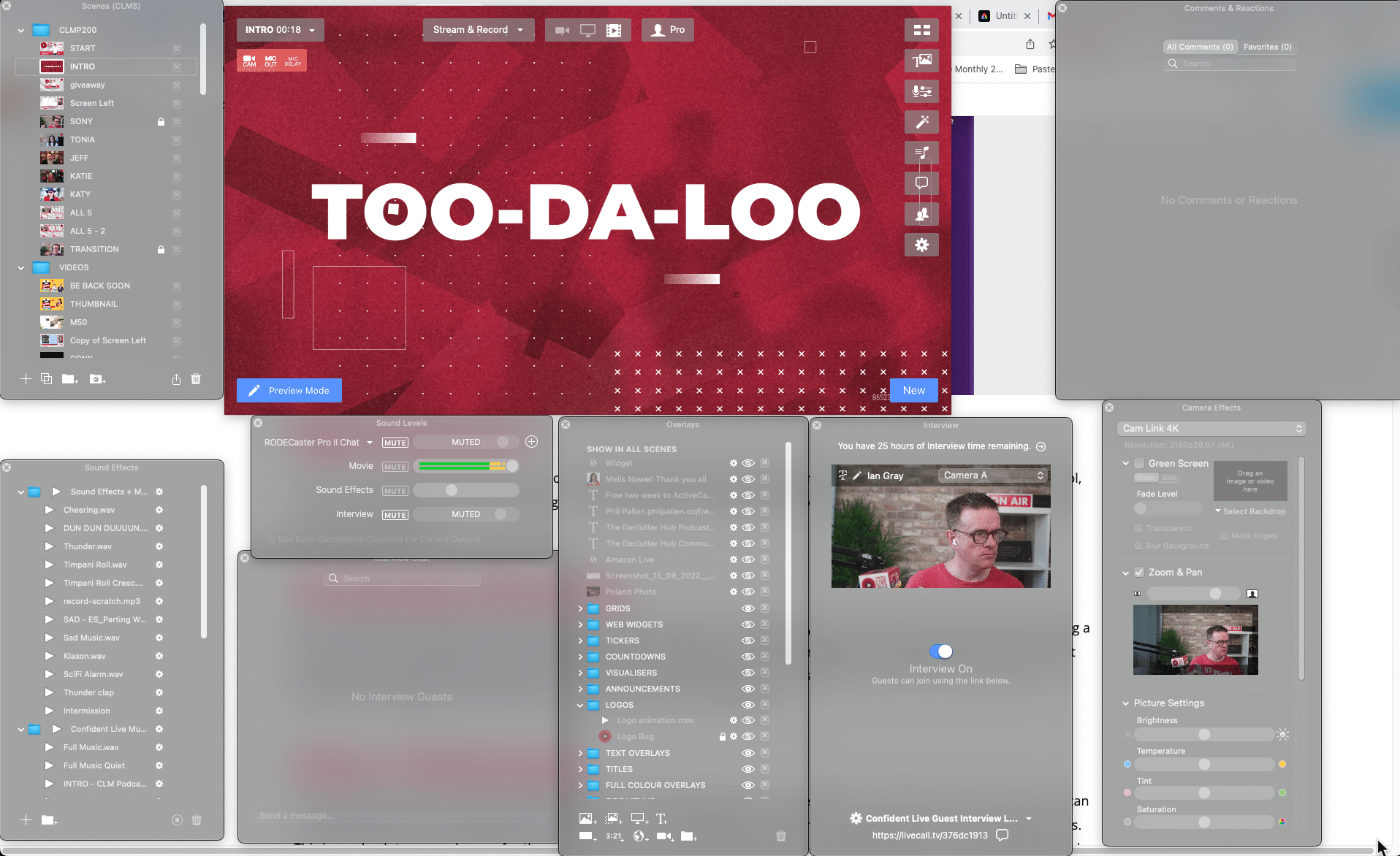 The Downsides of Ecamm Live
No tool is perfect, and Ecamm Live is no exception. It's Mac-only, which isn't great if you're a PC user, obviously. However, buying a Mac is now so much cheaper. The base model Apple Silicon Mac Mini is more than enough for most tasks in Ecamm Live. Also, it operates on a subscription model. But most live streaming software works on a subscription model these days. And version 4 comes with new features at no extra cost. So, I still think it's still a cracking deal.
Feature 1: Multistreaming
You heard it right, folks! Gone are the days when you could only broadcast to one destination. With Ecamm Live version 4, you can now broadcast to up to 10 destinations simultaneously. This is available on both plans - standard and pro. That's really generous. This is an absolute game-changer for those wanting to reach broader audiences across different platforms. Previously, you could only multistream in Ecamm Live using 3rd party solutions such as Resteam. This new built-in feature makes things a lot more convenient.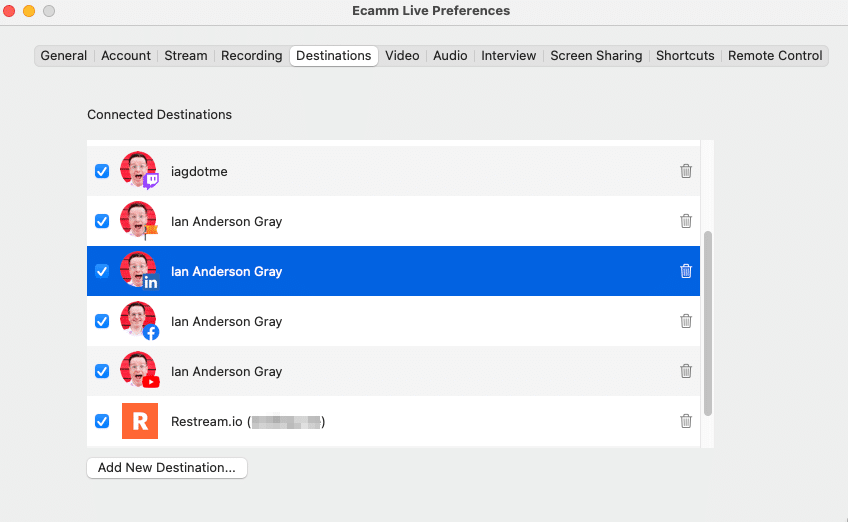 Differences between cloud & computer-based multistreaming
It's important to understand that Ecamm Live uses hardware-based multi-streaming instead of cloud-based. Computer-based multi-streaming via Ecamm Live will demand more from your hardware and can be bandwidth-intensive. Services like Restream use the cloud to manage broadcasting to all channels. The more channels you want to stream to (and the resolution you want to broadcast at) will require more computing power and internet bandwidth. So keep that in mind when planning to broadcast to multiple platforms.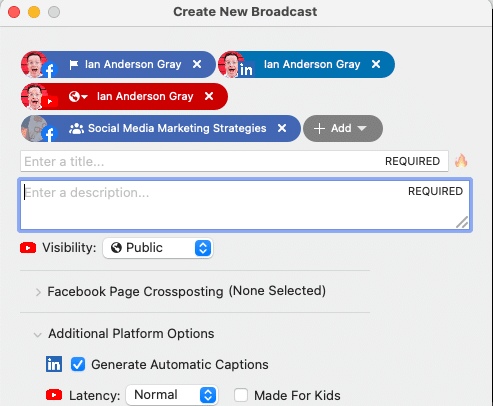 Time to ditch Restream?
Not quite. If you want to multistream to a couple of channels, Ecamm Live has you covered. But Ecamm Live and Restream still make a dream team, especially when you want to minimize the load on your computer and internet connection. Restream manages the multistreaming in the cloud, so your computer will be less overloaded, and you won't need much internet bandwidth. Also, Restream can monitor comments from LinkedIn Live, whereas Ecamm Live can't do that yet.
But if you're keen to simplify and save on extra subscription costs, you can now multistream with Ecamm Live.
Feature 2: More Remote Guests
The new Ecamm Live allows you to bring in up to 10 guests to your live show. This feature is on the pro plan only and depends on whether your Mac can handle it.
Most people tend to have only one guest. But adding up to 10 guests gives so much more flexibility and is a brilliant option for special shows that involve a panel of experts. In the past, for panel shows, I'd have to switch to a cloud-based service like Restream Studio or StreamYard, but now I can use Ecamm Live.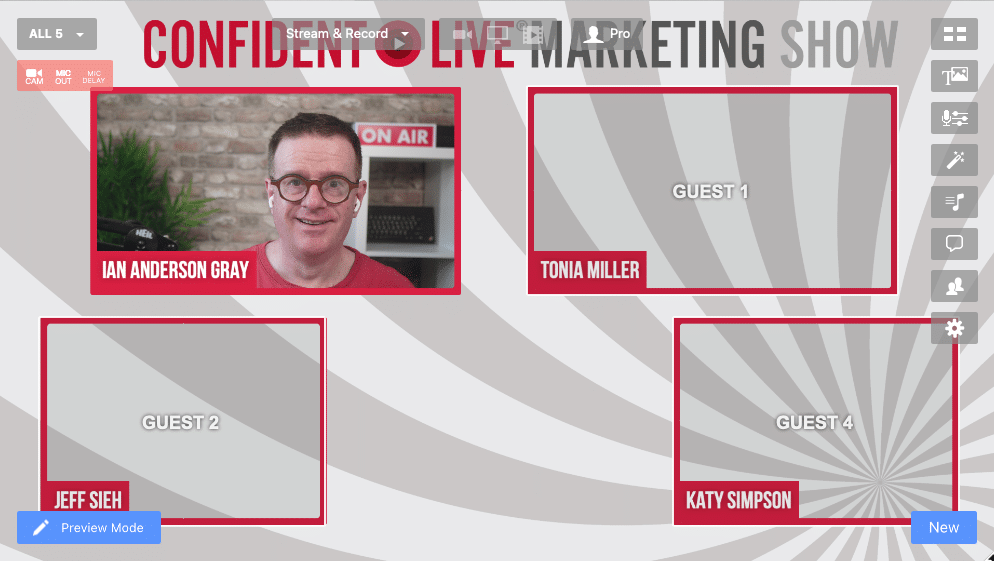 Feature 3: Isolated Video Recording
This is a more advanced feature, but it's golden, especially for those who want to repurpose their live shows. The isolated video recording feature lets you record separate audio and now video tracks for post-production. It can record your separate cameras AND your guests' cameras. This is the raw footage without overlays and text.
Imagine the repurposing possibilities! You can easily repurpose your shows into Instagram Reels, YouTube videos and more. It's a game-changer!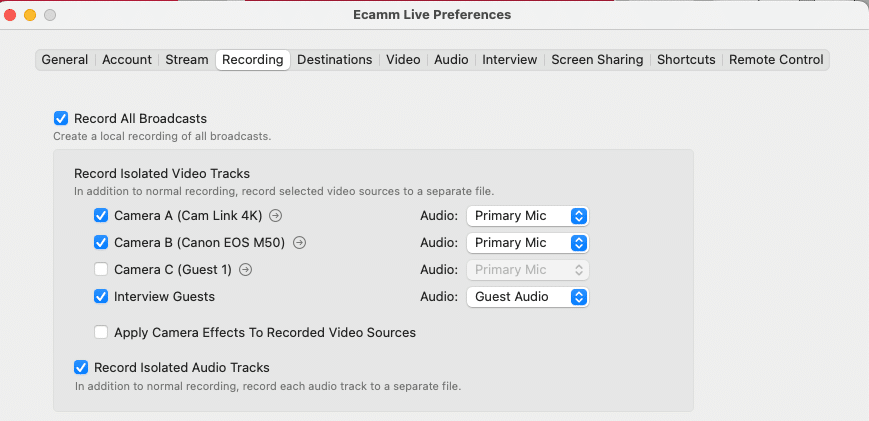 Feature 4: New Camera Switcher
The updated camera switcher window in Ecamm Live makes managing multiple cameras a breeze. You can even set placeholder cameras, allowing you to build your scenes with ease, even when some cameras aren't connected.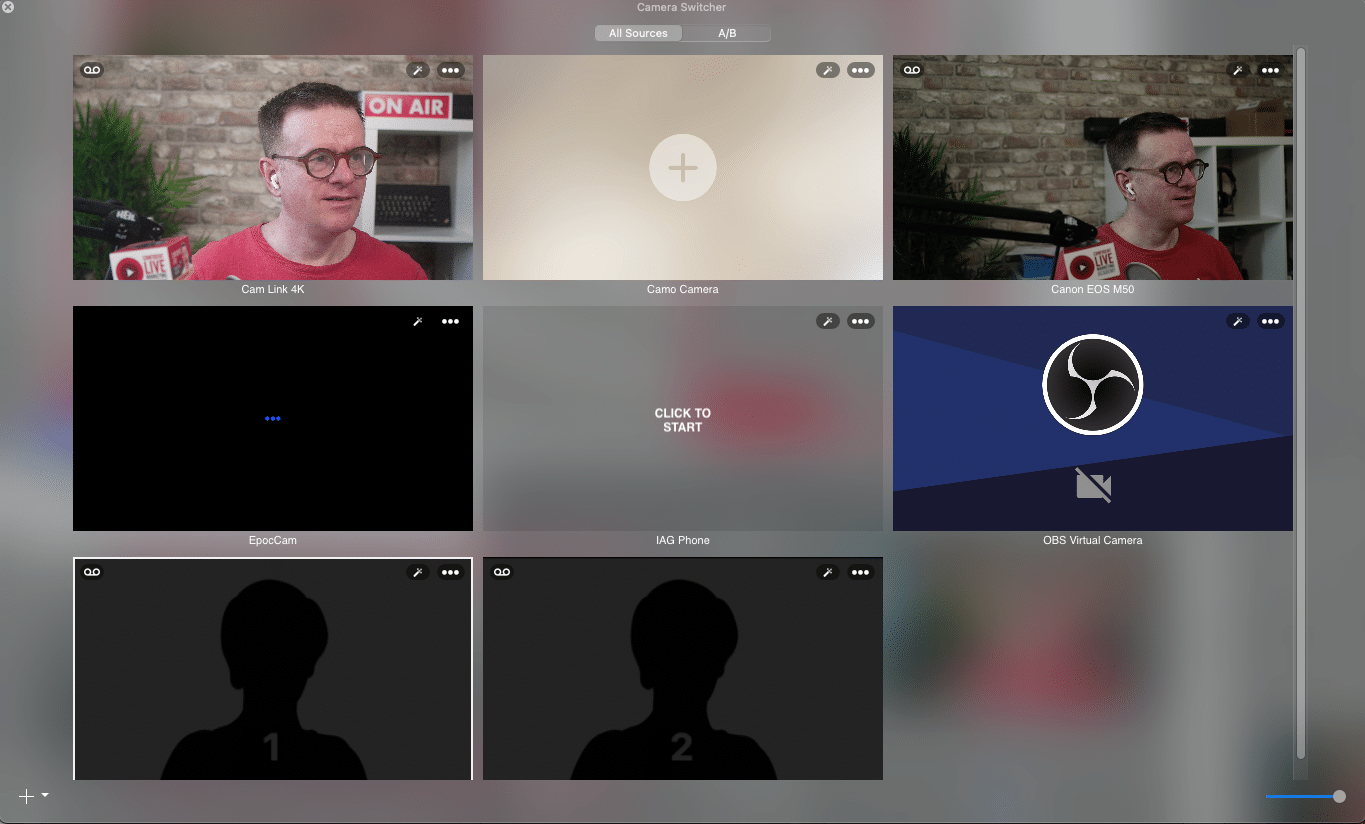 Feature 5: Amazon Live Comments
For those dipping their toes into Amazon Live, this one's for you. Ecamm Live now integrates Amazon Live comments directly, making the whole process less cumbersome than it used to be. It used to be that you'd have to install a browser extension, then a browser layer in Ecamm Live, and jump through a few hoops. Now, it just works!
Feature 6: Internet Speed Checker
The Internet Speed Checker—an often overlooked yet crucial feature. How often have we readied ourselves to go live, only to be scuppered by buffering woes? It's more than just a mood-killer; it can also turn away your audience.
This feature is all the more significant given Ecamm Live's new multistreaming capabilities. The speed checker does more than just give you a thumbs-up or thumbs-down on your connection. It provides detailed insights, allowing you to gauge if your connection is robust enough for, say, three simultaneous Full HD streams to Facebook, YouTube, and Twitch. Or perhaps you're curious if you can handle two 4K streams or even eight at 720p? Now, you'll know before you go live. Quite nifty, don't you think?

Feature 7: LinkedIn Live Scheduling
LinkedIn has been a bit like the Wild West for live-streamers: lots of potential but tricky to navigate. Unlike most other live video platforms, the only way to stream to LinkedIn Live is via a third-party live streaming tool. In the past, the LinkedIn gods hadn't blessed Ecamm Live with API access. In fact, for the first few years that LinkedIn Live existed, only tools like Wirecast, StreamYard and Restream had LinkedIn Live.
Well, thankfully, Ecamm Live now integrates with LinkedIn Live AND has LinkedIn Live scheduling. No more last-minute rush to get everything sorted. You can now schedule your LinkedIn lives directly through Ecamm, and you'll even get a handy shareable link. Pretty smashing if you ask me! The only downer is that LinkedIn comments don't come through. LinkedIn has some of the most stringent privacy settings and for some reason, they just aren't allowing this for now.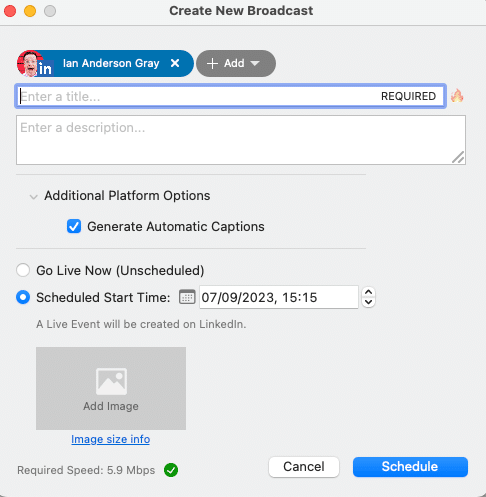 Summary
So there we have it, seven killer new features from Ecamm Live version 4 to elevate your live-streaming prowess. Whether you're a beginner or a seasoned pro, this update is packed with gems to make your life easier and your broadcasts slicker. 
Visit the Ecamm Live website for more information and to sign up. That's an affiliate link, so I do get a small cut if you decide to purchase. But I only ever recommend tools that I use myself or actually believe in. This is the non-affiliate link for transparency.
Thanks for joining me today! If you've got any questions or want to share your experience with Ecamm Live's latest version, drop a comment below. Until next time, happy streaming!