The Most Amazing Marketing Book Ever
Confident Live Marketing Podcast
Episode 203
Episode Theme: Content & Marketing
June 30, 2023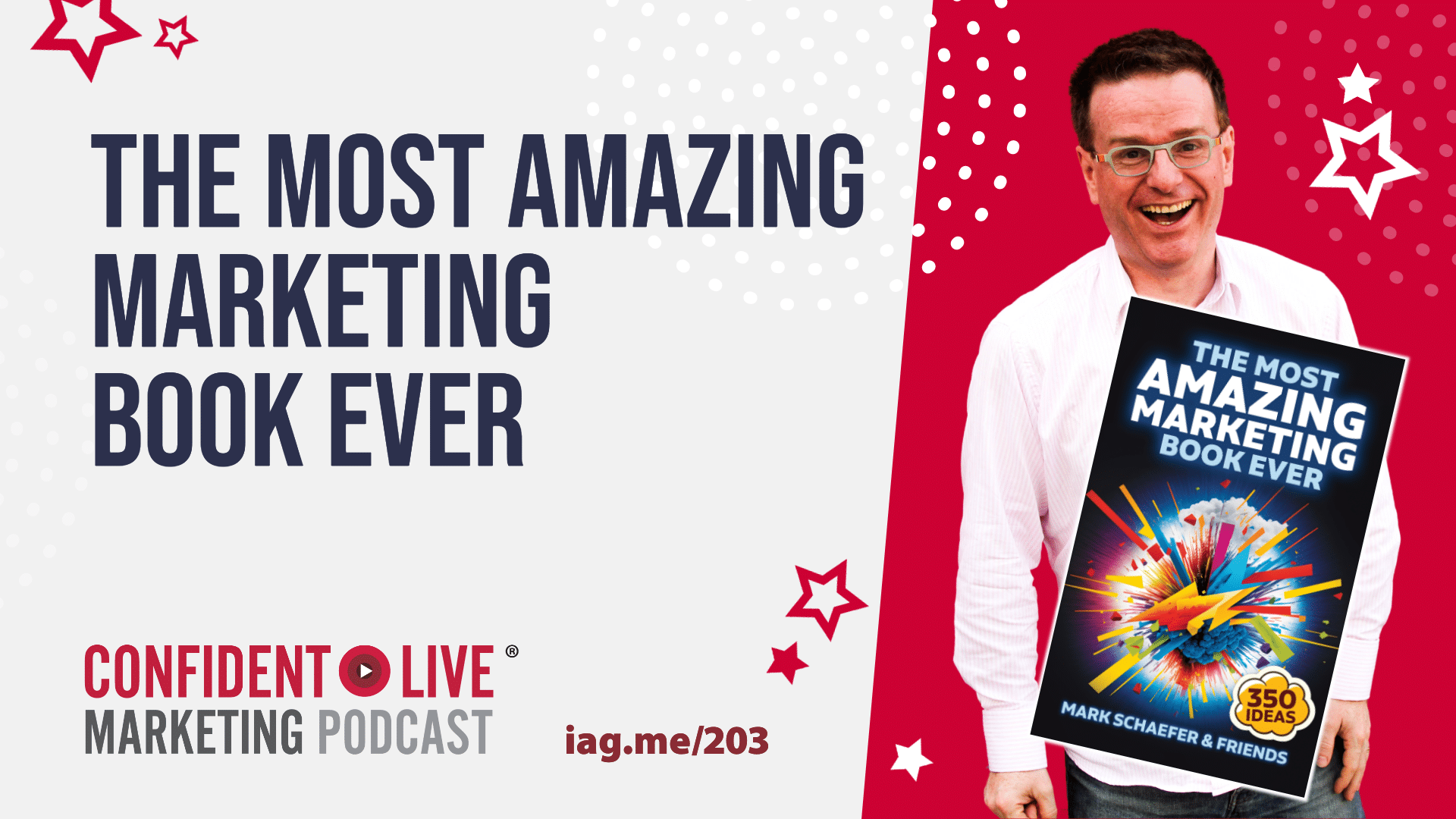 In today's episode I'm delving into some personal updates, and I'll be sharing more about my journey with the intriguing concept of Ikigai and how it's influencing my sense of purpose.
Key Highlights:
Navigating the Ikigai Journey: I've been immersing myself in the exploration of Ikigai - a Japanese philosophy that's all about the joy of always having something to look forward to. It's been a compelling journey so far, and I look forward to sharing my insights with you.
Pondering an Event: I've been toying with the idea of hosting the perfect event. It's just a possibility at the moment, but who knows where this thought may lead us? Stay tuned for more on this.
The Most Amazing Marketing Book Ever: I'm thrilled to introduce a unique marketing book, curated by the remarkable Mark Schaefer. With 34 chapters, 350 marketing ideas from 36 authors with a staggering combined marketing experience of 750 years, this book is truly one-of-a-kind. I was fortunate enough to contribute a chapter on livestreaming!
Special Video Features: For a bit of fun, I'll be sharing some video clips - Brian Piper skydiving with our new book, and Marion Abrams reading a snippet from my chapter.
So, there you have it - a sneak peek into what's coming up in episode 203. Do remember to enter our giveaway, and as always, I'd love to hear your thoughts on this episode. Feel free to leave a comment or get in touch on social media. Thanks for tuning in!
Please Subscribe!
Don't miss an episode! You can subscribe on Apple podcasts here - or on other podcast players.
The Confident Live Marketing Show
The Confident Live Marketing Show is a weekly live video show and podcast. It's aimed at established entrepreneurs who want to level up their impact, authority and profits through the power of live video, webinars and podcasts. We'll focus on knocking down the 3 main barriers these entrepreneurs face when creating live content - camera confidence/mindset, tech/gear and content marketing.
It's hosted by Ian Anderson Gray. He is the founder of the Confident Live Marketing Academy and is the host of the Confident Live Marketing Podcast. He helps entrepreneurs to level up their impact, authority and profits by using live video confidently. He's founder of Seriously Social - a blog focused on live video and social media tools. He's an international speaker, trainer, teacher and consultant. He has a passion for making the techno-babble of live video and social media marketing easy to understand. As well as being a geek, husband, and dad to two kids, Ian is also a professional singer and lives near Manchester in the UK.