Special 4th Anniversary Episode
Confident Live Marketing Podcast
Episode 200
Episode Theme: Content & Marketing
June 9, 2023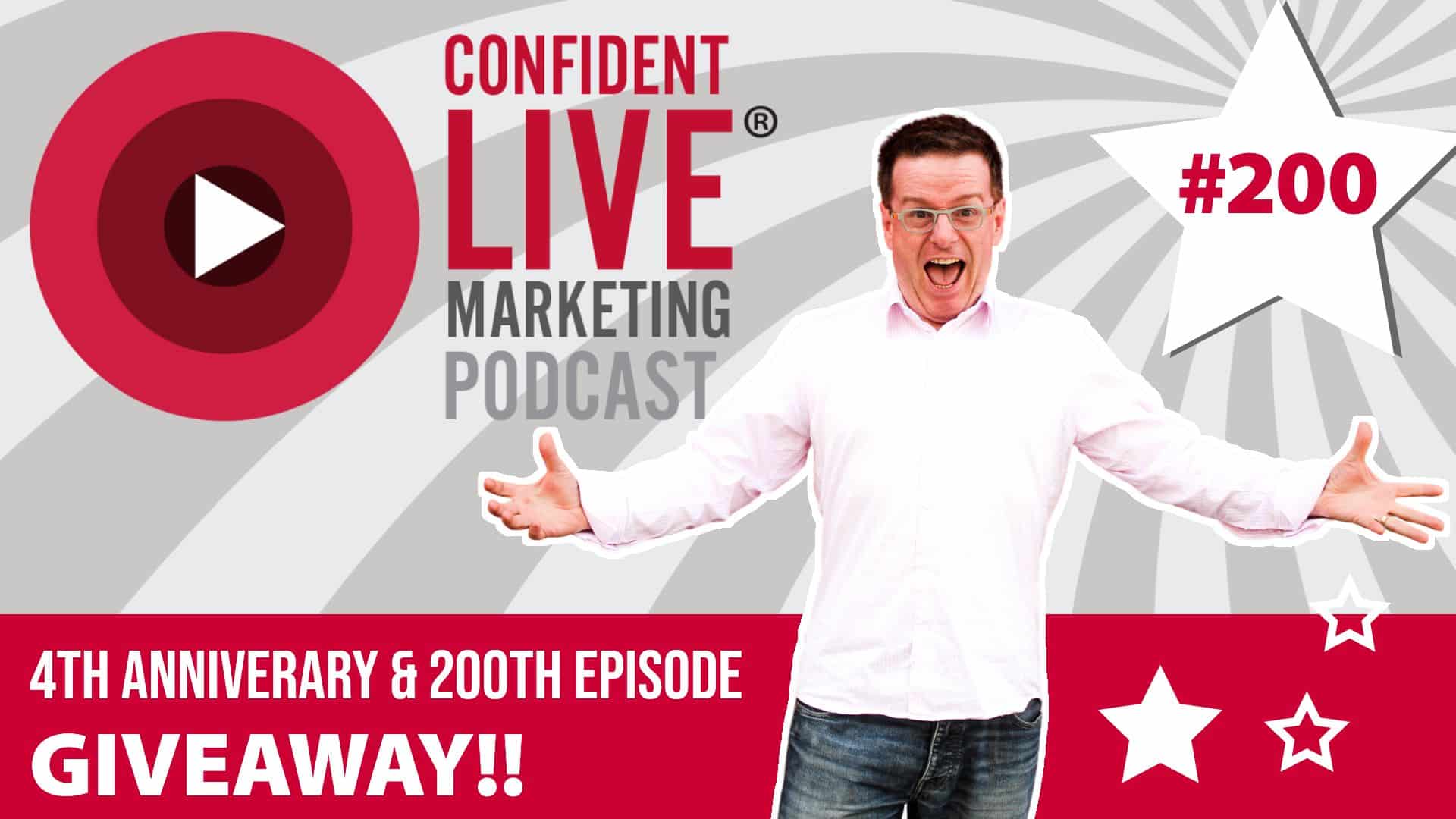 Welcome to a momentous occasion in our podcast journey! We're celebrating the big 2-0-0, the 200th episode of The Confident Live Marketing Podcast!  But hold onto your confetti cannons, because that's not all - we're also ringing in the 4th anniversary of this show. Can you believe we've been going strong since 2019?
In this splendid double celebration episode, I'm not alone. No party is complete without a few fantastic guests, and trust me, we've got a star-studded lineup!
First off, meet the amazing Tonia Miller, my fabulous assistant hailing from sunny San Diego. Tonia and I have been a team for a solid 5 years now, and she's the mastermind organising the show and handling all our content repurposing behind the scenes. Truly, she's the wind beneath my podcasting wings!
Next, I'm thrilled to have my great friend Jeff Sieh joining the party. If you're into social media, you'll know Jeff as the maestro behind Social Media News Live. He's a weekly live show whizz and podcasting pro with plenty of insights to share.
Joining this stellar panel we have the wonderful Katie Fawkes from Ecamm. Ecamm Live has generously sponsored a few of their Pro licences for our massive giveaway! But wait, there's more - three lucky winners will get a $50 voucher to splurge at the Ecamm Merch store.
Last but certainly not least, Katy Simpson is here to round off our guest list. Katy, like yours truly, trained as a professional classical singer and now wields her talents as an expert in live streaming and podcasting. She was also our first-prize winner in the last giveaway we held.
Speaking of giveaways, I've got a special announcement that's going to knock your socks off! 🎁 In this episode, we're launching a colossal giveaway where you stand to win prizes worth thousands of dollars. That includes goodies like Ecamm Live Pro, Restream Professional, Agorapulse Advanced, free books, swanky T-shirts and much more. And guess what? Heil Sound is back, generously gifting my favourite microphone - the legendary PR 40!
So strap in, folks! This episode is a rollercoaster of celebration, insightful conversation, and of course, the kind of fun you've come to expect from us. Here's to 200 more episodes of helping you boost your confidence in the world of live marketing! 🥂🎙️🚀
Please Subscribe!
Don't miss an episode! You can subscribe on Apple podcasts here - or on other podcast players.
The Confident Live Marketing Show
The Confident Live Marketing Show is a weekly live video show and podcast. It's aimed at established entrepreneurs who want to level up their impact, authority and profits through the power of live video, webinars and podcasts. We'll focus on knocking down the 3 main barriers these entrepreneurs face when creating live content - camera confidence/mindset, tech/gear and content marketing.
It's hosted by Ian Anderson Gray. He is the founder of the Confident Live Marketing Academy and is the host of the Confident Live Marketing Podcast. He helps entrepreneurs to level up their impact, authority and profits by using live video confidently. He's founder of Seriously Social - a blog focused on live video and social media tools. He's an international speaker, trainer, teacher and consultant. He has a passion for making the techno-babble of live video and social media marketing easy to understand. As well as being a geek, husband, and dad to two kids, Ian is also a professional singer and lives near Manchester in the UK.