Going into the Archives 9: Audio Branding Tips
Confident Live Marketing Podcast
Episode
Episode Theme: Tech & Gear
April 14, 2023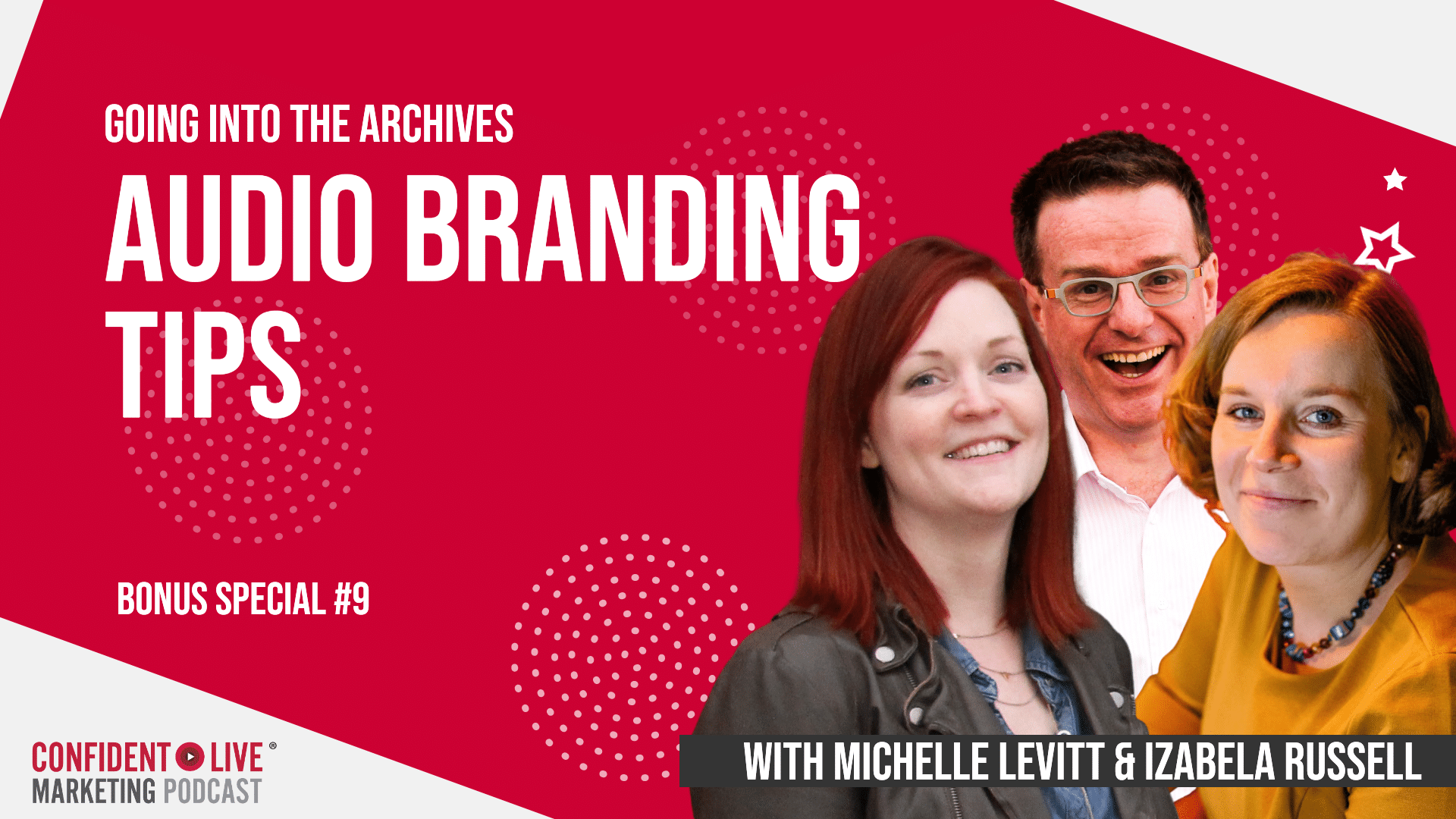 Welcome to the ninth bonus episode of the Confident Live Marketing Podcast, where we're celebrating the run-up to our 200th episode and 4th anniversary!
In this bonus episode, I re-run the interview with two amazing guests: Michelle Levitt, Marketing and Creative Director of Heil Sound, a professional audio equipment manufacturer, and Izabela Russell, the CEO of Music Radio Creative, a company specializing in audio branding.
We dive into the importance of audio branding and its role in reflecting your personality. We also discuss the technical aspects of microphones and how they can impact your voice's authenticity.
Here are the key takeaways from our conversations:
Audio branding: How you want to be perceived and how you want people to feel when they listen to your content. Consider the intro, outro, and elements in between, along with suitable music and voice artists.
Reflecting your personality with Izabela Russell: Think about how your audio branding can reflect your personality. If you're quirky and fun, incorporate that into your branding. If you're more serious, choose music and voice elements that match that vibe.
Energy and authenticity: The energy you project on camera should be a slightly heightened version of your true self. Be authentic, and don't be afraid to showcase your energy.
Microphone frequency response with Michelle Levitt: The range of frequencies a microphone can capture. Look for a small rise in the 2-5 kHz range for better articulation on the human voice.
Choosing the right microphone: The difference between microphones like the Heil PR 30 and PR 40 lies in their unique frequency responses. The PR 40 has more low-end and gives a warm, traditional broadcast sound, while the PR 30 has more mid-range presence.
Authenticity in your voice: Choose a microphone that makes you sound like yourself. When people meet you in person, they should not be surprised by how your voice sounds compared to your podcast or live show.
Please Subscribe!
Don't miss an episode! You can subscribe on Apple podcasts here - or on other podcast players.
The Confident Live Marketing Show
The Confident Live Marketing Show is a weekly live video show and podcast. It's aimed at established entrepreneurs who want to level up their impact, authority and profits through the power of live video, webinars and podcasts. We'll focus on knocking down the 3 main barriers these entrepreneurs face when creating live content - camera confidence/mindset, tech/gear and content marketing.
It's hosted by Ian Anderson Gray. He is the founder of the Confident Live Marketing Academy and is the host of the Confident Live Marketing Podcast. He helps entrepreneurs to level up their impact, authority and profits by using live video confidently. He's founder of Seriously Social - a blog focused on live video and social media tools. He's an international speaker, trainer, teacher and consultant. He has a passion for making the techno-babble of live video and social media marketing easy to understand. As well as being a geek, husband, and dad to two kids, Ian is also a professional singer and lives near Manchester in the UK.