The Confident Live TOOLKIT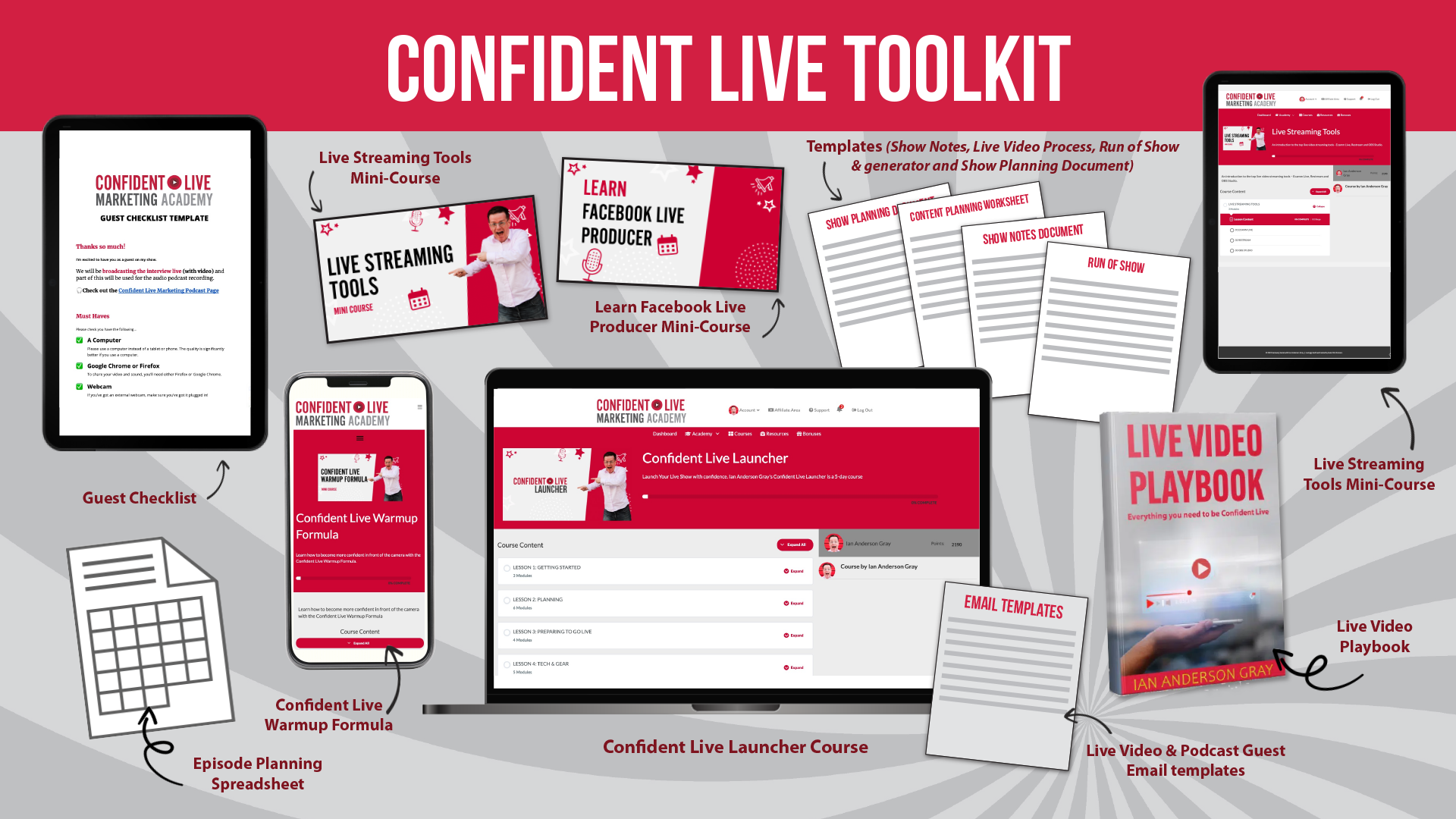 Stop Procrastinating and Launch your Show!
STEAL MY STUFF
Get all my templates and resources that I use for my live shows and podcasts. Tried and tested by me and used by clients around the world.
Don't procrastinate - take the shortcut, create a content repurposing machine and go live with the Confident Live Toolkit.
VIP & VIP+ PACKAGES AVAILABLE
Get one-to-one coaching directly from me to really accelerate your progress.
Limited places are available (see below).
Wanting to launch a show, but haven't yet?
A recovering perfectionist and don't know where to start (or how to finish)?
Already launched your show, but don't have a plan and really don't know where it's heading?
Already got a show but want to make it look more professional and help it grow?
Or maybe you...
Know what you want to say, but struggle in front of the camera. You clam up and can't think straight?
Are not sure which tools or tech to use and how to put it all together?
THE CONFIDENT LIVE TOOLKIT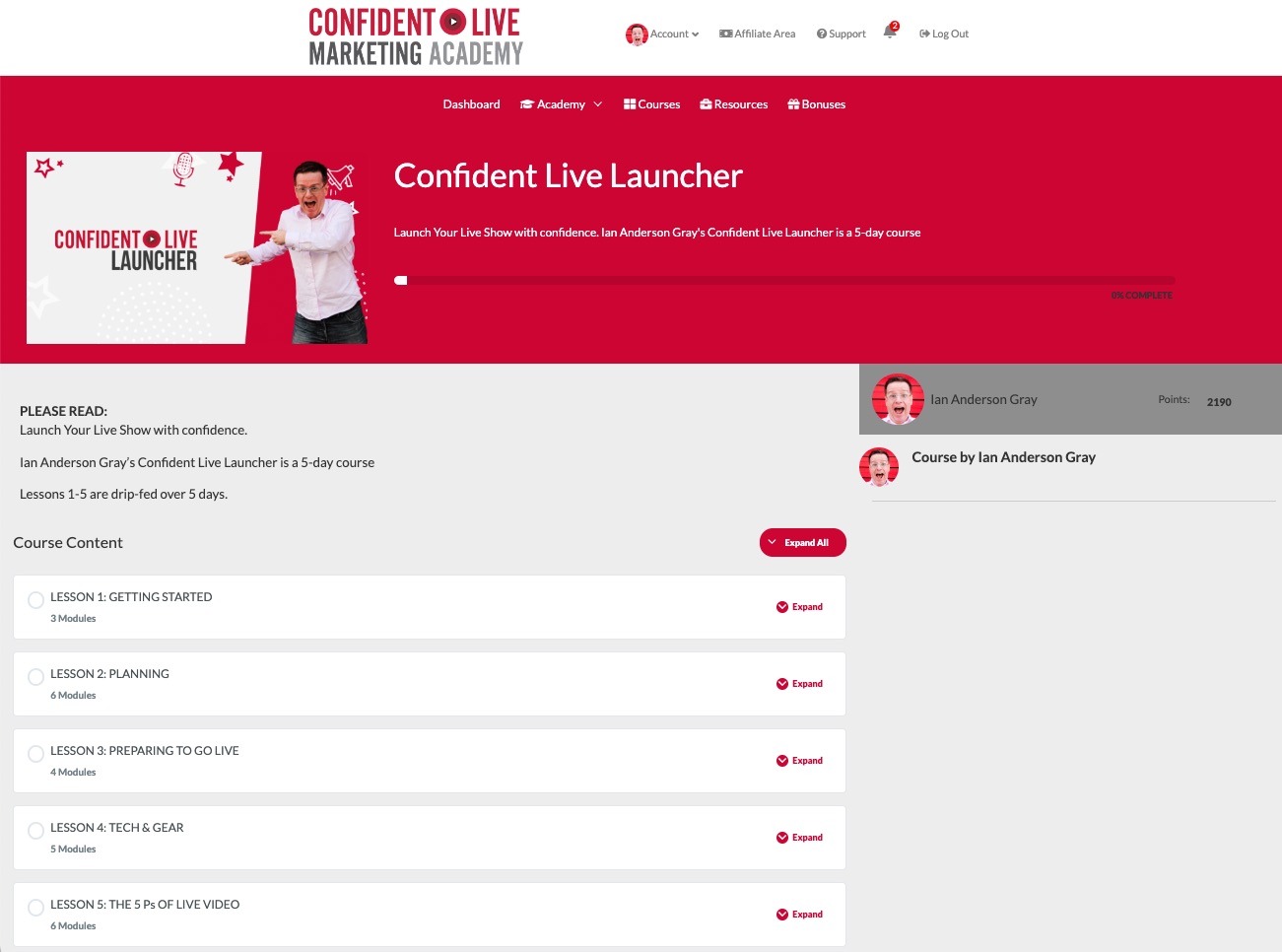 #1 Confident Live Launcher (Course)
Drip-fed over 5 days, the Confident Live Launcher is a video-led course focused on launching your live show or taking your existing show to the next level.
We cover the tools, processes and techniques to turn your live show into a content repurposing machine - so you can create podcasts, blog posts and more.
LESSON ONE: GETTING STARTED
What you're going to learn / Creating a content repurposing machine / What you need
LESSON 2: PLANNING
Planning / You / Who / Planning Document / Where & When / How
LESSON 3: PREPARING TO GO LIVE
Run of Show / Your 3 Audiences / Structure & Engagement / Practice
LESSON 4: TECH & GEAR
Gear - what you need / Computer vs smartphone / Smartphone gear / computer gear / Building your live video studio
LESSON 5: THE 5 PS OF LIVE VIDEO
Introduction / Planning/ Pre-promotion / Production / Post-promotion / Re-Purposing
#2 Live Streaming Tools Mini-Course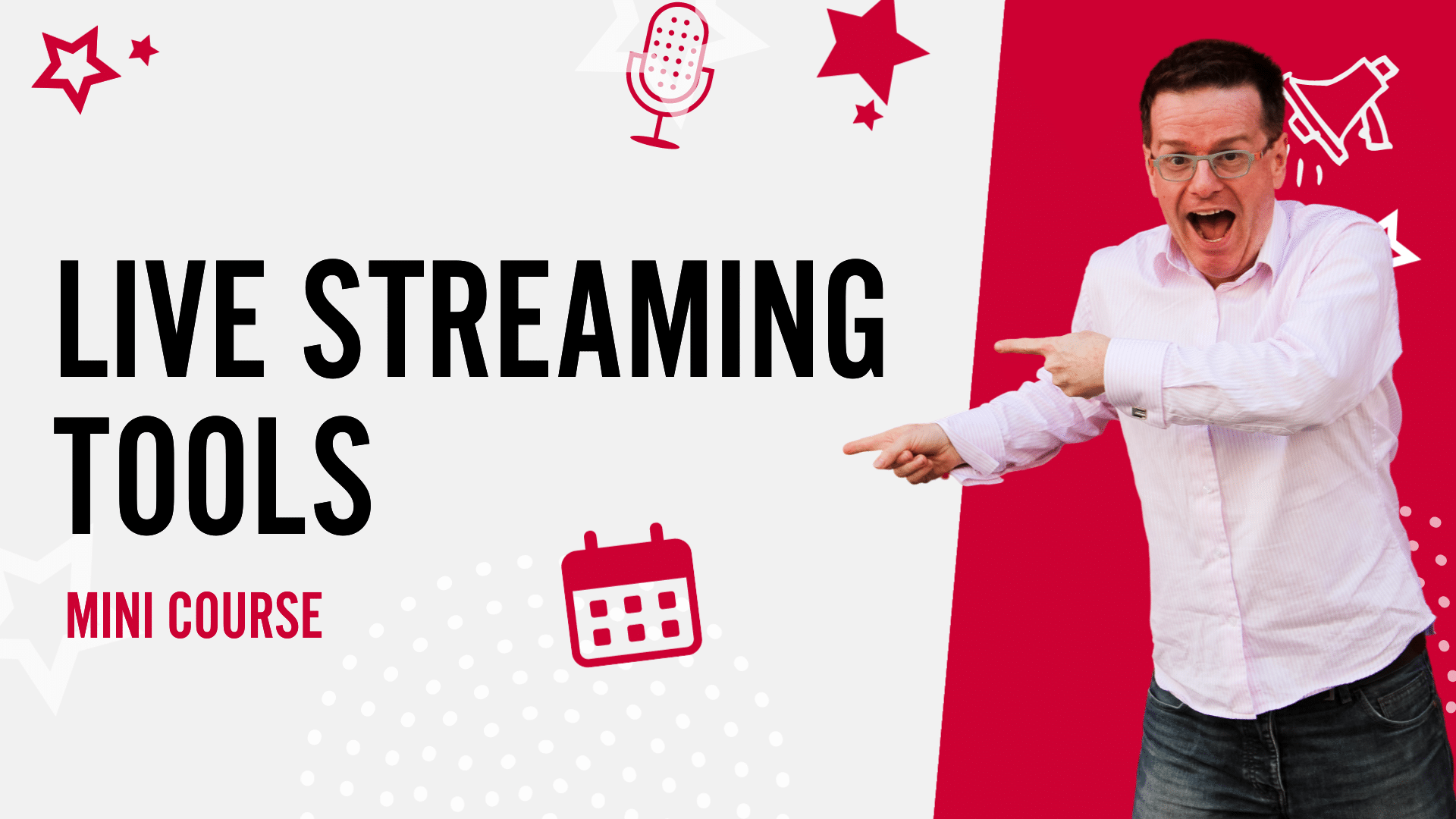 Learn how to use the top live video streaming tools from your computer including StreamYard, Restream and Ecamm Live. More coming soon!
#3 Facebook Live Producer Mini-Course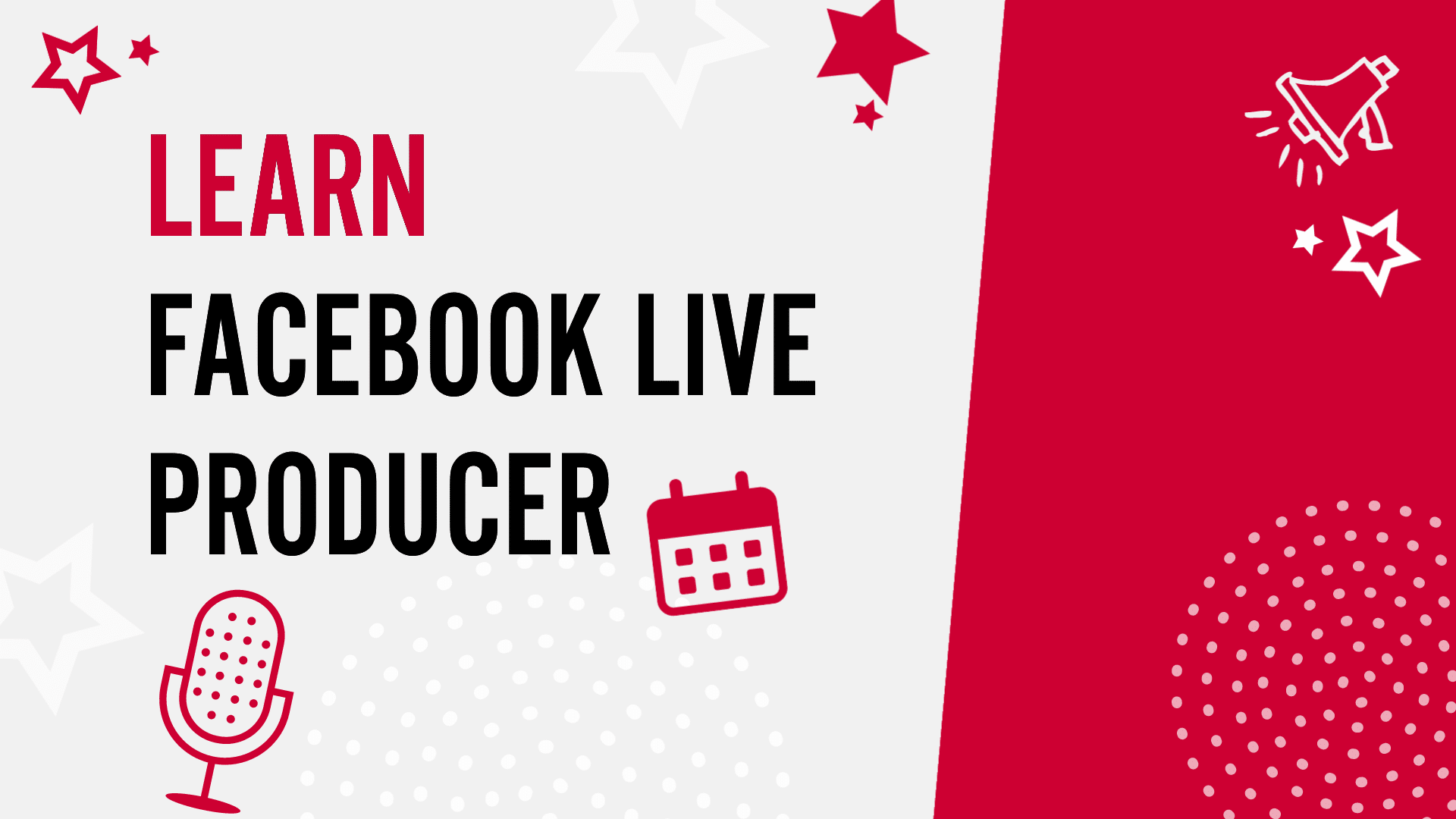 Take your Facebook Live to the next level with polls, questions and more. Facebook Live Producer can be a bit clunky and complicated, but with this mini-course, I make it easy!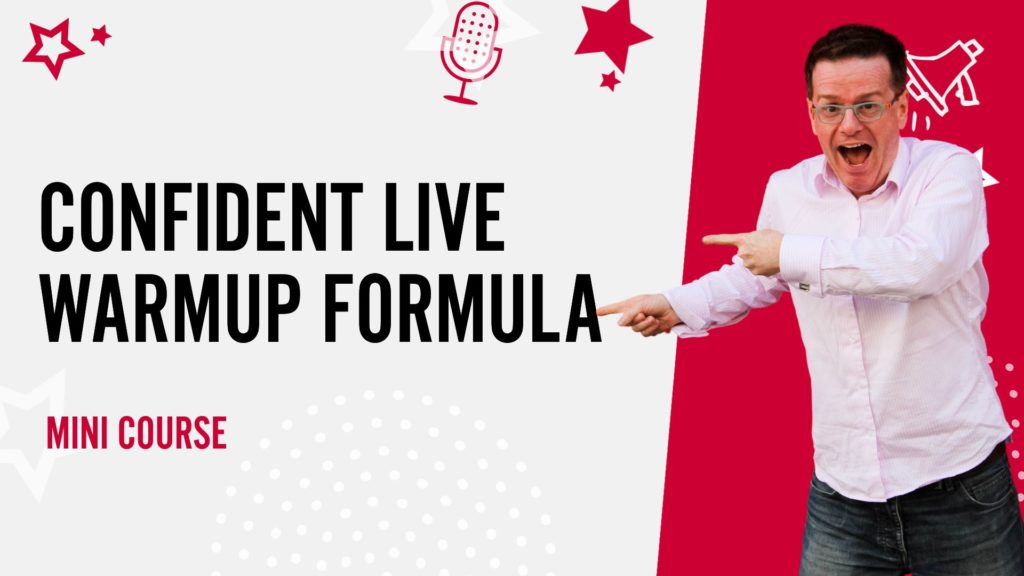 #4 Confident Live Warmup Formula
Get more confident in front of the camera and communicate more effectively!
There are 8 short modules including:
Getting over the fear over live / Relaxing your body / Improving your posture / Breath Control / Pitch Interest (sound less boring) / Diction and Energy / Heightened Authenticity (You, but with more energy)
#5 Show Planning Document
#6 Content Planning Worksheet
#7 Episode Planning Spreadsheet
#8 Show notes template
#9 Live Video Content Process Template
#10 Run of Show Template
#11 Run of Show Generator (Beta)
#12 Guest Checklist
#13 Email Templates
A 135-page comprehensive guide on how to broadcast live confidently and professionally from your computer.

Includes

☑️  Top live video gear (cameras, microphones, lights, screens)
☑️  In-depth comparison and reviews on the best live video streaming tools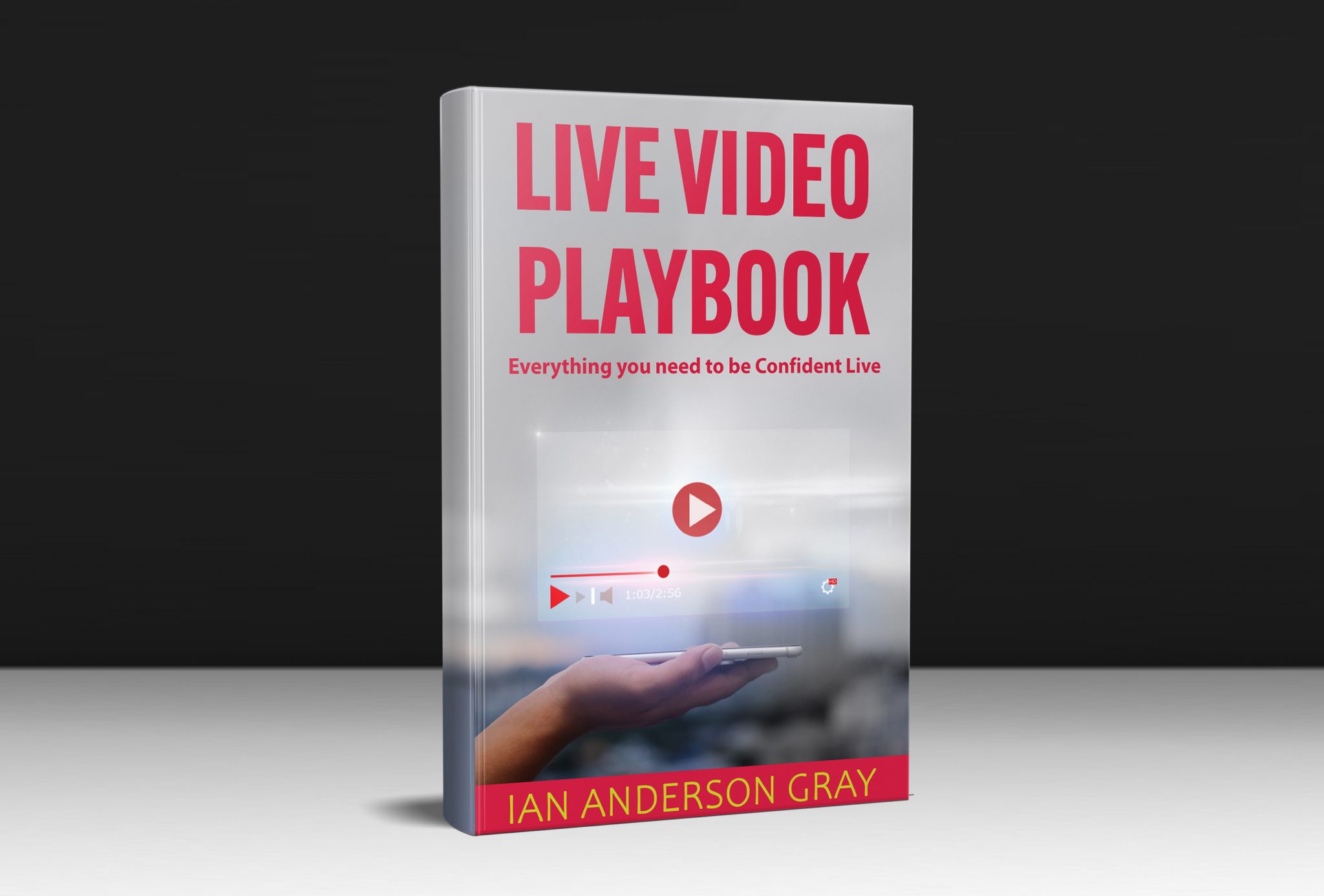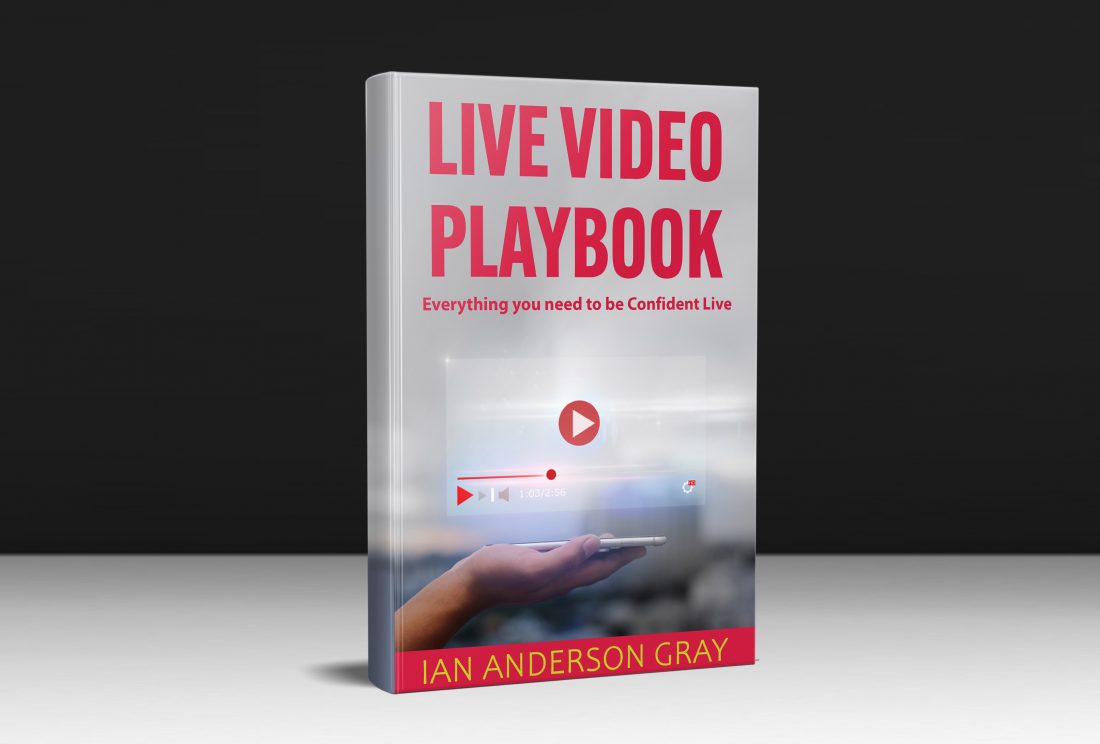 Led by Ian Anderson Gray.
He's the founder of the Confident Live Marketing Academy and is the host of the Confident Live Marketing Podcast. He helps entrepreneurs to level up their impact, authority and profits by using live video confidently. He's helped businesses and entrepreneurs around the world with camera confidence, live video tech and live video launches. He's an international speaker, trainer, teacher and consultant.