How to Transfer Your Facebook Friends to Twitter & Other Networks [Bookmarklet]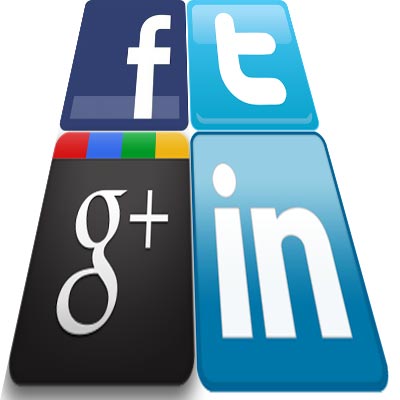 Please note. Unfortunately, this technique no longer works.
I've kept this article here for archive purposes.
One of the most popular articles on my blog has been "How to Migrate your Facebook Friends to Twitter, Google+ and LinkedIn". It showed a way to export your Facebook friends to other social networks such as Twitter, Google+, LinkedIn and Pinterest.
Unfortunately, as I mentioned in my previous post, Facebook doesn't have a good history of making it easy for you to export your data. Yes, Facebook does had an export data tool for a while now, but it doesn't allow you to get your hands on your friends' email addresses, even if they are visible to you. Your and everyone else's data is incredibly precious to Facebook. It's what makes Facebook so valuable, because with it they can make a huge amount of money from targeted advertising.
The Problems
In my article, I highlighted a way to export your friends to Twitter by first exporting them to Yahoo! Mail, before then exporting them to Twitter. Although it was a bit of a pain, it worked brilliantly for many months, until it stopped without warning.
Firstly there were issues with the Yahoo! tool to migrate your Facebook contacts into Yahoo! Mail. Apparently, Yahoo! were aware of this as stated in this help article, but certainly from my experience, it does seem to work now.
Secondly, not all contacts were being imported from Yahoo! to Twitter. My post was awash with comments saying that it didn't work. After many weeks trying to figure out what the problem was, Yahoo released a "help" article on the subject- Why can't I export my Facebook contacts?. So now, Yahoo tags each contact that it has imported from Facebook so that you are then not able to export it. How ridiculous! Call me cynical, but I expect this has happened due to Facebook breathing down their neck.
A Solution?
So, what do we do now? How do we export our friends from Facebook to Twitter, or indeed any other social network? Well, all is not lost- I have found a way for you! Unfortunately it does still involve Yahoo! Mail, and is more involved. However, I have gone out my way to make this as simple as possible for you!
How to Export Your Facebook Friends to a CSV file
Like in my previous article, it is important to be aware that this only exports your Facebook personal profile friends- not your Facebook page's friends. I'm hoping that Adam Loving will update his Facebook Page Hack for this! (Any update on this, Adam?!)
Also, it will only export friends who have shared their email address with you, and they will obviously need to have a Twitter account!
Please note, the bookmarklet only works in Google Chrome. You can try this in other browsers but you may encounter problems.
STEP 1: Get a Yahoo! Mail Account (Or Sign in if you already have one)
Head on down to Yahoo! Mail and create an account or sign in if you've already got an account.
STEP 2: Import Your Facebook Contacts
Sometimes the Yahoo! Mail Facebook importer can be a bit temperamental. If it fails, try it again. In my experience it does work, but you have to be a bit patient.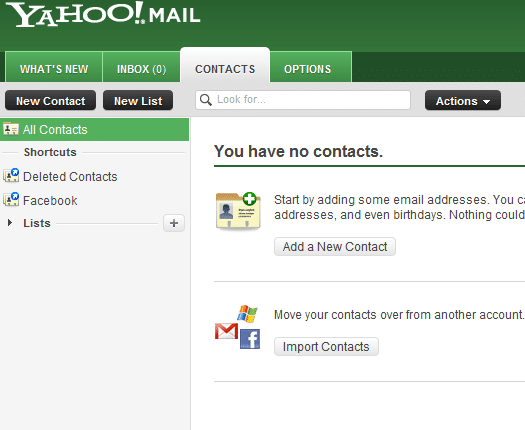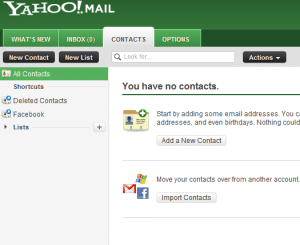 a) Click on the Contacts tab at the top, and then click the button "import contacts" on the right. (If you've just signed up for a new Yahoo! Mail account, you'll get this option as soon as you create the account.)


b) Click on the Facebook icon to proceed. (if you have an Adblocker on your browser you may need to disable it to see the Facebook icon)


c) You'll get a Facebook permissions box. Click OK to say that you are happy for your contacts information to be shared with Yahoo!.


d) Yahoo! Mail will then try to retrieve your Facebook friends' contact information from Facebook.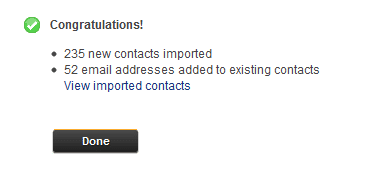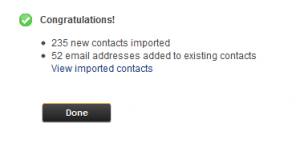 e) Congratulations, your Facebook contacts have been imported! Click the Done button.
Step 3: Convert your Facebook Contacts to a CSV File
So now we have all our friends contacts in Yahoo! Mail, but they are all tagged with that nasty Facebook tag. We could edit each contact individually to remove the tag, but if you have a lot of contacts, that is going to take a LONG time.
With the help of a rather wonderful StackExchange user, biziclop, the process has been made much easier- with the help of a bookmarklet. A bookmarklet is a piece of javascript code that you can drag on to your browser's bookmark bar. You can run the code on any web page by clicking the bookmarklet.
This special Bookmarklet converts all your Yahoo contacts into a CSV file. A CSV file is a very versatile file format and can be opened in Excel, Outlook, Apple Mail, Thunderbird and many webmail services. Just in case you didn't know (and care), CSV stands for comma separated values- because, each value in the file is, well, separated by commas...!
The Bookmarklet.
First of all, drag the following button to your browser's bookmark bar:
Make sure you are doing this in Google Chrome for PC. If you are having problems, then it's probably because your browser hasn't stored the bookmarklet properly. To do this, copy the contents of this javascript file to your clipboard. Then edit the bookmarklet, delete anything in the URL field paste the code into the field. Your bookmarklet should work. Please let me know how you get on in the comments below. Thanks to Alex Hall in the comments for help here.
Once you've done this, you'll need to go to Print View in Yahoo! Mail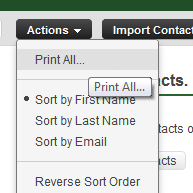 a) Select Print All from the actions button in Yahoo Contacts.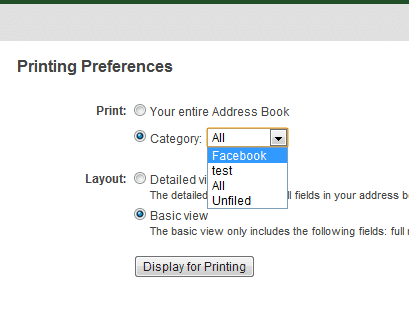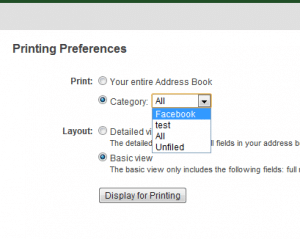 b) Select the Facebook category and Basic View.
c) Once you've got the screen of all your contacts, click the Yahoo to CSV bookmarklet in your browser. You'll see a window pop up with all your contacts highlighted. Copy this and paste it into your favourite text editor (for example Notepad). Save this file as contacts.csv. You may need to change "save as type" to "all files" so you can set the correct file extension.


So now, you have all your Facebook's contacts as a CSV file! This will enable you to import them into many other social networks such as Google+ and Twitter.
Unfortunately, you can't just upload your CSV file into Twitter, you have to import them into either Yahoo! Mail (again!) or I'd recommend Google Mail.
Thanks again to biziclop who made this hack possible. Please do leave a comment on the StackExchange page.
Import to Twitter
So now that you have your glorious CSV file, how do you get the thing into Twitter? These things are never easy, for reasons that escape me and many others, Twitter doesn't allow a way for you to upload a CSV file. This is just annoying, because it assumes we all use a webmail service such as Yahoo! or GMail for our contacts. Although I do have a Yahoo and GMail account, I use Thunderbird and Outlook for my email and contacts.
The easiest way for you to import your CSV file into Twitter (and so your Facebook friends) is to import your CSV file into either Yahoo! Mail or GMail. I know this sounds silly, since we've only just exported them from a webmail service, but this is very easy to do. I'm going to go through the steps for GMail since that is the service I recommend.
Log into GMail and go to your contacts (click on the "GMail" dropdown on the left column and select contacts)
Click on the "More" dropdown and then click on "Import"
Select the CSV file you saved before and upload by clicking the import button. Your contacts will be imported straight away.
Now you need to head on down to the Twitter importer. You can find this by clicking on the previous link, or by clicking on Discover then Find Friends on the left navigation. Click on the Search Contacts button by the Yahoo! Mail option.
Once the Yahoo! Mail permissions window loads, click on the Agree button. This gives Twitter permission to import your Yahoo! Mail contacts.
Adding your Facebook Friends to Google+


Another cool thing you can do is migrate your Facebook friends to Google+. It works in a very similar way. Firstly, import your Facebook friends into Yahoo! Mail as shown above, then go to your circles page on Google+ and link your Yahoo! contacts. You can then drag all your FB friends to a circle of your choice. The advantage here is that your Facebook contacts don't have to be Google+ users. You'll have the option of sending posts to their email address instead.
Adding your Facebook Friends to LinkedIn

LinkedIn make it easy for you, there is an app for that. Check out the LinkedIn app to import your Facebook friends to LinkedIn.
Adding your Facebook Friends to Pinterest


As Pinterest naturally connects to your Facebook friends, it's very easy to do this. Just make sure you connect your Facebook account with Pinterest and then click on "Find Friends from Facebook". Obviously none of my Facebook friends are Pinterest users though, so this wasn't very helpful to me!
Final Word
Well, I hope that helps. I know it is far more complicated than it should be, but at least you should only ever have to do this once. Let me know what you think in the comments!
This blog post is HUMAN CONTENT!
It's NOT been generated by any artificial intelligence (AI) tools. It's been authentically written by a human author (i.e. me!)