Boost your Mailing List with Twitter's Lead Generation Cards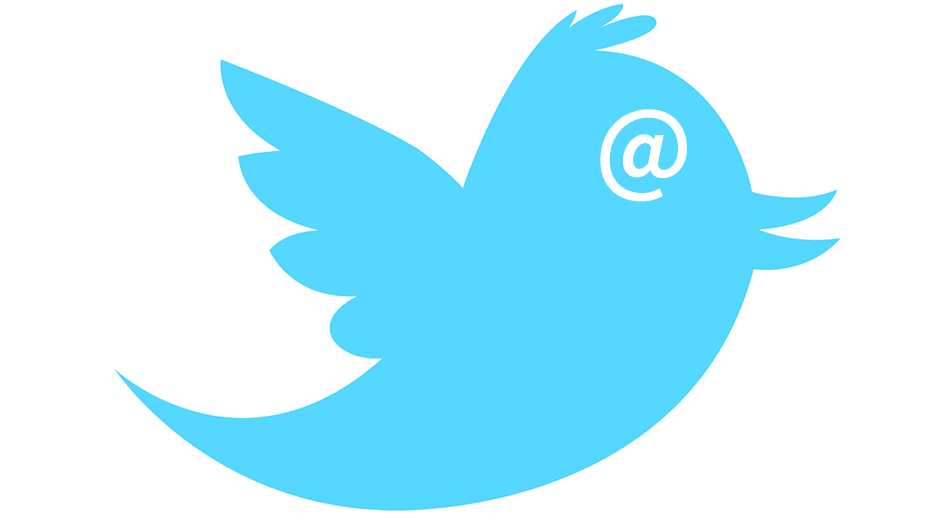 Update – December 2016
Twitter Lead Generation Cards Discontinued
Unfortunately, Twitter announced in December 2016 that they were to discontinue their Lead Generation card format.
I've left this article here for the time being for posterity…
---
Do you use Twitter?
Do you want to Increase your Email List?
Why not try Twitter's Lead Generation Cards?!
---
Get Sign Ups Directly through Twitter
It's now possible to get people to sign up to your blog, web site or email newsletter- straight through Twitter. You can even add this person's details automatically to your CRM (customer relationship management tool).
It's a technique I've been using for a few weeks now after reading this helpful post by Ryan Hoover called "Grow Your Email List with this Simple Twitter Hack". It's not really a hack, it's a service from Twitter called Lead Generation Cards that were introduced back in May 2013. Initially the service was only available to big brands through Twitter Advertising, but Twitter made Lead Generation Cards available to all in August. You'll have seen Twitter cards before- it's the way Twitter gives a preview of the article a tweet links to, or an image or video. There are many types of Twitter cards including summary, photo, gallery, app, player, product and lead generation.
It's best to show you an example of a lead generation card to show you what I mean. Instead of just replying to people who share your content or retweet you, why not give them the option to subscribe to your blog like this:
@MaryGreenIM thanks. Do feel free to subscribe to my newsletter – https://t.co/2fAuca5feo (testing out Twitter's new lead generation cards!)
— Ian Anderson Gray (@iagdotme) November 26, 2013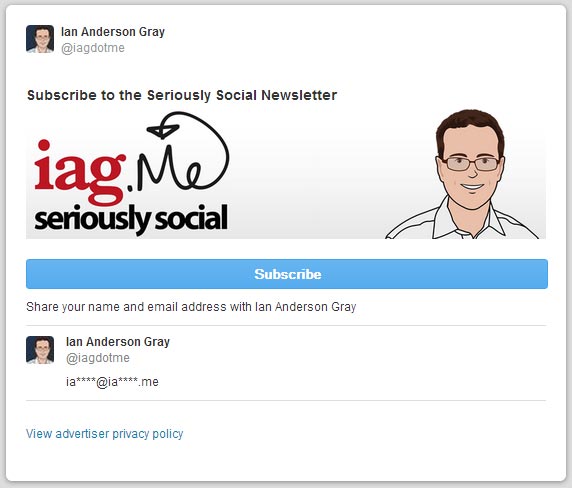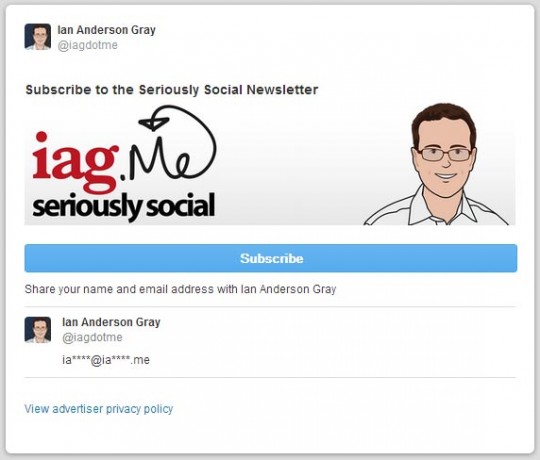 ---
I've really been able to boost the number of people subscribing to my blog and email newsletter since doing this. It's also a great way of engaging with people and providing more value on Twitter. I included Twitter Lead Generation Cards in my "Thank You Replacement List" in the article Stop Saying Thank You on Social Media & Say Something Meaningful.
It's a little tricky to set it up, but once you have you'll be able to share your sign up link again and again.
---
Step 1: Sign into Twitter Ads
Firstly, you need to sign up for Twitter Ads.
Don't worry, setting up Lead Generation Cards is completely free. However, unfortunately, to set them up you do need to enter a valid credit card number. If you're not going to be using Twitter ads, don't worry- your credit card won't be charged. If you don't add a credit card you won't get the option for the cards, something I was confused about for a while!
Once you've added your payment information, you'll see the creatives item in the top navigation. Click on this and then click on "cards".

Once on the creatives page you'll see the option to create a lead generation card as well as a list of all previous cards.

To create you first card, click the big blue "Create Lead Generation Card" button!
---
Step 2: Connect your Email Marketing Software or CRM to your Card
The next stage will depend on what software you use for your email newsletter. I use MailChimp and so I'll show you the options for that. However, Twitter Lead Generation Cards work with many other mailing list and CRM providers. Twitter has published a well written article on setting up Lead Generation Cards and gives links to the instructions of each provider:
In order to set up the lead generation card for any of the providers, you'll need to create or get the following:
Short Description
This is the headline for your lead generation card. Make it short and snappy, for example "Subscribe to my weekly newsletter!"
Card Image
This is a wide image (4:1 aspect ratio) for your card. This needs to be visually engaging and in keeping with your brand. The minimum size of the image is 600px (width) by 150px (height)
Call to Action
This is the text on the blue button under the image. In most cases you'll want to put something like "Subscribe" or "Join".
Privacy Policy URL
This should be the privacy policy on your website that shows how the information collected will be used.
Card Details (Fallback) URL
A page on your website where the person can find out more about you and your newsletter
Submit URL
The URL to which the data Twitter collects will be sent so that it your CRM or newsletter provider can add it to their database.
'CUSTOM KEY NAMES'
These are the names of the fields in your CRM or newsletter provider. For example the name of the NAME or EMAIL field.
LIST ID
Depending on your CRM or newsletter provider you may need to enter more fields such as LIST ID.
Here is a screenshot of my set up. I've hidden some of the more sensitive fields, but you should get the idea…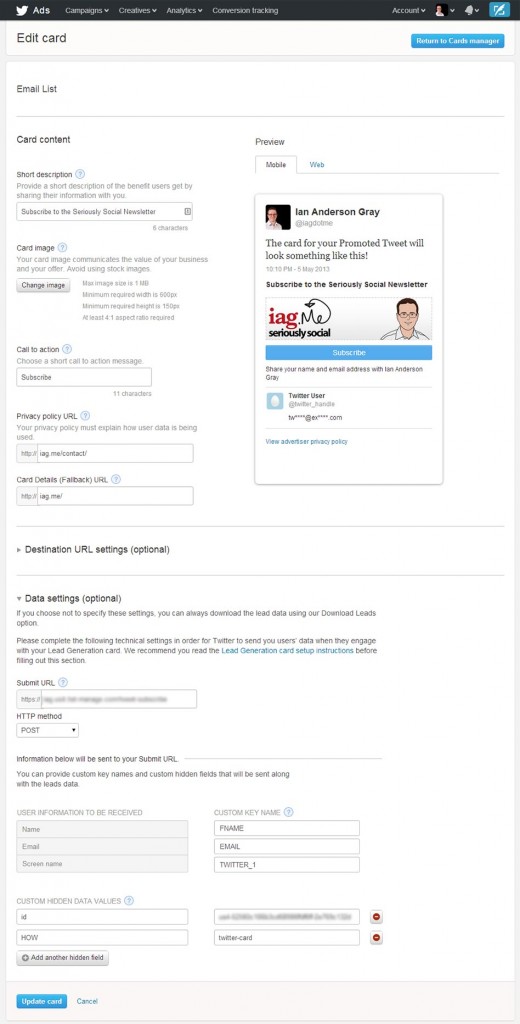 Step 3: And you're done!
You will then get the web address for the Twitter card. Copy this and keep it somewhere where you can access it easily. My Twitter card, for example, is https://cards.twitter.com/cards/p0r8x1/39d.
Let me know how you get on. Do you think you'll find this useful? Have you used them yourself? Let me know in the comments below.