Top Black Friday Deals for Marketers 2019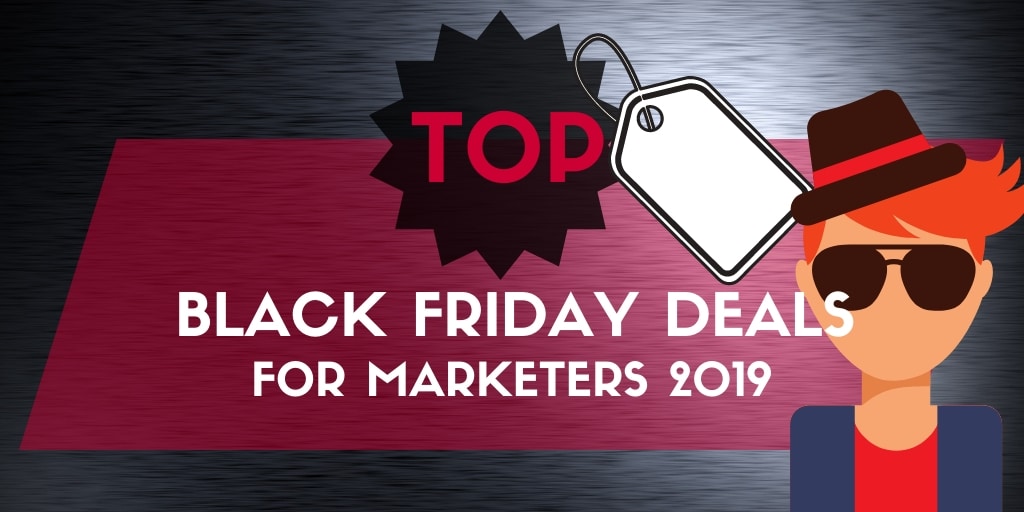 Black Friday. Love it. Hate it. It's here!
I live in the UK, and although we don't celebrate Thanksgiving, Black Friday has become a big thing in recent years. Largely down to big online giants like Amazon.
But, isn't it all hype?
Some of it is. And you need to be careful. Not everything in a Black Friday sale is cheaper. I've heard reports that some retail giants hike their prices up a few weeks before so they can appear to offer a discount on the day.
For Amazon, I highly recommend checking out the website CamelCamelCamel. I know it is a strange name, but it's an Amazon price tracker. You can see the price of each product over time. That way you can see if it is indeed cheaper on Black Friday.
But this article is for marketers out there who are wanting to get tools and gear for their business at a cheaper price.
Want that? Then, let's begin!
(Oh, and please note... I'll be adding more deals to this page as I hear of them)
I've never offered a Black Friday deal on my coaching before. But for the first 10 people who book with me, I am knocking $175 off the "Hour with Ian" call. Normally I charge $375 for this, but you can book a call with me for only $200.
This is only available over Black Friday weekend to the first 10!
I don't normally offer Black Friday deals, but this year I've gone nuts. I'm offering $100 off my Wirecast course AND throwing in the OBS Studio course as well!
So you get the Wirecast and OBS Studio course for only $59! Normally this is over $200 combined!
The coupon is already attached in the link below.
First things first. Flywheel hosting is not the cheapest.
But if you have a WordPress website and want a fully managed and WordPress optimised website then Flywheel is for you.
It's what I use on this website and for all our clients' websites. It's blazingly fast and so easy to use.
I love the way it backs up websites daily, secures your website with one click and even gives you advanced things like a CDN really easily.
Here is their Black Friday Deal:
40% off new, annual Starter plans
25% off new, annual Freelance and Agency plans
25% off new, annual Add-ons subscriptions (White Label, Plugin Updates, and/or Performance Insights)
Use the code: FLYDAY19
WordPress Management & Aftercare
Do you have a WordPress website? Do you worry about things going wrong? Getting hacked?
How about keeping the software and plugins up to date.
My web agency, Select Performers, has been managing WordPress websites for over 10 years. Our WordPress care plans take care of your website so you can focus on your business. All our plans include:
24/7 Security & Monitoring
Software Updates
Daily Off-site Backups
Daily Security Scans
Detailed Monthly Reports
Page Builder editor
30 minutes updates & support
Access to Video Training
Email Support Desk
For Black Friday, we're offering 20% off all our care plans FOR LIFE. And we can host and manage your website on our dedicated server (powered by Flywheel) for only $20 per month extra.
Use the code: SELECTBF
Alitu is a new podcast maker tool. If you have a podcast or thinking of having one, then you need to check this out.
It's an online podcast editor. You can do simple editing. But more powerfully you can easily add your intro and outro to your episodes and Alitu will do some audio processing to improve the quality.
And, it will upload your editor to your podcast host!
Use the coupon - friday19 - to get 50% off the first 2 months.
This isn't strictly a Black Friday deal, but new customers to Rev can get $10 off their first order. Rev uses real live human beings to transcribe your videos and audio into text and captions. I use it every week for my podcast and live videos.
Social Media Marketing World
This isn't strictly a Black Friday deal. But the biggest social media conference in the world, Social Media Marketing World, are doing a big sale right now. It pays to get your tickets early! This conference changed my life when I first went in 2015. I've been there ever since - and speaking since 2016.
Social Media Management Tool: Agorapulse
My favourite social media management tool, Agorapulse isn't doing a public Black Friday deal. But I've got a special deal for you.
Agorapulse doesn't just help you schedule your social media. It's a powerful engagement tool with a zero-inbox workflow social inbox. And a social listening tool with powerful reports.
The special deal for you is that you get two months free!
Just sign up for a free trial, and you have the first two months completely free. Just use the coupon gray2free
Julia Bramble's Social Media Boost
My good friend Julia Bramble is doing an amazing offer at the moment on her Social Media Boost service.
It's 50% off the normal price and includes:
A Social Media Audit
4 1 hour 1:1 calls over 3 months
email support over 3 months
all the call recordings to listen back to again and again
So, only $397!
My great friend's Andrew and Pete have gone completely nutty, and are offering Atomic membership for 30 days for only £1.
Online Video Editor: Wave.Video
Wave.Video is an awesome online video editing tool which has a plethora (millions) of stock videos, images, music and sounds to choose from. You can easily add titles, text. graphics and more with slick transitions. And soon they are adding video funnels!
What are Video Funnels?
In Wave.Video's words - A video funnel is a set of insights or messages that a business delivers to its potential customers via a sequence of videos that are designed to lead that audience to take a specific action (such as buying a product or signing up to a newsletter).
The're offering over 50% on their plans:
First year of the creator plan for just $49 (instead of $99 = 50% off!!!)
Use the coupon: WCA_Black49
Pro plan for only $150 for the first year. (Instead of $396 = 62% off)
Use the coupon: WPA_BlackFridaySale
Agency monthly plan for only $60 per month, forever
Use the coupon: WBM_BFAGENCY60
Note: Coupon will expire on December 4th
Live Video Tool: Ecamm Live
Ecamm Live the live video tool I use every week for my Confident Live Marketing Show. It's an amazingly powerful and easy to use live video tool for Macs.
They are doing a Cyber Monday deal which gives 50% off annual plans! This is for the standard and pro plans. Click on the button below on Monday, December 2nd.
Coupon: CYBERM50
Live Video Tool: Restream
Restream is a live video service that allows you to multicast to lots of different destinations at once. This includes Facebook, Periscope, YouTube, LinkedIn and over 40 destinations. For Black Friday they're offering 50% off their plans!
Live Video Tool: Wirecast & Screenflow
Telestream is offering 10% off their basic Wirecast One tool.
Wirecast One is a cut-down version of their professional live streaming tool.
And if you purchase the Studio or Pro version of Wirecast, you can get 50% off their Mac-based screen recording software, Screenflow.
Brand24 is my top recommended listening tools for solopreneurs and marketers. It's really powerful without the insane prices that some listening tools charge. If you want to track your brand and other keywords across social and the web, then definitely check out Brand24.
They're offering 50% off for up to 3 months between 29 November 2019 - 2 December 2019
Email Signature Tool: Wisestamp
Wisestamp is a nifty tool that works with Gmail to give you a personalised email signature. It can even link with your blog and highlight your latest blog post with a link. I wouldn't be without it!
They're offering a 50% discount right now!
Email Management: SaneBox
I love SaneBox, and as the name suggests, it keeps me sane!
SaneBox manages your email (Gmail or Outlook) and moves any less important email to your "Sanelater" folder. I've also got it set up to move the newsletters I subscribe to, to my "Sanenews" folder. And there are loads of other cool features to keep your email inbox completely sane!
When you sign up for your free trial below, you'll receive a $25 credit towards a SaneBox subscription.
Create Online Courses: Thinkific
If you are thinking of creating an online course, then I highly recommend Thinkific. It's so easy to use and so powerful.
At the moment, they are doing a completely mad deal - just $495 for 7 months of Thinkific, plus over $2100 worth of bonuses:
Professional Blue Snowball microphone
Guided set-up support
Live group coaching
Online training bundle
Form Building: Gravity Forms
My favourite form building software for WordPress, Gravity Forms, is offering up to 50% off their software.
I use Gravity Forms on all my websites and it's so easy to use and so powerful.
The Black Friday deal is ONLY available on Friday. So be quick! Coupons are applied automatically.
You get...
30% off all new Basic licenses.
40% off all new Pro licenses.
50% off all new Elite licenses.
WordPress Page Builder: Beaver Builder
I use the Beaver Builder Theme and the Beaver Builder Page Builder across all my websites. It's so easy to build really professional and slick pages with their drag and drop editor. You don't need to use their theme. The page builder works with most themes out there.
The deal is available from Friday, November 29th (12:00 am PST) - Monday, December 2nd (11:59 pm PST).
And you get 25% off for new purchases only.
Speed up your Website: WP Rocket
If you want to speed up your website then look no further than WP Rocket. It's a WordPress plugin that is super simple and amazingly powerful.
I use it across my websites and my clients.
Between November 26th - December 3rd you get 30% off any licence.
Affiliate Link Management: Thirsty Affiliates
Starts: 20th November, 2019
Expires: Strictly MIDNIGHT 2nd December, 2019
Discount: 30% OFF ANY LICENSE
COUPON CODE: BF2019
ThirstyAffiliates is more than just a run of the mill affiliate link cloaker. It has all the tools you need to be successful as an affiliate marketer. From auto-linking keywords, Amazon integration, amazing reports, smart uncloaking, geo links and so much more. It pays for itself in just a couple of affiliate sales! Get ThirstyAffiliates before midnight 2nd December 2019 for a whopping 30% discount, use coupon code "BF2019".
And now it's time for some cool gear from Amazon. These links should redirect you to the Amazon store nearest to you. Also, note, that each Amazon store may have a different discount.